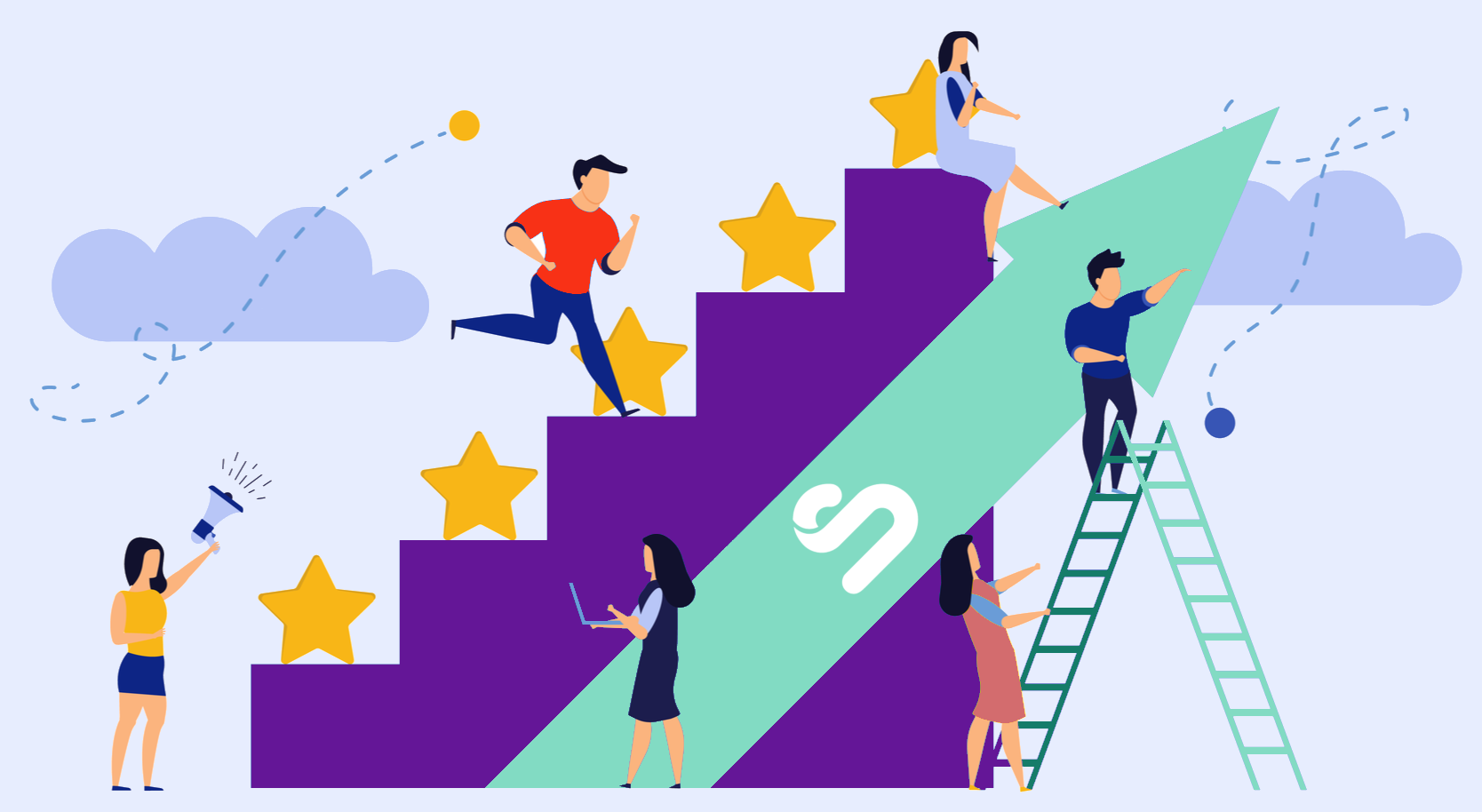 In August of 2021, 4.3 million Americans left their jobs — some of whom have opted out of the workforce completely. This movement has been called "The Great Resignation," but perhaps it was years in the making.
As an employer, this exodus presents an opportunity. It represents a chance to build the workplace back even better so that employees love their day-to-day environment. Some job candidates are looking for a pay increase, adjustable hours, or location independence, while others simply want to be a part of a culture of appreciation at work. According to an online survey from WorkTango,
"79% of employees who quit their jobs cite a lack of appreciation as the reason. In a survey of 613 employers, those with a recognition system had a 13% lower turnover rate. And in this job market, that could be a major gamechanger."
Considering how much of an employee's life is spent on the clock, it's time to re-think the employee-employer dynamic and make sure that it's a healthy one for both parties. With gratitude and empathy-driven corporate culture, your employees will thrive, turnover costs will go down, and productivity will skyrocket.
In a hurry? These are some of our favorite platforms to help you create a thriving culture of appreciation at work:
Just handing out a paycheck isn't enough. What matters is how your employees feel about their job.
Do they feel cared about, seen, and appreciated?
Do they feel that you respect their time and efforts to balance child care and their outside-of-work responsibilities while still getting the results they need?
To help you confidently say "YES!" to these questions, check out this HR pro-approved mini-guide on how to create a culture of appreciation at work in 2023 🎖️!
---
Want to become a better professional in just 5 minutes?
Page Contents (Click To Jump)
What is a Culture of Appreciation at Work?
A culture of appreciation at work occurs when people feel valued as humans and are recognized for their accomplishments and the goals they've achieved. To foster this type of working environment, employers have to make a deliberate effort to empower employees and provide emotional safety.
A positive company culture filled with gratitude and appreciation makes employees want to work and massively improves employee engagement. This type of environment is built on trust and the decision to inspire employees instead of using negative reinforcement and manipulation.
What are the benefits of building your company culture around appreciation?
1) Boosts morale and employee satisfaction
A positive company culture lifts morale and satisfaction because coworkers will make encouraging each other the norm.
Pro-tip: Encourage your employees to practice affirmations regularly to help create positivity around the workplace.
2) Improves recruiting efforts
When employees are happy with their jobs, they'll talk about it and become your first line of recruiters.
A company culture of appreciation reduces tension and makes people want to show up and do their jobs with verve.
4) Increases employee retention
Satisfied employees tend to stay; people enjoy stability mixed with the right amount of variation and room for personal growth and development.
5) Improves employee productivity
Happy employees want to keep their jobs and understand that amazing productivity and results protect their livelihood and support the overall health of the company. Witnessing the improved employee productivity, you and your team will immediately see the positive impact that a healthy culture can have on your entire organization.
---
Ways To Create a Culture of Appreciation at Work
1) Sign Up For A Spot Bonus Platform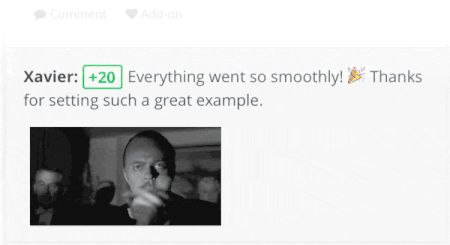 Spot bonuses are immensely important when it comes to creating a culture of appreciation at work. This type of "on-the-spot" bonus is a small, surprising monetary reward for employees who have achieved an objective or a milestone.
How does this idea improve appreciation at work? Spot bonuses are intended to create a sense of spontaneity in the workplace and the feeling that good things can happen at any moment.
Why we love it: A spot bonus platform facilitates spot bonuses and can allow managers to easily reward employees on the spot! Instead of waiting to give out bonuses annually or at an expected interval, using software can automate rapid rewards and get them ready at the click of a button.
Tool you can use to help set up a culture of appreciation: 👉Bonusly
Bonusly is an employee recognition platform that streamlines rewards, surveys, and feedback, so teams can maintain high performance and productivity. Bonusly also boosts retention, offers seamless integrations, and an easy-to-use mobile app.
2) Celebrate Big Wins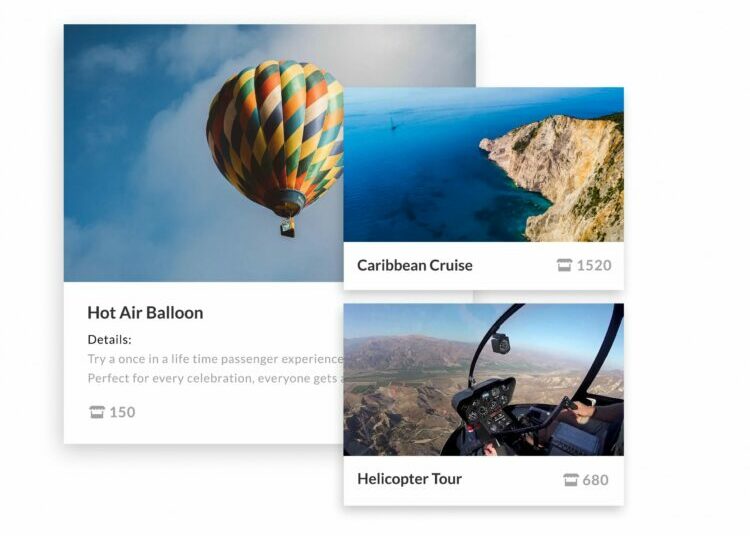 Morale is the heartbeat of the business. How people feel about their work is as important as the work itself. That's why taking every opportunity to celebrate wins is the wisest thing you can possibly do.
How does this idea improve appreciation at work? Celebrate big wins with big rewards. When employees are recognized, it breaks up the monotony and helps them return to work with more focus, passion, and intensity than ever.
Why we love it: We love this culture-building idea for work because it reinforces good habits and shows genuine care from you, the employer. Also, it's a chance to get super creative when it comes to the rewards themselves. Speaking of…
Tool you can use to help set up a culture of appreciation: 👉Bucketlist
Bucketlist has become one of the world's top experiential rewards and recognition solutions for employees. Now, with a few clicks, you can swiftly recognize and retain your elite talent with carefully curated memory-making experiences. From chasing the Aurora Borealis to taking kite surfing lessons, there's something for everyone — plus, the Concierge experience will help you give them the absolute best of the best.
3) Establish A Recognition Program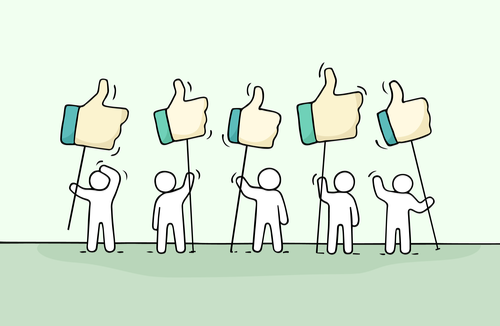 Employee recognition programs are designed to reward employees for achievement, milestones, positive behavior shifts, and other big moments like anniversaries and promotions. These incentive-based programs focus on appreciating and recognizing each team member's achievements and best efforts. Most of the time, workplace recognition programs are coupled with rewards so they end up being more than hollow praise — they foster culture appreciation.
How does this idea improve appreciation at work? Employee recognition programs drive engagement because it's just human nature to want your work to be recognized and rewarded. Implementing programs like this also improves employee health and wellbeing. But perhaps the least expected result of recognition programs is how they boost customer satisfaction. Happy employees who love their jobs make the lives of customers better.
Why we love it: We love recognition programs because a great team needs an equally great system to operate at its best. This is an ideal way to humanize the workplace.
Tool you can use to help set up a culture of appreciation: 👉Nectar
Nectar is a human-centered platform that combines rewards, discounts, custom swag, and social recognition to show love throughout the company. With Nectar, everyone from the new hires to the veterans can recognize each other and provide rewards as opposed to recognition only coming from the top down.
4) Send Out Gifts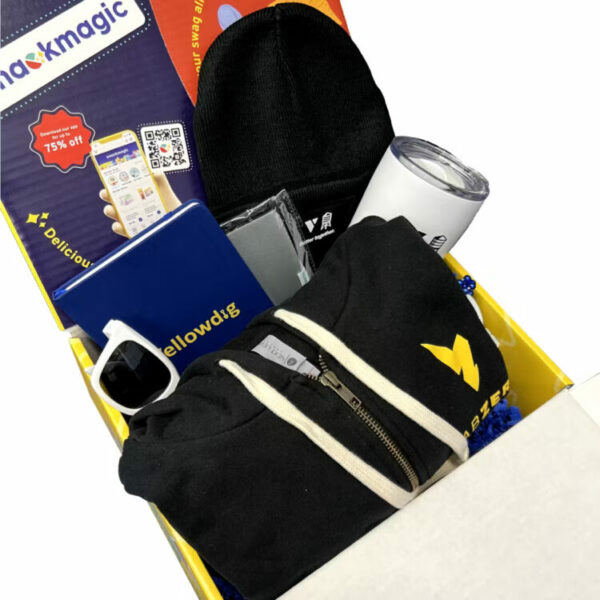 Sending out gifts is the perfect culture-building idea because you can do it all year long! Whether you choose to do it for work anniversaries, appreciation days, promotions, or holidays, there's never a bad time to give gifts to employees.
How does this idea improve appreciation at work? 45% of people believe appreciation gifts reflect how much an employer values them. Appreciation gifts aren't just material items; rather, they are physical representations of gratitude towards an employee.
Why we love it: We love appreciation gifts for employees because they are easy to give, yet they pay off enormously in terms of employee engagement, appreciation, productivity, and loyalty.
Tool you can use to help set up a culture of appreciation: 👉SwagMagic
An all-in-one Swag solution for the modern workplace. This globally streamlined platform helps you create, automate, and distribute the highest quality merch. SwagMagic is optimized for client and employee gifting, new hire welcome bundles, and much more!
5) Give Employees Time To Reset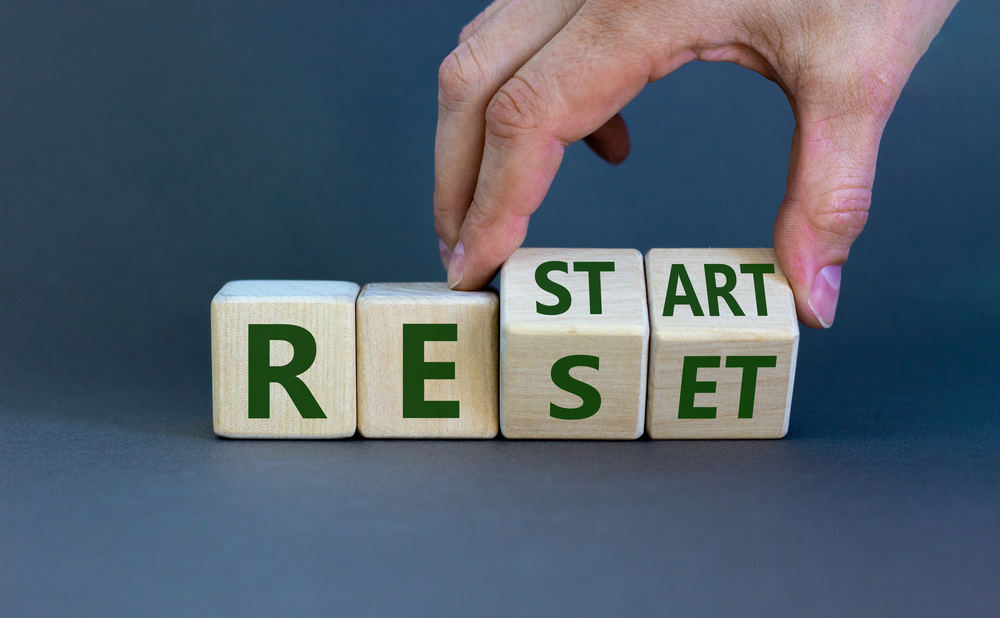 Employees give their time, energy, and talents to help make companies successful. Giving employees time to reset is critical for getting the most out of them and ensuring that they have the health and enthusiasm to perform their best.
How does this idea improve appreciation at work? When it comes to work-life balance, resetting emotionally, mentally, and physically is crucial.
Why we love it: While you can always do at-work functions, one of our favorite ways to approach employee resets is by offering experiential gifts and rewards.
Tool you can use to help set up a culture of appreciation: 👉Awardco
With activities like seeing the Northern Lights, kitesurfing, and museum tours– Awardco will help employees reset! Hand-curated experiences ensure there's something for every employee — no matter what their hobbies and interests are.
6) Encourage Employees To Try New Things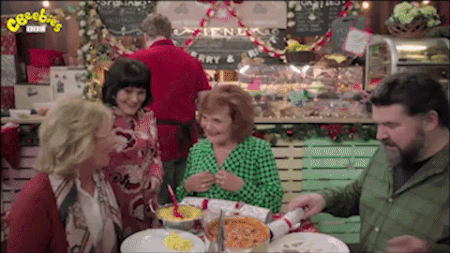 Encouraging employees to try new things is what will really break the monotony of their work routine. Who says every day has to be the same? What energizes people is the mental stimulation of change.
How does this idea improve appreciation at work? New experiences are the bread and butter of employee engagement.
Why we love it: Virtual employee appreciation and egifts are the way to go when it comes to keeping things fresh and exciting!
Tool you can use to help set up a culture of appreciation: 👉Motivosity
This culture tool drives up attendance at virtual and in-person events by enabling your event planners, trade show experts, and marketing specialists to incentivize engagement with drinks, lunches, and rewards, among other gifts!
7) Send Out Company-Wide Shoutouts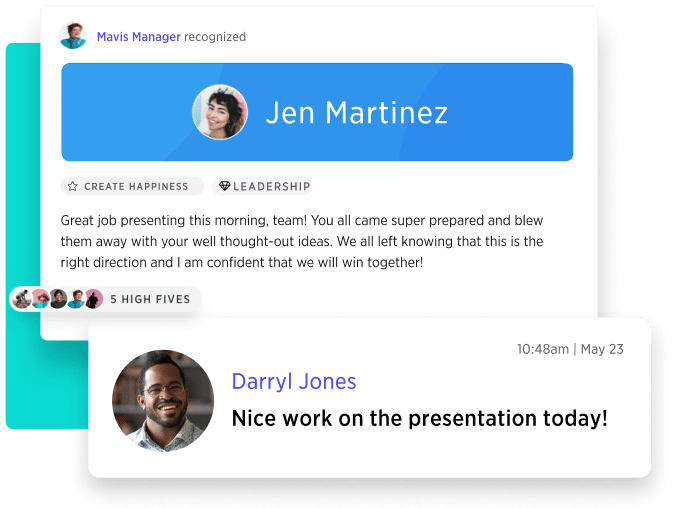 Company-wide shoutouts are a form of extreme social recognition. People enjoy being seen and this gives everyone a chance to be a corporate superstar.
How does this idea improve appreciation at work? Employee productivity increases by 31% when employees are happy. Company-wide shoutouts improve satisfaction and connectivity, which massively boosts morale.
Why we love it: In the post-pandemic world, it's harder than ever to make employees and coworkers feel connected — however, several tools can do the trick. The best ones enable peer-to-peer recognition.
Tool you can use to help set up a culture of appreciation: 👉WorkTango
The go-to virtual workspace with real-time messaging, calls, chatting, file-sharing capabilities, and hundreds of integrations.
8) Ask Your Employees Questions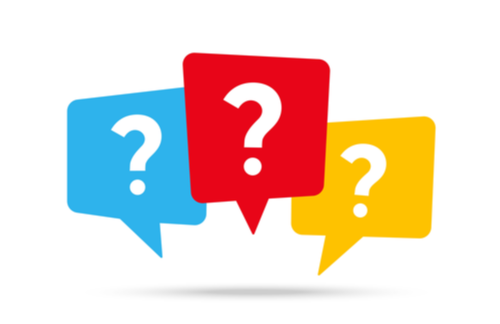 Asking your employees questions lets them know you are actively looking to improve office culture. Surveys and questionnaires will help you keep a pulse on office morale, employee satisfaction, employee mental health, and overall well-being.
How does this idea improve appreciation at work? Pulse surveys and feedback platforms give you an edge when it comes to maintaining the emotional health of your organization. Over the long haul, this will also pay off big time in the bottom line for your company — from cheaper recruiting costs and reduced absenteeism.
Why we love it: We love this culture-building technique because it really lets you know exactly how well your company is living up to its values. Whether the response is negative or positive feedback, you'll know exactly what to do to amplify whatever it is that's going well and show appreciation.
Tool you can use to help set up a culture of appreciation: 👉monday.com
An easy-to-use platform that allows you to streamline your sales pipeline, build out an extensive CRM, set up accountability metrics, and launch your marketing campaigns. Plus, monday.com offers a free 14-day trial!
9) Acknowledge Important Employee Milestones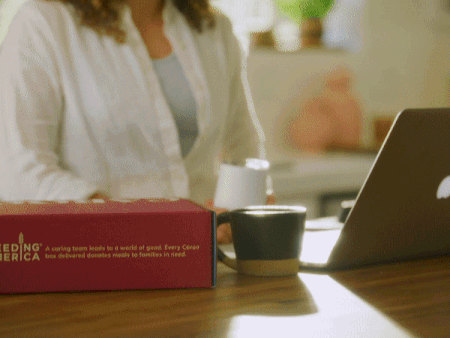 Acknowledging important employee milestones is an absolute must. Silence communicates negatively. In other words, while you may sincerely care about your employees, if you don't explicitly celebrate the big moments they will notice.
How does this idea improve appreciation at work? Acknowledging milestones at work is low-hanging fruit when it comes to employee engagement. Relationship building is everything and this is an easy way to show you genuinely care about the health, wellbeing, and success of your employees or coworkers.
Why we love it: Milestone acknowledgment in the workplace is a chance for coworkers to rally around each other. Whether it's a promotion, a work anniversary, a new certification, or reaching a certain key performance indicator, you can celebrate with gift cards, time off, or a special award.
Tool you can use to help set up a culture of appreciation: 👉Caroo
As a premier employee care platform, Caroo offers custom swag, snacks, and a full-fledged Concierge service to help you create the appreciation culture of your employees' dreams!
10) Celebrate Small Wins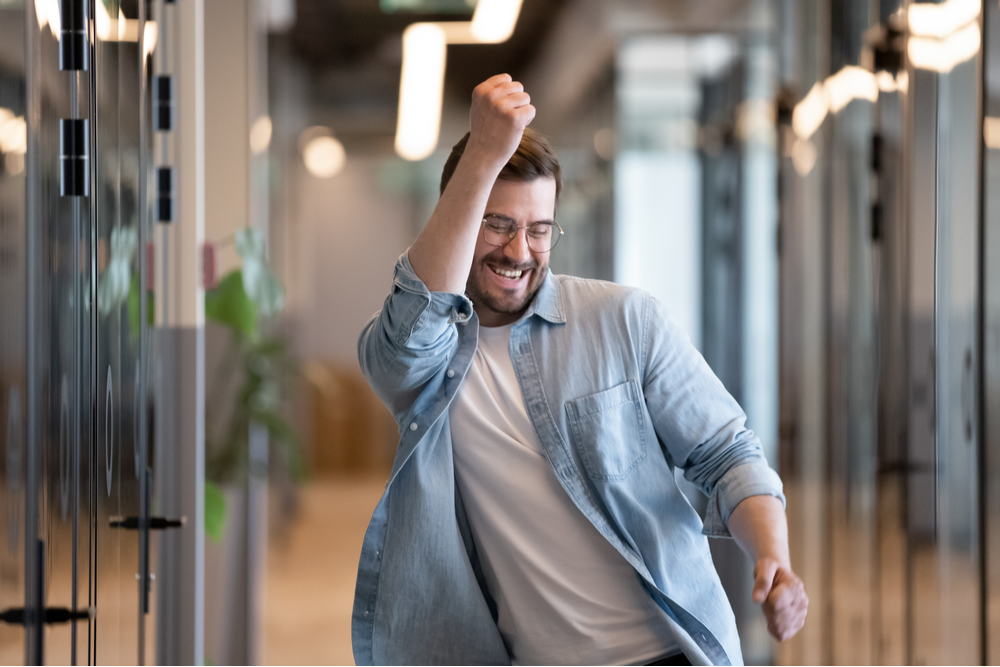 Celebrating small wins is the name of the game. The day-to-day of the workweek is made up of heaps of little wins, which ultimately lead to big business wins. However, in the meantime, before those big wins stack up go ahead and make the process itself even more enjoyable.
How does this idea improve appreciation at work? Celebrating small wins at work improves appreciation in the workplace by infusing the process with more joy. Sometimes, it's nice to be cheered along the way instead of only after arriving at the destination.
Why we love it: Workplace appreciation is a daily effort and celebrating small wins matches the day-to-day rhythm. After all, with half of your life spent at work, you really deserve a workplace you feel comfortable working in!
Tool you can use to help set up a culture of appreciation: 👉Confetti
This team building tool provides shippable experiences and team-building ideas on its one-of-a-kind platform. Each thoughtfully curated experience is vetted to include only the most passionate vendors and professionals to guide your team-building journey!
11) Solicit Employee Feedback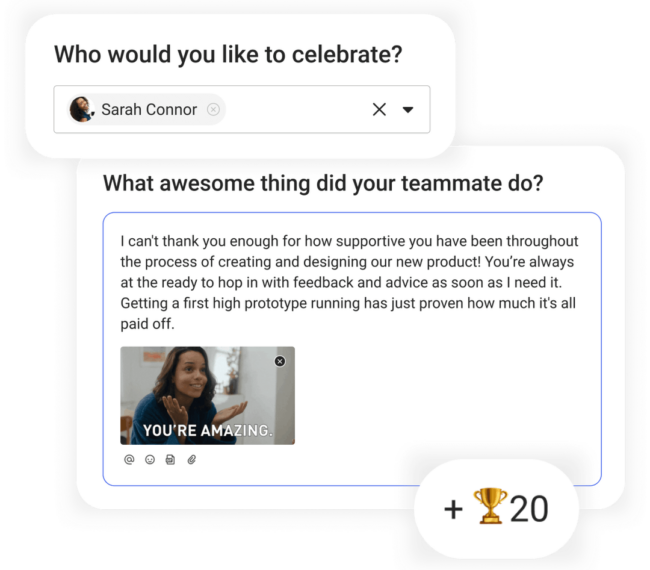 Soliciting employee feedback is an art. Building the ideal employee experience requires feedback and constant iteration.
How does this idea improve appreciation at work? Information is everything. Sometimes it really just comes down to giving employees a platform to express themselves. You can give new employee surveys, employee engagement surveys, pulse surveys, exit interviews, and stay interviews. Additionally, you can utilize review sites by scanning for feedback and employee suggestion boxes for honest feedback as well.
Why we love it: Utilizing tools to get employee feedback is your first key step towards a great customer experience as well because happy employees make happy customers!
Tool you can use to help set up a culture of appreciation: 👉Assembly
The ultimate peer-to-peer employee recognition platform for company-wide team building and rewards. In fact, 95% of employees who use Assembly report feeling more engaged.
12) Send Out Thank You Notes To Employees Who Help You Out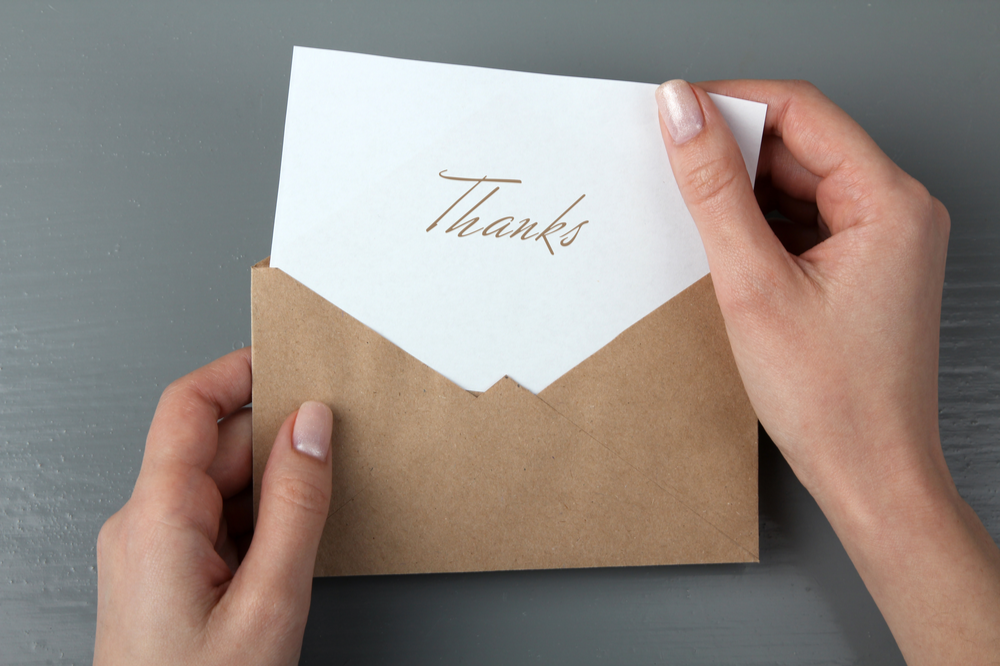 Sending thank-you notes to employees is a life hack for employers. If employees feel their work goes unnoticed, they will lose motivation. A thank you note is the perfect old-school touch just to say that you care.
How does this idea improve appreciation at work? For the sentimental types, thank you notes go a long, long way. By writing a note celebrating a moment or memory and expressing gratitude, you're letting them know that you see and acknowledge their work.
Why we love it: Part of the reason we love this so much is that you can utilize it for coworkers instead of only doing it as a top-down initiative. This simple gesture is cost-effective and can be executed by anyone in the organization.
Tool you can use to help set up a culture of appreciation: 👉Personalized Note Card Set
A set of 12 flat premium stock cards and envelopes with digital printing. The lowercase monogrammed cards allow you to put names on them in almost 40 varieties of ink and you can choose the envelope color.
13) Reward Remote Employees With Remote Perks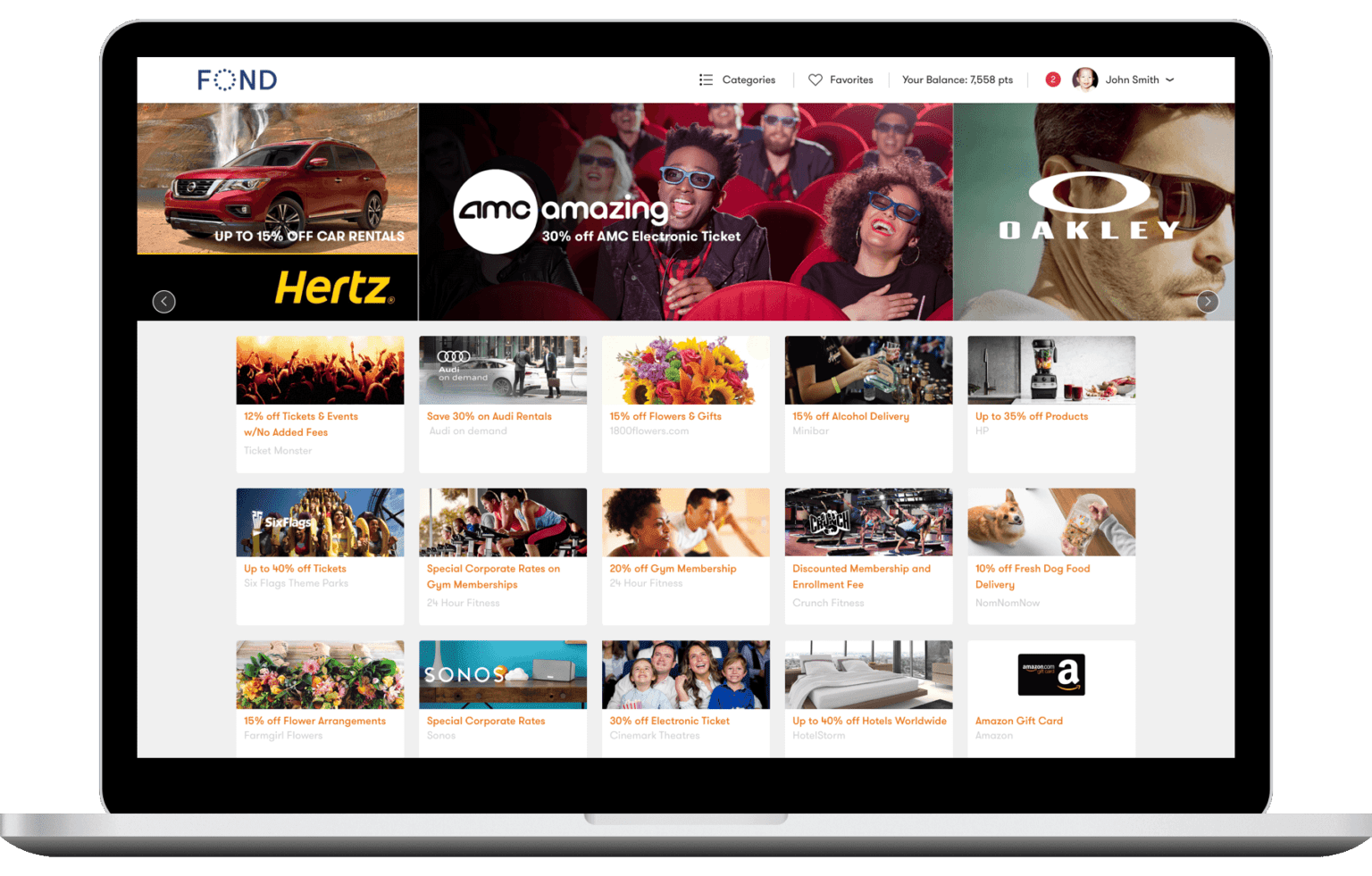 Rewarding remote employees with remote perks is a natural fit. Working from home used to be a perk, but the work-from-home trend has made it fairly normal for many employees and prospects.
How does this idea improve appreciation at work? Offering up technology and supplies, coworking space stipends, flexible work hours and unpaid PTO, health, and wellness classes and allowance, company trips, parental leave, and childcare benefits are several of the many remote perks that can give you an edge in the competition for top tier talent.
Why we love it: Remote work is here to stay. The pandemic merely accelerated this workplace trend. To create a positive workplace culture in 2023, you have to know how to reward your distributed teams.
Tool you can use to help set up a culture of appreciation: 👉Workstars
Fond is an employee appreciation software that allows both managers and employees to recognize each other, redeem rewards, offer exclusive corporate discounts, and glance at company-wide analytics so HR experts can spend more time improving the company and less time keeping up with minutia.
14) Connect With Employees Outside Your Department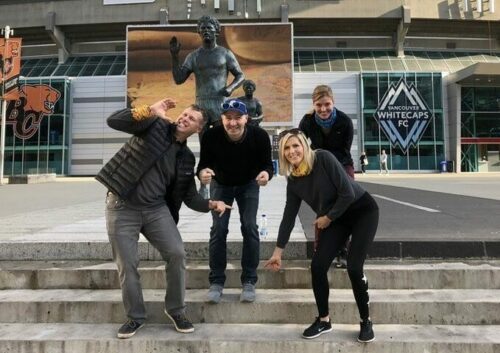 Eliminating silos in the workplace is a big part of growing as an organization. When knowledge gets stuck at any particular point it hinders your potential to expand.
How does this idea improve appreciation at work? Connecting with employees outside of your department helps you share ideas, discoveries, and knowledge.
Why we love it: We love seeing employees connect with others outside of their department because it ensures they'll have a holistic perspective of the organization's health and business strategy.
Tool you can use to help set up a culture of appreciation: 👉Outback Team Building
This team building company features more than 60 team building activities and corporate training solutions and is used by more than 14,000 businesses throughout North America. The best part? These solutions are optimized for both in-person and remote experiences.
15) Encourage Peer To Peer Recognition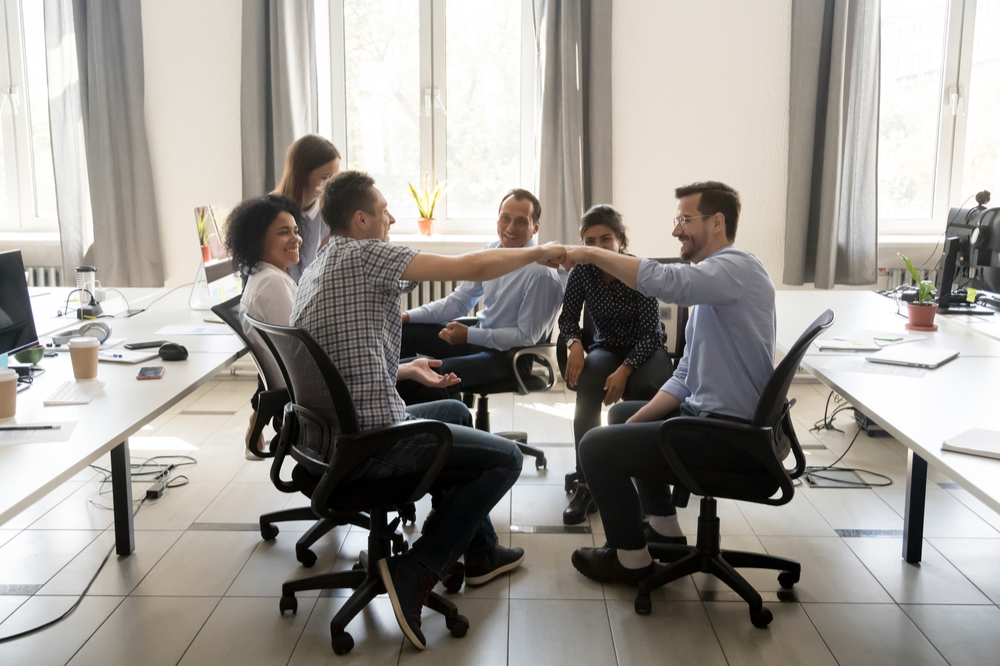 Encouraging peer-to-peer recognition is the best way to create a positive culture of recognition that can scale properly.
How does this idea improve appreciation at work? This positivity-spreading idea for the workplace allows everyone to feel safe encouraging each other. While it's incredible to be recognized by managers, sometimes the best validation comes in the form of peer-to-peer recognition from your coworkers.
Why we love it: We love peer-to-peer recognition because there are daily opportunities to execute this idea. This should become a routine tactic of any organization looking to create a culture of appreciation.
Tool you can use to help set up a culture of appreciation: 👉SnackNation's article on Peer To Peer Recognition
This blog post is part of the dynamic healthy office snack delivery service that has, in recent years, made headlines for its expanded ventures into the overall employee care arena. SnackNation is making workplaces amazing with healthy snacks from the top natural food brands out there.
---
Tips For Building A Stronger Culture of Appreciation
Establish peer-to-peer recognition – It doesn't start from the top down. The strongest cultures are created when peers celebrate each others' wins.
Set clearly defined goals and celebrate – Celebrate whenever anyone in your organization reaches their goals.
Don't forget to laugh – Always leave time and space for laughing and playing.
Leave room for ideas – Emotional safety is super important in the workplace. Make sure to value ideas and input even if you don't incorporate every single one.
Avoid over-emphasizing hierarchies – Great leaders lead by example. When a leader is doing a good job, they don't have to talk about their own strengths or abilities. Instead, they bring out the best in others.
---
People Also Ask These Questions About Fostering A Culture Of Appreciation
Q: Why is it important to build a culture of appreciation in the workplace?
It is important to build a culture of appreciation in the workplace because it ensures that your employees will be healthier, happier, more satisfied, productive, and more loyal to your company.
Q: What are some strategies I can use to promote a culture of appreciation?
There are several strategies you can use to promote a culture of appreciation. For example, you can utilize employee recognition software, give employees gifts or experiences, and plan social functions for team building.
Q: How is company culture impacted by appreciation and recognition?
Company culture is impacted by appreciation and recognition mostly for what happens when these two positive elements are absent in the workplace. A company is devoid of appreciation and recognition, de-motivates and de-incentivizes employees from doing their best work. Additionally, you're likely to see a spike in absenteeism and a lack of engagement in a work environment without sufficient gratitude.
Q: Are there low-cost ways to foster a culture of recognition and appreciation?
Absolutely! You do not have to break the bank to create a workplace where appreciation is important and employees feel they are being properly valued. It starts with connecting with your employees as human beings and getting to know them. That can help you determine which types of appreciation they respond to. Some team members may like verbal recognition in a one-on-one setting, while others will respond more positively to public recognition. At the end of the day, the ideas in this list can be used when you have a budget or for managers who want to implement strategies that are low-cost or free.