Employees staying with the same company for four or five years — let alone their entire careers — is a rare thing these days. Is that good or bad? If anything it's a reflection of the fact that as an employer, if you want employee loyalty and retention, you've got to earn it. 
One of the best ways to reward employees who remain loyal, which also incentivizes retention, are years of service awards. 
"Highly engaged business units achieve a 10% increase in customer metrics and a 20% increase in sales." — Gallup
Typical service award programs simply focus on employee tenure; however, the types of service award program tips, strategies, and awards you'll find here are all about spotlighting real accomplishments and contributions, along with time spent.
In a hurry? These are some of our favorite platforms to help you celebrate your valuable employees' years of service:
Check out our years of service awards, program tips, and strategies to celebrate milestones in 2023!
Want to become a better professional in just 5 minutes?
What are Years of Service Awards?
Years of service awards are incentives given for anything ranging from service anniversaries, employee anniversaries, long service awards, length of service awards, service milestones to milestone awards. Retaining and engaging employees with years of service awards is so effective because it's the ultimate expression of gratitude for their dedication, which in turn gives them even more reason to want to stay!
Years of Service Award Ideas
1. Note or Award from the CEO
"For an extra special recognition program"

A note or award from the CEO is enough to give most employees an electric feeling — especially at a large company with hundreds of employees. CEO usually comes with a level of respect for having built or at least managed a company's growth and development. Hearing directly from the person in charge of the whole operation is the ultimate form of employee recognition.
Best for: 1 year of service
Why your employee will love this service award: Your employee will love hearing directly from the CEO because it lets them know they aren't just a number or viewed as an asset. Instead, they're seen as a human, above all.
For additional information: Try sending the note in an Employee Care Package.
2. Redeemable points
"A gift that keeps on giving"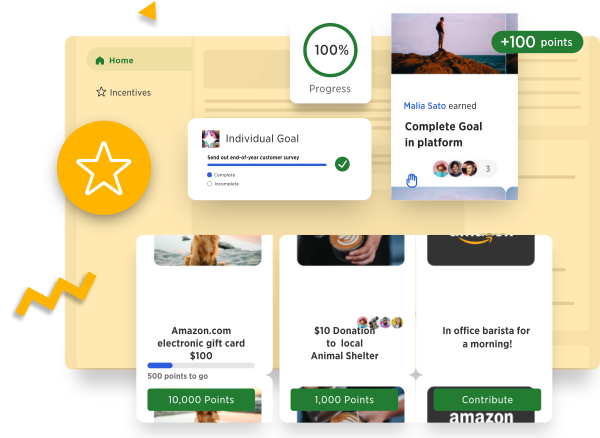 Reward your employees with points they can redeem for items or experiences. Redeemable points are a fantastic way to show appreciation and offer rewards that last much longer than just one day.
Best for: 2 years of service and up
Why your employee will love this service award: Points can be used to purchase a variety of items, ensuring employees get something they're interested in rather than just another generic years of service award idea.
For additional information: Check out a points-based recognition program to encourage all your employees to join in on the celebration!
3. Ecard
"Celebrate with a special message"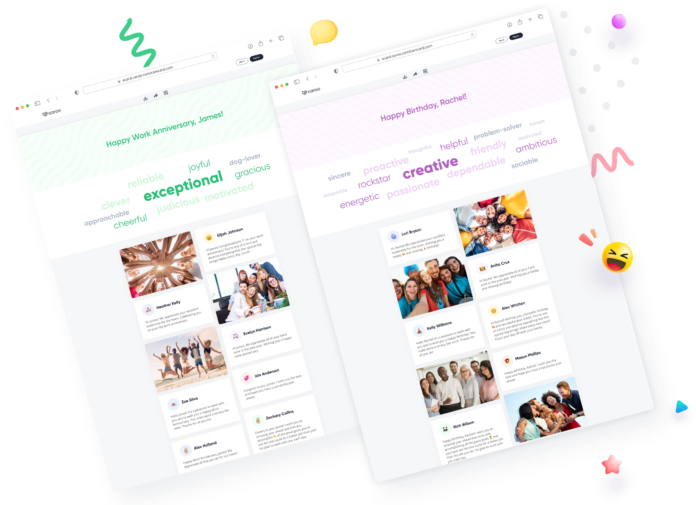 Say thank you to your employees with an ecard that will touch their hearts. An ecard is the perfect way to let each individual employee know just how much you value and respect their time and commitment by adding a personalized message. Expressing thanks for all of the years they've dedicated to the company is a must and once its done digitally this particular award style lasts forever!
Best for: All years of service
Why your employee will love this service award: An ecard is a thoughtful and personal way to appreciate employees for years of service, allowing you to customize the message to make the award extra meaningful.
For additional information: Get started with Care Cards to start working on your own customizable ecard!
4. Gift Cards
"Give the gift of choice"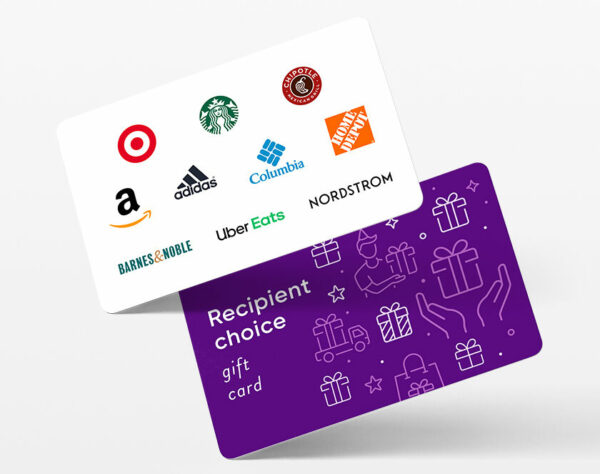 Show your employees how much you appreciate their hard work and loyalty with easy-to-use gift cards. Gift cards are a perfect way to say thank you, as there is something for everyone no matter what their tastes or preferences may be. In other words, they allow employees to select their own service award!
Best for: 1 year of service
Why your employee will love this service award: Gift cards allow the employee to choose what they want, allowing them to make a purchase they'll truly love and appreciate.
For additional information: Learn more about Caroo's gift card options here!
5. Weekend getaway
"The perfect end to the work week"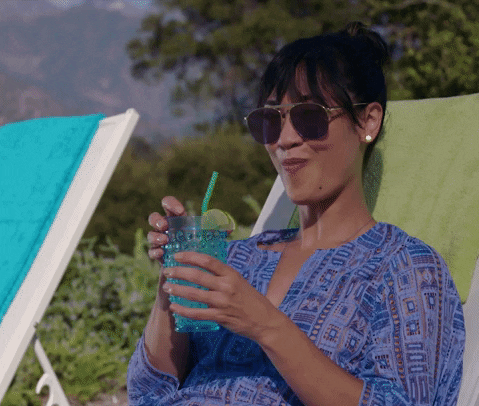 Let your employees take a break and reward them with a weekend getaway. An extended time away from work can provide the perfect opportunity to relax, unwind, and recharge.
Best for: 3 years of service
Why your employee will love this service award: A weekend getaway can be a much needed break from the daily grind, giving employees time to reconnect with themselves and enjoy some well-deserved rest and relaxation.
For additional information: Find out more about a weekend getaway with Awardco.
6. Charitable Donation
"The gift that gives"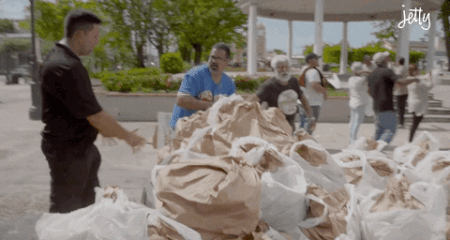 Philanthropy is extremely important to many employees — especially millennials and Gen-Z. Working corporate social responsibility into your service award program will be a hit because of this.
Best for: 3 years of service
Why your employee will love this service award: Charitable donations are a great way of promoting corporate values, while at the same time rewarding loyalty. Find a cause that aligns with your employees' passions.
For additional information: Give out bonus points and social recognition to facilitate philanthropy via a recognition platform — like this one.
7. Unique Swag
"For one-of-a-kind swagger"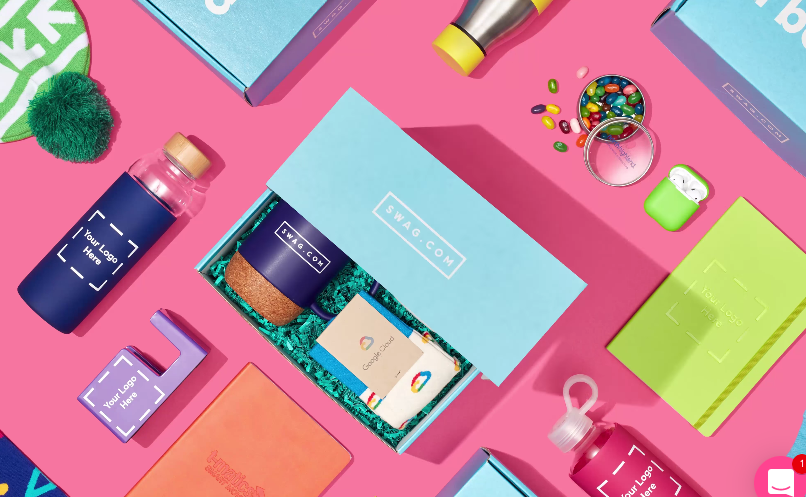 Unique swag is a solid service award idea because you can often customize it to suit the particular employee's tastes.
Best for: 2 years of service
Why your employee will love this service award: Your employee will love unique swag because they can wear it or make legitimate use of it.
For additional information: Browse through Swag.com to find custom branded swag.
8. Team Dinner at A Fancy Restaurant
"Winner, winner, fancy dinner"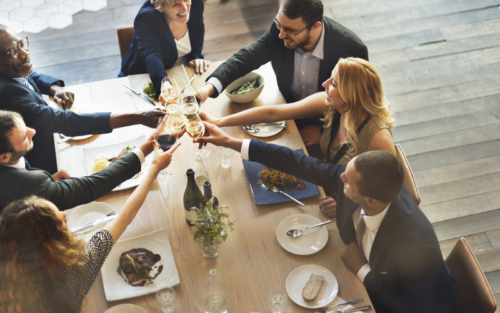 Team dinner at a fancy restaurant is a serious milestone flex. Your employee will be the star of the evening with this service award tip.
Best for: 5 years of service
Why your employee will love this service award: Food is tantalizing, tactile, and sensory. Like great music, the things we eat get associated with memory, which is in this case, will be a positive one.
For additional information: Book a fine dining experience at a local restaurant.
9. Milestone Box
"For the superb superlatives"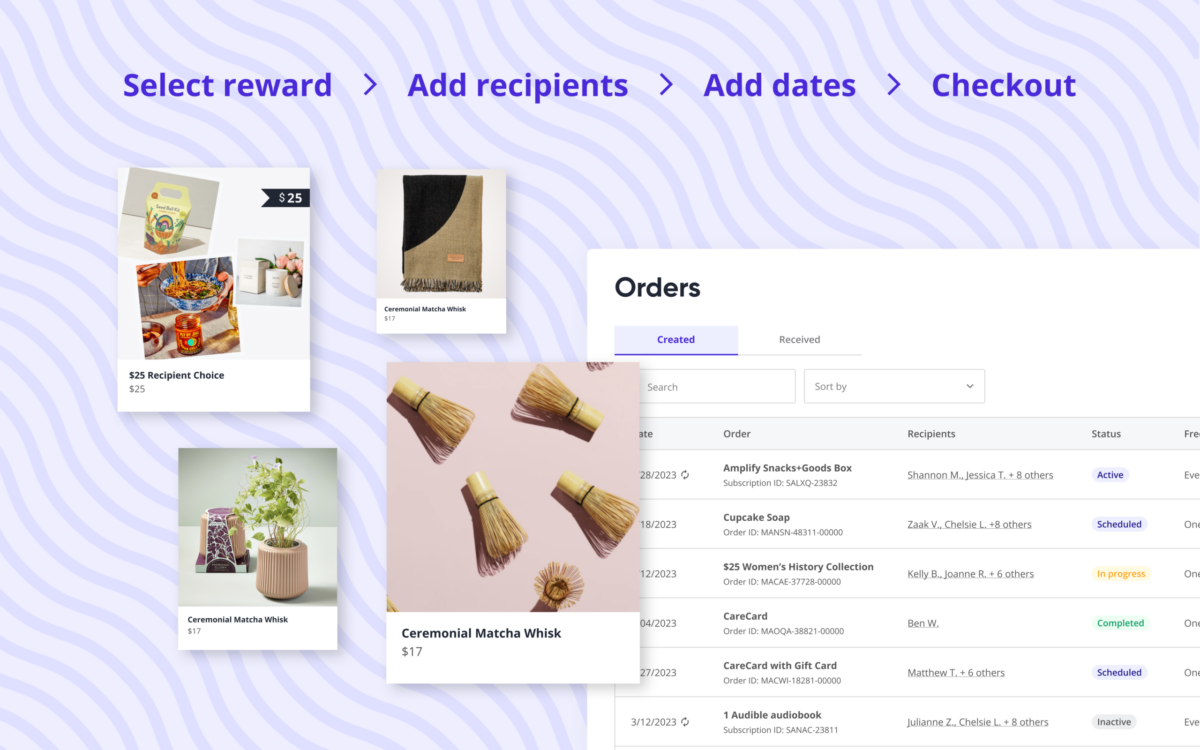 Milestone boxes are packages curated explicitly for those major milestones at work. These packages typically include unique items as opposed to your run-of-the-mill swag. For example, a 10 years of service award should include a number of high-quality gifts that speak directly to your employee. Whether they have specific hobbies, interests, or enjoy a particular food or drink — your milestone gift should celebrate them!
Best for: 6 months of service
Why your employee will love this service award: Milestone boxes are worth the effort because they actually match the gravity of the moment. Milestones require energy — an energy that deserves to be matched.
For additional information: Try ordering a milestone box from Caroo.
10. Trophy or Plaque
"For immortalizing success"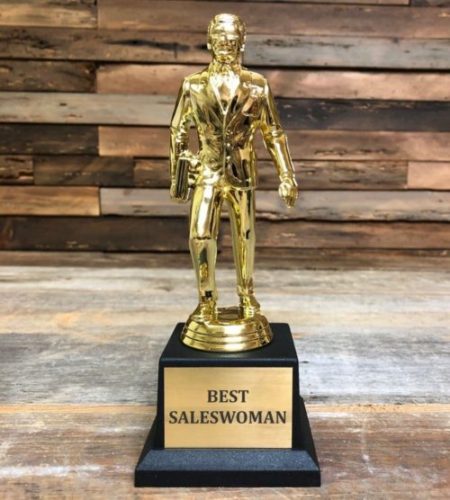 A trophy or a plaque is a reminder of the moment they crossed the finish line on an objective. The feeling fades over time, but the trophy will allow them to recall exactly how they felt at the time.
Best for: 10 years of service
Why your employee will love this service award: A plaque or trophy etches their success in stone — or whatever material its engraved in.
For additional information: If your employee is a fan of the classic television show The Office, you might want to give them a Dundie to celebrate their years of service.
11. Signed Card From The Team + Gift
"For camaraderie"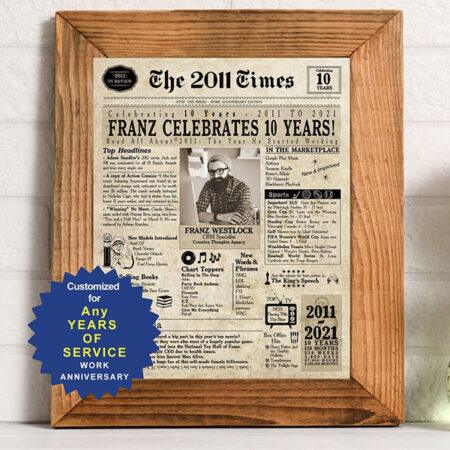 A signed card from the team, accompanied by a gift is the perfect way to celebrate milestones with your coworkers or employees. This long service award highlights their time at your company is a unique and personalized way!
Best for: 5 years of service
Why your employee will love this service award: Employees will love this service award strategy for the same reasons we enjoyed having our yearbooks signed in grade school — the memories and the connections!
For additional information: You can personalize a years of service card for your employee to gift them something they will want to keep at their desk or workstation for a long time.
12. Throw A Party
"For mixing business with pleasure"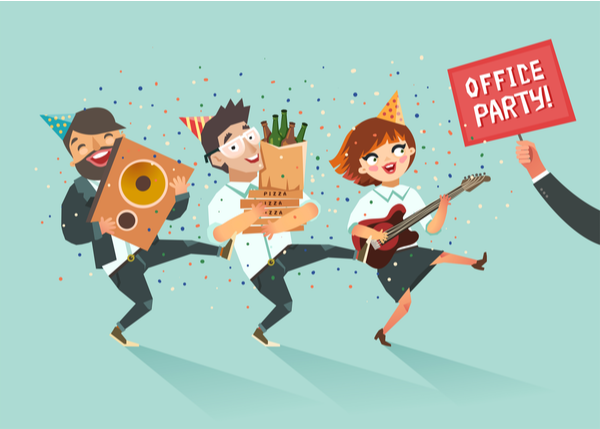 Depending on the employee and whether or not they are a party lover, throwing a good old fashion jubilee could be a rock solid idea.
Best for: 5 years of service
Why your employee will love this service award: Throwing a party for an employee is the ultimate VIP experience. They simply won't forget it.
For additional information: If your employees are remote or working in a hybrid environment, there are a ton of virtual party options that engage everyone in a lively Zoom party environment.
13. Office Upgrade
"For those who've worked their way up"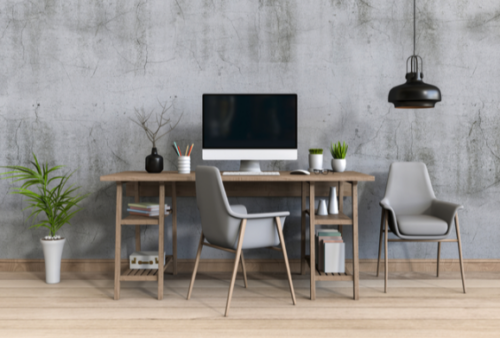 So they've been around for a while. They've seen some stuff and are a grizzled corporate veteran. Now, it's time for an upgrade.
Best for: 3 years of service
Why your employee will love this service award: Someone's space is important — especially when they spend so much time in it. Upgrading their office is the kind of surprise that shows you appreciate them to the extent that you want to go out of your way to optimize their environment. Those extra touches boost employee satisfaction massively.
For additional information: Bespoke Post offers customized, highly unique office decor.
"Big time benefits for big ballers"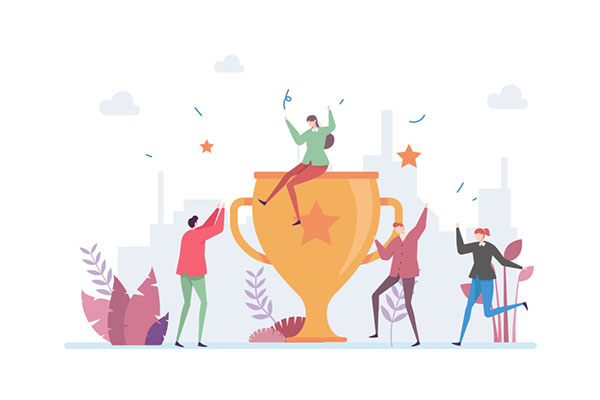 Employee incentives are essential for every service award program.  From personal time off (PTO), sponsored education, retirement benefits to sabbaticals, there's no shortage of creative ways to provide employee incentives.
Best for: 1 year of service
Why your employee will love this service award: In the corporate world, money isn't everything. While monetary incentives are great, some of the best work perks are non-monetary.
For additional information: Read this SnackNation article on employee benefits!
15. Vacation / Trip Package
"For work life balance on the fly"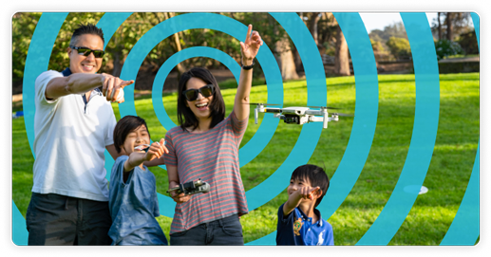 A vacation or trip package is a luxe gift for employees. In fact, this service reward is best-suited for long-time employees.
Best for: 10+ years of service
Why your employee will love this service award: Material things are great, but experiences are what we live for.
For additional information: Using an experiential recognition platform like Blueboard, you can reward the time your people have put in with memorable experiences.
16. Social Media Post
"For social recognition"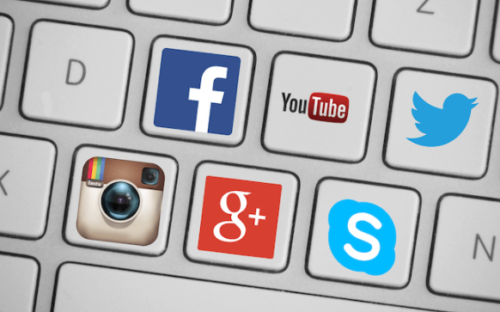 Social media posts are an instantaneous way of using social recognition to celebrate a team member. Hop on your company Facebook, Instagram, and your various social channels to give a shoutout!
Best for: 3 years of service
Why your employee will love this service award: Slowly, but surely, the digital world has become about as important as the physical world. Now, it's almost as if it doesn't count if it isn't acknowledged on social, so be sure to make the time to give that shoutout.
For additional information: LinkedIn is the top network for professionals. Any sort of work-related milestones, should absolutely be posted there.
Milestones To Give A Service Award
1. Anniversary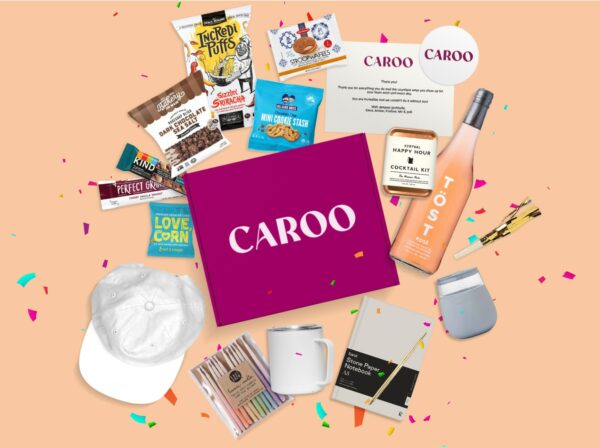 A work anniversary is a huge milestone, so take a second to celebrate and reflect on this event with the employees you cherish! Mark down the day they started and take some notes about your kind first impressions and the things you've enjoyed getting to know about them.
Tip: Set up a recurring reminder that automatically notifies you when an employee's anniversary is near — this can also include wedding anniversaries and other outside-of-work anniversaries if you know that information as well. Go above and beyond by sending them a years of service package with Caroo!
2. Daily Wins
Why wait for something to come around once per year when you can find a reason to celebrate every day? Each sunrise is another opportunity to build an even more positive corporate culture.
Tip: Use Bonusly to add visibility into your team members' successes. Now, rewards and recognition will be integrated into everything your employees and managers do!
3. Celebrate Results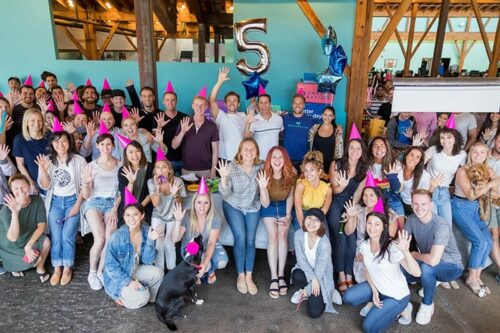 Gone are the days of simply clocking in and out. With remote work in full-swing, we've entered the era of the results-based economy. Celebrate the end of a project, the culmination of an event, performance metrics achieved, and much more.
Tip: Throw a team party — in person or virtual — to celebrate the success of your employees.
4. Promotion Announcement
Promotions are a big deal. To get one, an employee has had to not only work extremely hard, but to actually get great results. Announce their promotion and let them soak in the moment!
Tip: Give gifts for promotions to go along with the promotion announcement.
5. Personal Development Achievement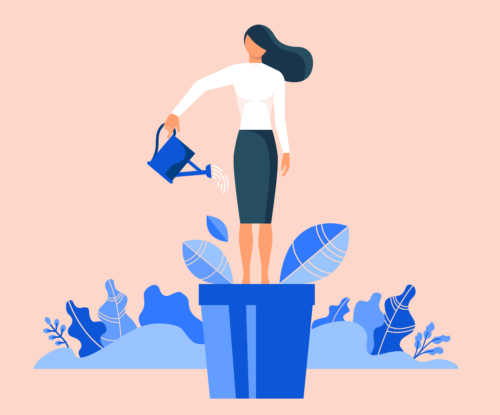 Personal development moves include passing certifications, completing courses, finishing different levels of education, and completing any sort of career advancement. An organization is as good as its talent — and of course, how well that talent works together — so celebrating personal development is cheering on both the employee and your organization as a whole.
Tip: Buy the team lunch the next time they complete any type of career advancement or they make conscious efforts at personal development.
6. Retirement
Retirement is a monumental occasion. Unless you're Michael Jordan, it only happens once in your lifetime. Help your employees get that farewell tour and go out with a bang!
Tip: If you're short on ideas, check out these retirement party ideas.
7. Bereavement
While the other items on this list are certainly more exciting and less tragic, loss is a difficult and inevitable part of life. It's during those moments more than ever that your employees need your compassion and understanding.
Tip: A sympathy basket is ideal for bereavement. Nobody should have to suffer alone and this is one way to let your employees or coworkers know that your heart goes out to them.
8. New Baby / Maternity
A new baby is, for many people, the mother of all milestones. Pun intended. Maternity is a beautiful yet sensitive time in a new mother's life, so celebrating with them gives them comfort and helps them feel connected even as they're away on leave.
Tip: Finding the perfect baby gift is challenging — fortunately, you can start with this one.
9. Onboarding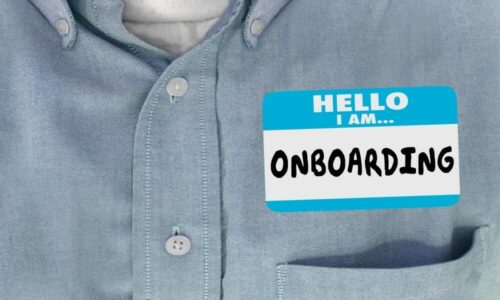 The first impression an employee has of your company can often be the lasting feeling they have while being a part of it. Onboarding is where employee engagement and retention begins.
Tip: Get your new hires an employee welcome kit to welcome them into your company culture and set the right tone from day one.
10. Sales Award
Sales is competitive, cutthroat, and clearly measured. That means that it also needs to be clearly rewarded. When your salespeople hit their big marks, celebrate those milestones in meaningful ways.
Tip: One of the most meaningful ways to celebrate your salespeople hitting their numbers is through a Sales Award.
Setting Up A Years Of Service Award Program
Step 1 – Establish a process you can build into your culture / job responsibility
Milestones and employee recognition need to be seamlessly integrated into the day-to-day culture. Additionally, each job role needs to have specific rewards related to the activities it entails.
Step 2 – Follow through from start to finish
Once the expectation is set, always deliver on the rewards for the milestone. Met goals deserve to be met with milestone awards.
Step 3 – Make sure your award is appropriate for the occasion
10 years of service is a different sort of occasion than an employee who has just completed their first. Also, you'll want to be sure that the award is grand enough for those extra special moments.
Step 4 – Include the team in the award
Remember how your parents would include you in the card as a gift giver? It's the same principle. The other employees will appreciate being included.
Step 5 – Make it personal – use what you know about them to make the award special
The goal of giving an award is to make the recipient feel special. The best way to do that is to personalize it so the work award doesn't seem generic.
Step 6 – Determine your budget
Awards and recognition can add up. While you should give graciously, you still need to have a limit that you don't allow yourself to succeed. Once you do that, make sure to also cap off milestones properly so promises don't go unmet.
Step 7 – Present the award at a specific time and place
The setting matters. The when and how matters, too. Present the award at a banquet, ceremony, or company-wide meeting for maximum impact!
Step 8 – Tie it into you company values and mission
The awards have to align with your company values and culture. After all, milestone celebrations are an ideal opportunity to reinforce your corporate culture and team building.
Step 9 – Get buy in/participation from leadership
Leadership getting behind the service award program in full force will have a large influence on how successful it is.
Benefits Of Giving Out A Years of Service Award
1. Improves retention
Giving out a years of service award boosts retention because employees who feel their work is valued are much more likely to stay at the company. Conversely, employees who feel undervalued are eventually going to leave if the option presents itself.
2. Simplifies recruiting
When potential prospects and talent are searching for a job or getting ready to apply to your company, they'll often reach out to current and past employees to learn about their experience. Years of service awards show that loyalty is rewarded.
3. Reinforces workplace culture
Years of service awards build trust within the workplace. They also build other important values, which in turn reinforces the positive aspects of your corporate culture.
4. Creates connections
Years of service awards forge connections across every department in the company. Implementing a service award program gives teammates a sense of belonging. Reducing isolation also enhances empathy, kindness, and emotional safety in the workplace.
5. Cultivates gratitude and appreciation
When an employer expresses gratitude, it sets the tone for the entire company culture. Creating a culture of appreciation starts with incentives, rewards, and recognition.
---
People Also Ask These Questions About Years Of Service Awards
Q: What are some unique years of service awards?
Some unique years of service awards include dinners at fancy restaurants, experiential rewards, team building activities, and anything custom or personalized.
Q: How do I choose the right years of service award for my employee?
Choosing the right years of service award for your employee is really a matter of personal preference. One fun trick is to pretend you're getting a surprise for another employee and ask them for cool reward ideas. Then, you can turn around and get them the item or experience they seem most excited about.
Q: What does an employee services award cost?
An employee services award can cost anywhere from a few hundred dollars to several thousand, depending on a number of factors.
Q: How do I know if our years of service award program is successful?
You should know if your years of service award program is successful based on metrics like employee retention, engagement, satisfaction, productivity, and word-of-mouth recruiting. Satisfied employees tend to want others to join their team.