Two-thirds of ALL consumers have purchased at least one gift card. What does that tell us?
Gift cards are the safe bet when you aren't sure exactly what to get someone. They're as practical as cash with a tad more personalization.
In a hurry? These are some of our favorite employee gift card platforms:
Most people also don't feel confident about gift-giving — at least as much as 32% of people report uncertainty, according to the Business Gifting Strategy Report. According to a 2020 report by InComm,
"Millennials make up 37% of gift card buyers."
Meaning that more and more of the workforce is filling up with gift-card savvy people who like to purchase, give, and receive gift cards of all sizes.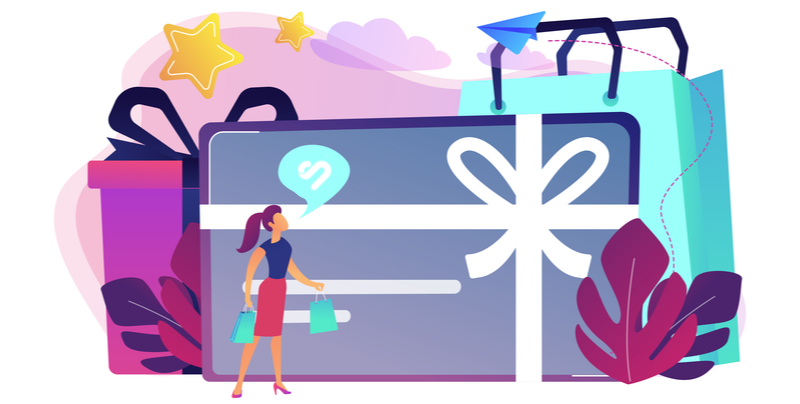 Not to mention the uncertainty we mentioned is even greater in a corporate context, which is why employee gift cards are the ultimate gifting strategy for the workplace.
Fortunately, we've compiled a list of the best employee gift cards that your team will actually want to use. Browse through this blog to find the perfect gift card for your employees in 2023!
Want to become a better professional in just 5 minutes?
Employee Gift Card Programs, Platforms, and Services
Employee gift card platforms are services that facilitate employee appreciation and recognition and make gift card-giving easier, more convenient, spontaneous, and often, merit-based.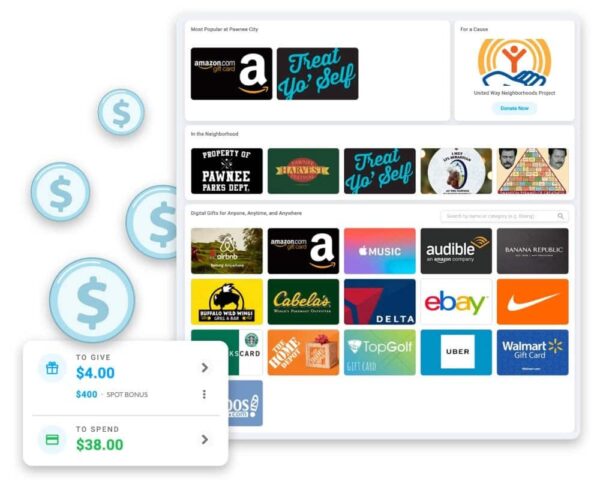 Motivosity strives to improve company culture with a platform that supports each level of your organization. You can not only easily search through their large catalog of employee gift cards, but can attach these gift cards to awards, employee shoutouts, and personalized thank you messages. They even offer a #thanksmatter physical credit card that employees can use to redeem their recognition dollars on just about anything!
Why we love this employee gift card program: This gift card platform combines the ease of gift card distribution, with a host of features that encourages managers to listen to employees, peers to thank each other, and the entire organization to care more about their company culture.
Notable companies using Motivosity:
Bosch
Great Clips
SalesRabbit
University Of Michigan
Adobe Workfront
Standout features:
#thanksmatter physical credit card
Personality profiles for new and existing staff
Customizable rewards
How to get started: Explore the Motivosity catalog!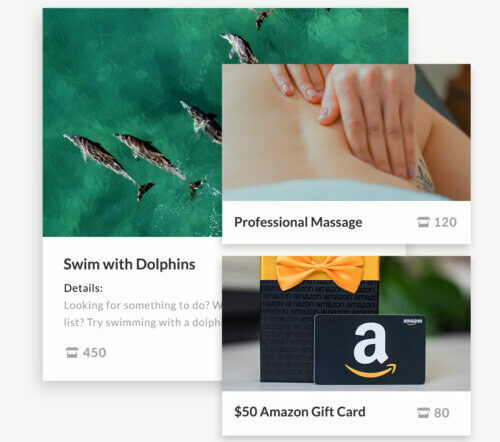 Bucketlist is an employee gift and rewards program that uses personalized recognition to match to the individual needs of the employee. With Bucketlist, employees can earn points and redeem them to achieve life goals.
Why we love this employee gift card program: It focuses on the employee rather than offering the same gift for every person on the team. This employee gift card service makes it possible to research, claim, and give quality gifts, experiences, and rewards so that employees get to enjoy checking things off their bucket list!
Notable companies using Bucketlist:
Chick-fil-A
Orlando Magic
Nexon
Majesco
Standout features:
Customizable rewards based on your company values
Huge range of gift cards
Easy onboarding so employees can use instantly
How to get started: Check something off your Bucketlist to get started!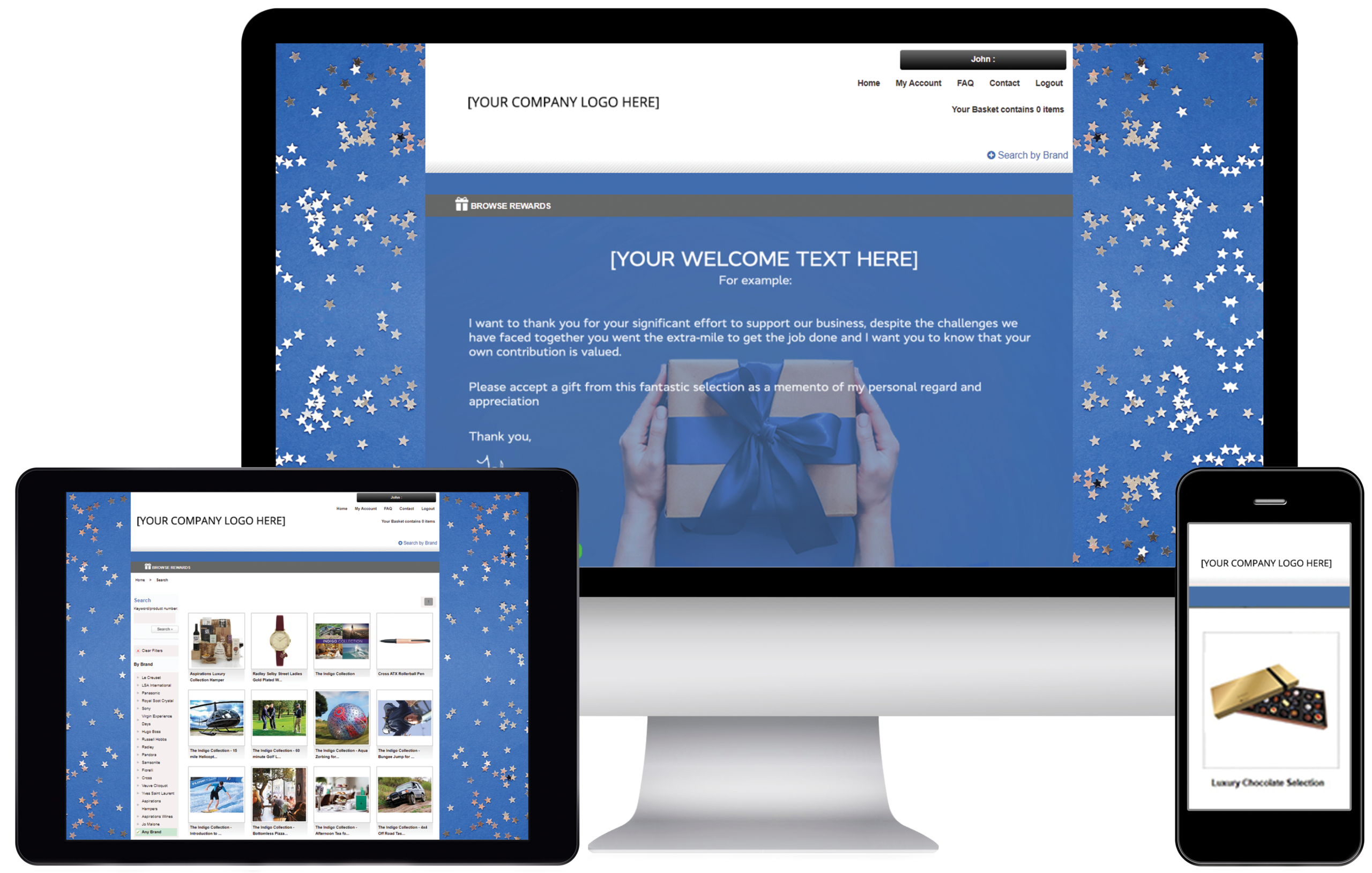 Terryberry is focused on helping companies across the globe support their valuable employees via the power of employee rewards. Their service gives managers and team leaders the flexibility to create a customized employee incentive and awards program where gift cards and all sorts of rewards can be sent to employees.
By working with top brands, Terryberry operates a reward platform that offers a selection of merchandise for every lifestyle. This ensures that when it comes time to select that perfect employee gift, Terryberry can make it happen.
Why we love this employee gift card program: Terryberry makes it easy to work your rewards and incentives into your existing health and wellness program. This encourages employees to achieve their fitness goals, take care of their mental health, and find opportunities to relax and recharge.
Notable companies using Terryberry:
Champs Sports
Little Caesars
Discount Tire
Standout features:
At no extra cost add your company logo, welcome messaging from senior management, custom backgrounds, and color schemes
Employees can choose exactly what they want from a growing curated list of luxury products, hampers, experiences, gift cards, and more
Incentivize healthy behaviors with reward gift cards for participating in fitness and wellness challenges designed by Terryberry or custom
How to get started: See why 40,000 organizations like yours choose Terryberry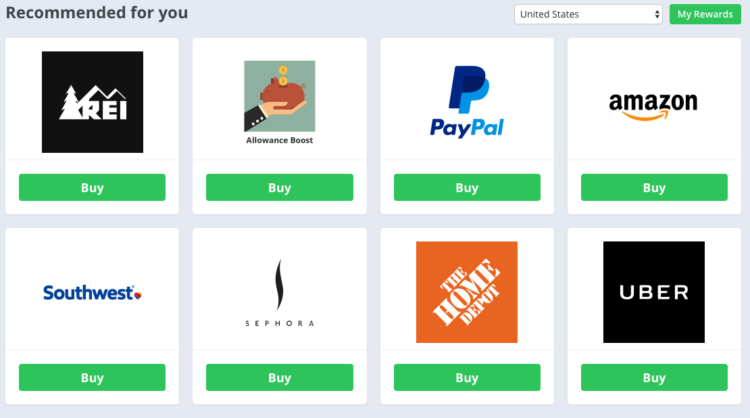 Bonusly is an employee incentives, recognition, and survey platform that's perfectly optimized for the results economy of the modern workplace. Companies will enjoy a more engaged, satisfied, and in sync group of employees with Bonusly!
Why we love this employee gift card program: Everyone can express gratitude and appreciation, instead of only the CEO or managers having that ability to reward employees. Through Bonusly, team members can redeem points for awesome items!
Notable companies using Bonusly:
Hulu
ZipRecruiter
Invision
Toast
SurveyMonkey
Standout features:
Seamless app integrations
Automated gift card ordering
Social feedback portal
How to get started: Get started with Bonusly today!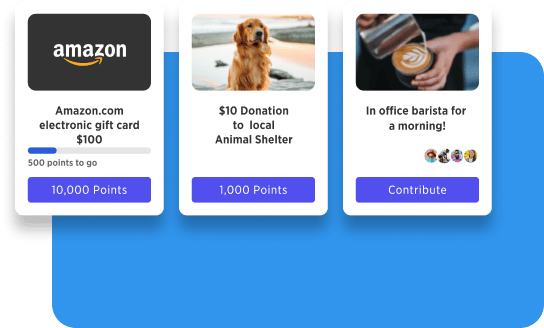 WorkTango is an employee engagement program designed to create a high-performance, high-happiness company culture.
Why we love this employee gift card program: Through feedback, conversations, and other ways of engaging, employees will be able to work together, celebrate together, and win together!
Notable companies using WorkTango:
Allianz
Kaiser Permanente
Meredith
Kia
Hitachi
Standout features:
Social feedback portal
Employee segmentation
Corporate discounts
How to get started: Check out WorkTango to get started!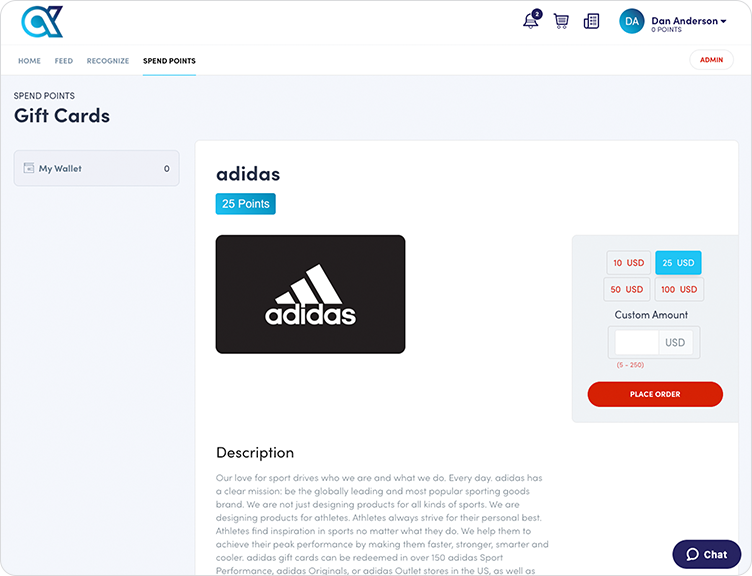 Awardco is a reward platform for larger-sized companies, enabling connectivity in an otherwise disconnected world.
Why we love this employee gift card program: With a high level of customization and branding, employees and managers can send recognition via messages along with points for hotels, tickets, company swag stores, group gift cards, and charitable donations.
Notable companies using Awardco:
Pinterest
Zillow
Chick-fil-A
Hertz
Utah Jazz
Standout features:
Custom rewards
Rewards catalog
Leaderboards
How to get started: Give your employees the largest award platform out there with Awardco!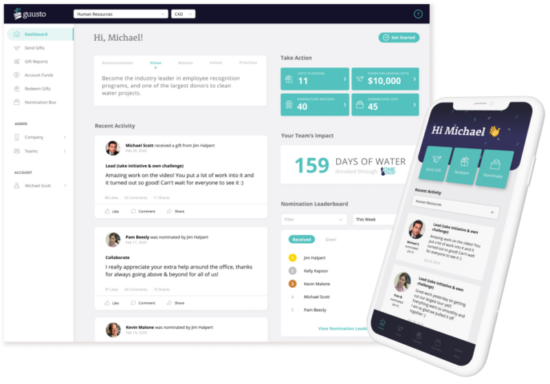 Guusto is the culture-building engagement platform for boosting collaboration, autonomy, and management excellence.
Why we love this employee gift card program: We love the fact that Guusto helps managers understand their team's dynamics, recognize wins, and appreciate their individual team members.
Notable companies using Guusto:
Marriot
Levi's
Harry Rosen
Toronto Raptors
Fairmont Hotels
Standout features:
Weighted performance measures
Performance review management
eCards
How to get started: Give your team extra motivation with Guusto!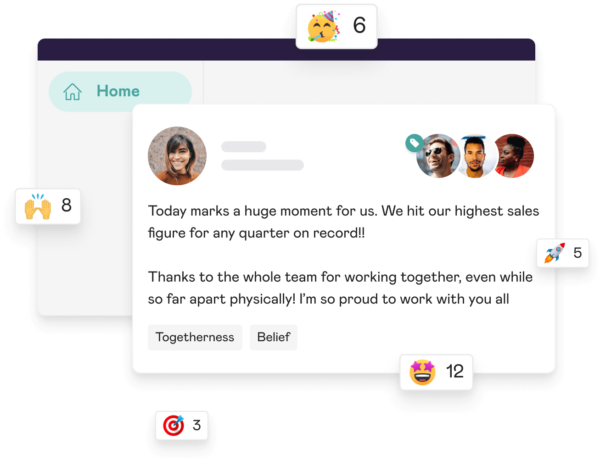 Mo is a reward and recognition platform that allows managers to create custom awards to send to employees for all types of occasions and milestones. To sweeten the deal a little, you can upgrade your awards by attaching a digital gift card to send to one, two, or as many employees as you want.
Using the Mo platform, your recipients can choose from gift cards from the world's most popular brands all in your team's Reward Store. From Starbucks to Apple, to Amazon and Doordash — the gift cards will be flying and your employees will thank you.
Why we love this employee gift card program: Since it is built directly into the recognition platform, there is no fuss when it comes to finding a gift card and sending it out. Simply log on, choose the spending limit, and let your employee shop!
Notable companies using Mo:
Aspen
OVO Energy
SHL
Punch Pubs
Standout features:
Create custom employee gift card programs easily
Design triggers for occasions and milestones so nothing slips through cracks
A centralized dashboard for analytics, reports, budget allocation, reward types, and more!
How to get started: Read more about Mo to book a demo today.

Caroo operates a simple and easy-to-distribute gift card platform to help you send gift cards to anyone at your company. With their large catalog of gift card types and vendors, they make it possible to find the right gift card for each person. Plus, they run a "Recipient Choice" system that lets employees receive a gift card voucher, broses the list of vendors, and select the option that best fits them. Talk about personalization!
Why we love this employee gift card program: Caroo manages all of your employee email addresses, home addresses, and care preference data so you don't have to play the guessing game. Just log in, see what they like, and send over your next employee reward in just a few clicks.
Notable companies using Caroo:
Standout features:
Customize the gift cards from $5 up to $500 dollars
Charity donation gift cards let you and your employees support a good cause
Saves employee's preferences so managers can find the best gift card
How to get started: Get started with Caroo!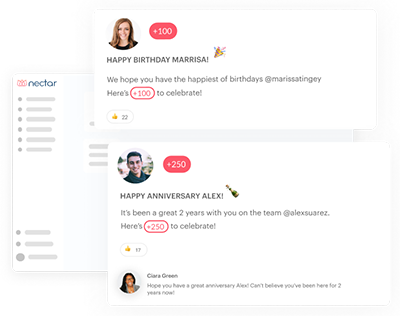 Nectar is a reward and recognition for across-the-board peer-to-peer recognition. Every member can celebrate another's success with Nectar!
Why we love this employee gift card program: This employee engagement solution will reinforce company culture like no other and it makes things like spot programs super simple.
Notable companies using Nectar:
SHRM
Heineken
Lasko
teach:able
PropLogix
Standout features:
Custom swag storefronts
Employee health and wellness programs
Integrations with Slack, MS Teams, and much more
How to get started: See what the buzz is all about here!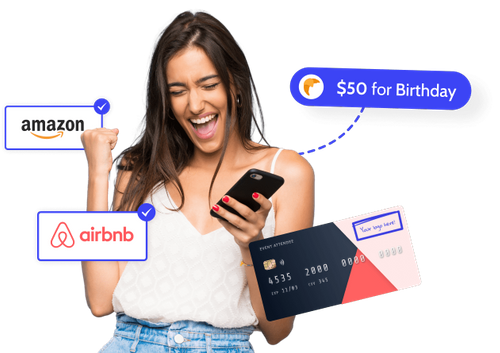 Hoppier is an employee engagement platform that makes sending international rewards a breeze. Their vendor catalog features international brands and local options in 60+ countries, allowing their customers to run global team events and reward programs that leave no one behind.
Why we love this employee gift card program: These incentives should be a part of any employee gift card program because they have options for everyone, wherever they are.
Notable companies using Hoppier:
Amazon
Google
Facebook
LinkedIn
Shopify
Phillips
Standout features:
Multi-vendor gift cards
100% refund of unclaimed rewards
Advanced customization options
How to get started: Hop on over to Hoppier to get started!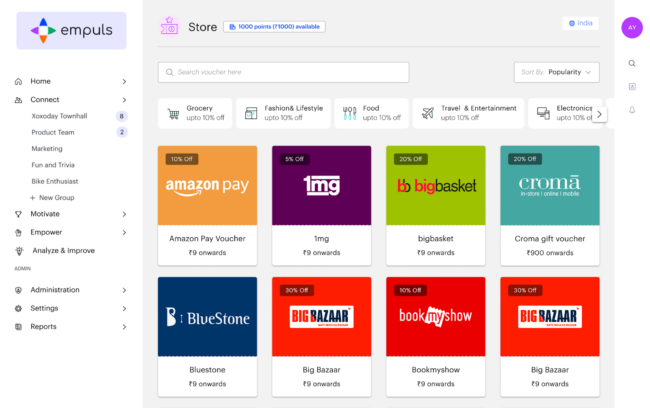 Empuls is an employee reward platform that helps HR professionals and leaders reward employees for good performance and hitting personal and professional milestones. With this platform managers can delight employees at every stage of their journey with the organization.
Why we love this employee gift card platform: Empuls has a rewards catalog that includes more than 21,000 gift card options across 20+ reward categories and 75+ countries. It allows you to surprise employees with the gift of choice and a hassle-free reward redemption experience. With Empuls, you can disburse virtual gifts and rewards for every occasion, from employee onboarding to promotion, birthday, work anniversary, wedding, exit, and more.
Notable companies using Empuls:
Cleartrip
Luminous
Rakuten
Brenntag
Signzy
Standout features:
Peer to peer recognition & employee recognition gift cards
Automated employee rewards
Corporate perks and discounts
Engagement and lifecycle surveys
How to get started: Schedule a demo or get started with a 30-day free trial!
Top 10 Best Employee Gift Cards (Most Requested on Awardco)
1. Amazon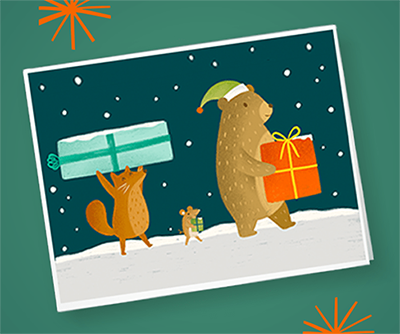 Amazon is the number one online retailer in the world. With products in every imaginable category, it won't matter if an employee is into home improvement, gardening, or sports, Amazon has it covered.
Why this employee gift card works: Employees will love being able to use the Amazon gift card to find something tailor-made for their passions and hobbies. Plus, with Amazon Prime the items they pick out will arrive in rapid time.
Where to get it: Amazon Gift Card
2. Uber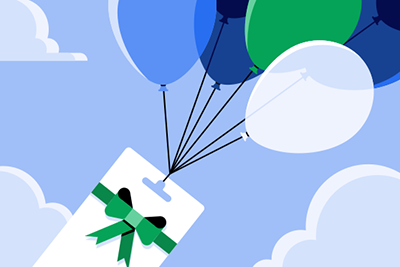 An Uber gift card is the transportation hack your employees need. This ride-sharing gift card saves them money on gas and the headache of a commute behind the wheel.
Why this employee gift card works: Whether employees want to Uber back from your office holiday party so they can enjoy the night to the fullest or they want to feel like they have their own chauffeur, Uber will do just the trick.
Where to get it: Uber Gift Card
3. Nike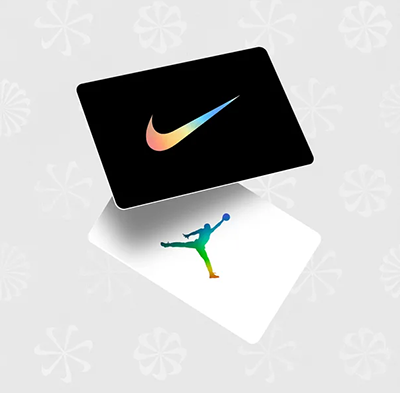 Nike is one of the premier athletic brands in the world. Equipped with the right gear, your employees will want to "just do it" Nike-style.
Why this employee gift card works: Comfort is the new work uniform — or it should be, at least. The modern workplace is demanding, so employees have to be mental athletes, juggling one task on top of another. Nike will keep them fit and ready for the job.
Where to get it: Nike Gift Card
4. AirBnB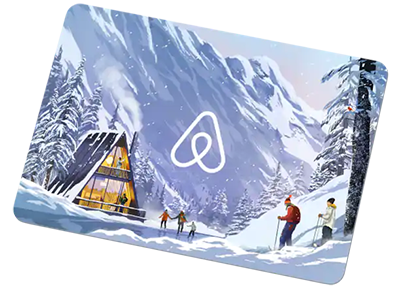 Has your employee taken their vacation time yet? If not, getting them an AirBnB gift card is an excellent way to show some employee appreciation.
Why this employee gift card works: AirBnB allows your employees to choose a short or long-term stay in any location around the world — especially if they're working remotely. For your digitally nomadic team members or contractors, this gift card option can help them access work-life balance heaven on earth. Additionally, it's an incredible holiday gift
Where to get it: AirBnB Gift Card
5. DoorDash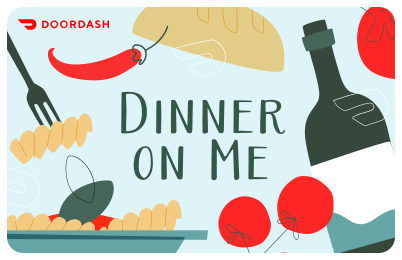 DoorDash is the perfect gift card for your work-from-home crew to enjoy delicious meals dashed and delivered straight to their door.
Why this employee gift card works: Instead of worrying about cooking meals, your employees or coworkers can relax and let the food come to them. The best part is that in true gift card fashion, they can choose from pretty much any restaurant they'd like — as long as they offer a delivery option. Talk about a winning coworker gift!
Where to get it: DoorDash Gift Card
6. Spotify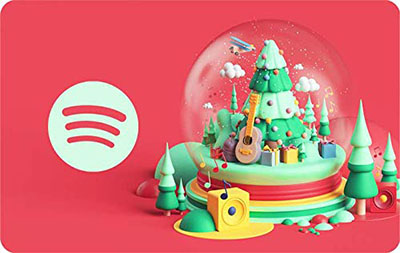 Now each employee can march to the beat of their own drum — or rather, work to the beat of their own music. This gift card is especially good for your corporate creatives.
Why this employee gift card works: The music streaming platform, Spotify, is one of the best choices for helping your employees find new music to fall in love with. Life is about these simple pleasures and this is a sure way to boost employee satisfaction by adding a little flavor to their day.
Where to get it: Spotify Gift Card
7. Drizly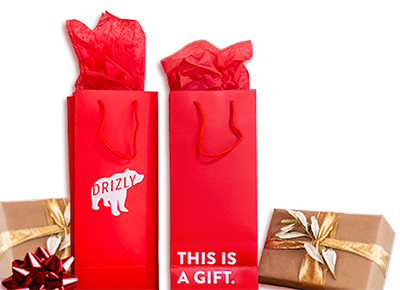 Drizly is your top-shelf online liquor store. As you know, your employees deserve to kick back, relax, and blow off some steam when they're off the clock. With tons of options on their platform, this gifting service is a trusted addition to any corporate gift card program.
Why this employee gift card works: Perhaps your coworker or employee is a serious entertainer or maybe they just enjoy a well-made drink. Either way, Drizly will put them in a perfectly refreshing state of mind.
Where to get it: Drizly Gift Card
8. Starbucks
Starbucks and the corporate mode are nearly synonymous. The international coffee shop is known especially for fueling Americans in the morning en route to their jobs.
Why this employee gift card works: Employees will love this coffee-related gift card because it gives them a chance to indulge in their favorite caffeinated beverage. Some like it grande, others like it feinte, but they all like it Starbucks.
Where to get it: Starbucks Gift Card
Virtual Gift Cards For Employees
9) Best Buy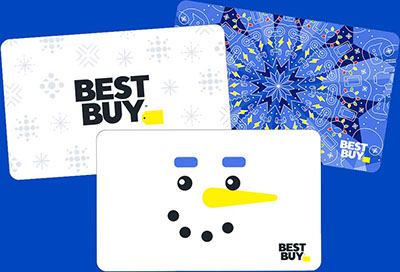 Best Buy is the go-to when it comes to electronic devices and work-related hardware. On the other hand, it's also ideal for your employees who love gaming.
Why this employee gift card works: Best Buy gift cards give them the option of selecting their favorite brands, games, devices, and being totally plugged in and ready to go now and in the future!
Where to get it: Best Buy Gift Card
10) Barnes & Noble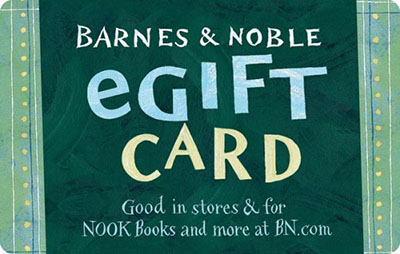 Barnes & Noble is the number one in-person book store chain in the U.S. This mega book store is perfect for bookworms and avid learners.
Why this employee gift card works: For employees looking to continue their education or employees that just enjoy getting swept away like feathers in by a breeze of words, a Barnes & Noble gift card is the sweet escape they need.
Where to get it: Barnes & Noble Gift Card
11) ClassPass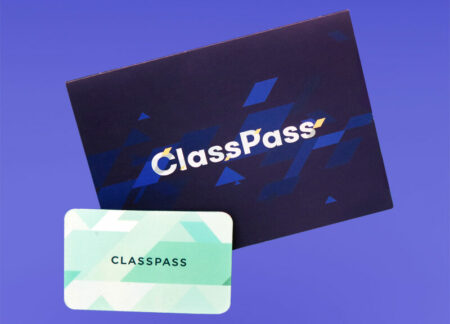 This employee gift card idea centers around a trio of hugely important aspects of an employee's lifestyle. This app focuses on fitness, wellness, and beauty so that you can wake up each day feeling great. ClassPass gives employees access to thousands of gyms, fitness studios, salons, and spas so that they can perform at their best.
Why this employee gift card works: ClassPass is great for employees who live an active lifestyle but do not want to commit to monthly subscriptions to multiple fitness studios. With this wellness app, they can pick and choose what classes they want to sign up for each week.
Where to get it: ClassPass Gift Card
12) Delta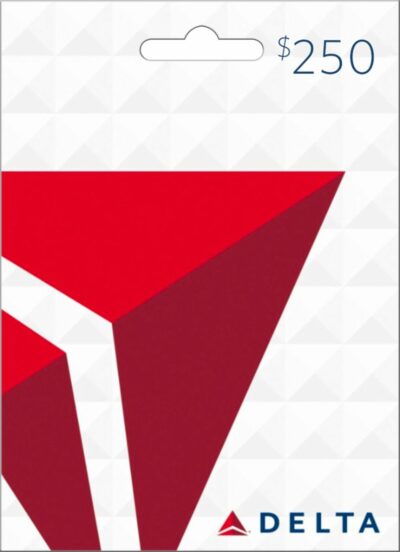 Hit the airport and take to the skies with a digital travel card that can be redeemed for any Delta flight. A great gift card for an employee looking to take a long weekend or someone who wants to visit family.
Why this employee gift card works: Delta offers a variety of seat options so your employee can select when they want to fly, how nice their seat is, and where their flight is bound. A gift that will be used 100% of the time.
Where to get it: Delta Gift Card
13) Coffee Shop Digital Gift Card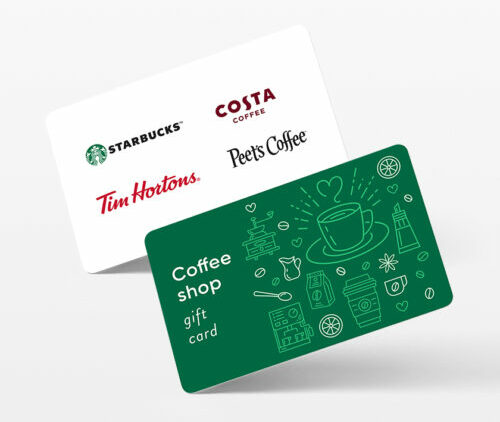 Send your employees a little caffeine with a digital gift card that can be redeemed wherever they like to grab a cup of joe.
Why this employee gift card works: Each recipient will have their own choice of redeeming their gift to their preferred coffee shop: Starbucks, Peet's Coffee & Tea, or Tim Horton's
Where to get it: Coffee Shop Digital Gift Card
---
What is an employee gift card?
An employee gift card is a gift card that has a certain amount of funds on it that can be used to purchase items from another company or brand.
With its corporate twist, you always want to make sure that the employee gift card is workplace appropriate, HR-approved, and aligns with the interests of your team members.
When to use employee gift cards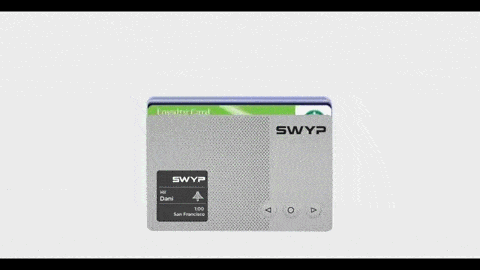 1. Corporate party — Make any corporate party better with gift card giveaways by offering gift cards to the winners of your office party games!
2. Lunch — The way to an employee's heart is through the stomach, which is why giving out gift cards to their favorite restaurants is a guaranteed W. Good news! That's exactly what Terryberry and others listed above do! Treat your global team to lunch in just a few clicks.
3. Monthly stipend — The small expenses add up, so a monthly stipend given out via gift card can help alleviate some of that stress and allow your team to do their best work.
4. Just cause perk — It doesn't necessarily have to be your employees' work anniversaries or a major milestone. Sometimes, no reason is required for giving back to your amazing employees. Just cause perks, similar to on-the-spot bonuses, can majorly boost office morale.
| | |
| --- | --- |
| | Benefits of creating an employee gift card program |
| Employee self-treating | 🧘🏽‍♀️ Similarly to giving employees a stipend, establishing an employee gift card program offers them the ability to treat themselves to whatever they want. |
| Memorable | 🌟 Employee gift card programs are memorable because of the flexibility of getting to pick and choose your rewards. |
| Tax savings | 💰 Employee gift card programs can help companies save up taxes, depending on how much value is given away. |
| Transparency | ⚖️ Cash bonuses and even spot bonuses can be difficult to discuss with coworkers and can lead to some uncomfortable conversations; however, a gift card program is a win-win for everybody. |
| Adaptable to any budget | 🎁 An employee gift card program gives you the ability to adapt the amount to something your company can actually afford — whether that's $50 per gift card or several hundred dollars. |
---
People Also Ask These Questions About Gift Cards For Employees
Q: Why is it important to send your coworkers a digital gift card?
It is important to send your coworkers a digital gift card because you can do so without any sort of ethical issues like you might deal with if you were giving cash away.
Q: What are the benefits of having an employee gift card program?
It should come as no surprise that there are numerous benefits to having an employee gift card program. Logistically, it helps managers and team leads save time and energy by housing all gift cards in one centralized location. No more trips after work to the market to grab a physical gift card. Additionally, a built-out program can ensure that milestones, employee achievements, and holidays are not skipped by making it very clear when, how, and why employees are awarded gift cards.
Q: Can you reward employees with gift cards?
Absolutely. Rewarding employees with gift cards is a tried and true method for showing appreciation since it gives your colleague a chance to shop from one of their favorite brands. They are especially nowadays for employees who work remotely since digital gift cards offer the chance to send to them without any snail mail needed.
Q: What is an appropriate gift card amount for employees?
Many gift cards will allow you to load a set amount of dollars to send to your employees which varies from $5 to $500. However, $50 is the most popular total for employee gift cards since it can be spent on a number of items and services without being too expensive for the company.
Q: Why do companies give employees gift cards?
Companies of all sizes give employee gift cards because they are well-liked by most collegues. Their flexibility, ease of use, and variety of options are primary reasons for why companies choose to send gift cards as opposed to sending cash or corporate gifts.
Q: How do I select the right types of gift cards for my program that employees will use?
To select the right types of gift cards, many managers focus on the interests and hobbies of their employees. Tapping into someone's likes and dislikes can help to determine which kinds of gift cards you should send. If one employee is very sporty, a gift card to a sporting goods or outdoor activity store might be a good call. Conversely, if your employee loves to play video games, a gift card to Xbox, PlayStation, or Steam will make them happy. Connecting the gift card with your employee's interests can make your reward even more impactful.
Q: What are some of the best digital employee gift cards?
Some of the best digital employee gift cards are given out via employee recognition platforms; however, generally speaking, the best gift cards give employees a variety of options to choose from.
Q: How do I choose a gift card for employees?
You choose a gift card for employees based on budget, company culture, employee interests, and the variety of things the gift card will help employees purchase.
Q: How much should I spend on an employee gift card?
You should spend whatever amount is appropriate for your employee gift card budget. There isn't one right answer, but remember, that your employees are an investment, so definitely be willing to spend a good amount to reward them for their hard work.
Q: How do I know if my employee gift card was successful?
You will usually know if your employee gift card was successful based on the feedback you get. The other thing to consider is that most employees will simply appreciate the gesture.
Q: Are there any unique employee gift card ideas?
Yes! There are all sorts of gift card ideas for employees that can be sent directly to them regardless if they work in the office or remotely. When choosing the right gift card, it can be helpful to think about the interests of your employee and try to find a gift card that will make an impact on them. If your employee loves to rock climb, a gift card to a sporting goods store or outdoor shop could go a long way. If they love to travel, a gift card to stay at a hotel or pay for part of their flight will encourage them to plan a new trip!