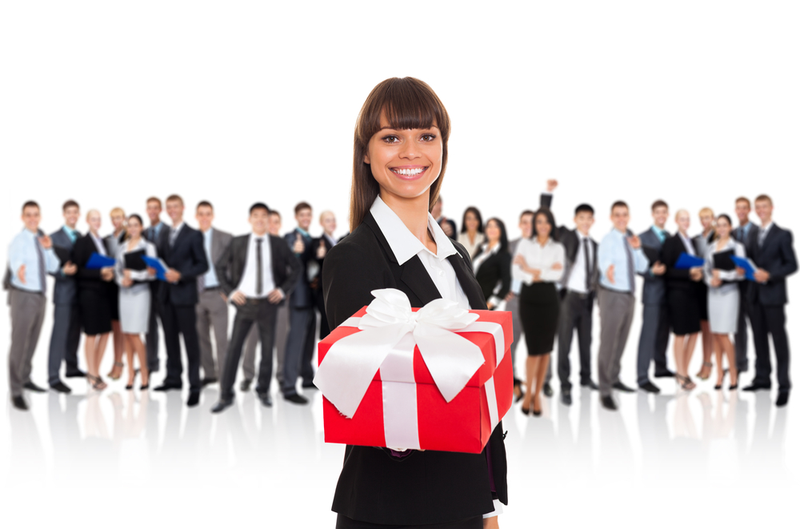 Welcome to our expertly curated list of gifts for human resource professionals.
HR gifts can vary widely, but at the end of the day, they are an excellent way to reward and recognize the true heroes in HR.
While there are a ton of employee gifts to choose from, we've boiled down the top 28 gifts that will truly inspire the HR professionals you work with to keep doing the great things they do.
Want to become a better professional in just 5 minutes?
SnackMagic's Movie Night Box works with your budget. For prices ranging from $50 to $99, you can get a delicious selection of curated snacks, sweet and salty! Think flavored popcorn, gummies, candies, biscuits, cookies, and more, plus sodas and drinks. The best part? You can select the goodies based on the occasion or the mood, whether a work anniversary or a birthday.
Where to find it: Movie Night Boxes
Food is always welcome, whatever the department, and given the thoughtful selection of customization options, the Movie Night Box is guaranteed to appeal to even the fussiest coworker! Think tailoring for dietary restrictions, personalization, box types, and even label customizations.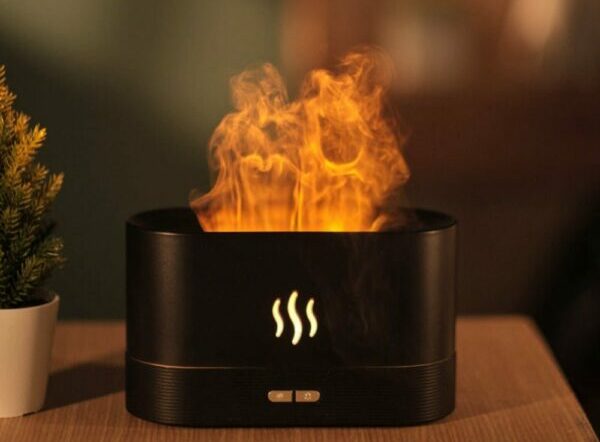 Human Resources is all about people. A gift like the Fireplace Flame-Effect Humidifier Lamp is sure to go down well simply because it appeals to the human instinct for a comfortable environment. First, it instantly generates the visual effect of flames, creating a soothing atmosphere in any room. Secondly, it uses ultrasonic frequencies to keep the air moist and breathable, a boon for coworkers with allergies and respiratory problems.
Where to find it: Fireplace Flame-Effect Humidifier Lamp
The Fireplace Flame-Effect Humidifier Lamp is a thoughtful gift, especially beneficial to coworkers who frequently come down with allergies. You can even add aromatherapy oils to boost the therapeutic effects of the humidifier. Need we say more?
The Coffee Lover Box is designed to appease bonafide caffeine addicts. Coffee, incidentally, is one of the most popular beverages in the world. Most people often can't wake up without downing a cup of this potent potion. Want to gift your Human Resources team a gift they'll love? The Coffee Lover Box is where it's at!
Where to find it: Coffee Lover Box
The Coffee Lover Box is a selection of 20 caffeinated items ranging from whole beans, candies, and lattes to Stroopwafels, energy and granola bites, and single-serve coffee packets. There's something in there for everyone to enjoy!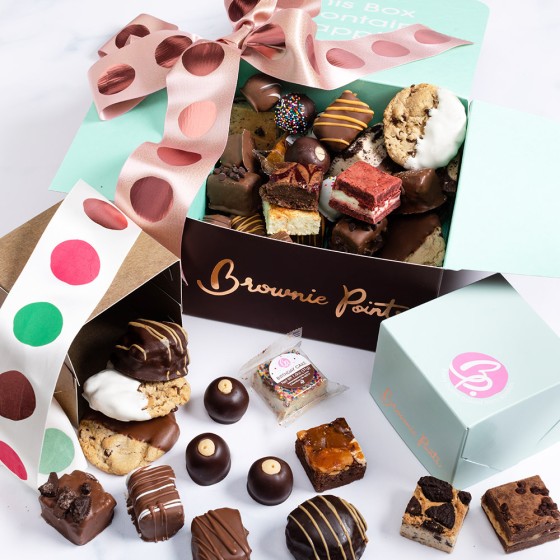 This skyscraper will make you leap for joy. It includes an assortment of baked from scratch Baby Brownies from artisan baker Brownie Points.
Where to find it: Skyscraper of Sweets
Flavors include Brownie Bruffles, half-dipped homemade Chocolate Chip Cookies, Brownie Edgies, Brownie Besties, and Schmurtles, all individually wrapped and packed full of flavor.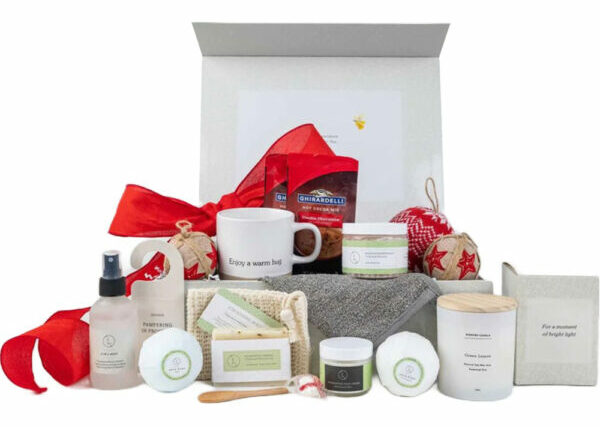 This box has everything your hard-working HR needs to relax. It includes scented candles, bath bombs, exfoliating soap, bath salts and many other fun surprises.
Where to find it: Personalized Bath and Body Spa Extra Large Gift Box
Wish your HR Happy Holidays in style.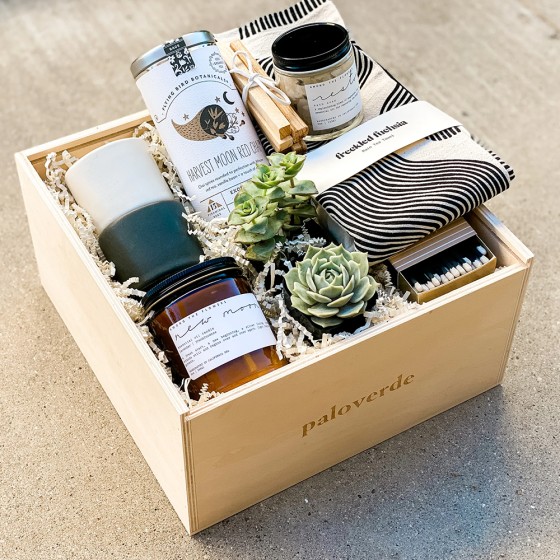 This gift set is all about rest and relaxation. Something your HR team will surely appreciate.
Where to find it: New Moon Gift Box
Its stylish packaging includes scented candles, herbal teas, succulents, and other surprises in a signature wooden slide-top box.
Mugs are a classic HR gift that is both practical and stylish. Custom mugs can be imprinted with your company logo or a special message of appreciation. There are mugs that feature fun HR-themed designs, inspiring quotes, or simply the words "Thank you for all that you do." Whether you're looking for a small token of gratitude or a more elaborate gift, a mug is always a welcome and appreciated choice for HR.
Where to find it: Fun HR Mugs
HR professionals are always on the go, so a mug is a great way to help them stay hydrated or caffeinated (or both!) Be sure to choose a mug that is high quality and looks professional – this will show that you value HR and want to give them a gift that they can use and be proud of.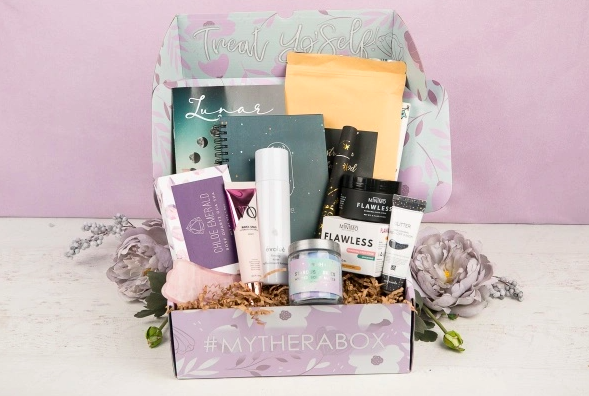 Each TheraBox features a research based therapeutic activity designed to wire your brain for maximum joy and 6 to 8 self-care treats to soothe your mind, reduce stress, and improve your life.
Where to find it: TheraBox
The box usually includes items in the aromatherapy, body, skincare, lifestyle, or natural/organic bath categories!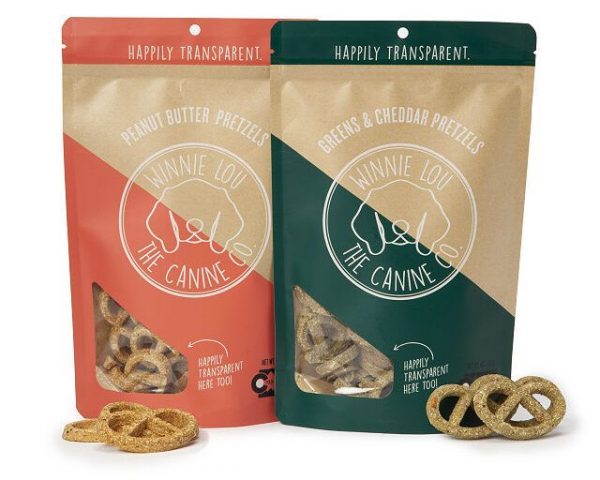 Do you let employees bring dogs to the office? Does Lauren from HR keep a picture of her forever pup Rocky on her desk? Excellent. For all the Rocky's and the Fido's, we've got you covered.
Where to find it: Gluten-Free Dog Pretzels
Gluten-Free Dog Pretzels are grain-free and loaded with nutrients. You can choose between Peanut Butter, which offers incredible ingredients like sweet potato, organic peanut butter, coconut flour, and honey — or Greens & Cheddar, which features garbanzo bean flour, sweet potato, cheddar, kelp, organic spinach, and organic kale. Their dog is sure to be the bougiest good boy in town.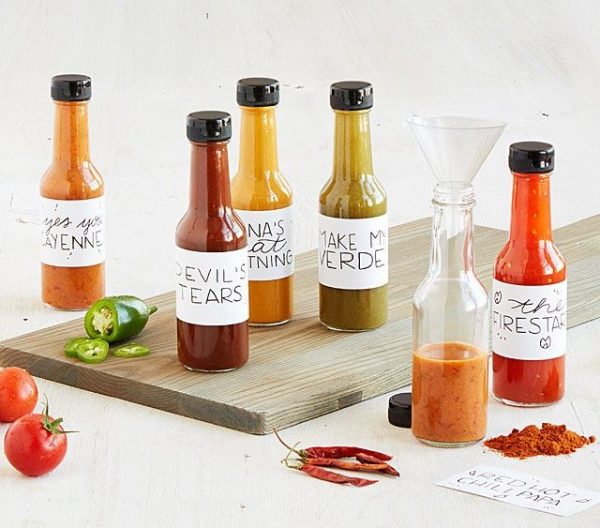 Know any fans of fiery hot sauces? In a nice DIY twist, the Make Your Own Hot Sauce Kit allows them to add a major boost of flavor to pizza, nachos, pizza, and taco nights!
Where to find it: Make Your Own Hot Sauce Kit
If they veer less on the wild side and more on the mild side, this kit can give them that too with cayenne, curry, ancho, and chili spice packs. All they have to do is follow the instructions and mix the ingredients like vinegars, peppers, and garlic that are included. Additionally, 6 bottles and labels allow for complete customization for the ultimate HR hot sauce small batch.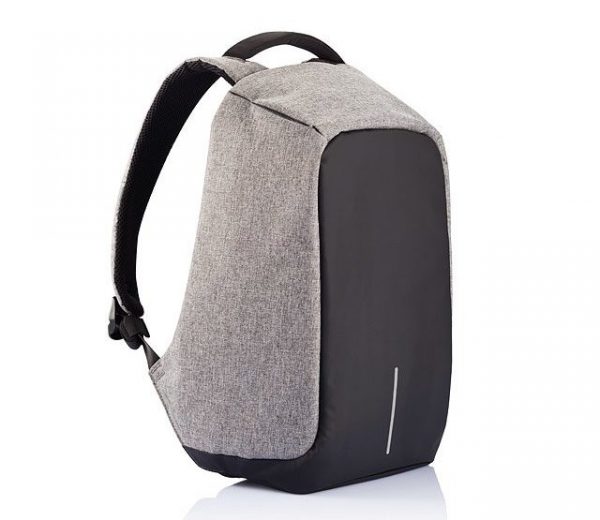 HR professionals keep everyone else safe. To return the favor, the Anti-theft Backpack will keep their valuables safe with a stylish exterior that obscures a range of anti-theft features.
Where to find it: Anti-Theft Backpack
This water and spill-proof bag has slash-proof pockets and cut preventative material to ensure would-be thieves can't take away from your coworker and employee.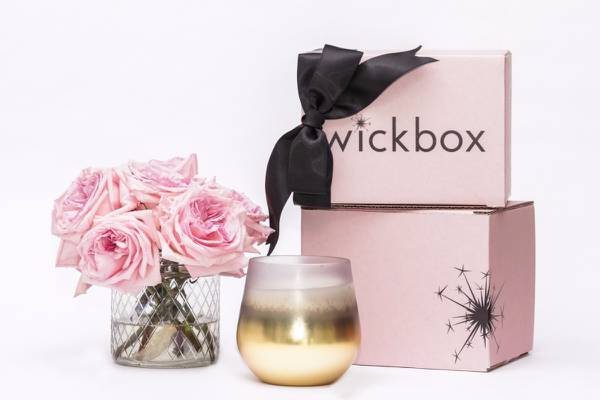 Wickbox focuses on quality features like superior wax, lead-free wicks, and premium containers. These luxurious candles are delivered each month and can be curated based on the recipients scent preferences.
Where to find it: Wickbox
If you get HR to fill out the scent profile, you can ensure they'll absolutely love these fragrances!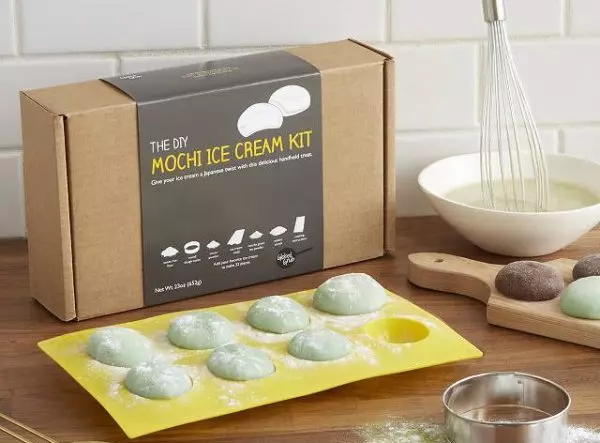 Cold and creamy on the inside, sweet and chewy on the outside, world famous mochi ice cream balls can be made from the comfort of home. The DIY Mochi Kit gives the recipient of this amazing recognition gift the chance to learn to make these rice cake pillows in just a few simple steps.
Where to find it: DIY Mochi Kit
They can flavor and tint the mochi with cocoa or green tea powder which comes included or dive right into mochi mastery with jams and coloring. This is a great party favor and a nice sentimental way of thanking HR for being the glue that holds the office together and for the things they do beyond their job title.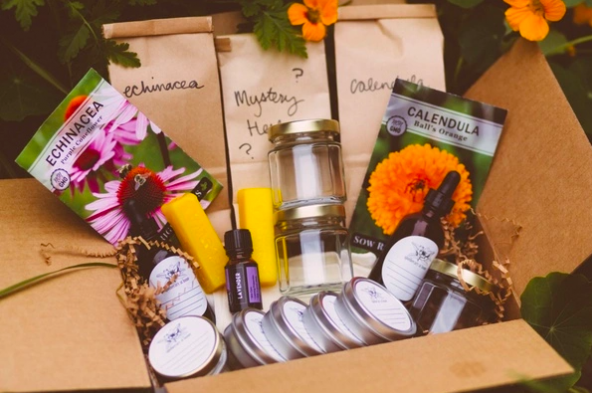 The Monthly Herbal Study Box is a wonderful gift for anyone who's into holistic remedies! If your HR pro takes a zen approach and is the office peacekeeper, they're sure to love this apothecary in a box.
Where to find it: Apothecary At Home
This collection of dried herbs, seasonal seeds for gardening, medicine-making projects, recipes, study guides, and collectible art prints, will help your HR professional nourish plants just as they do people!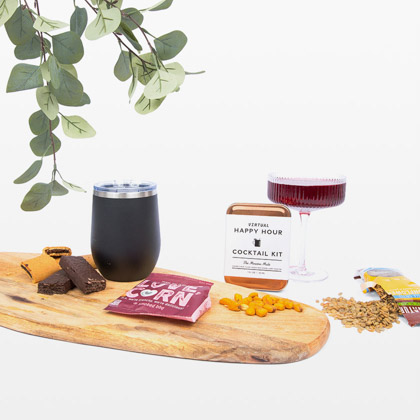 This gift box filled with goodies is perfect for HR professionals looking to celebrate the end of another great work week during a virtual happy hour with their team. They'll love the ease and simplicity of popping open this box and finding everything they need to get their happy hour going.
Where to find it: Happy Hour Box
Bonding with your team during a virtual event becomes a lot easier when you have a plethora of snacks to choose from. This care package also includes a happy hour cocktail kit that you and your team can craft together as a fun icebreaker.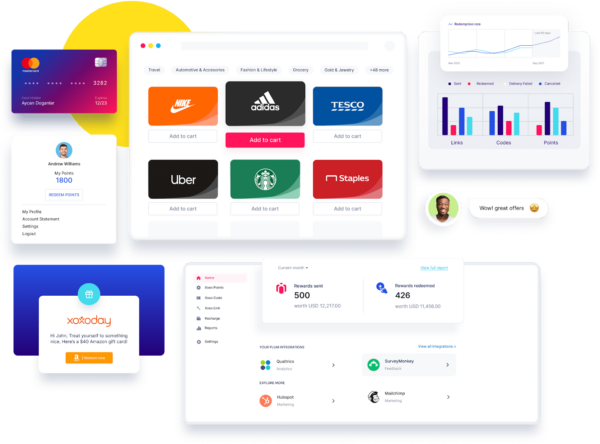 Traditional gifting has traversed a long path from giving chocolates and bouquets to giving e-gift cards. However, giving HR Professionals a gift of their choice is far better than giving them something they might try and re-gift.
Your HR professional can choose from the ever-expanding rewards catalog to find a gift of their choice. It features over 20,000 experience-based rewards, including 1000+ activities and millions of products.
Where to find it: Plum by Xoxoday
With a no-one-size-fits-all approach, Plum by Xoxoday is now leading the market of digital gifting. Their single store gift cards include Walmart e-gift cards, Amazon e-gift cards, Target e-gift cards, eBay gift cards, Apple e-gift cards, etc.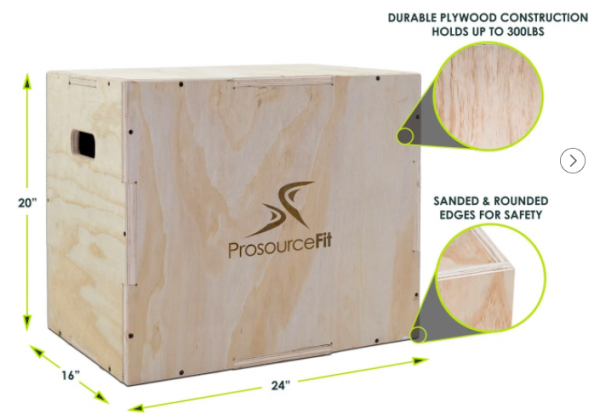 A healthy body helps to make a healthy mind. That's why getting your HR employee, the Plyometric Jump Box will keep them fit for life and work! This blood pumping, fast-twitch muscle building employee appreciation gift is perfect for fitness lovers.
Where to find it: Plyometric Jump Box
The 3-in-1 box holds up to 300 pounds and can be set at three different jumping heights.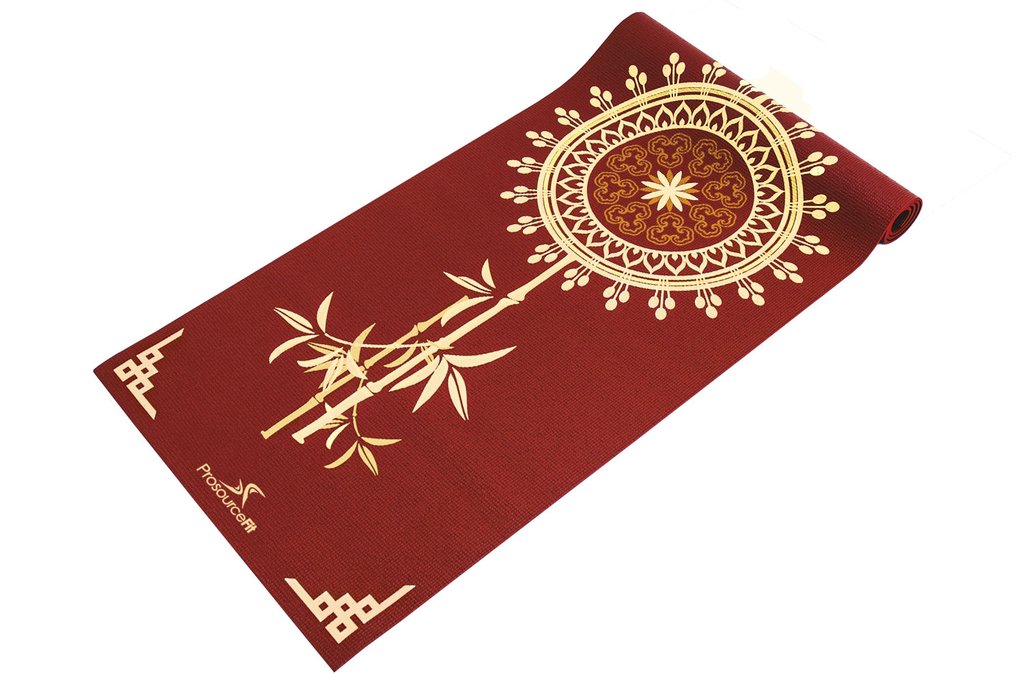 The Tao Yoga Mat is a stylish, eco-friendly addition to an HR pro's workout equipment. This easy-to-store and carry mat is toxin-free, moisture-resistant, and has a non-slip for pilates and yoga mastery! As a bonus, because it's water-proof, the Tao Yoga Mat is perfect for hot yoga as well.
Where to find it: Tao Yoga Mat
HR professionals can practice total mind and body control with this ultra-thin mat.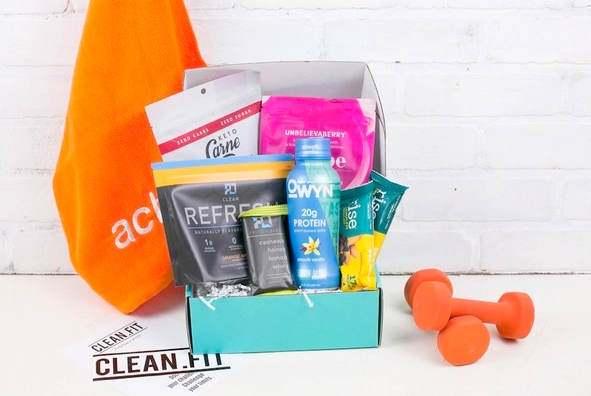 Fitting with the theme of our last couple of items on this list, the CLEAN.FIT Box is a healthy boost for any human resources expert.
Where to find it: CLEAN.FIT Box
The CLEAN.FIT is a monthly box of healthy snacks and superfoods to improve fitness and wellbeing. For clean eating, these dairy-free, gluten-free, vegan, vegetarian, and paleo-friendly treats are as good as it gets! Each item is non-GMO, preservative-free, and have no artificial sweeteners, flavors, or colors.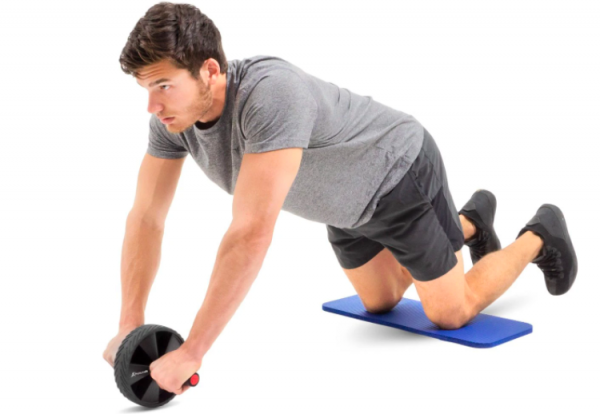 The ProsourceFit Ab Wheel Roller forces the body to stabilize, which in turn strengthens the abs, arms, back, and shoulders. This 2-inch thick rubber wheel is perfect for a smooth rolling yet strenuous workout.
Where to find it: Ab Wheel Roller
If your HR wiz sits in a chair for hours at a time, the ab wheeler is an excellent employee recognition gift to help them stay in shape and even improve posture!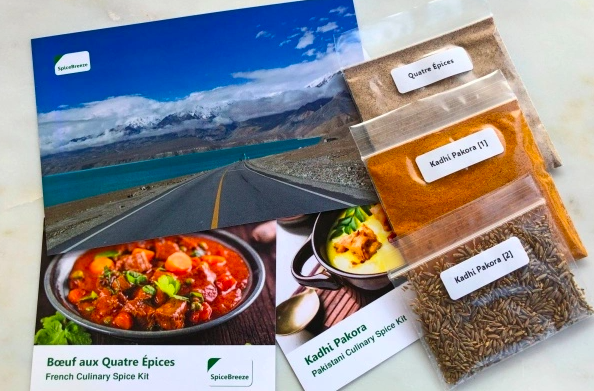 Bring the Silk Road to the workplace. The SpiceBreeze will have your Head of HR feeling like Marco Polo on the route to Asia. Now they can enjoy a variety of flavors from around the world with minimal effort.
Where to find it: SpiceBreeze
SpiceBreeze comes with a seasonal menu, recipes, and the ingredients to put it all together!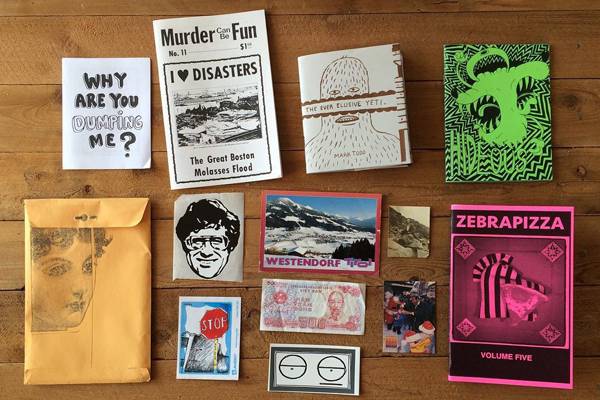 The Zine-o-Matic is a monthly subscription box full of wildly creative comics, zines, and underground art from around the world. When your friend in HR isn't reading from their favorite HR blog or news source, they can try reading another piece from this inventive box.
Where to find it: Zine-o-Matic
This hand-selected collection of zines comes with indie art, paper goods, stickers, bookmarks, and much more. If you've ever noticed the HR guru browsing through art, the Zine-o-Matic could put a pretty massive smile on their face.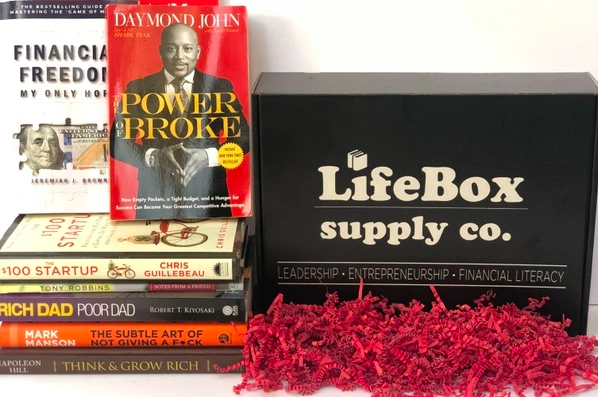 LifeBox is a monthly subscription box for entrepreneurs created and curated by entrepreneurs. The goal is to motivate, inspire, and empower. The amazing HR department keeps everything running smoothly, but they have dreams of their own. The LifeBox Supply Entrepreneur Box can help them achieve those dreams. This gift box is a great gift to set up HR before the upcoming HR conference season to get those leadership juices flowing.
Where to find it: LifeBox Supply Entrepreneur Box
It comes with 3-4 carefully curated tech gadgets or office supplies and a new personal development or business-centric book every month!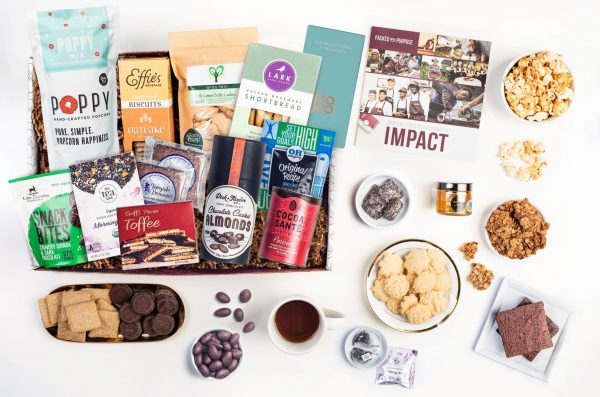 Inspiration Impact is a deluxe gift box for HR managers, HR directors, recruiters, human resources specialists, and really anyone you want to impress whether they are a client or a coworker who has helped you out.
Where to find it: Inspirational Impact
This appreciation or holiday gift features Chicagoland raw natural honey, rosemary sea salt shortbread cookies, rich and buttery oat cookies, crunchy dark chocolate quinoa bites, instant hot cocoa, small batch handcrafted salted caramel, jalapeno, and white cheddar popcorn, lemon butter cookies, two rich and savory brownies, and much much more. One thing is for certain: This dopamine hit of deliciousness will inspire.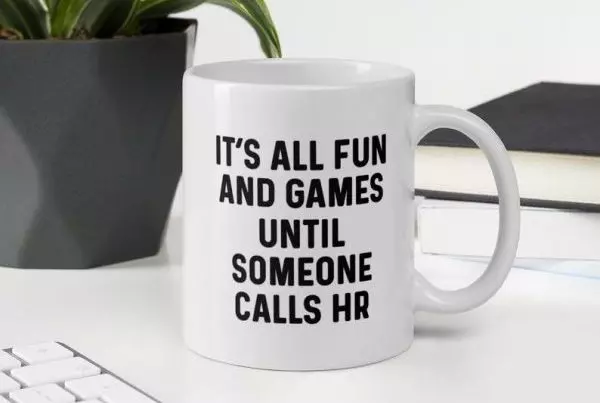 This funny coffee mug is the perfect compliment or way of letting your HR head that they are irreplaceable. And what the mug says is true after all: It's all fun and games until someone calls HR.
Where to find it: Human Resources Mug
This ceramic mug is microwave and dishwasher safe and works for morning brews, evening tea, and every other meal! Get this office gift for a special occasion or any time you want to give them a good laugh.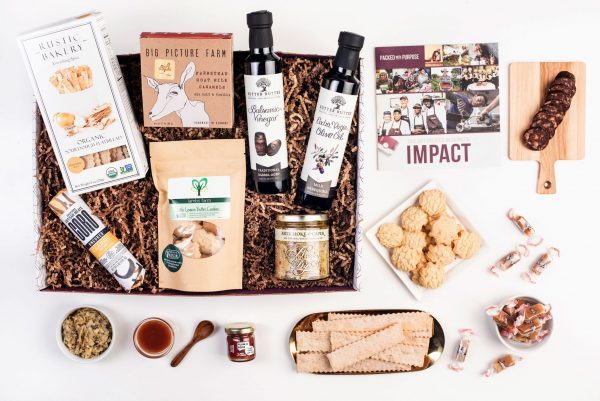 The Gourmet Dinner Party is a signature box with barrel-aged Italian balsamic vinegar, award-winning sea salt and vanilla goat caramels, Meyer lemon shortbread cookies, a tiny teak spoon, caper and artichoke bread dip, gourmet garlic and ginger-infused salami, fragrant plum jam with a touch of rose water, peppery extra virgin olive oil, and crispy olive oil flatbread crackers with French grey sea salt.
Where to find it: Gourmet Dinner Party
This is one of the best gift ideas you'll find if you want to absolutely spoil your employee or coworker and put an enormous smile on their face!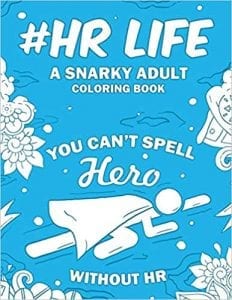 The HR Adult Coloring Book has incredibly humorous HR puns, stunning artwork, and 25 pages of designs with intricate details and single-sided pages that can be removed. When they aren't reading up on the latest HR tools to use at work, they can unwind with the definitive coloring book for HR professionals.
Where to find it: HR Adult Coloring Book
This funny HR gift is a laid back yet creative way to destress. Sometimes it's nice to just feel like a kid again and there's no better human resources gift for that than an adult coloring book.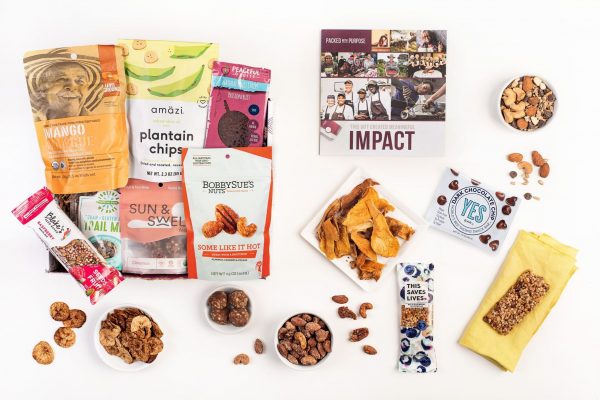 Gluten-Free Healthy Treats is a healthy assortment of salted olive oil plantain chips, energy bars, all-natural passion fruit strips, organic dried mango, nut mix, and much more.
Where to find it: Gluten-Free Healthy Treats
This particular HR gift for coworkers delivers on flavor as much as it does on nutrition. They'll love trying new gluten-free snacks and discovering brands that know their way around a good snack.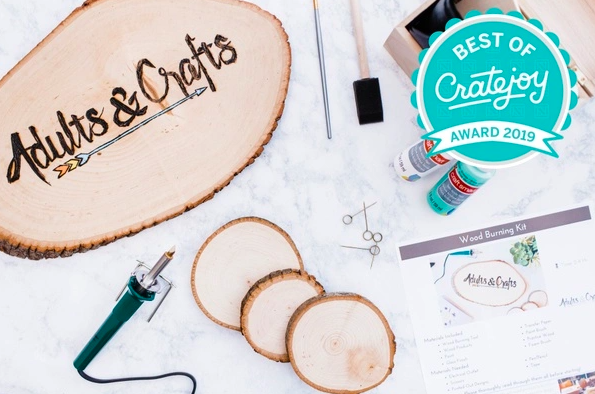 Is your human resources pro artsy? Do they like to make creative presentations? If so, the Adults Craft Crate might be the best fit on this list.
Where to find it: Adults Craft Crate
Each month, a different craft of goods, designed to help them learn a new technique like engraving or wood-burning, is delivered straight to their door! Whether they are making epoxy resin coasters, wine carriers, or another fun item, they'll have a blast in the process.
People Also Ask These Questions About Gifts for Human Resources Professionals
Q: What kinds of gifts should I get for human resources professionals?
A: The kinds of gifts a human resources professional will appreciate the most are either personal and relate to their individual taste or if they are work-centric, then something that will make their job easier. Oftentimes, employers buy wall art, stickers, hoodies, tote bags, or t-shirts.
Q: Where can I find the best hr gifts for work?
A: The best HR gifts for work can be found in a variety of places, however, for quality and dependability, Cratejoy.com, Etsy.com, Amazon, and UncommonGoods.com are all solid choices.
Q: How much should I spend on gifts for the HR department?
A: There's not a perfect amount. The important thing is that the HR pro feels respected, loved, and cared for. It's always a good investment spending money on your own people and HR is the heart and soul of the company.