In corporate settings, milestones and special occasions like birthdays, Boss' Day, promotions, and retirements are all great gift-giving opportunities.
Some people love coming up with gift ideas for their colleagues and thoroughly enjoy finding the perfect paper card to pair with their perfectly thoughtful gift.
Note that we said some people.
Others see these moments as primo opportunities to exercise the power of group gift cards instead of individual tokens and trinkets.

Presenting an individual gift is always thoughtful and certainly personal, but it may limit the gift amount because it also comes with the obligation to cover the full price tag.
This obviously isn't an issue when considering low-cost gifts. But what about those big moments that deserve the bigger rewards?
Group gifting "opens up the playing field for individuals to contribute what they wish – no matter the amount – opening the opportunity for all individuals to contribute and be part of something bigger. It also helps foster a sense of community among the gift givers and the lucky recipient(s)."
Outside of the corporate settings, group gift cards are great for so many other special occasions as well.
Here are just a few:
▶︎ Sorority sisters who are scattered from New York to New Delhi but want to chip in on a big, beautiful gift for Sarah's destination wedding in June.
▶︎ For Teacher Appreciation Day, your son's kindergarten teacher might love something other than 18 hand-made construction paper cards and the 2023 line-up of macaroni figures. Gather the moms and go with something more sustainable this year – no glue or pasta needed.
▶︎ Your youngest child is finally graduating from college after 7 years and 4 career changes. Dorm gear is so 'last year' so she needs to set up an apartment. Great time to get the whole family in on the project with a group eGift card.
Group gift cards are hands-down the easiest way to pool your funds for more impactful gifts. And get this – with all the ways to transfer funds digitally, you don't even have to chase people down to collect cash or wait for checks in the mail!
We've got the hottest tips, the coolest tricks, and the best apps for sending group gift cards, right here. so, let's get-ta-gifting!
Want to become a better professional in just 5 minutes?
What is a group gift card?
Simply put, a group gift card is a gift card presented to one person from a group of people.
They're great for coworkers, family members, teachers, nurses, bosses, and anyone else who deserves collective recognition from the people around them.
5 Group Gift Card Services
Best for: Identifying what makes the biggest impact on your recipient and authentically connecting with them.

Not just a massive bank of gift cards. It may seem like gift cards are one-size-fits-all but that's not the case. Caroo digs deep to help you find out what makes each of your recipients feel most appreciated as an individual.
Top Features
1 – Personality assessments that uncover what makes your recipient feel most appreciated.
2 – A variety of options, from hand-written notes to action-packed experiences – something for every purposeful pallet.
3 – Automation technology to ensure you don't miss a beat and keep you in front of all the upcoming rewardable moments.
"Caroo provides the simple and effective tools to honor what's important to the individual employee."
Caroo is a true one-stop shop for meaningful and impactful group gift cards to fit any budget.
Best for: Easily collecting money from everyone involved in the gifting shenanigans.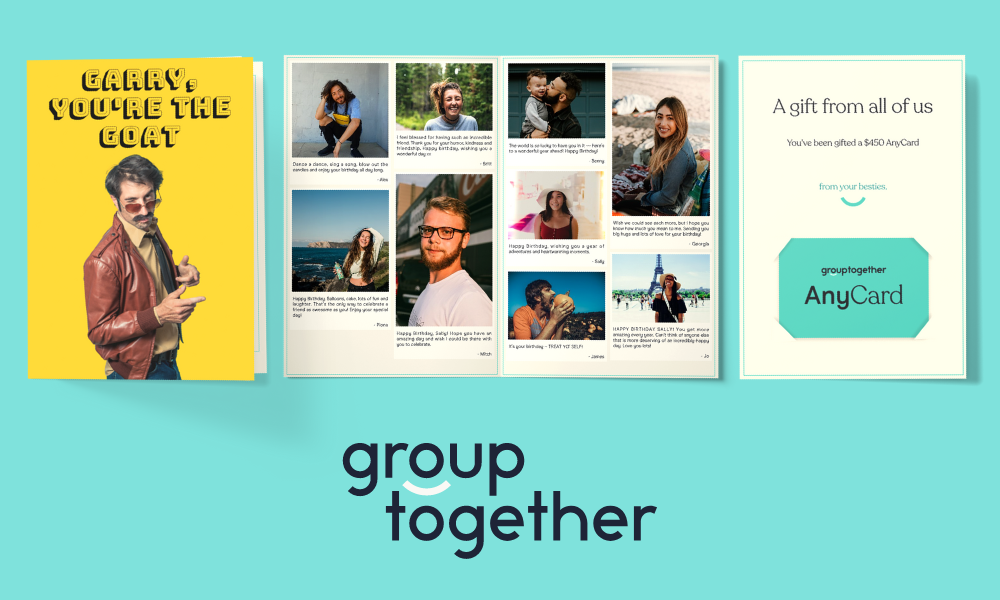 They don't just group together their 150+ gift card options. This group ecard service also makes it easy to gather the funds for the purchase and the necessary signatures. A secure click-to-pay platform pools your money with simple navigation and integrations.
Top Features
1 – Tracking capabilities to ensure you don't miss a single signature.
2 – Automated reminders so no one misses their opportunity to participate.
3 – Everyone can pair photos or gifs with their signature for an even more fun and customized group card.
"Say goodbye to group gifting hassles and unwanted gifts forever!"
Group Together allows everyone to participate and decide what they can give without feeling pressured or obligated to match a specified dollar amount.
Hey! Are you looking to upgrade your employee recognition program?

In just a few minutes, you can discover your unique workplace personality for FREE and unlock insights into the types of recognition that matter most to you (and your team).

With RecognitionDNA, we can stop wasting $$$ rewarding employees in ways that don't matter, and start recognizing them in ways they will actually care about.
Best for: Delivery options like a physical card, email, and even by text.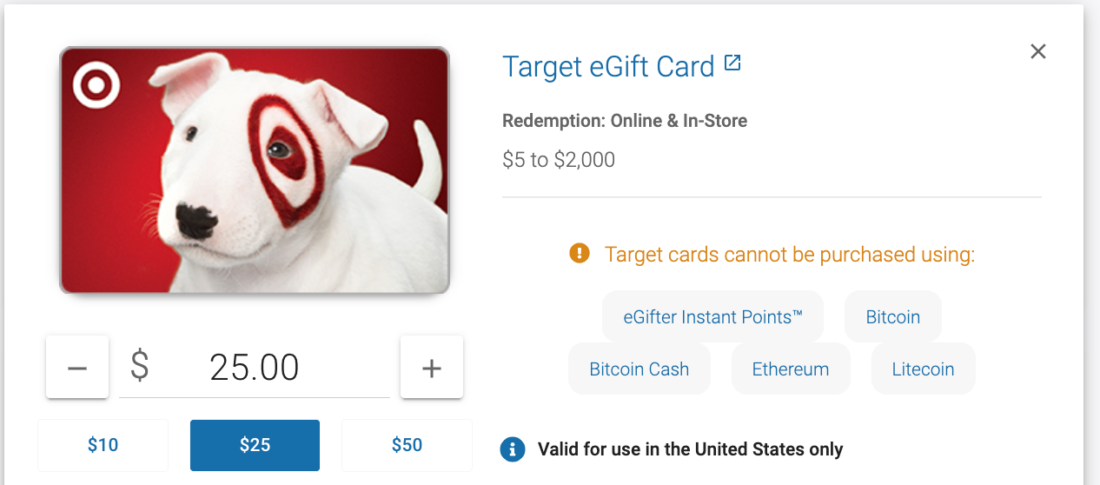 eGifter offers gift cards from over 300 major brands, so you can either choose for your recipient or let them decide for themselves. And bulk buys are a piece of cake.
Order ten to a spreadsheet-full at a time with no muss, no fuss.
Top Features
1 – Digital delivery can include photos and videos for extra personalization.
2 – Ton of payment options, from credit cards and Paypal to Google Pay and Bitcoin.
3 – Vanilla® eGift Visa® for anything they want with no brand restrictions.
"WONDERFUL GIFT CARD SITE & EXCELLENT SERVICE!! THANK YOU SO MUCH & SEE YOU NEXT TIME!!🤩🤩🤩 A+++++++++"
eGifter is all about giving you options – brand options, payment options, delivery, rewards, personalization… the list goes on and on!
Best for: Allowing you to officially resign as a "cat herder."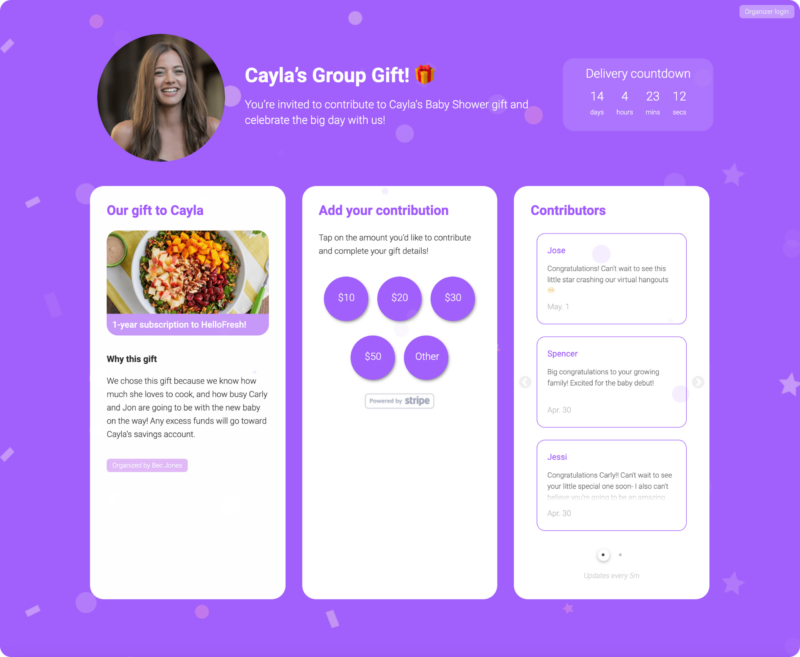 Crowdfunding has never been so easy! Providing a stress-free group gifting experience is the main mission at Presently.
They fully automate the entire process from setting up the dates, contacting the contributors, collecting the funds, and tracking the gift, all the way to the opening ceremony.
Top Features
1 – Customized packages for each crowdfunding celebration.
2 – Promotes and supports black-owned businesses.
3 – Celebration Calendar to track all your celebratory moments.
"I really like how it automates the process. No more having to collect funds via PayPal from everyone. Presently was very easy to set up for a group gift I was organizing. The best part was that the recipient could choose from a range of options rather than a few… Definitely my go-to for digital cards and gifts now."
Hang up your herding gear and let Presently take the reigns on your group gifting opportunities.
Best for: Managing your professional or personal crowdfunding with the simplicity of an app.

The best thing about Braid is they know gift cards from a group aren't just for the office. From managing group vacation funds to splitting Netflix subscriptions, they've got an app that gets it done.
*TV infomercial voice activated – But wait! There's more! They also offer a debit card for direct spending from the Pool funds to make money management a breeze!
Top Features
1 – It's free to use and there's no limit to the number of Pools you can start.
2 – Personalized links for each of your money Pools.
3 – Options to manage the Pools yourself or give others in your team access for collaborative management.
"Why Pool? Because splitting sucks. Calculating the split. Juggling payment methods. Fronting money. Spreadsheets. It's time consuming and messy."
Braid makes planning events and coordinating collections so much less messy and eliminates those awkward "Where's your money?" conversations with friends and family.
How to send a group gift card
  1 

 Find your occasion and recipient

The 'who' and 'why' are the meat and potatoes of your group gift card. Honing in on the recipient and their reason to celebrate makes sure your gesture is personal and right on time.

Tip: Start a calendar to keep tabs on work anniversaries, birthdays, graduation dates, retirement targets, etc. Whatever events you want to highlight should be tracked so you're never scrambling for cards and gifts at the last minute.
---
  2  

Create a group to invite friends, family, or coworkers to participate

Single-serve invitations are so outdated. Save yourself a ton of time and a few thousand keystrokes by creating a group to share all the pertinent information in one email blast. With so many platforms to choose from like MS Teams, WhatsApp, Google Chat, Slack, and even texts, it's easier than ever to coordinate these big moments.

Tip: Be sure to consistently manage the participants in the group so no one gets left out and no one's big moments are overlooked.
---
  3  

Sign the group card

The beauty of ecards is the catalog of digital signatures because you can actually read them. Everyone in that handy-dandy email blast can add their electronic John Hancock and enjoy the gifting.

Tip: Start circulating for signatures with plenty of buffer time in case some of your participants are on vacation or out of the office.
---
  4  

Select your gift card

Fortunately, you have thousands of options to choose from. Unfortunately, you have thousands of options to choose from. Just remember to keep it simple and don't get bogged down by the choices.

Tip: Choose a gift card that's personal to your recipient. Something that supports something they're interested in or enjoy doing. This makes it much easier to narrow down the options from the thousands.
---
  5  

Send the gift and card to your recipient

This is the final step of the process and lets you send your reward out to that special recipient for them to open up and enjoy using at the next opportunity.
Gift card selected – check!
Checkout with the funds you collected – check!
Ecard signed – check!
Nothing left to do but send!
Tip: Triple-check to make sure you've gotten everyone's signatures and that your gift card is attached before sending. Then, with a simple click, execute your appreciation a' la card.
Group Gift Card Ideas
1. Recipient Choice (They Choose)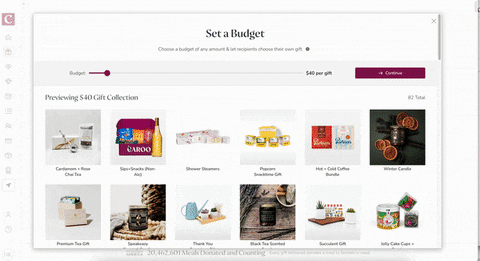 Choice is power. Letting your recipient choose their gift card gives them the power to choose what they really want instead of having to find something inside a specified brand to spend their gift card balance on.
Hey! The employee reward experts at Caroo offer a service where employees can choose from a large catalog of gift cards and corporate gifts to find the right option! Try Recipient Choice by signing up for FREE!
2. Travel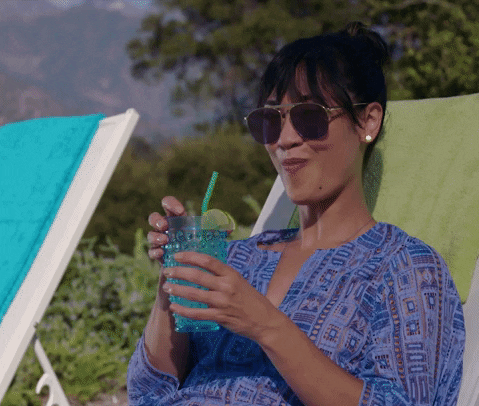 Every penny towards a flight, a cruise, an adventure, or excursion of any kind is a big help. Travel gift cards are a super thoughtful way to support your recipient's well-being and cultural ambitions.
3. Food Delivery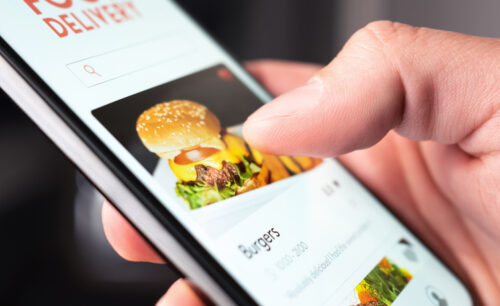 Everyone gotta eat, right? Covering their lunch or even dinner for the family can allow your recipient to focus their attention on other things with the comfort of a full belly and no dishes to wash.
4. Coffee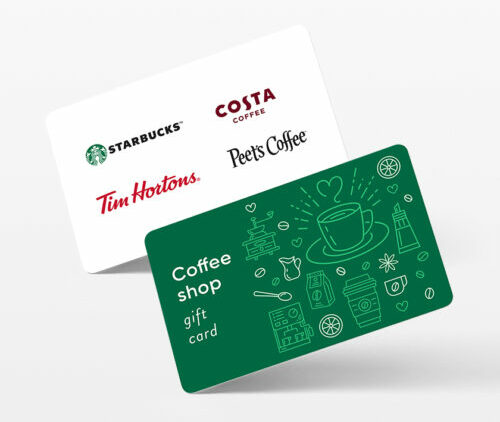 Whether it's an employee gift card to their favorite local coffee shop or a subscription to a gourmet bean delivery service, coffee lovers certainly jones for their 'joe.' Free java is like the whipped cream on top of a luscious latte on a chilly morning… perfect.
Tip! You can use digital gift cards from Caroo to make your groups' next coffee run a breeze!
5. Charitable Donation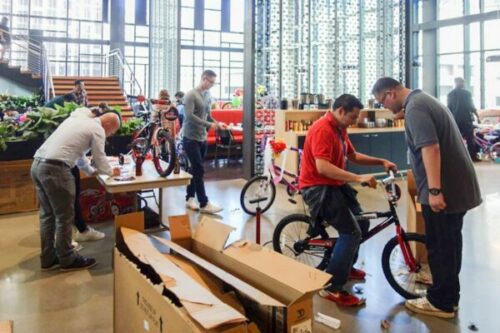 Sometimes, the most touching gifts are ones given to those you've never laid eyes on. There are so many ways to make a difference, but donating gift cards to local animal rescues, soup kitchens, advocacy groups, and homeless shelters are just a few places you can make a big impact.
This article is packed with great gift ideas and easy ways to crowdfund your next group gift. These are great gift guides for colleagues and coworkers that help to boost motivation, raise morale, and improve the company culture.
But keep in mind, these suggestions are also great for your next baby shower, teacher's gift, family anniversary, or any other opportunity to organize a group for a collective gift card. When you maximize your gift contributions, you also magnify the impact of the gift.
---
People Also Ask These Questions About Group Gift Cards
Q: What are the benefits of sending a group gift card?
A: Some benefits of sending a group gift card are the collective message of everyone coming together for one cause, as well as the ability to give a more substantial and costly gift without breaking anyone's bank. Coordinating a group gift card purchase is simple, and thoughtful, and lets the recipient choose a physical gift they actually want.
Q: How do you give a group gift card?
A: You can give a group gift card by collecting funds from everyone who wants to participate, then deciding on how you want to deliver the group gift. From plastic gift cards and email vouchers to eGift cards and text links, choose from pretty much any format you can think of to make your gifting simple and effective.
Q: How do you collect money for a group gift card?
A: To collect money for a group gift card, just set up a simple crowdfunding campaign. You'll be able to create your unique participant list and send group messages with the details of the mission and the collection link. From there, everyone just adds their funds! And you don't have to worry about cornering anyone at the coffee machine with your hand out or chasing down your remote colleagues.
Q: Where can you find virtual group gift cards?
A: You can find virtual group gift cards at the links we've collected for you above. Plenty of simple money-collection processes and gift card options for your unique recipient.