Electronic group greeting cards – affectionately known as "group ecards" – are catching on like wildfire.
They're redefining the idea of celebrating a colleague's birthday, retirement, promotion, and other memorable milestones.
Group ecard services offer the easiest and most efficient way of gathering a group of people together from all over the globe to sign a single card.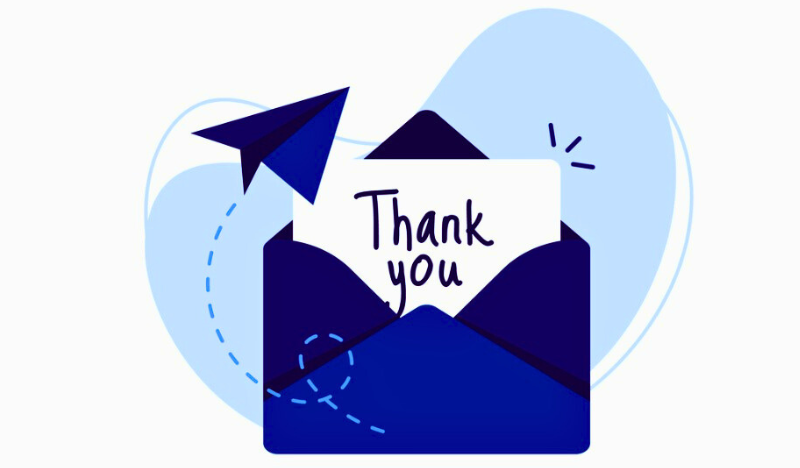 It literally doesn't get any easier!
Group ecards are the perfect way to celebrate and support your colleagues and peers for every occasion.
And you can design them to be as sarcastic or straight-laced as the situation allows.
"It's important to feel appreciated at work. It makes people feel valued and drives them to do their best. It also helps with well-being and mental health, so it really can make a difference."
Click To Tweet
But just in case you need a little more insight into why sending group ecards is a boss move in 2023, we've got all the confirmation you'll need right here.
Don't stop reading now – we're just getting to the good parts!
Want to become a better professional in just 5 minutes?
Page Contents (Click To Jump)
What is a group ecard?
A group ecard is a fantastically fun way to collaborate with a group of people to create one wickedly outstanding virtual greeting card.
These online group cards can be fully customized with personal messages from everyone who's invited to sign, then delivered by a variety of digital highways. Possibly the easiest way to recognize your peers, celebrate your remote employees, and make a colleague's day.
What are the benefits of using a group ecard website?
✍🏻 Unlimited Contributors – Gather all the signatures by rallying the troops with a single email blast. The more colleagues who engage and contribute their thoughts and/or their loot, the more impact the group eCard can have on the receiver.
🚚 Scheduled Delivery – You already know when your group ecard needs to hit their inbox and a group ecard service ensures on-time delivery. You just handle the set-up and leave the "shipping and handling" to them.
♻️ No Waste – No wasting paper with an unnecessary envelope and physical card. No wasting time shopping for a greeting card and even more time trying to collect money from everyone on the invite list.
List of the Top 12 Best eCards For Groups To Sign
"The easiest way to recognize your team, employees, peers, family and friends!"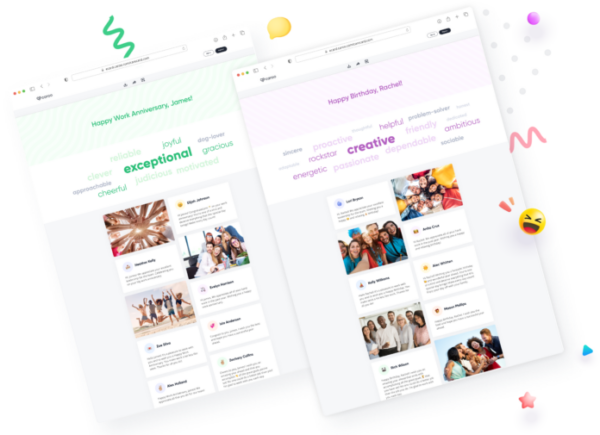 CareCards is a quick and simple way to bundle all your well wishes into an email celebration. You can easily collaborate with a large group and gather signatures and funds for add-ons. Whether it's a card only from you or the entire company, get it signed, sealed, and delivered in just a few clicks.
🎖 What makes this group eCard service special? 
Aside from the fact that CareCards ecards are absolutely FREE, you also have the option to allow others on the team to pitch in for an add-on digital gift card.
Word cloud highlights all their best qualities and contributions.
🚨 Still don't believe it's that easy to put together a great group ecard? Click here and try it! No subscription, no obligation, no fluff.
"Celebrate better together"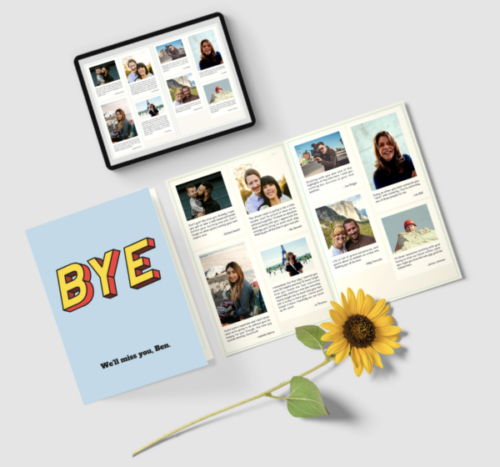 It can be tough sometimes to get everyone on the team to simply open an email. Seriously, how many times have you heard "Oh, I must not have gotten that email. Can you resend it?"
GroupTogether handles all the accountability for your contributors and sends them reminders leading up to your designated deadline. You just set up the card to accept contributions and provide your team members' email addresses, then GroupTogether chases the money.
🎖 What makes this group ecard service special? 
If you're still a fan of hard-copy group greeting cards, you're going to love GroupTogether. They offer the option to print your e-card after gathering all the signatures so you can hand it to your star employee or even mail it the old-fashioned way.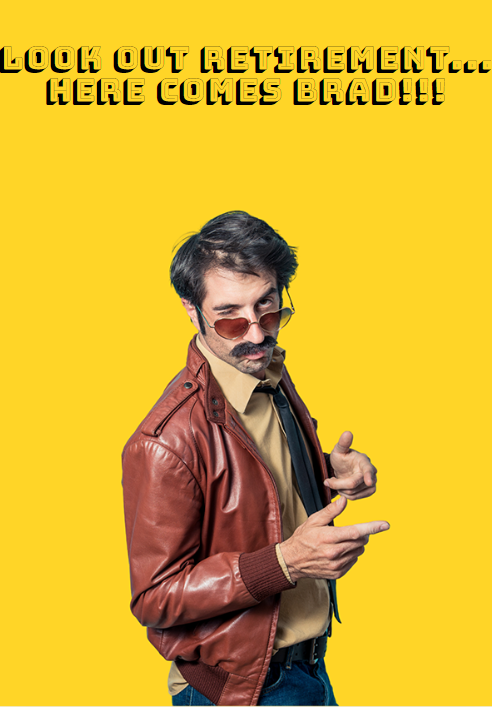 🚨 Don't waste any more time chasing signatures and cash with GroupTogether.
"Easy to send online cards for birthdays, farewells, thank you's and more!"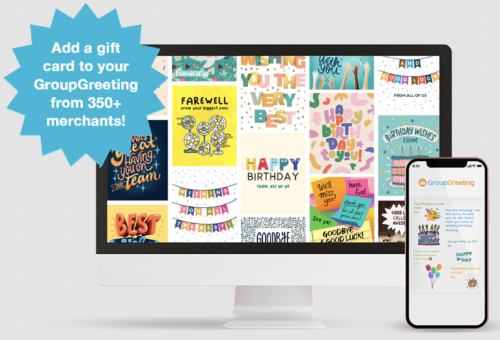 Whether you've got two in-person employees or fourteen thousand remote ones, GroupGreeting can build a plan that's perfect for your company. They offer customized plans based on your expected ecard needs – the more you expect to send, the more money you'll save. And they have a roster that's over 350 merchants deep to choose from for a thoughtful egift card add-on.
🎖 What makes this group ecard service special? 
For every group card purchased, GroupTogether donates a portion of the price to planting trees. In 2022 alone, they were responsible for planting 145,000 trees and have a lofty goal of one million by 2025.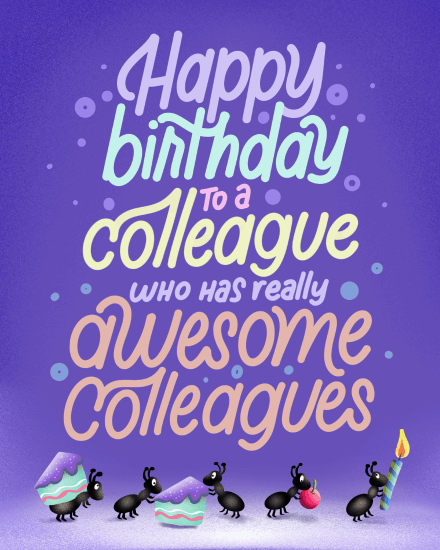 🚨 Get started creating your best group ecards ever and do a little something for the planet while you're at it!
"Background music?! What?!"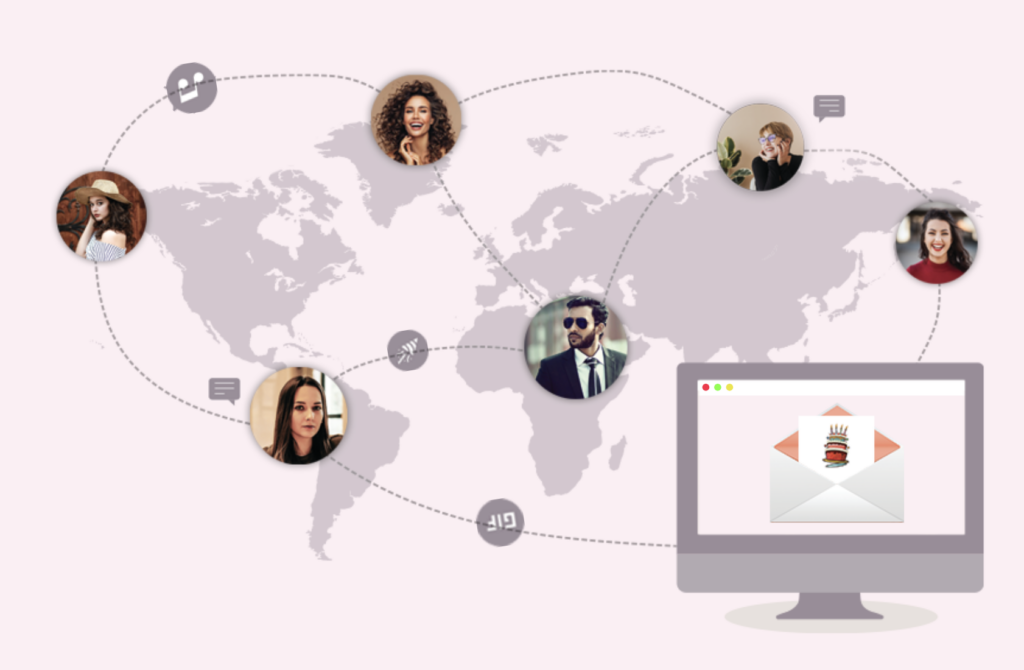 That's right! With Send Wish, your group ecard can be signed, scheduled, and delivered with a whole office dance party vibe. They've got tunes, graphics, and unique message combinations to commemorate all your business ecard-giving occasions.
🎖 What makes this group ecard service special? 
Their video e-card option gives each signer an entire page to express their personal thoughts and encouragement. More like a mini-book of motivation delivered right to your colleague's inbox.
► Appreciate Your Coworker Card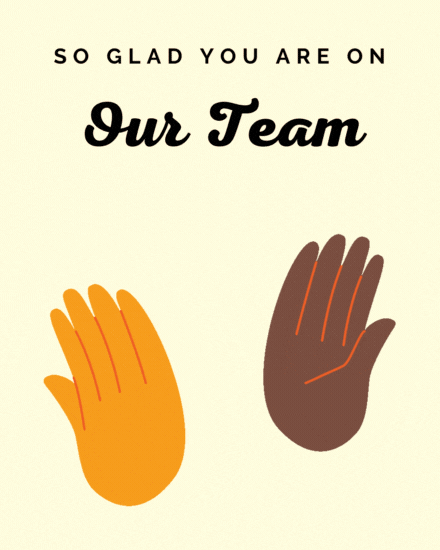 🚨 Get your spotlight ready with Send Wish! Lights! Camera! Action!
Kudoboard "packs a bigger wallop for your coworker and binds your team together in a shared positive activity."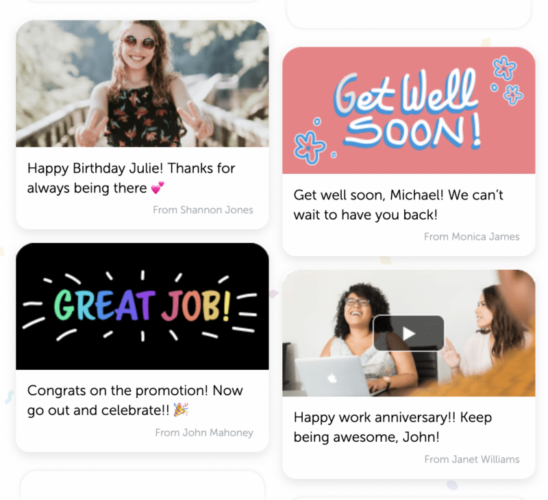 Think of a Kudoboard as an internal social media billboard dedicated to a specific employee (or team). Coworkers can contribute to the project or comment and "like," similar to everyone's favorite socials. Then you can send your standout employee a slideshow of appreciation instead of the usual boring PowerPoint that requires them to do more work.
🎖 What makes this group ecard service special? 
Create a Kudoboard online, in a slideshow, or in print. These thoughtful messages won't expire or disappear, so your employees can revisit them as often as they like.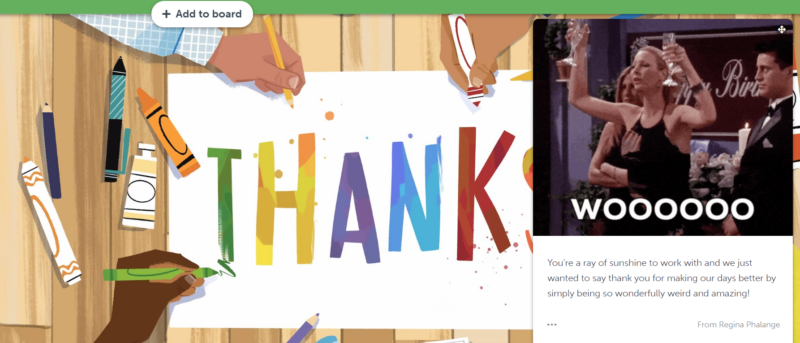 🚨 Design your Kudoboard with photos, videos, and GIFs galore. They're almost as fun to make as they are to receive!
"No unwanted presents, no wasted time and energy on wondering, and no disappointments 😉."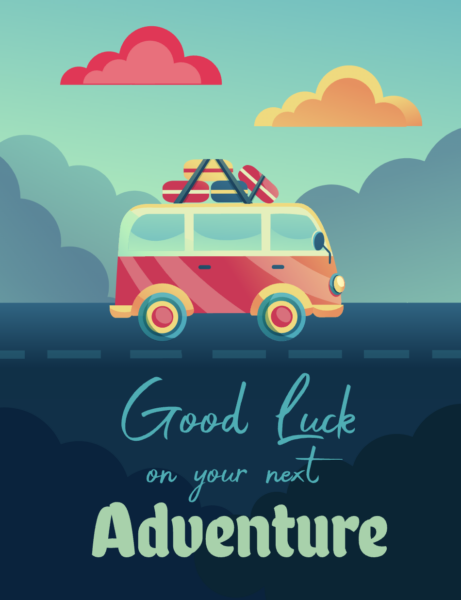 All you have to do is design the card, activate the money collection (or not), and send an email blast to all who may want to sign or contribute. Once they open the ecard, your end recipient can choose from hundreds of brands to spend their egift card funds with. From Outback to Overstock, and Spotify to Southwest, they're sure to get something they want.
🎖 What makes this group ecard service special? 
Of those "hundreds of brands" mentioned above, Ecard Forest has also partnered with numerous charitable organizations like Black Girls Code, Doctors Without Borders, and Black Health Matters. Your lucky honoree can choose to donate their funds and support the cause that means the most to them.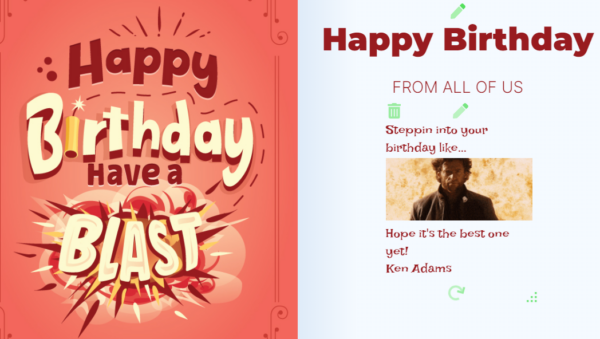 🚨 Ecard Forest claims their fun and fabulous ecards can be designed in just 30 seconds. Surely you can spare 30 seconds to check them out.
"The easiest way to pass a virtual greeting card around your office."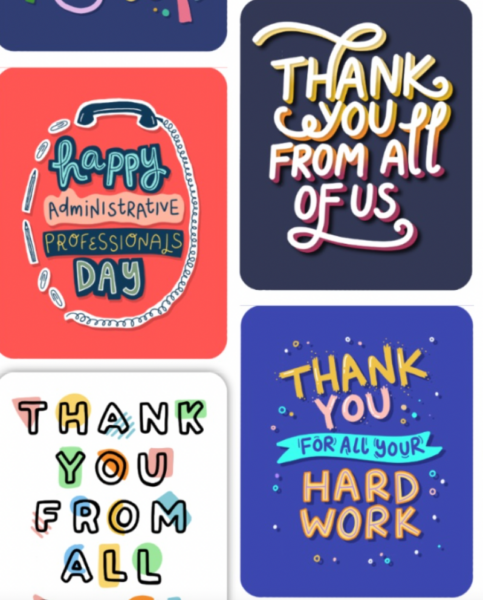 There are no limits on your creativity with Group Cards. If you need something simple and elegant – they've got it. Looking for an ecard that's a little more quirky and customized? No worries! You can sprinkle in all the elements you want to make it the very best ecard for your special employee.
🎖 What makes this group ecard service special? 
No one has to commit to creating an account. Even if they're only signing and contributing money for an egift card, there's no account required to design, sign, and send ecards.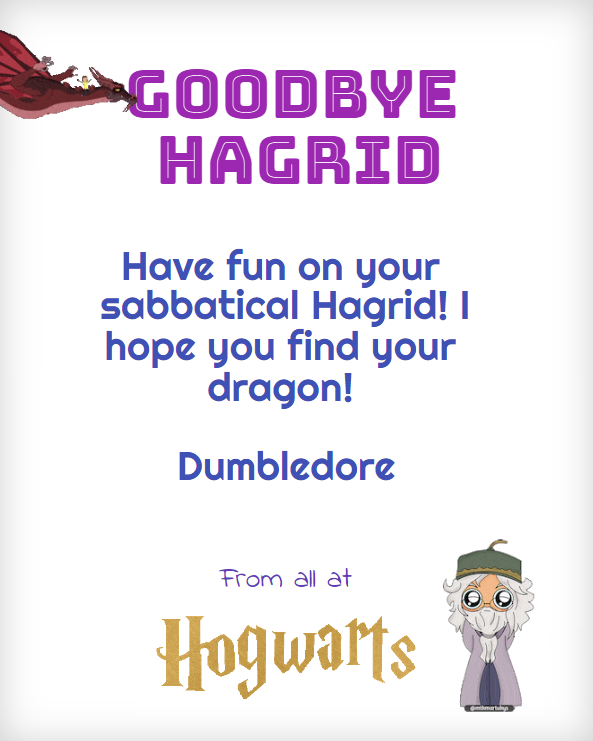 🚨 Rename your departments something creative and start circulating your primo ecards today!
"You can express any feeling or mark any occasion together, no matter where you are."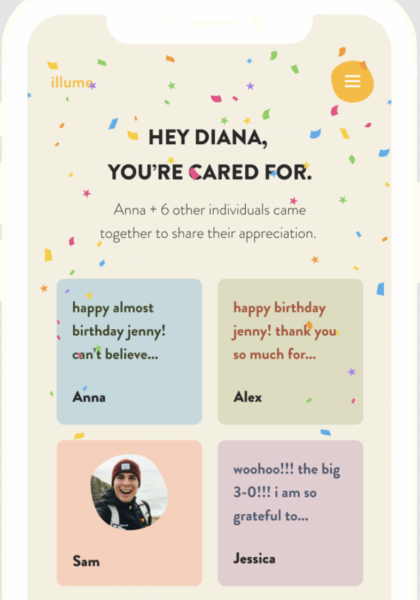 Illume thrives on connecting your teams, despite each of their locations. They believe that all the big moments should be highlighted and they don't assume your team members need to be in the same building to celebrate each other effectively. And with almost 350,000 ecards under their belt, it seems people agree with them.
🎖 What makes this group ecard service special? 
Simply upload a .csv file and all your big dates are captured for future celebratory ecards. And if you're an educational institution, you may be eligible for a discount!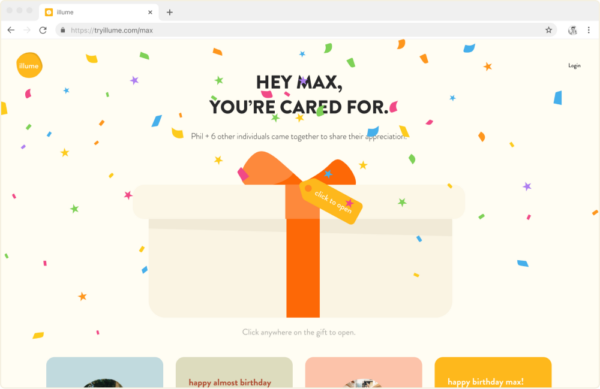 🚨 Check out their free plan and test run a couple of Illume's creative ecards to see if you like their style. Gotta love a "try it before you buy it" deal!
"We make it easy to be thoughtful!"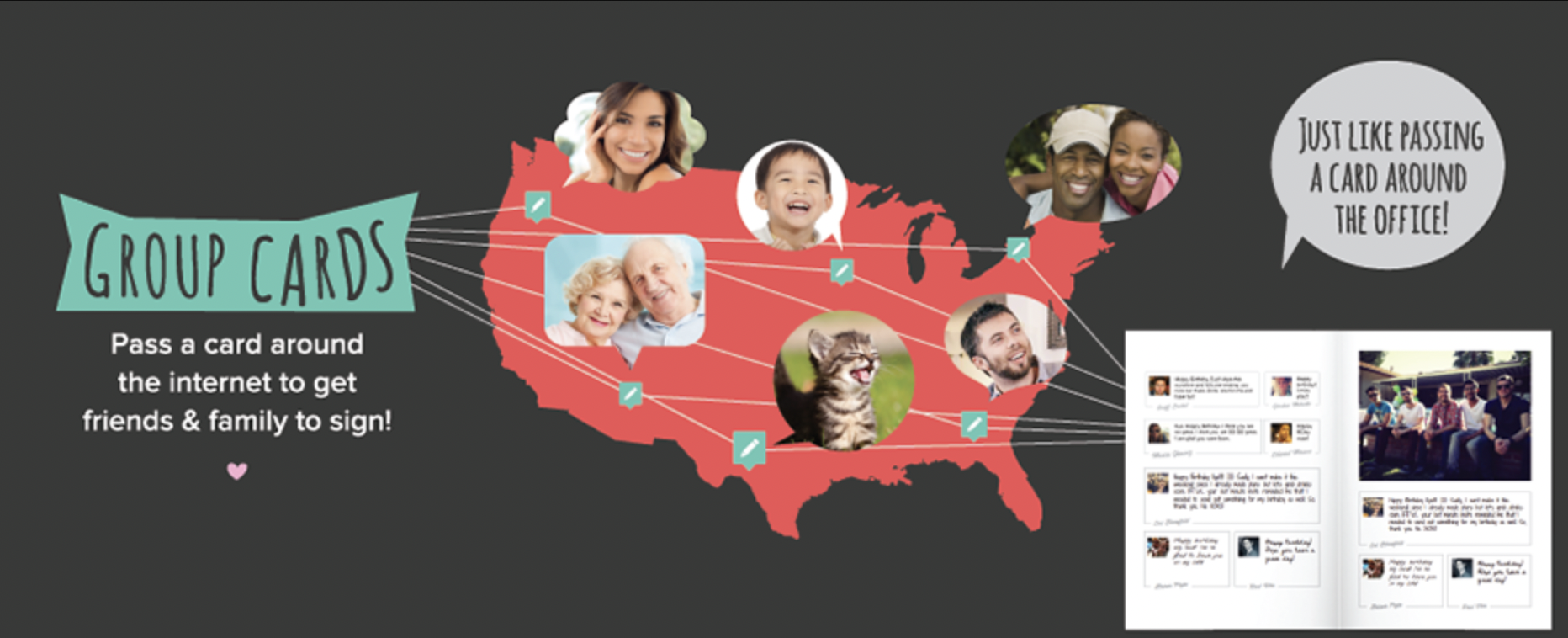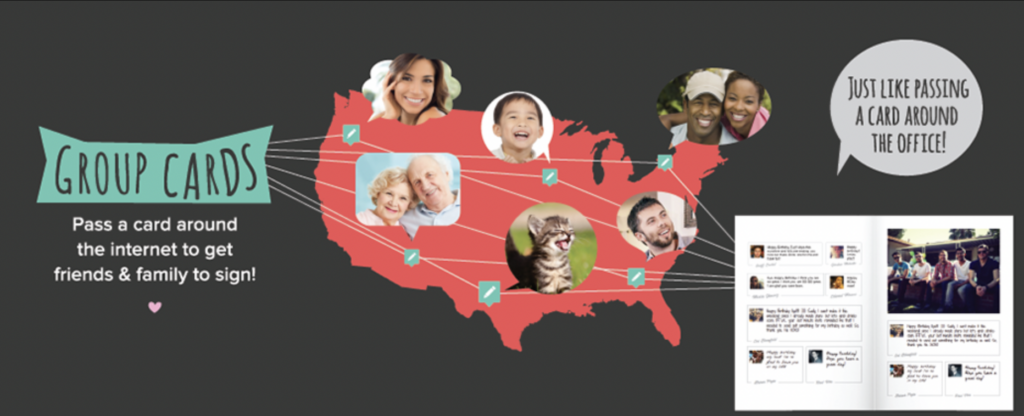 This group ecard service is ridiculously simple. Once you create an account, you're able to send an unlimited number of ecards for the low, low price of just $0 per month. Yep, that's zero dollars! So basically, with OpenMe it costs you nothing to support and encourage your workforce. Surely there's room in the annual budget for such an expense.
🎖 What makes this group ecard service special? 
What sets OpenMe apart from the other superstar ecard services on our list? They also offer merch and swag that can display fun and encouraging messages instead of egift cards. Their clothing and accessories are designed to correlate with the message of your ecard so it all feels special to your receiver.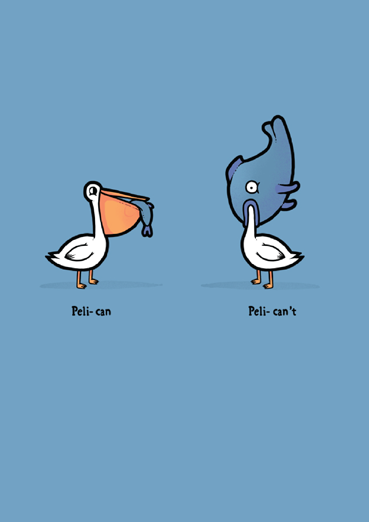 🚨 Did you catch the part about being able to send unlimited ecards, absolutely free? What are you waiting for? Try out Open Me today.
"Save trees, Save the planet, Choose CardSnacks."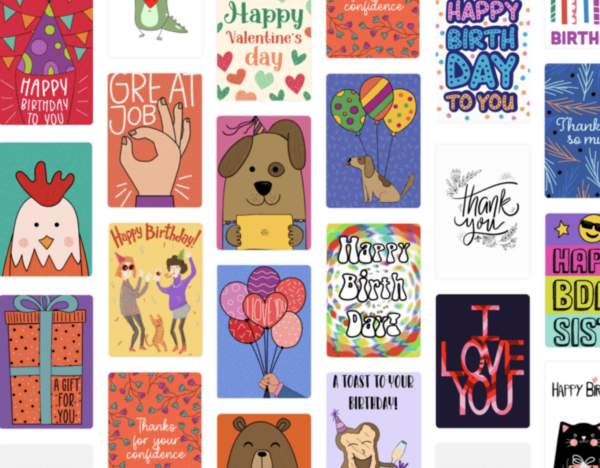 With clever automation, CardSnacks allows you to plan and schedule your ecards well in advance so you never miss a special occasion or major milestone. They'll deliver your ecards (and digital gift card if you choose) in an email, a text, or both – whatever makes the most sense for your recipient. You can choose an egift card from over 400 brands or go with the cash card and let them choose how to spend their milestone moolah.
🎖 What makes this group ecard service special? 
CardSnacks ecards aren't just for your employees and colleagues – they want you to connect to your customers and clients as well. Keep everyone engaged with incentives, loyalty rewards, and fun competitions for full 360° interaction.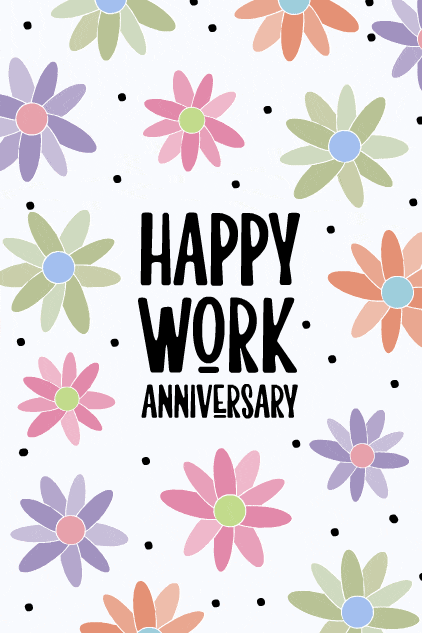 🚨 With CardSnack's 7-day free trial, you have nothing to lose!
"Stick your face in it!"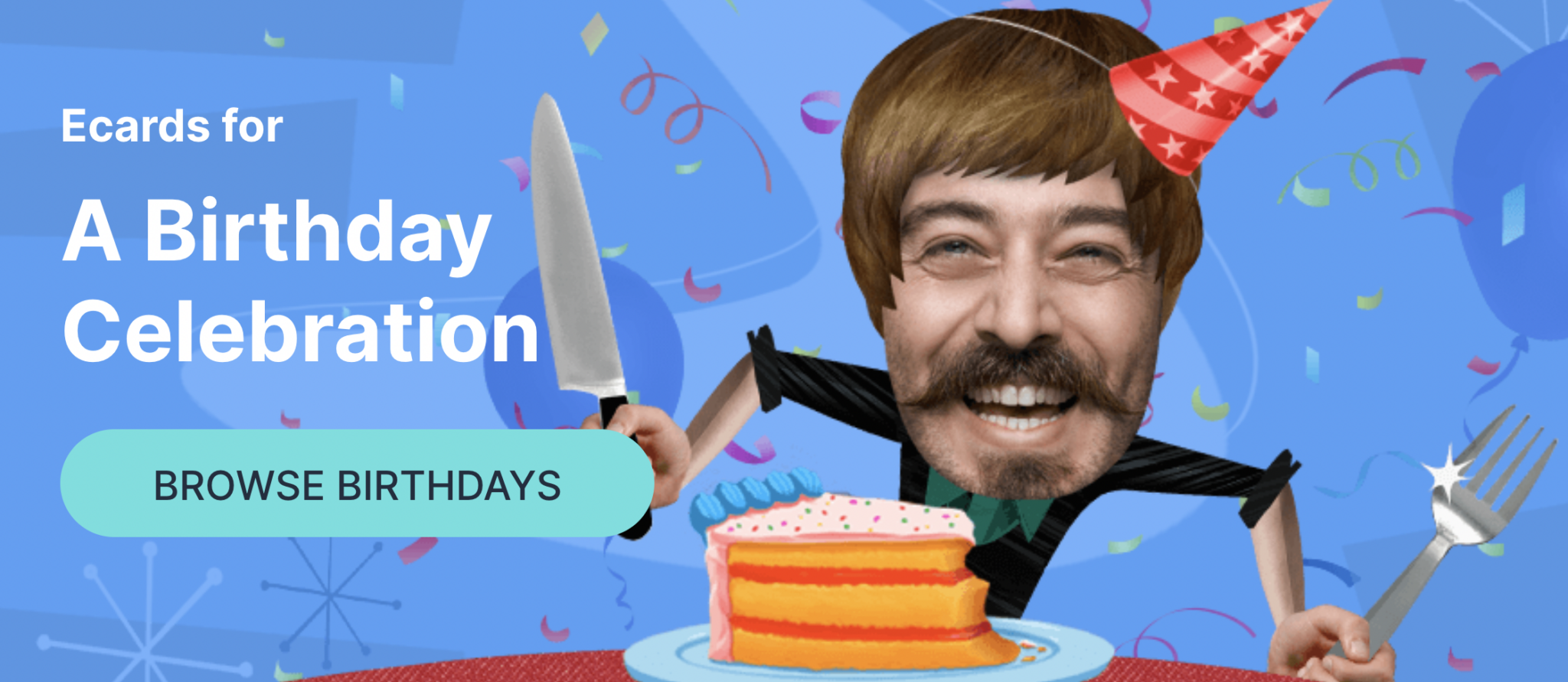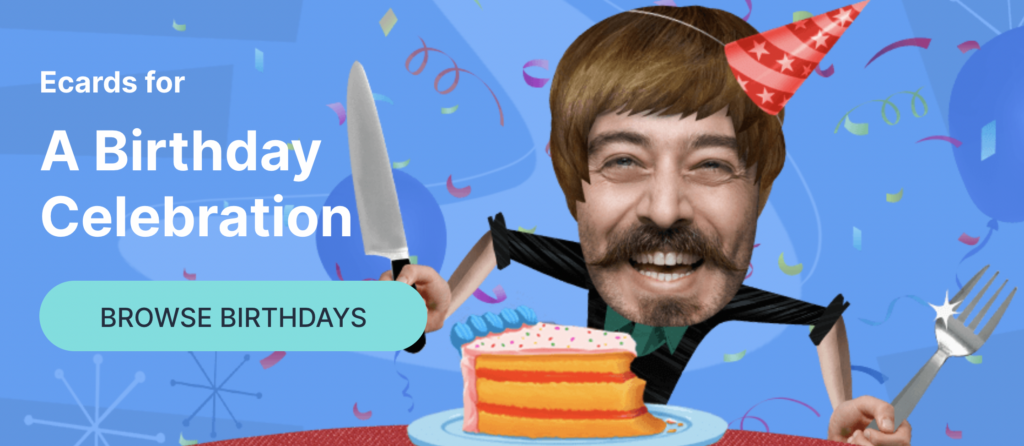 WARNING! You may have a little too much fun with these group ecards! Absolute hilarity! Your favorite colleague singing with a guitar-wielding kitten. Your manager as a superhero on an intense birthday mission. The options are endless and your recipient will be in tears from laughing so hard at your princess masterpiece.
🎖 What makes this group ecard service special? 
Every single thing about JibJab's group ecards is gold! Where else can you turn your boss into a singing, dancing Taco and know you're not the only one laughing?
🚨 Don't walk. Run to their link to get started creating your group ecards!
"We are on a mission to spread gratitude and human connection in the world."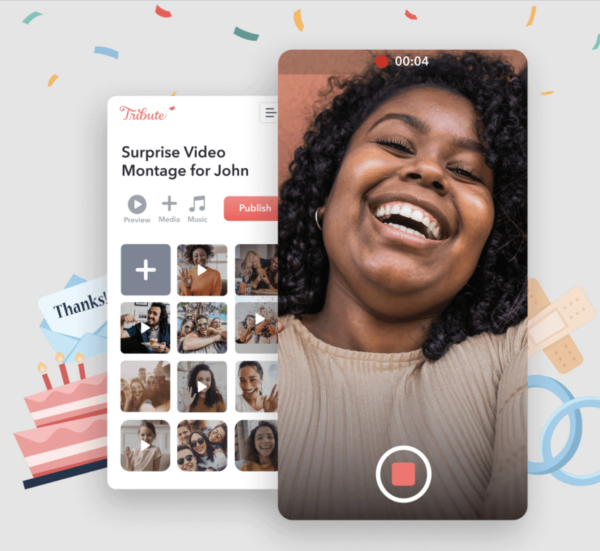 Have you ever noticed that it's often so much easier to say what we're thinking than it is to write it? Tribute gives you the chance to say all the things you'd want to say in a typical greeting card, but using your voice, with your words, and your facial expressions. Contributors can casually speak their minds and share the personal reasons they're so happy to be a part of the Tribute.
🎖 What makes this group ecard service special? 
Your group ecard recipient can see the authenticity oozing from their personalized, high-quality video messages. This visual element delivers unlimited pages of praise and adds another level of sincerity for an even bigger impact.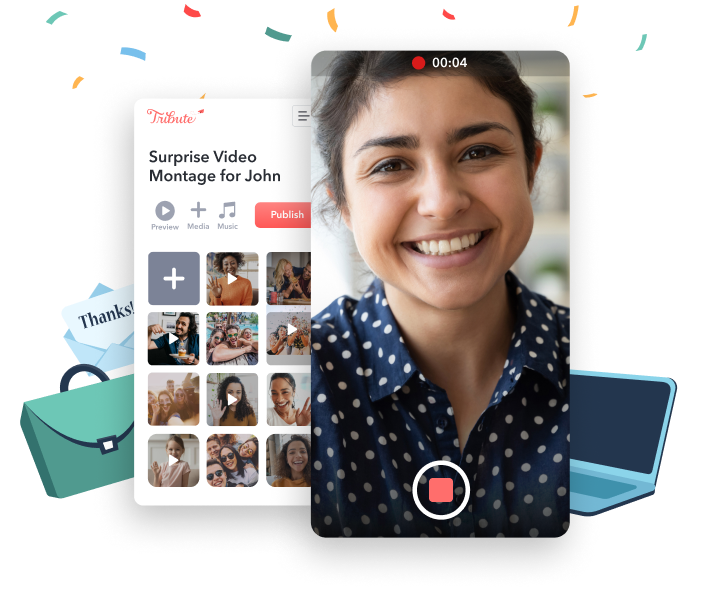 🚨 Start sharpening your video editing skills and get personal with a thoughtful Tribute.
Conclusion
But it's not just about the ecard itself. It's the underlying message of appreciation it brings that's most valuable. Group ecards don't just deliver "happy birthdays" and "congratulations."
Virtual group cards improve internal relations such as employee engagement, peer-to-peer recognition, and the overall culture of your organization.
But even bigger than that, they make people feel appreciated and seen.
Like their hard work, time, and accomplishments matter. Talk about a morale booster!
---
People Also Ask These Questions About The Best Group Ecards
Q: Are there free group ecards you can send?
A: There are free group ecards you can send and many ecard services offer free trials so you can test them out before committing. They're all listed in the details above so just scroll up a little to take another look at the options for free ecards.
Q: Are there group ecards to sign electronically?
A: Group ecards to sign electronically are no problem. In fact, all the group ecard services we highlighted above are delivered with electronic signatures.
Q: Can you send a group ecard with a gift card?
A: You can send a group ecard with a gift card, merchandise, personalized videos, and so many other options. Many of the group egift services discussed above have partnered with hundreds of brands for optimal variety. Some even have cash card options so the receiver can spend their card balance all in one shot wherever they want, or sprinkle it all over town.
Q: Where can you find group ecards for the office?
A: You can find group ecards for the office at all 12 links in the article above. But don't be surprised if you want to start sending online greeting cards and virtual "congrats" to your friends and loved ones once you see how easy and fun they are to create. That's how it works!
Q: What are the steps to using a group ecard with multiple signatures?
A: The steps to using a group ecard with multiple signatures are super simple! Most group ecard services ask you to:

choose your card design and specify your delivery date
decide if you're adding an egift card and for how much so you can start the money collection
 invite others by sending out an email blast
sit back and wait for your masterpiece to hit your recipient's email and make their week a bucketload better!