We love our sweet granola bars as much as the next person, but we also see no reason to get bored by eating the same old snack bar with the same old flavors. Why not try a savory, or even a sour, healthy snack bar for a change?
This list will help you discover all the energizing, healthy snacks bars you can buy or make from scratch to satisfy your diverse and demanding flavor cravings.
Want to become a better professional in just 5 minutes?
Salty Snack Bars
1. Epic Bars
Epic's savory snack bars feature quality meat: bison, beef, chicken, bacon, salmon, and venison. The brand crafts their gluten-free, paleo-friendly bars from carefully sourced, humanely raised, organic meats complimented with wholesome nuts and seeds. These bars are perfect for those who crave savory snacks and those who are trying to watch their sugar intake.
2. The YES Bar Black Sesame Sea Salt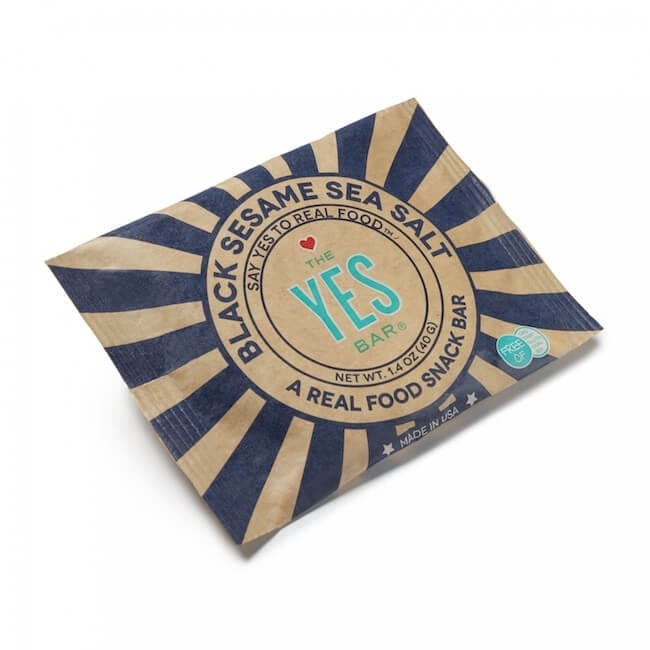 Here's a salty snack bar with a list of stuff it doesn't include that's just as impressive as what it does  include.
What it doesn't have: gluten, genetically modified organisms (GMOs), preservatives, artificial flavorings, refined sugars, overly processed proteins, grains, dairy, lactose, soy, corn, eggs, and peanuts.
So what does it have? Everything good, namely heart-healthy nuts, toasted sesame seeds, nori seaweed, tahini, and sea salt.
3. Sheffa Everything Savory Bar
Craving an everything bagel? Reach for this healthy savory bar instead. It's made with quinoa, millet, amaranth, chickpeas, and other awesome whole-food ingredients instead of refined wheat and processed fats. Each bar has zero added sugars and lots of protein and fiber.
4. Savory DIY Power Bars
Expand the flavors available in your snack bars by making some bars yourself. These amazing homemade snack bars from Quitokeeto combine oats, kale chips, olives, and crispy rice cereal to make a snack bar that tastes like you packed a full Mediterranean meal into one super cracker.
5. Savory Granola Bar With Sun-Dried Tomatoes
Via To Her Core: Savoury Granola Bars
Skip the dried fruit and put sun-dried tomatoes into your homemade granola bars. To Her Core's recipe is perfect if you want to cut back on sugar and still crave a snack bar that's full of flavor.
Made with the usual granola-bar ingredients, including oats, nuts, and peanut butter, these bars feature savory sun-dried tomatoes and thyme to produce a sophisticated flavor experience.
6. Savory Energy Bars
Made with quinoa, garlic powder, and cheese, these nutrient-rich salty snack bars put everything in your favorite dinner-time side dish into a convenient bar.
Snack on these savory treats from Comfortably Domestic for a healthy dose of protein, fiber, and satisfying flavor, anytime, anywhere.
7. Mediterra Savory Bar with Kale, Pomegranate, Quinoa & Almonds
Is this a salad or a snack bar? Well, it's kind of a combination of both. Mediterra packs their bars with ingredients you might put into your favorite fancy salad.
Unlike your favorite fancy salad, you can keep some of these bars in your bag when fresh greens and veggies may be too hard to come by, too messy to eat, or just too hard to prepare.
Sour/Tart Snack Bars
8. Wella Bar Almond Sour Cherry Bar
Almonds, cashew butter, and a delicate kiss of honey compliment the perfectly tart dried cherries in these good-for-you snack bars. Wella also infuses their bars with egg whites for a dose of lean protein.
Each Almond Sour Cherry bar has 3 grams of fiber and 8 grams of protein.
9. No-Bake Unsweetened Cranberry Bar
Skip the honey in this no-bake bar recipe from Food & Nutrition to enjoy a tart snack bar that's light on sugar and full of energy-boosting nutrients. Make a big batch and keep them in the refrigerator for a night-to-day snack with enough flavor to satisfy any craving.
10. Tart Cherry Granola Bars
Via Love & Zest: Tart Cherry, Dark Chocolate & Cashew Granola Bars
Love & Zest brings together cashews, almonds, and tart cherries to make a bar that's just sour enough to tickle your tastebuds. Skip the chocolate in this recipe to get a full sour snack-bar experience.
11. Lemon Protein Bars
Via OmNomAlly: Pucker Up Lemon Coconut Protein Bars
Ah lemon, the quintessential source of all things delightfully sour. Filled with lemon juice, protein powder, and almond meal, these bars from OmNomAlly might remind you of the lemon bars you had at your last tea party, but trust us, they are so much better. These tart bars are low on sugar and high on protein, everything you want in a snack bar. 
Sweet Snack Bars
12. RX Bar Maple Sea Salt
How can the Rx Bar Maple Sea Salt Bar taste so delightfully sweet and not have any added sugar? It's almost too good to be true, but true it is.
These bars get satisfying sweetness from naturally sweet dates and maple water; they don't even have a drizzle of maple syrup. Made with just a few simple ingredients and sweetened with all natural Gold Bee hemp-infused maple syrup, these snack bars are the perfect way to get a clean dose of sweetness.
13. Redd Chocolate Superfood Energy Bar
Superfood chocolate? Where do we sign up? This Chocolate Superfood Energy Bar includes 10 grams of protein, a kick of caffeine, and a boost of superfood nutrients from goji berries, amla fruit, maqui berry, and more. The bars are sweetened with healthy stevia extract, so you can enjoy a super-sweet, chocolately snack bar that only sets you back 220 calories.
14. Oskri Coconut Mint Bar
Flavors of coconut and mint mix to make one just-sweet-enough, perfectly refreshing snack bar. The base of Oskri bars is actually coconut; they're not just dusted with coconut flakes like other bars.
Add clean dark chocolate and a hint of peppermint oil to that coconut base, and you've got a tasty, dense, and nutritious snack bar.
15. No-Bake Sesame Bars
No-bake snack bars are the best. Who has time to slave in the kitchen? These sesame snack bars from Eatori are easy to make and totally unique, filled with banana, tahini, sesame seeds, and pumpkin seeds.
A tiny bit of honey makes them sweet, but these snack bars will not cause any sugar crashes.
16. No-Bake Almond-Butter Snack Bars
Via Sweet Peas & Saffron: No-Bake Almond-Butter Snack Bars
Here's another no-bake snack bar with one of our favorite ingredients for helping things stick together: almond butter. Almond butter makes perfect bars for vegan diets, replacing eggs and egg whites to be the "glue" that holds the whole healthy mixture together.
Get the recipe from Sweet Peas & Saffron.
17. Jimmy Bar How 'Bout Dem Apples Clean Snack Bar
You do not need chocolate chips or chunks to make a delectable sweet snack bar, and Jimmy Bar can prove it with their How 'Bout Dem Apples Clean Snack Bar. The bar features vanilla, apple, walnuts, almond butter, cinnamon and more to make a better-than-apple-pie snack bar you don't have to wait until after dinner to eat.
18. Skout Backcountry Oregon Blueberry Almond Organic Bar
These bars deliver a low-glycemic, but still sweet, snack bar that will keep you coming back day after day. Organic Oregon blueberries and organic dates, some of nature's finest candies, will make you forget all about chocolate, butter, and refined white sugar.
Each sweet bar has only 150 calories.
19. Balance Bar Honey Yogurt Peanut
Balance bars will absolutely help you achieve snacking balance, proving you can have a sweet snack bar that's also nutritionally balanced. The Honey Yogurt Peanut bar tastes as wholesome and delicious as it sounds.
Plus, it only has 200 calories and scores a low 28 on the Glycemic Index.
20. Clif Bar Nuts & Seeds
This non-GMO bar is both a little bit salty and a little bit sweet. It's made from sunflower seeds, pumpkin seeds, almonds, and peanut butter, so it packs a lot of nutty, seedy goodness into a convenient bar that provides a steady stream of energy to power whatever you have going on in your day.
Maybe you're going on an intense hike. Maybe you've got an intense board meeting.
No matter what you need energy for, this protein-packed bar has your back.
21. Eating Evolved Primal Chocolate Midnight Coconut
This bar is made of chocolate, so it goes under the "sweet" category, but it actually has no added sugar. That's right, this 100% cacao bar lets the true flavor of the purest form of chocolate shine through to make a pleasantly bitter, rich snack that's full of antioxidants.
The deep dark chocolate is flecked with organic coconut to lighten things up and bring an almost creamy element to the bar.
The bar is dairy-free, soy-free, paleo, and vegan, and its deep flavor might just change the way you look at sweetened chocolate. One bar has 150 calories and 4 grams of protein.
Spicy Snack Bars
22. KIND Roasted Jalapeno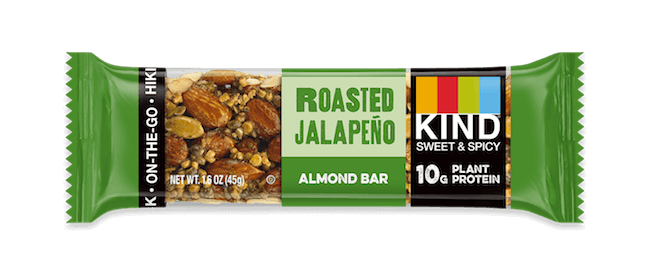 Brace yourself: Jalapenos have escaped from your favorite salsa and made their way into your new favorite snack bar.
The Kind Roasted Jalapeno bar brings "spicy" into your snack bar vocabulary. The bar is made with nuts, seeds, pea protein, and jalapeno and offers 10 grams of savory plant-based protein.
23. Nature Valley Sweet and Spicy Chili Dark Chocolate Granola Bars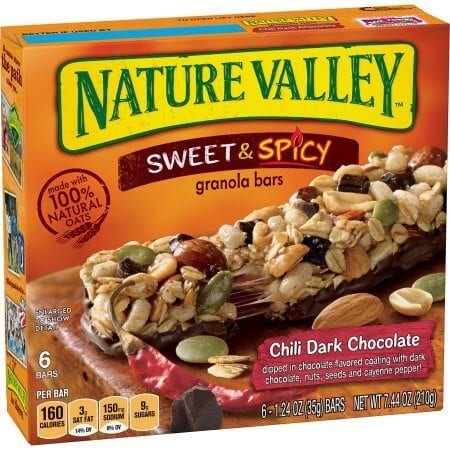 These bars are sweet and spicy, the perfect transition if the idea of a spicy snack bar makes you feel a little nervous.
Cayenne and dark chocolate explode in a tasty treat made with nuts, seeds, and grains. Trust us, the jolt of spice from the cayenne will completely tame your hunger.
24. Sola Chipotle Bar
Over the last ten years, smoky chipotle has danced its way into our culinary hearts, appearing in everything from chocolate bars to sangria.
Now it's making a stunning debut in the world of snack bars, and we couldn't be more excited. These spicy snack bars bring smokey flavor to vegans and vegetarians who've been feeling abandoned in a world full of jerky.
Each bar is non-GMO and gluten-free, filled with lots of spice and only about one gram of sugar. Snack on one to get a dose of healthy oils that set you up for long-term satiety.
25. Chili Mango Snack Bars
Via Healthy Nibbles and Bits: Chili Mango Snack Bars
Mango and red pepper flakes produce spicy snack bars with oodles of interesting flavors. With the amount of flavor in these bars combined with healthy filling ingredients, you won't be feeling those hunger pangs until dinner is made and the table is set.
Get the recipe from Healthy Nibbles and Bits.
26. Curried Almond Granola Bars
Via Eating Bird Food: Curried Almond Granola Bars
Curry powder in granola bars? No, we are not kidding.
Consider this granola bar an adventurous step up from the cinnamon and nutmeg you usually toss into your bars.
This Eating Bird Food recipe uses spicy curry, golden tumeric, and sweet dried fruits to bring the flavors of your favorite Indian restaurant to a healthy snack bar you can eat any time of day—no reservations required.
27. Thai Peanut Granola Bars
The previous snack bar put your favorite Indian food into a bar, and this one from Power Hungry does the same thing with Thai food. Lime, curry, and peanut butter make the perfect compliment to robust oats.
The savory nature of these bars keeps them low in calories; it has no syrupy sweeteners or dried fruits to send calories soaring.
28. Red Pepper Seed Bars
These one-of-a-kind bars from Flo & Grace deserve a place in your snack-bar repertoire.
Have you ever noticed how eating a sweet bar in the morning sets you up for sweet cravings for the rest of the day?
Well spicy cayenne and black pepper will do the opposite, quenching your cravings and setting you up for a healthy day.
29. Country Archer Frontier Bar – Cayenne Beef with Pork
This spicy snack bar has 20 grams of protein and only 140 calories. Now that's an impressive ratio.
The cayenne-rich snack is made from grass-fed beef raised without hormones or antibiotics. It has no nitrates, nitrites, gluten, soy, or monosodium glutamate (MSG). Eat it whenever you need a snack that will fill you up without weighing you down.
As an added bonus, the bars are made right in the United States.
30. Tanka Bar Coffee Hatch Chili
Made with turkey and buffalo meat, the Tanka bar is slowly smoked and infused with flavors of roasted coffee and hatch chilis. The bar is savory, with a bit of smokiness and a bit of spiciness that will wake you up when it's snack time.
One serving has only 80 calories, which is hard to believe when you consider all the intense flavor you get.
What's your favorite healthy snack bar? Let us know in the comment section below!
(PS – Be sure to join our Dollar Snack Club and get 6 delicious & healthy snacks for only $1!)
Additional Resources: