Healthy pregnancy snacks play an important role in the overall health of both mom and baby.
Pregnant snackers have a special set of dietary needs. Expectant mothers need balanced nutrition to keep themselves and their growing babies healthy. During pregnancy, it's more important than ever to get plenty of all the key nutrients from fresh wholesome foods; what mothers eat when they're pregnant could affect their children years in the future.
National Public Radio (NPR) points out several studies that underscore the importance of following a healthy diet during pregnancy. A mother's diet could alter a baby's genes, and a mother's particular choices could determine what foods a child enjoys throughout life.
We've made a list of healthy pregnancy snacks organized by the key nutrients women need when they're expecting. This collection will help all the future mothers out there make healthy choices without stressing out or doing tons of research.
Most of these snacks are based on the Mayo Clinic's post, Pregnancy diet: Focus on these essential nutrients.
Disclaimer: We aim to provide you with quality snack recommendations. None of the information on this list was provided or reviewed by a healthcare professional or anyone with medical training. By choosing to enjoy any of the snacks on this list, you are acknowledging that you alone are personally responsible for health outcomes, and that you take full responsibility for the health of yourself and your baby.
Want to become a better professional in just 5 minutes?
Healthy Pregnancy Snacks with Folate 
Here's what Kaiser Permanente has to say about the benefits of consuming folate during pregnancy.
"Folate, a form of vitamin B, can prevent birth defects. Most women only get about half the folate they need. All women aged 15 to 45 should get 0.4 milligrams of folate every day through their diet or vitamin supplements."
Spinach
Spinach contains 131 micrograms of folate per serving.
Bake spinach leaves in the oven to make a crispy, crunchy snack that's delicious, satisfies cravings for potato chips, and comes packed full of folate.
Made from cheese, eggs, and spinach, these balls deliver satisfaction and nutrition in one convenient bite. We love snacking on handy, easy-to-make balls that have flavor and nutrition to boot.
Beans
Beans contain 90 micrograms of folate per serving.
Step aside, salty processed snack mixes. From Dizzy, Busy, and Hungry, this bean-based snack mix has all the folate and fiber you need to stay healthy.
Use this recipe to whip up a batch of healthy bean dip in about 10 minutes. Dip vegetable sticks in the dip to create a healthy pregnancy snack that boosts folate intake.
Asparagus
Beans contain 89 micrograms of folate per serving.
Enjoying a quick batch of roasted asparagus with just the right hint of Parmesan is the perfect way to satisfy hunger pangs and get some more folate into you diet.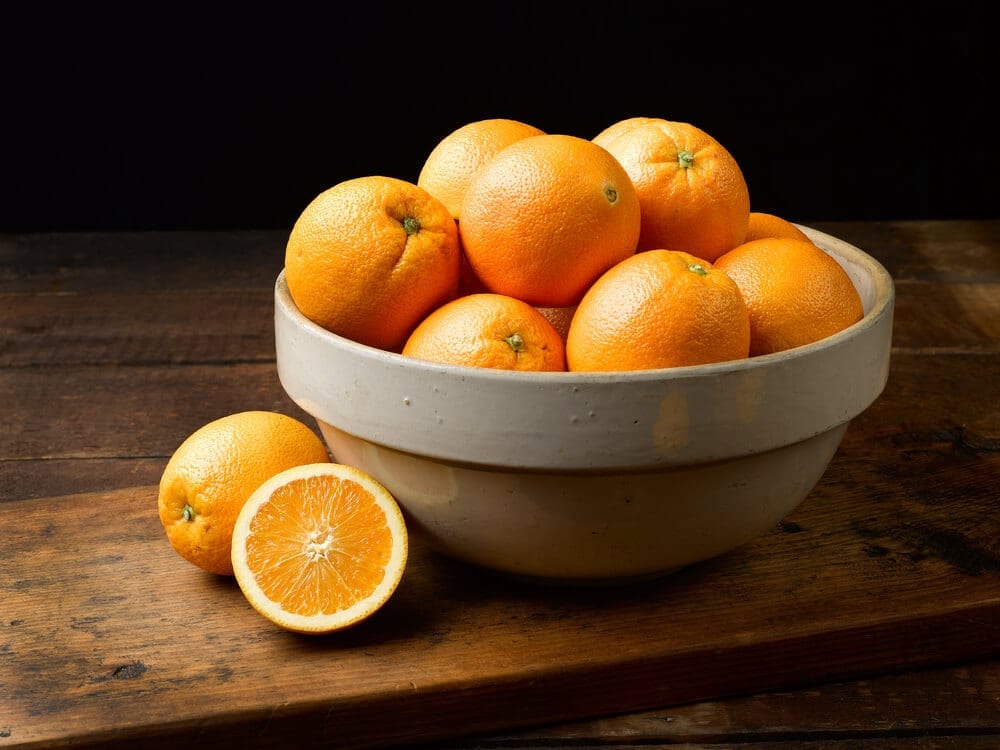 Oranges
Oranges contain 29 micrograms of folate per serving.
Orange Slices with Cinnamon
If you have a snack with a bit more flare than an plain orange, then try dusting cinnamon over a plate of fresh orange slices. This gives you all the flavors you might crave in candy.
Strawberry and Orange Salad with Fresh Mint
Keep this easy fruit salad in the fridge so you always have an incredibly refreshing snack on hand at a moment's notice.

Healthy Pregnancy Snacks with Calcium
Calcium aids the formation of healthy bones and teeth, and it promotes healthy functioning of nerves and muscles.
Yogurt
Yogurt contains 258 milligrams of calcium per serving.
Choose plain, unsweetened yogurt and make it more interesting by adding fresh fruit and citrus zest. Citrus zest adds tons of flavor to fresh yogurt without adding calories.
Cheese
Cheese contains 222 milligrams of calcium per serving.
Try eating cheese with slices of apple, pear, tomato, or fig to elevate plain cheese into a crave-worthy snack.
Collard greens
Collard greens contain 360 milligrams of calcium per serving.
Collard Wraps
Swap your standard tortilla for a big green collard leaf to make a satisfying snack with plenty of calcium.
Try:
Healthy Pregnancy Snacks with Vitamin D
Getting plenty of vitamin D during pregnancy supports the healthy development of the baby's bones and teeth.
Eggs
Eggs contain 55 international units of vitamin D per serving.
Fill muffin tins with eggs and your favorite ingredients to make filling snacks you can freeze or refrigerate to have when you're in need of a snack.
This recipe, dreamed up by expert dietitians, helps you make deviled eggs with healthy Greek yogurt instead of fatty mayonnaise.
Mushrooms 
Mushrooms contain 5 international units of vitamin D per serving.
Versatile mushrooms can be used to make a variety of healthy snacks. One of the easiest options is the classic stuffed mushroom. While these small bites appear on the appetizer lists of fancy restaurants, they're actually fast and easy to make. Just top a crimini mushroom cap with ingredients that suit your fancy and bake until all the flavors blend. This recipe from Cilantro & Citronella includes shallots, garlic, walnuts, and sun-dried tomatoes.
Portobello Mushroom "Steaks"
In mushroom form, "steak" can be on the menu for snack time. Meaty portobello mushrooms deserve a place of honor in any healthy diet, and one of the easiest ways to prepare portobellos is in the form of a simple grilled steak. Keep some full portobello caps or portobello strips marinating in the fridge, and when hunger strikes, pop the mushrooms on a skillet and sear each side for a few minutes.
Healthy Pregnancy Snacks with Protein
Protein helps your body make essential amino acids and repair cells.
Cottage Cheese
Cottage cheese has 28 grams of protein per serving.
Try spreading cottage cheese on toast or eating a bowl of the wholesome curds with your favorite fresh fruit or even vegetables. You can even add it to your morning oatmeal to give yourself a little protein boost.
Lentils
Lentils have 9 grams of protein per serving.
You can enjoy lentils in more than just lentil soup. Try seasoning and baking lentils to create a crispy snack you'll turn to every time you're craving a potato chip.
Boneless Skinless Chicken Breasts
Boneless skinless chicken breasts have 26 grams of protein per serving.
Chicken Breast Cubes
Once a week, cook (or purchase pre-cooked) chicken breasts and cut them into cubes to have the foundation ingredient for a variety of healthy pregnancy snacks. 
Skewer chicken cubes with grape tomatoes, mozzarella pearls, and basil to create easy caprese kabobs

Toss chicken cubes in a bowl with dandelion greens, orange segments, and sunflower seeds to make an easy chicken salad
Pumpkin seeds
Pumpkin seeds have 12 grams of protein per serving.
Enjoy pumpkin seeds alone or sprinkled on salads, yogurt, or cereal for a boost of protein any time.
Peanuts and Peanut Butter
Peanuts and peanut butter have 7 grams of protein per serving.
As wholesome as snacks can get, these home cooked salted Virginia peanuts have 7 grams of plant-based protein per serving. Each Hubs tin includes the finest Virginia peanuts, coconut oil, and salt. Plus, one ounce of peanuts has about 10% of the recommended daily value of folate.
Carrot Sticks with Savory Peanut Dip
Spice up an average snack of carrot sticks by dipping them in spicy or savory sauces made from wholesome, protein-rich peanut butter. This recipe features a dippable sauce made from peanut butter, coconut milk, and curry.
Healthy Pregnancy Snacks with Iron
According to a helpful table from American Pregnancy, iron "Helps in the production of hemoglobin; prevents anemia, low birth weight, and premature delivery."
Soybeans
Soybeans have 40% of the recommended daily value of iron per serving.
Soybean Hummus
In addition to making our list earlier for being a great source of calcium, soybeans make our list again for the amount of iron they provide, with 1/4 cup offering 41% of your recommended daily value of iron. Use this super legume instead of chickpeas in your favorite hummus recipe to get a boost of iron you can dip veggies in.
Spinach
Spinach has 36% of the recommended daily value of iron per serving.
Spinach Juice
Packed with iron, spinach leaves are just delicate enough to "juice" right in a blender. Spinach stems are much softer than those found on kale or chard, so even a normally powered blender can make the entire leaf silky smooth. Nutrient-dense juice makes the perfect snack; even though it's just liquid, all the good stuff packed inside really fills you up and keeps you sustained. Blend two cups of spinach with one chopped granny smith apple, 1/2 cup frozen pineapple chunks, and about a cup of filtered water. You could even freeze this juice to make a healthy green popsicle.
Quinoa
Quinoa has 15% of the recommended daily value of iron per serving.
Turn your favorite side dish/healthy salad topping into a bar you can pack and eat on the go. Make this recipe a staple in your snacking repertoire; in a few years, you're going to need some ideas for healthy snacks for kids.
Healthy Pregnancy Snacks with Essential Vitamins
Sweet Potatoes
One sweet potato contains 368% of the recommended daily value of vitamin A.
You can easily roast a sweet potato into rounds and then top them with a variety of delightful ingredients to make tons of healthy snacks that never get old. In addition to providing the roasting instructions, Toaster Oven Love also provides topping ideas, including ricotta and blueberries, yogurt and cherries, and more.
You can easily top your sweet potato rounds with ingredients to make both sweet and savory snacks.
Microwaved Sweet Potato
You can easily microwave a sweet potato to create a soft fluffy snack that's ready to eat in minutes. Make this snack cravable by having a list of drool-worthy toppings on hand to turn a boring potato into a healthy snack.
Try:
Walnuts and goat cheese

Cranberries and maple syrup

Salsa and black beans

Yogurt and mini heirloom tomatoes

Chickpeas and avocado

Parmesan and thyme
Bananas
One banana contains 20% of the recommended daily value of vitamin B6.
When a simple banana just won't cut your cravings, try rolling ripe bananas into balls with dates and almond butter. This satisfying snack will keep you going all day.
Bake two of the most wholesome ingredients in the world, bananas and oatmeal, together in cups to make a delicious healthy snack with lots of flavor and lots of texture.
Broccoli
One serving of broccoli contains 220% of the recommended daily value of vitamin C.
Have fun while getting your daily dose of broccoli. These tots will make you crave broccoli like never before. Plus, this is another snack recipe you can keep around for those years down the road when you're trying to get your child to eat vegetables.
Broccoli Spread on Whole-Wheat Toast
Broccoli on toast? You have to try it to believe how delicious it really is. This snack will help you boost your vitamin C intake, and it also prepares you to embrace eating broccoli on pizza, another veggie-forward treat that tastes way better than it sounds.
A little bit of everything
Each of these snacks is a mix of foods that provide a variety of essential vitamins.
The Ultimate Pregnancy Smoothie
This smoothie, from the blogger behind Leah's Plate, includes spinach, chia seeds, chlorella, and banana. Leah has this to say about her smoothie:
"Major brain development is happening right now, so I did a lot of research on the best foods to eat for brain health as well as foods packed with the most vitamins and nutrients essential for pregnancy. I made sure to include healthy fat, fiber and protein-rich foods in this smoothie."
Appleways Apple Soft Oatmeal Bar
These better-for-you bars burst with whole grains and wholesome apples instead of fake flavors, trans fats, and preservatives. As an added benefit, these bars steer clear of nuts, so they're perfect for people with nut sensitivities or allergies.
We know healthy future moms like to hear what's working for women who've been there and done that. Share your healthy pregnancy snack ideas with us below!
(PS – Don't miss out on 40% OFF your first Deluxe Box  of delicious & healthy snacks!)
Additional Resources: