Let's be real – the human resource department often finds itself under the unsolicited scrutiny of the organization, whether it's warranted or not.
But truth be told, human resource professionals bear the weight of numerous hefty HR responsibilities, which might explain the occasional side-eye they receive.
The HR department manages employee concerns and needs throughout their entire lifecycle at the company. Successful HR professionals who have the necessary HR skills and competencies can foster a positive workplace environment and company culture, while an ineffective or untrained HR team may adversely affect the employee experience and disrupt business operations.
Pro-Tip from Human Crapital: Encourage regular and constructive feedback between employees and managers to foster a culture of continuous improvement and open communication.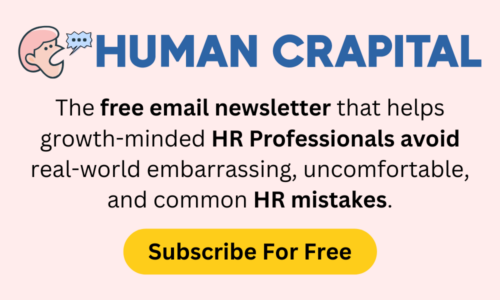 Whether you're thinking about how to become an HR manager or just simply looking to understand more about HR roles, this article will provide you with details on what exactly an HR team does, their core HR responsibilities, and why HR is such a critical component to the success of any company, big or small.
WAIT! Try these FREE email newsletters to gain resources and professional development insights into being a better professional:

Want to become a better professional in just 5 minutes?
Page Contents (Click To Jump)
The Significance of Human Resources

What is Human Resources?
Human resources is a department within an organization responsible for managing people-related items, tasks, and administration.
In short, HR serves as a resource for the humans working at a company by supporting the employee lifecycle.
Responsibilities of HR include:
🔎 Recruitment
🤝 Hiring
✅ Onboarding
👋 Off-boarding
📚 Employee training programs
🥳 Employee benefits
If it's a people-first concern, then chances are that it falls under the function of the human resource team.
The HR department is a bustling hub of diverse roles and HR functions, each contributing to the smooth operation of an organization's workforce.
From talent acquisition specialists who scour the talent pool for the perfect fit, to HR generalists who handle day-to-day employee matters, and HR managers who are in charge of strategic planning and lead the department, the roles within human resources are as varied as the personalities they interact with.
Why is Human Resources important?
A strong HR department helps to create and maintain a safe and efficient workplace environment day-to-day. By ensuring compensation and employee benefits are competitive in the marketplace and establishing a structured recruitment process, your HR team has the ability to attract and hire top talent in the industry.
An impressive HR department also bolsters employee engagement and retention, which leads to more productive employees and lower turnover costs. Most importantly, human resources' number one concern is the people. Employee well-being is at the core of HR, which is why a powerful HR team is so crucial to overall company success.
6 Core HR Responsibilities
1. Recruitment and Selection 🔎
Recruitment and selection of new hires and talent management is an essential core function of HR responsibilities.
When recruiting new employees, your team of HR professionals should have a solid understanding of the company's needs and priorities as it relates to open staffing positions. HR typically leads the recruitment process — starting with posting the job opening on relevant HR job posting websites such as LinkedIn, to screening potential candidates based on their resumes, coordinating rounds of interviews, and eventual selection of the best candidate for the role.
A single job posting can generate hundreds of applicants, so it's your HR team's responsibility to comb through those applicants and find the right hire for the right role. An exceptional candidate can be just what the company needs in order to excel! On the flip side, the wrong candidate can be quite detrimental to team operations and morale. Therefore, it's crucial that your HR team is posting accurate and alluring job descriptions and screening for the top talent in the industry who will meet your business needs.
An accomplished HR team will also be able to gauge whether or not a candidate will adapt well to the overall workplace culture and if there is long-term career path potential. Identifying these promising individuals will inevitably result in lower turnover rates and higher levels of employee loyalty.
2. Employee Onboarding ✅
Another important core function of the human resource department is employee onboarding. The employee onboarding process sets the tone for a new hire's career at a company. In fact, it can be quite difficult to come back from a negative hiring process, so it's crucial that your HR team has an efficient onboarding process in place. For example, your HR leaders could utilize HR templates throughout the onboarding experience to welcome new hires and help them navigate their first few weeks at the company.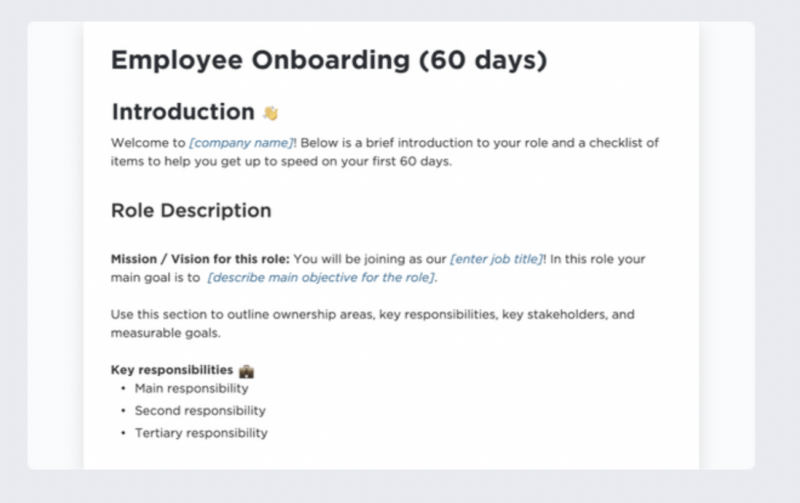 This also ensures that every new hire has a consistent and streamlined onboarding journey.
An effective onboarding experience starts well in advance of day one on the job. From the candidate's offer acceptance, the HR team should ensure that the new hire is fully prepared for their first day of employment including where and when to report, what new hire paperwork is needed, and what their first day-to-week will look like. HR should also work closely with the new hire's direct manager to ensure they have the proper IT equipment needed to do their job on their first day of employment. HR can also collaborate with a new hire's manager to create a 30-60-90 onboarding plan that will lay the groundwork for success in their new role.
3. Performance Management 🗣️
At a minimum, employee performance is reviewed at least one to two times per year with the most common cadence being a mid-year performance review followed by a year-end review. Within these performance appraisals, managers and their direct reports have the opportunity to revisit their annual goals from their employee records and evaluate employee performance against the objectives set earlier in the year.
To help aid the performance management process, there are quite a few HR tools and platforms in the marketplace where employees are able to enter, track, and evaluate their performance throughout the year. Many of these platforms offer a function where employees can request feedback from the colleagues they work with on a daily basis which is a great way to encourage peer-to-peer feedback.
Additionally, performance management conversations are a great time to discuss an employee's career ambitions at the company and outline potential career pathing opportunities. While HR won't be involved in every manager-employee performance conversation, they can provide career pathing guidance and work closely with employees to align their unique skill set to specific open opportunities within the company.
4. Compensation and Benefits 🎉
Employee compensation and benefits are significant pillars of HR's responsibilities at a company. This includes tracking and distributing employee payroll in a timely manner and ensuring the backend systems utilized to dispense payroll are functioning correctly.
Depending on the size of your company, you may want to explore utilizing human resources management software to help facilitate payroll and manage employee benefits, such as health insurance and other benefits programs.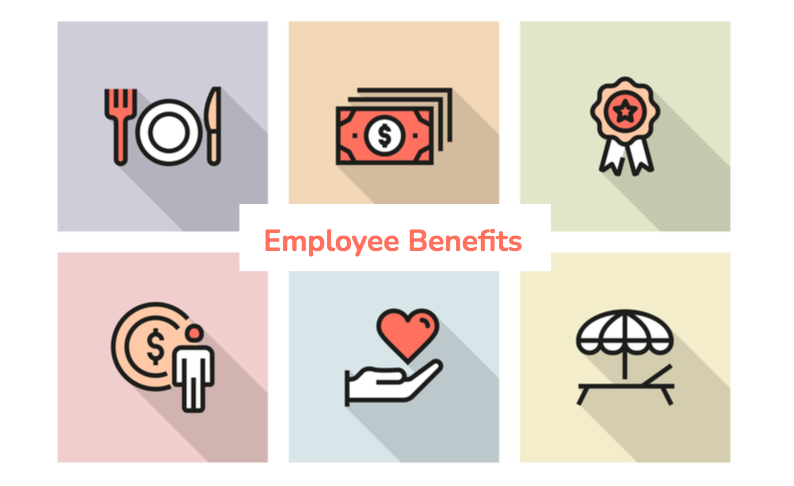 In addition to payroll, it is an HR responsibility to ensure that your company's employee compensation and benefits packages are competitive with market and industry standards in order to attract and retain top talent.
When job hunting, candidates are not only looking at a role's salary, but are taking into consideration additional employee benefits and incentives, such as health and dental insurance, retirement plans, paid time off, and annual bonuses.
Your HR team will typically field employee questions regarding compensation and benefits, serving as an internal resource for the workforce. As a standard, HR departments lead the annual open enrollment process, which involves relaying available benefit options to employees and helping them enroll in their desired benefit selections. Throughout the year, they'll also assist in benefit enrollment and updates for new hires or employees going through significant life changes, such as marriage or the birth of a child.
5. Employee Relations 🤝
Employee relations is a pretty broad term, but it essentially refers to the relationship between an employer and its employees and relationships amongst employees themselves.
When it comes to employee relations, HR is responsible for clearly outlining employee policies and procedures and stepping in when issues arise.
For example, if there is a conflict between a manager and their direct report, HR may be pulled into the situation to help resolve that conflict in a manner that is calm, fair, and aligns with company policies.
Similarly, if there is an issue between two colleagues, such as bullying or sexual harassment, HR will intervene and take the lead in conflict resolution and any necessary disciplinary actions. Because your HR team will deal with sensitive issues at times, they must take the necessary HR training courses and are well-versed in conflict resolution tactics.
Another important aspect of employee relations is training and supporting managers to ensure they have the tools needed to skillfully manage their employees. A management staff who can confidently lead their team and bring out the best in their employees will help keep a positive dynamic between employees and leadership and help keep employee satisfaction high.
The HR team also helps strengthen employee relations by supporting employee wellness and health initiatives and development programs in the workplace. By prioritizing overall employee well-being, the human resources department is creating a work environment in which employees can flourish. Wellness initiatives also help build a sense of community and belonging amongst its employees.
6. Compliance ⚖️
HR is responsible for ensuring the company complies with all applicable labor laws and regulations and that company policies align accordingly. Policies should be examined and updated as needed at least once a year to ensure compliant working conditions.
Companies that aren't compliant open themselves up to a higher risk of complaints due to an unsafe or negative work environment.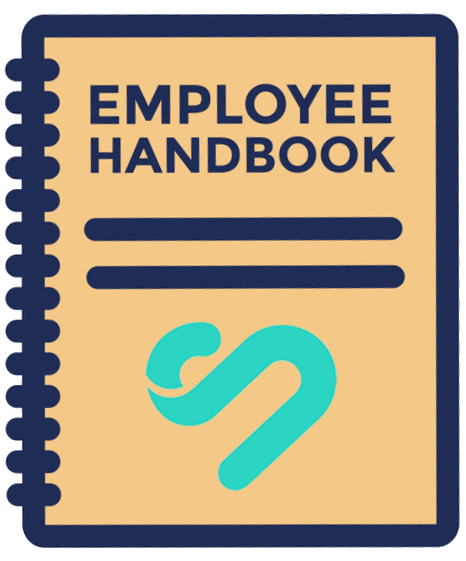 Some examples of compliance include maintaining proper pay and fair employment practices, such as providing sick time or requiring lunch breaks. These regulations fall under various labor and employment laws including the Civil Rights Act, the Fair Labor Standards Act, the Affordable Care Act, and the National Labor Relations Act, to name a few.
People Also Ask These Questions About HR Responsibilities
Q: How can HR professionals effectively manage employee performance?
A: Human resources professionals can effectively manage employee performance by establishing clear and detailed performance expectations and guidelines. This includes creating the performance review process and timeline and actively communicating those parameters with both leadership and employees alike. Managing employee performance is a core HR responsibility.
Q: What are the best practices for recruiting and selecting candidates?
A: Some best practices for recruiting and selecting candidates include posting well-defined job descriptions on relevant sites to reach the best candidates and establishing functional interview and selection criteria to ensure you hire the right candidates to fill open roles.
Q: How can HR foster positive employee relations within the organization?
A: HR can foster positive employee relations within the organization by promoting open communication channels, encouraging feedback and addressing concerns promptly, and implementing policies and practices that prioritize employee well-being, growth, and work-life balance. Additionally, recognizing and rewarding employee contributions can further enhance a positive work environment.
Q: What compliance regulations should HR professionals be aware of?
A: HR professionals should be aware of applicable labor laws in their country, state, and municipality, and ensure that company policies align with the regulations outlined in those labor laws. Some prominent labor regulation laws include the Fair Labor Standards Act, Title VII of the Civil Rights Act, and the Equal Pay Act.
Q: What are the emerging trends in HR management?
A: Some emerging trends in HR management include a focus on overall employee wellbeing, defining or redefining remote and hybrid work policies, and the rise of AI or algorithmic HR. It can be quite challenging to keep up with HR-related trends and other HR responsibilities, so you may want to consider subscribing to a few HR blogs or HR newsletters to stay in the know.