As your coworker plans for maternity leave, it may sound to some like they're planning for a magical "baby vacation." And yes, it's certainly a magical time.
There's definitely a baby. And they're technically off work so kinda on vacation. But new parents know that maternity leave is so much more than that.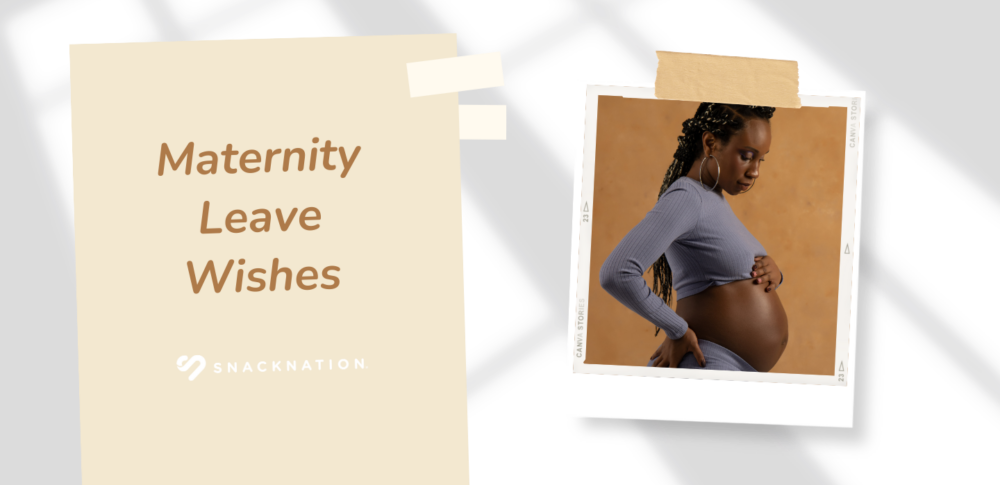 Showing support for your colleague as they're about to embark on some vital baby-bonding time can be done in so many thoughtful ways.
For these, and so many other reasons, it's super important to show your colleague some positivity, care, and support for their maternity leave. It's easy! Just use your words.
What are the benefits of wishing your coworker a happy maternity leave?
→ Show your support
Even if they already have a village around them, let your coworker know you're there if they need anything while they're out so it's clear their village includes their work family too.
→ Give some insider tips
Share some of the golden nuggets you've uncovered through your parenting experience that have made your life and processes easier.
→ Express empathy
Seeing that someone else has been there, done that, and bought the t-shirt gives them a little extra comfort, knowing that all their thoughts and concerns are normal.
→ Offer encouragement
Being a working mom isn't an easy job, but receiving encouragement from other parents helps keep things in perspective during those tougher times.
→ Promote her well-being
Of course, the new bundle of joy will be priority #1 but make sure mom knows that her health and well-being are just as important.
Pro-Tip: Celebrate your colleague's upcoming maternity leave with CareCards!

CareCards allows your entire team to wish them a joyful time off, send them a new mom gift, and share personalized congratulations all on one easy-to-use platfrom.
Page Contents (Click To Jump)
Best Maternity Leave Messages
I wish you so much joy and happiness with your new bundle! Being a parent is going to be even more amazing than you can imagine!
Congratulations on your new addition! Enjoy your bonding time and make the most of your maternity leave.
May your new baby bring you more love than your heart can even hold. Thinking of you and hoping your maternity leave gives you plenty of time to get used to your new job as the "Best Mom Ever!"
As you get ready to bring your little angel home, I hope you also find time over maternity leave to rest and take care of yourself. Best wishes to you and your beautiful family.
May the overwhelming joy of your new baby bring so much love and happiness into your home and your heart. Breathe deep and truly enjoy your maternity leave.
Pro-Tip: Pair your new baby card with a healthy snack box or self-care gift box for the best mom ever!
Maternity Leave Wishes From Boss
You're such an asset to our team and your baby is beyond lucky to have you as their mom. You're going to do an amazing job with him/her too, I have no doubt!
I've been telling you for a long time that you needed some time off. I'm glad you're finally taking my advice. Unplug and really enjoy your maternity leave!
Things will definitely be different but take this special time and embrace the changes. Your precious baby will now be your top priority and I hope you spend some invaluable and uninterrupted time bonding during your maternity leave.
Since we're like family here, we're all welcoming new family members! Give our love to the little one and be sure to take care of yourself while getting settled in.
Our team will surely miss you, but we understand we must share you with your new boss. We're here for you and hope you have a wonderful maternity leave, full of love and special moments with your new angel.
Pro-Tip: Boost the effectiveness of your message by including a Caroo gift card for merchandise and snacks or one of their personalized ecards to help you decide what you want to say.
Maternity Leave Wishes For Colleagues
Congratulations! You found the best reason to miss the next quarterly meeting, well done! Enjoy the time off with your new lil nugget!
You're such an empowering force in the office and we're really going to miss your energy around here for a few months. The smile you come back with after your maternity leave will totally be worth it! Enjoy every moment!
Don't forget about your baby's work aunties and uncles! We wish you both the best of everything and hope you have a stressless maternity leave!
This baby truly has no idea how blessed he/she is to have you as his/her mom. Good thing you've got all these weeks of maternity to show him/her!
Maternity leave is for soaking up all the baby snuggles and drooly kisses you can handle! We'll miss you, of course, but we hope you enjoy your time away!
Funny Maternity Leave Messages
You finally have permission to be in any mood you want, anytime you want! Good thing you have a whole maternity leave to work through them all!
Congrats! I've seen it all, now. The lengths some people will go to just to get some time off, wow! Have a great baby break!
You said you needed a break? Pretty sure maternity leave won't be the relaxing tropical vacation you were imagining but good luck anyway!
Kudos! You've successfully cloned a much smaller and cuter version of yourself!
Keep in mind… no one else knows what they're doing either. Literally… NO ONE! May your maternity leave be the learning experience you're hoping for!
Maternity Leave Farewell Messages
I can't believe you're leaving us! I know it's just a few short months but I'll miss you while you're on maternity leave. I wish you all the best!
You've taught me so much! It's going to be tough not seeing you every day for a while, but your baby is so lucky to be learning from you now! You're going to be a great mom!
They say "there's no hood quite like motherhood" and you're about to be a bona fide member! Best wishes for your maternity leave!
I'm gathering up all my good juju and sending it your way! Here's to a relaxing, low-stress maternity leave for you and your little bundle!
You were a great mom even before you got pregnant. It's just in you! Now you get to show off your awesome mom-ness! You're gonna rock this parenting thing!
Maternity Leave Quotes
"Life is a flame that is always burning itself out, but it catches fire again every time a child is born." — George Bernard Shaw

"I love you bigger than the world and sky." — Marty Klazmer

"Pregnancy is a process that invites you to surrender to the unseen force behind all life." — Judy Ford

"We never know the love of a parent until we become parents ourselves." — Henry Ward Beecher

"Speak to your children as if they are the wisest, kindest, most beautiful and magical humans on earth, for what they believe is what they will become." — Brooke Hampton
Maternity Leave Cards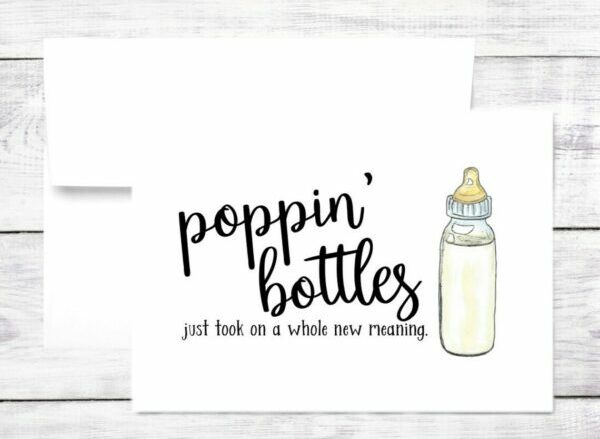 It's that time! Time to trade poppin' champagne bottles for baby bottles. This super cute card celebrates their move to the mom side.
Why an expecting mother will love this card: She may not think she's ready but she's doin' it with flare! High five, mom! 
---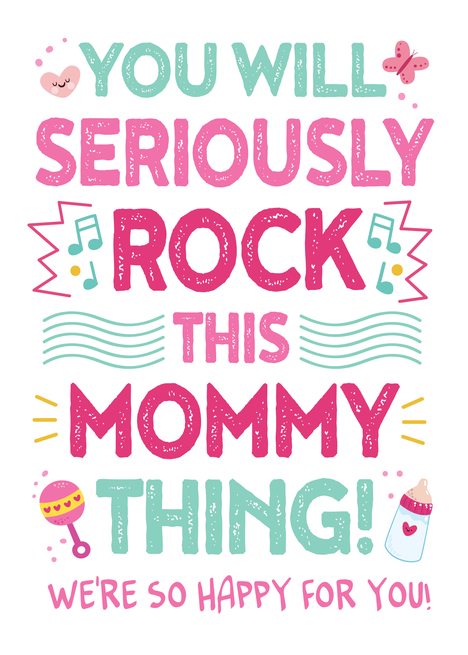 It's amazing what a few words of encouragement can do for a new mom. Letting her know you're all behind her is a huge relief and helps take some stress off her shoulders.
Why an expecting mother will love this card: A card from the group shows mom that her work family cares about her and supports her next chapter. 
---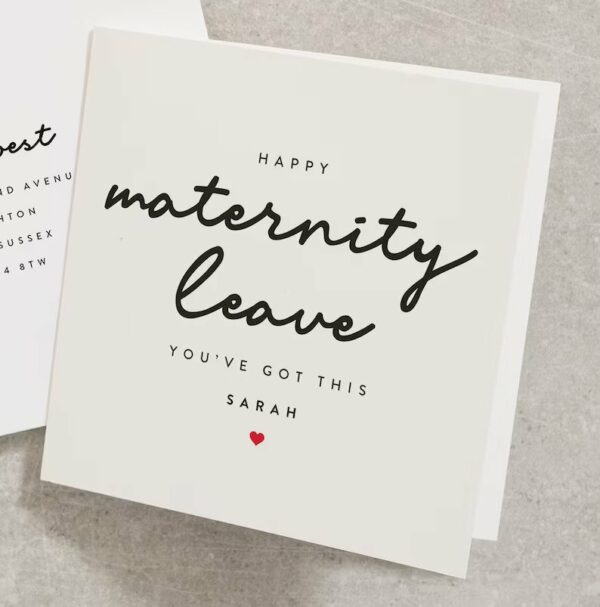 Mom's name is on the front and your preprinted personal message is inside. The perfect combination for a touching, heartfelt card for your coworker.
Why an expecting mother will love this card: Your customized message inside makes it super personal with a fancy font twist.
---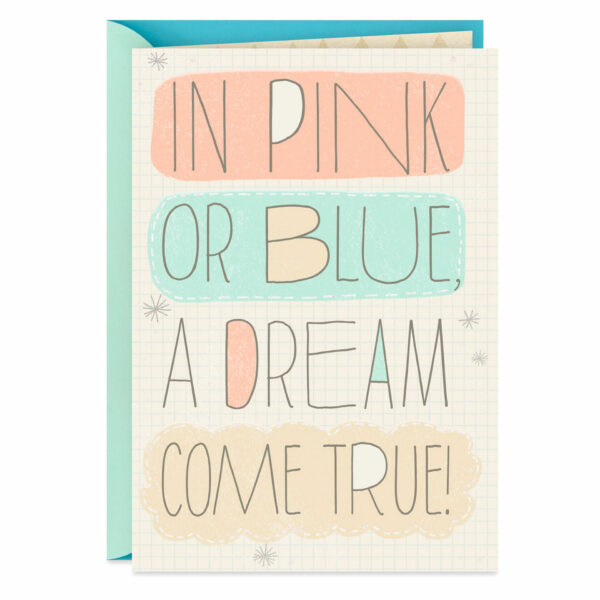 Mom doesn't know what she's having?! Who cares? Either way, there's so much to be excited about!
Why an expecting mother will love this card: Whether she doesn't know yet, or she doesn't want to know at all, this card shows that her coworker cares about the dream.
---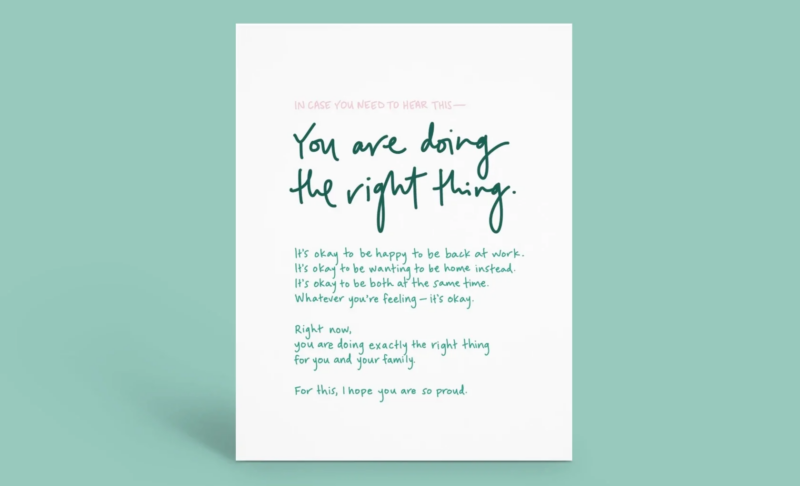 Coming back to work after maternity leave can open a floodgate of emotions for your colleague. The conflict is real so supporting their influx of feelings can be super helpful in their transition.
Why an expecting mother will love this card: It's so important that they know what they're feeling and thinking is okay.
---
What Maternity Leave Topics Can You Write About?
Baby Love
Any parent will tell you that there's no love quite like the love for a child. Sharing your personal experience of this kind of love can create deeper bonds with your colleague and supports a healthy "work-family" dynamic.
We'll Miss You
It can be scary to imagine being away from their job and their routine for weeks, maybe months. Knowing they'll be missed but that you fully support their time away, can make it easier to prioritize and relax in their new role.
Blessings
For a more spiritual colleague, it's easy to find the blessings all swaddled up in their bundle of joy. Take a moment and highlight the blessings of their new arrival.
Legacy
A new baby is an opportunity for the new parent to pass on their legacy. From their last name to their values and beliefs, legacies are inevitably passed down through generations and deserve some recognition.
Adulting
We often joke about the perils and pitfalls of going to work, paying bills, and adulting in general. Becoming a parent is a whole new level of responsibility, so finding a little humor in the situation is a great way to keep it light and fun for mom.
Tips For Helping Your Coworker During Maternity Leave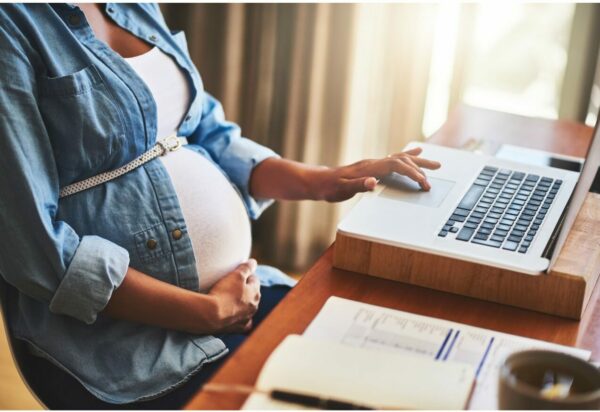 1) Keep them in the loop.
They don't need to do anything work-related during maternity leave, but keeping them informed on things like organizational and policy changes, schedules, and important company announcements lets them know they're still part of the team. Plus, this keeps them connected so that when they do return to work, they're not thrown off by all the changes they didn't know about.
2) Have non-work conversations.
Yes, they're still your coworker, but they're also a person and now, a parent. Encourage them to unplug from the work mindset and talk to them about everything but the job. With a new baby, there's plenty to chat about!
3) Schedule play dates.
Ok, their little one won't exactly be able to kick a soccer ball around so this is more for the adults than the kids. If you're also a parent, it's so helpful for them to have other parents to lean on. This is a great way for you to meet the new bundle and offer them some grown-folk conversation with someone who gets it. It's also an excellent time to give them any gifts you may have picked up along the way and to spend some time outside the office with your colleague.
Tips For Helping Your Coworker Return From Maternity Leave
1) Go slow. 
There's no race to launch into their full workload from the first day back. Help them eeeeease back in and try not to get overwhelmed by everything they need to get caught up on.
2) Take breaks. 
Coming back to work can be really tough and it's ok to not feel ok throughout the day. Encourage them to take a break and breathe through it so they can process everything with patience and clarity.
3) Ask for help.
Knowing that their coworkers understand and are there for them is a major mood boost for returning parents. Make sure they know they can come to you for help and support to make their transition a little smoother.
Maternity leave is often considered the "fourth trimester." Mathematically impossible, we know, but physically… the numbers check out. Maternity leave allows mom to be as focused on this phase as she was on the first three.
Chances are, her usual patterns won't look like patterns at all for a few weeks. Sleeping, eating, and self-care will all revolve around the new boss of the house. Add round-the-clock feedings and sleep deprivation is almost guaranteed.
Your well-wishes and shared experiences could be the key to letting her know that everything's going to be okay.

Conclusion
Whether you throw them an office baby shower, complete with all the games, gifts, and well-wishes. Or you have a simple card party where all your support and encouragement have to fit inside a greeting card. There's one common denominator.
Words.
Words of inspiration, strength, understanding, and empathy are more helpful to new parents than you may think. These messages will resonate as both mom and baby experience major changes in each trimester of the pregnancy, as well as those that continue to show up over the next few months, even after giving birth.
Without this essential time off, new moms are 51% more likely to be rehospitalized at some point (up to almost 2 years after giving birth) and more than 10% of moms end up developing postpartum depression.
Keep in mind that maternity leave really has nothing to do with the job and everything to do with mom bonding with her newborn. It's intended to remove the usual pressures of work and all that goes with it, while giving her time to get familiar and into a groove with her new baby. Likewise, moms also need this time to adjust to their own physical, mental, and emotional changes.
---
People Also Ask These Questions About Maternity Leave Wishes
Q: What makes for a good maternity leave wish?
A: A good maternity leave wish is thoughtful and supportive. Fill them in on the perks of parenthood. Offer some kind words, recommendations, and even your phone number in case they need to phone-a-friend.
Q: Can I pair a maternity leave message with a gift?
A: You can absolutely pair a maternity leave message with a gift! You can choose from items on her registry or give her gift cards so she can get what she needs. Either would perfectly complement your maternity leave message. And you could do it all with ecards and gift cards!
Q: What do I write in a maternity leave card?
A: In a maternity leave card, you can write anything you want! Let them know you're there for them, you support their time away from the job, and you understand how important this time is for them and their new baby.