Not all meetings are created equal.
You've likely experienced some meetings that have been energizing and others that were absolutely draining.
You've probably experienced meetings that were goal-driven, focused, positive, and full of clear direction — and others that lacked structure and purpose entirely, leaving team members directionless.
Meeting agenda templates for teams to use in 2023 can help you keep your coworkers or employees on track!
"Organizations spend roughly 15% of their time on meetings, with surveys showing that 71% of those meetings are considered unproductive." — Zippia
Click To Tweet
Meetings are meant to be productive and perhaps even fun, at their best, which is what this article is all about — best practices for meetings and how to utilize templates to maximize efficiency and employee engagement.
After reading this article, you'll know how to set clear expectations about what needs to happen before, during, and after team meetings and 1:1 meetings.
Whether your team is syncing up in-person, remotely, or a mixture of both, we've got you covered.
So without further ado, let's take a look at the best meeting agenda templates for teams to use in 2023, along with free examples to try!
Want to become a better professional in just 5 minutes?
What are meeting agenda templates?
A meeting agenda template is a pre-made document that provides structure and guidance for organizing meeting content. It includes key topics, time allocations, and expected meeting outcomes.
The purpose of using an effective meeting agenda template is to promote efficient and organized meetings by setting clear objectives and direction. It helps to ensure that all participants are aware of the meeting goals and their expected contributions. Meeting agenda templates are available in various forms depending on the nature of the meeting, the organization type, and the participants.

Examples of these templates include board meetings, staff meetings, client meetings, and project meetings.
These templates can save time and effort by providing a pre-designed format that can be tailored according to the specific meeting requirements. Using a template can also guarantee that all essential subjects are discussed, and all attendees can participate efficiently.
5 Reasons To Use Meeting Agenda Templates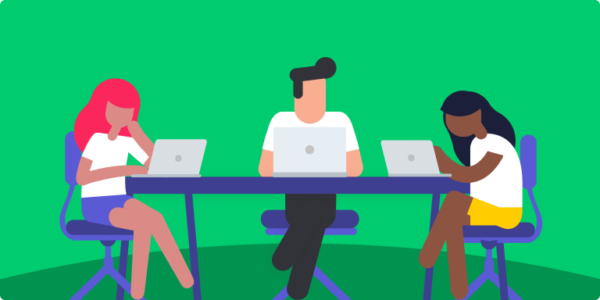 1) ⏰ Saving time
A pre-designed meeting agenda template is a time-saving option as it eliminates the need to create an agenda from scratch. By using templates, you can easily customize your meetings with your own agenda items and information.
2) 🗂 Improving your organization
Using a meeting agenda template can assist in creating a well-structured and organized meeting. It ensures that all crucial topics are addressed, and vital details are not missed out.
3) 📢 Providing clarity
Meeting agenda templates help ensure that all participants have a clear understanding of the meeting's objectives and what will be discussed. It also outlines any necessary actions that need to be taken. This promotes transparency and clarity for all involved.
4) 📊 Ensuring consistency
Using a meeting agenda template can make sure that every meeting has a standardized format and that no essential items are missed out on from one meeting to the next. This promotes a sense of consistency and ensures that important topics are discussed promptly.
5) 🔋 Increasing efficiency
Having a well-structured meeting agenda can enhance the efficiency of meetings and assist participants in remaining on task. A concise agenda can aid in maintaining focused discussions and guaranteeing that all important information is addressed within the given time frame.
Team Meeting Templates for Work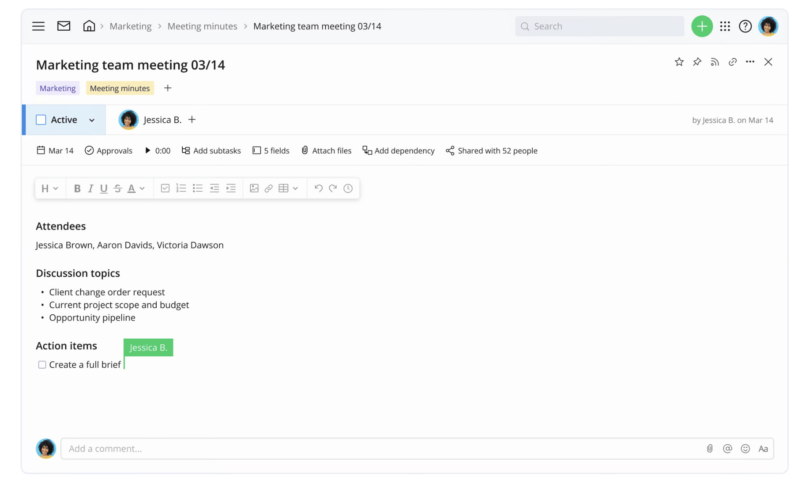 Take advantage of this actionable meeting notes template to track minutes and assign tasks. Organize your thoughts and ensure that every point is thoroughly addressed.
Why we love this meeting agenda template: Wrike's meeting notes template with actionable items is designed to capture all the relevant information you need. Take advantage of the ability to create tasks and subtasks directly from action items and easily organize and align your notes with your work goals by tagging them into folders.
Master your meetings with the Actionable Meeting Notes Template!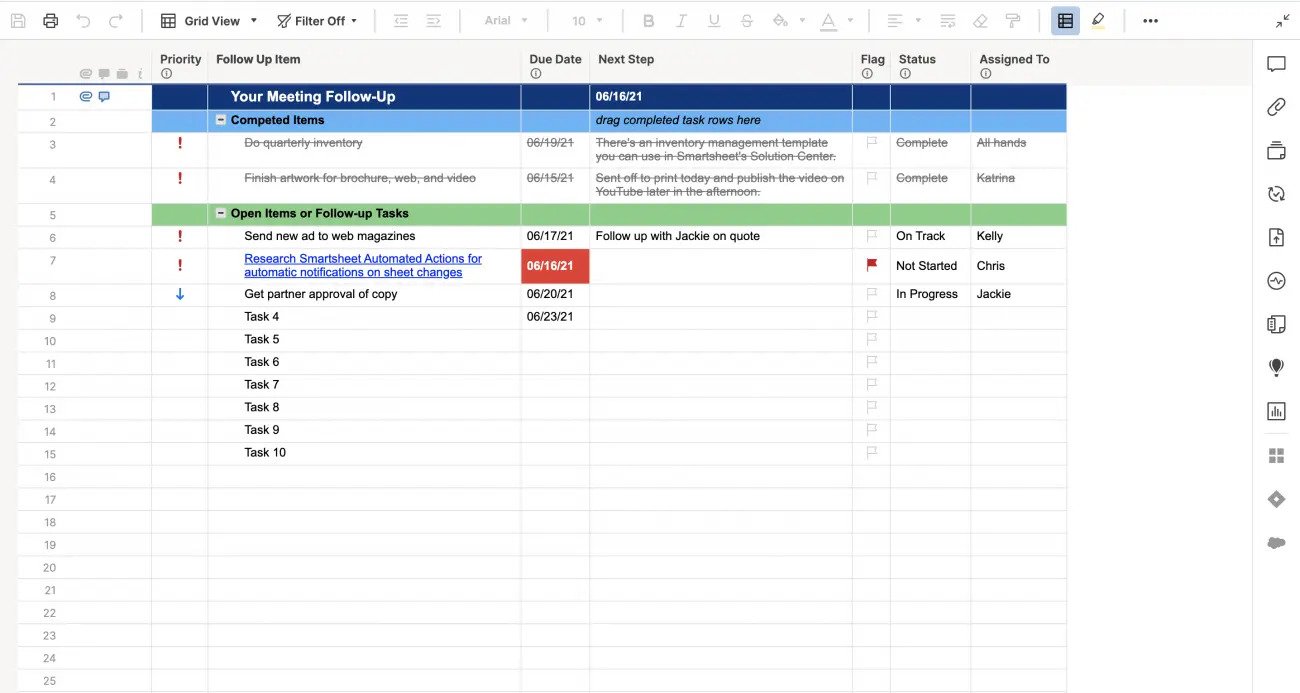 Utilize this Meeting Follow Up Template to effectively manage and delegate action items, track completed and pending tasks, and communicate updates with team members. Stay organized, productive, and in sync with your team.
Why we love this meeting agenda template: Facilitate collaboration within your team, fostering a culture of accountability. Track completed and pending items, while requesting updates from owners in just a few clicks.
Keep your meetings flowing, structured, and reinforced by a culture of accountability with the Meeting Follow Up Template.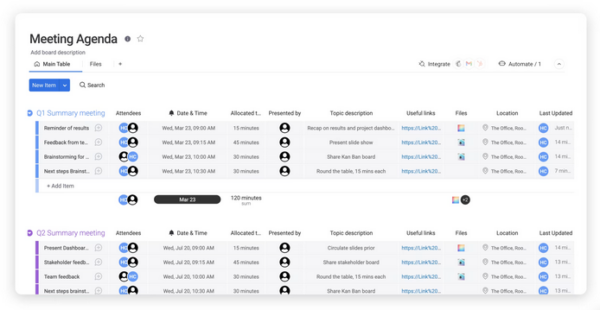 The Team Meeting Agenda Template is useful in meetings to streamline thinking and conserve energy — this is particularly useful when the team is remote, or facing a new challenge that requires smarter, more precise thinking.
Why we love this meeting agenda template: This template helps teams have more productive meetings and ensures that everyone is aligned by automating and organizing meeting details. You can feel confident that you have all the necessary information from the big meeting.
Give the Team Meeting Agenda Template a try today!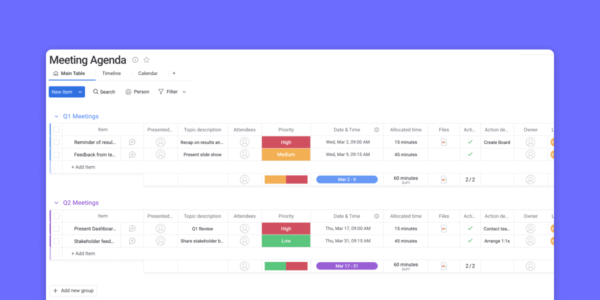 Feel at ease knowing you have all the details discussed at the big meeting. The template creates an automated and organized environment for teams to not only hold more productive, motivating meetings but ensure everyone is moving as one and balancing their bandwidth.
Why we love this meeting agenda template: monday.com's Meeting Agenda Template enables your team to visualize all details with columns and recorded details, automate meeting-related tasks, and share notes and feedback.
Take the Meeting Agenda Template for a spin!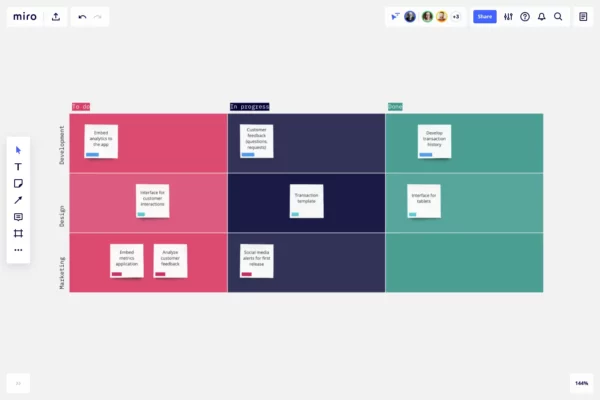 This Agile board template is suitable for both Kanban and Scrum methodologies. It offers a pre-designed layout of sticky notes that assists your team in planning and monitoring tasks effectively on a single board. This enhances collaboration and improves workload visualization.
Why we love this meeting agenda template: Using an Agile board to list tasks and take notes can clarify the expectations for each team member and establish a timeframe for completion and provide calendar management. Miro's work planning template opens discussions about unrealistic expectations by clearly outlining the expected deliverables.
Increase your team's agility with Miro's Agile Board Template today!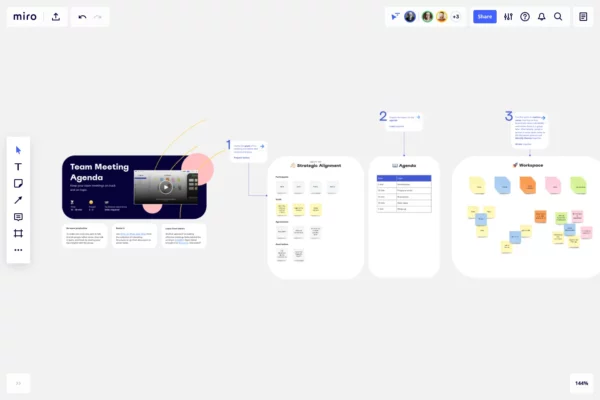 You can modify this team meeting agenda template to suit your specific function or department, whether it's tracking metrics, planning marketing campaigns, or organizing sprints.
Additionally, it can be used to gather suggestions from your team on topics they'd like to discuss, update everyone on ongoing project statuses, or any other information they wish to share. By using this template, you can ensure that every team member has the opportunity to provide input and be heard during the meeting.
Why we love this meeting agenda template: The Team Meeting Agenda Template helps you set priorities, make effective decisions, work cohesively, evaluate progress towards key results (OKRs) and objectives, share updates on high-priority tasks and projects, and improve motivation, productivity, and progress.
Get your team fully aligned with Miro's Team Meeting Agenda Template!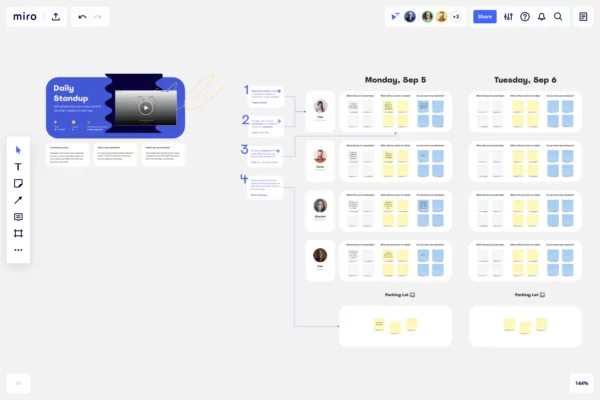 Use the Daily Stand-up Meeting template to ensure your team remains focused during the daily check-in meeting. This template, commonly used in Scrum, aids in improving team collaboration. During the meeting, team members review the previous day's progress, set goals for the current day, and discuss any obstacles that require assistance.
Why we love this meeting agenda template: This meeting agenda template helps unite teams by fostering collaboration, capturing and sharing knowledge, reducing roadblocks, and sharing goals and objectives.
Master daily stand-up meetings with Miro's custom meeting template!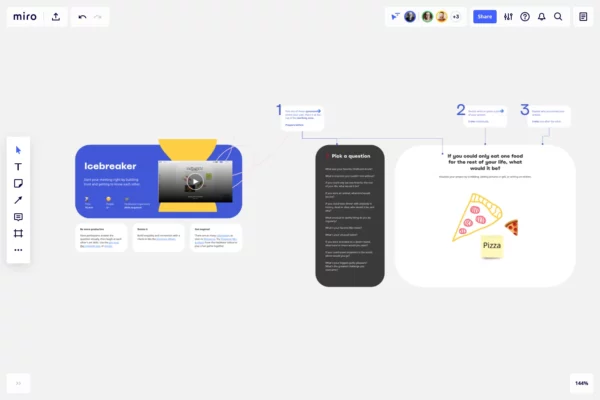 Getting to know new team members can be challenging, particularly for remote or distributed teams. Icebreakers are activities, games, questions, or events that may help individuals feel more comfortable with each other and promote teamwork — these team-building activities are especially useful for onboarding new hires.
Good icebreakers can help create a relaxed conversation environment, reinforce discussion topics, and encourage participation for everyone involved.
Why we love this meeting agenda template: Icebreakers are useful in meetings to boost energy, especially when the team is remote, meeting for the first time, or facing a new challenge. Some icebreakers are purely for entertainment, while others can help start conversations and transition into the meeting's main topic. They're also effective in building camaraderie and elevating everyone's energy levels.
Break the ice with the Icebreaker Template!
The Project Kickoff Template is a helpful tool that provides a framework for project managers and their teams to align better. It improves processes by defining expectations, outlining steps, and identifying task owners.
Why we love this meeting agenda template: This team-oriented meeting agenda template ensures every voice is heard, all questions are answered, project goals and expectations are reviewed, all stakeholders are invited, the statement of work is shared, and the project scope is discussed.
Kick off your project today with this monday.com template!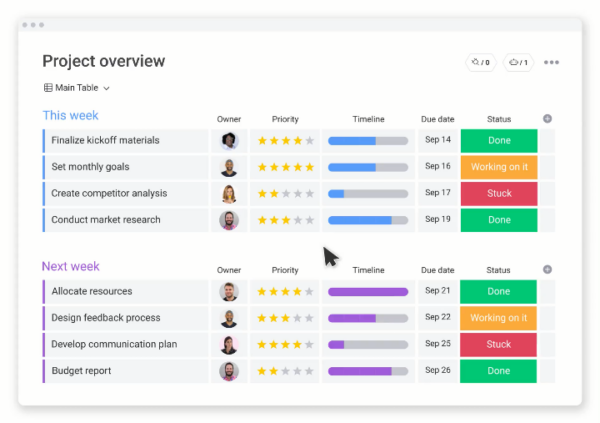 The Single Project Template helps you set milestones and timelines, organize tasks, and achieve complete visibility by categorizing tasks based on priority and status. Now your entire team will have access to one real-time source of truth for their work.
Why we love this meeting agenda template: With so many options for project management, it can be hard to choose the best one. Fortunately, this template has you covered. It includes all the tools you need to plan, monitor, and execute your project. It's easy to understand but can still be personalized to fit your needs.
Plan your projects from start to finish with the Single Project Template!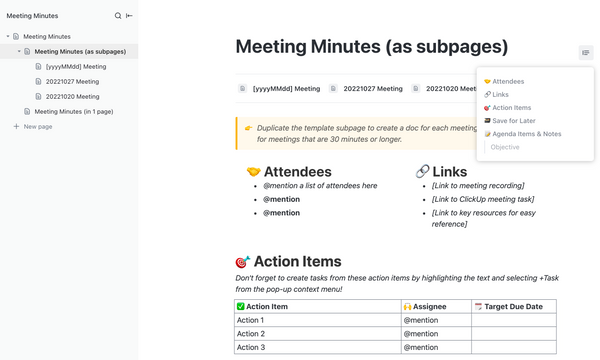 ClickUp offers a custom meeting minutes template that helps organize meeting attendees, agendas, and action items. You can also use it to track key learnings and outcomes for stakeholders and assign action items to your team as new tasks.
Why we love this meeting agenda template: The Meeting Minutes Template from ClickUp is a collaborative document that helps create a precise outline for successful meeting summaries. It includes pre-built pages for organizing individual meeting notes, teams, and instructions.
Track your meeting minutes and optimize your team's time with this template!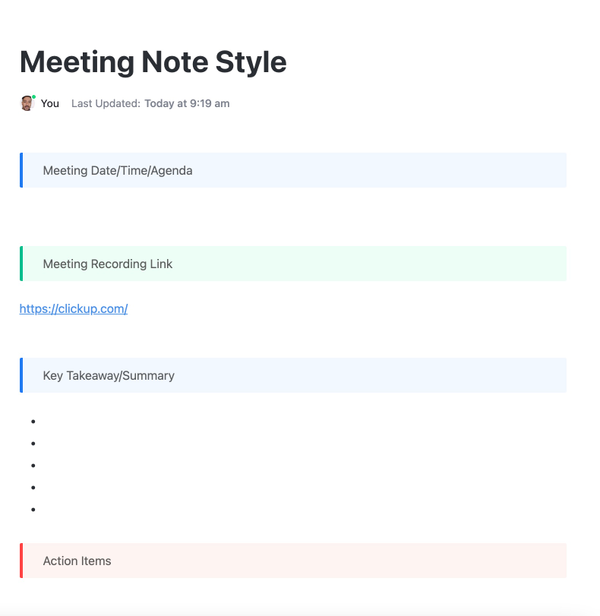 A meeting notes template is a pre-designed outline that can assist individuals or teams in noting down relevant information during meetings. This template includes sections for topics that were discussed, action items, and follow-up tasks. It is helpful for participants to arrange and review important points after the meeting.
It is also a particularly helpful meeting agenda template for HR professionals, seeing as it can keep them compliant with proper documentation and record-keeping.
Why we love this meeting agenda template: The Meeting Notes Template can help individuals and teams save time and ensure the accurate recording of important information that can be conveniently accessed in the future.
Get your notes organized with the Meeting Notes Template!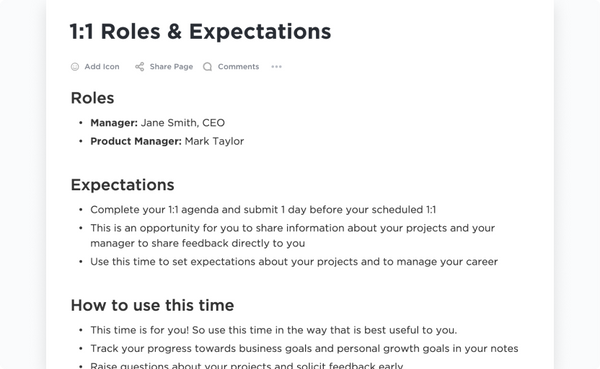 Having one-on-one meetings is important for connecting and aligning with the people you manage in the most effective way possible. To make the process easier, you can use a personalized 1:1 meeting template that organizes all of your agendas in one place.
This way, scheduling and setting the agenda won't take more time than the actual meetings.
Why we love this meeting agenda template: This template assists managers in getting their team on the same wavelength by discussing updates, priorities, and goals. With ClickUp's collaborative agenda template and team management tool, managers can input relevant meeting information for all members under their leadership. Perfect for employee management, the 1:1 template comes with pre-built pages for employee roles, expectations, and recurring meeting agendas for each team member.
Make 1-on-1 meetings even more meaningful with this ClickUp meeting template!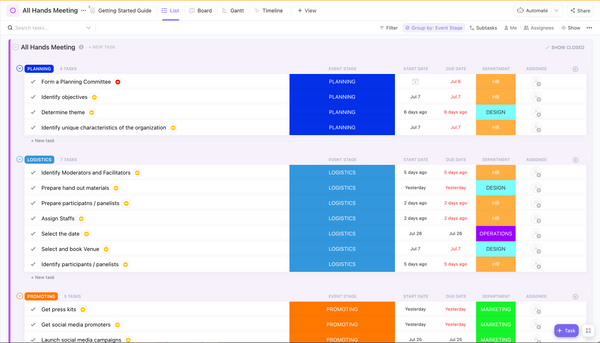 Having company-wide meetings, also known as, all-hands meetings are crucial to promoting communication throughout the organization, as well as ensuring that everyone is aware of their individual and group goals.
As more and more companies leave the office behind, go virtual, and incorporate some element of remote work or at least take on a hybrid workplace model, templates like this are more useful than ever before.
Why we love this meeting agenda template: During these meetings, the relevant information is shared such as updates and announcements about future plans to encourage collaboration and ensure clarity and alignment amongst employees. This Company-wide Meeting Agenda Template helps you optimize your teams in every department!
Encourage company-wide cooperation with this meeting agenda template!
---
People Also Ask These Questions About Meeting Agenda Templates
Q: What are 5 things you would include in a meeting agenda?
You should always include the meeting purpose, agenda items, presenter names, next steps and action items, and discussion format in a meeting agenda. By including these meeting agenda components you ensure the meeting is effective and not just wasted time.
Q: Are there free meeting agenda templates? 
Yes, there are free meeting agenda templates available online and many of them are customizable. You will often find them on many business-oriented websites.
Q: How do you structure a meeting agenda?
Generally, you can structure a meeting agenda by featuring the meeting title, meeting details, introduction, agenda items, time estimates, presenter names, discussion format, action items, and next steps.
Q: Can you create an agenda template for meetings in Microsoft Word? 
Yes, you can create an agenda template in Microsoft Word by opening a new Word document, typing "Meeting Agenda" at the top of the page, creating a table with two columns and as many rows as necessary, listing the agenda items in order of importance, including a brief description for each item along with needed time to discuss the items, and featuring any other relevant information.
Q: Where can I find meeting agenda template examples? 
Q: What are the benefits of using a team meeting template?
A: A team meeting template is designed to save your team time, increase productivity, and create a more collaborative environment. Team meeting templates are designed to expedite things by giving you a structure to your meeting rather than just going in blind. It also adds a meeting record so that participants can add notes, important files, and anything else that is relevant.