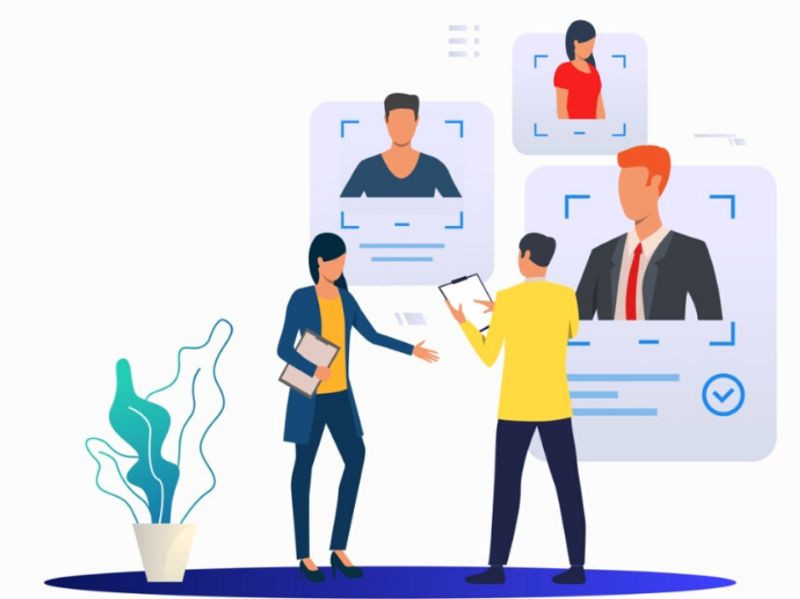 Businesses left and right are looking to optimize their processes using automation, and onboarding has become even more critical for companies to ensure that new hires feel welcomed, supported, and integrated into the company culture.
Mastering the employee onboarding process with onboarding templates can help improve employee engagement, productivity, and retention and reduce the time and costs associated with recruiting and training new staff.
"We want to focus on creating a memorable experience for the new hire in the first year rather than processing them in the first few weeks."—Cheryl Hughey, Director of Onboarding at Southwest Airlines
Click To Tweet
Learn how to use an onboarding template to ensure your new employees receive a consistent and thorough onboarding experience.
Want to become a better professional in just 5 minutes?
Page Contents (Click To Jump)
What are onboarding templates?
As an HR tool, onboarding templates are pre-designed documents or checklists that companies use to guide new hires through the employee onboarding process.
These templates typically include a list of tasks, instructions, and resources that the new employee needs to complete to fully integrate into their new role and the company culture.
An onboarding template may cover various topics, such as company policies and procedures, orientation sessions, job-specific training, and introductions to key colleagues or stakeholders.
Often, templates are customized to the specific needs of different departments, roles, or levels of seniority.
What are the benefits of using onboarding templates?
The benefits of using onboarding templates include…
✅ Consistency in Employee Onboarding and Preboarding
Onboarding templates ensure that all new employees receive a similar onboarding experience. This helps to avoid confusion and ensures that all new employees access uniform information and training.
✅ Efficiency to Save Time and Resources
Onboarding templates help streamline onboarding programs by providing a clear plan and timeline for completing all necessary tasks. This can help to save time and reduce the workload of HR team staff and managers.
✅ Staying Compliant
Onboarding templates can include essential legal and compliance requirements, such as completing forms, training on workplace safety, and signing off on policies and procedures. This helps ensure that the company meets its legal obligations and that new employees are aware of essential workplace rules and regulations.
✅ Improves Engagement
A well-designed onboarding template can help engage new employees from the beginning of their tenure. By providing clear expectations, goals, and resources, companies can help both new managers and employees feel supported and motivated to succeed in their roles. This contributes to increasing productivity at work and improving retention.
15 Onboarding Templates for Managers To Use With New Hires & Teams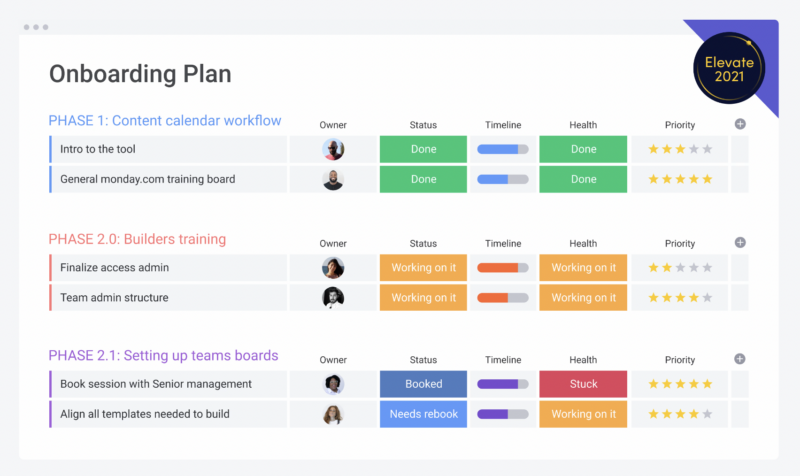 Use this template to map out onboarding information for new employees. You can customize ownership access and create an effective IT onboarding knowledge base that houses information for each team, so the information stays relevant.
Why this onboarding template works: The new employee onboarding template provides an organized overview for leaders to manage all onboarding processes and responsibilities with ease.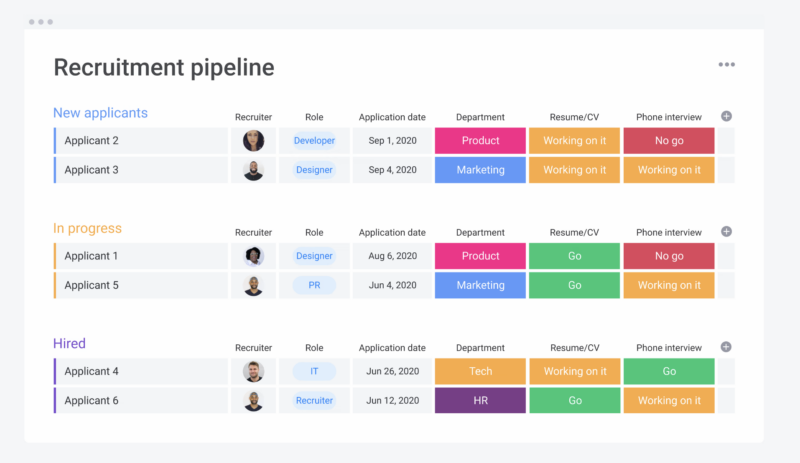 From opening applications to sales onboarding, easily manage the entire hiring and onboarding process, all from one centralized location using this recruitment plan template. This intuitive recruitment and onboarding template helps you plan out your talent acquisition campaigns to streamline the entire recruitment process.
Why this onboarding template works: Leaders also get reminders to share new employee welcome messages with a training checklist, so they know what to deliver when helping someone settle into their new job.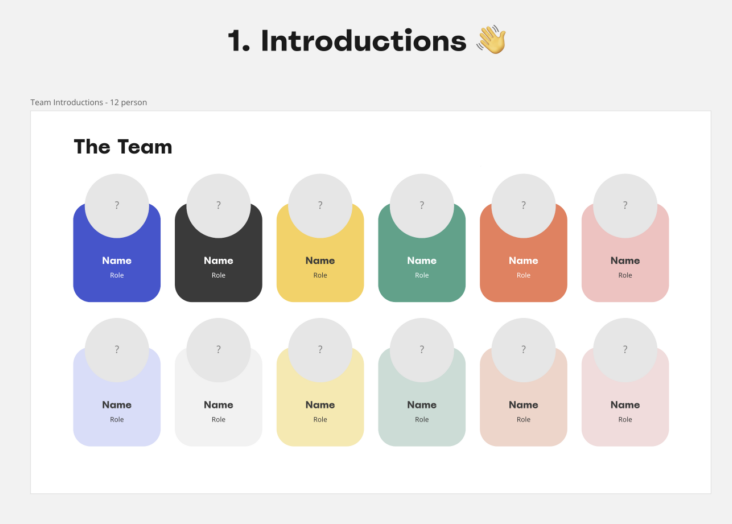 Introduce team members to each other using the Meet the Team Template by Miro that emphasizes each individual's skills, abilities, and experiences. Anyone who joins your organization will quickly understand who your team consists of by learning about their diverse backgrounds. The information shared also helps break the ice!
Why this onboarding template works: This template supports the first interaction of team members during onboarding, kickstarting the trust-building process.

An organizational chart uses diagrams to map out relationships in your organization: who is on your team, who reports to whom, and what roles they play.
This org chart template can be used to represent connections between departments or organizational functions in addition to showing connections between employees.
Why this onboarding template works: An org chart helps everyone visualize the company's structure, team interdependencies, and how cross-functional collaborations occur, which is especially useful as companies grow rapidly and keeping track of changes in hierarchies and communication becomes more challenging.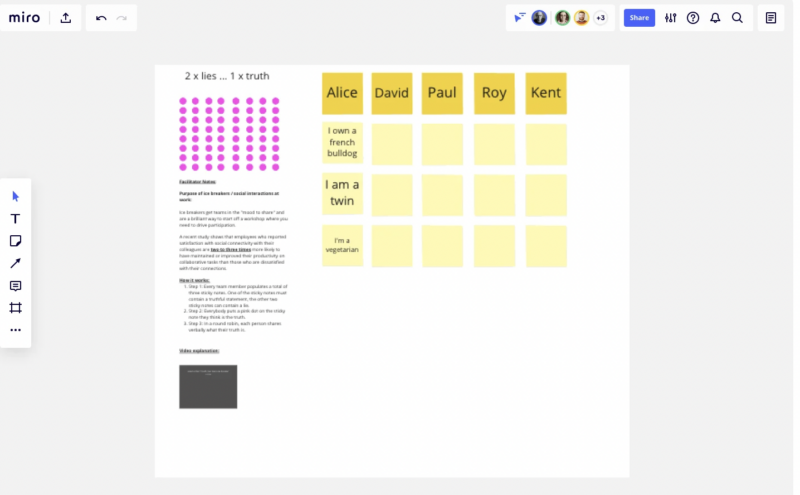 Icebreakers are effective in building team connection and let employees learn about each other, especially when they're just starting out. This icebreaker template assists facilitators in connecting teams and is an excellent tool for team building.
The icebreaker is one of the fun onboarding activity and games leaders can use to introduce their teams, based on the traditional game 2 Truths and 1 Lie, but participants in this template must come up with one true fact about themselves and two lies instead.
Why this onboarding template works: The goal of this activity is to get people to interact with one another in a fun, interactive way, whether they're in the office or working remotely.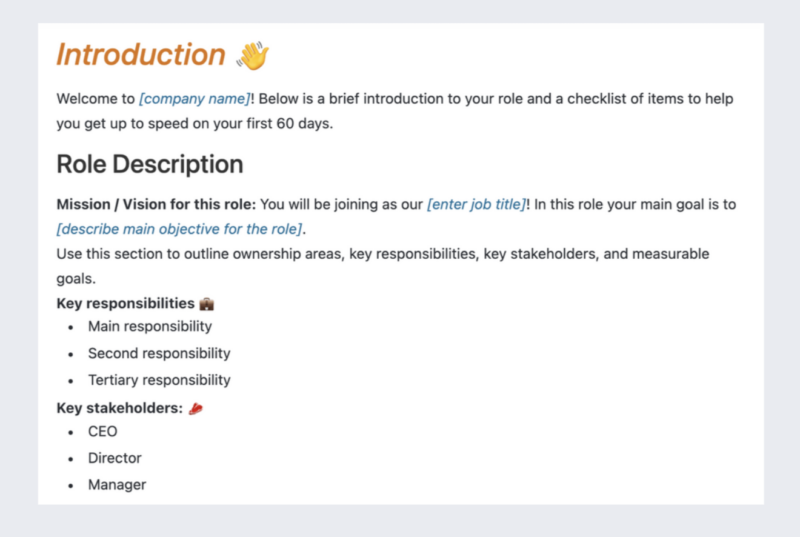 Create an employee onboarding checklist based on any role's goals and milestones. Using this template will help new hires know what is expected in the first 60 days to ensure they never miss a step in the onboarding process.
Why this onboarding template works: From signing NDAs, setting up a new email to participating in a virtual office tour, there are many details that are easily missed during onboarding. This remote employee onboarding checklist helps new employees stay on track and oriented during their first months on the job.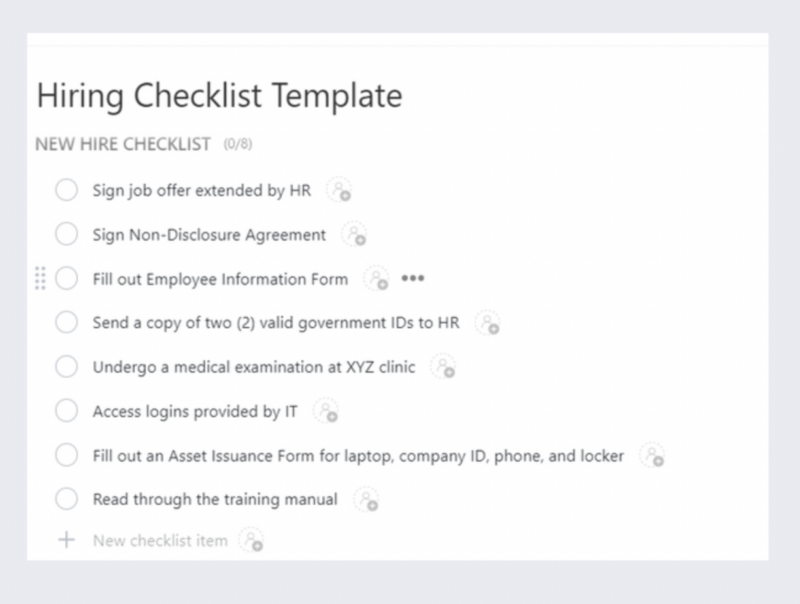 A standard operating procedure to hiring helps to eliminate any potential biases or inconsistencies during recruiting, especially if the process involves multiple stakeholders.
This Hiring Checklist Template includes include important legal requirements, such as documentation and background checks, to ensure that the hiring process is in compliance with relevant laws and regulations.
Why this onboarding template works: By providing a clear outline of the hiring process for all parties involved, this standardized piece of communication helps ensure hiring managers, recruiters, and candidates are all on the same page.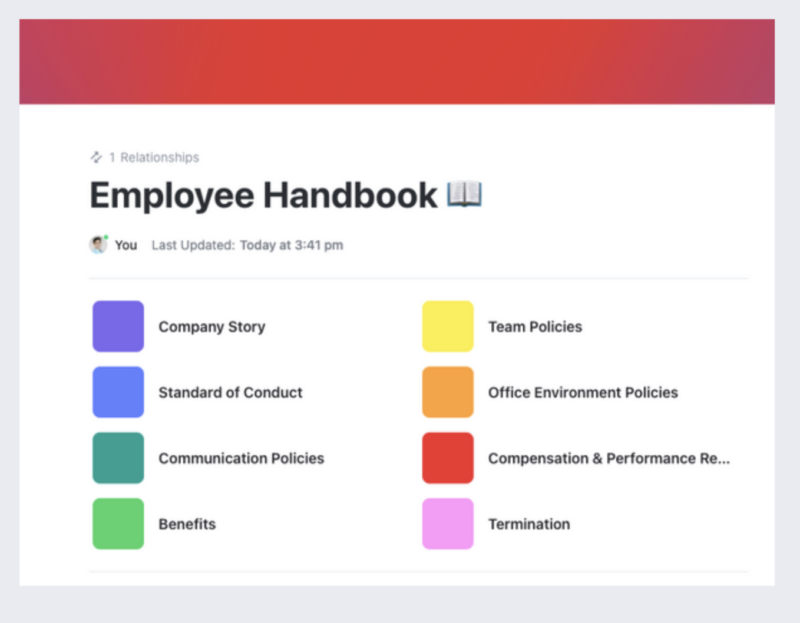 An employee handbook is a valuable resource for maintaining consistency during the onboarding process, clarifying employee conduct and saving time (and confusion) in the process.
ClickUp's company handbook template includes useful guidelines such as dress code, core working hours, and generic work from home policies for remote workers.
Why this onboarding template works: In one single document for easy sharing, human resources managers can customize each section of their company's unique policies and collaborate with other using real-time editing.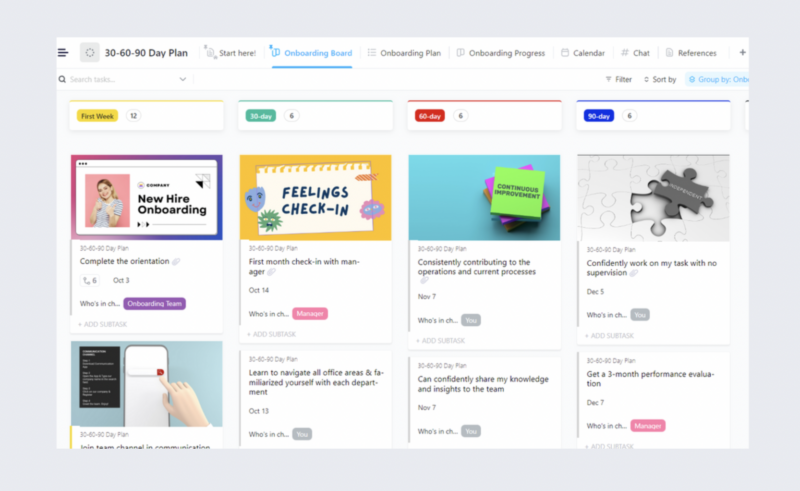 This 30-60-90 day template will assist you in starting your onboarding process and ensuring your new team members are settled in for the first three months. Use this HR template to help your new hires complete necessary onboarding tasks and get up to speed quickly.
Why this onboarding template works: A work planning template like this 30-60-90 day plan helps align employer and employees on expectations and projects, especially during performance reviews.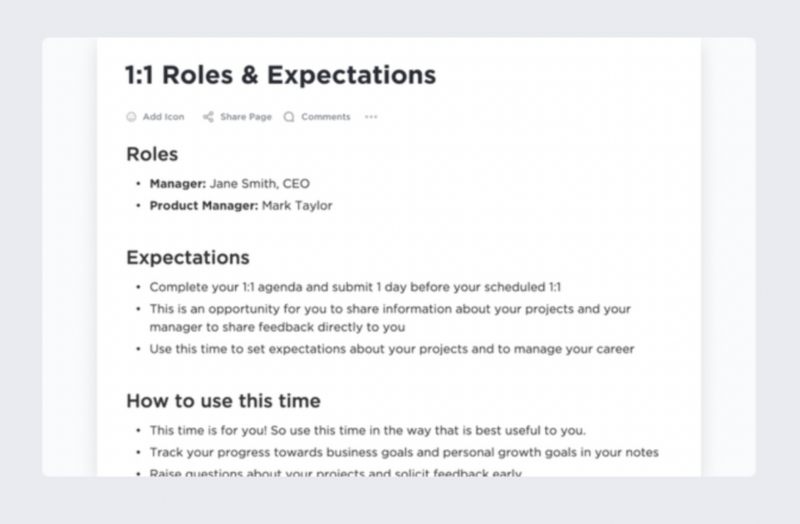 A 1 on 1 meeting is one of the most effective onboarding tools to build relationship between employee and manager. These meeting minute templates help participants align on priorities, goals, and overall professional development through coaching.
By sharing an agenda before each check-in, both parties can thoroughly prepare their updates, so these meetings are filled with clarity and actional feedback.
Why this onboarding template works: With pre-built pages for each team member's roles and expectations, recurring meeting are made easier by continuing with notes from the previous session.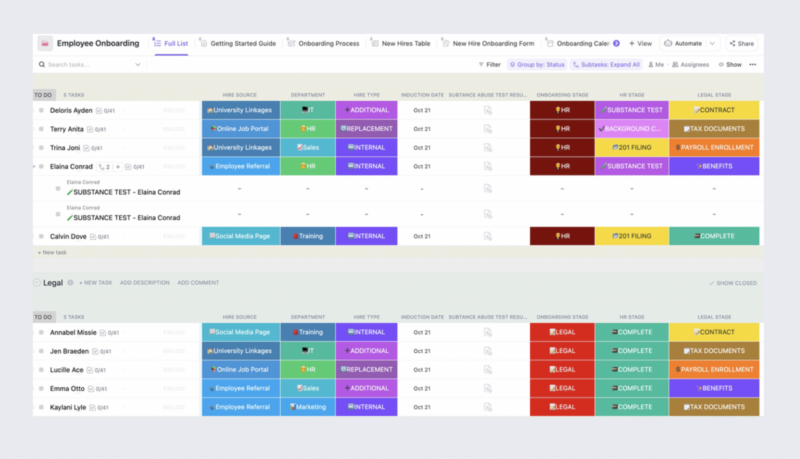 New employee orientation requires complicated project management and time investment in helping them assimilate into the company culture. Use this template to simplify team coordination of new employee onboarding by providing them with the tools and information they need to achieve success.
Why this great onboarding template works: Have a bird's eye view on each new hire's orientation progress through the onboarding schedule, so you can easily follow up or recognize them for their proactivity.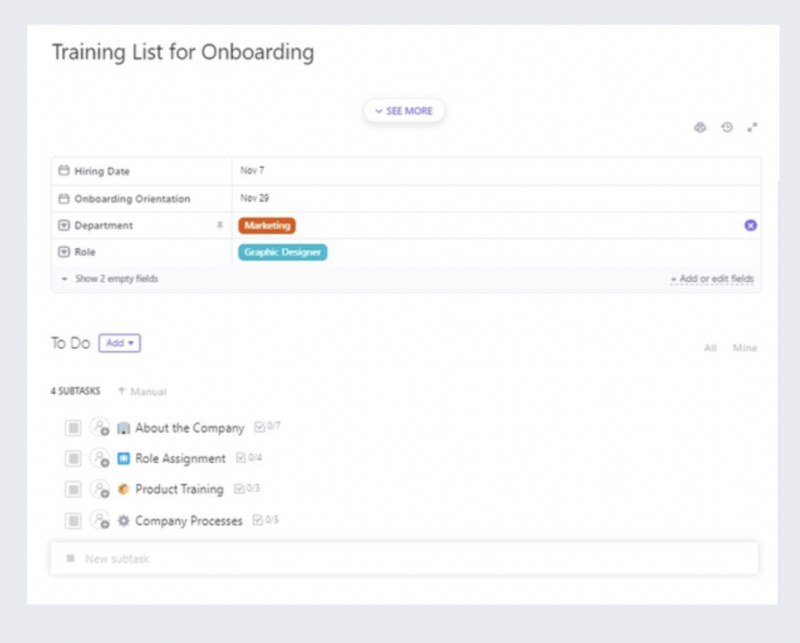 Make onboarding easier and more efficient by using this curated training list. Easily schedule training for new employees, add topics relevant to the individual's role, and track progress all in one place with this training template.
Why this new hire onboarding checklist works: With clearly marked deadlines, tasks, as well as an office procedures manual, employees can easily find out what they need to work on to go through onboarding.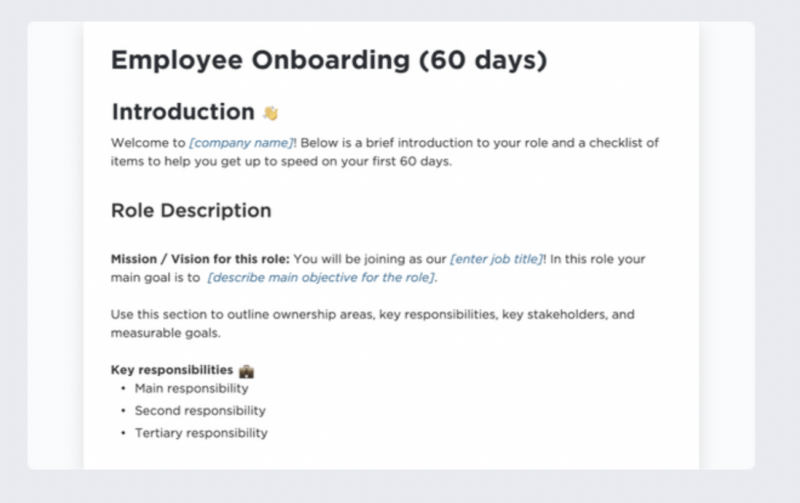 Perfect as a virtual onboarding idea, not only can you educate employees on work policies, but use the form to collect personal information from them to send out new employee announcements as well!
Why this onboarding template works: This detailed template includes a checklist with information on how to handle the first day, first week, and first 90 days of onboarding, so new hires aren't intimidated durinig their start date when they join the team.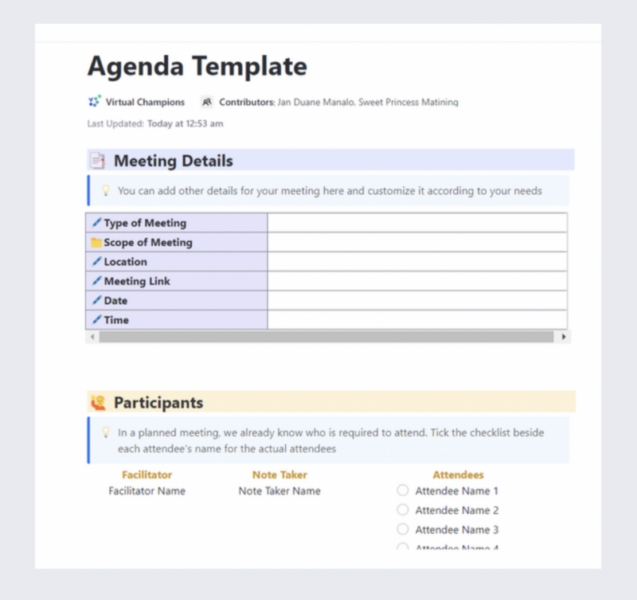 When you welcome a new employee, it's often a repeated workflow—but it's important to put effort to make a good first impression. An agenda template helps you standardize the information you share as well as keep you on track, helping all attendees save time and effort.
Why this onboarding template works: This template gives you an easy way to organize a short list of topics like new hire orientation ideas while staying on track with your objectives.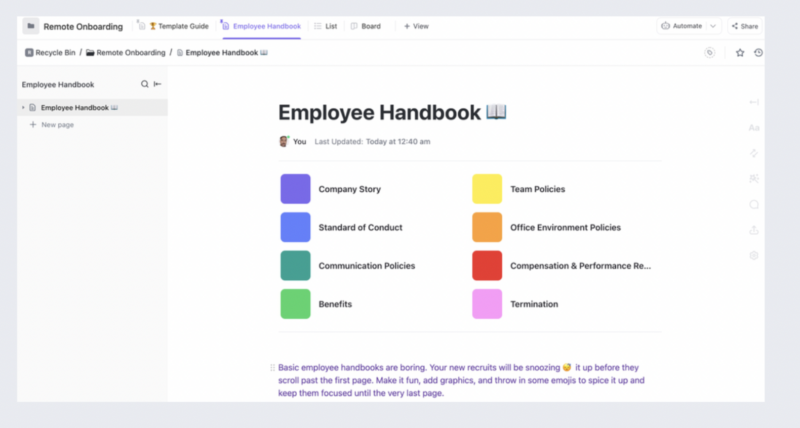 Help set up your virtual employees for success by using a comprehensive portal that houses everything from employee surveys, company policies, how to configure mobile apps and integrations, and benefits information.
You can outline employee recognition ideas like bonus programs and shoutouts so your team is engaged from day one!
Why this onboarding template works: Basic employee handbooks are often dry and boring. Using an interactive hub will help employees get to the information they need quickly.
---
People Also Ask These Questions About Employee Onboarding Templates
Q: When should you use onboarding templates?
A: You should use an onboarding template when you are looking for an out-of-the-box solution to upgrading your onboarding process. They are easy to use, can be customized to your organization, and are easily accessible for any hiring manager to select, use, and integrate into their training system. Here are a few occasions where onboarding templates are useful:

New hire welcome email and training
Promotion into a new position
Remote work employee orientation
Company mergers and acquisitions
Hiring seasonal and temporary workers
Q: Why is it important to use onboarding templates for new hires?
A: It is vital to use onboarding templates to ensure new hires receive a consistent onboarding experience, regardless of the position or department they are joining. Not only can this kickstart employee satisfaction, but it can positively improve retention. Using onboarding templates helps the company stay compliant and efficient.
Q: Are there free onboarding templates that I can use?
A: Yes, there are several free onboarding templates available online that you can use to streamline your employee onboarding process. Use these resources to adapt to your organization's specific needs and tailor them to support your employees' experiences.
Q: How do I know if the onboarding template was successful?
A: Several factors, such as action item adoption and employee feedback, can be used to assess the success of an onboarding template. If your employees are catching up faster than before you used the onboarding template, this indicates that it was effective.
Q: Where can I find an onboarding checklist template that can be modified?
A: There are many resources available online where you can find onboarding checklist templates that can be modified to meet your specific needs. Ultimately, you should find a template that is customizable to your needs, comprehensive, and easy to share with the relevant stakeholders.