Is remote work here to stay?
That's the trending question right now. The answer is an emphatic YES. While commuting will still be a thing in some capacity, the mainstream acceptance of remote work as a serious, long-term part of the global workforce will only grow from here.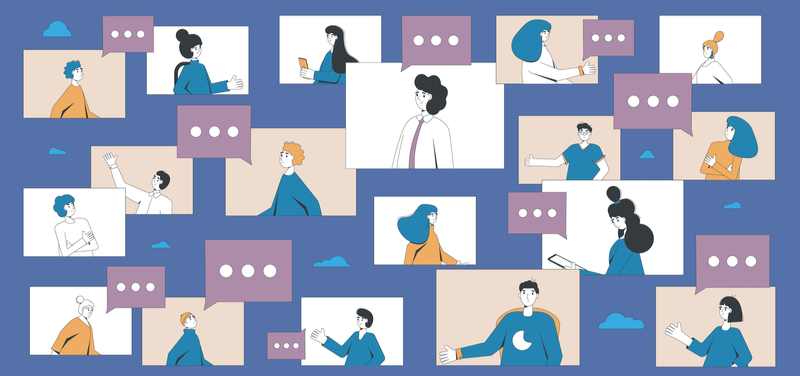 The real question is how do you keep remote employees engaged? Fortunately, remote employee engagement ideas, games, and activities are one of the most effective solutions when it comes to getting your team firing on all cylinders!
"I can't tell you the number of CEOs I talked to who are thinking, 'I have to solve the diversity challenge in my business, and remote work is one of the key tools.' We have to let go of this office-centric culture and incorporate people who are in a lot of geographies." — Hayden Brown, CEO of Upwork
To help keep your remote workers at their most productive, engaged, and happiest, we've rounded up the best remote employee engagement ideas, games, and activities for virtual fun.
Let's get started!
---
Want to become a better professional in just 5 minutes?
What is Remote Employee Engagement?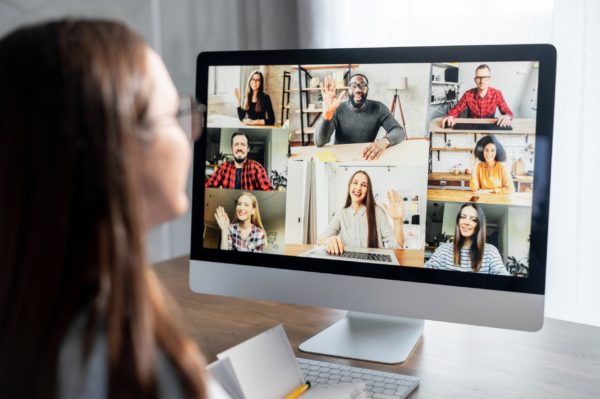 Remote employee engagement is the conscious effort to motivate and encourage your workforce regardless of their physical location. As workers become increasingly untethered and location independent, the need for remote employee engagement increases exponentially.
Tips & Ways To Engage Remote Employees
1) Take the time to onboard everyone regarding which tech you use
Everyone should be familiar with the tech
Have access to it
Have a place they can ask questions openly
2) Create opportunities for employees to show who they are (in work-related scenarios and team building)
There should be a balance of time spent during work hours that you can engage with employees while still achieving your goal (ie: zoom icebreakers, 10 minute stretch + activity during a meeting) and structured team building where time is dedicated to engaging with employees (virtual games and activities)
3) Establish boundaries
Employees need to know when they can "clock out" since they are remote
Daily, weekly, and monthly touchpoints are vital between managers and employees so you can properly address projects, obstacles, questions, etc.
4) Encourage feedback from all employees
Whether they have been working remotely for years or only a week, employees should have a clear avenue to offer constructive feedback to management. This will not only allow you to improve workflow but employees will feel more valued, engaged, heard, and feel that they make a difference
5) Offer remote employee recognition
This means that when employees achieve something worthy of recognition you let them know. Better yet, let the entire team or company know. You can't be there in person to tell them face to face so you have to have ways to offer that recognition remotely.
---
Virtual Employee Engagement Ideas
1) Celebrate Employee Milestones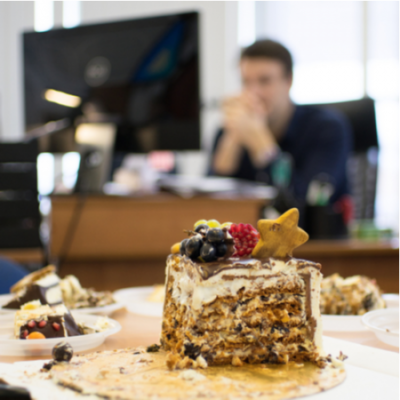 Celebrating employee milestones like work anniversaries, a new hire, and birthdays is one of the safest ways to win points with your employees. These special occasions are an opportunity to let them know that you didn't forget about them. Especially with remote teams spread out, it's easy for team members to feel lost in the hustle and shuffle of corporate life.
Tip: Customize your employees' gifts to match the occasion — for example, be specific about how many years they've been at the company and other significant details.
Check out some of our favorites:
2) Employee Recognition Points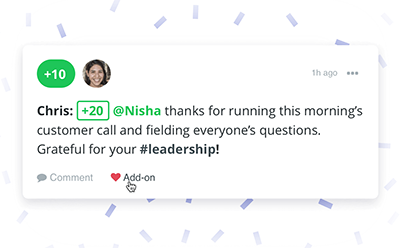 Employee recognition points are points, usually given via employee engagement software, that can be redeemed for unique gifts, gift cards, and branded swag. This remote employee engagement idea is a great way to encourage peer-to-peer recognition.
Tip: Using employee recognition software makes this strategy much easier than setting up employee recognition points and rewards offline.
Check out some of our favorites:
3) Virtual Office Party

"Who says partying has to be in-person?" Virtual Office Parties give remote workers a much-needed social outlet and help to combat the feeling of isolation that can creep up when they find themselves spread apart from their coworkers. Working from home has plenty of perks, but the need for social interaction isn't always met when working out of the office. That means a virtual office gathering can be a great opportunity to strengthen relationships in a non-work atmosphere.
Tip: Pick a theme and let your employees dress up or get into character!
Check out some of our favorites:
4) Virtual Happy Hour
Do you miss going out with employees and grabbing a drink with your team? Say no more. A Virtual Happy Hour lets you do it once again even from a distance. Whether you like your drinks pre-made or you and your employees like to stir them up yourselves, there's a Virtual Happy Hour just for you!
Tip: Always let your employees know ahead of time if they'll need to get ingredients themselves, if they'll be shipped directly to them, or if drinks will be sent pre-prepared.
Check out some of our favorites:
5) Gratitude Wall On Slack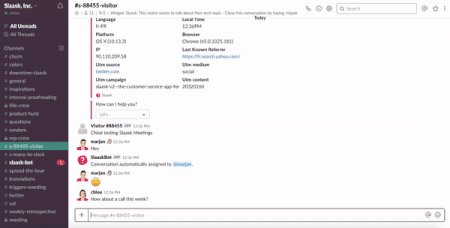 The Gratitude Wall on Slack is a chance for everyone on the team to express themselves and to provide words of encouragement to each other. For building a more positive company culture, spreading good vibes, and developing tight-knit teams, few remote employee engagement ideas are quite as effective as the Gratitude Wall.
Tip: Pay attention to who gets mentioned, so nobody gets left out completely.
Check out some of our favorites:
6) Unbox Appreciation With Care Packages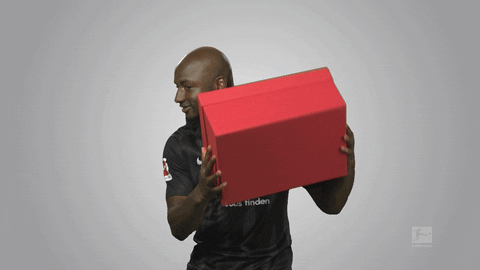 While one gift is always a nice gesture, care packages pretty much guarantee that your employees will find something they like. Instead of depending on a single item to tickle their fancy, a care package gives them a variety of gifts to enjoy. On top of that, you can pick care packages based on a certain theme like self-care! This virtual appreciation idea for employees can be utilized at any time of the year to celebrate all sorts of important milestones and opportunities to recognize your employees.
Tip: Add custom branding to the care package so employees connect the employee appreciation gift back to the company.
Check out some of our favorites:
---
Virtual Employee Engagement Games
1) Coworker Feud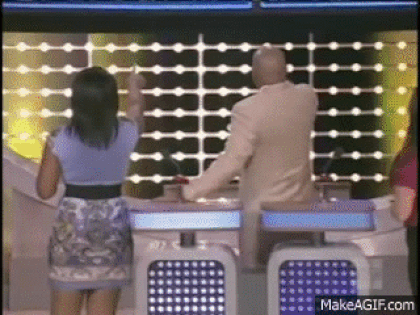 Coworker Feud is the ultimate employee engagement game for stoking some friendly competition in the virtual workplace. The classic game can be played online and you could even have different departments from your remote workforce competing against each other.
Tip: To up the stakes, give the winning team serious swag and custom branded prizes!
Check out some of our favorites:
2) Zoom Icebreaker To Start Off Meeting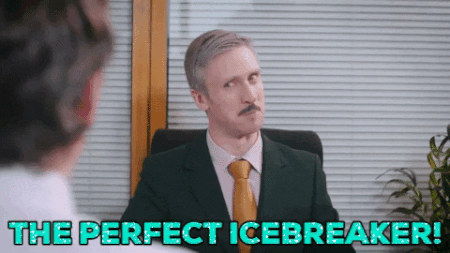 Zoom icebreakers keep video call meetings from being boring, stuffy, or tension-filled. These get-to-know-you-better games are a fun team-building tactic. When teams are dispersed, finding anything to successfully bring them together is vital.
Tip: Try a software or platform that's compatible with Zoom or print out your own icebreaker questions.
Check out some of our favorites:
3) Virtual Murder Mystery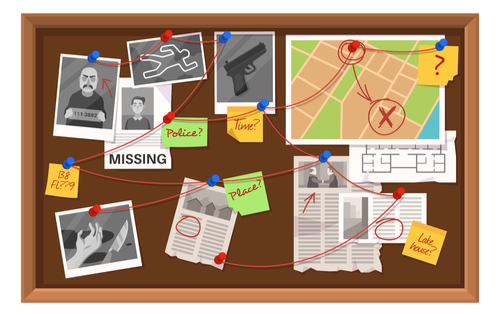 When you plan a Virtual Murder Mystery for your team you bring that Clue-style fun to the virtual world. Solving crimes together has the powerful effect of bonding employees with one another — something that's crucial for employee retention in the virtual workspace. Let employees unleash their inner Sherlock Holmes with these brain-busting employee engagement games.
Tip: Get Murder Mystery specialists involved so you and your team can focus on following the clues!
Check out some of our favorites:
4) Celebrate A Holiday Virtually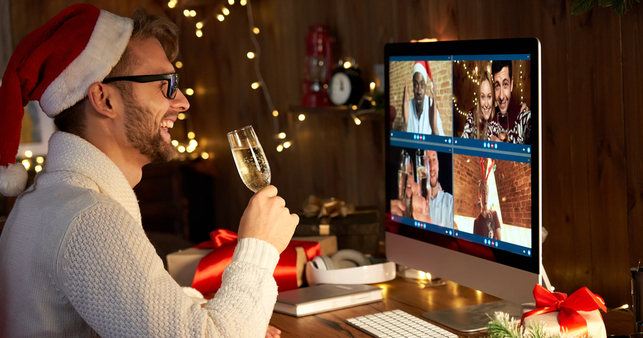 The holidays don't have to be relegated to in-person celebrations. Celebrating virtually keeps morale high and lets the team know that distance doesn't stop joy and revelry from being spread. Plus, celebrating holidays virtually helps reduce burnout and elevates the workday.
Tip: Be sure to celebrate each culture equally and to keep DEI (diversity, empathy, and inclusion) top of mind!
Check out some of our favorites:
5) Take A Tour Of A Foreign City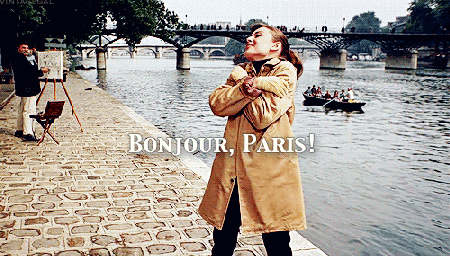 Traveling is a fairly universal hobby in more ways than one. While flying all over the world can be a bit pricey, taking a virtual tour of a foreign city is a great alternative. These virtual excursions offer a get-away so your employees or coworkers can return to work rejuvenated and as a fully engaged virtual team.
Tip: Combine virtual trips with relevant gifts and themed packages — for instance, if your employees are taking a tour of Paris, get them a Parisian-themed snack box.
Check out some of our favorites:
6) Play Conference Call Bingo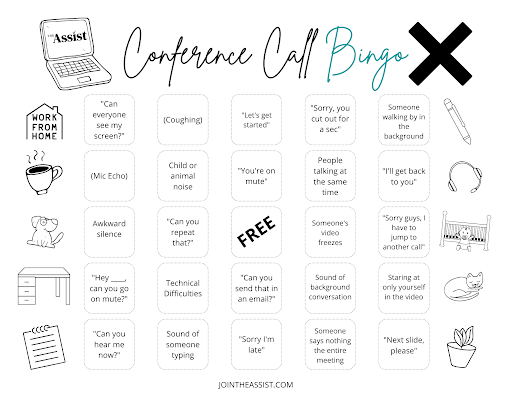 Conference call bingo is a classic game that can be brought into the 21st century thanks to video conferencing platforms like Zoom and Microsoft Teams. Let your employees start competing ASAP!
Tip: Offer fun perks to the winner like an experiential reward as opposed to the standard physical gift.
Check out some of our favorites:
---
Virtual Employee Engagement Activities
1) Buy Them Lunch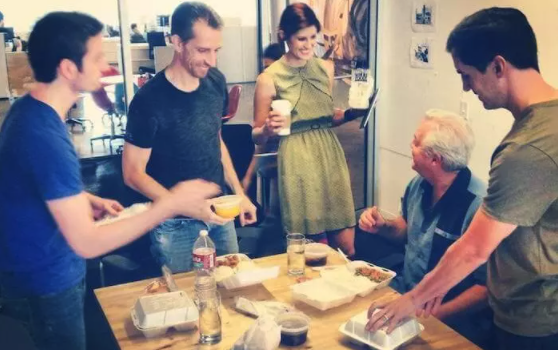 Buying employees lunch is a gesture that lets them know you want to take care of their most essential needs and then some. It really is true that the way to a person's heart is through their stomach.
Tip: Buy them lunch at their favorite restaurant, or another idea is to get them a snack box to satisfy their cravings!
Check out some of our favorites:
2) Show & Tell (Pet Edition)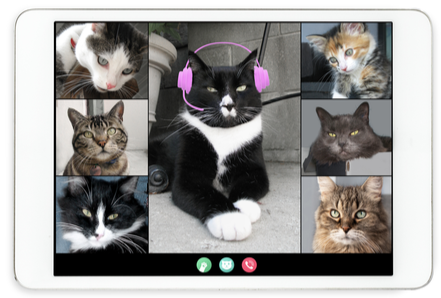 Who doesn't love their precious fur baby? Show & tell (Pet Edition) encourages employees to talk about their beloved little creature. Of course, everyone gets the joy of showing theirs off and meeting their coworkers' cuties as well!
Tip: Keeping the workplace pet-friendly is one of the employees' most desired perks, so consider making it the norm for pets to be able to wander on screen here and there.
Check out some of our favorites:
3) Slide Deck Intros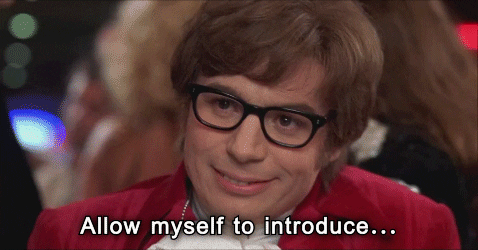 Similar to icebreakers, Slide Deck Intros allow employees to be seen, heard, and to give their coworkers an idea of what makes them who they are. Deep down, people want to be genuinely known and understood. This is the perfect time to provide a glimpse into their inner lives.
Tip: Carve out plenty of time so no one's presentation is cut short.
Check out some of our favorites:
4) Virtual Escape Room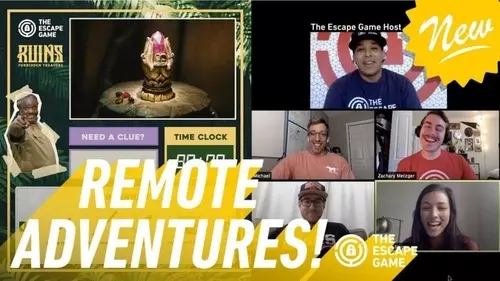 Virtual Escape Rooms are the adrenaline-packed virtual obstacle courses — but here's the extra cool thing about them: they're usually filled with clues, riddles, math challenges, or other mind-stimulating hurdles to get past. These employee engagement games force employees to combine wits, communicate, and escape together — all before the clock runs out.
Tip: Encourage your employees to dress the part, so if it's set in space you could welcome them to dress like aliens or astronauts.
Check out some of our favorites:
5) Wellness Challenge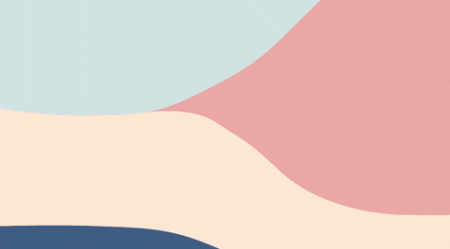 You want your remote employees to have opportunities to get outside of the house and make healthy choices ie: exercise, cook good meals, enjoy some sunlight, meditate, practice yoga, walk around the block, etc. For employee health and well-being, starting a wellness challenge is a must!
Tip: Always remind employees that they're competing against themselves most of all. And always remind them to be proud and celebrate even the tiniest steps in the right direction!
Check out some of our favorites:
6) Email Engagement Activities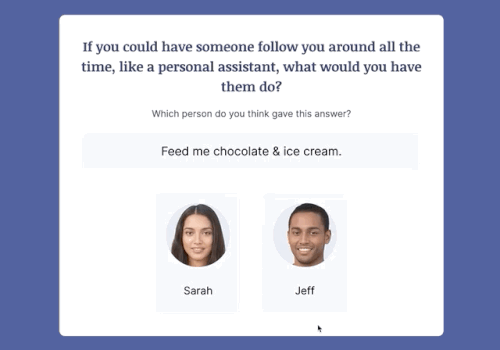 Email Engagement Activities are the straight-to-their-inbox activities that teams can get behind. This tool to engage remote employees can range from surveys to trivia, but the key here is that the activity goes right into their inbox, which they have to check daily for work, anyways. That all but guarantees high participation.
Tip: For maximum virtual engagement, email the activities when the team is lighter on projects or consider reducing their workload to take some time to have some fun.
Check out some of our favorites:
---
People Also Ask These Questions About Remote Employee Engagement
Q: How do you engage employees who work in another state or country?
A: You can engage employees who work in another state or country through virtual employee engagement ideas and activities.
Q: What are the benefits of engaging your remote employees?
Q: What are some strategies you can use to involve remote employees?
A: Some strategies you can use to involve remote employees are remote engagement ideas and activities. This can include but is not limited to, virtual trivia, virtual icebreaker activities, and much more.
Q: Are there free games to play with your remote employees?
A: Yes, there are free games to play with your remote employees. These range from downloadable PDF games to online games.
Q: How do I make remote employees feel included at work?
A: You can make remote employees feel included at work by showing appreciation, giving recognition, sending gifts, and setting up activities and games for their enjoyment.