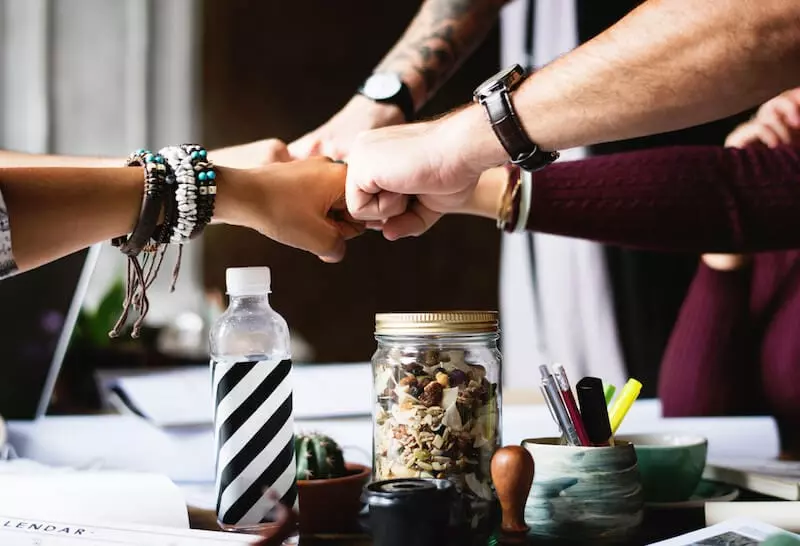 What is teamwork? (See our list of recommended teamwork tools and software here) 
According to Merriam-Webster, it's:
Work done by several associates with each doing a part but all subordinating personal prominence to the efficiency of the whole.
 Now for some more difficult questions:
How do you come up with ideas to promote teamwork in the workplace?
How do you inspire people to table their personal goals and glory for the benefit of the team?
How can you bring more collaboration to your company culture?
Why are these questions so hard to answer?
Almost philosophical in nature, these questions deal with intangible concepts. You could sit down with your team and debate them for hours and never achieve an actionable solution.
Luckily, we've figured out exactly how you can take action now. We've done the research and pulled together some tools and strategies you can use to learn how to improve teamwork and implement team collaboration in your office. Plus, we've removed some of the abstract by explaining why the tools and strategies actually work.
Are you ready to move optimal teamwork from abstract concept to achievable goal? Fantastic! We hope you enjoy these teamwork-in-the-workplace examples, tools, and strategies.
The best way to create, track, and monitor the suggestions in this post is with online teamwork software like monday.com.
Want to become a better professional in just 5 minutes?
Page Contents (Click To Jump)
Teamwork In The Workplace Strategies
1. Host engaging team-building events with the Go Game.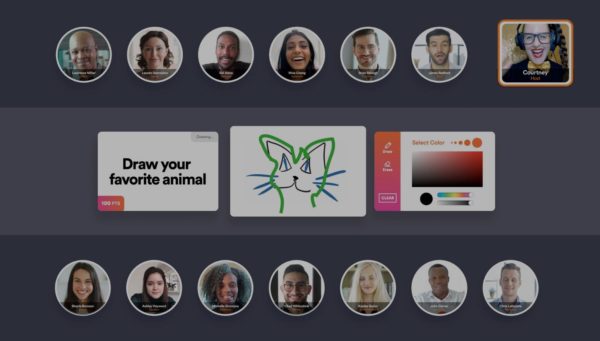 Imagine your team…
Bonding as they pretend to be spies completing an array of secret-agent challenges 

Working together to interpret clues and crack an unsolved mystery 

Completing engaging missions during a phone-based scavenger hunt that makes the world your playground
When you work with Go Game, all these fantasies are not only possible but also easy, to make real. 
How to do it: 
Easy! Just contact Go Game, and their expert team will take care of the rest. 
Why it works: 
Team-building events bring people together. 
As one customer says, "People are much more likely to talk with the individuals on their team that they never previously spoke to."
Nothing gets employees communicating like the shared goal of winning a game. Go Game provides the environment; the valuable team-building interactions follow organically.
2. Start a culture committee to promote collaboration with Bonusly.
Invite representatives from every company department to join a committee that advocates company culture. The committee members exemplify company culture and nurture it in others.
The activities of the culture committee will vary based on your company's unique culture. At SnackNation, the culture committee:
Plans events to bring departments together
Makes the office more like home
Cheers up team members in times of stress
How to do it:
Ask for volunteers! You want to recruit people who want to be on this committee.
Hold an onboarding meeting to define your company culture, if you don't already have this in writing. Goal: Establish the cultural virtues you plan on promoting.
Decide what actions the committee should prioritize to best cultivate company culture. For example, if your company culture involves "being at one with nature," then some of your committee's tasks could be planning monthly hikes, bringing in plants, and keeping said plants alive.
Establish performance indicators. (We'll host one event per month and survey employees quarterly to see how they're feeling about culture improvements.)
 Why it works:
There's no such thing as the culture police, which is obviously a good thing. The downside is that when no one is responsible for enforcing company culture, it runs a high risk of slipping through the cracks. Having a team responsible for fostering culture means you're likely to develop a strong one, and a company with strong culture encourages teamwork and collaboration. 
3. Avoid siloed departments with Guusto.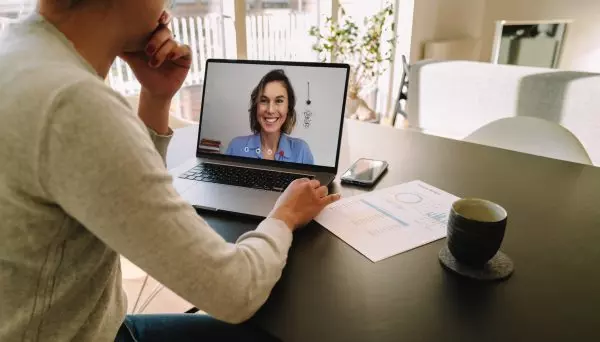 At a high-level, every employee at your company is making progress towards shared organizational goals — but on the day-to-day, employees in different roles and departments can feel remarkably disconnected.
Guusto hosts a company-wide social recognition feed that offers an easy way to highlight team wins. This lends all employees insight into what goes on in other departments, which both strengthen peer-to-peer relationships and helps employees feel more connected to your organization's larger purpose.
How to do it:
Get in touch with Guusto and their team will walk you through the many ways their program can be leveraged to bring your people together and improve teamwork.
Why it works:
When employees at your company genuinely feel like they're part of a team, work becomes both more meaningful and team collaboration becomes more effective. Add on the fact that you can tie recognition back to shared values and major company objectives, and it's clear why it's the perfect tool for improving teamwork in the workplace.
4. Host a yearly summit to inspire big-picture thinking.
Everyone in your company does vastly different things. It can be easy to forget you all work at the same place and share the same overall mission. A dedicated annual summit gives everyone the chance to take a step back from the weeds of day-to-day work and focus on the overall company missions and goals everyone has in common.
The summit nurtures teamwork and workplace collaboration because it brings the entire company together to focus and reconnect on what they're all working toward together.
How to do it:
Choose an off-site location to get people out of the day-to-day mindset.
Dedicate a team or hire a planner to coordinate the event.
Establish event goals.
Plan the structure of your summit based on your goals.
Leverage your company pillars to create focused breakout sessions (or workshops) where groups of employees from different department get together to brainstorm the same topics.
Here are some examples of workshops from SnackNation's 2018 summit:
Member Experience
What Makes SN Different
Consumer Feedback
The SnackNation Culture
Making SnackNation a Destination
Member Success/Sales Partnership
 Why it works:
It all comes back to focusing on similarities instead of differences. Each player on a football team knows his job is different from his teammates' jobs, but he can still visualize how all the jobs contribute to a win. A summit gives your employees a chance to connect their jobs to the big win; it helps employees feel like part of a team.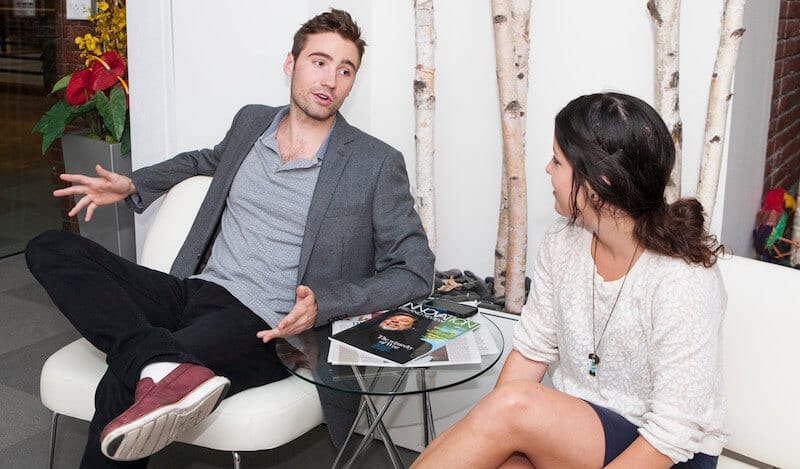 Help new hires learn the ropes by pairing them with veteran buddies, employees who've been with the company for a year or longer. The buddies help new hires with the onboarding process and answer all the little, yet important, questions that don't merit the boss's attention. Buddies also subtly help new hires embrace company culture.
How to do it:
Ask for volunteer buddies.
Send new hires and buddies a brief personality test so you can pair up those who are most compatible.
Pair employees, explain their roles, and let them do their thing!
 Why it works:
The bonds forged through the buddy system last far beyond the onboarding period. Most buddy pairs get to know each other's work styles so well, they grow into amazing collaborators, exemplifying the benefits of teamwork in the workplace.
6. Set a protocol for resolving conflicts.
No one likes to anticipate the unpleasantness of conflict, but no matter how harmonious your company culture, conflict will happen. That's why Founder's Grid recommends figuring out how to efficiently deal with conflict before it's staring you in the face.
If you have a plan in place for how to deal with conflict, you can spin unpleasant situations into learning events that actually boost teamwork and culture instead of destroying it.
How to do it:
Sit down with a few trusted team members to establish a conflict-resolution protocol.
Relay this protocol to everyone on the team; you might even consider making a cheat sheet.
Fine tune the process as conflicts arise.
 Why it works:
An unexpected conflict can interrupt workflow and damage relationships if mishandled. Having a protocol in place avoids long-term damage, and it can even spin conflicts into opportunities for deep team building. Your conflict management skills will develop with experience so it is a good idea to be proactive and address issues before they become too distracting.
7. Develop a concrete plan for building trust.
According to Patrick Lencioni, author of the The Five Dysfunctions of a Team, teams often fail because of a lack of trust, vulnerability-based trust* to be more specific.
What is vulnerability based trust? It's simply the trust and goodwill that grows within a team when all its members can be vulnerable. Teams score high marks in trust when everyone can admit they:
Don't know something
Got something wrong
Are impressed by someone else's ideas and intelligence
Need help
Vulnerability in a team enables members to help each other out, which in turn builds trust and bonding, solidifying value-based teamwork.
Unfortunately, most people don't like to be vulnerable. That's why you need to develop a concrete plan for encouraging vulnerability and building trust.
 *Predictive trust is something you demonstrate when you trust that your coworker will finish your report when you're out on vacation. Predictive trust enhances teamwork, but it's not as critical as vulnerability-based trust.
How to do it:
You can't advance trust all the time, but by encouraging and nurturing it in specific settings, trust will grow into a 24/7 state of mind. So choose a weekly team meeting, and commit to following the protocol below during each and every session. This protocol may make the meetings last longer, but the extra time will pay off in the long run.
Plan time for round-table commentaries after each applicable agenda item. Go around the circle and give everyone a chance to comment and question. Encourage associates to admit if they don't understand something and ask for clarification.
Set aside time for a support group session. Associates can share what they're working on and ask for help and advice or vent about challenges and setbacks.
Put a fishbowl at the door. Fill the bowl with paper slips printed with team members' names. Have everyone select a name on their way out of the meeting. The homework: Use a tool like Impraise to give the person selected a thoughtful, positive comment.
Why it works:
Consider meetings microcosms of broader workflow and interactions. By encouraging vulnerability during just one meeting, you'll enable trust to flourish in a variety of other settings as well.
8. Cultivate listening skills with "listening brainstorms."
Several years ago, MIT's Human Dynamics Laboratory established (through in-depth observational studies that incorporated devices to measure tone of voice and body language) that communication determines a team's success.
Help boost your team's listening and communication skills with listening brainstorms.
How to do it:
The next time you need to host a team brainstorm on a product or idea, turn it into a listening brainstorm.
Only one person can talk at a time.
The speaker holds onto a prop (like a giant foam finger) to signify it's their turn.
When the speaker is finished, everyone else has to summarize the speaker's idea and say something they like or dislike about it. (Disagreement is totally allowed when practicing good listening!) Because they need to summarize and intelligently comment on each shared idea, everyone will have to listen carefully instead of simply planning what they're going to say during their turn.
Why it works:

Consider the listening brainstorms little workouts for employees' listening muscles. In time, those muscles will grow stronger. Team members will start listening to each other more carefully, which will lead to better idea generation and stronger team projects.
Teamwork Tools & Software Platforms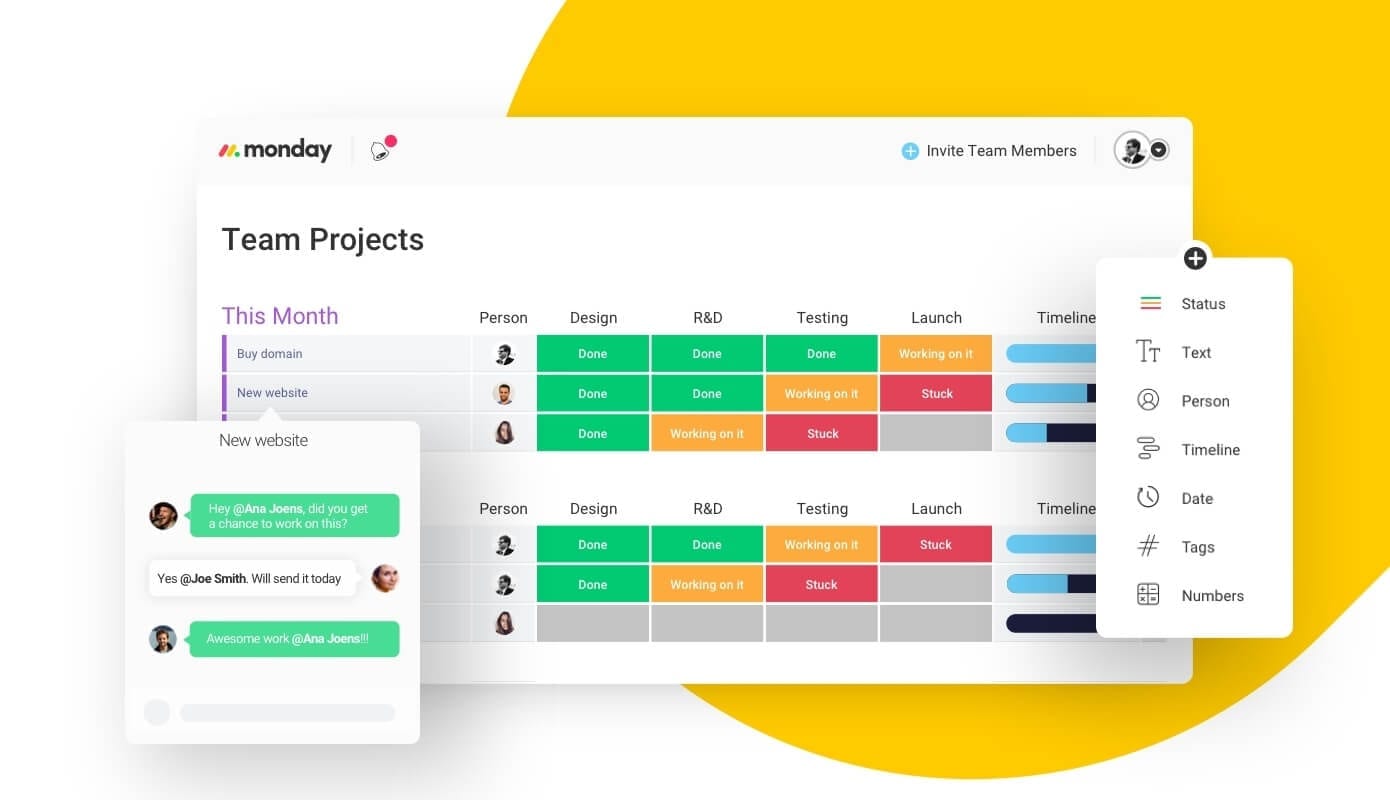 monday.com presents a visually stimulating venue for collaborating and getting amazing work done. Visualize projects, comment on your associates' work, create boards and workflows for side projects, and so much more.
How to use it:
Create a free trial account.
Create project boards.
Invite team members.
Start collaborating. 
Why it works:
monday.com makes it easy for everyone to see what everyone else is doing and even help out and provide input where needed. It provides the access necessary for flourishing teamwork; it makes it easy for team members to get involved in a variety of projects.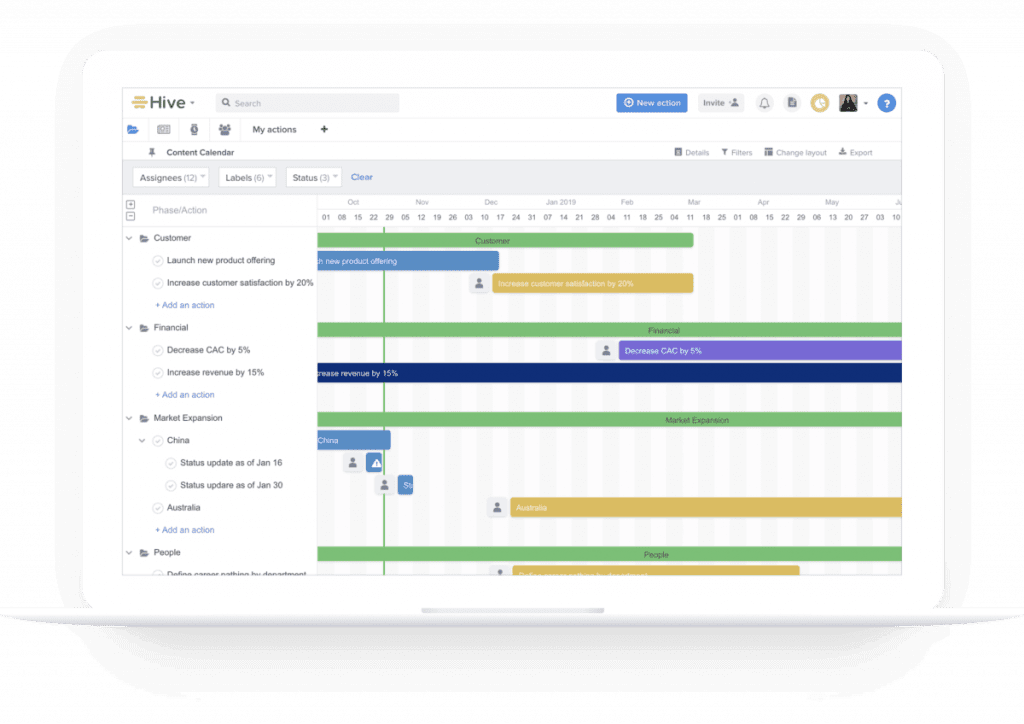 Hive provides an all-in-one project management solution that's actually easy and enjoyable to use. It helps teams collaborate and work better together by incorporating discussions, to-dos, and schedules into one interface.
How to use it:
Try Hive for free.
Try it out on a few projects.
Get attached and use it forever.
Why it works:
Hive serves as an objective project manager. No one person is stuck with the job of policing everyone's deadlines and projects—the whole team simply works together to get things done. Plus, the tool lets everyone see what needs to be done at any given moment, so it takes away a lot of the stress of teamwork and leaves behind only the good things.
Slack brings the casual communication of instant messaging into the office. Employees can send each other quick messages, and they can also post attachments, create multi-user threads, make announcements, embed media, and so much more.
Plus, you can react to things that don't require a response—a perfect, yet underrated, way to boost morale and camaraderie.
How to use it:
Create a new workplace.
Interface with the Slack Bots to figure out how everything works.
Use Slack every day. 
Connect your favorite tools that exist as Slack apps.
Why it works:
Slack enables strong connections, and connections are absolutely required to build a solid team. It gives employees a place to make comments and ask questions that possibly don't merit an email or desk visit but are foundational to workflow and team-building.
Donut works within Slack to introduce employees to a new person every week. The tool provides an automated way for employees to set up in-person meetings with associates they don't often interact with. In other words, this recognition Slack app enables the kind of personal interactions your company needs to build strong teamwork and priceless culture.
How to use it:
Add the Donut app to Slack.
Explain the tool to employees.
Let Donut do its work.
Why it works:
Donut helps employees get to know more people within the company in a casual setting that builds rapport. The more people in your company get to know and love each other, the more teamwork will follow.
On the surface, Box appears to be a cloud-based platform for sharing and organizing files, but it offers far more benefits for workplace collaboration.
Using Box, you can access files from any device and any location. Invite collaborators to edit or simply view your files. Box ensures users on any team in any location are collaborating on the most current versions of work. Plus, they can see what other colleagues are saying.
Box even has a "notes" feature that allows users to create and share notes with entire teams, in real time. If one team member uses Box notes during a weekly status, then everyone will be on the same page on key tasks and takeaways before the meeting even ends.
How to use it:
Why it works:
Box makes it easy to work with multiple people on documents, notes, presentations, spreadsheets, and more. It avoids the confusion that can arise from email attachments, and it cuts the need for collating multiple sets of comments. When working together on files is hard, many people give up. Box makes group work easy and encourages teamwork and collaboration in the process.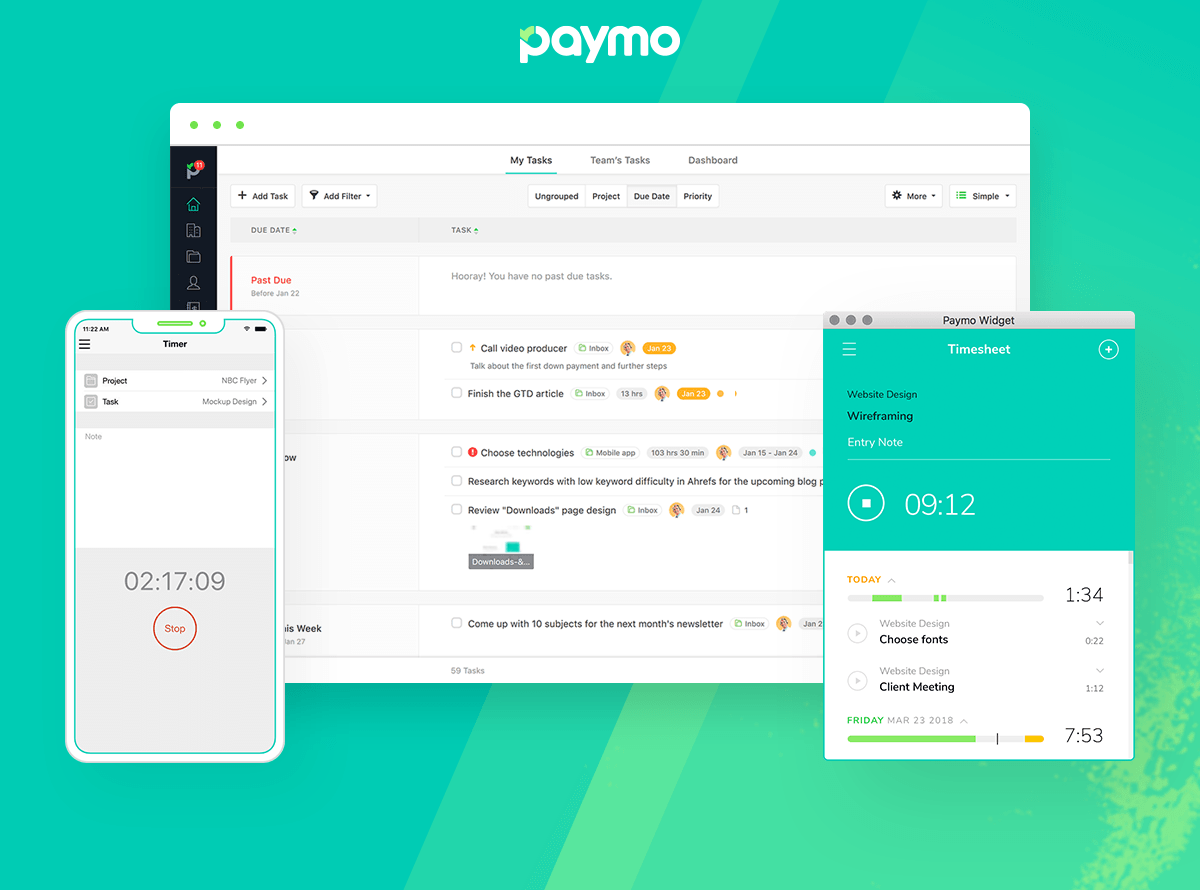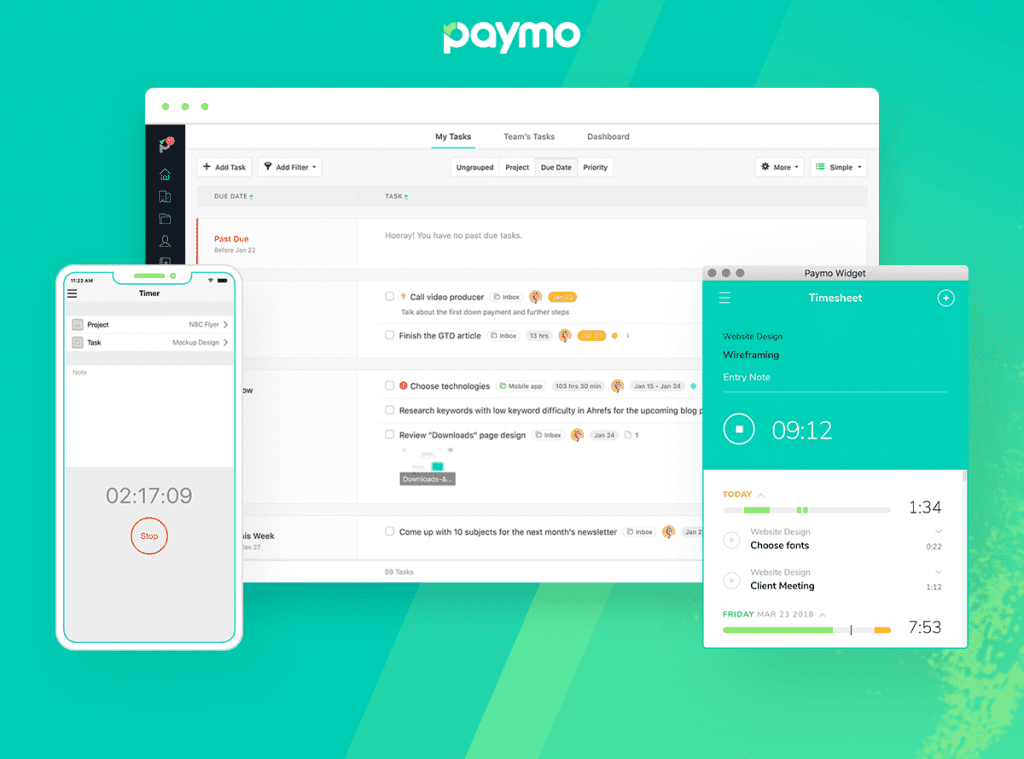 Using Paymo, teams seamlessly meet and communicate. Paymo allows users to create a meeting, build an agenda, take and share notes, and even incorporate action items that ensure the meeting leads to true team productivity.

How to use it:
Sign up for an account. (You can also sign in through Salesforce or sign up through Slack.)
Test Paymo during a meeting.
Get your whole team excited!
Why it works: Paymo makes it easy to get teams on the same page, enabling efficient teamwork.
The Team-Scoring component of the eSkill application allows an HR team to "blindly" grade responses according to a customized set of criteria. An HR administrator sets up the entire flow of the evaluation process, assigning different in-house experts to individually assess pertinent responses. Then, the administrator approves the final overall score.
What are your favorite teamwork tools and strategies? Let us know in the comments below!
Employee Recognition & Appreciation Resources