In the age of the super employee, the modern worker is expected to juggle a million things without letting anything slip through the cracks. New technologies have increased employees' efficiency — and the demands placed on them.
In fact, according to Zippa, employee productivity has increased roughly 62 percent from 1979 to 2020.
A survey of employees by Gallup found that employees should be recognized at least once per week! Not to mention, Authentic Recognition found that only 2 percent receive daily recognition, 11 percent receive weekly recognition, 20 percent receive quarterly, 17 percent receive annually, and 29 percent receive no recognition at all."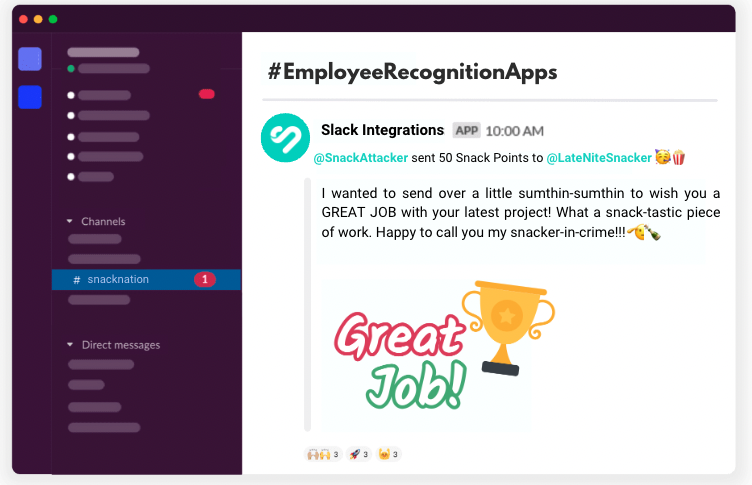 One of the main reasons that productivity has gone up so much is the technological shift and host of tools that have enabled teams to work remotely and asynchronously while building stronger cultures even over longer distances.
Employees who do not feel adequately recognized are twice as likely to say they'll quit in the next year.
Click To Tweet
To further facilitate this workplace adaptation, employees and their managers are specifically turning to Slack employee recognition apps and integrations.
With these employee recognition and team-building solutions at their disposal, teams are able to communicate better, collaborate more effectively, and build tighter bonds that ultimately improve satisfaction, retention, and a sense of belonging in the workplace.
So without further ado, we've rounded up the best Slack employee recognition apps and integrations to improve team culture in 2023!
Want to become a better professional in just 5 minutes?
List of Best Employee Recognition Apps for Slack Integrations
WorkTango changes how the world's most progressive and advanced companies motivate and encourage their people. Meaningful recognition will match meaningful moments and milestones with WorkTango.
Now, employees will have a voice and the platform they need to support their coworkers and build the ideal company culture across all levels and departments.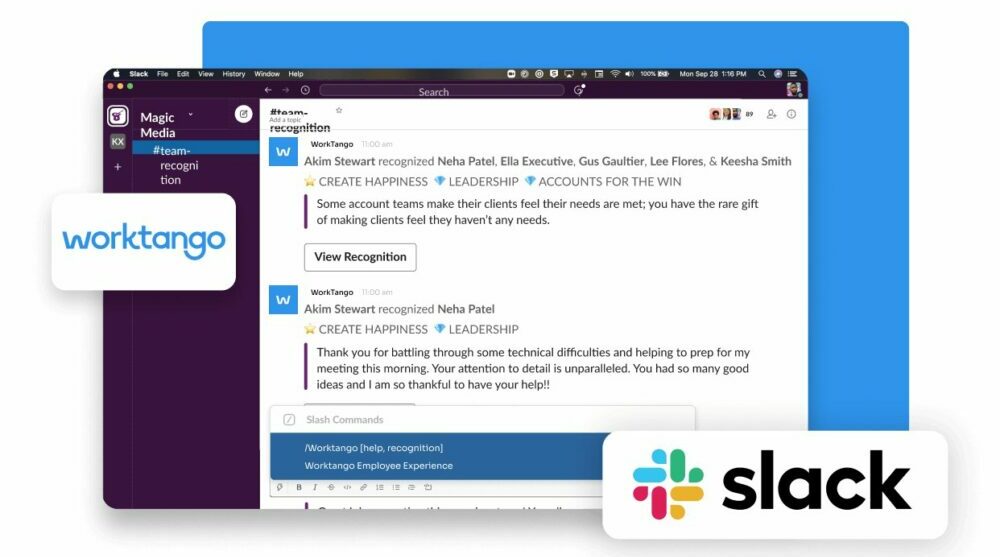 Top Features
Real-time feedback – This integration helps you send out employee surveys and gather insights to measure team engagement.
Customizable – WorkTango allows companies to calibrate their recognition programs with rewards and personalized messages suited to their particular needs.
Goal-tracking – Goals and feedback tracking helps teams measure productivity.
Pricing: Contact WorkTango for pricing details.
Get more out of team culture with WorkTango's recognition programs.
Motivosity is an employee recognition app designed to help employees give each other on-the-spot bonuses and other rewards for being wonderful teammates.
Instead of waiting on waiting on special occasions to celebrate the wins, Motivosity transforms workplaces into cultures of celebration and positivity. Motivosity enables recognition across social feeds, kiosks, and much more.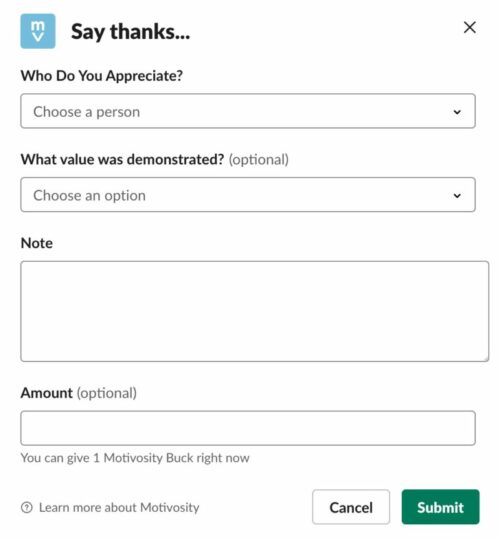 Top Features
Real-time recognition – Motivosity Mobile App makes it easier for teams to give real-time recognition and rewards to each other.
Gift cards – The ThanksMatters Visa Card gives employees the flexibility to decide when and how they're compensated for their hard work.
Pulse surveys – Pulse surveys allow employers to track how employees are feeling, with easy-to-read analytics so teams can take action on areas of improvement.
Pricing: Free to $5 per person/month
Use Motivosity to boost morale and recognition within your team!
Bonusly is a 360-degree employee reward and recognition software designed to engage employees at every level and boost retention and productivity.
When integrated with Slack, Bonusly allows team members to give recognition to individuals and entire departments, add GIFs to recognition posts, get notified of achievements and recognition, celebrate milestones, send surveys, and enjoy a 12 robust rewards catalog.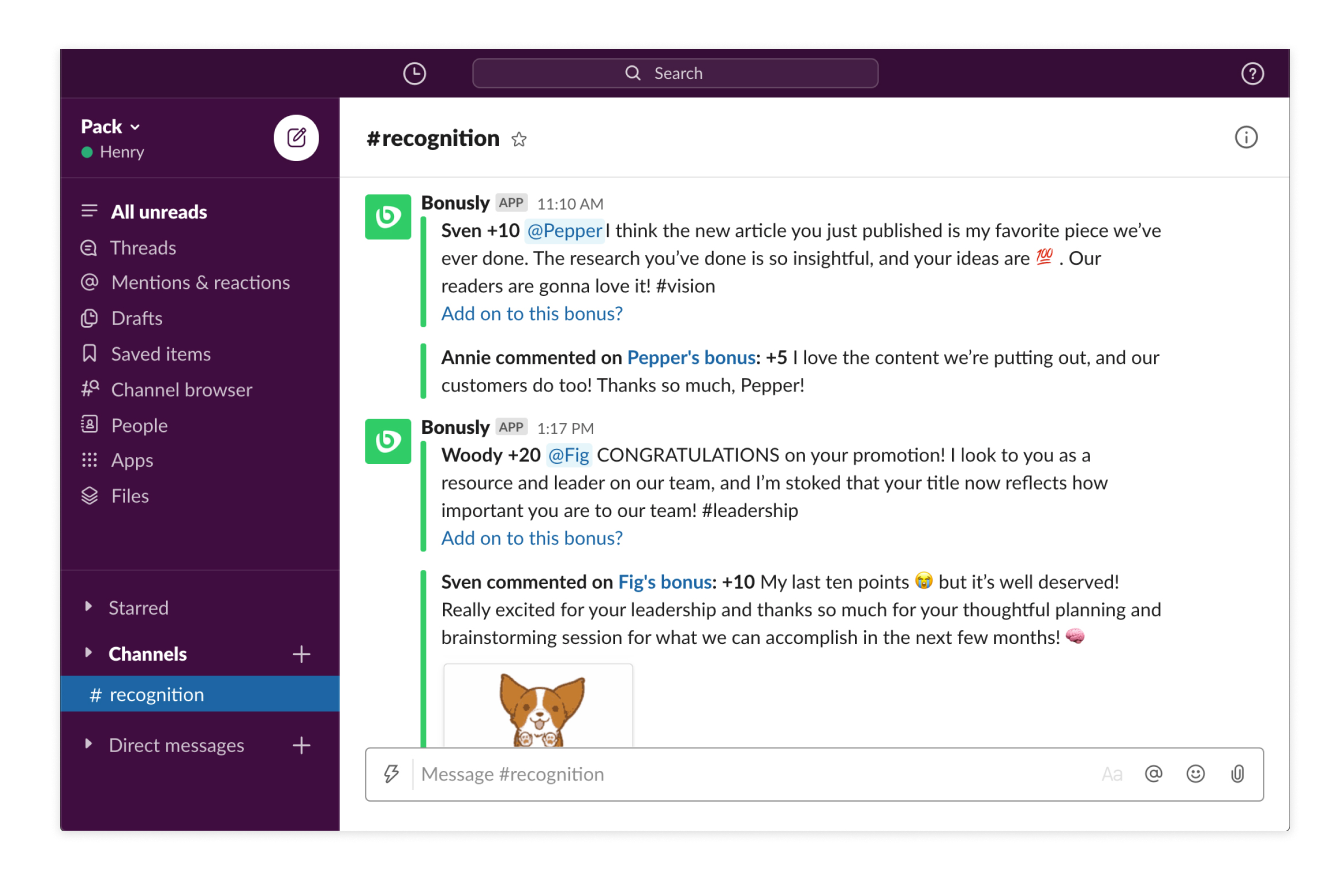 Top Features
Global catalog – Reward and recognize your employees with instant gift cards from the world's most coveted brands, cash rewards, or donation options to their preferred charity.
Custom rewards – Customize rewards and let employees redeem them for an array of unique gifts, experiences, and more.
Analytics – Track employee engagement and performance with analytics dashboards to measure the impact of your recognition efforts.
Pricing: Starting at $2.10 per user per month
Start making your team feel valued today with Bonusly!
Bucketlist is a rewards and recognition app that enables employee growth and development.
Personal life goals and productivity can be tracked in one place — which also happens to be the perfect place for employees to recognize each other. Bucketlist even has a points system to amplify your winning company culture!

Top Features
Peer & Manager Recognition – Celebrate and reward employees for their exemplary work, as well as for embodying the values of the company.
Milestones, and Rewards Automation – Streamline and automate essential employee milestones, creating a cohesive system for rewarding them properly.
Customizable Reward Board – Select from an array of available rewards and tailor-made incentives that are specific to your organization.
Pricing: Pricing details according to their website.
Acknowledge the hard work of your teammates or employees and create a positive working environment with the aid of Bucketlist!
Awardco helps organizations drive positive behavior and build strong cultures that retain and attract talent. Rewarding and recognizing team members can be easy and efficient for employees.
This extensive employee recognition platform is Amazon's only featured rewards and recognition partner for good reason — instead of settling for something lackluster, amplify your positive company culture with luxurious rewards and the solution needed to fulfill a comprehensive employee recognition program.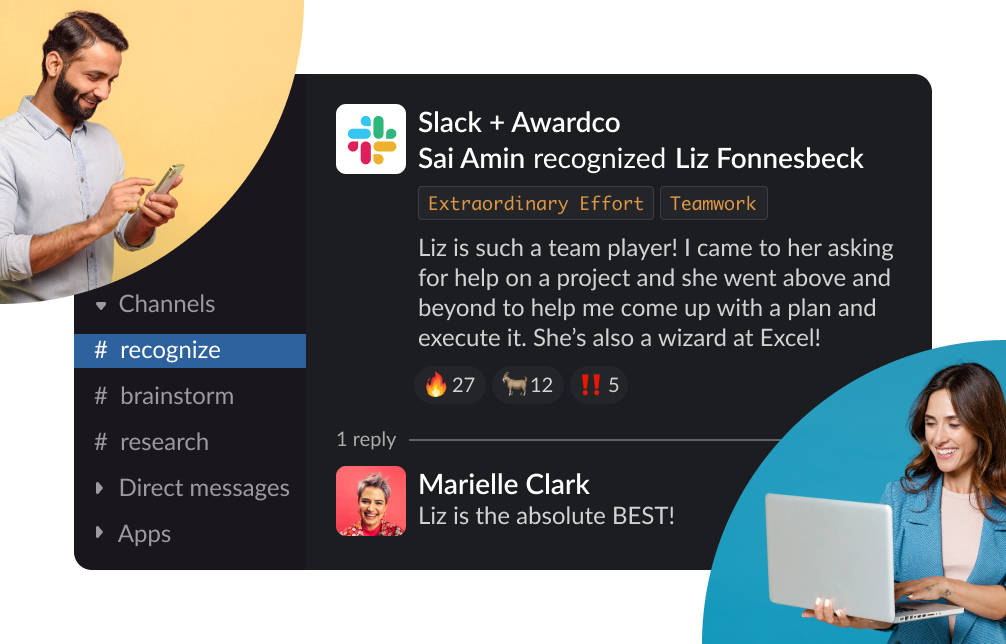 Top Features
Incentives- Employees have the opportunity to take part in their own recognition by developing versatile reward programs that effectively motivate behavior.
Service Awards – Make celebrating each employee milestone fast and simple with automated processes that save you time while reducing human error.
Recognition – Boost engagement and cultivate your company culture with a powerful, intuitive, and user-friendly recognition platform.
Pricing: Starting at $2.70 per employee per month
Automate recognition, reward performance, and increase engagement with Awardco.
Mo allows you to send a summary of special moments to a Slack channel and increase the visibility of milestones and big memories.
This employee recognition integration provides a complete toolkit for motivating and connecting teams by helping employees recognize each other's achievements, celebrate success, enhance their best habits, and give real-time feedback.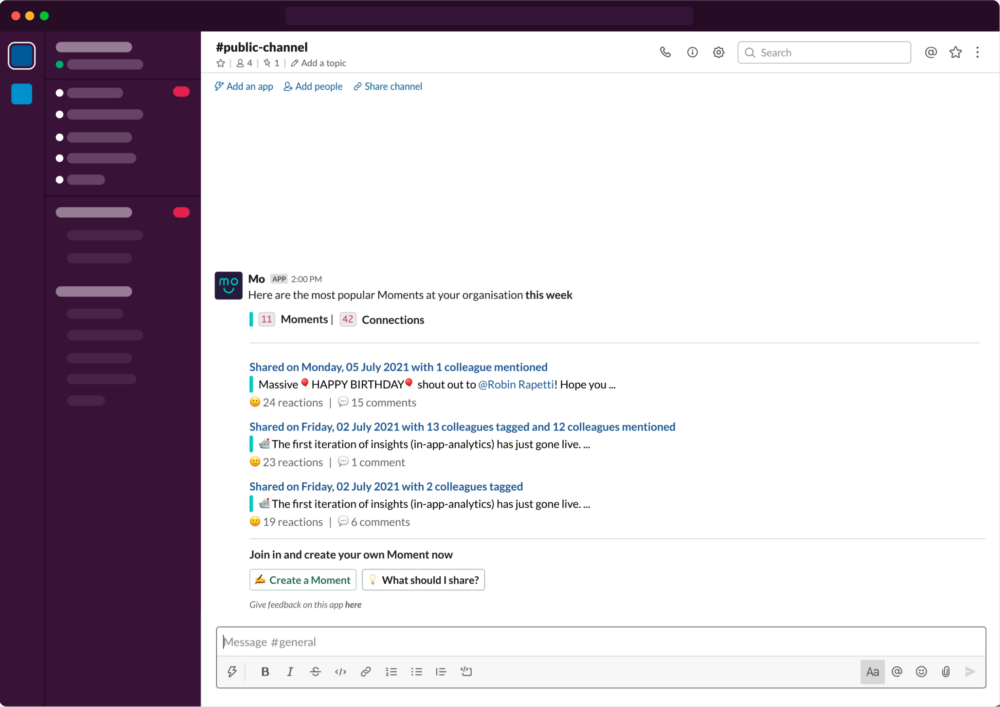 Top Features
Nominations – Nurture a culture of growth and development by launching peer-to-peer nominations and awards that recognize individual excellence.
Goal alignment – Mo encourages teams to create and celebrate rewarding milestones and goal attainment as well as positive habits.
Moments – Share a moment to appreciate a coworker, recognize accomplishments, celebrate successes, and more.
Pricing: Starting at $3 per user per month
Start building your recognition program in minutes with a powerful suite of tools, customizable templates, and an intuitive set-up on Mo.
Leapsome helps you build a high-performing, strong organization that can weather any storm and thrive under any conditions. As a people enablement platform, Leapsome offers answers to your organizational needs, ranging from OKRs and employee engagement to performance management and learning.
On top of that, employees can get continuous praise and feedback as well as personalized onboarding and learning.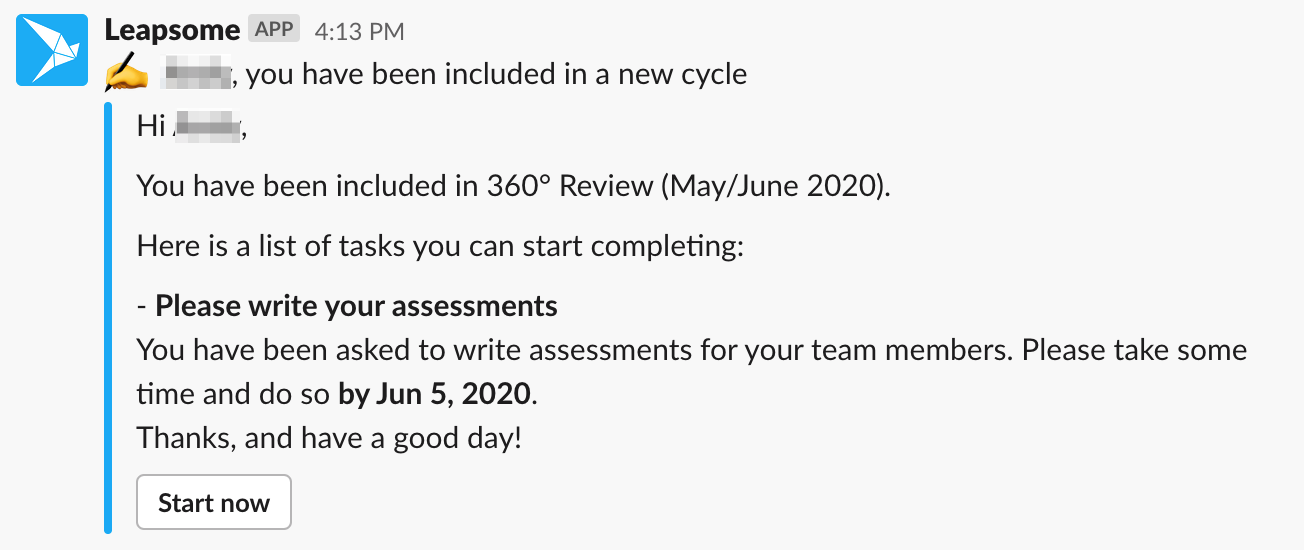 Top Features
1:1 and team meetings  – Encourages managers and employers to monitor their progress, establish purposeful objectives, and work together to uphold a positive company culture.
Performance reviews – Allows employers to assess team member performance, recognize achievements, and create goal alignment.
Engagement surveys – Leapsome helps employers track satisfaction and improvements to company culture by providing feedback from coworkers and peers.
Pricing: Contact for pricing details
Leverage Leapsome to grow positivity in your organization by leaps and bounds!
Nectar is a swag management and Slack-ready employee recognition app that features social recognition, employee discounts, and rewards.
Nectar also allows employees to recognize each other directly throughout the organization. No employee, department, or work will go unnoticed or underappreciated.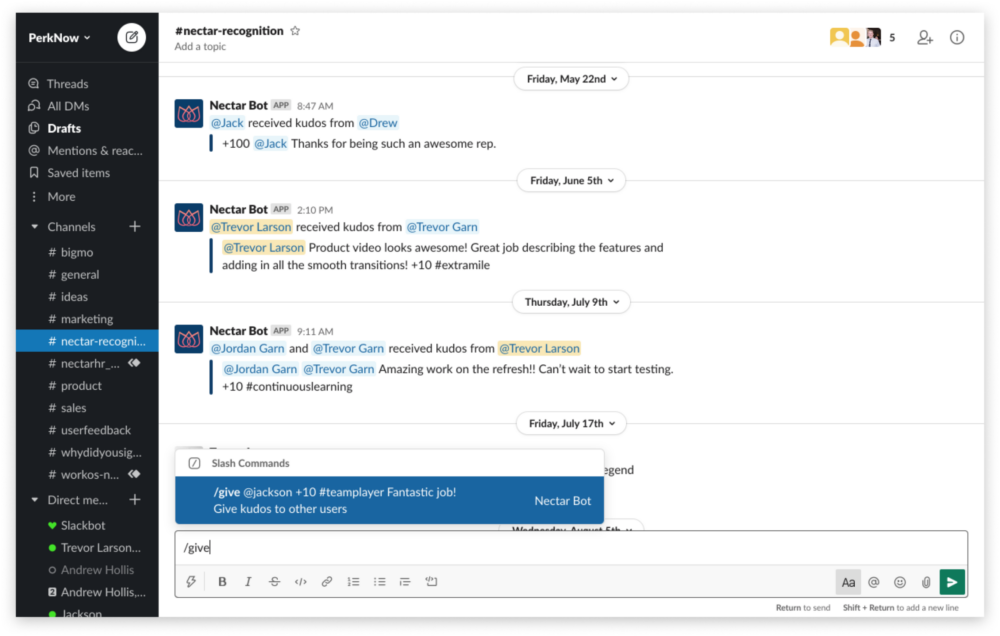 Top Features
Core value alignment – Operationalize core values by emphasizing them via Nectar's built-in alignment feature.
Challenges  – Inspire your team to reach new heights with exciting challenges and attractive incentives.
Birthdays & Work Anniversaries on Autopilot – Amplify employee engagement by focusing on milestone celebrations and streamlining the process to eliminate manual errors.
Pricing: Starting at $2.75 per user/month
Build a high-performing, happy team with Nectar.
Evergreen is the premier peer-to-peer recognition app that lets teams recognize each other's incredible work and contribute to team culture.
Plus, companies are naturally doing a lot of extra good because Evergreen plants trees for usage on the platform. For organizations that are socially and environmentally conscious, Evergreen is the ultimate Slack employee recognition integration.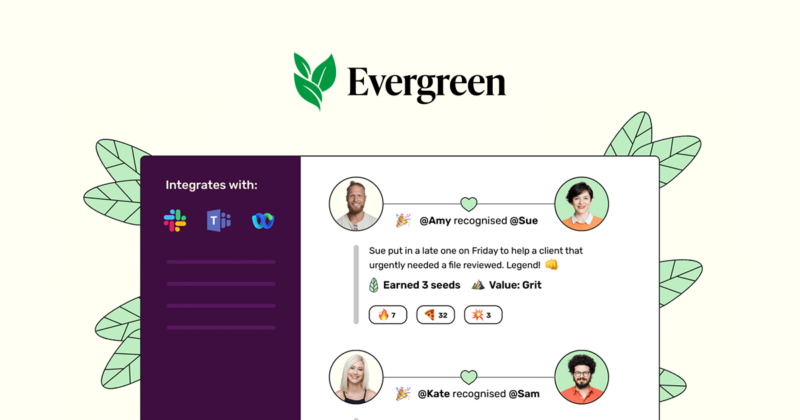 Top Features
Peer-to-peer recognition – Timely peer-to-peer recognition can be posted to a public team channel.
Environmental give-back – Each month your team can give away a dozen seeds to whoever they choose.
Taggable company values – Tag company values and celebrate employees who embody them.
Pricing: $3.99 per user/month
Keep your positive company culture healthy with Evergreen!
This peer-to-peer employee engagement and recognition app helps with productivity-boosting, alignment, and instilling your core company values. Assembly also lets employees enjoy an extensive rewards catalog with charity donations, custom swag, gift cards, and much more.
Whether you're looking to conduct 1-on-1 meetings, send out surveys, play icebreaker games, nominate employees, or improve workflows, Assembly is ready and able to help make these things happen at your convenience.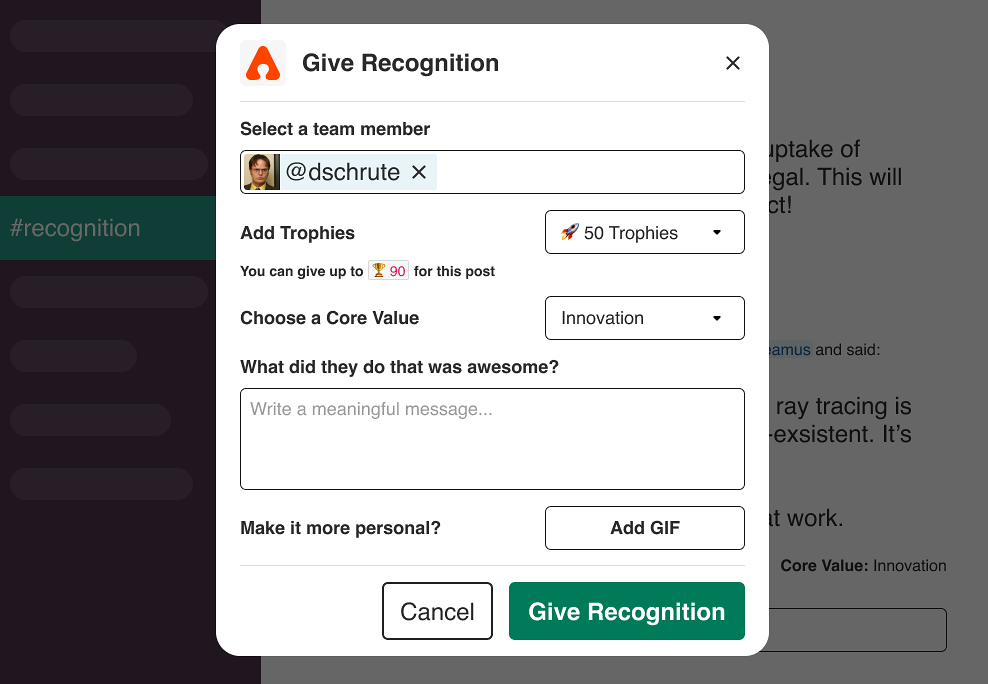 Top Features
HRMS integrations – Synchronize your organization's employee data and enable fast and easy updating of employee information.
Pre-made templates – Design personalized assembly templates with pre-determined settings for all of your workflows and projects.
Feedback insights and analytics – Empowers leadership and management to gain a deeper idea about employee perspectives and company culture.
Pricing: Free to custom
Align your team and create a culture of recognition with Assembly!
Bonus: 5 Appreciation Slack Apps
House Cup is a Harry Potter-themed employee recognition app designed to help your teams acknowledge each other Hogwarts style.
Your company can be split into Gryffindor, Slytherin, Hufflepuff, or Ravenclaw, and indulge in the friendliest, most fun, most magical competition. Find out who the real wizards are in your organization!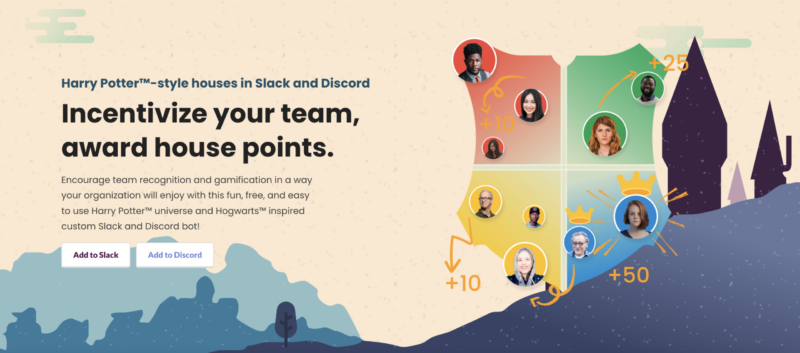 Top Features
Community-building – Create a community on your Slack or Discord and enable team members to acknowledge each other, have fun, and socialize.
House prefects – Identify house prefects or top earners from each house to be highlighted as the winner at the end of the semester or quarter.
Leaderboard – one sentence description Stay current with top point-earners and track engagement on the scoreboard.
Pricing: Contact for pricing details
Unlock the magic of employee recognition with House Cup!
Raidboss gamifies the workplace like no other. Daily routines and ambitious goals can be turned into engaging challenges with seriously awesome rewards.
Run Raid challenges and allow team members to split rewards based on their individual contributions.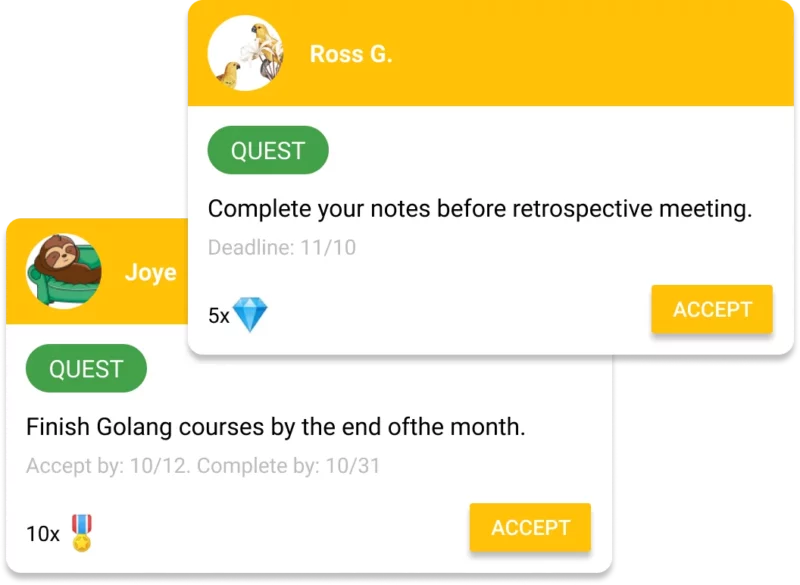 Top Features
Leaderboard – Visual personal performance on the company leaderboard.
Employee bonus program – Add perks of your choice to your organization's shop and allow team members to exchange them with earned rewards.
Fast feedback loop – Employees can get challenge rewards immediately, which will help them experience positive momentum and quicker recognition.
Pricing: Free to $3 per user/month
Gamify your employee recognition with Raidboss!
HeyTaco builds stronger, more engaged, more satisfied teams that bring people together on Microsoft Teams and Slack alike.
Everyone on your team has five virtual tacos to give out each day. Give these tacos to express appreciation and to recognize a wide range of big and small wins.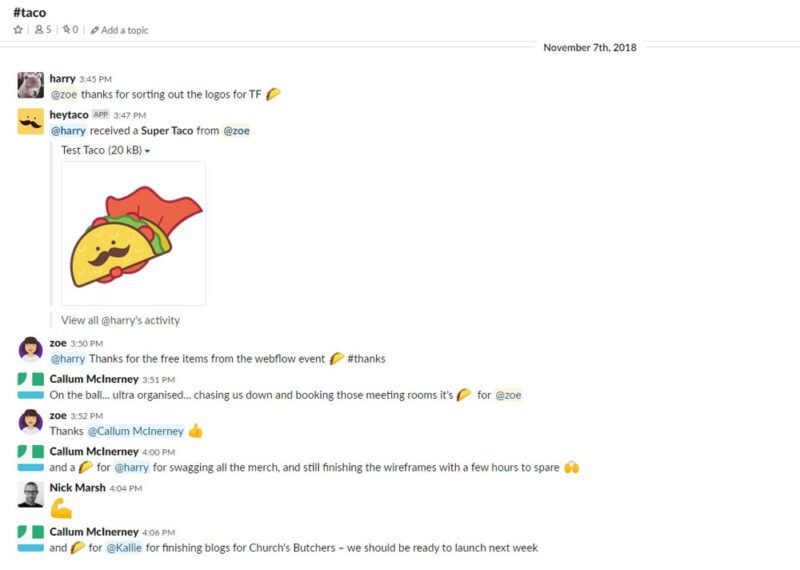 Top Features
Taco Tags – Tag employees and coworkers with tacos to celebrate them hitting the mark when it comes to company values.
Taco TV – Share taco activity on the company channel to generate excitement and buzz throughout your organization.
Feedback surveys – Send employee surveys out on a regular basis — and effortlessly.
Pricing: $3 per user/month
When employees and coworkers are doing great work, taco 'bout it with HeyTaco!
Birthday Bot lets users celebrate birthdays together in Slack. Stay connected with coworkers and keep track of anniversaries, birthdays, and other big moments. Send customizable congratulatory packs and birthday wish collections.
On top of that, your team members can easily send GIFs along with other popular modern ways to cheer each other on!

Top Features
Custom birthday messages – You can send up to 500 personalized messages for free.
Anniversary system – Helps you celebrate the anniversaries of users each year once they've joined the server.
24/7 up-time – Birthday Bot stays running all day, every day and anytime, ensuring that nobody's birthdays and special moments are missed.
Pricing: Starting at $0.60 per user/month
Never miss anyone's big day with Birthday Bot!
Experiential rewards can be even more exciting to receive than gift cards or cash. Blueboard is all about making memories and leaving impressions on employees that last forever.
Primarily a peer-to-peer recognition app, once it's integrated with Slack coworkers can immediately begin celebrating one another's major milestones and day-to-day work.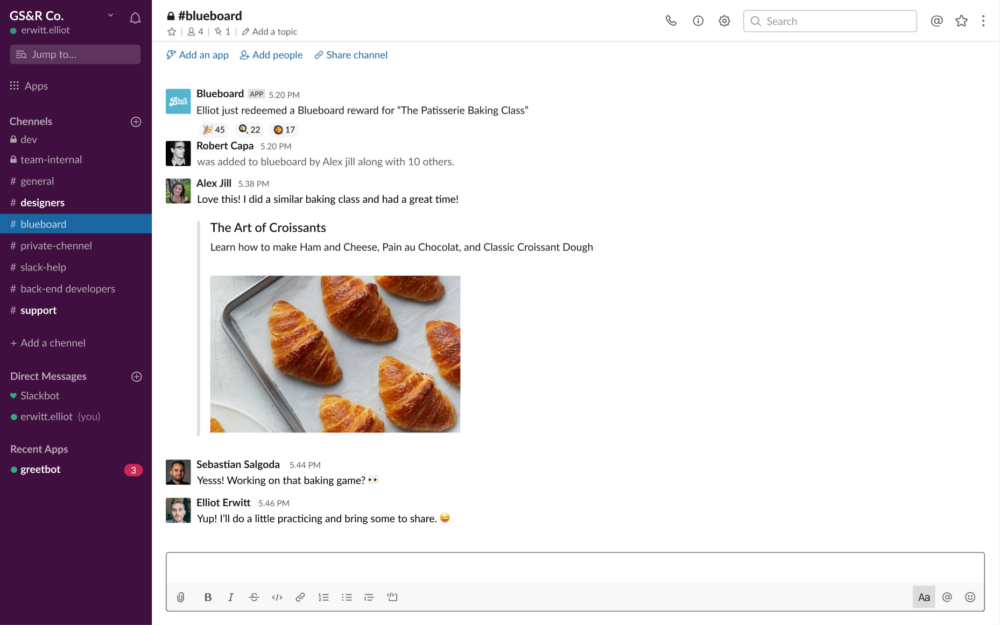 Top Features
Rewards catalog – Blueboard offers employees an experiential rewards catalog to make memories and experience magical moments instead of merely collecting another keychain or mundane office gift.
Peer-to-peer recognition – Employees can celebrate one another with BlueBoard as opposed to waiting for top-down appreciation.
Social recognition – In addition to experiences, Blueboard enables social recognition and shoutouts.
Pricing: Contact for pricing details
Let employees have bucket list experiences and everlasting memories with Blueboard!
---
Why is it important for employee recognition apps to integrate with Slack?
Employee recognition apps that can integrate with Slack afford teams seamless communication, recognition, and appreciation. Most employees are familiar with Slack, so this also reduces the learning curve and makes it a whole lot easier to get company-wide buy-in to whatever new software solution you are getting ready to integrate.
As a byproduct, employee recognition apps keep everyone engaged and involved right from the jump. That being said, there are plenty of other reasons to start using Slack employee recognition apps and integrations including:
✅ Improved tracking and reporting – Slack recognition apps assist managers in tracking and reporting on rewards and recognition. Instead of guessing if your recognition program is working, these apps will break down the answer to that question empirically.
✅ Increased convenience – Employees can reward and recognize their coworkers without hopping from one tool to another as long as they have a robust, all-in-one app to use.
✅ Better engagement – Recognizing and rewarding employees and coworkers has been shown to massively boost motivation, engagement, and productivity. This category of apps is the ultimate way to tap into team-wide engagement.
What Common Features Do Slack Employee Recognition Integrations Have?
Customization — Every organization has different goals, so the best Slack employee recognition integrations need to have at least a decent amount of customizability.
Integration and interoperability — It is vital that the Slack recognition app fits in with the current programs you use. For example, can the app leverage the performance management and payroll software your employees are already familiar with?
Recognition Catalog — Because employee preferences are extremely variable, it's best if the app provides a diverse menu of recognition and reward options for them to choose from.
Reporting & Analytics — Detailed data about employee recognition will give you all the information you need to make smart decisions about how to optimize your recognition program.
User-friendliness — Is the app navigable and easy for employees (especially new hires) to quickly get a grip on how to sort through it.
Gamification — The employee recognition integration should help to make sure that employees absolutely love using it, so that way it becomes second nature and a go-to part of their day-to-day routine.
Communication — These culture-building apps work optimally when users get notifications on Slack and email. After all, recognition begins with communication so you can't afford to have unseen messages.
Social Media — Slack employee recognition integrations need to encourage recognition to extend beyond the internal sphere of the company. Recognition can be doled out on LinkedIn and other places to amplify the celebration.
Mobile compatibility —  Whatever employee recognition and rewards Slack integration you choose needs to be mobile-friendly and compatible with mobile because employees themselves are living increasingly mobile lives even during work hours.
Social Cause — Especially for environmentally and socially conscious companies, supporting a cause is possible to do through a recognition app. The key is to find one that has a built-in social cause as a part of its mission.
---
People Also Ask These Questions About Employee Recognition Apps With Slack Integrations
Q: What are some ways to send recognition messages in Slack?
There are a variety of ways to send recognition messages in Slack. For example, you can use the built-in reaction feature to express admiration, use the reminder feature to send a message of recognition at a future date, start a thread to give ongoing shoutouts, leverage third-party recognition apps, direct message coworkers, and much more.
Q: Can my employee recognition app integrate with Slack?
Yes, many employee recognition apps integrate with Slack. It's also possible to use Slack's API to create custom integrations between Slack and your own employee recognition app; however, this does require some additional work and you will have to follow the instructions given by Slack.
Q: Why should managers use Slack apps for employee recognition?
Managers should use Slack apps for employee recognition because of the increased visibility, engagement, data and analytics, productivity, convenience, and more.
Q: How do I provide recognition on Slack?
You can provide recognition on Slack by using Slackbots, custom commands, third-party recognition and rewards apps, direct messages, threads, reaction buttons, and many of Slack's built-in features.