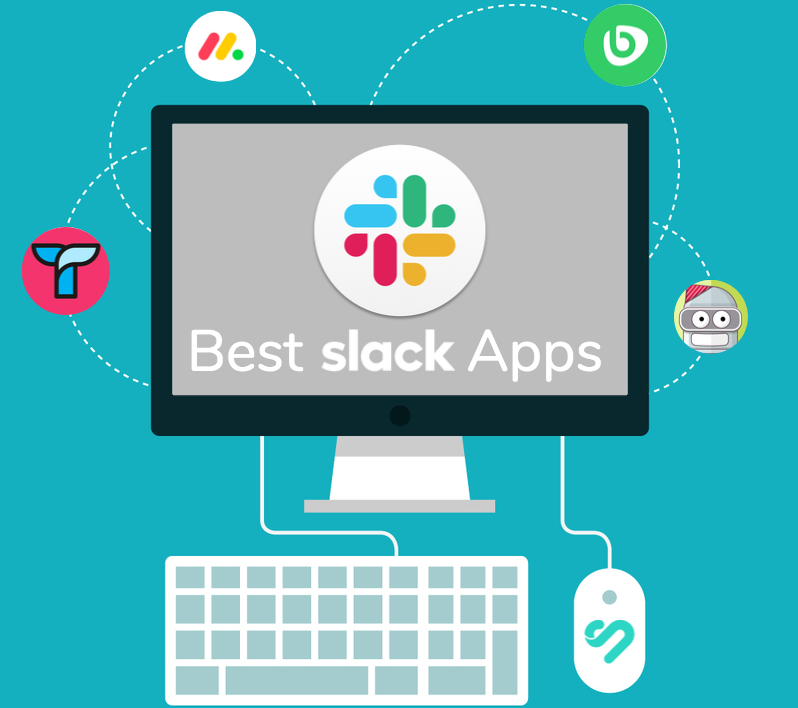 Think about your favorite mobile apps.
They probably make your days easier, more organized, or maybe more fun. The best Slack apps can do the same thing for your work days. Like the mobile apps you add to your central communication device (your phone), Slack apps easily integrate into your workplace's central communication hub (Slack).
Slack apps are third-party software programs that integrate into the Slack interface, letting you add layers of functionality to your Slack team experience. For example, a Slack app for tracking decisions will allow you to organize decisions within Slack instead of using a separate tool.
Using Slack apps and integrations comes along with a variety of benefits for your work and your collaborations.
Enhanced functionality. Adding Slack apps gives you the ability to turn Slack into a hub not just for communication, but also for meditating, managing projects, recognizing employees, and so much more.
Centralized management. Leverage added functionality right within the familiar Slack interface. You don't have to log in, switch between, or learn how to use different interfaces.
Improved collaboration. Slack's communication focus means that many of the tool's apps and integrations are, by default, collaboration tools. For example, the wellness app Pushupbot lets you share fitness goals with co-workers and also support their goals. You could easily find a tool and do this individually, but doing it in Slack adds an extra element of team building.
Cost effectiveness. Many Slack apps offer free or inexpensive plans.
Ease of adoption. Slack apps reach teams where they already "hang out" during the work day. You don't have to convince people to adopt new tools and technologies, and more people will be willing to give your new Slack integrations a try.
Improved communication. When more conversations happen within Slack, you're less likely to see any overwhelming inbox or video call fatigue that leaves your messages unheard.
What do you want to do more of (or do better) across your organization? There's probably a Slack app for that. Start building your Slack functionality to meet your goals by browsing the work-altering apps below.
Want to become a better professional in just 5 minutes?
Page Contents (Click To Jump)
Best Slack Apps & Integrations For Remote Teams
The best Slack apps for remote teams help people bond, manage projects, organize work, and stay-up-to-date on task management and news. All the options below will enhance a specific aspect of your remote team's day-to-day operations and interactions. If you want to see even more Slack options, then check out the official Slack app directory…
Best Slack Apps & Integrations For HR & Team Culture

What does it do? Lets face it, in today's rapidly changing work climate, the employee experience is extremely important to get right. That's where WorkTango comes in with a Slack app integration that will provide insights to managers that they have never had access to before.
The WorkTango Employee Experience platform makes meaningful recognition easy to do, delightful to use, and rewarding for everyone involved.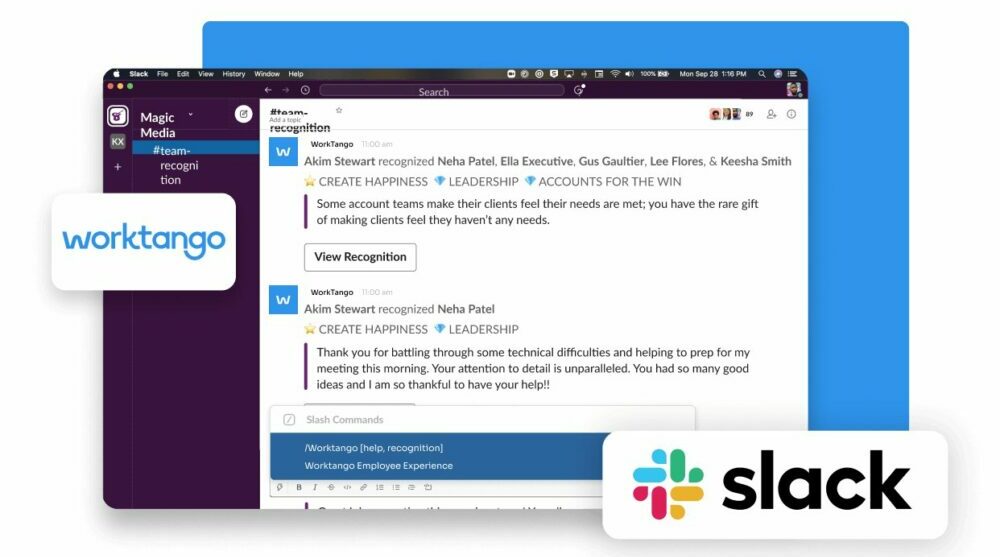 Why you'll love it: The WorkTango platform is an all-in-one experience platform. Meaning if you need to get feedback directly from employees, you're set. If you want to set up an incentive program, that's easy. This Slack engagement app also features goal-setting & OKRs, an easy-to-use recognition feed, and a tracker to manage 1:1 meetings between employees and managers. With all that in mind, it becomes pretty clear that this tool offers a lot of functionality packed within one app.
Best for:
Setting and tracking goals
Creating surveys and learning from the results
Offering a large catalog of employee rewards
Providing employee experience insights and reporting
What does it do? The Bonusly Slack app helps co-workers dole out recognition and spread good vibes.
Use simple slash commands to give bonuses, specifying amounts, and even adding custom messages and GIFs right in Slack. Create a Slack recognition channel to see what's happening in the world of recognition. You can even use shortcuts to claim your own awards. Bonusly is great for in-office, hybrid, and remote teams looking for flexible ways to stay connected.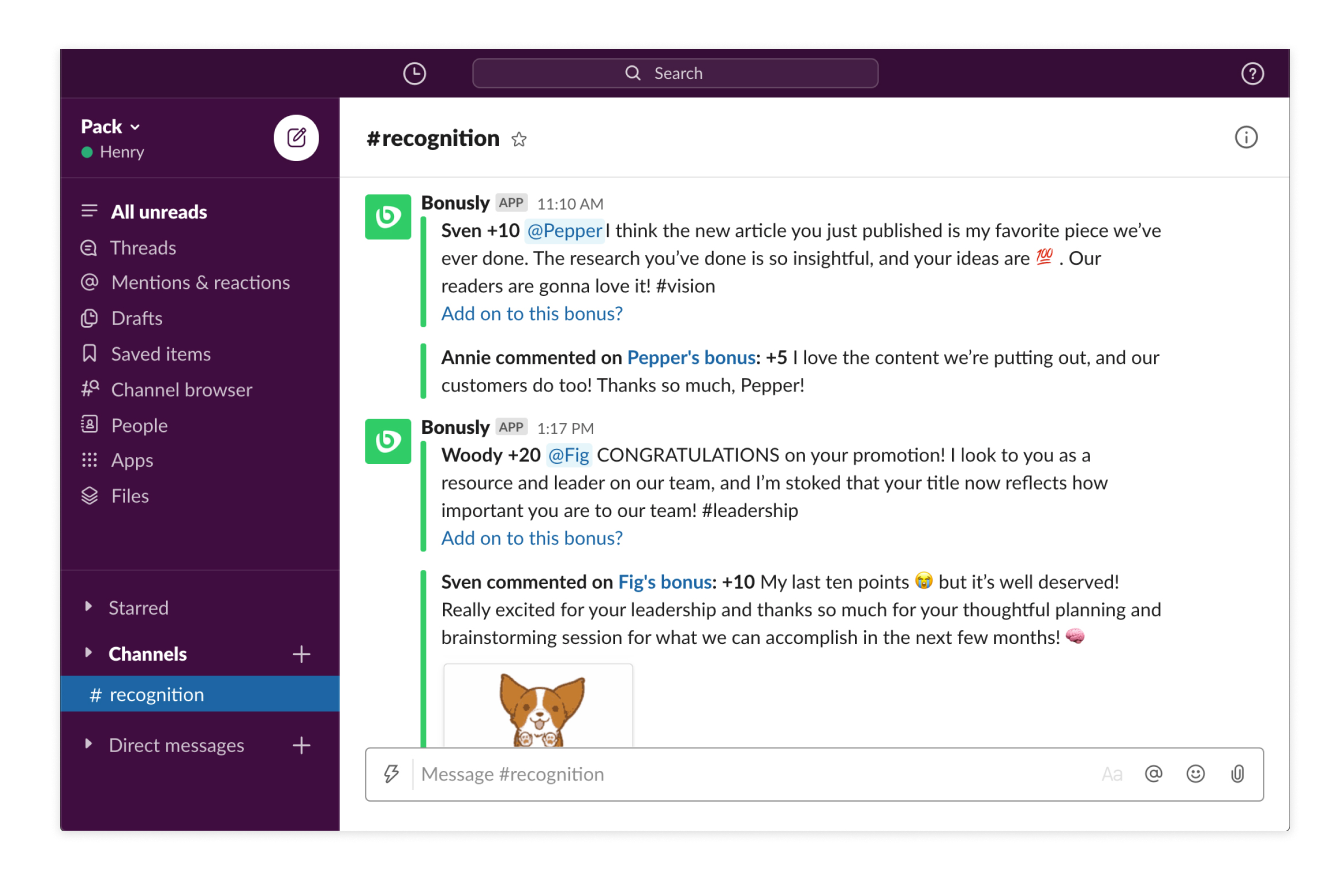 Why you'll love it: It makes giving recognition in a Slack app second nature. As you're typing a "thank you" or "amazing work" message in Slack, you can pivot to creating an award right on the spot. There's also a great free trial that you can sign up for here to see if Bonusly is right for your team.
Best for:
Building company culture
Bonding with your remote team
Making people smile
Sharing your favorite GIFs
Best Slack Apps & Integrations For Employee Engagement

What does it do? Awardco offers a place for in-person and remote employees where they can be rewarded for the entire company to see. Public recognition can have a highly positive effect on employee morale. With a Slack app like Awardco, managers can recognize peers in any channel, send reward points directly through Slack, and let teams know about valuable updates and group accomplishments.
Not to mention when you recognize employees in Slack it also posts the recognition message to the Awardco recognition feed.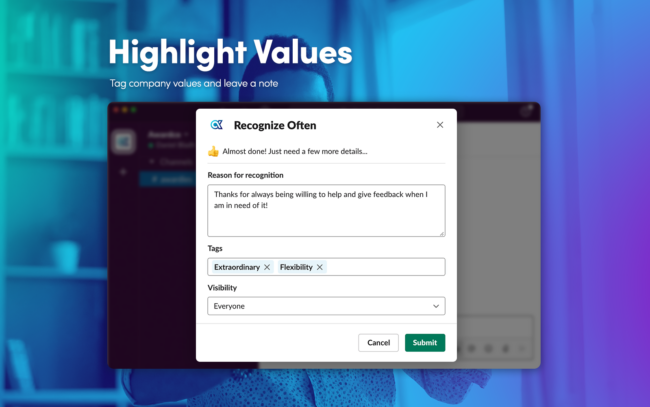 Why you'll love it: Awardco offers four distinct award tools that let you engage with employees in different ways. You can choose to recognize employees via their Recognition dashboard, set up an employee incentive program, celebrate employee milestones with their "Service Awards" feature, or send gifts directly to staff.
With so many features at your disposal, this Slack app is the kind of engagement platform that will be used time and time again.
Best for:
Increasing remote employee engagement
Improving company culture
Making teams even more cohesive no matter their physical location

What does it do? Deel helps you get more out of your existing Slack integration by upgrading it to powerful team collaboration and community software. Using Deel's easily downloadable HR apps, you can track time and tasks, schedule 1-on-1s, create pulse surveys, set up seamless onboarding for new hires, and so much more!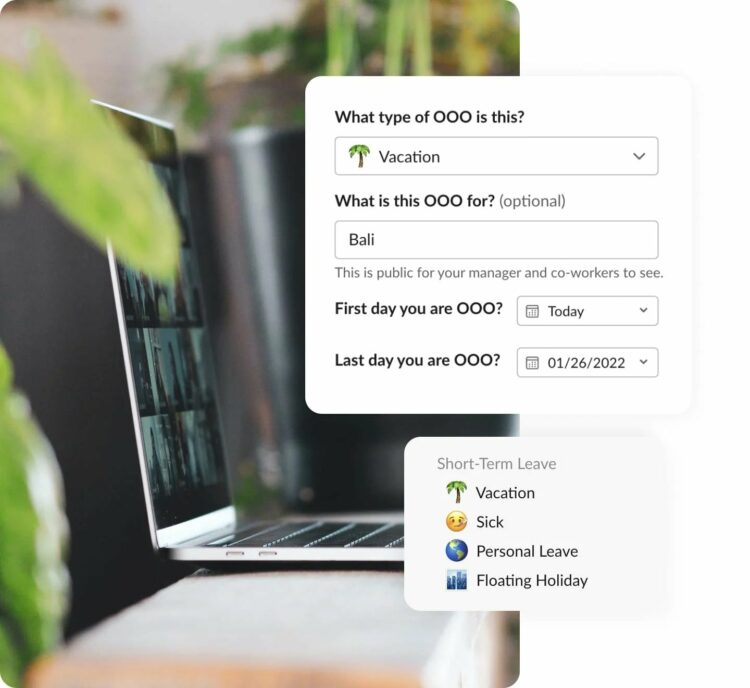 Why you'll love it: Deel delivers on the promise from the get-go. We love how it also doubles up as an efficient rewards and recognition software! For example, you can use Deel to recognize individual and team accomplishments through shout-outs called "kudos."
Best for:
Managing PTO usage without leaving Slack
Gamified referral program to fill up vacant positions
Bulk-sending of targeted and private announcements
Scheduling, preparing, and running 1-on-1s
Fostering stronger team bonds
Sharing targeted shout-outs

What does it do? The Nectar slack app allows co-workers to send meaningful spot bonuses and shoutouts with simple slash commands to drive appreciation and collaboration anytime, anywhere. Mention someone, attach core values, add points and include a message.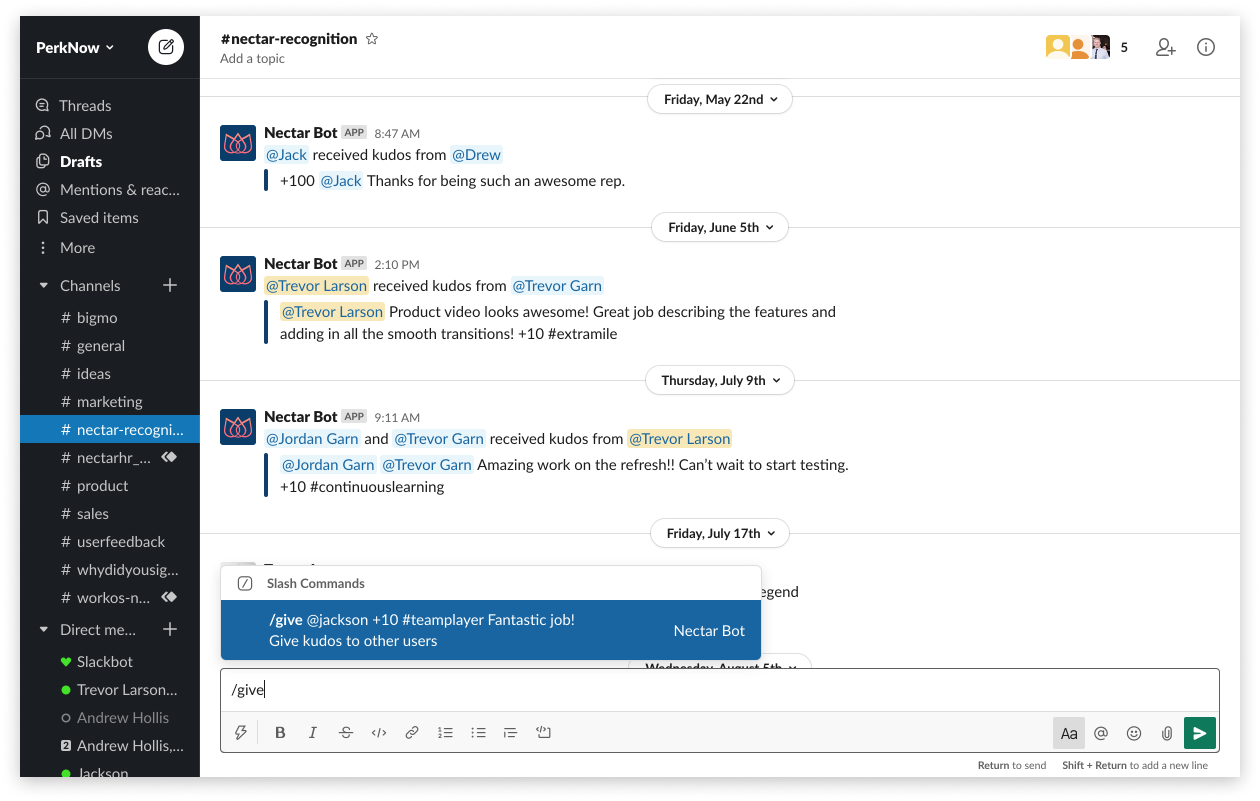 Why you'll love it: Nectar integrates seamlessly into Slack and allows you to easily give spot bonus recognition without disrupting your workflow. This company culture software platform will become your favorite Slack App in no time!
Best for:
Reinforcing great work across teams and locations
Operationalizing core values
Boosting morale and camaraderie
Simplifying meaningful recognition
What does it do? The Motivosity Slack app allows employees to give each other rewards from within Slack. These acts of recognition will appear in the company social feed, on kiosks, and in the notifications of the recipient.
Motivosity is a leading peer to peer recognition program where employees can shout out their coworkers for any accomplishment that warrants praise. Whether it was a little favor or the completion of a large project, you can send a reward to your colleague who can then redeem their dollars for the gift of their choice.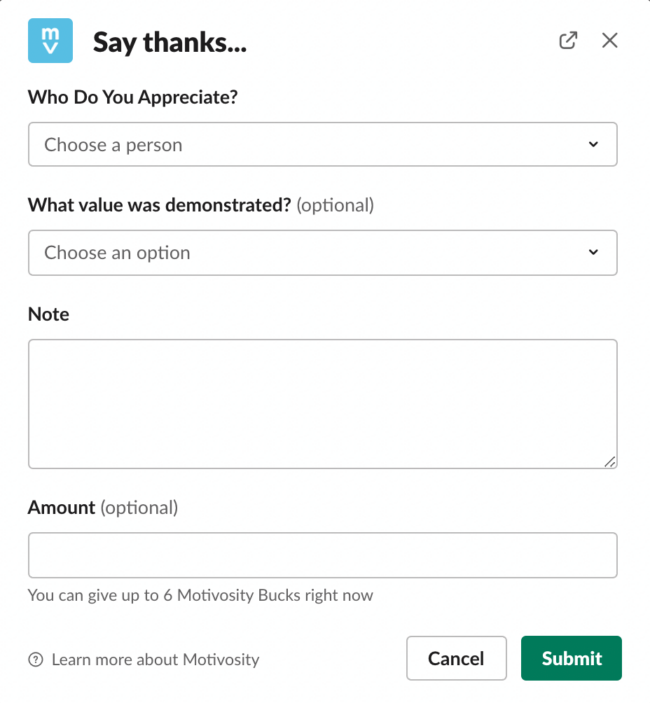 Why you'll love it: With one Slack command you can introduce a little piece of daily recognition into your company and help to build a culture where employees feel valued for their contributions (no matter how small).
Best for:
Providing more communication between managers and teams
Soliciting employee feedback
Promoting peer to peer appreciation
Understanding how satisfied employees are at your organization
Best Slack Apps & Integrations For Productivity
What does it do? The monday.com Slack app allows you to create tasks or projects (and add real-time updates to existing tasks or projects) right within your Slack conversations.
Team members get monday.com notifications as Slack messages, so they can stay up to date without bouncing between applications and interrupting workflows. (Plus, when you're working within Monday.com, you can even set up notifications to go through Slack.)
All in all, this app creates seamless two-way communication that keeps everyone in the loop and working without distractions.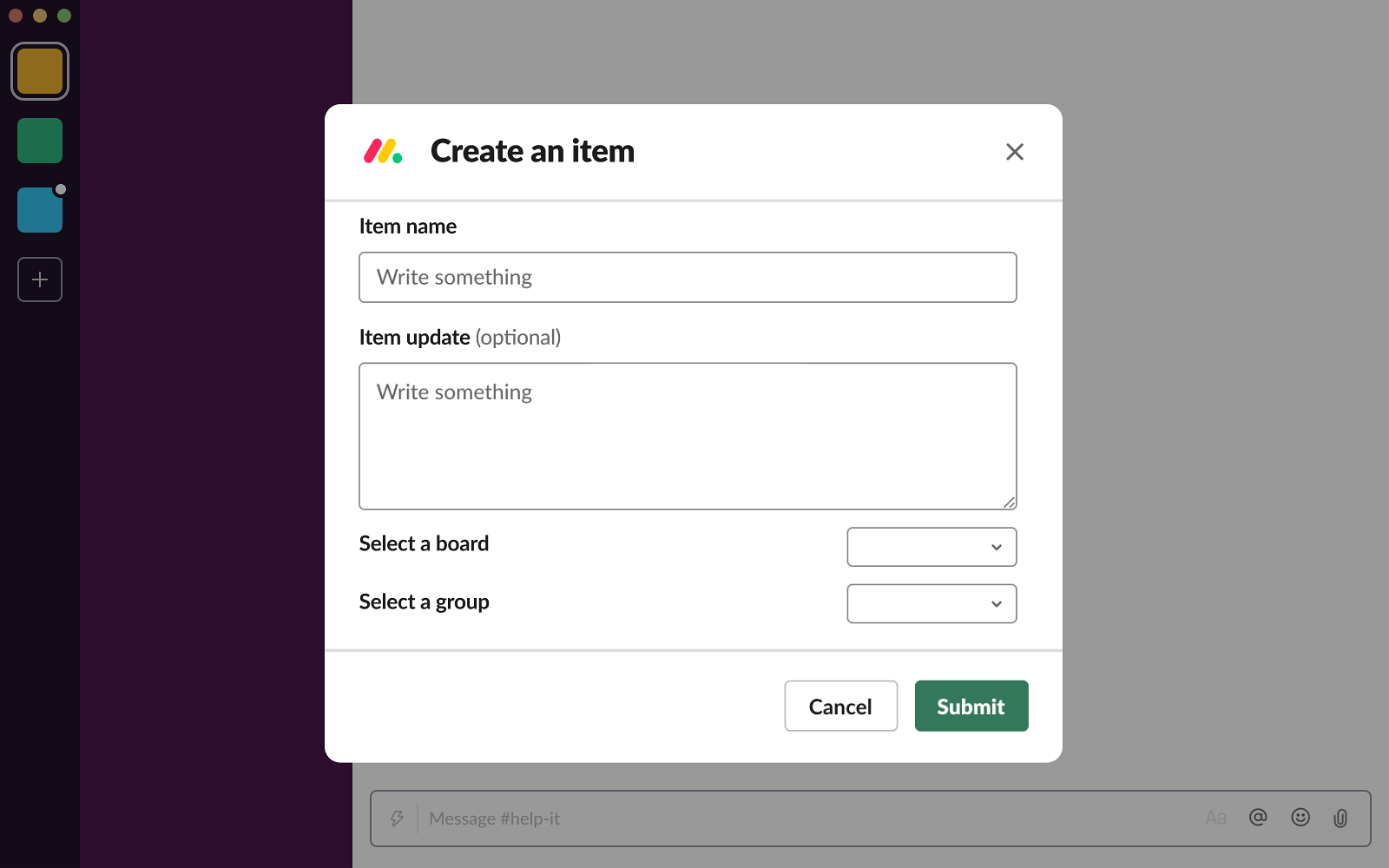 Why you'll love it: No matter which application you're working with, you'll always be able to send clear, instant messages through Slack.
Best for:
Providing project and task transparency
Managing fast-paced projects
Practicing agile project management
Delegating tasks

What does it do? Wrike is a solid online project management Slack add-on tool that helps you go the extra mile with your tasks and people.
Quickly create new tasks through pop-ups, get real-time team notifications, and scale up processes!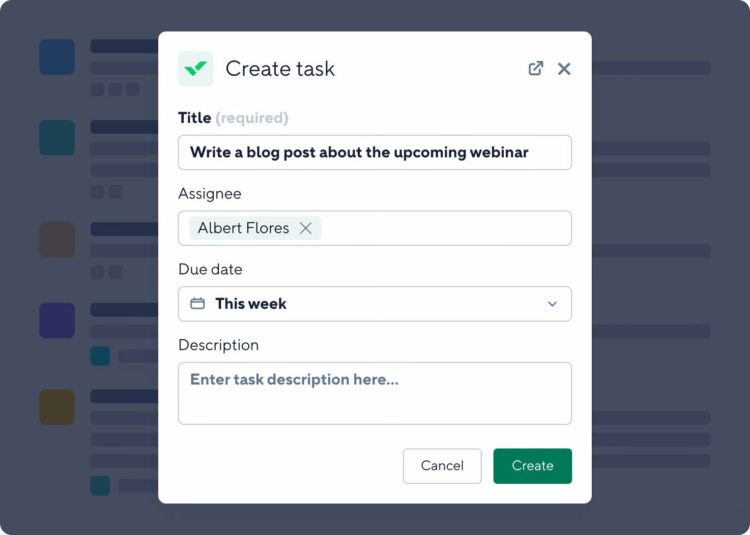 Why you'll love it: We love how easy it is to convert your informal chats into structured tasks, making collaboration meaningful yet effortless. There's also a lot of versatility in terms of using Wrike for automation, managing requests, proofing, data analysis, reporting, and more.
Best for:
Seamlessly integrating powerful project management functions into Slack
Converting informal/random chats and conversations into structured tasks while they're still fresh in your mind
Quickly scan tasks using the preview option, so you're not wasting any time
Getting notifications and alerts instantaneously so your team is always up-to-date

What does it do? The Smartsheet Slack add-on helps you integrate its powerful enterprise work management features with your existing Slack stack.
With Smartsheet, you can boost your project management capabilities while scaling processes seamlessly.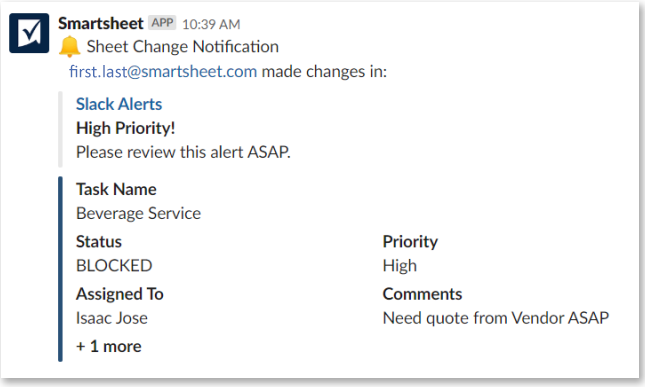 Why you'll love it: We love integrations here at SnackNation because they help you get so much more from a lot less. Smartsheet simply strikes all the right notes for businesses serious about growing and scaling.
Best for:
Building strong teams
Increased collaboration and process efficiency
Automating more processes, projects, and tasks
Creating processes at scale

What does it do? This handy integration enables you to create tasks in Teamwork from messages you receive via Slack and receive real-time notifications on your tasks in a dedicated Slack channel.
Once you've installed the Teamwork app in Slack, you'll have access to the newest features such as Project Channels and Slash Commands for Teamwork.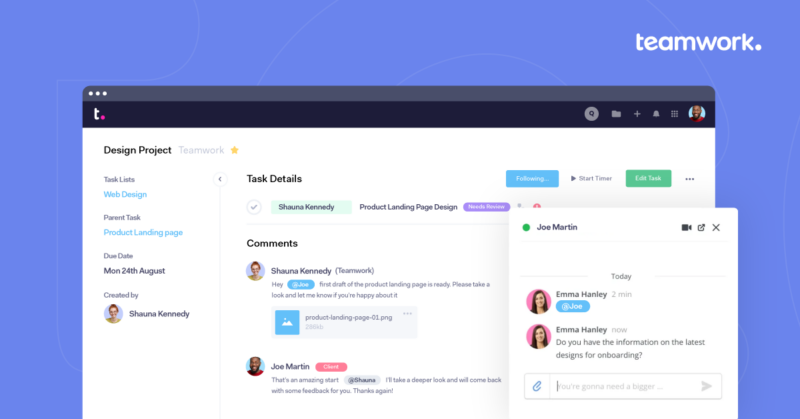 Why you'll love it: This tool does more than just alert you of changes. It also enables you to provide feedback and your plan for next steps. If someone from your team hands a design over for approval, you'll get a notification via Slack, and your team can provide feedback without leaving Slack at all. Using both Teamwork and Slack together has never been easier.
With the power of Slash commands, you can take action on new tasks or work off previous tasks without ever leaving Slack. With these tools working together beautifully, we're putting time back in your hands.
Best for:
Turning ideas into actions
Taking action on updates
Capturing valuable ideas and suggestions
Building resources and achieving more
What does it do? The Favro Slack app layers comprehensive work management tools, including scheduling, time tracking, and invoicing, over the Slack user interface.
Working in Slack, you can use a message to create a Favro task, set up notifications for your Favro tasks, create channels dedicated to specific Favro projects, and so much more.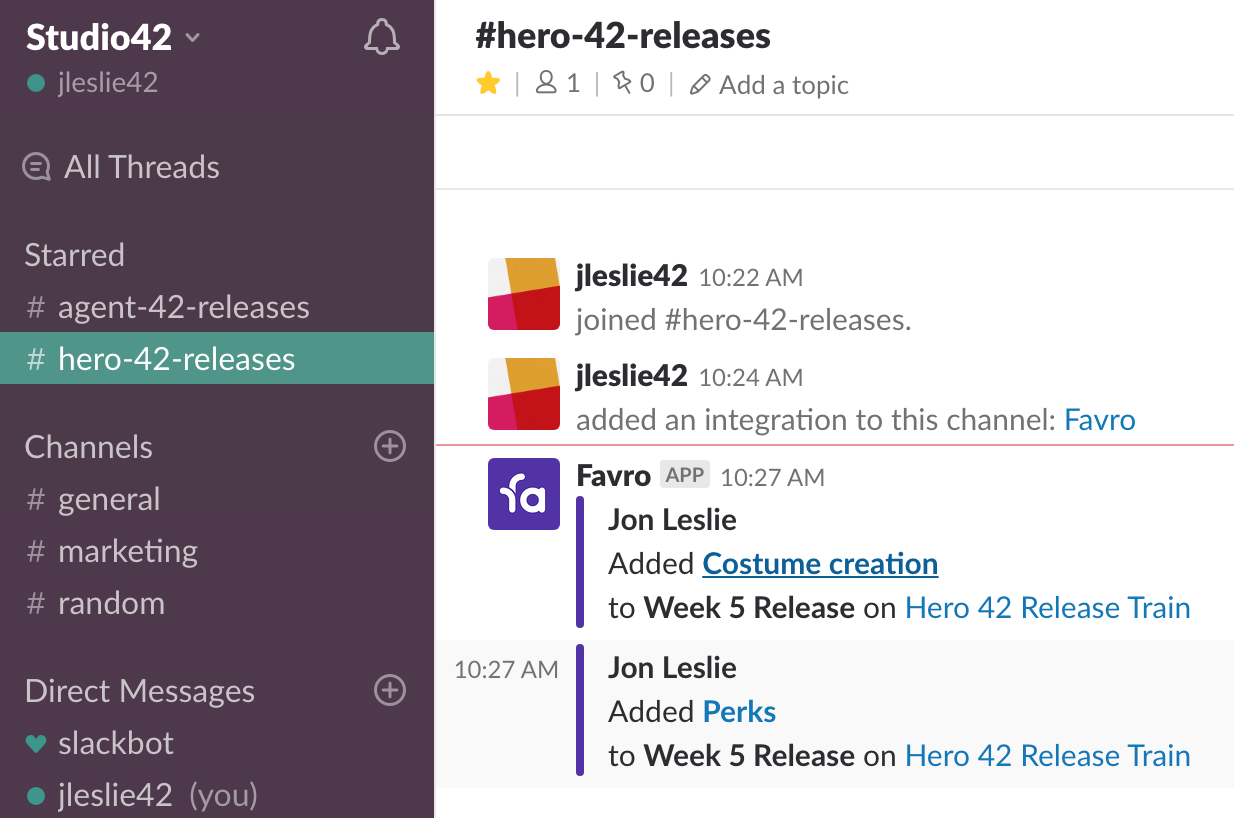 Why you'll love it: It will help you keep track of what you've been working on. Manage Favro tasks in Slack, and you'll also be able to pull up detailed information about your work and productivity.
Best for:
Tracking time and/or productivity
Providing progress and task transparency
Managing tasks
Invoicing
What does it do? Project plans are living, breathing concepts that change frequently. It's usually a hassle to make sure they can change as much as they need to while also keeping stakeholders and contributors in the loop. The Toggl Plan Slack add-on helps you let everyone know about key changes much faster than you can type an email.
Using Toggl Plan, teams get Slack notifications when someone updates their Timeline or Daily To-Do list.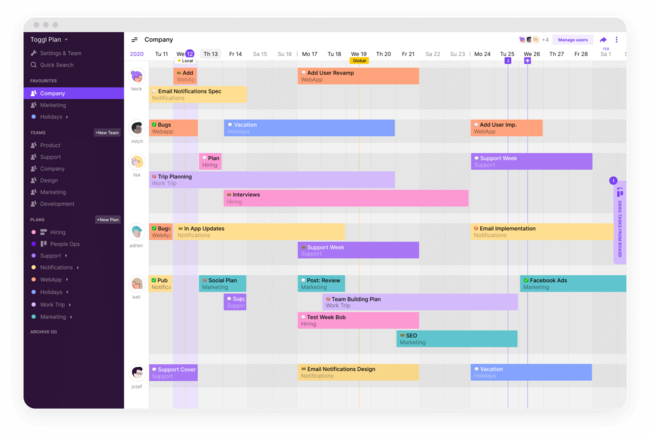 Why you'll love it: It brings critical updates where everyone's attention is: Slack. You don't have to worry about email notifications getting lost. You can rest assured that everyone will get the updates they need.
Best for:
Managing projects with short deadlines
Delegating tasks
Aligning with current goals
Boosting productivity
Best Slack Apps & Integrations For Project Management

What does it do? Hubstaff is a time tracking and proof of work solution designed for growing remote and distributed teams.
A user-friendly time clock, optional screenshotting, and performance tracking help both managers and teams gauge their productivity.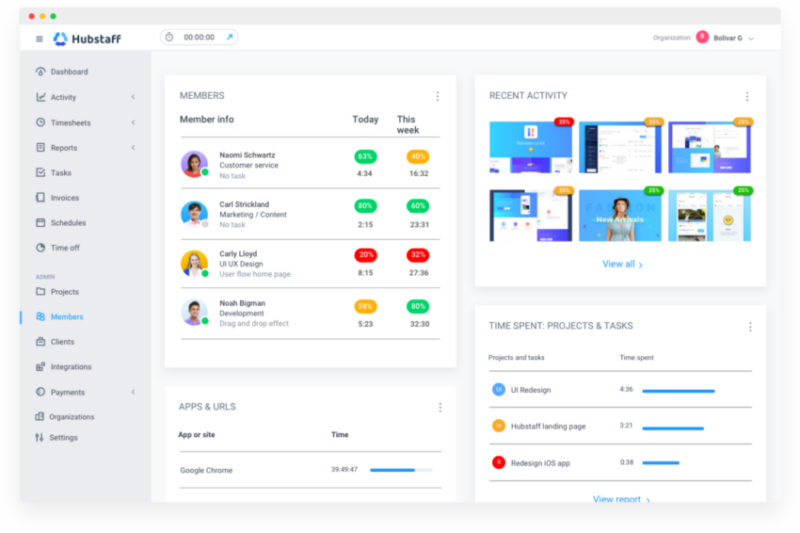 Why you'll love it: Hubstaff offers more than time tracking and proof of work features. Budget and job costing helps team leads build project plans. With real-time updates, project managers can see what team members and resources are costing them.
If a project starts looking like it will go over budget, Hubstaff will send you managers a notification so they can redistribute workloads, adjust team sizes, and find new tools. That way, they won't need to turn to their contingency fund to eliminate project risk.
Best for:
Time tracking
Project management
Proof of work

What does it do? The Hive Slack app helps you keep your work as organized as your closet…or whatever it is you love keeping organized.
You could be checking out a kanban board in Hive when you notice a small correction everyone needs to know about. Use Hive as your launching pad to jump right to the correct Slack channel. You can even click and drag an action from Hive and drop it in Slack without re-typing any details.
If you're in a Slack chat with a co-worker in Slack and identify a new action, then you can use a simple keyword command to create that action in Hive.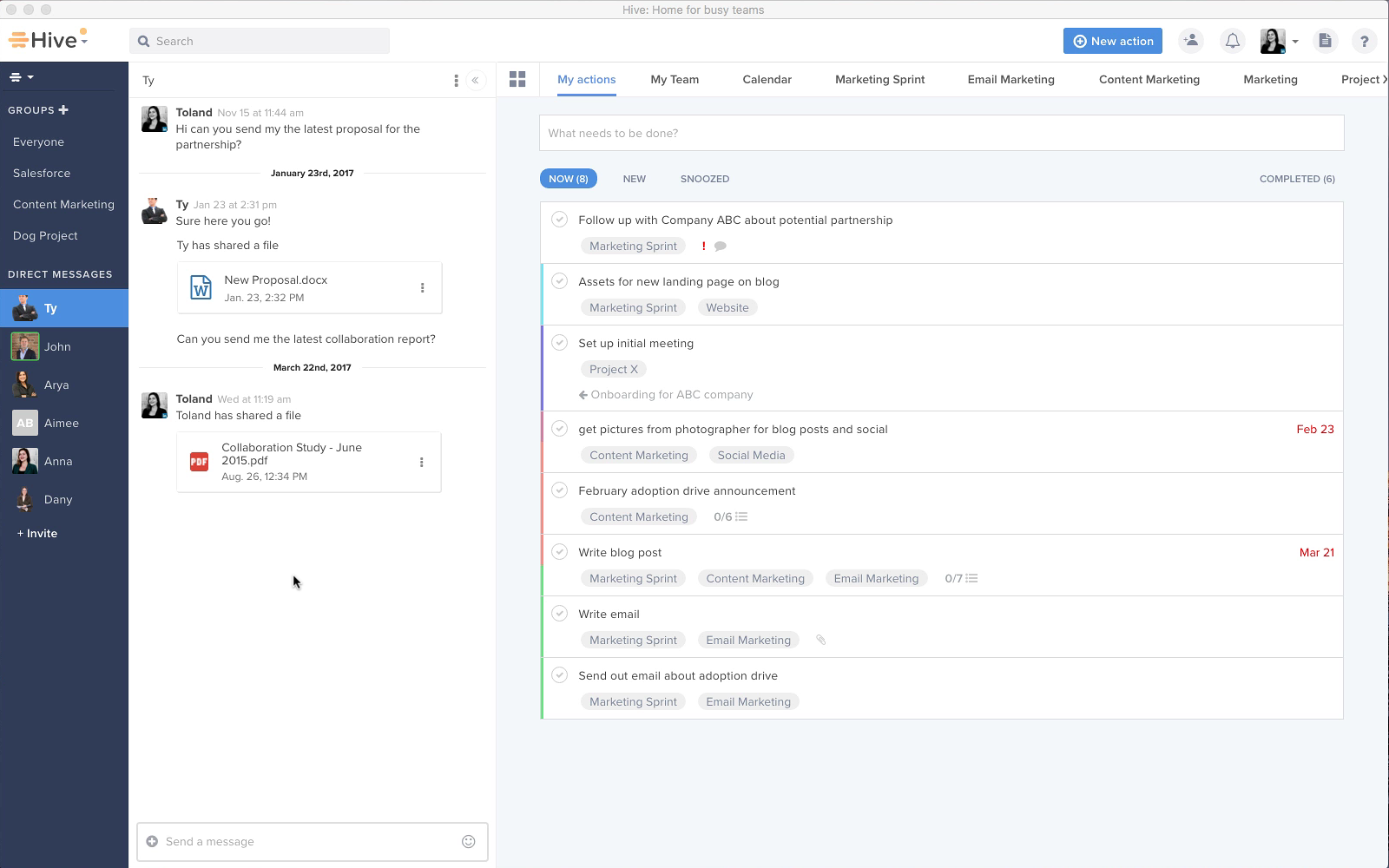 Why you'll love it: Living up to the intuitiveness you expect from high-quality workplace apps, Hive allows you to use the drag and drop action feature instead of retyping messages or emails could shave hours of busy work off your weekly schedule.
Best for:
Managing projects
Organizing and delegating tasks
Streamlining communication
Enhancing productivity

What does it do? The Workstream Slack app brings your favorite project management tools—kanban boards, agile analytics, and task templates—into your Slack environment so you can stay on top of work and also communicate in one place.
View your kanban board as you communicate. Use text commands in Slack to create and assign tasks and manage due dates. If someone reminds you of a meeting follow-up via Slack message, then you can easily turn that message into a task. You can even pull up a complete list of tasks in your channel.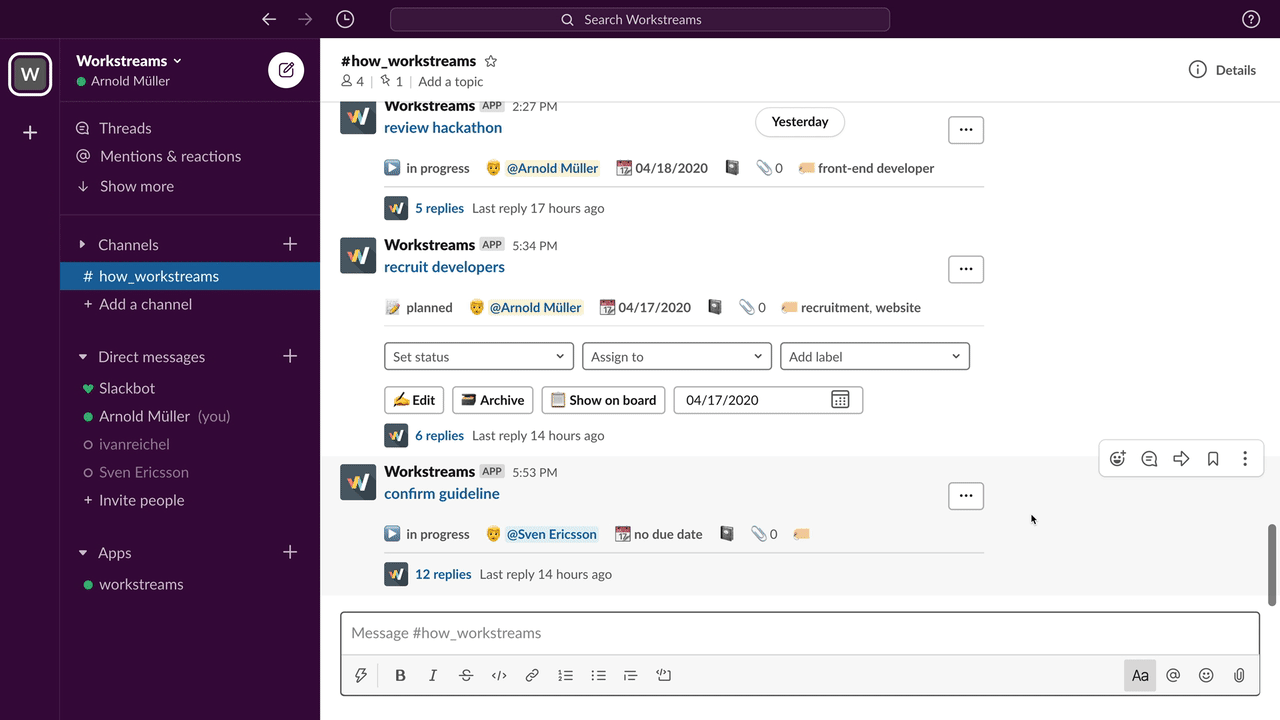 Why you'll love it: You'll love combining handy work visualization tools with communication tools. It's remarkably easy to keep everyone in the loop without even a little confusion.
Best for:
Managing projects
Organizing and delegating tasks
Improving focus
Enhancing collaboration
Working across time zones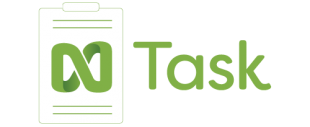 What does it do? The nTask Slack app brings project management and collaboration closer to keep teams organized.
Being a powerful task and project management solution, the nTask app helps you turn your tasks into updates in your Slack channel. It will help your teams to stay in the loop on projects and track progress easily.
In the Slack app, you can directly create and update projects or tasks in the nTask application. Users can benefit from slash commands with just a few clicks and post it in any channel.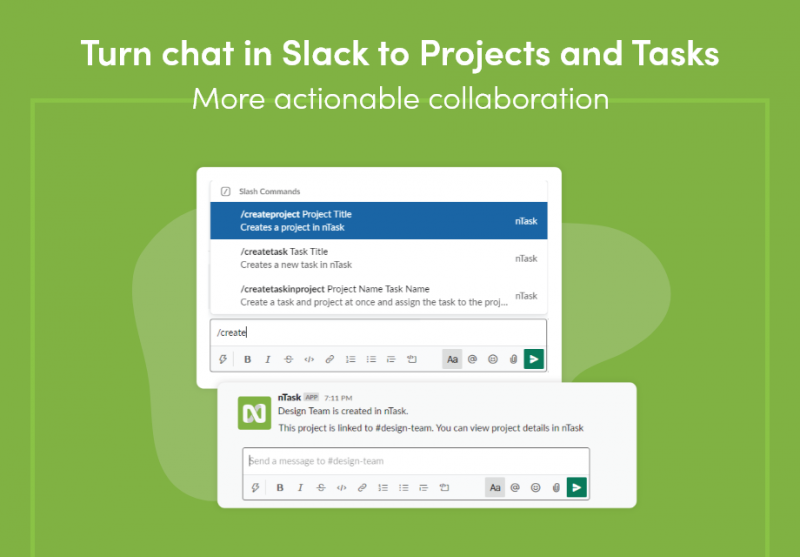 Why you'll love it: You will love the ability to communicate your project updates with everyone in your team, so nothing can slip through the cracks making your projects a success.
Best for:
Improving productivity for your team
Seamless project collaboration
Managing multiple projects on one platform
Task assignment and progress tracking

What does it do? The Teamline Slack app focuses on the most important aspect of business continuity: teams.
Instead of relying on external project management tools, Teamline helps you turn conversations into actionable items. It makes it easy for teams to track tasks and get a big-picture view of overall progress.
From Slack, you can easily convert a message into a task and also assign a deadline. Use text commands or even the lightning bolt reaction emoji to create completely new tasks.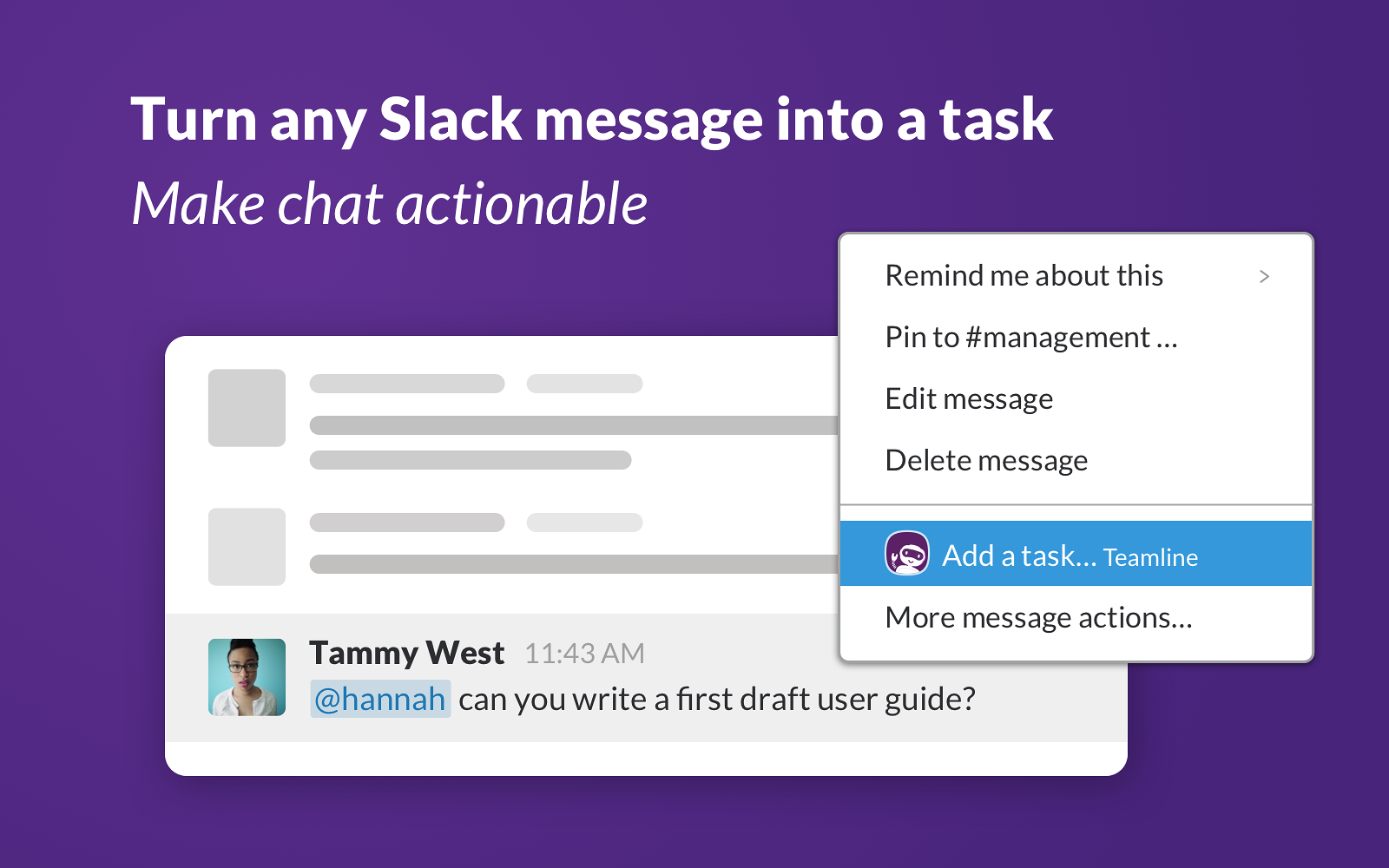 Why you'll love it: It makes managing tasks like a project manager easy for even non-project managers.
Best for:
Managing projects as beginners
Organizing and delegating tasks
Improving collaboration
Streamlining communication
Best Slack Apps & Integrations For Free

What does it do? The Cloverpop Slack app works like your dedicated decision assistant, helping you make, track, and also recall key decisions.
As you're communicating in Slack, simply navigate to the Cloverpop app and then create a simple poll to see how your teammates feel about a decision. You can also request approvals and even search for past decisions to refresh your working knowledge after a break or vacation.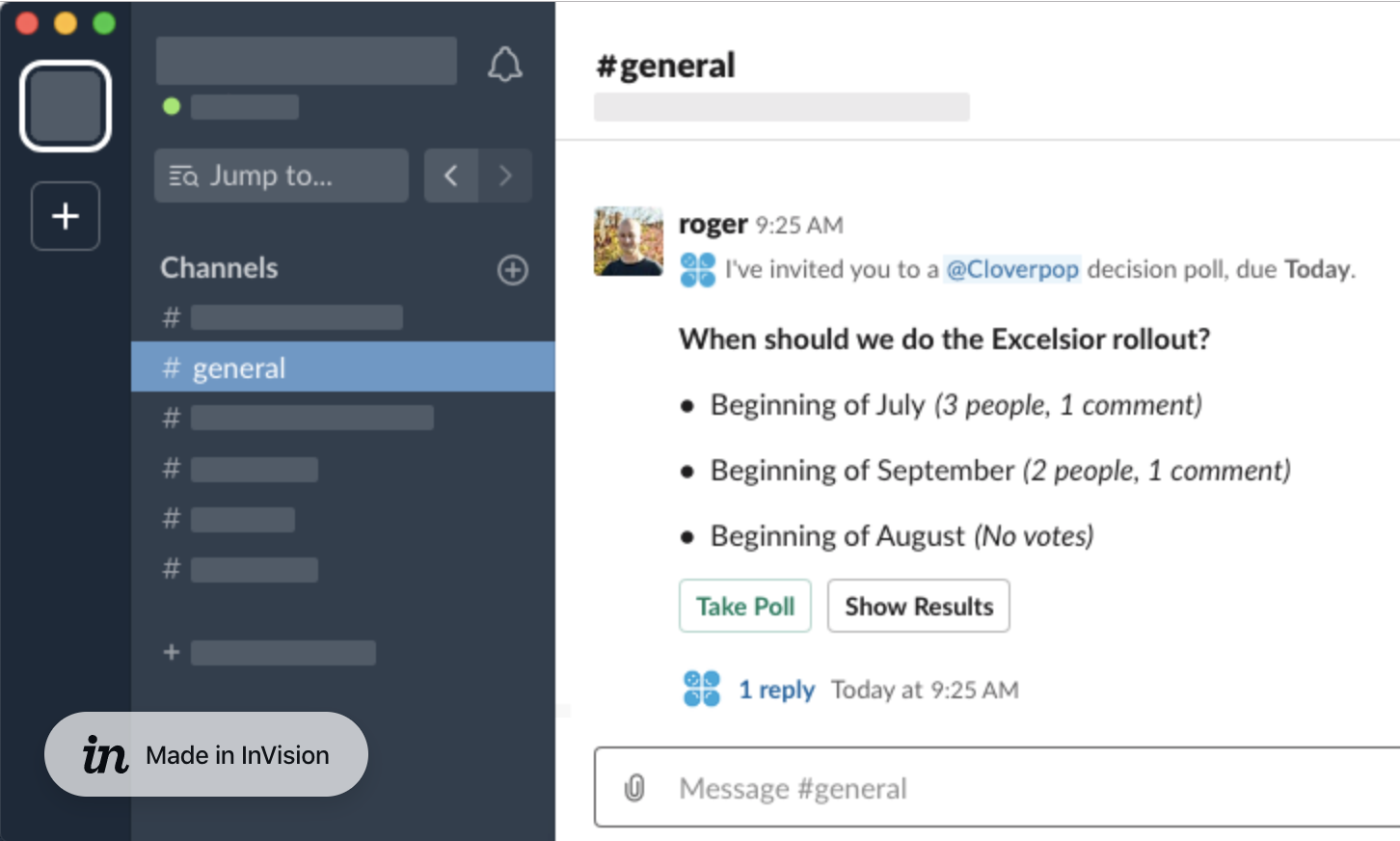 Why you'll love it: This app essentially helps you create a decision knowledge base, giving you a fully transparent and searchable record—a practical Google just for your key decisions.
Best for:
Improving collaboration
Making and tracking decisions
Providing project and task transparency
Streamlining communication
Maintaining business continuity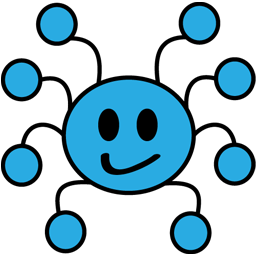 What does it do? The Mindmup Slack app allows you to map your mind—your thoughts and your ideas. You can also share your map to get more understanding and buy-in on your ideas and proposals.
Simply create your mind map in Mindmup and then copy the url and paste it into a Slack channel. Your collaborators will see everything they need to grasp your point.
Why you'll love it: Ideas, especially complex ones, can be hard to articulate. Mindmup's mind maps will help you clearly convey key points about your best plans and concepts.
Best for:
Brainstorming
Enhancing productivity
Developing products or campaigns
Improving collaboration
What does it do? The Loom Slack app helps you explain things—really explain things via explainer videos expertly narrated by you.
Simply create your video in Loom, and when it's ready, send a direct message or a channel announcement to share your knowledge.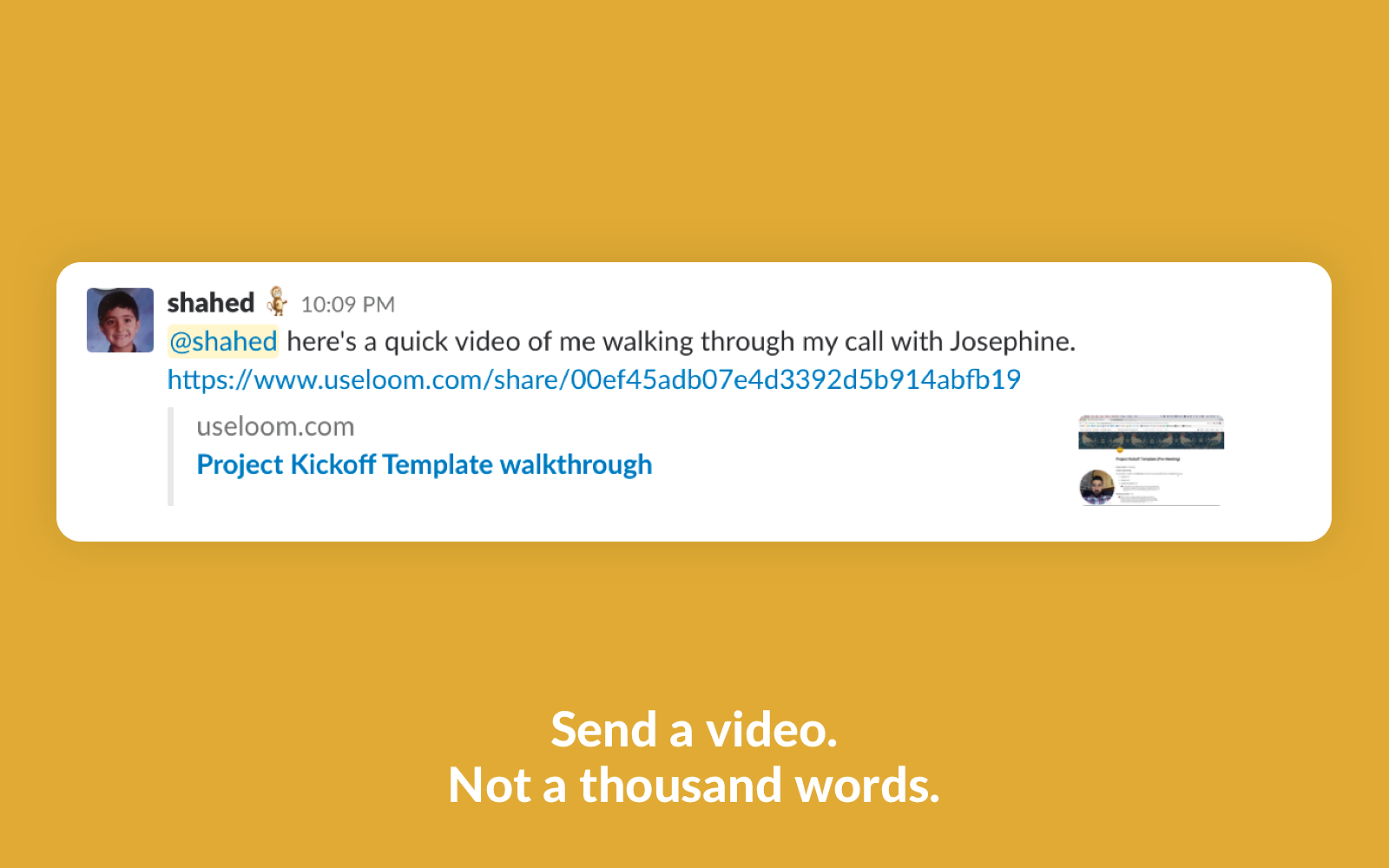 Why you'll love it: You may think you've been explaining things clearly, but creating and narrating your own explainer videos will take your level of clarity to new levels. (These videos work even better than captained screenshots!)
Best for:
Improving communication
Training new and existing employees
Increasing productivity
Best Slack Apps & Integrations For Managers

What does it do? The Tettra Wiki Slack app operates like a shared brain for your team, absorbing and processing knowledge and displaying it for the benefit of all.
Your entire team can easily build your knowledge base using Tettra's simple Slack editor. When you (or anyone else), has a question or wants to see how things have been done in the past, they can use Tettra to find existing posts about their query. As employees switch jobs or go on vacations, their posted knowledge lives on and no one has to start any process from scratch.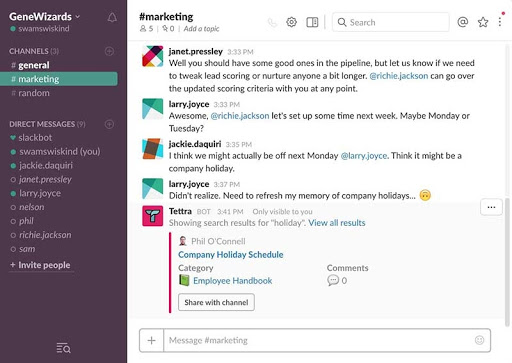 Why you'll love it: The next time you need to figure out how to do something, you can simply search Tettra to find your answer instead of scouring your emails or a complex network of files.
Best for:
Managing processes
Training and onboarding
Sharing knowledge
Maintaining business continuity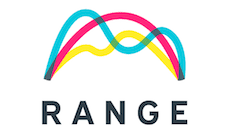 What does it do? The Range Slack app lets you run ongoing status updates with far fewer meetings.
When you and your team log in to Slack, you'll get handy reminders to check in. Then you simply fill in the check-in field with your daily plan, details about what has already happened, and even questions you'd like your teammates to consider. Your entire team can browse already published check-ins to find out exactly what's going on without a single Zoom standup meeting.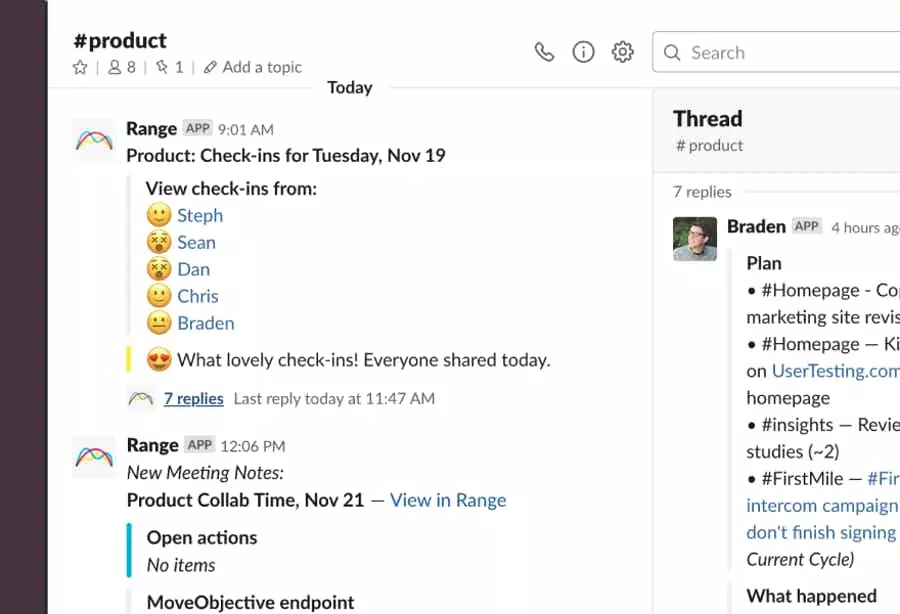 Why you'll love it: Meetings take up lots of time outside the actual meeting. You have to schedule the meetings, create agendas, and make follow-ups. With the Range Slack app, you can easily find out what's going on without any tedious planning on your part.
Best for:
Enhancing company culture
Managing small teams
Optimizing productivity
Improving collaboration

What does it do? The Slido Slack app helps you collect and keep track of your team's questions and ideas, giving you a worry-free way to make sure your whole team has a voice.
When working in Slack, you can use Slido keyboard commands to create a meeting. Everyone else sees the meeting in their feed and can use the button below to ask a question or view questions others have submitted.
You can also use Slido to take and answer questions in dedicated channels, such as an executive leadership or human resources channel. Inviting employees to ask questions creates an "open door" policy more effective than a literal open door. Employees can ask questions from any location and even ask them anonymously.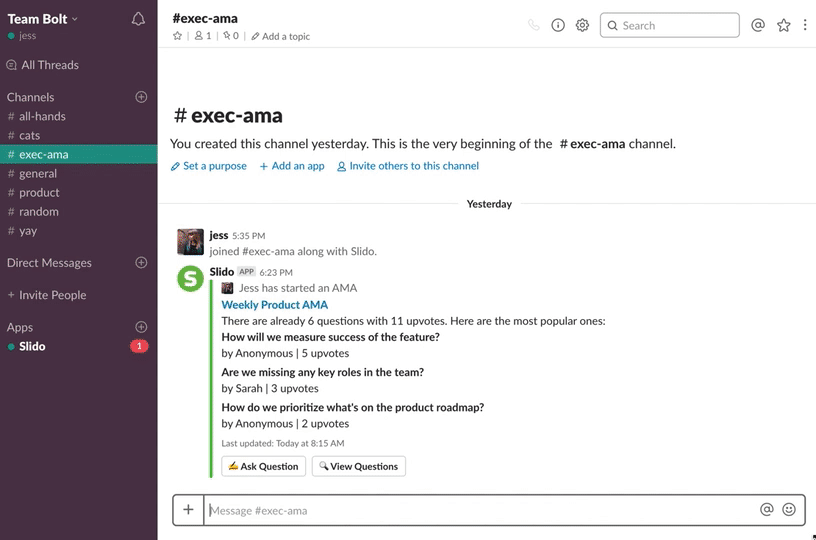 Why you'll love it: Slido will help you run masterful meetings. Thanks to the questions you collected, your meeting can cover exactly what everyone is interested in—no guesswork required.
Best for:
Running meetings
Managing teams of all sizes
Enhancing company culture
Increasing transparency
What does it do? The Assembly Slack add on makes it easy to celebrate anything worth celebrating—a job well done, a supportive co-worker, birthdays, anniversaries, and so much more.
While using Slack, teammates can type a simple keyword command to pull up a recognition form they can customize and deliver right in Slack. You can even set up Slack to send automated messages for anniversaries and other milestones.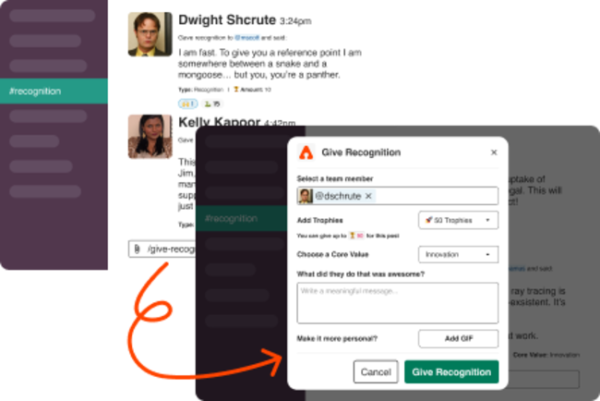 Why you'll love it: You'll be searching for that high five emoji when you suddenly realize you can give more formal, more awesome recognition in seconds thanks to your handy integration.
Best for:
Recognizing your peers
Bonding with your co-workers
Celebrating birthdays
Building strong teams
Engaging employees
Best Slack Apps & Integrations For Fun

What does it do? This fun and engaging slack app offers a suite of games, quizzes, and puzzles to get your team excited before a big day at work or while working remotely.
Trivia introduces real time quizzes and games that bring teams closer together over the shared bonding of knowing interesting facts and being really, really good ( or bad) at puzzles.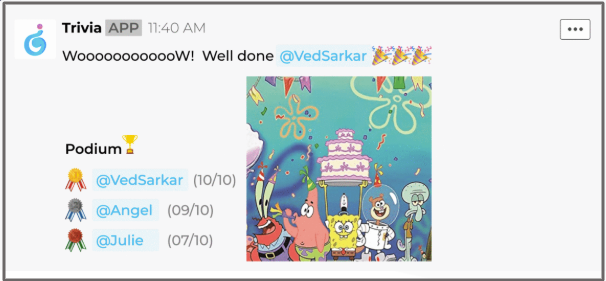 Why you'll love it: You and your teammates will be able to laugh at the crazy things you know about the world. Perfect to spice up the first few minutes of a day or work meeting and engage over a collective goal.
Best for:
Building camaraderie between remote teams
Having some fun at work
De-stressing from a hard day
Boosting your brain skills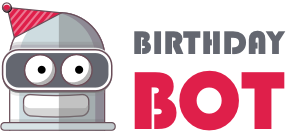 What does it do? The Birthday Bot Slack app will turn you into that amazing, caring person who never forgets an office birthday or anniversary.
Just add Birthday Bot to a channel in Slack, and it will interact with your teammates and create a master list of birthdays. (You don't have to input anything!) Configure the type of reminders you want to receive, and the Slack bot will send you direct messages when someone's big day is coming up.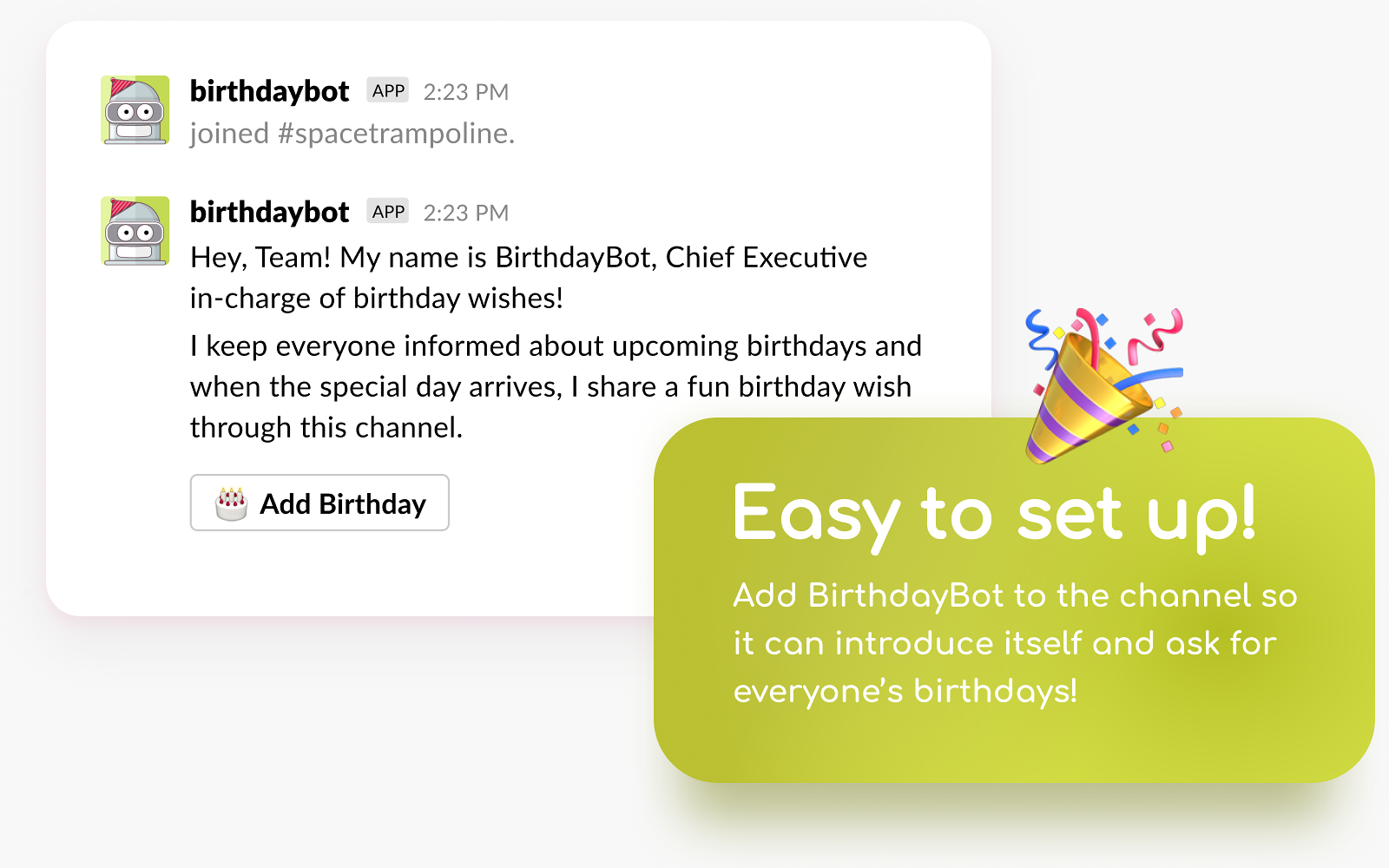 Why you'll love it: You'll love knowing exactly when birthdays are coming. You won't miss those panicked moments of searching through your calendar, trying to figure out if you missed someone's special day.
Best for:
Remembering birthdays and important dates
Bonding with teammates
Building office camaraderie
Enhancing company culture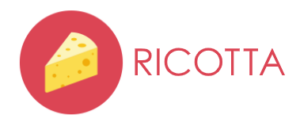 What does it do? Ricotta makes it easy to play asynchronous trivia contests, social games, picture quizzes and ice breakers with your team. Schedule fun trivia contests from a pool of 20,000+ MCQ style questions with 15+ categories like Marvel, Friends, Star Wars etc. with a real-time leaderboard.
With icebreaker games like Would You Rather, 2 Truths and a Lie and social games like Tic-Tac-Toe, Connect4 or Word Building– it's never been easier to bond with your coworkers virtually.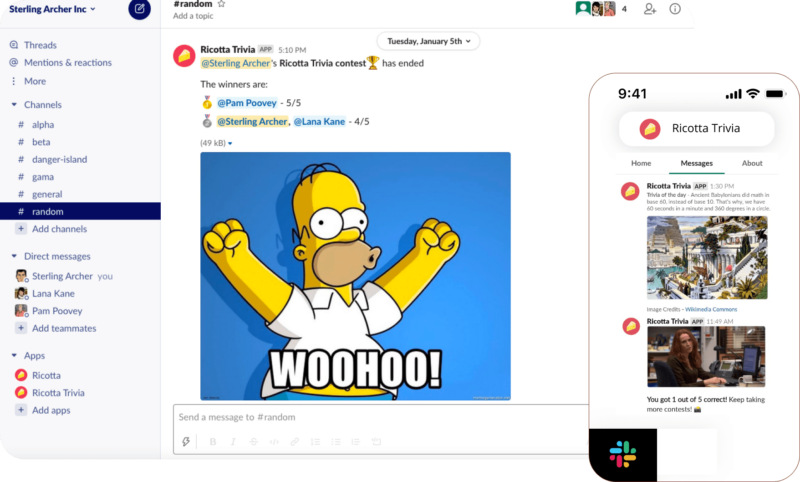 Why you'll love it: It's a whole lotta fun and it's asynchronous! Their games are designed to be fun social activities to turn colleagues into friends.
Best for:
Playing trivia & games asynchronously

Building an amazing team culture

Adding a bit of fun to monotonous work

Creating happier, more engaged teams

What does it do? The Slack Meme Bot app allows users to create their very own memes within Slack.
Simply use Slack keyboard commands to tell Meme Bot the image you want to use and the text you want to overlay. Meme Bot makes your ready-to-share meme instantly.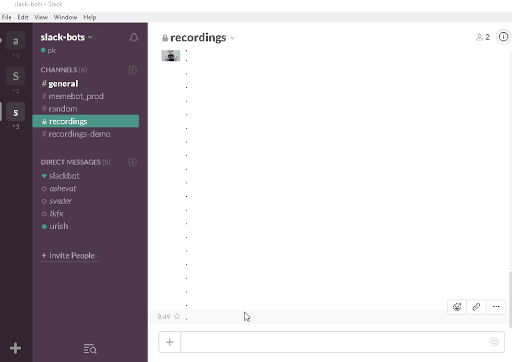 Why you'll love it: You won't have to waste time finding a meme with the right image and text combination to get your point across. (If you've ever spent way too long doing image searches to find the perfect meme, only to discover that it doesn't properly display, then you understand the true value of this app.)
Best for:
Improving collaboration
Bonding with your co-workers
Laughing with your manager and your team
A fun icebreaker for the start of a virtual meeting
Spreading joy

What does it do? The Disco app turns Slack into a landscape for reinforcing values and recognizing your team's contributions.
Use relevant Slack channels to recognize team wins as they happen and also make great work visible across the company. Plus, all your recognition feeds into a kudos channel where anyone can see all the recognition happening across all your channels.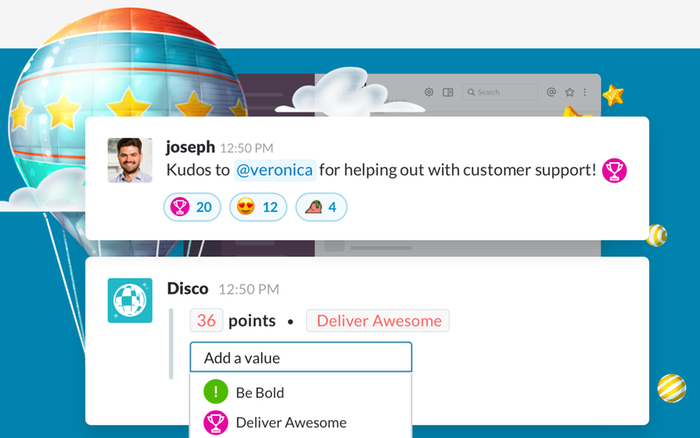 Why you'll love it: You'll love seeing other people in your channel ditto and add onto your recognition. Most of all, you'll love seeing how all this recognition gives employee happiness a major boost.
Best for:
Enhancing company culture
Managing small teams
Optimizing productivity
Improving collaboration

What does it do? The Evergreen Slack integration empowers teams to give recognition that has benefits that spread beyond the office.
Evergreen will plant a tree for every seed of recognition given on your behalf. (They'll also track your carbon offset and showcase stats so you can see how much recognition and trees your team has nurtured.)
From the Slack interface, simply use a shortcut or keyboard command to give recognition in seconds. You can even create a separate Slack channel that showcases all the latest recognition buzz across your team.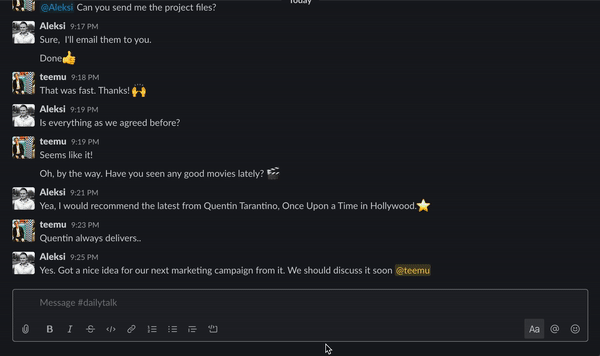 Why you'll love it: Recognizing people for their hard work feels great. Knowing that you're also helping plant trees while making teammates happy feels absolutely blissful.
Best for:
Recognizing peers
Spreading good vibes
Improving environmental awareness
Bonding with coworkers
Building strong teams
Best Slack Apps & Integrations For Health & Wellness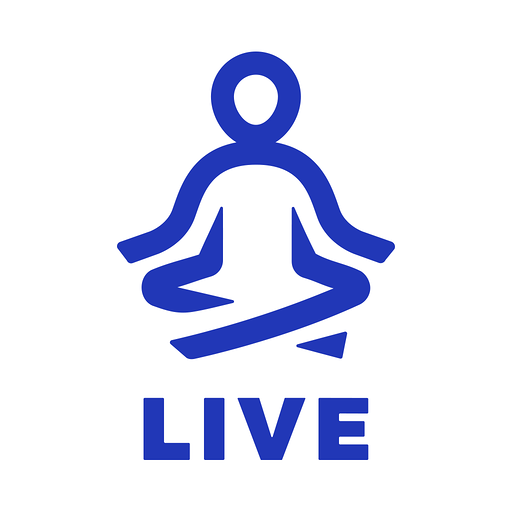 What does it do? The Meditation.live Slack app enhances your remote work days with feel-good zen vibes.
Through a Slack channel, the Meditation.live app will send your team daily inspirational quotes and links to mindfulness meditations.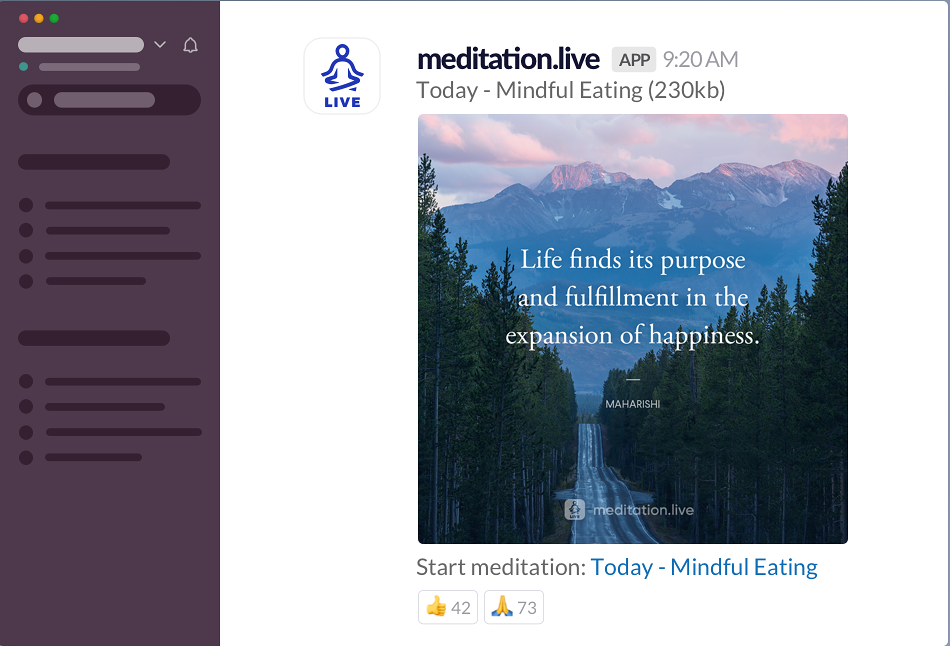 Why you'll love it: It makes doing a little something with big benefits as easy as possible. You don't have to search for meditations; the app sends them directly to you in Slack.
Best for:
Enhancing productivity
Improving wellness
Reducing stress
Bonding with your co-workers

What does it do? The Gratitudely Slack app makes gratitude a daily habit for you and your team.
Simply use a dedicated "gratitude wall" Slack channel to post gratitude, even just one sentence. The Gratitudely app then finds the perfect image to pair with the gratitude and create an image with overlaid text so the wall looks both grateful and beautiful.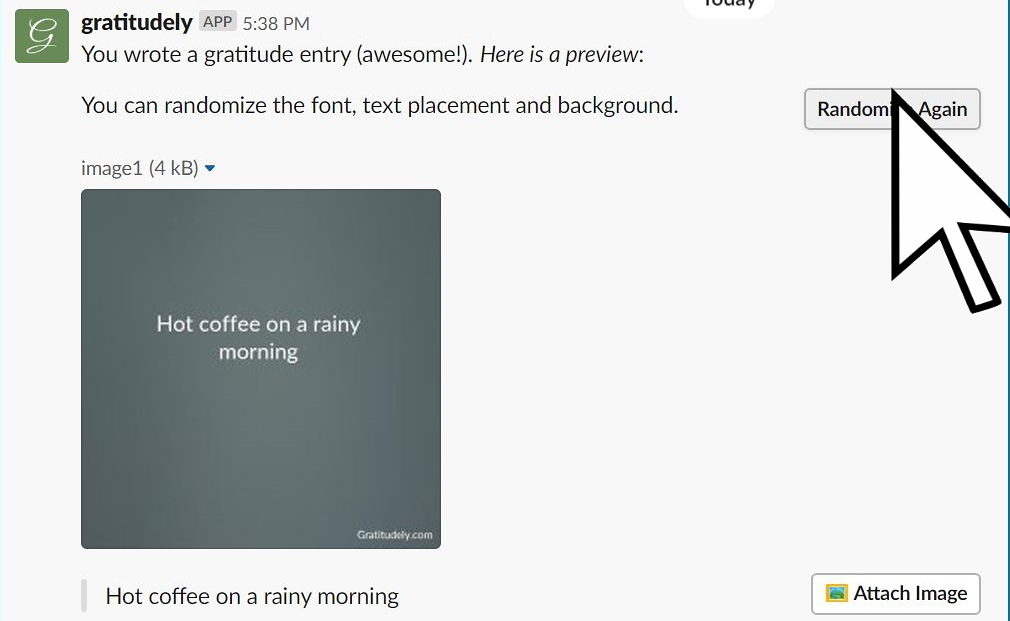 Why you'll love it: Your gratitude wall will become a virtual happy place that never fails to make you smile. Whether you're reading what makes others grateful or posting your own gratitude, the end result feels joyful and enriching.
Best for:
Reducing stress
Improving wellness
Bonding with co-workers
Enhancing company culture

What does it do? The Slack Pushupbot acts like your team's personal fitness coach, encouraging and reminding you to stay active.
The Pushupbot works within a dedicated Slack channel. It will remind you to get active and also help you track your own goals, activities, and progress. For example, if you post an activity, the chatbot will follow up with a private message to get more details about your activity. It's motivating and helpful tracking you can enjoy without leaving Slack.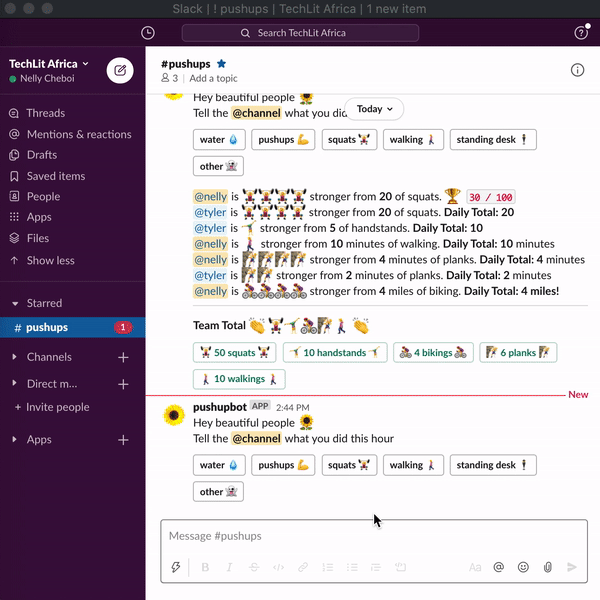 Why you'll love it: Reminding yourself to get out and move around doesn't always work. Pushupbot adds a motivating, personal trainer-esque urgency to fitness reminders.
Best for:
Improving wellness
Supporting and bonding with co-workers
Tracking fitness goals
---
People Also Ask These Questions About The Best Slack Apps
Q: What are Slack apps?
A: Slack apps are usually third-party software programs that integrate into the Slack interface, letting you add layers of capabilities and functionality to your Slack experience. For example, a Slack app for polling will allow you to launch and field polls within Slack instead of using a separate tool.
Q: Why are Slack apps important for remote teams?
A: Slack apps are important for remote teams because they add more functionality to Slack—the communication hub that often serves as a de facto office for distributed teams. Using Slack apps, such as the ones featured here, remote workers can create mind maps, narrate explainer videos, track decisions, and more.
Q: What are the benefits of using Slack apps?
A: The benefits of using Slack apps include centralizing management, finding cost effectiveness, and countering inbox fatigue. This post features a variety of Slack apps that benefit your work by providing everything from invoicing tools to resources for employee recognition.
Q: What are the best Slack apps for remote teams?
A: The best Slack apps for remote teams include Monday.com, Toggl Plan, and Favro. This article lists the best Slack apps for remote teams and outlines what they do best.
Q: What makes a good Slack app?
A: A good Slack app makes work better. Good Slack apps bolster process management, enhance team communication, organize tasks, and bring teams closer together.
Q: Where can I find the best Slack apps to install?
A: You can find the best Slack apps to install in this roundup of Slack apps. The apps in this list can enhance productivity, reduce stress, automate collaboration, and more.
Q: Are there free Slack apps?
A: There are free Slack apps you can install, including Cloverpop, an app for tracking decisions. Decide exactly what Slack apps are best for your work by reviewing the options here.
Q: How do I manage apps in Slack?
A: To manage apps in Slack, simply log in to your workspace, navigate to the menu, select Administration, and then select Manage apps. From there, Slack's intuitive Manage apps section makes it easy to configure all your integrations.
Q: What are Slack integrations?
A: Slack integrations are a way to connect your Slack workspace with other apps and services that are used daily. By using the best Slack integrations, you can get notified about activity in the other app without having to leave Slack. Plus, you can take action on that activity right from Slack without disturbing your workflow.