Humans hate sitting still. We're always looking for the next excuse to move, the next move to make, or the next trip to take.
Knowing this, it should come as no surprise that we've been trying to get our work to be as mobile as we want to be since the moment computers got small enough for us to wonder if we could just pick them up and take them out of the office – enter the workplace app.
Hey! Here are a few workplace apps that help teams of all sizes:

We started out on a light jog toward work mobilization with the first technically portable, although terribly clunky, laptops and cell phones invented in the 1980s.
The advent of the internet in the 1990s sent us into a full-on sprint toward work without borders, triggering the design of streamlined devices for more efficient and more connected mobile work.
Those devices grew even more streamlined year after year. In just a handful of years, we graduated from lumpy palm pilots and Blackberries to sleek connected cellular devices.
I mean…just look at how far we've come…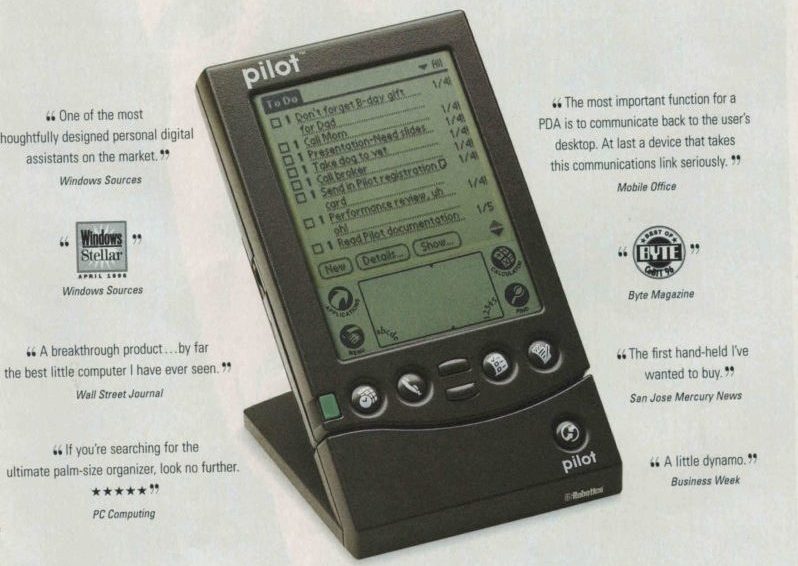 The latest innovations in this journey — multifunctional workplace apps — enhance and optimize how we do mobile work. Increasingly digital workplaces have made the development, growth, and use of apps of all kinds skyrocket. By some estimates, mobile app revenue in the United States alone has spiked from around $97 billion in 2014 to around $582 billion in 2020. From 2019 to 2020, people downloaded about 250 million apps each day.
Before we hop into our list of the best workplace apps for 2023, let's answer the first question you might be asking yourself…
What are workplace apps?
Workplace apps (short for applications) are programs you can install, use, and sync across all your devices to do work, and anything else you need to do, practically anywhere.
These new apps let you take part of your workplace everywhere you go. Some help you collaborate with teammates distributed across the world. Others allow you to gather virtually for events. In short, with workplace apps, you can do from anywhere a range of things you could previously do only in person.
Browse the list below to find a variety of workplace apps that will save you time, clear your head, and improve your work. They all have the potential to help in-person, remote, and hybrid companies create the thriving, interconnected, agile work ecosystems of the future.
Want to become a better professional in just 5 minutes?
Page Contents (Click To Jump)
Workplace Software: Recognition & Appreciation Apps
Build an enduring culture of recognition!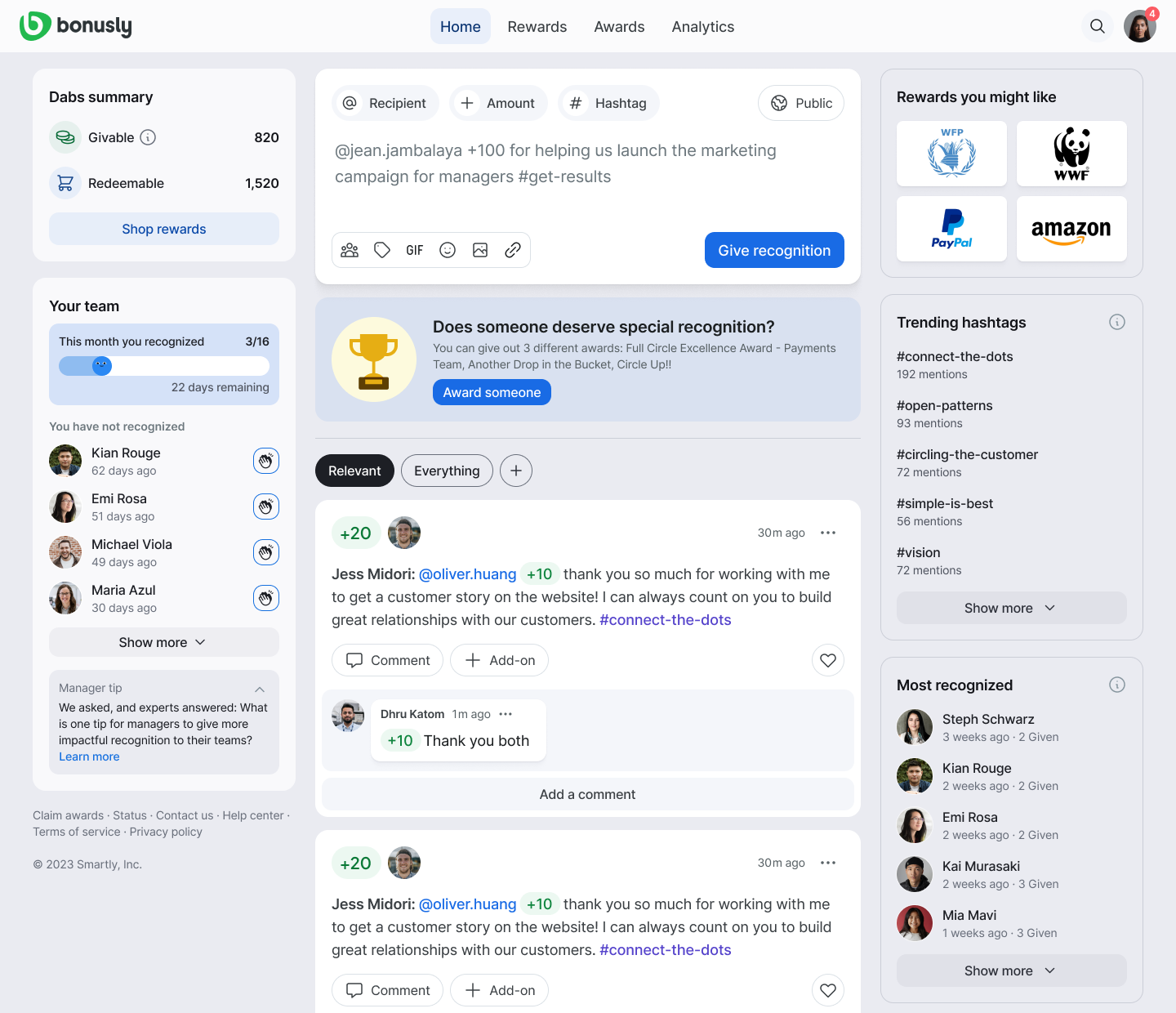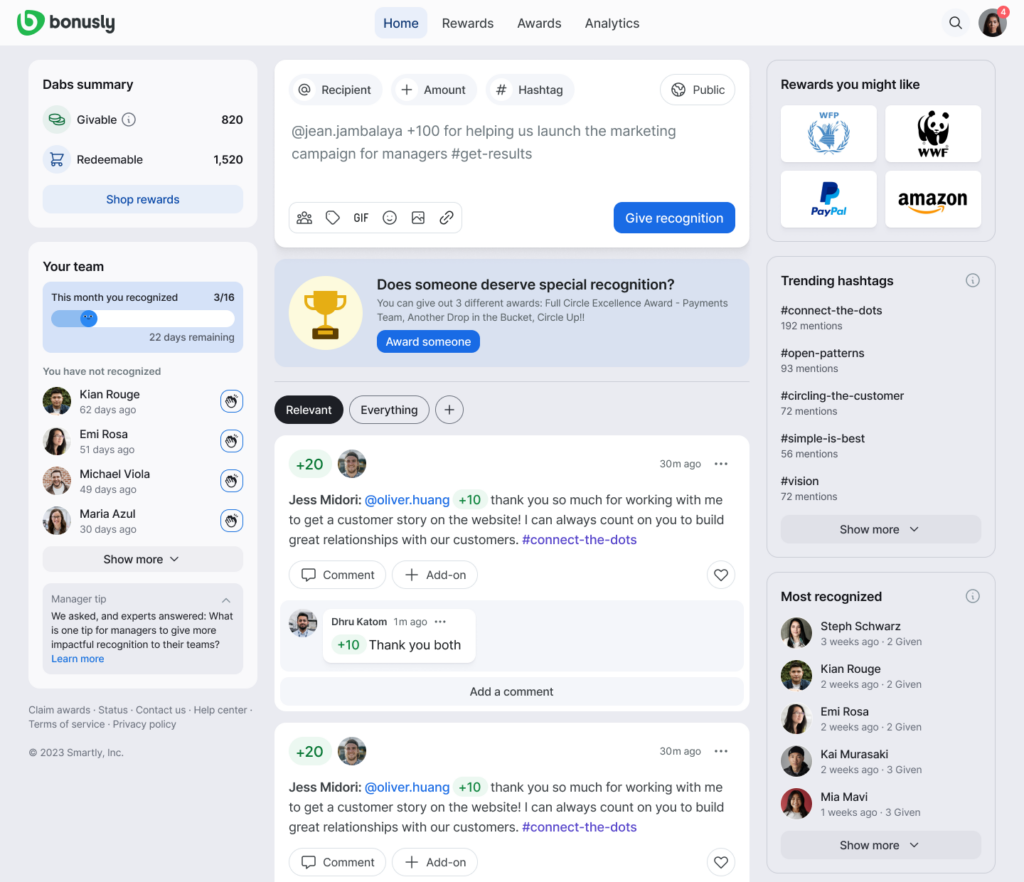 Bonusly is an exceptional team productivity tool meticulously crafted to elevate employee engagement, boost morale, and revolutionize recognition in the workplace. With its primary focus on facilitating peer-to-peer recognition, it incentivizes team members to appreciate and celebrate each other's accomplishments and contributions.
By cultivating a culture where employees feel truly valued and acknowledged, it paves the way for heightened motivation, seamless team collaboration, and ultimately, amplified overall productivity.
Key Features
Curates a vast global catalog filled with an abundance of brands to encourage employees to select rewards that truly resonate with them
Public recognition feed makes it easy to see what is going on at your organization
Engagement statistics make it possible to gain valuable insights into team performance and engagement levels
The WOM on Bonusly:
"We are immediately notified when someone new joins the community, when their work anniversery is, etc. We are able to see in real time the recognition being passed on to others. We also get to add points on someone else posts that we agree deserves the recognition."
Pricing/Plan Details: Starts at $3 per user per month.
Explore this workplace app: Bonusly
---
Create the people-first culture of your dreams.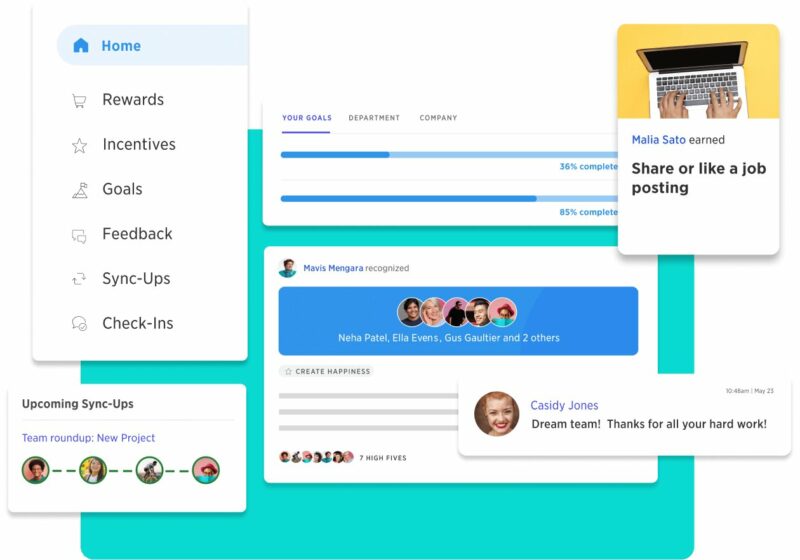 WorkTango is a groundbreaking team productivity tool that places employee feedback at the forefront, igniting engagement and driving performance. With its robust platform, businesses gain invaluable insights into their workforce, capturing sentiment, gauging engagement levels, and identifying areas for growth.
This workplace management app empowers organizations to make informed decisions based on data, elevating workplace culture and supercharging team productivity. You can also utilize their employee feedback and survey features to learn from your workplace and identify areas your team can improve on.
Key Features
Enables convenient and regular assessments to capture the sentiment and viewpoint regarding particular subjects or occurrences
Employees have the opportunity to share open and honest feedback while keeping their identity confidential
WorkTango provides you with valuable insights into the company's employee engagement and sentiment helping managers identify areas for improvement
The WOM on WorkTango:
"I absolutely love this software. I enjoy being able to give points to my coworkers when they've really helped me. I think it is a great way to boost morale around the company."
Pricing/Plan Details: They offer a variety of tiered plans with a minimum annual contract agreement
Explore this workplace app: WorkTango
---
Launch a long-term cycle of organic positivity.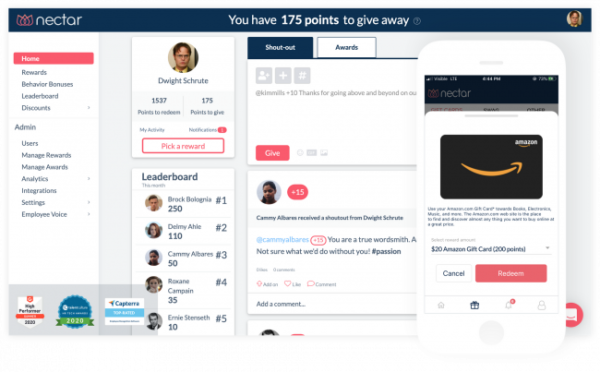 This platform, the ultimate employee engagement software, creates a thriving recognition "happy place" for your team. It allows users to distribute rewards and recognition, and it also features a social media style feed that spotlights good work and core-value alignment. As more people see the feed, more people dole out recognition, and the cycle of goodness just continues getting better and better from there.
Key Features
A centralized dashboard that creates transparency, buzz, and enthusiasm
Integrations that make it easy to connect across other platforms
Challenge features that rally employees around specific goals
The WOM on Nectar:
"I've used other employee-recognition platforms in the past, and I've got to say that Nectar's is by far the best. The experience is intuitive, the platform is sleek and easy-to-use, and it has all of the features that one would want and need. It makes saying thanks to colleagues meaningful & more public (we all know we want that). Plus they include some awesome gifts, points, and swag that you can gift. And lastly, it's a great way to automated reminders for birthdays, work anniversaries, and events especially since I'm such a forgetful person. I highly recommend Nectar!"
Pricing/Plan Details: Starts at $0/month. Get started here.
Explore this workplace app: Nectar
Workplace Software: Productivity & Collaboration Apps
Where organized teams connect and collaborate.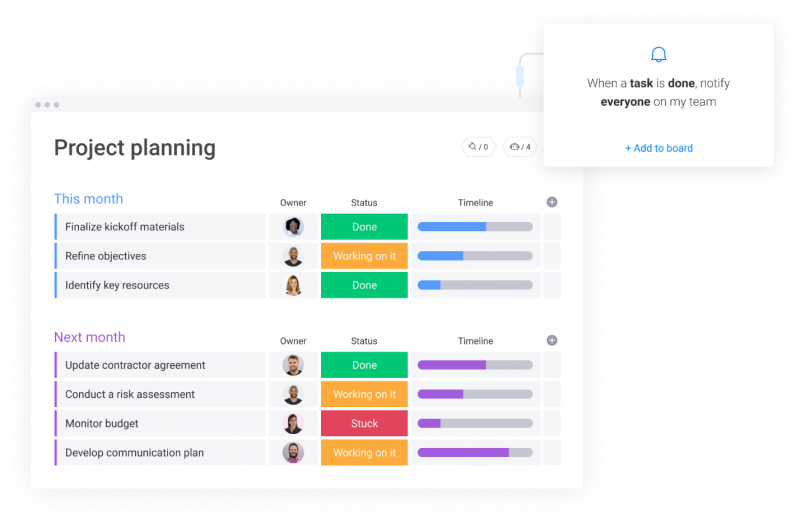 Where does remote work happen? Before monday.com, you might have found it difficult to answer that question.
monday.com is the answer; it's the place where work, including remote work, happens.
It's a platform where you and your team — regardless of your physical location — can collaborate on all your important projects together and in real time. See workflows and key metrics, share and comment on ideas, and so much more. Use it for tons of different high-priority work, including office management, workflow management, and executive assistant work.
Key Features
Customizable boards that offer flexible project views
Automations that save tons of time and stress
Integrations that allow you to connect with all the data you need
The WOM on monday.com:
"monday.com is an excellent tool because it is very flexible about the way you can display your tasks and visualize them. You can customize according to your needs and the methods adopted for your team. It is also suitable for notifying new events and informing about deadlines."
Pricing/Plan Details: Plans start at $8/per seat/per month. Get a free trial here.
Explore this workplace app: monday.com
---
Optimize your organization's workflows.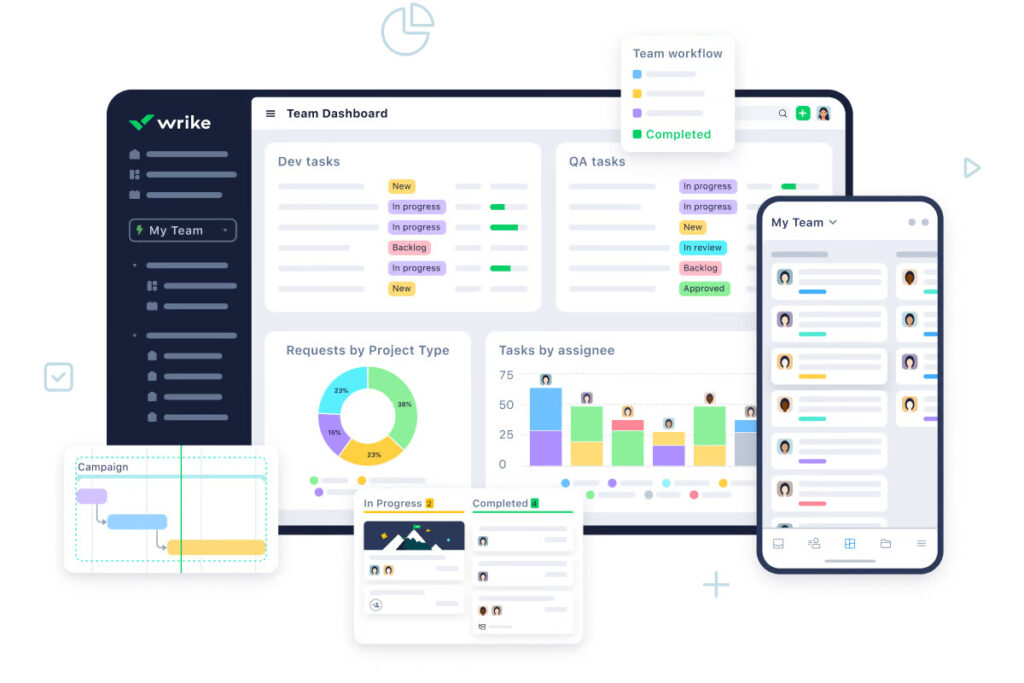 Wrike is an end-to-end project management solution designed to take team collaboration to the next level. With its centralized hub for project tracking, team communication, and resource management, Wrike empowers businesses of all sizes to stay aligned, keep projects on track, and achieve objectives with ease and efficiency. It might take some time to get your entire team onboarded, but once you have set up a system that works for you — this can be one of the most powerful apps in your workplace tool kit.
Key Features
Specialized task features help you create, assign, and track tasks, complete with priorities and deadlines
Get a visual timeline for your projects, helping you schedule efficiently and identify potential bottlenecks
Team members have the ability to collaborate on documents and tasks in real-time, which leads to a significant reduction in communication lag
The WOM on Wrike:
"It was extremely helpful having someone to walk my entire team through the onboarding process. It has been easy to manage and we are able to use some of the request forms for our entire internal team. Each department within our Marketing organization has been happy with Wrike. Also, love that I can add my personal tasks to my dashboard that only I can see so I can have everything organized."
Pricing/Plan Details: Free, Teams, & Business plans are available based on your organization's needs
Explore this workplace app: Wrike
---
Sync up with your team's hopes and dreams.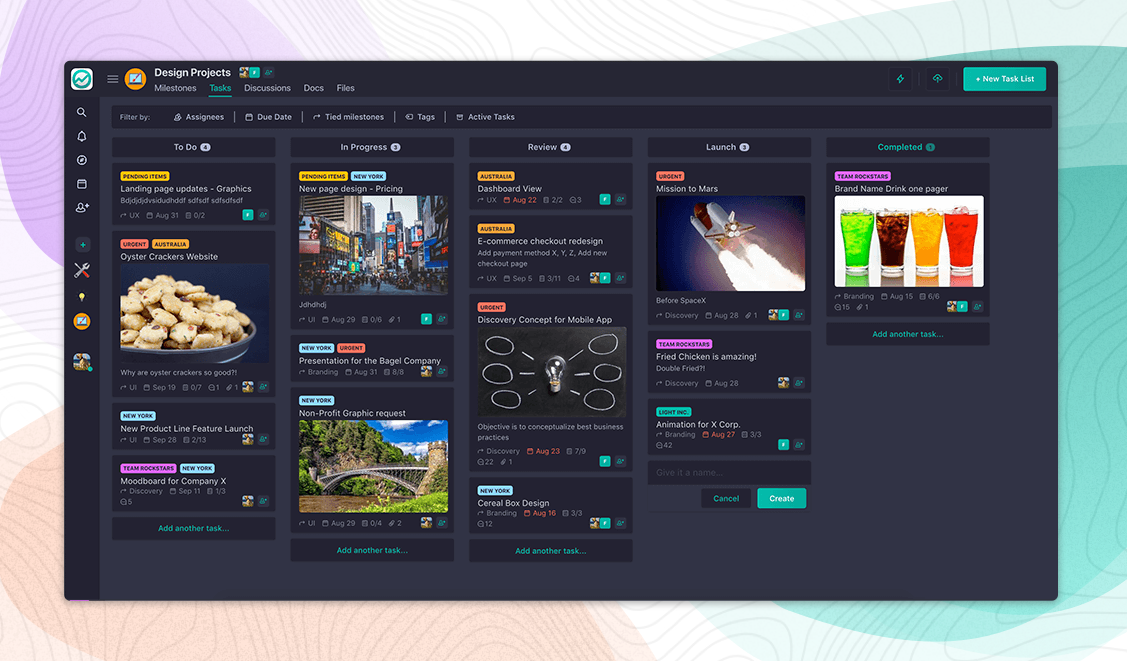 You could call Nifty a "goal facilitation platform." It helps teams make sure the work they're actually doing is aligning with the goals and milestones they've set.
Toggle between time-tracking features and milestone checkpoints (Gantt charts) to quickly get that invaluable sense of understanding where you stand in terms of tactical to-dos and also long-term visions.
Key Features
Visual timelines that help you keep track of progress and wins
A variety of views that make status check-ins easier than ever
Workload views that help you balance and delegate work
The WOM on NiftyPM:
"I simply love Nifty. It is my day to day management tool and makes my life so much easier. I would say is something in between Trello and Asana. It is more much more advanced than Trello but keeping it's simplicity and has pretty much the same features than Asana but with a better UX."
Pricing/Plan Details: 'Free forever' plan for up to 2 projects. Paid plans start at $39/per month. Get a 14-day free trial here.
Explore this workplace app: Nifty
---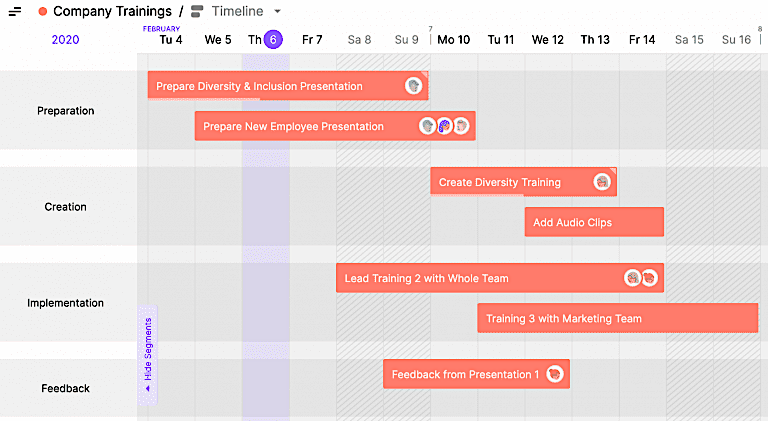 Toggl Plan is a platform that allows you to manage your time with the same drag-and-drop simplicity you love in other online collaboration platforms.
Just enter all your work and then take a step back. Look at how everything fits together and interacts together. Easily make changes before you get to work and also as you work, as deadlines, goals, and project details change.
Key Features
At-a-glance views that keep everyone in the loop
Drag-and-drop boards that make it easy to stay flexible
Real-time updates that keep everyone informed
The WOM on Toggl:
"Very intuitive software which is something that is important to me. Just decided recently to check this out when I saw it advertised and it's a very nice software and very easy to use. Essentially just a calendar app that allows you to share with other people."
Pricing/Plan Details: Plans start at $8/per user/per month. Get a 14-day free trial here.
Explore this workplace app: Toggl Plan
---
Make shuffling work as easy as shuffling cards.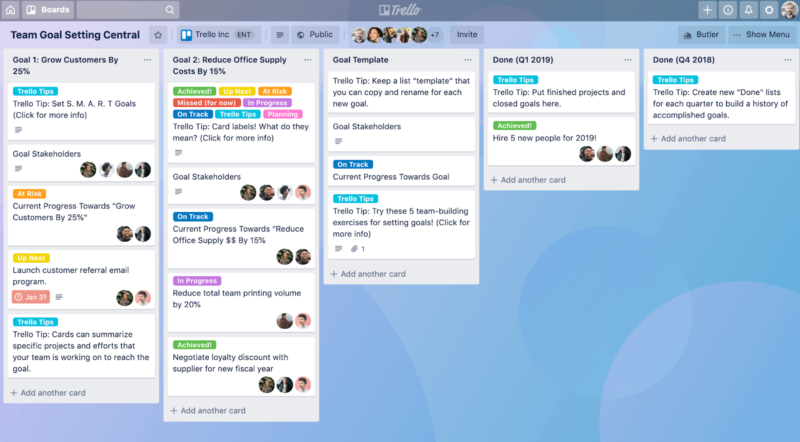 Trello is an affordable, easy-to-use interface for classic card-style kanboard boards. Absolutely anyone, even those with zero experience in the kanban task management style, can create, share, collaborate on, and update boards without requiring training or instruction. (That's why it stands out among similarly affordable project management alternatives.)
Key Features
Automations that reduce repetitive task loads
Cards that expand to reveal layers of information
Assignment and deadline tagging to connect people to work
The WOM on Trello:
"We use Trello for planning, project tracking, task allocation and tracking, order management, brainstorming, goal-setting… it is a versatile software I am usually recommending to everyone who needs something like this. In fact, many people I know are now loyal Trello users."
Pricing/Plan Details: Plans start at $0/per month. Find pricing details here.
Explore this workplace app: Trello
Workplace Software: Team Culture Apps
Work events should never feel like work.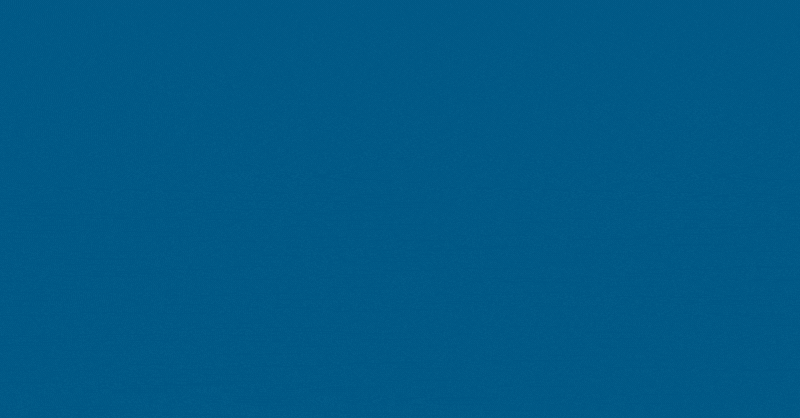 One of our favorite virtual team building resources, Outback Team Building makes providing engaging activities as easy as providing workplace snacks. The hardest thing you'll have to do is choosing just one activity from the extensive selection of in-person or remote activities featured on their website. After that, Outback handles everything else so you can take a deep breath and savor the priceless moments of bonding with your team.
Key Features
Dedicated event coordinators that help run events
Virtual and in-person options
Expert consultations that produce the best-possible event
The WOM on Outback:
"We have had a great experience with all of my contacts at Outback from booking to execution. Our event facilitator was wonderful and all who attended raved about how fun the event was."
Pricing/Plan Details: Pricing varies depending on events. Talk to Outback to get more details.
Explore this workplace app: Outback Team Building
---
Fun that also fuels your high-powered team.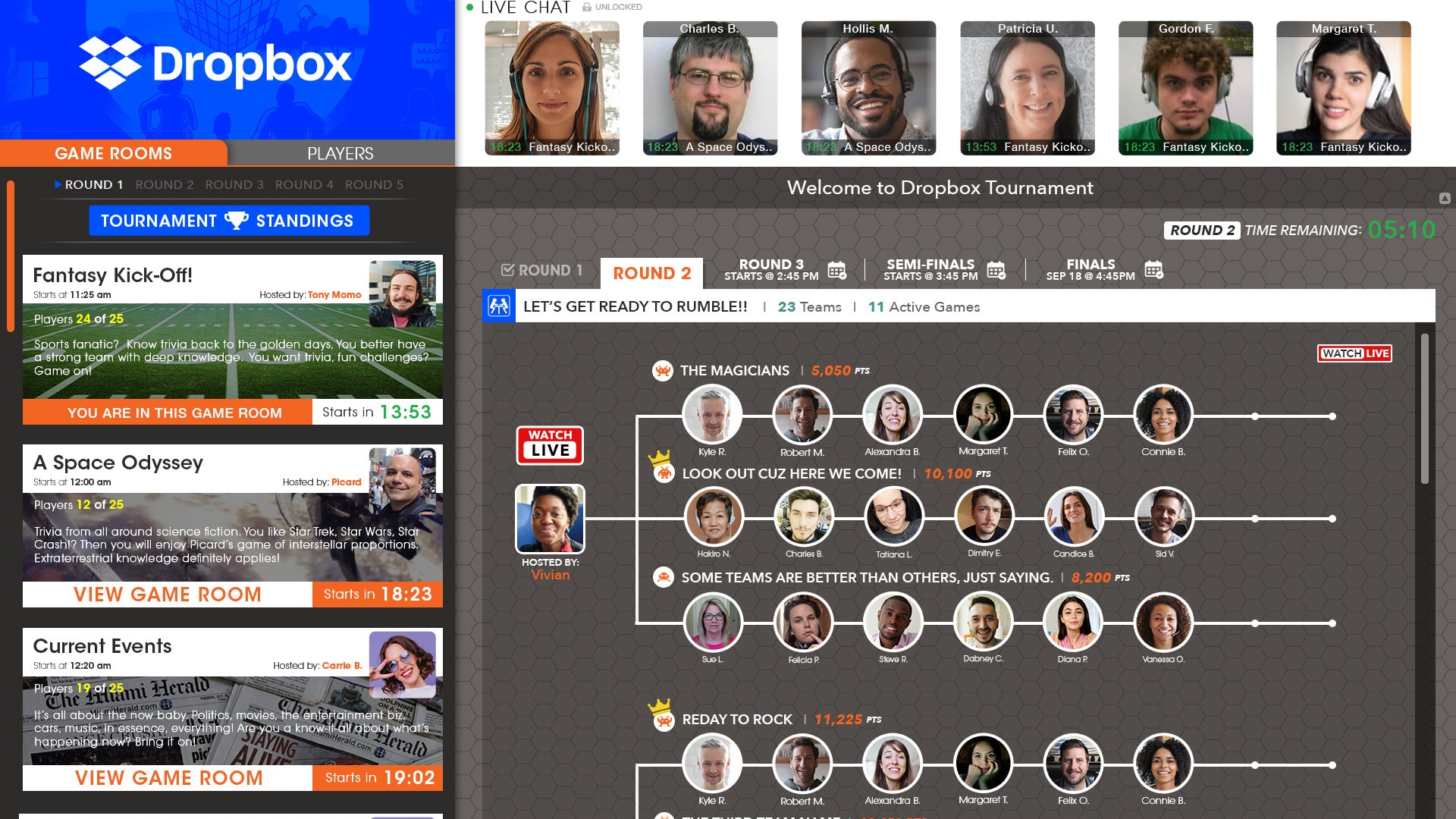 The Go Game specializes in delivering experiences that aren't just fun, but are also fulfilling. Their strategically designed virtual sessions show attendees a good time while also nurturing communication, creative thinking, and problem-solving skills. By the end of each event, employees will be grinning while also feeling connected and reinvigorated for their next challenge.
Key Features
Game hosts that are dedicated to your event's success
Customization features that let you create your very own event
3 game-play modes that provide exactly the experience you want
The WOM on The Go Game:
"GoRemote is like a virtual portal of joy."
Pricing/Plan Details: Subscription plans start at $3.40/seat/month. Finding pricing details here.
Explore this workplace app: The Go Game
---
For teams that take fun seriously.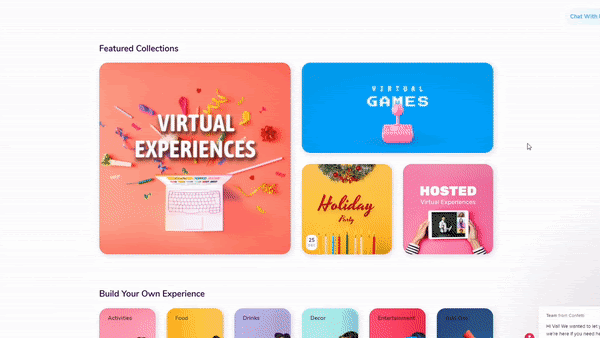 Confetti's user-friendly platform makes it easy to find exactly the event you're looking for. You can browse curated collections of activities by differentiating features, including group size or price point. You can even filter only the options with shippable, tactical components, such as watercolor paints and cookie ingredients.
Key Features
Instant price quotes based on your event type and expected attendance
Enterprise package options that save you time and money
Invitation features to make event communication seamless
The WOM on Confetti:
"Our events with Confetti have been awesome! Their vendors are always knowledgeable, flexible and organized."
Pricing/Plan Details: Pricing varies depending on events. Sign up to get a custom proposal.
Explore this workplace app: Confetti
Workplace Software: Recruitment & Onboarding Apps
Your match-making service for skilled human resources professionals.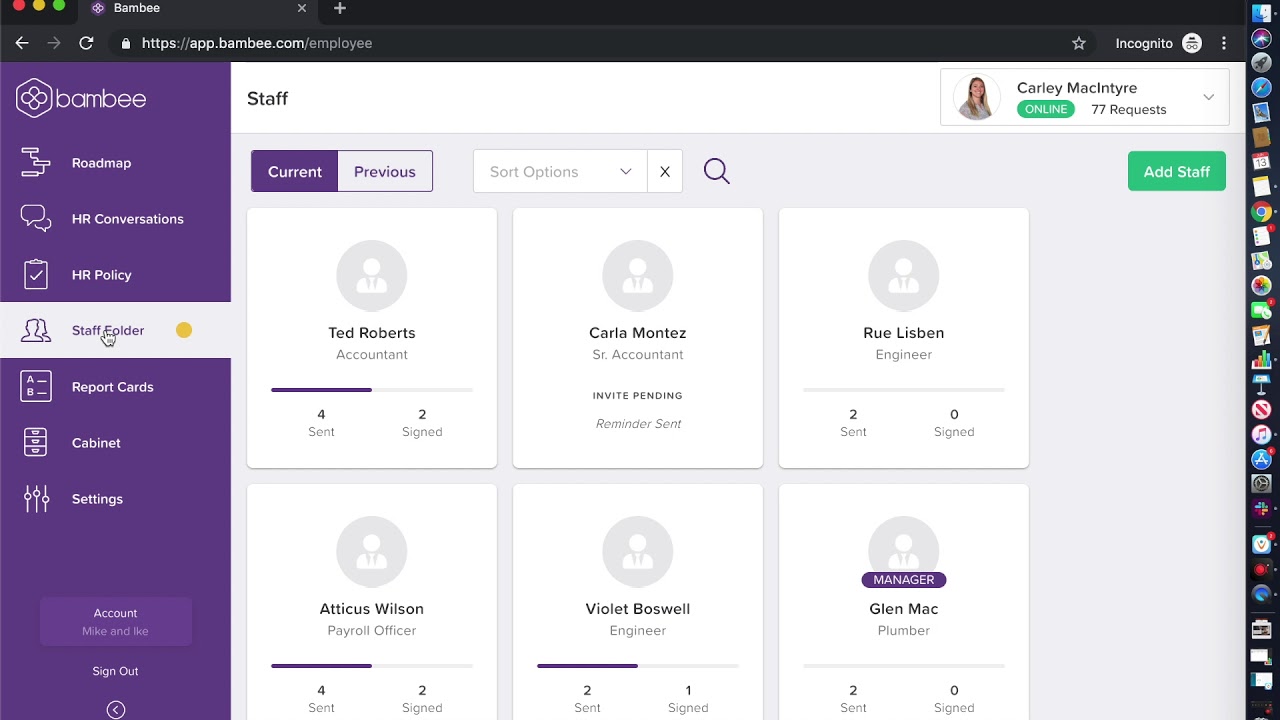 Bambee is an HR outsourcing service that listens to your needs and then matches you with an HR guru who has the precise skill set you need right now. One of their skilled HR professionals can help you take your company to the next level, whether you need help developing policies, understanding and complying with regulations, and so much more.
Key Features
Real-time chat that lets you get help whenever you need it
A dedicated platform that streamlines HR process management
Advanced record-keeping tools that help you maintain compliance
The WOM on Bambee:
"We had an HR contract who was hiring lawyers to deal with compliance issues in California. We replaced both of them with Bambee. They have helped us become far more compliant in over 20 states and have helped us develop a multi-state compliant employee handbook (and this was no small task!)."
Pricing/Plan Details: Plans start at $79/month. Finding pricing details here.
Explore this workplace app: Bambee
---
The intuitive human resources platform designed for humans.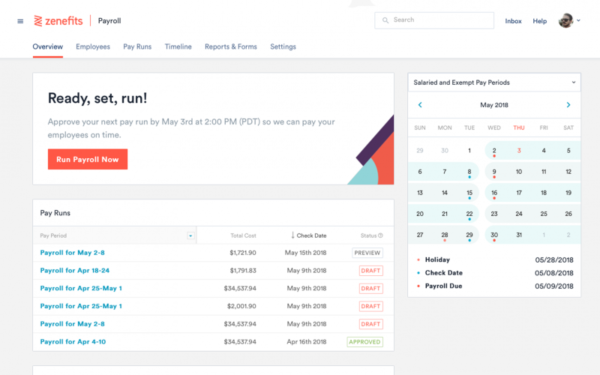 Zenefits is an HR platform you can use to visualize, manage, and streamline your HR processes, from culturally significant events like onboarding to necessary administrative goals such as payroll.
Key Features
An interactive employee directory that helps you keep track of all your people
A specialized platform that simplifies benefits administration
Advanced features that help you get a handle on payroll
The WOM on Zenefits:
"This is a great software for a distributed workforce. We have employees in different 20 states and 40 different locations. Zenefits makes it easy for us."
Pricing/Plan Details: Plans start at $8/per employee/per month. Finding pricing details here.
Explore this workplace app: Zenefits
---
Don't just find candidates; find your perfect people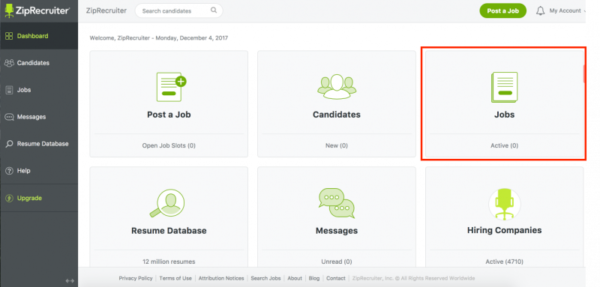 Sure, ZipRecruiter is a place to post jobs, but really, it's a launching pad for finding the right people. Instead of just posting jobs, use this platform to distribute your postings to a network of job sites, receive data-driven candidate matches, and then manage and sort everything using a helpful dashboard that displays all the info you need.
Key Features
Templates that make it easy to create and distribute job descriptions
Data-based matching features that help narrow the candidate pool
Application invitations that get you noticed by well-matched candidates
The WOM on ZipRecruiter:
"The platform is very user-friendly. It felt easy to navigate and fill in the information requested. I also really liked the design and colors. It made me feel like a game. And because it is easy to navigate, I felt more prompted to access it every day. I also really like the 1-click apply button because it makes job applications way easier."
Pricing/Plan Details: Pricing varies depending on needs. Get started for free.
Explore this workplace app: ZipRecruiter
---
Process documentation doesn't have to be boring.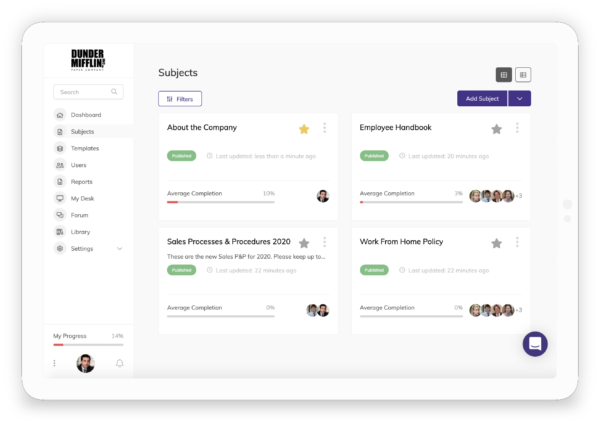 Trainual is your hub for getting all those pristine processes you've perfected over the years fully documented, and documented in a way that allows others to easily absorb, understand, and execute them.
And these aren't your average text-only process documents. With trainual, you can make the documentation interesting and interactive with videos, photos, and other integrations.
Key Features
Tons of templates that give you a head start on documentation
A public platform that makes information transparent and searchable
Onboarding features that make it easy to provide specific roles with the right info
The WOM on Trainual:
"Trainual has been a great platform for us to document our business practices. We've also used it as a learning automation software for all of our training purposes. Great product."
Pricing/Plan Details: Plans start at $99/per month. Get a 7-day free trial here.
Explore this workplace app: Trainual
Workplace Software: Communication Apps
The only place you need to go to stay in the loop.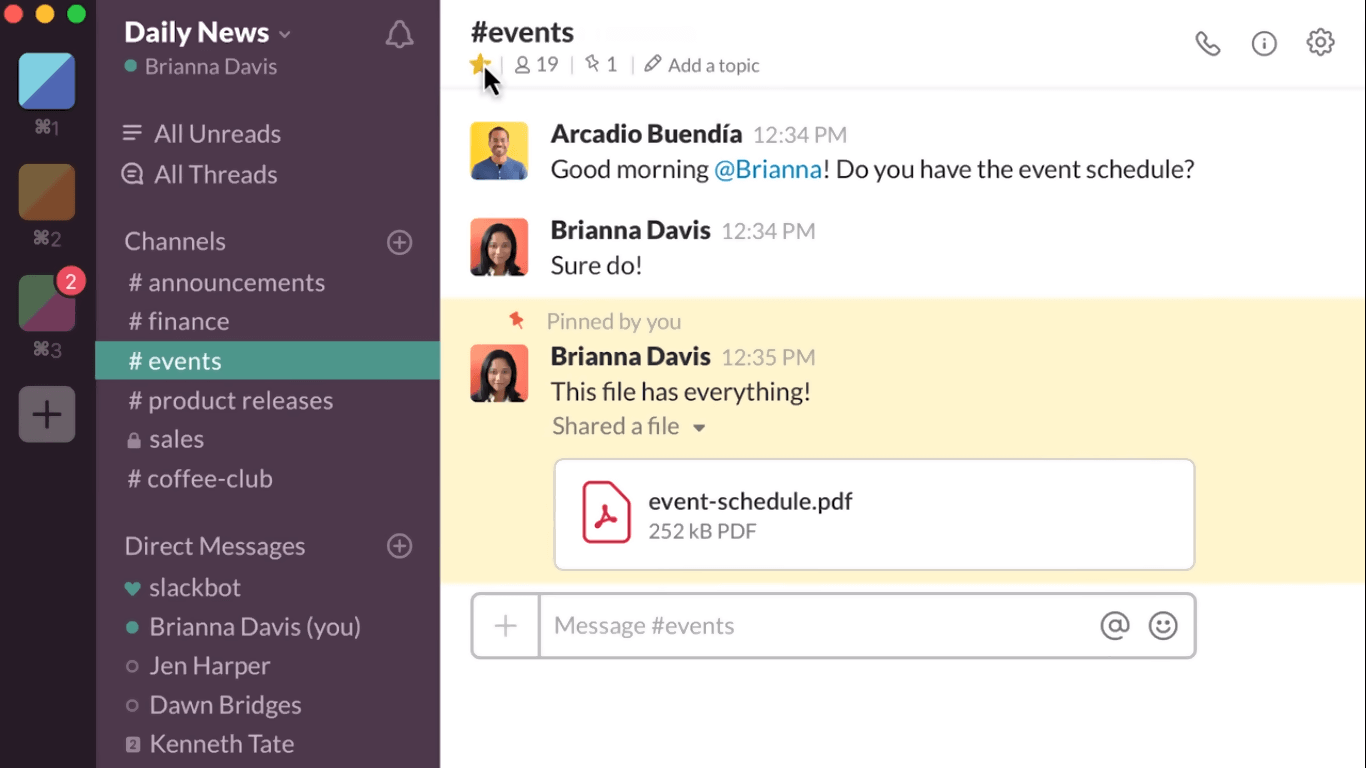 Tons of companies, teams, and even social groups use Slack to create a one-stop communication hotspot. Find everyone you could ever need to communicate with in one place, and even connect apps to create your perfect functionality. Create channels for subgroups and projects to keep your internal communication streamlined. Best of all, find yourself pulling away from the segmented, siloed, fragmented one-touch messaging tools of the past (a.k.a. text and email).
Key Features
Searchable chat histories that make it easy to track down key info
Chat-to-call functionality that enable quick clarifications
In-app file sharing that helps you keep working in just one window
The WOM on Slack:
"The best part about Slack is the simplicity to get up and going. You can be up and running within 5 minutes and have team members communicate easily and efficiently. Added to that the integrations to make Slack the single point of reference means it's hard to choose a favourite feature."
Pricing/Plan Details: Plans start at $0/per month. Find pricing details here.
Explore this workplace app: Slack
---
Making proximity an obsolete prerequisite for human connection.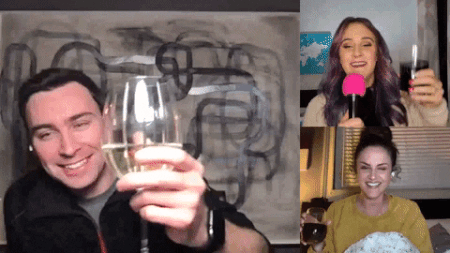 Zoom was a popular video conferencing platform before the COVID-19 pandemic ushered in a new age of working from home. These days, it basically needs no introduction.
This platform allows you to meet, via video, face-to-face with anyone, even anyone on the other side of the world. With tons of security features and also no-sign-in participation features, this versatile tool has become the go-to for anything from webinars to family birthday parties.
Key Features
Robust security features that protect your privacy
Reactions, polls, and screen sharing features that enable quality interactions
Recording capabilities that allow you to capture key moments
The WOM on Zoom:
"We are all able to share screens and see the same content together, at the same time. We do not have to email our spreadsheets or presentations before the meeting, constantly reminding everyone where to look or what we are discussing to stay on topic. We are able to see our team's faces for better communication, which leads to better understanding and interaction."
Pricing/Plan Details: Plans start at $0/per month. Find pricing details here.
Explore this workplace app: Zoom
---
Claim a virtual meeting room of your own.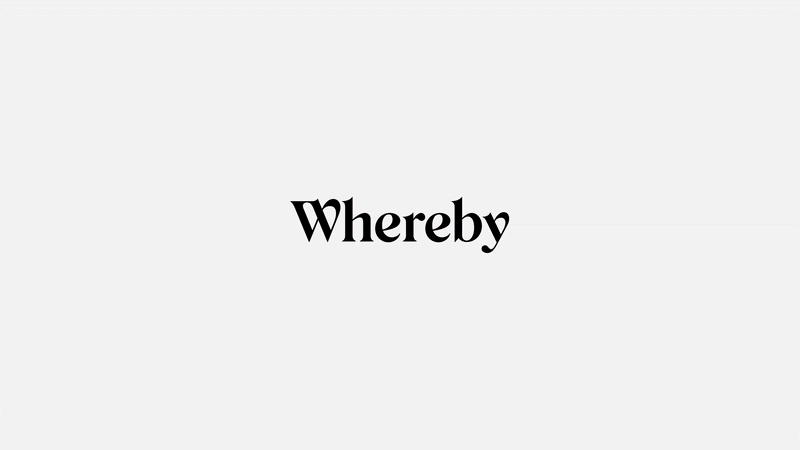 Whereby is the free-thinking, no-strings-attached video platform for people who want to get together and start exchanging ideas fast.
Their technology is designed to launch instantly on any web browser with no downloads or sign-ins required. You can even design a custom url to use every time you meet, so no one has to scour their emails trying to find the exact link for this particular meeting.
Key Features
Chat and reaction features that facilitate interaction
Locking capability that enables one-click security
Branding options that let you "decorate" your virtual room
The WOM on Whereby:
"It is a very complete and easy-to-use videoconferencing tool, the user interface is really friendly, you can also mark your room with your own logo, the chat function is ideal for sharing complementary information, it does not require an application to use It also allows times of unlimited meetings, you have the option to share screens without installing extensions, it is also very practical to be able to customize your channel with different styles."
Pricing/Plan Details: Plans start at $0/per month. Find pricing details here.
Explore this workplace app: Whereby
---
Get it together without getting overwhelmed.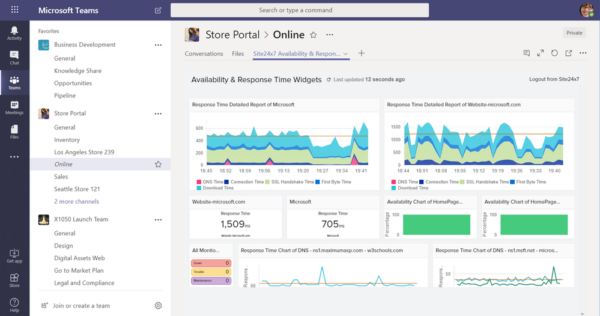 Microsoft Teams is a communication hub that allows Microsoft Suite users to do everything in one place. Make voice and video calls, engage in workplace chats, play games, check up and update your calendar, and so much more.
It works best with Microsoft Suite but it also has apps, including Trello and Asana, that allow users to layer on additional functionality.
Key Features
Meeting features that accommodate groups of practically any size
Apps and extensions that provide customized layers of functionality
Co-authoring features that enable real-time team editing
The WOM on Teams:
"I like that Microsoft listens to user input and feedback. Microsoft updates frequently incorporating desired features without delay. Teams offers a menu of options with advertised increased security compared to other products."
Pricing/Plan Details: Plans start at $0/per month. Find pricing details here.
Explore this workplace app: Teams
Workplace Software: Note Taking Apps
Don't just take notes; capture them.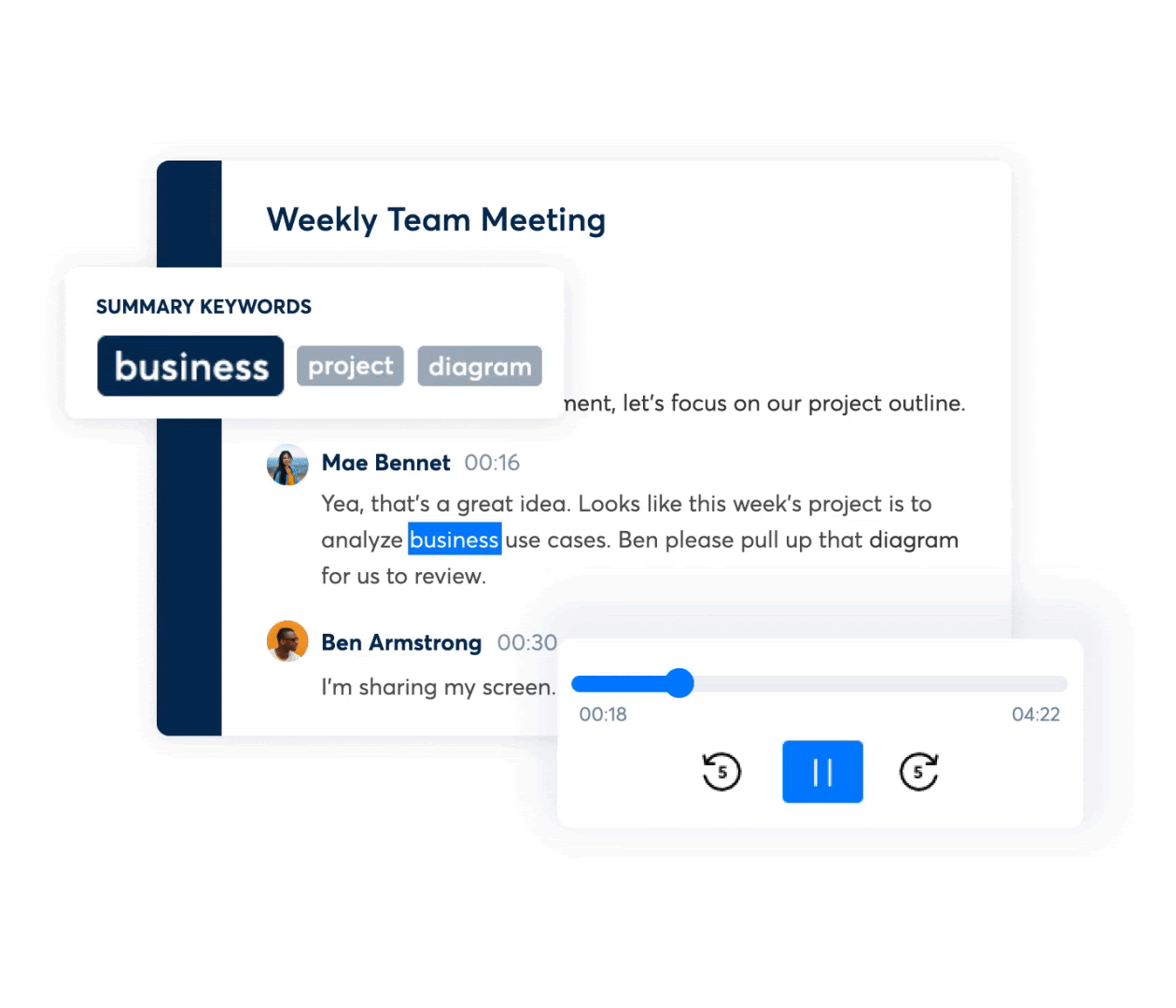 Otter.ai puts the tools for clear, professional transcription and note taking at everyone's fingertips.
The app's technology allows anyone to record and transcribe meetings and interviews and then organize and process their notes without purchasing all the expensive equipment journalists tote around.
Capture exactly what was said and then share that original recording as a single source of truth.
Key Features
Recording that helps you catch every key point
Transcribing features that save you from manual copying
Collaboration features that allow you to share key knowledge
The WOM on Otter.ai:
"What I like the best about Otter.ai is that it is extremely helpful for transcribing meeting notes. It's accurate for the most part. The fact that it integrates with your calendar is extremely helpful as the app notifies you that you have an upcoming meeting and whether you would launch the App to begin transcription. Also, the ability to share with other members on your team is very helpful for collaborating. The ability to take notes and comments is also a very useful tool for collaboration."
Pricing/Plan Details: Plans start at $0/per month. Find pricing details here.
Explore this workplace app: Otter.ai
---
Think outside the notebook.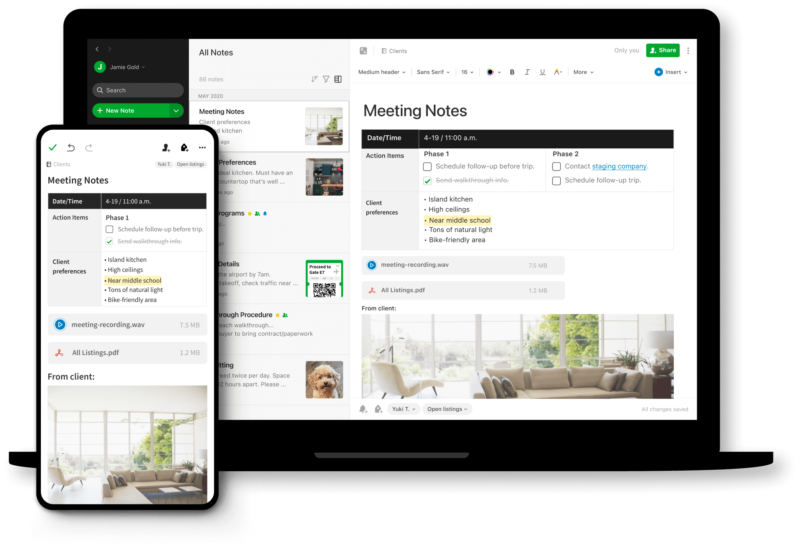 Evernote will make you wonder how anyone ever just used an old-fashioned notebook for their note-taking needs. This note taking and organization platform has tons of features you never knew you needed. Sync across all your devices, add supplemental media to your information, and allow powerful search functionality to save hours of time you used to spend flipping frantically through paper pages.
Key Features
Automatic syncing that keeps everything up to date
App integrations that let you send notes to your other favorite tools
Web clipper that allows you to capture ideas in seconds
The WOM on Evernote:
"Evernote is an excellent, well-designed, comprehensive note organizing platform which allows profound ease of accessibility of your information wherever you are. These features make it extremely useful for business or personal use."
Pricing/Plan Details: Plans start at $0/per month. Find pricing details here.
Explore this workplace app: Evernote
---
Arrange your notes according to your brain's specifications.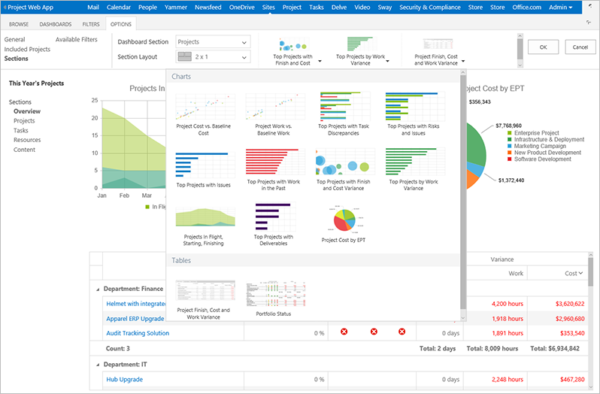 If you used to love using binders with tons of color-coded dividers and tabs, then you'll love Microsoft OneNote. Take your notes and then organize them into beautifully colored coded and tagged categories that make it easy to find the information you need. (Think of it as your memory's secondary storage warehouse.)
Key Features
Media integrations that allow you to enhance notes with audio and video
Tagging capabilities that enable layers of data-based organization
Sharing features that make knowledge transparency a breeze
"I organize notes and professional information through OneNote and what I like the most is that I can access them whenever I need them from anywhere, not only on my computer or laptop, but also on my mobile device, as it has an efficient synchronization. I like how easy it is to store and keep organized large amounts of information and files, plus how light it is and how fast it works."
Pricing/Plan Details: Plans start at $5/per user/per month. Get a 1-month free trial here.
Explore this workplace app: Microsoft OneNote
---
Why store information in your brain when you can keep it in Keep?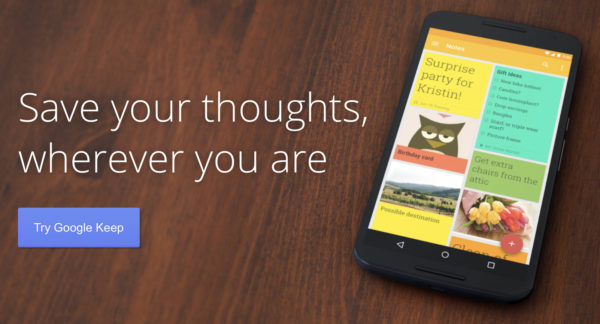 Google Keep is the G Suite note-taking app optimized for mobile use. While you can use it to take notes when you're at your desk or relaxing at home, its true benefit comes when you're on the go — when you're out on a jog and you have the perfect idea or you need to jot down a phone number before you forget it.
Your notes will be accessible from any device, both desktop and mobile. You can even integrate your Keep notes with Google Drive.
Key Features
Reminders that help you catch everything
Checklist formatting that helps you catch every step
Sharing features that keep everyone updated on progress
The WOM on Google Keep:
"I like how I can pin and search any notes from Google Keep. I also like how once I delete the notes, the notes with be in the trash for 30 days before being officially deleted. This is beneficial for retrieving any notes I need back before the 30 days are up. The color-coding feature is a nice touch and helps me remember which lists are associated with different topics."
Pricing/Plan Details: Free
Explore this workplace app: Google Keep
Workplace Software: Wellness & Lifestyle
Show appreciation by sparking their passion for life.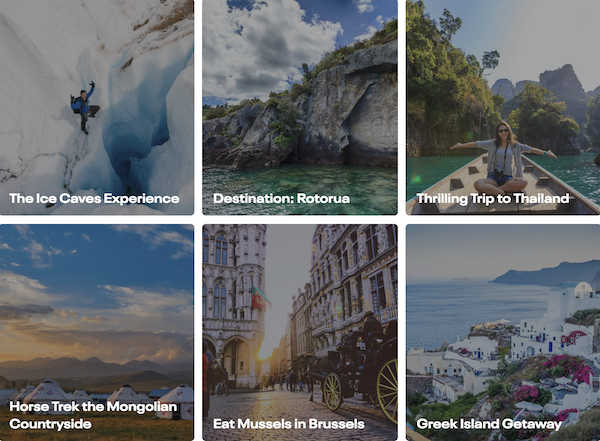 This is the ultimate platform for anyone who considers experiences their preferred language of recognition. Blueboard's team handles all the tedious planning details. Users may simply browse a diverse selection of activities and adventures, select the perfect employee experience, and pass it on to their team members.
Key Features
A client success team that guides your program
Story capture features that help publicize the program
A range of experiences to cover everything from fun to fulfillment
The WOM on Blueboard:
"We were trying to give our staff more meaningful rewards. We were stuck in the rut of giving gift cards that no one could even remember. We wanted to provide more experiential rewards and this was the perfect solution. Blueboard has done that and more. We've also been able to implement an anniversary program which we weren't doing before, and it is a huge hit!"
Pricing/Plan Details: Pricing varies depending on experiences. Talk to Blueboard to get more details.
Explore this workplace app: Blueboard
---
Turn your mobile device into a wellness app that gets you.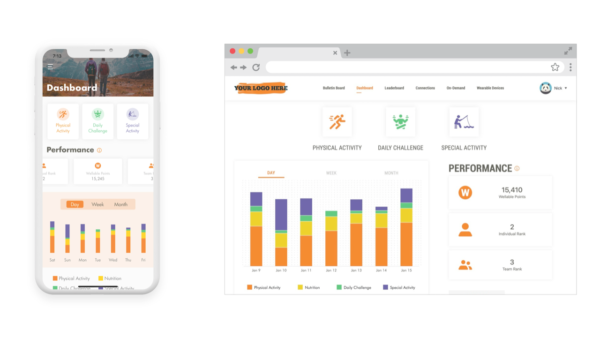 Can you deliver wellness through an app? You can with Wellable, in a way; this culture software allows you to create a framework for wellness by offering classes and tips — all which employees can receive on their own devices according to their own preferences. Your entire company can engage in wellness together while each individual gets something perfectly catered to their goals and their lifestyle.
Key Features
Integrations with wearables that create a 360-degree view of wellness
Analytics that provide actionable insights to optimize programs
Gamification features that motivate and unite your community
The WOM on Wellable:
"It has been great to encourage wellness within the office and get people inspired to take better care of themselves – especially during the pandemic. We all like prizes, so I think there is some motivation beyond wellness, but getting into the habit of paying attention to what we eat and exercising is always a benefit, no matter what the driving force behind it."
Pricing/Plan Details: Annual programs start at $75/month. Get started here.
Explore this workplace app: Wellable
---
Granting your wish to put happiness in a box.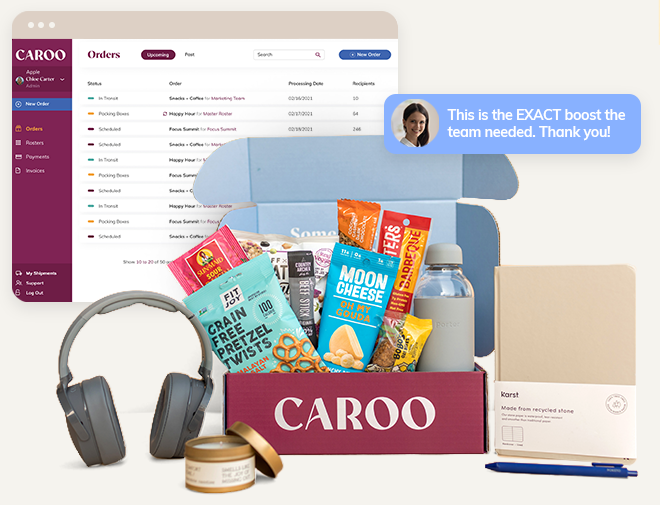 Caroo is your secret for cultivating connectivity in an increasingly distanced working world. Each box (packed with thoughtful gifts and wholesome snacks) you send through Caroo represents a memorable interaction between you and your team. Even after the box has been emptied, the positive impression made by everything it once held will live on.
Key Features
A centralized platform that organizes mailing addresses
Customization options that add extra sentimental value
Feeding America donations that are covered with each box
The WOM on Caroo:
"HUGE SUCCESS! Employees loved the snacks and it was such a great morale booster. Easy and inexpensive way to show them how much we care. Best money we've spent in awhile!"
Pricing/Plan Details: Boxes start at $26.95. Find pricing details here.
Explore this workplace app: Caroo
---
Create a company cultural identity that speaks louder than words.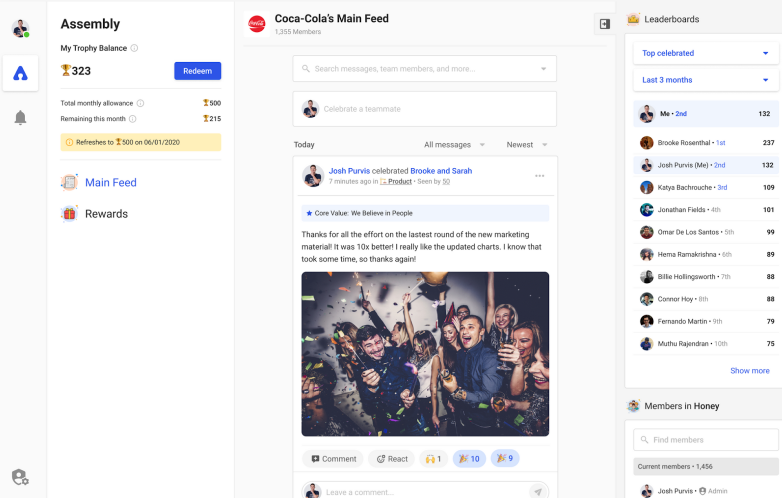 Assembly is the rewards and recognition software that unifies all your activities under the frame of your company culture. Design and deliver meaningful rewards, such as a lunch with the CEO or an expense-covered class, that treat employees while reinforcing your cultural priorities and core values. The end result is employees who aren't just satisfied and appreciated, but who are also deeply engaged and involved with company success.
Key Features
A quick-look sidebar that spotlights core values
A variety of badge options that applaud specific skills
A feed that makes recognition moments even more special
The WOM on Assembly:
"It allows for creativity, it's honestly fun to create awards, use badges and find fun animated gifs, and worth seeing what other people have posted. And, while its a small gesture, and we help each other out anyway, it really does help you feel appreciated when you go the extra mile. The weekly summaries are also fun. Overall creates a little friendly competitiveness but it never gets past friendly."
Pricing/Plan Details: Starts at $0/month. Get started here.
Explore this workplace app: Assembly
---
The All-In-One Solution for Employee Engagement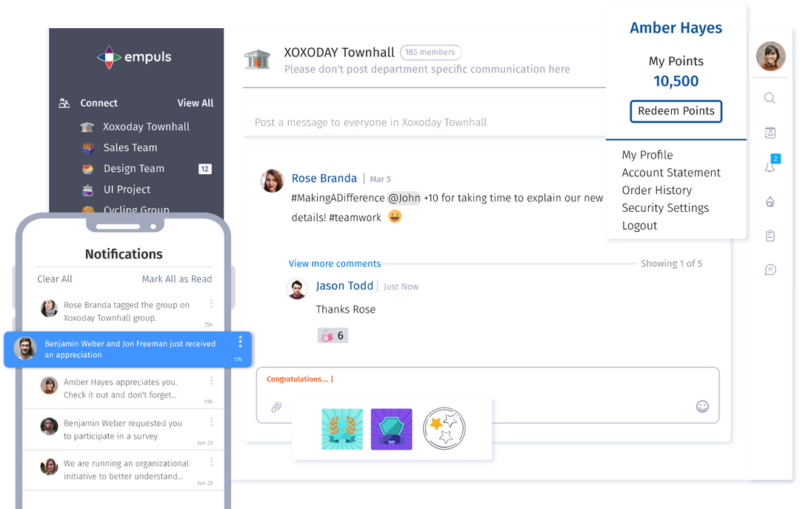 Empuls is a holistic employee engagement solution that aims to improve company culture & bring the entire digital workplace to life. People leaders use Empuls to bring teams together, eliminate silos, provide a voice to all employees and build a culture of appreciation across the organization.
Key Features
Connect & align remote teams via the social intranet platform
Empower employees & obtain feedback through engagement pulse surveys.
Motivate teams through recognition & reinforce positive behaviors with rewards
The WOM on Empuls:
"We have been associated with Empuls for over a year with minimal concerns. Quick responses to queries, extensive catalog with highly insightful admin portal – are all one needs."
Pricing/Plan Details: Starts at $0/month. Get started here
Explore this workplace app: Empuls
---
People Also Ask These Questions About Workplace Apps
Q: What is a workplace app?
A: Workplace apps (short for applications) are programs you can install, use, and sync across all your devices to work practically anywhere. This list features a variety of workplace apps that will save you time, clear your head, and improve your work.
Q: What does a workplace app need to have to be considered the best?
A: The most basic answer is that people, people at all levels of the company, need to use it. They can't simply use it for a week and then forget about it; they must keep using it in the long run. In other words, to be considered the best, a workplace app must be useful. It has to provide value. The software must have pristine functionality, versatility, and also compatibility across iOS, Android, and other operating systems. To be the best, an app must fill a workplace need and fulfill it so well that it becomes a mainstay, an indispensable tool for helping you do what you do.
Q: What are the benefits of using workplace apps?
A: Workplace apps make doing work easier. Whether you need to improve your communication, enhance productivity, or develop your workplace culture, one of these workplace apps will help you get the job done.
Q: How can I find useful workplace tools for 2023?
A: You can find 25 workplace tools for 2023 in this roundup, which features employee apps and software for accomplishing anything from recruitment and hiring to team collaboration.
Q: What workplace software do I need for a small business?
A: Small businesses can benefit from cost-effective workplace apps that streamline how their small teams communicate, how they recruit new team members, and how they complete projects critical to future growth.
Q: How much do most workplace apps cost?
A: Many workplace apps offer free basic monthly plans while those with advanced functionality can cost up to $99/per month. Find options across a full range of price ranges in this roundup of workplace apps.
Q: Are there any free workplace apps out there?
A: Yes, there are many free workplace apps you can download and start using today. Other workplace apps will offer a free trial to test it out for a week or two to see if you find it useful. The key is to do some research to see if the app is free, and if it is not, find out what kind of free trial you can sign up for.