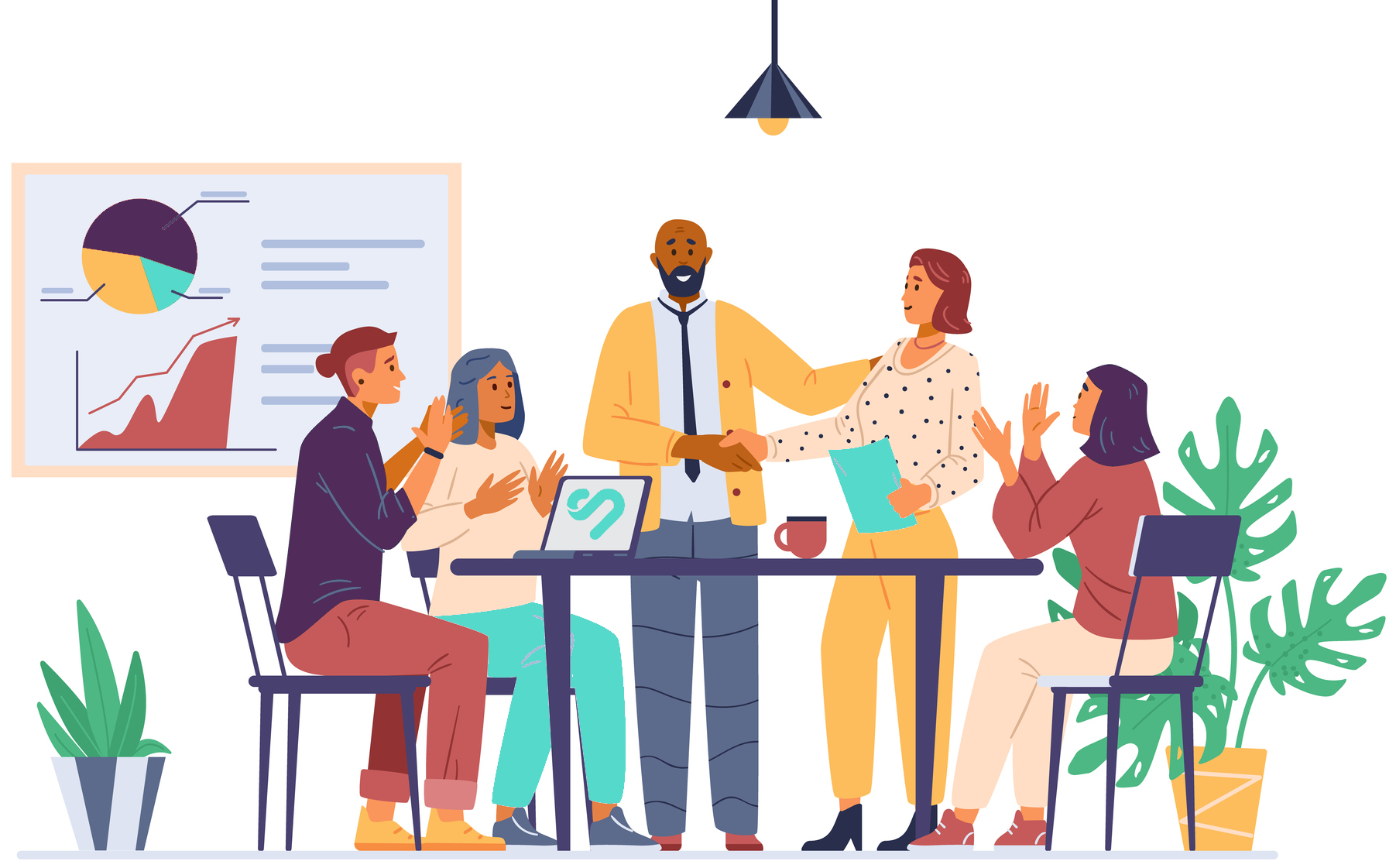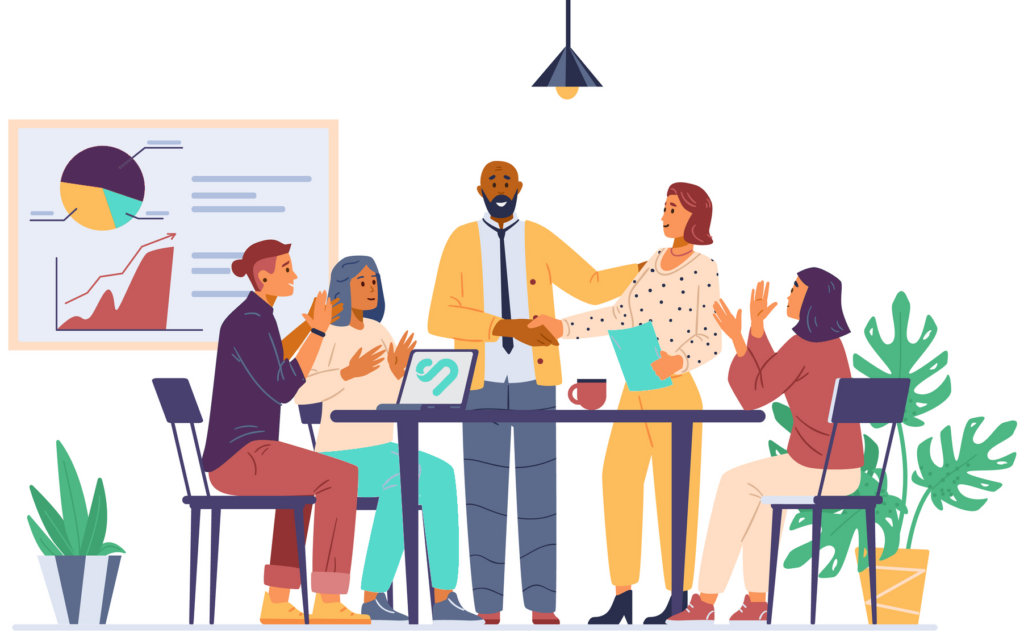 Every company has some form of onboarding to welcome their new employees. Unfortunately, onboarding is usually associated with tedium and endless paperwork.
Plus, the move to virtual workplaces has only made creating engaging onboarding more challenging. Thankfully, we've got virtual onboarding ideas that are interactive and engaging to upgrade your virtual onboarding in 2023.
Having a strong onboarding is more important than you might think.
According to Sapling, "great employee onboarding can improve employee retention by 82%."
This is a massive jump, all thanks to how you welcome your employees and treat them in their first days at the company.
19 Unbeatable Virtual Onboarding Ideas
1) Do A Goal Planning Session
A goal-planning session with new virtual employees will help set expectations right away.
Don't let your new employee's first days or weeks at the company feel like a waiting period—get your new hire involved and growing from day one with a goal planning session as part of your onboarding. Along with helping them set their own goals, you should also lay out the company and department goals.
By making goal planning a conversation, you can learn what your new remote employees hope to achieve while guiding them toward sensible, productive benchmarks. Goals can be as short as the first week at the company and as far-flung as their first year!
Why we love this way to onboard virtual employees: Working with new employees to set reasonable goals in the early days of their new role will help them get situated right away.
How to get started: Use onboarding tools like monday.com to help get your planning sessions organized.
👉 Get Your Free Goal Planning Template
2) Give Them A Budget To Upgrade Their Remote Workstation
Let your new remote employee feel pride in their workplace with a workstation upgrade budget.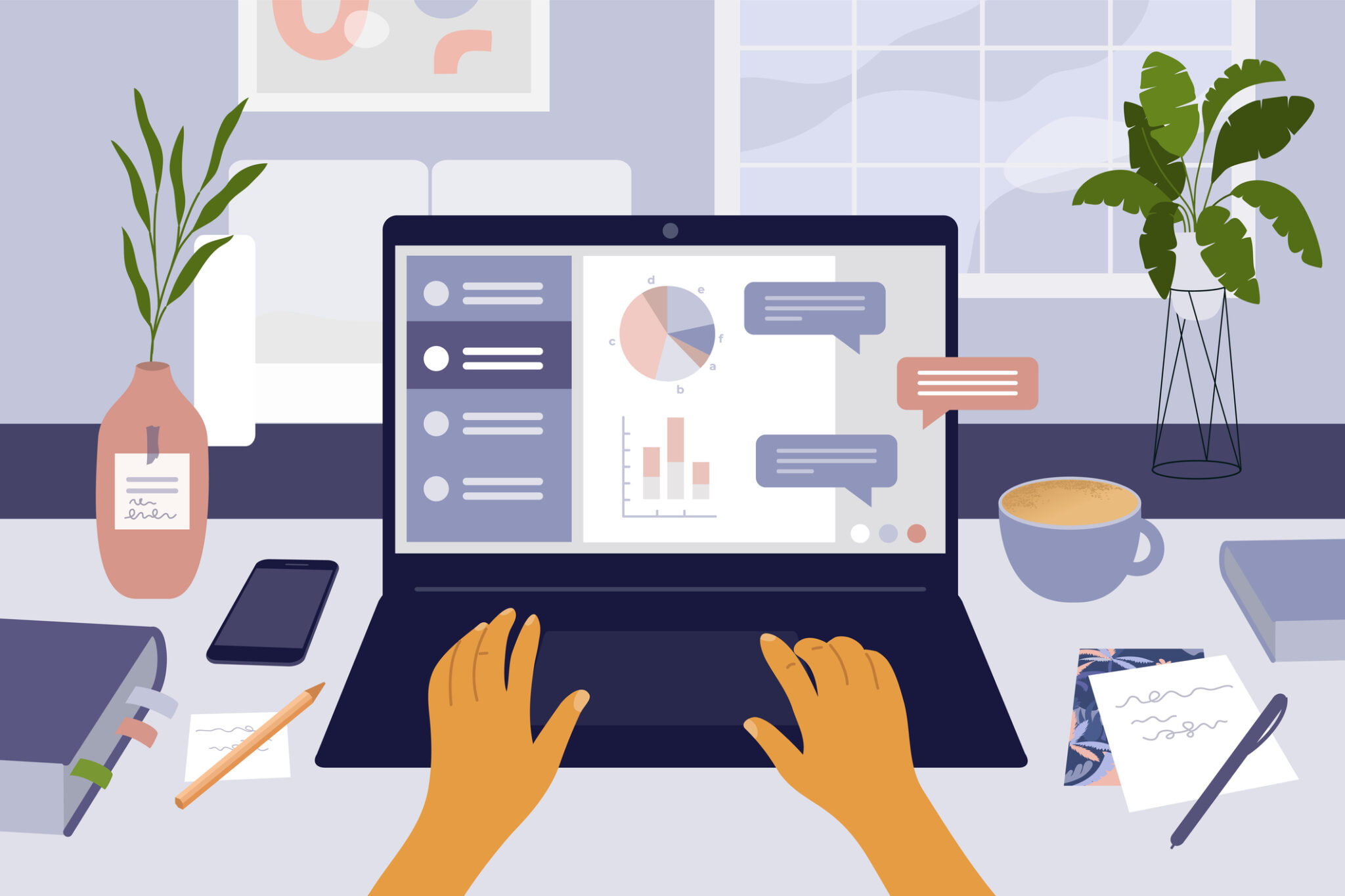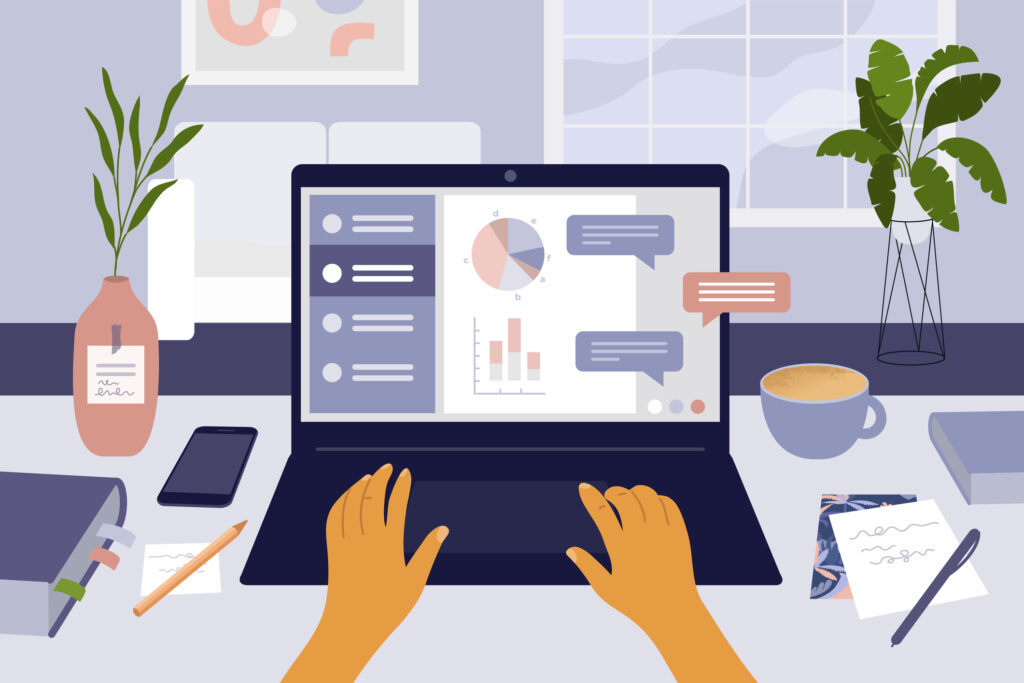 Working remotely forces employees to find their workstations. No break room to enjoy snacks, no comfy chairs purchased with their lower backs in mind, and no great view of Downtown out the window. Instead, they may be stuck in their bedroom, working at the same desk they've owned since their dorm room days.
A great way to welcome a new employee is by giving them a chance to upgrade their home office! A modest budget to get a new monitor, a better chair, or whatever update their home office needs will make your employees feel valued.
Why we love this way to onboard virtual employees: Not only is this a thoughtful introduction, but a good workstation will make your remote employee feel like they are 'at work,' boosting their efficiency.
How to get started: Talk to the finance department to learn what kind of budget you can supply for a remote workstation upgrade. You can also send out a new employee work from home budget to provide your new employee a stipend to get up to speed with a revamped home office setup.
3) Conduct a first week check-in
Make your employee's first week warm and welcoming.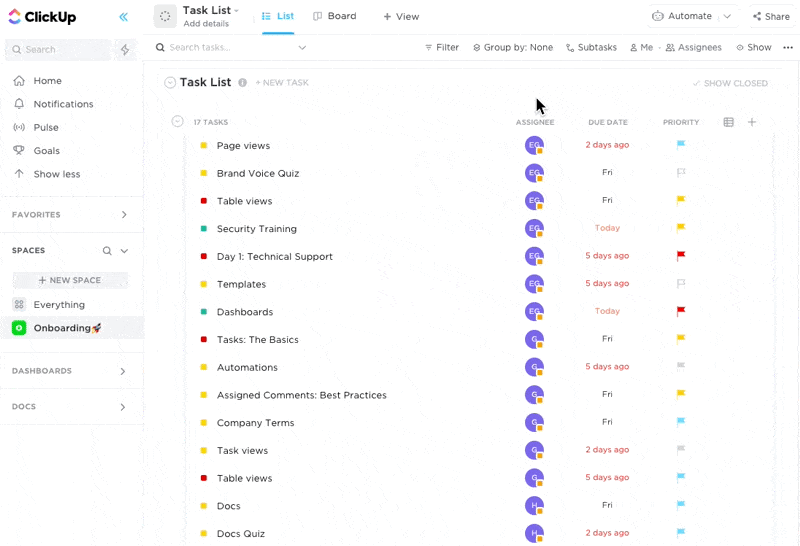 ClickUp is a versatile platform for project management and productivity, designed to streamline work for teams of all sizes. It consolidates and simplifies tasks, docs, reminders, goals, and time tracking in one unified workspace.
With customizable features, users can tailor ClickUp to meet the unique requirements of their projects. However, ClickUp also has other tricks and functionalities up its sleeve, including onboarding tools.
Why we love this way to onboard virtual employees: ClickUp offers a centralized platform for virtual onboarding tasks, providing new employees with a well-defined roadmap of their initial responsibilities and available resources.
How to get started: Head over to ClickUp to get the virtual employee onboarding down to a science!
4) Set up an equipment lifecycle experience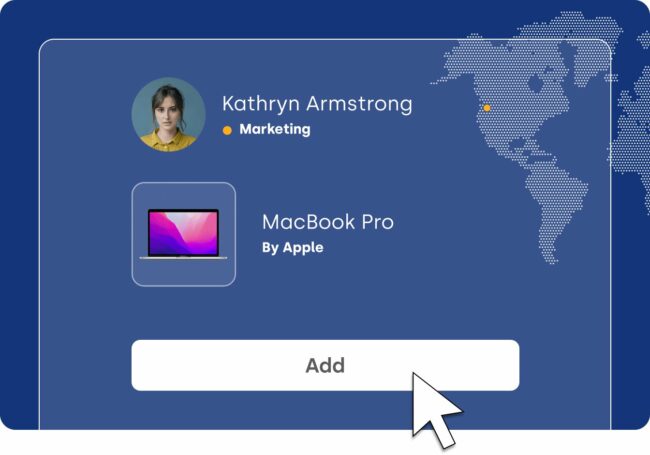 To ensure remote employees have the necessary tools to handle their jobs effectively, it is important to provide them with appropriate equipment and software.
This includes not only the essential software but also physical items such as headphones, monitors, keyboards, and other peripherals that enhance their productivity and comfort while working remotely.
Why we love this way to onboard virtual employees: By equipping them with the right resources, companies can empower their remote workforce to perform at their best, regardless of their physical location.
How to get started: Supply your employees with equipment with Deel throughout their entire employee lifecycle!
5) Send A Virtual Employee Onboarding Kit
Make your virtual employees' first day memorable with an onboarding kit.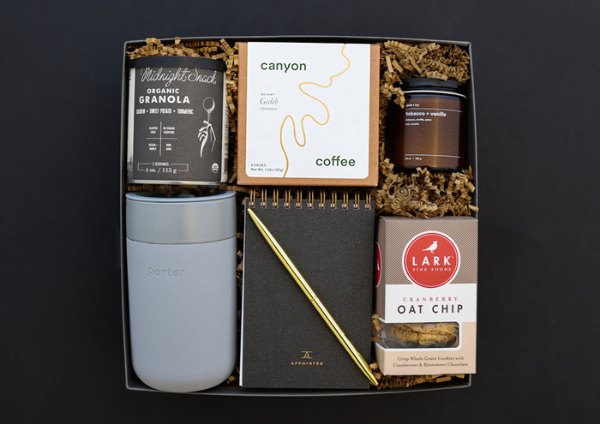 Just because they're working virtually doesn't mean every part of their onboarding needs to be online—a physical welcome kit will start your relationship with your new employee off on the right foot. The onboarding kit can have both practical and fun items inside, from branded swag, and a company manifesto, to some tasty first-day snacks.
Why we love this way to onboard virtual employees: By adding a physical item to a virtual onboarding, your new team member will immediately feel more included and involved.
How to get started: Find the right gifting website to send a curated welcome box to your new employees.
6) Set Them Up On Water Cooler Trivia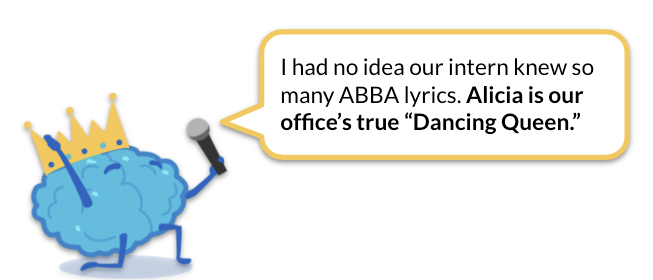 Get your newest remote team member directly into the office culture by making Water Cooler Trivia a regular team building event.
While less hydrating, Water Cooler Trivia is a great virtual replacement for the bonding of "water cooler talk" in offices of old. Your whole team will receive a weekly quiz—either through email, Slack, or Teams—that everyone can compete in and bond over. Water Cooler Trivia does all the writing and grading—your team only needs to focus on enjoying themselves.
Why we love this way to onboard virtual employees: Joining a new team, especially virtually, can be intimidating. Water Cooler Trivia allows them to join in a weekly ritual from their home office.
How to get started: Head to Water Cooler Trivia and start your free trial.
7) Create Department-Specific Virtual Onboarding Sequences
Create distinct onboarding sequences for every department to get your specific teams ready to succeed from day one.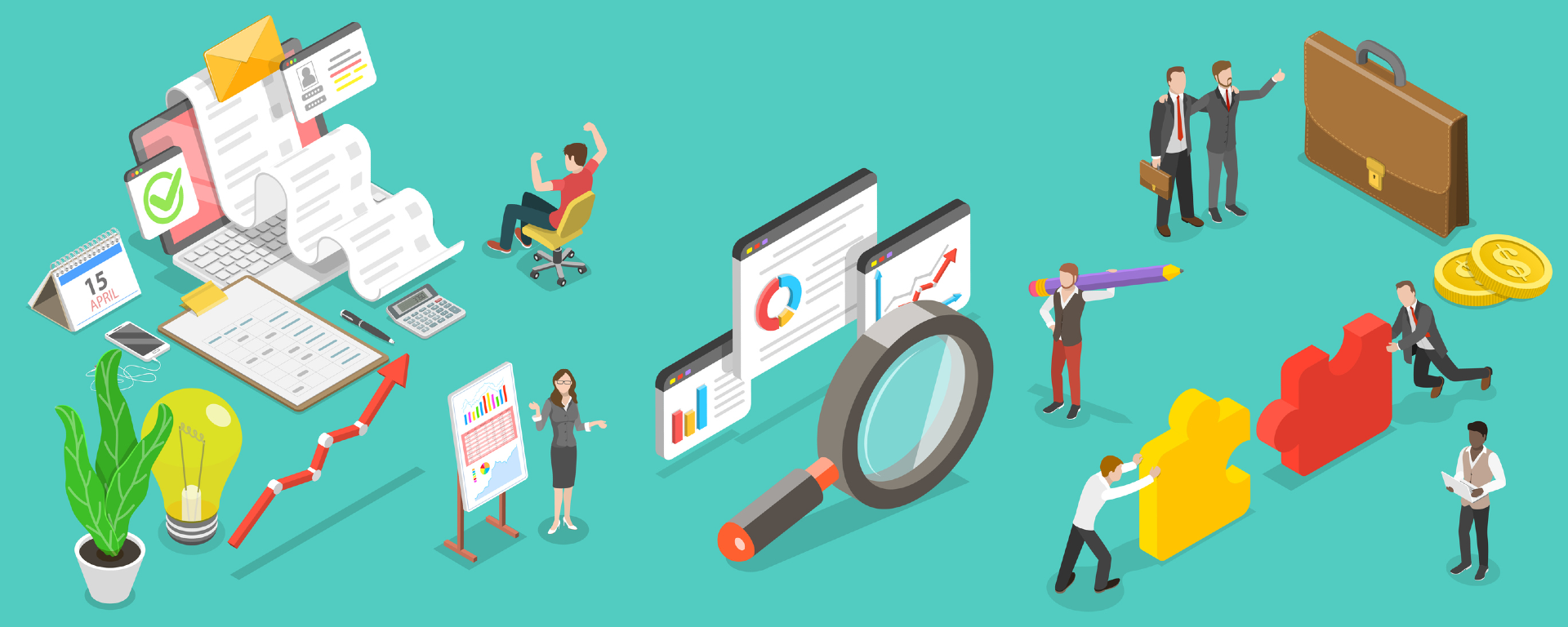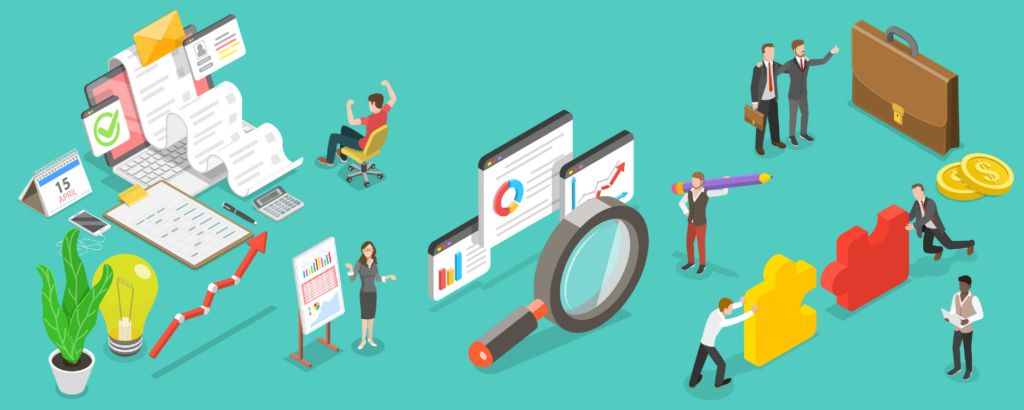 One size does not always fit all. For your company, the IT team probably doesn't need the same onboarding information as the marketing department. While some information is needed by every team member (like your company's mission and core values), creating specific onboarding sequences can create a more useful, memorable onboarding. Be sure to check in on your onboarding programs every quarter to see what is working well and what can be updated.
Why we love this way to onboard virtual employees: By focusing on the specific information each department needs, your new employees will enjoy a more streamlined, engaging virtual onboarding.
How to get started: Speak to your separate department heads to learn what information they feel needs to be imparted in their new employee's onboarding. You can house this information in a dedicated onboarding tool like this to make it easier to access by any person on your team.
8) Do A Walkthrough Of Your Team's Tech Stack
Make sure your new hires start with all the necessary tools with a tech stack walkthrough.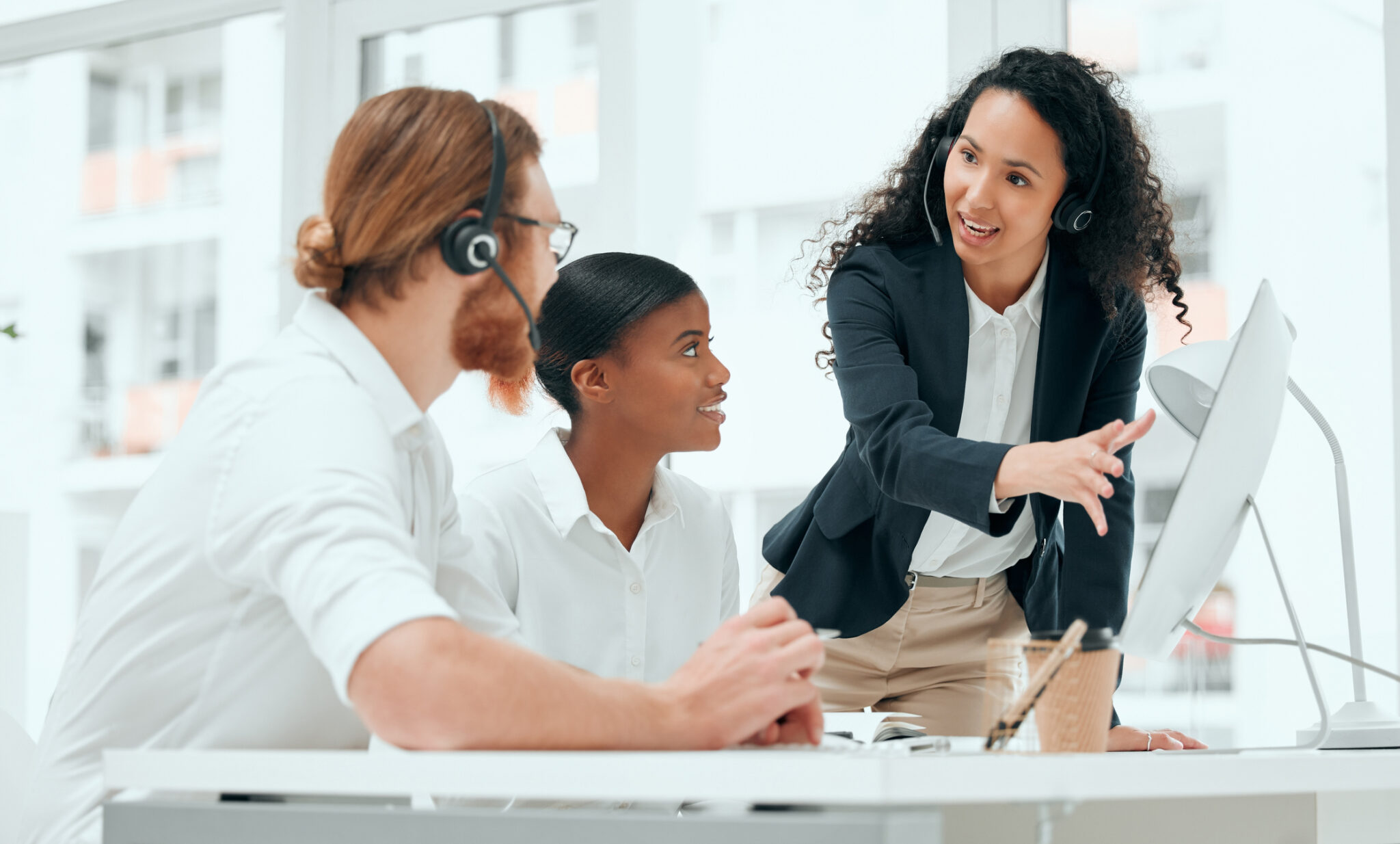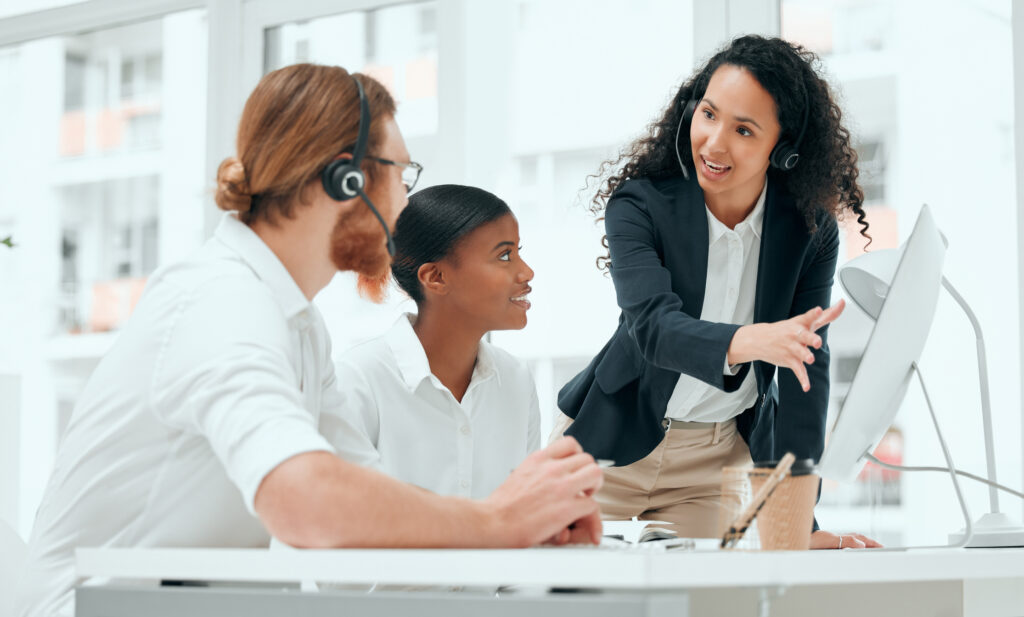 While it quickly becomes second nature, an entirely new set of tech, software, and tools can be very intimidating. Help your new employee get settled with a comprehensive walkthrough of your team's entire tech stack. Whether it be your HR software, task management tool, employee recognition platform, or communication software, your new employee will appreciate being brought up to speed.
By showing them the ropes, you'll eliminate early mistakes and confusion and allow the new team member to contribute from the very start.
Why we love this way to onboard virtual employees: While not the most exciting part of onboarding, a tech walkthrough will help your new team member feel comfortable with all the different software and tools they'll be using daily.
How to get started: Do your research—if you're going to teach about these tools, you need to really understand them yourself! We've put together a list of HR expert-vetted employee onboarding tools:
9) Plan A Virtual Happy Hour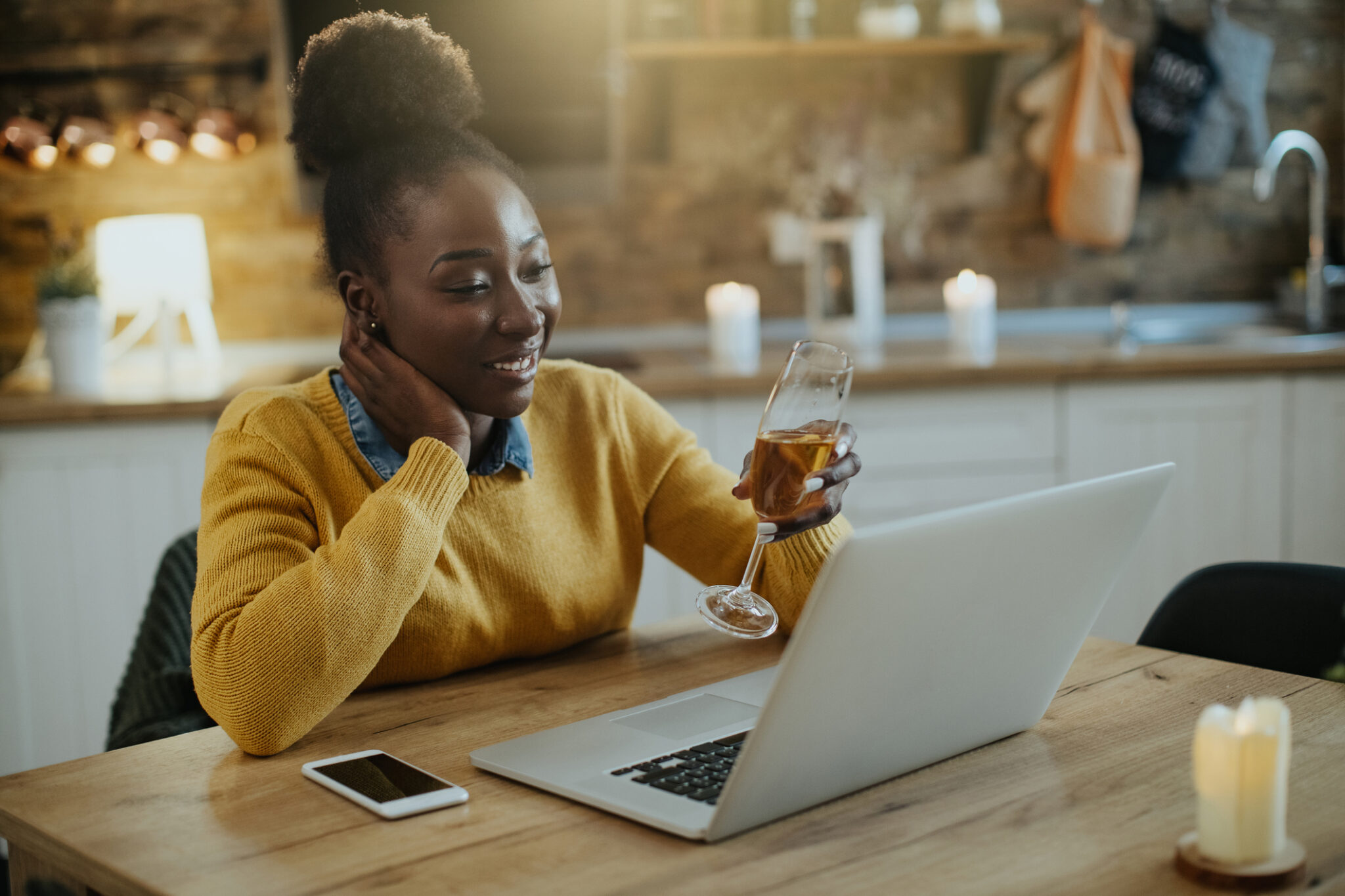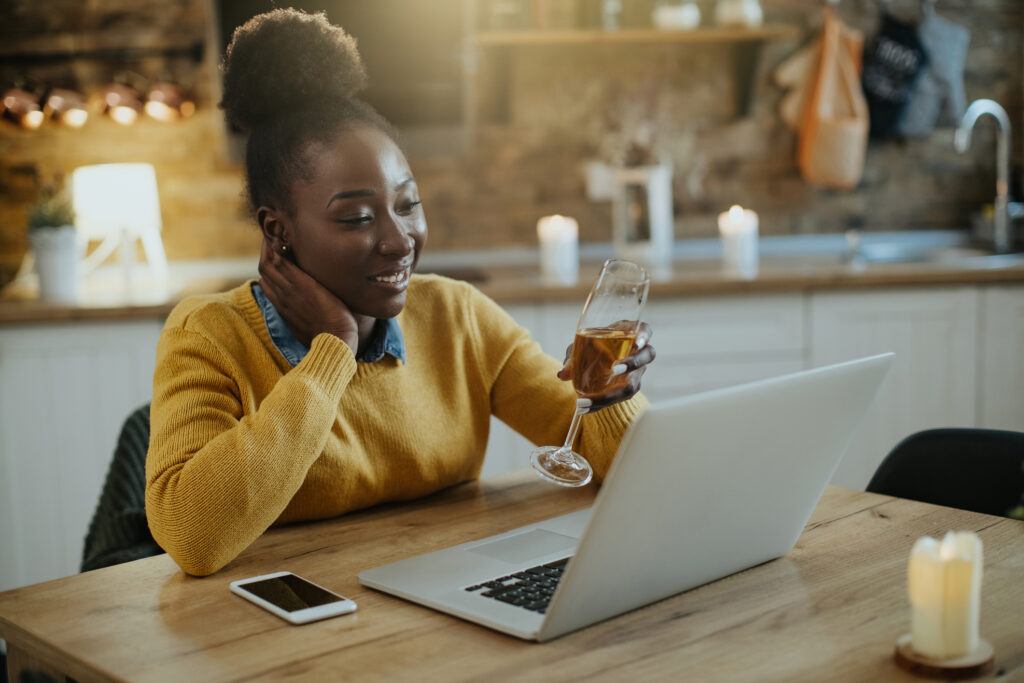 Allow your new employee to relax and introduce themselves to the team with a pressure-free virtual happy hour.
To celebrate your new hire and let them organically meet the team, you should host a virtual happy hour as part of your onboarding. Removed from the pressures of getting up to speed with the company, a happy hour is a way for your new hire to be their authentic self while learning about their future employer and coworkers.
You can even send your new employee a cocktail kit so they can toast their new job in style!
Why we love this way to onboard virtual employees: A virtual happy hour is a casual, enjoyable way to make onboarding more memorable and meaningful.
How to get started: Pick a time, invite the team, and consider sending everyone a Happy Hour Celebration Box!
10) Create Surveys And Assessments
Let your new employees help improve your onboarding with surveys and assessments.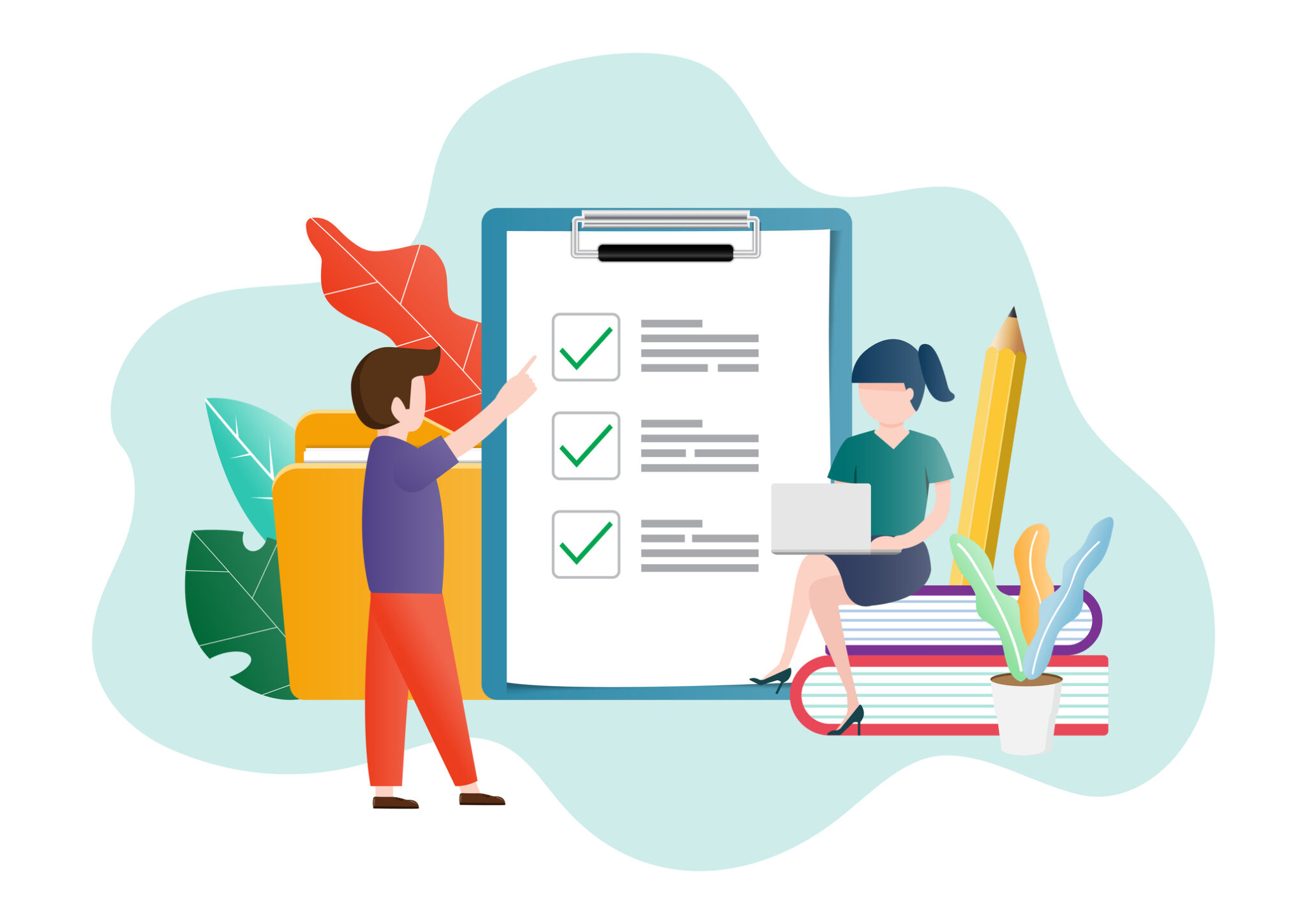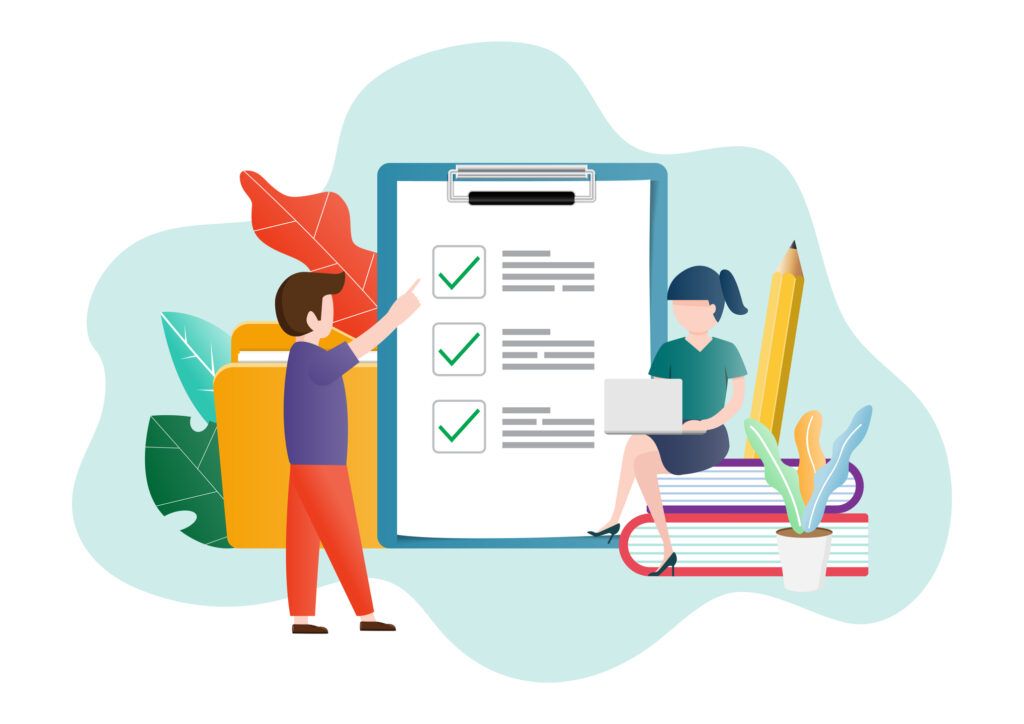 Don't rely on guesswork to see what works—use surveys and assessments at the end of onboarding to help improve the process for the future. Surveys work to give your new employees a chance to reflect on the onboarding process while it's still fresh. Their input will be invaluable for improving your virtual onboarding for the future.
Assessments and quizzes will also show what your new employees learned during onboarding and what information you need to hit harder next time.
Why we love this way to onboard virtual employees: Learning from your employees not only makes your virtual employees feel valued—it also helps your company grow and improve.
How to get started: Decide what onboarding questions you'll want to ask in your surveys and assessments. There are also survey tools that make it a lot easier to source feedback directly from employees.
11) Provide A Digital Onboarding Folder
Keep all their onboarding information in one place by making a digital onboarding folder.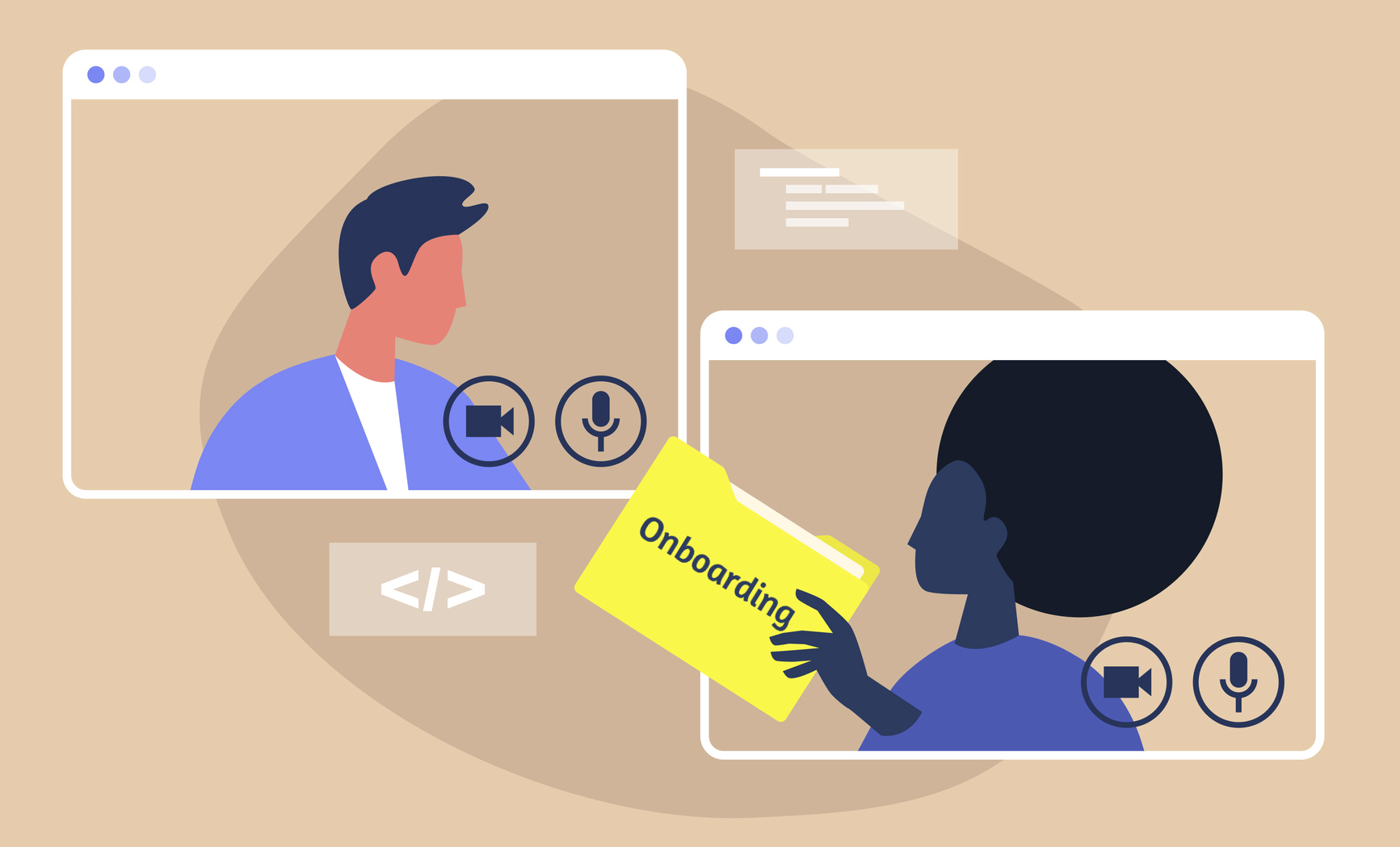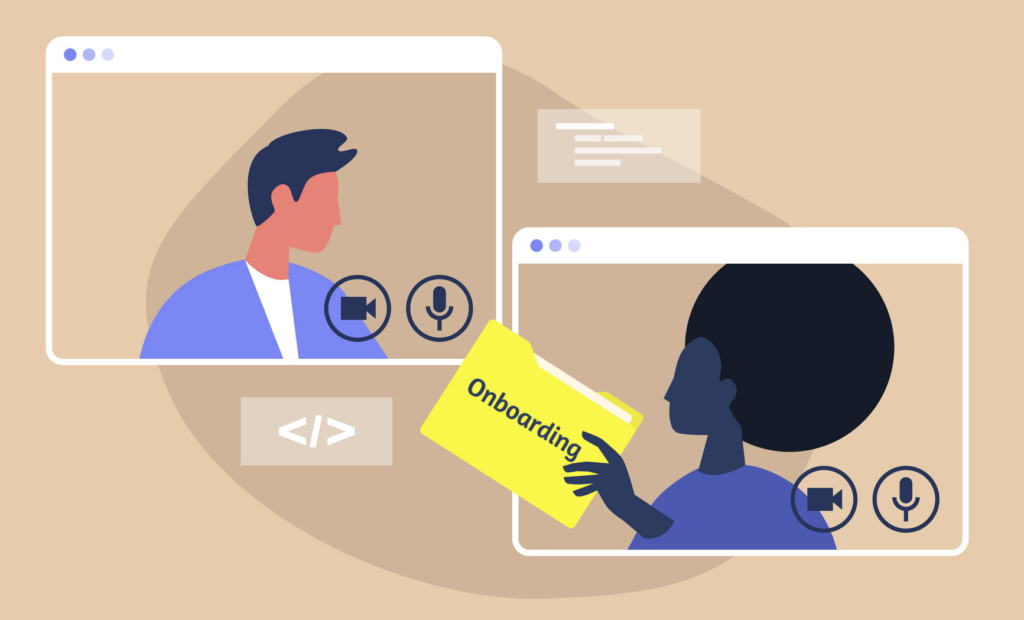 Making your new hires a digital dossier as part of their employee welcome kit will allow them to find answers after onboarding ends. Onboarding can be an overwhelming amount of information, and a digital folder will give them a place to refer back to for anything they might have missed or forgotten.
Creating a Google Drive folder that lays out the default passwords, contains the employee handbook, has their employment contract and lays out their vacation/benefits package will set them up for success.
Why we love this way to onboard virtual employees: A single resource with everything a new employee needs will save them stress and save you from endless, confusing emails.
How to get started: Create a master onboarding folder that you can use to create individual onboarding folders for your new team members.
👉 Get Your Free Digital Onboarding Template
12) Create A Virtual Company Intranet For New Employees
Keep your whole team connected and your new employees informed with a company intranet.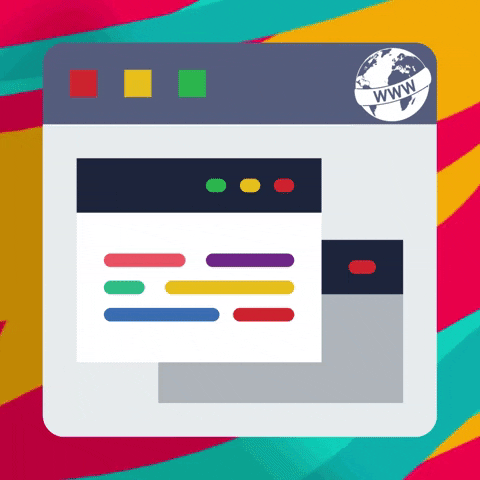 Bringing the connective power of social media and the Internet to a smaller scale, a virtual company intranet can simplify the onboarding process while helping the entire company by creating a place to store crucial company information, send updates, and communicate directly with staff. Company intranets can also include chat functions, giving your team a chance to send welcome messages to new employees.
Why we love this way to onboard virtual employees: An intranet will help your new employees in the early days at the office while giving them a peek into the company as a whole.
How to get started: Look into different intranet and office engagement software to find which one is right for your company.
13) Plan A Virtual Game Night
A virtual game night is a fantastic way to cap a day of onboarding for new employees.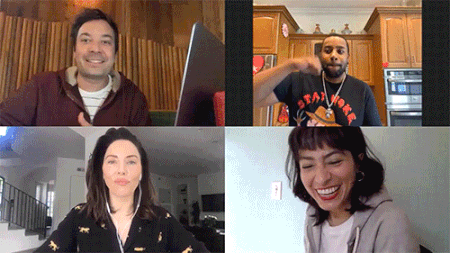 Games, whether they be collaborative or competitive, make people comfortable and act naturally. Whether you're having the new hires compete or letting your newest employees play alongside their new coworkers, a virtual game night will bring a new spark to your virtual onboarding.
The game can even be centered around your company and its core values to allow them to learn more about their new environment while enjoying the game.
Why we love this way to onboard virtual employees: Game nights allow new team members to show off their personality and quickly feel comfortable in their new virtual team environment,
How to get started: Choose the right game for your team! A few great options include virtual trivia, a virtual escape room, a virtual murder mystery, and a virtual game show.
14) Host A Live Q&A
Create an open forum and clear any confusion with a live Q&A at the end of your virtual onboarding.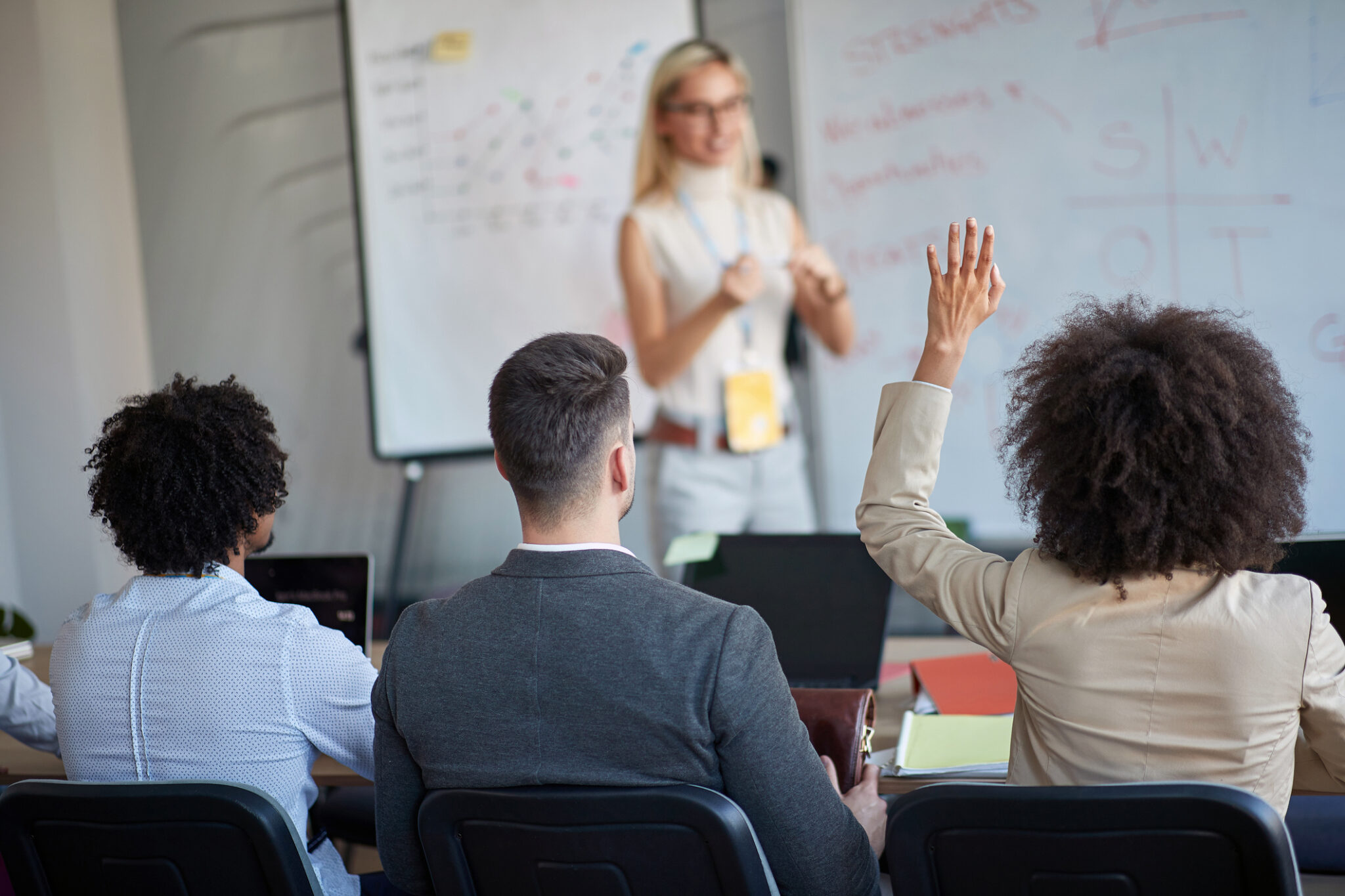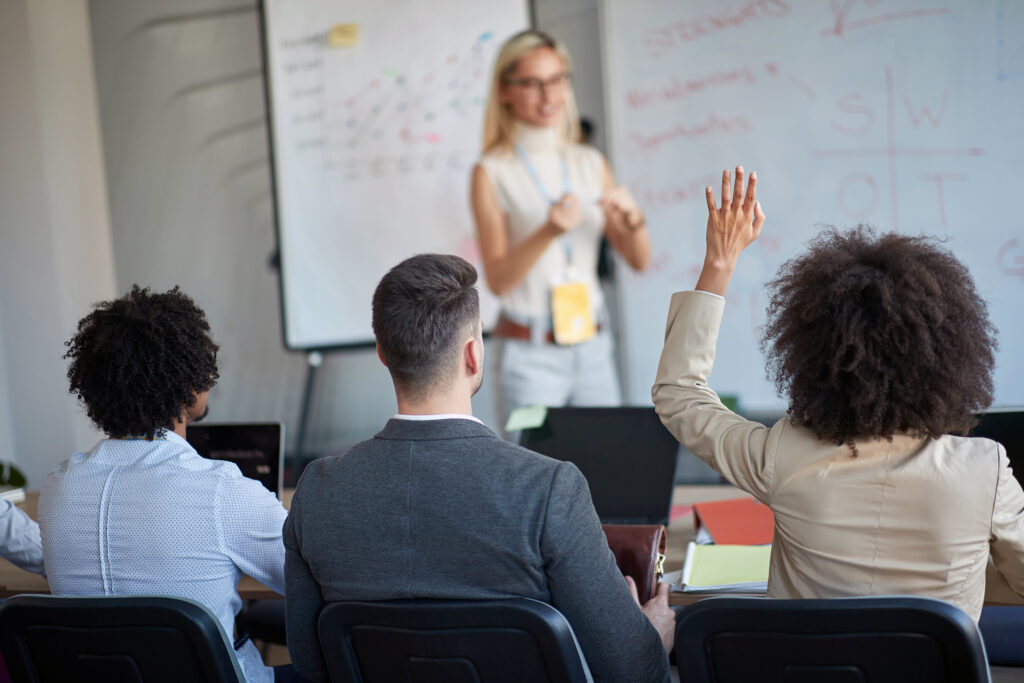 While you've done your best to create a thorough onboarding process, there's no way your new virtual employees won't have some lingering questions. Deal with all their queries at once while setting up a clear, open path of communication by hosting a live Q&A. Give your new employees a day's notice, so they can think about what questions they want to be answered.
You can even have them submit their questions ahead of time to give you a chance to prep answers. Also, invite the whole team to give current workers the chance to share what they wish they knew from day one.
Why we love this way to onboard virtual employees: A live Q&A is a friendly, informal way to end interactive onboarding while ensuring there's no uncertainty as virtual employees get ready to begin their new roles.
How to get started: Create a Google Invite and a Google Form where new hires can submit their questions.
15) Play A Virtual Onboarding Icebreaker
Add a little fun to your onboarding and get everyone introduced right away with virtual onboarding icebreakers.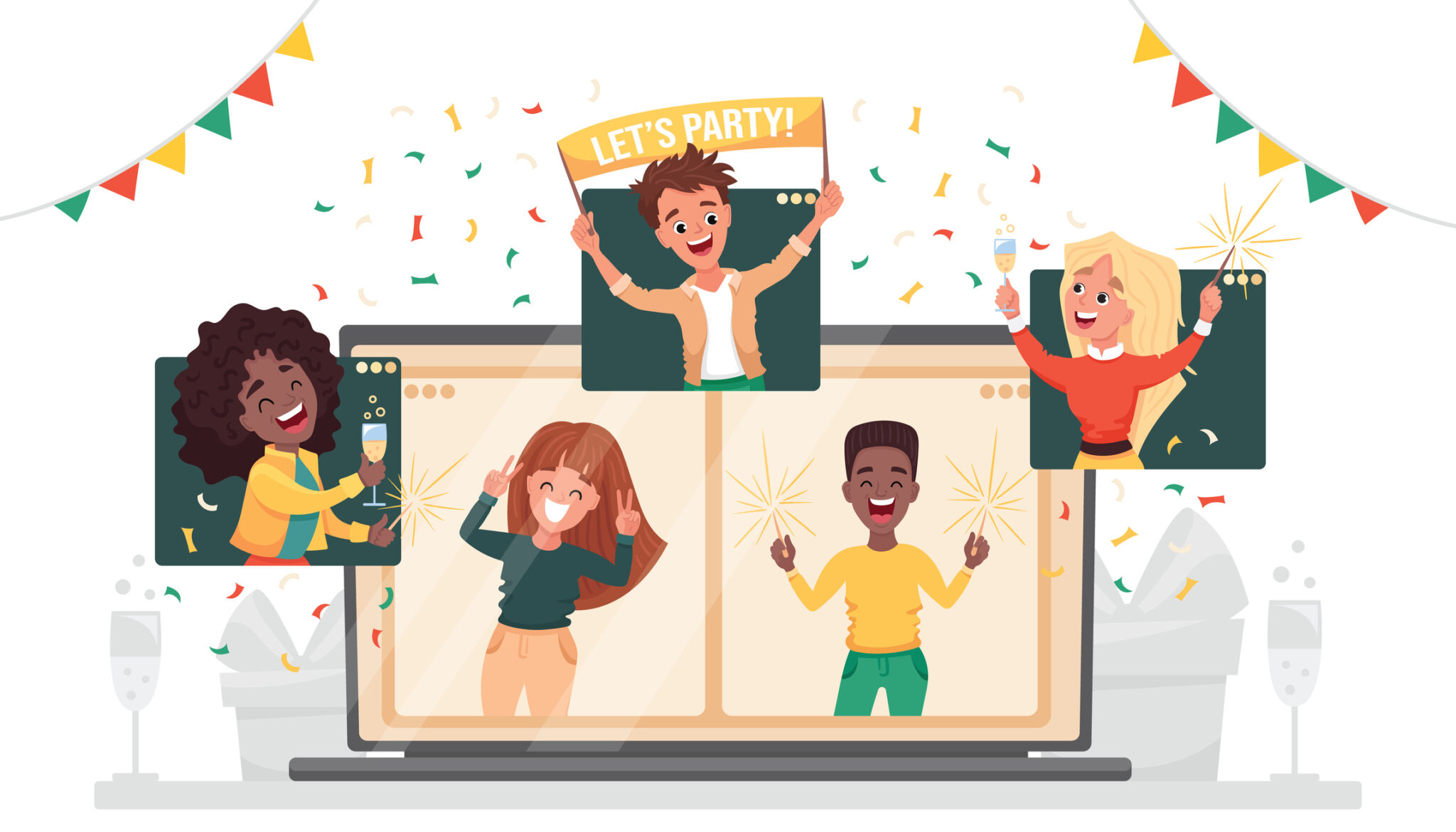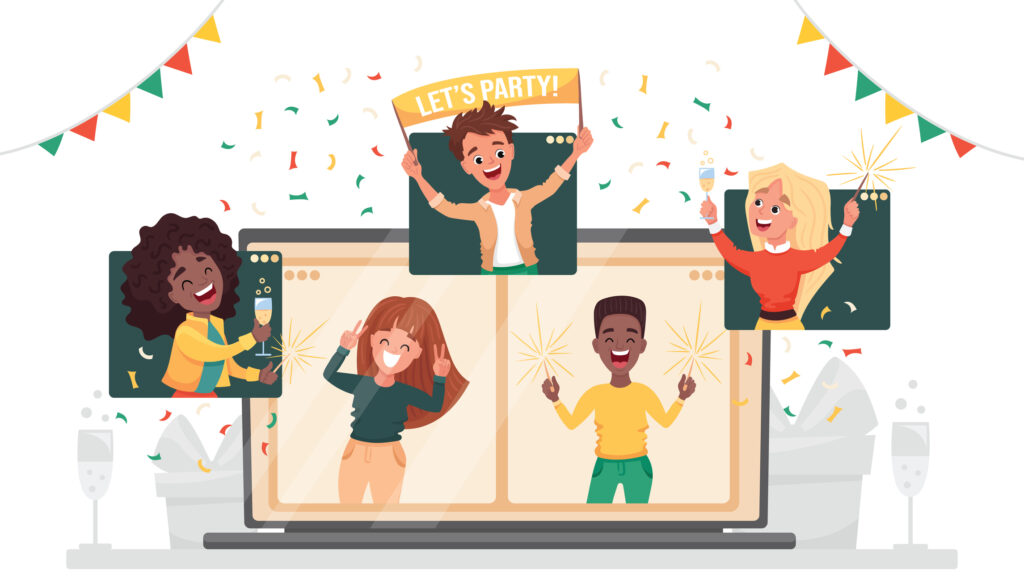 The first days of a new job are rarely the best days you'll have at the company. First off, you're nervous, and likely spending all day in lengthy training sessions or filling out paperwork. Make your virtual employees' onboarding more memorable by playing an icebreaker onboarding game.
Whether the new hiring class is playing, or the new team member is playing with their department, getting everyone on one Zoom for an enjoyable meet-and-greet will take the stress and boredom out of onboarding.
Why we love this way to onboard virtual employees: Virtual icebreakers will have your new employee feeling comfortable and part of the team faster.
How to get started: Decide what icebreaker fits your onboarding best, whether it's a competition, a silly game, or something else entirely.
16) Gamify The Virtual Onboarding Experience
Add some charming, entertaining stakes to the new hire experience by gamifying your onboarding.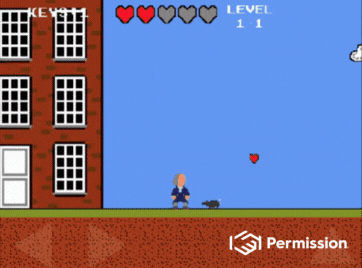 While good work is its own reward, nobody said an extra award on top of that wouldn't sweeten the deal! You can make new hires' early days at the company extra engaging by gamifying the virtual onboarding experience. With this new hire orientation idea, you'll set specific, attainable goals for your new hires to hit in the first week, month, and quarter of their time at the company.
If they reach these goals, they will receive bonus points for your company's recognition software. The goals don't all have to be serious, either—encouraging your new employees to set up multiple virtual meet-and-greets or something similar is a smart way to gamify the onboarding experience.
Why we love this way to onboard virtual employees: By rewarding good behavior from day one and creating a fun, welcoming environment, your virtual employee will have an immediate positive reaction to your company.
How to get started: Create the different goals and decide how to implement them with your employee reward software.
17) Optimize And Refine Your Virtual Employee Onboarding Welcome Process
Don't leave your new employees' success up to chance—optimize and refine your onboarding until it is the perfect introduction.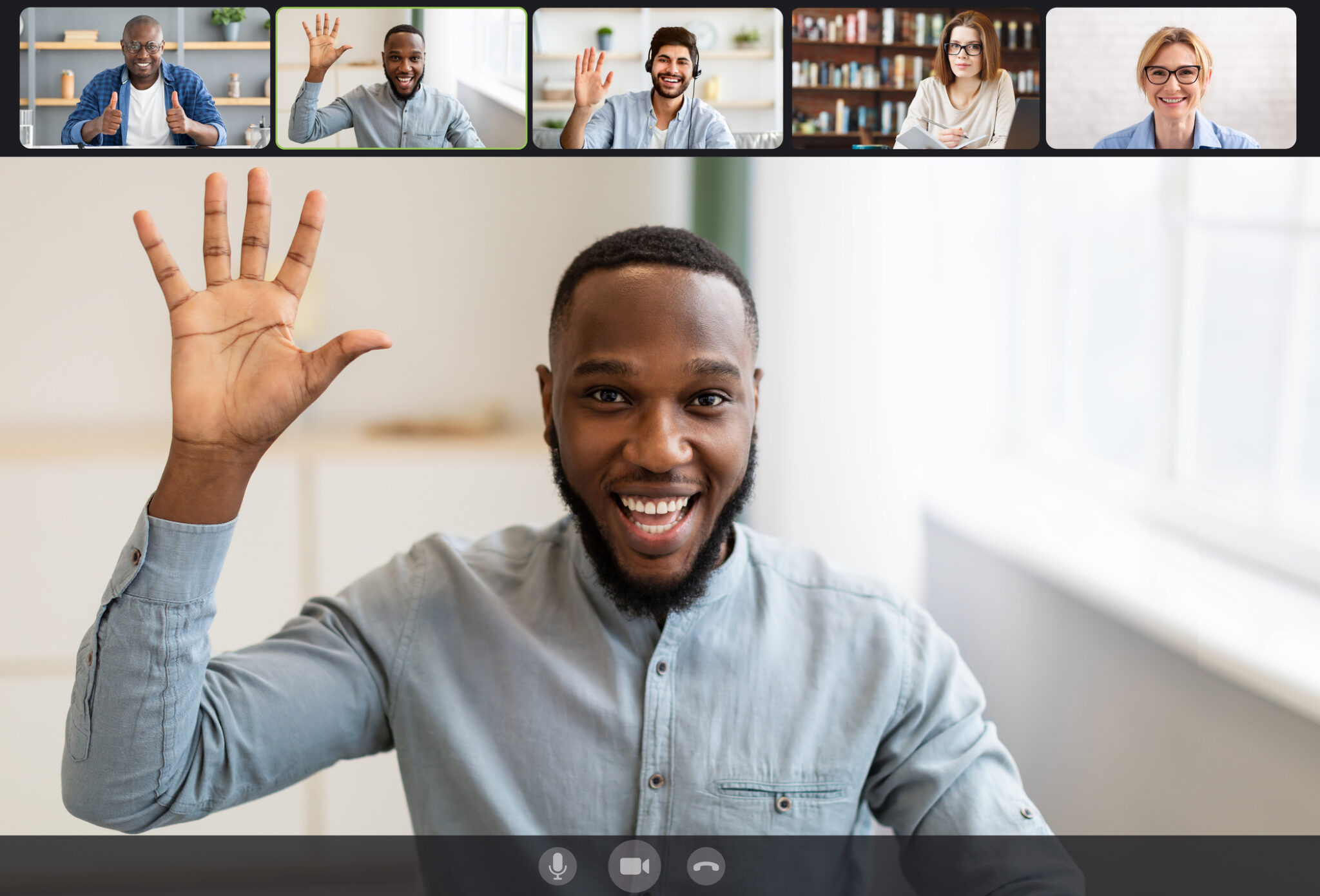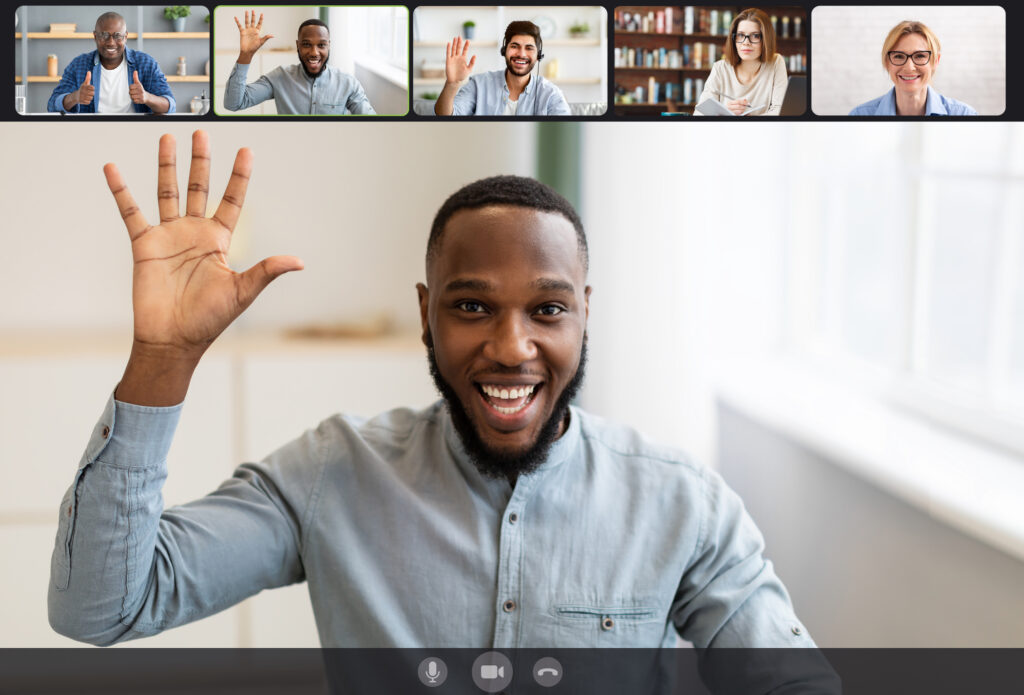 Nothing is perfect right away—even the best ideas need some fine-tuning. With that in mind, don't just create an onboarding program and consider it finished. Your onboarding program should be a living, constantly evolving part of your business. Taking the time to see what works and what doesn't will help your employees settle in and stay at the company for many years to come.
Why we love this way to onboard virtual employees: By adapting your onboarding to your current needs and learning what is and isn't effective, you'll be able to find the ideal introduction to your business.
How to get started: Create a detailed onboarding plan, which you can modify and refine over time.
18) Play A Customized Virtual Onboarding Game About The Company
Combine entertainment and education by turning onboarding into a customized game.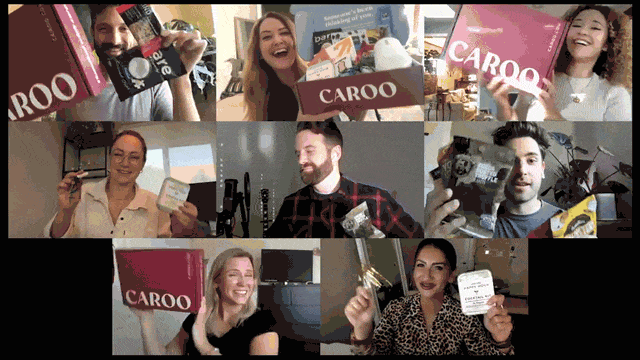 While you want onboarding to be as fun and gripping as possible, there are certain aspects of the onboarding experience that are unavoidable—information you need to impart to your new virtual employees to give them the chance to succeed.
One way to educate your new employees is by turning onboarding into a customized game about the company. Whether it's a virtual board game, a trivia challenge, an icebreaker game, or a Google Drive scavenger hunt, making onboarding an enjoyable experience will increase employee engagement while actually making the pertinent information more memorable.
Why we love this way to onboard virtual employees: Entertaining and engaging while still educational, a virtual onboarding game will get your new virtual employees ready to work and place them in line with your office culture.
How to get started: Come up with the perfect game for your onboarding experience. We recently tried out The Price is Right with our new hires and had a blast!
19) Do A Walkthrough Of Your Company's Process
Create a clear picture of your company to orient your virtual employee before they get started.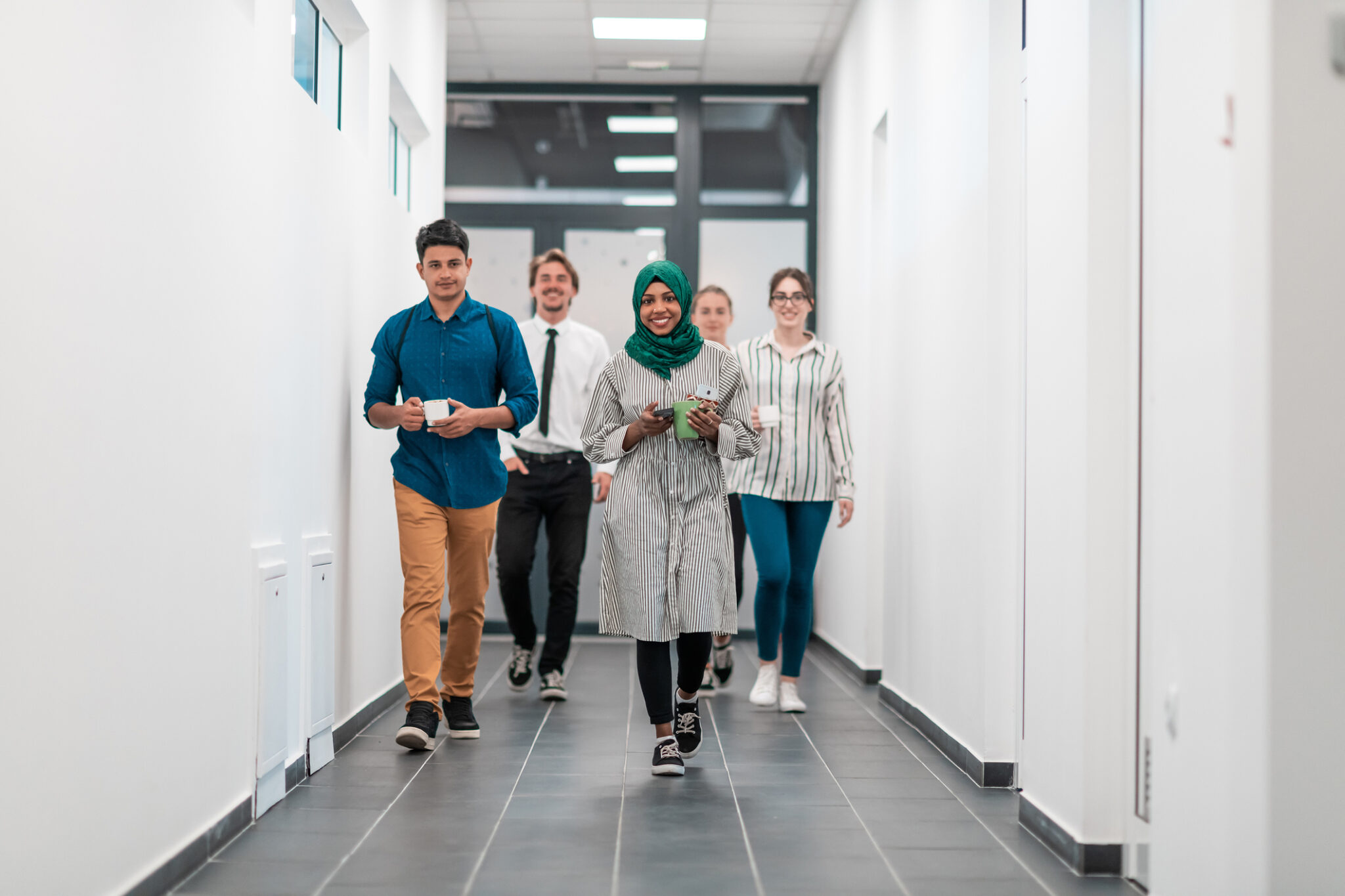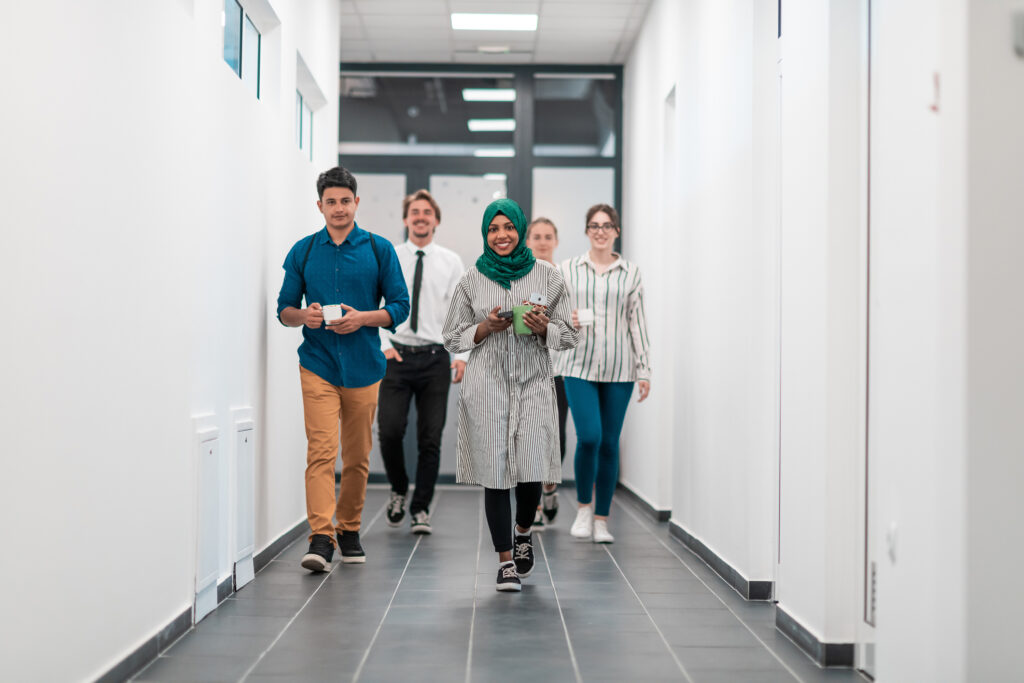 While it's important to get your new employee settled into their new role, you also want to give them a sense of the company as a whole. Especially at large companies, it can be difficult to see how their role, no matter how valuable, fits into the larger picture. So, taking time to explain and lay out the entire scope of your company will add immediate value to the work your virtual employee is about to start.
Why we love this way to onboard virtual employees: A walkthrough gives context to the remote employee's role, which can be hard to see sometimes from a home office.
How to get started: There's no reason to make this walkthrough boring—create an entertaining video or program that represents your core values.
---
How To Welcome A New Employee Virtually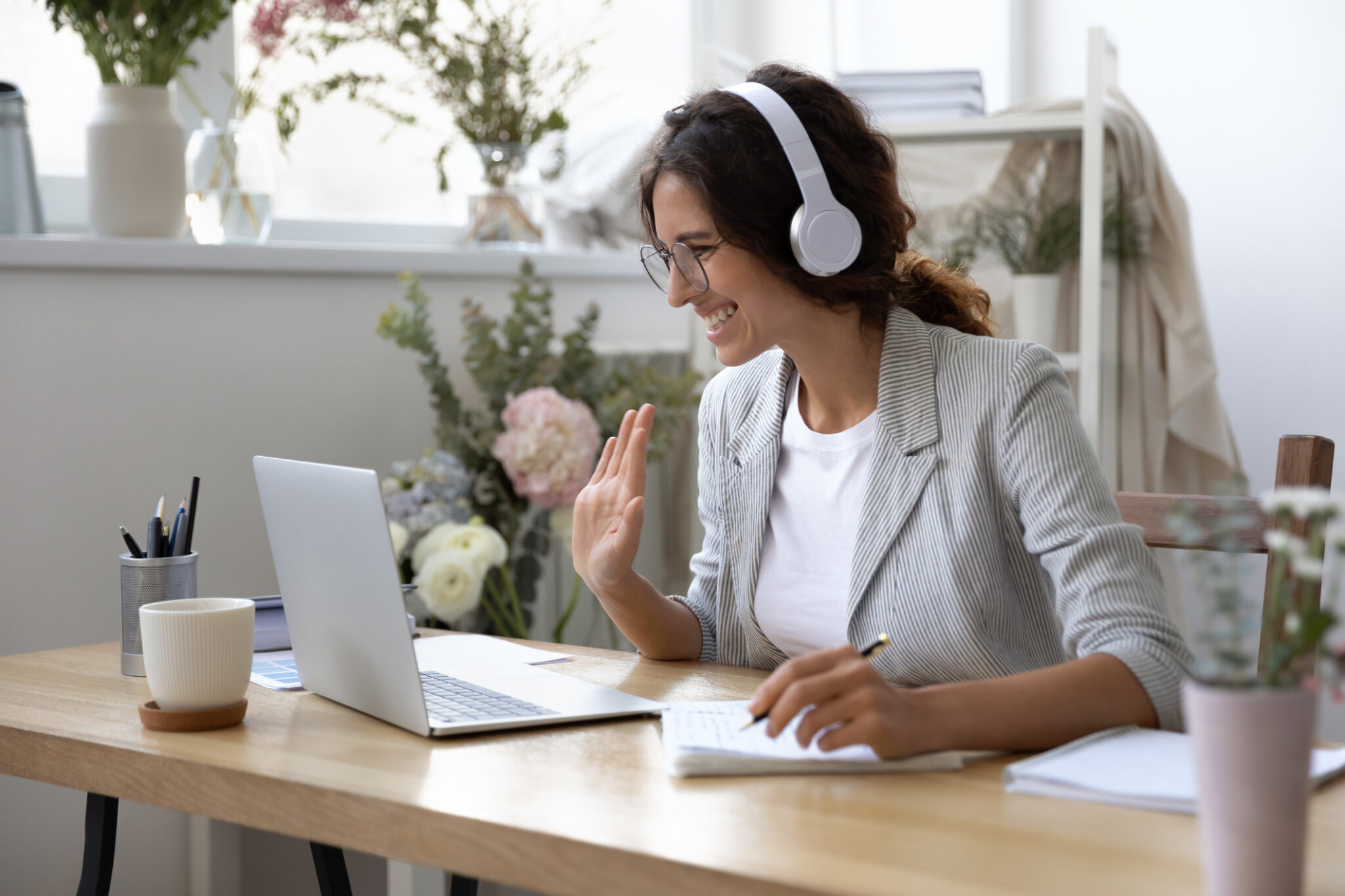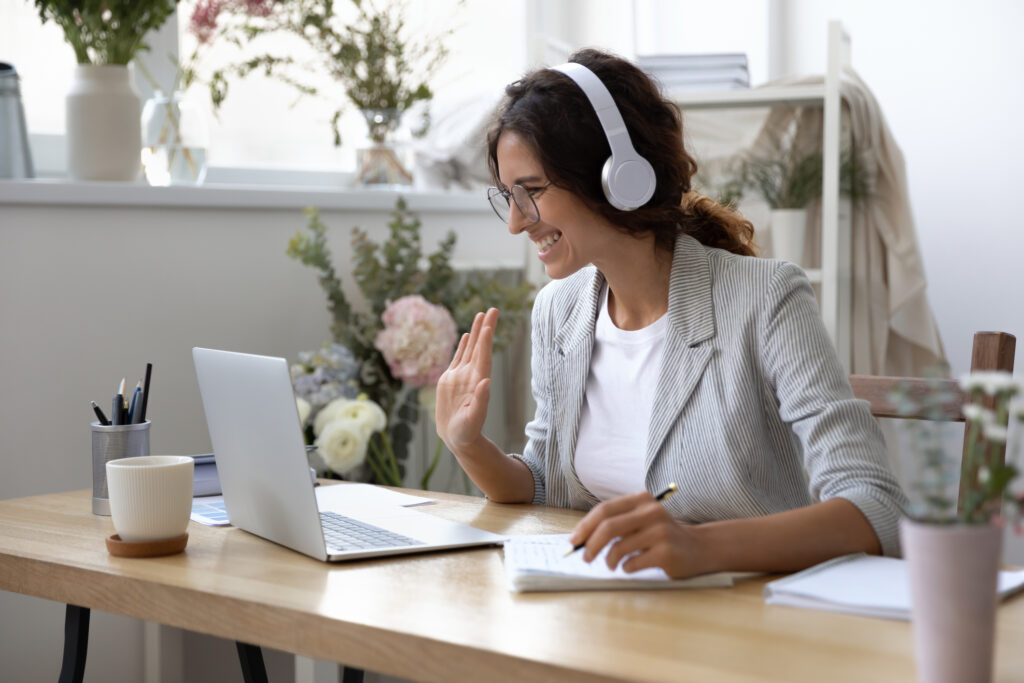 Here's a step-by-step guide to welcoming a virtual employee during the early hours of their onboarding process:
Step 1: Have An Introductory Call
📱 This one's simple—hop on the phone and say hello! Be sure to welcome your new employees and give a sense of what the coming days will include.
Step 2: Meet The Team
💁🏽‍♀️💁🏻 Have your new employee have a call with the team. This will give them a sense of who they'll be working with and the company culture before diving into the nitty-gritty of onboarding. Encourage one-on-one calls to meet the team as well!
Step 3: Icebreakers And Games
🕹 Use icebreakers or virtual games to make your new employee comfortable and ease them into the onboarding process.
Step 4: Start With The Broad Strokes
🔍 Start zoomed out and slowly focus on their specific role and place within the company. This company-wide context will situate them for the remainder of onboarding.
Step 5: Explain, Explain, Explain
🗣 Make sure your new employee is ready to succeed by giving them all the information they'll need. This includes explaining their role, going through your company's tech stack, and laying out the company's structure.
Step 6: End The Day With Joy
🍻 After a long first day, make sure you end on a positive note. This could be another game, a virtual happy hour, or another activity to make your new virtual employee feel welcomed and comfortable.
---
People Also Ask These Questions About Virtual Onboarding Ideas
Q: What are the benefits of virtual onboarding?
The benefits of virtual onboarding are numerous—virtual onboarding gives you a chance to situate and educate your new virtual employee. This will allow them to understand their role, the company culture, and more.
Q: How do you make virtual onboarding fun?
You can make virtual onboarding fun by baking in games, meet-and-greets, and activities through the onboarding process. Whether this means a team trivia game, an escape room, or a happy hour, you'll make your new employee more comfortable in their new role. You can even make the educational aspects of onboarding fun by creating a game out of the pertinent information!
Q: What should be included in virtual onboarding?
What should be included in virtual onboarding is dependent on your company's needs and the specific department the employee is joining. A one-size-fits-all onboarding will be less helpful and engaging for a new employee. The options in this post are designed to offer onboarding ideas for remote employees that you can implement and make your own! There is no one-way to set up an effective onboarding process.
Q: How do I make my virtual onboarding more interactive?
Make virtual onboarding more interactive by adding games and activities throughout the process. Also, leave plenty of time for questions and feedback from your new virtual employees. For more ideas, explore this list of our favorite virtual onboarding ideas for new hires!
Q: How do you welcome new employees virtually?
Welcome new employees virtually the same as you would in person—be friendly, be open to questions, and make sure they feel comfortable in their new role. Plus, sending a work-from-home survival kit to their doorstep never hurts.