Adjusting to a remote or hybrid way of working comes with its challenges. One of them doesn't have to be the struggle to keep your employees engaged with each other.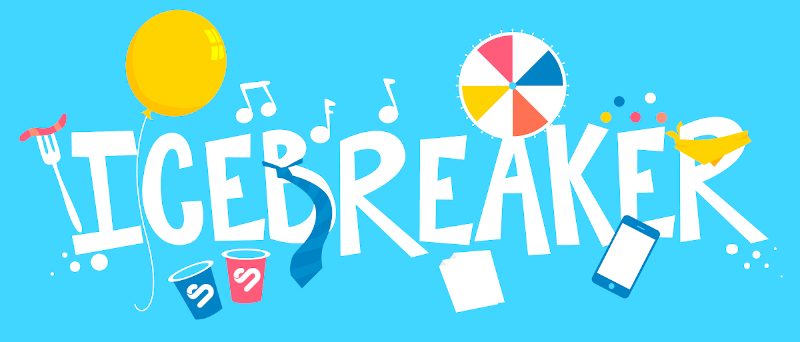 Get Your Free Icebreaker Questions Bundle
Online events like meetings, trainings, and brainstorming sessions can be tough when your team isn't as connected as they could be. Icebreaker tools are a super fun and effective way of easing tension and getting everyone comfortable in remote working environments.
"Virtual icebreakers are a great way of overcoming one of the biggest challenges of managing a remote team – that is the lack of opportunities for team bonding."
Starting with a light and sociable intro is great for more than just laughs, and finding the right icebreaker software to get your team tuned in is key. We've hooked you up with the 15 best icebreaker tools, apps, and platforms to make sure all of your remote and hybrid employees can be included, regardless of their location or time zone.
The main objectives of an icebreaker are to lighten the mood, create opportunities for interaction, and break up any awkwardness. The benefits however, can be far more long-lasting. This short team-building activity can produce long-term improvements in areas like community, interaction, and empathy amongst your team members. These platforms, tools and apps do the work for you to ensure your event starts off with a successful and engaging activity.
Get your teams amped up from the start of the meeting with some of these fantastically fun (and hilarious) icebreaker tools for remote and distributed teams. 
Want to become a better professional in just 5 minutes?
List of the Best Icebreaker Tools & Platforms
"Buzzer fingers ready!"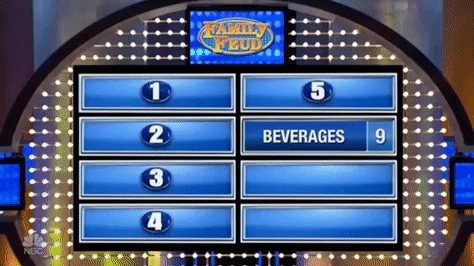 You'll love how familiar this game feels – so much like the long-running TV gameshow.  Coworker Feud offers a witty host to lead your teams through multiple rounds of guessing the "Top 5 ______." There's even a lightning round. Who doesn't love a good lightning round?
Pro-tip: This fun icebreaker platform is fantastic for virtual and hybrid office settings so no one is excluded from the action.
Why we love this icebreaker tool: The quick thinking needed to play this fun game is sure to bring some hilarious moments, inside jokes, and excitement to your group. Promoting some virtual team building while getting their blood pumping and enjoying some laughs is a great way to keep them engaged throughout the rest of your event.
Where to find it: Light the fire to fuel your Coworker Feud today.
"A series of quick icebreaker games that will get your team talking and interacting with one another in a personal way."

This virtual icebreaker tool is great for reacquainting your remote teams. They'll love the interaction as they all play the same game, competing against each other in teams. What's a little healthy competition amongst colleagues?
Pro-tip: Since this icebreaker tool is customizable, you can pick and choose the best options for the dynamic of your team.
Why we love this icebreaker tool: Having a live host to help out makes Ice Shaker feel like an actual gameshow. It's sure to loosen up the whole crew and launch your virtual event in a light and fun way.
Where to find it: Sign up now for Ice Shaker and start customizing your virtual gaming events today.
"Perfect for breaking the ice, bonding with your team or celebrating big milestones."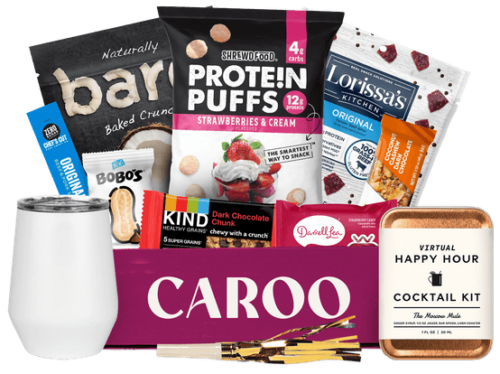 This snack box isn't just tasty and thoughtful, it's the gift that gives back. For every Icebreaker Gift Box you give, Caroo provides a meal to a family in need.
Pro-tip: You've already got snacks, an icebreaker activity, and a party horn. Now just block some team time on the office calendar and have yourselves a little social shindig.
Why we love this icebreaker tool: It's the "give back" for us. This icebreaker tool feeds your employees as well as those less fortunate and everything about that feels good.
Where to find it: Get started on ordering your Icebreaker Boxes from Caroo.
"Build deeper connections with the people you work with – whilst having fun"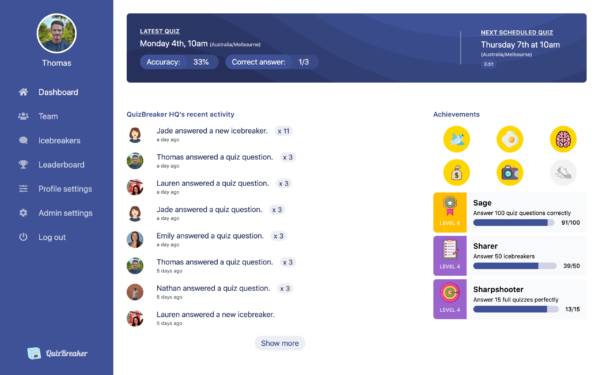 QuizBreaker sends questions out and once you schedule the quiz times, your employees will be sent the same questions with the answers, then have to guess who said what. It's a great way to learn the little nuances of your team and create some unforeseen bonds.
Pro-tip: You can choose from the list of 100 questions they've already curated, or customize the questions for your group and business.
Why we love this icebreaker tool: With QuizBreaker, you can plan when to send out the quizzes and give your team some random, much-needed moments to have some fun while getting to know each other a little better.
Where to find it: Get started on building your QuizBreaker quizzes here today.
  5 

 The One-Word Icebreaker
"I feel alpaca."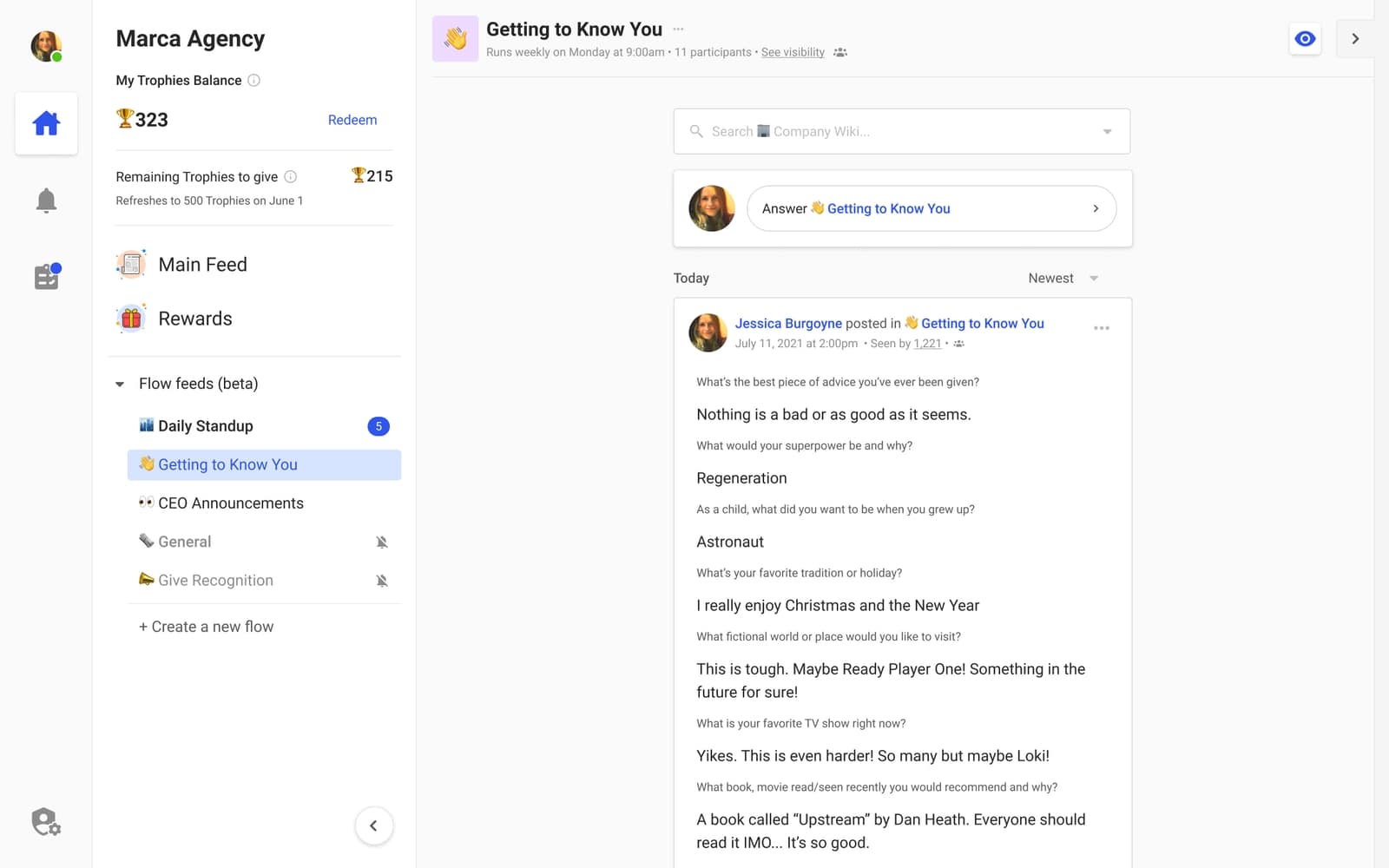 The free Assembly Icebreaker Template is the perfect way to onboard new hires and integrate them into your company culture. This icebreaker template is easy to set up and comes with over 40 other templates within the platform for you to customize.
Pro-tip: Try getting each member of your team to contribute one question for new hires to answer. This ensures that everyone has a say and encourages some of the questions to be fun.
Why we love this icebreaker tool: Whether your team is 3 or 300, this icebreaker tool provides a great way for everyone to engage and get to know each other.
Where to find it: Start customizing the free Assembly Icebreaker Template.
"A virtual spin on the classic Pictionary game."

It's exactly what you're thinking – random words, a drawing board, and your team's best (and maybe not so much) artistic abilities on display. Except instead of everyone being in your living room, they're able to connect from the comfort of their own virtual workspaces, drawing on an online whiteboard in real-time.
Pro-tip: Let the game randomize your teams to ensure the best mix-up of experience and personalities.
Why we love this icebreaker tool: Pictionary is great for small groups and allows everyone to shine.
Where to find it: Check out the demo and get Pictionary on board to warm up your group at your next event.
"All the virtual games you need, on one simple platform."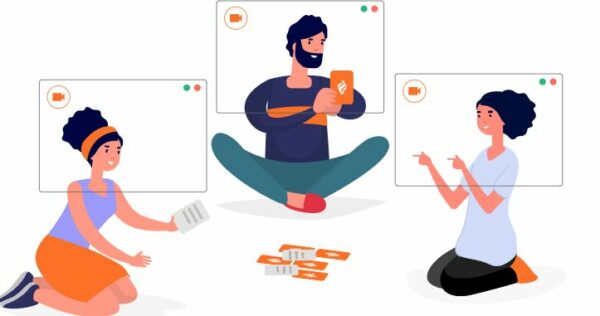 Whether you want to launch a Zoom call with a quick brain teaser or get your attendees' circulation flowing with some charades, you can find it all here. With countless categories and customizations to choose from, there's so many opportunities for getting your team involved and engaged.
Pro-tip: Add the "Community Made Games" into their day to promote a little healthy competition and see how much fun people can have while learning about each other.
Why we love this icebreaker tool: This icebreaker platform makes it easy for everyone to participate from anywhere, on any device – mobile, tablet, laptop, or desktop… from the office, the kitchen, the beach or the rooftop.
Where to find it: Sign up for free today to boost your office gaming game.
"Face off with your coworkers as villagers versus werewolves, as you try to uncover everyone's hidden roles."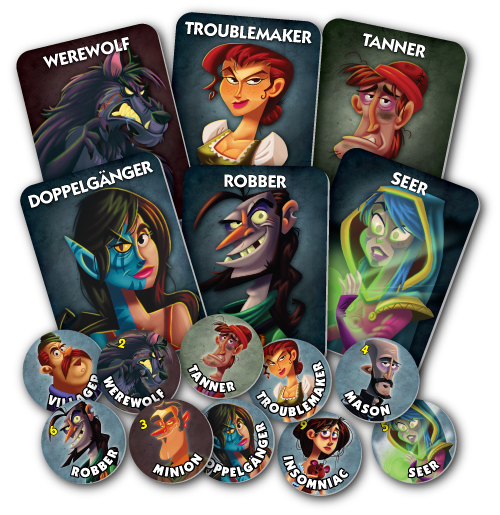 Hidden identities… secret abilities… no one knows who's who in this fun fantasy-based virtual icebreaker game. Your colleagues will compete for bragging rights as either the last werewolf or last villager standing.
Pro-tip: The game allows up to 20 players in each virtual game room with breakout rooms optional so everyone can take on a secret role.
Why we love this icebreaker tool: This is a great icebreaker game for stepping outside the office talk and outside of reality to promote some non-work-related fun for the whole team.
Where to find it: Find out "who runs this town" (or this office) with Werewolf.
"Building remote morale is hard. We make it easy."

Water Cooler Trivia slides right into your participants' inboxes with questions based on the categories and difficulty level you choose. With over curated 10,000 questions in their database, your team won't get bored with the variety of the quizzes.
Pro-tip: This icebreaker tool has so many customizable options, and you can even create your own category for more relative questions or company specific trivia.
Why we love this icebreaker tool: It's easy to use, extremely customizable, and so much fun for the entire crew.
Where to find it: Set up your free Water Cooler Trivia account and start crafting the leaderboard for your virtual office today.
"With over 500 Would You Rather questions appearing randomly, you're sure to find plenty of questions to make you think long and hard about which you'd prefer."

Creating a list of good Would You Rather questions for your virtual icebreaker can prove to be a daunting task. Fortunately, this platform is here to make that part a whole lot easier.
Pro-tip: Keep the questions fresh and completely random with their simple question generator.
Why we love this icebreaker tool: No creating an account or logging in. You can get up to 50 FREE Would You Rather questions at a time in just a couple clicks.
Where to find it: Save time for more important things and let this Would You Rather Generator create your list of icebreaker questions.
"Scribble your way through an icebreaker."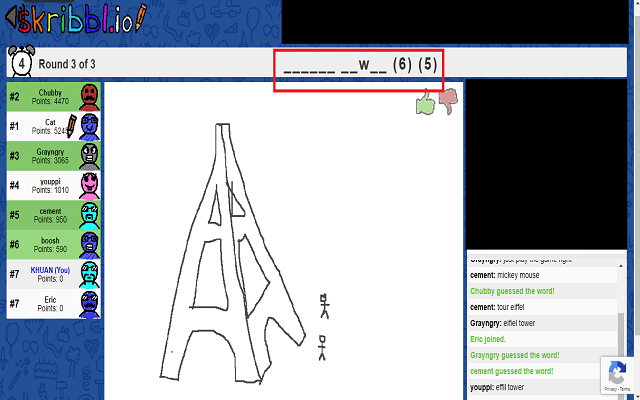 Create a private room and get started – it's literally that easy. Skribbl generates a word for each team member to draw while the other players type their guesses into a chat. The platform captures who answers quickest for more points and keeps the score posted to fuel your team's competitive spirit.
Pro-tip: The more players in the room, the better selection of hilarious guesses you're likely to get.
Why we love this icebreaker tool: The concept and functionality are so simple. It generates conversation and a fun vibe for the start of the meetings or training.
Where to find it: Start scribbling with Skribbl.
"Spot the lie, tell the truth, and break the ice!"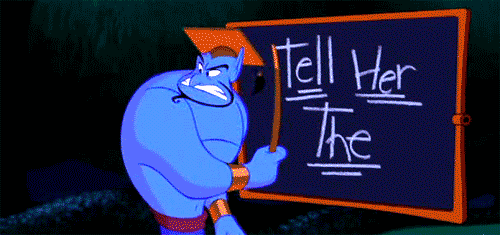 The answers your players individually submit ahead of time are plugged into a game for everyone to enjoy together. Connect your remote and hybrid workers in the same game and let the giggles begin.
Pro-tip: Learning about each other while laughing together combines an icebreaker and a team building activity in one.
Why we love this icebreaker tool: Having a fun and interactive host makes it feel like a legit gameshow and really allows everyone to get into the spirit of the experience.
Where to find it: Gather your group's answers and start telling Two Truths And a Lie.
"World's largest trivia quiz website."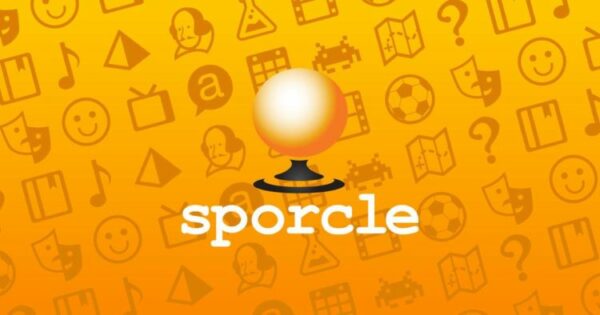 This platform has all your trivia needs covered with the best meeting icebreakers for your group. Categories galore! There are so many topics to choose from so everyone can get in on the action.
Pro-tip: Choose a quiz that's already available or create your own to personalize the experience.
Why we love this icebreaker tool: Categories for days, quizzes, leaderboards, customizations… they've got it all. From sports and pop culture, to language and geography, and everything in between.
Where to find it: Test your team's trivia skills and have some team building fun with Sporcle.
"Flex your knowledge of all things random."

Diversity in the workplace deserves to be celebrated and your remote environment is no exception. Tap into these icebreaker questions and get everyone laughing while learning about their colleagues.
Pro-tip: Lean into the whole gameshow ambiance with your Quiz Master facilitator leading the way.
Why we love this icebreaker tool: A fun work activity where sass translates into bonus points… I mean… what's not to love about that?
Where to find it: Diversify your next meeting and give Classic Trivia a try.
"Speed meet your way through the office"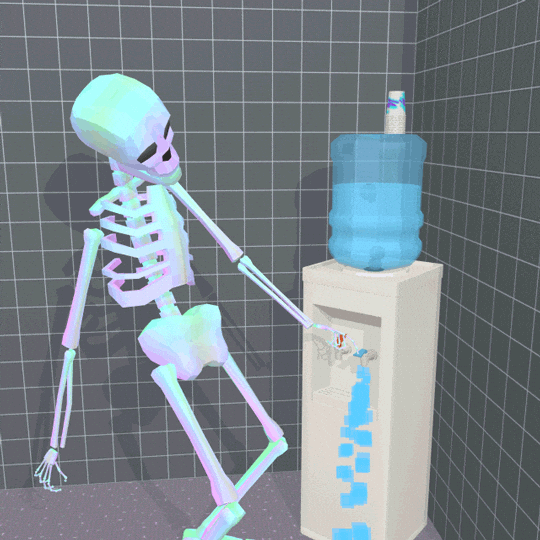 Gone are the days of conversations at the proverbial water cooler  that involved weather, traffic, or some other mundane and even irrelevant topics. These icebreaker questions are handed out and your team is randomly paired-up and sent to break-out rooms for quick answers.
Pro-tip: This icebreaker platform easily supports a large group of people while keeping the interaction fun and personal.
Why we love this icebreaker tool: Speedy, two minute rounds get everyone excited and bring some hilarious answers to the table.
Where to find it: Upgrade your Water Cooler conversation today.
"In between songs and sips, mingle with teammates in the pub trivia room, topic or game rooms."

You read that correctly – bring the whole pub experience to your virtual meeting room. Eat, drink, and be merry while enjoying happy hour together even while working apart.
Pro-tip: Customize your virtual pub based on your team and your theme, with or without the bubblies.
Why we love this icebreaker tool: Live music, games, and a virtual bartender really do bring the full pub experience to your meeting. We love a good office party!
Where to find it: Pull up a stool and enjoy some jazz in this Virtual Pub experience.
---
People Also Ask These Questions About Icebreaker Tools
Q: What is an icebreaker tool?
A: An icebreaker tool is a fun and interactive game or exercise that prompts conversation and allows everyone to get to know a little more about each other, by sharing things like their hobbies, interests, and funny stories from their personal lives. Some of our favorites include:
| | |
| --- | --- |
| | Our Favorite Icebreaker Tools |
| 1 | ❄️  Ice Shaker |
| 2 | |
| 3 | |
| 4 | |
| 5 | |
Q: How do I find an icebreaker platform for my meeting?
A: Finding an icebreaker platform for your meeting is simple. Whether you're onboarding new team members and starting a long day of virtual training, or reacquainting  your remote employees after some time apart, just scroll up to find the one that's best suited for your event's needs.
Q: Can everyone play an icebreaker app together?
A: Yes, everyone can play an icebreaker app together. There are many options for interactive apps and online icebreaker tools to connect all your employees and ensure everyone's included.
Q: How does an icebreaker tool help to start a conversation?
A: An icebreaker tool helps to start a conversation by using fun and engaging games or activities to ease the initial introduction process and get everyone feeling more comfortable with each other.
Q: Are there free icebreaker tools?
A: Yes, there are free icebreaker tools. An example would be random questions your team answers anonymously then everyone has to guess whose answers are whose.