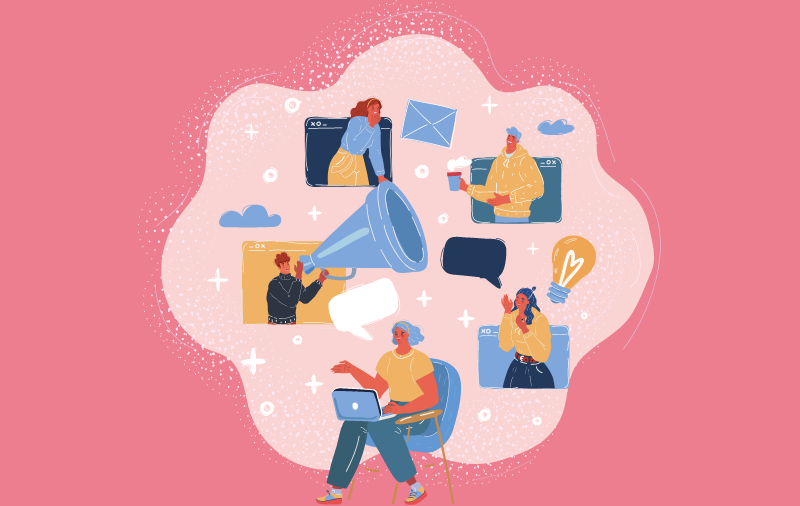 It's no secret that communication is one of the keys to the success of any business.
Whether you're communicating with team members or customers, having a reliable and effective method in place is crucial.
These tools are designed to help both remote and in-person teams communicate effectively and efficiently.
Businesses with effective internal communication processes are found to be 50% more likely to have lower employee turnover.
With so many options on the market, it can be tough to know which communication tool is right for your business. To help you make the best decision, we've compiled a list of 10 of the best team communication tools for businesses.
From simple chat apps to comprehensive project management platforms, there's sure to be a tool on this list that's perfect for your team.
So, without further ado, let's get started!
Want to become a better professional in just 5 minutes?
List of Top-Rated Communication Tools For Teams
Best for: Project Management


monday.com is a comprehensive project management platform that helps teams communicate and collaborate on projects of all sizes. With features like task management, team chat, file sharing, and more, it's everything you need to keep your projects on track.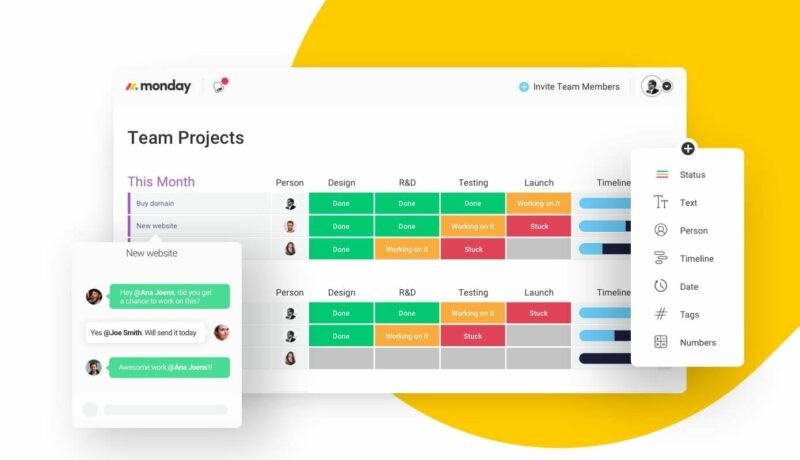 Why we love this team communication tool: With its sleek and user-friendly interface, monday.com is easy to use, even for teams who are new to project management tools.
Tip: Automation is one of monday.com's best features. With it, you can automatically carry out routine tasks and notify people across different platforms with ease.
Best for: Employe Engagement

WorkTango helps businesses improve employee engagement and satisfaction. You can recognize and reward employees for their good work, get actionable insights from employee surveys, and support alignment with goal-setting and feedback.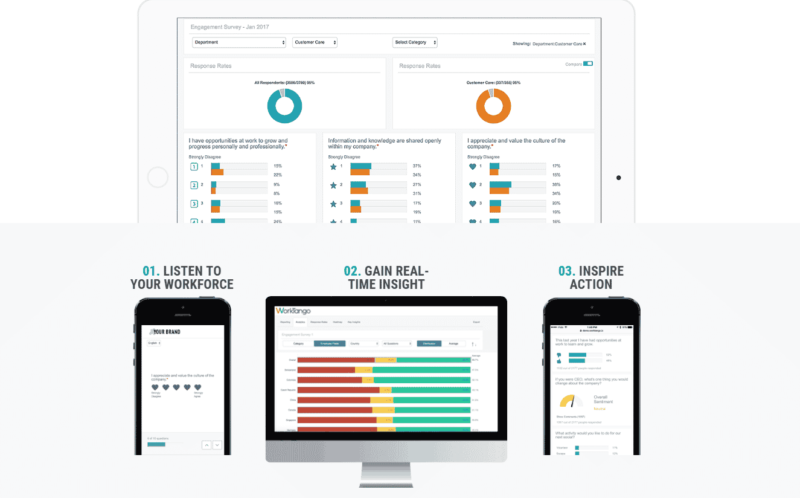 Why we love this team communication tool: By using this powerful platform, you can create a more positive work environment which will in turn lead to greater employee retention.
Tip: You can change the rewards offered to employees as many times as you like to really cater to what your employees want. WorkTango also offers a lot of season reward options which is really great for around the holidays.
Best for: Employee Recognition

With Nectar HR, you can finally give your employees the recognition they deserve! This simple, yet powerful employee recognition platform makes it easy to show appreciation for a job well done. Not only will your team feel appreciated, but they'll also be motivated to keep up the great work.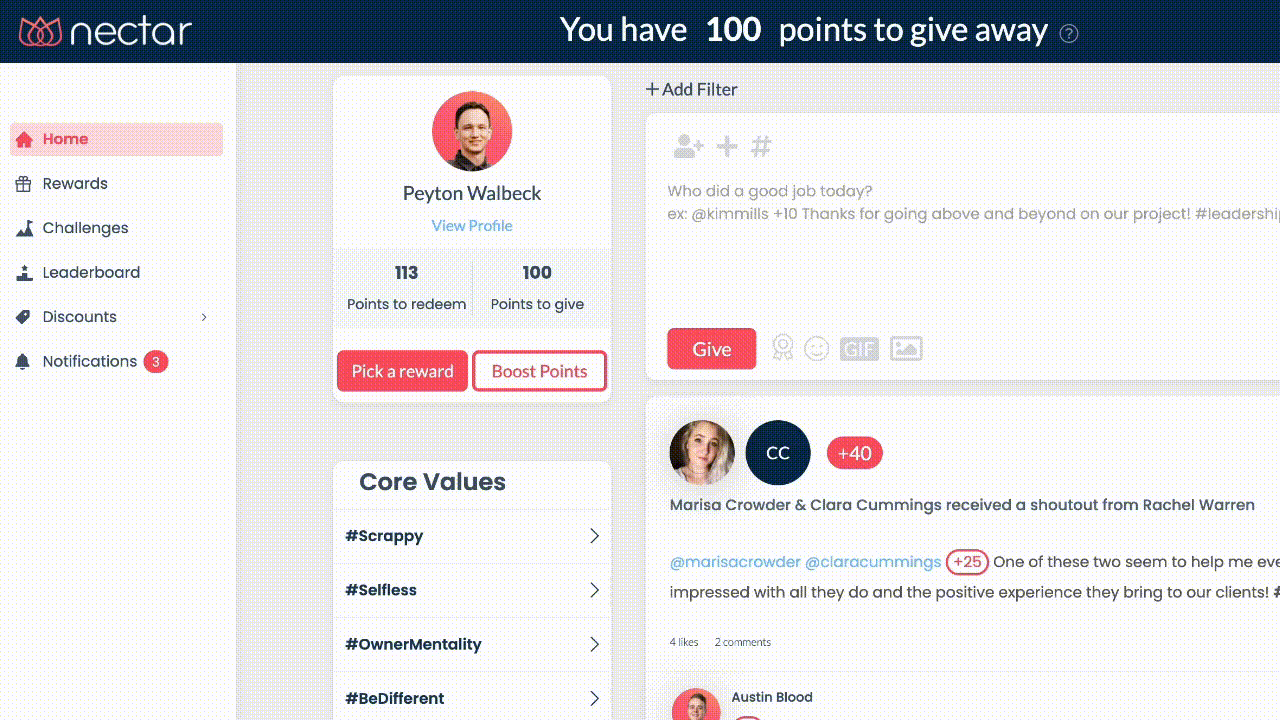 Why we love this team communication tool: Nectar's built-in community feature can promote your company's core values and build a strong sense of camaraderie in the workspace. Plus, there's even a rewards system so you can offer staff members redemption options for their hard work.
Tip: Nectar can help you create employee wellness challenges that focus on building healthy habits.
Best for: Employee Recognition

Bonusly allows your team members to send and receive recognition in real-time, connect with others in your company to celebrate successes big and small, and earn rewards that everyone will enjoy.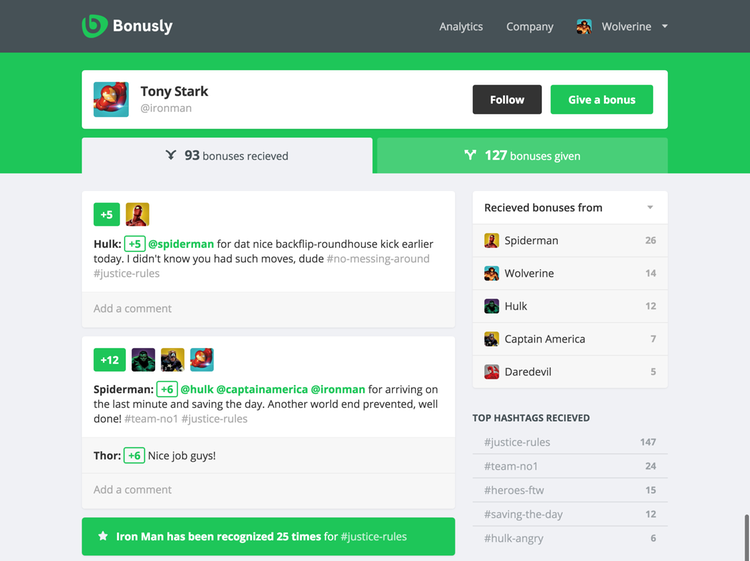 Why we love this team communication tool: From peer-to-peer recognition to social sharing, Bonusly helps you get the most out of your company culture. And because happy employees are productive employees, it's a win-win for everyone involved!
Tip: The built-in survey tool allows employers to measure employee satisfaction
Best for: Employee Recognition

By utilizing Assembly, you will also get more out of your team. With profiles that include all information about each team member, you can assign tasks according to every person's skill set.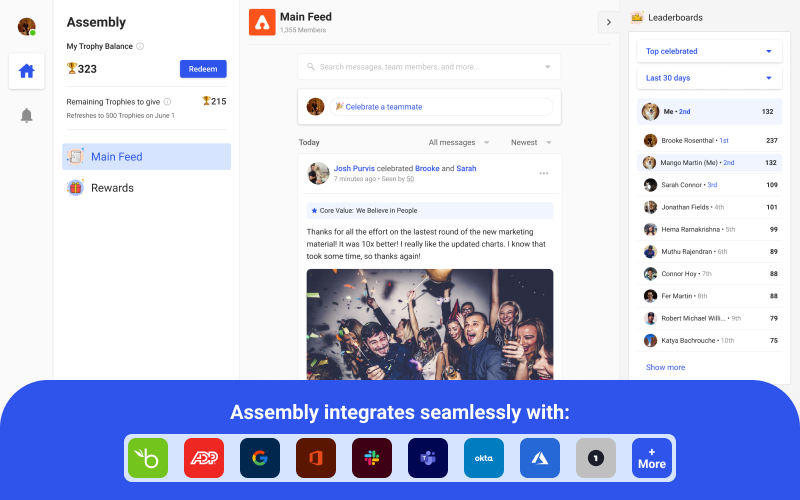 Why we love this team communication tool: Because everyone is brought together in one space with Assembly, it streamlines communication and makes it easy to keep everyone updated and to work swiftly in response to all incoming info.
Tip: Offers integration with Microsoft Teams, Office 365, as well as popular SSO & HRIS solutions.
Best for: Messaging

This business communication tool is an online team collaboration tool that lets you easily stay in touch with your colleagues and remote teams. It's simple to use and provides a wealth of features, making it an essential tool for any team. With the Slack app, you can easily send messages, upload files, and keep track of your team's progress.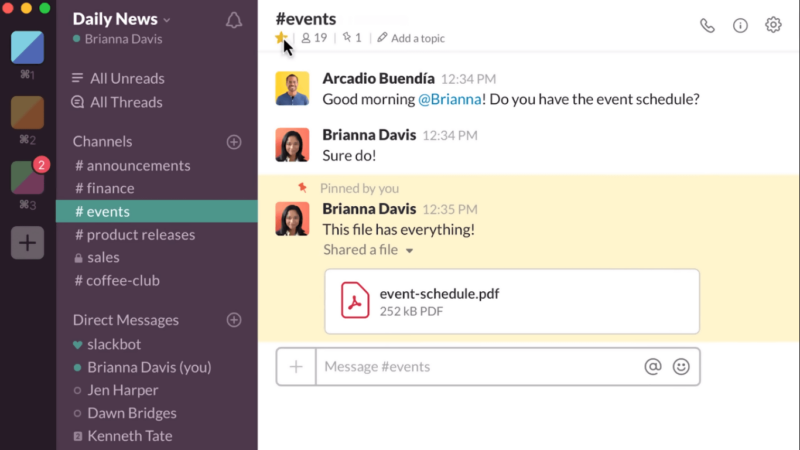 Why we love this team communication tool: Slack is an excellent team communication software that allows colleagues and coworkers to keep in touch with both remote employees and colleagues who are in the office. With Slack, it's easy to follow multiple conversations at once, which comes in handy when working with hybrid teams. However, Slack isn't just great for group chats and instant messaging — it's also ideal for one-on-one conversations, breakouts, and huddles.
Tip: Slack integrates with other platforms like Google Calendar, Google Drive, and Jira to help you manage all your projects and deadlines!
Best for: Video Conferencing and Business Messaging

If you're looking for a team communication tool that's reliable, efficient, and easy to use, Microsoft Teams is the answer. This versatile chatroom software makes it simple and straightforward to connect with team members, share files and ideas, and get work done.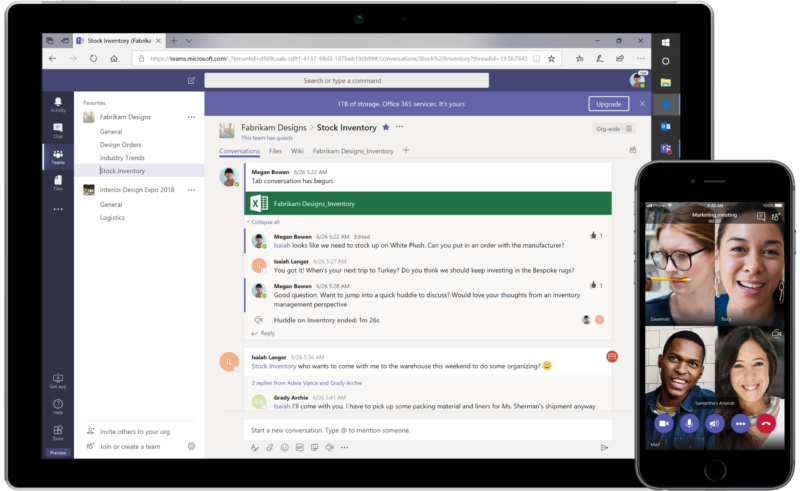 Why we love this team communication tool: Microsoft Teams makes it easy to stay in touch with your colleagues and work on projects together, regardless of location. And with its robust set of features, you can be sure that you're always getting the most out of your conversations. Its rich media support, which lets you add photos, videos, and other files to your conversations; and its built-in audio calls and video chats make it easy to connect with your team members no matter where they are.
Tip: Microsoft Teams stands out for its threaded conversations which keep all your messages in one place so you can easily follow along.
Best for: Cloud Content Collaboration


One Drive is the solution for teams that need a way to store and share files securely online while remaining organized. One Drive comes with numerous features preventing data breaches and making collaboration easy.
Why we love this team communication tool: You can access your stored files from anywhere and on any device, so it's perfect for busy workers who require flexible hours.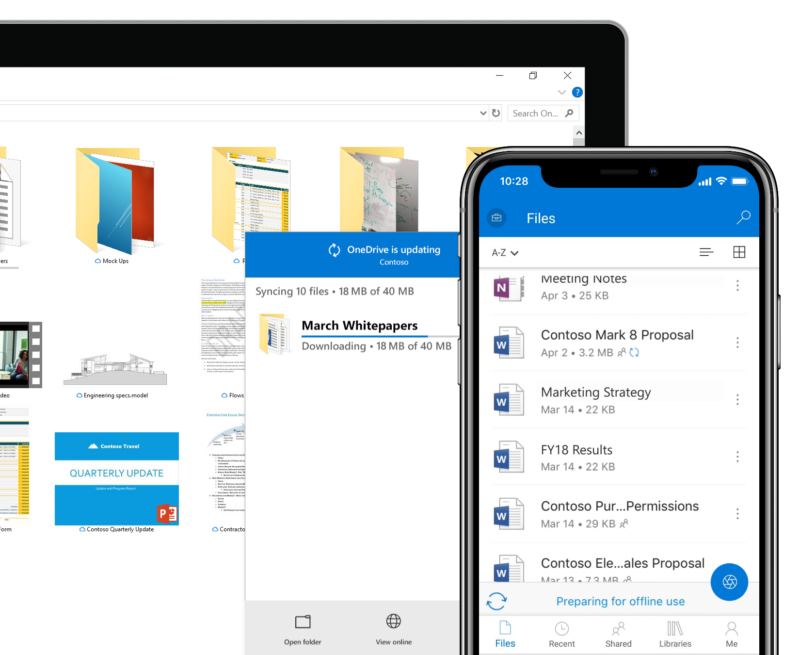 Tip: With Microsoft teams and outlook integration, you don't need to waste time searching for documents because everything is stored on cloud storage. You can easily access the information whenever you need it.
Best for: Video Conferencing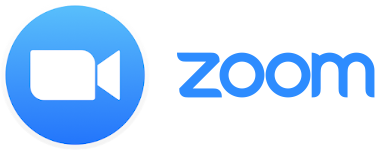 Zoom is an excellent team communication tool for today's fast-paced, connected world. You can easily stay in touch with colleagues and clients globally, and share files and ideas in just a few clicks. Zoom is fast, reliable, and easy to use, making it the perfect solution for effective communication.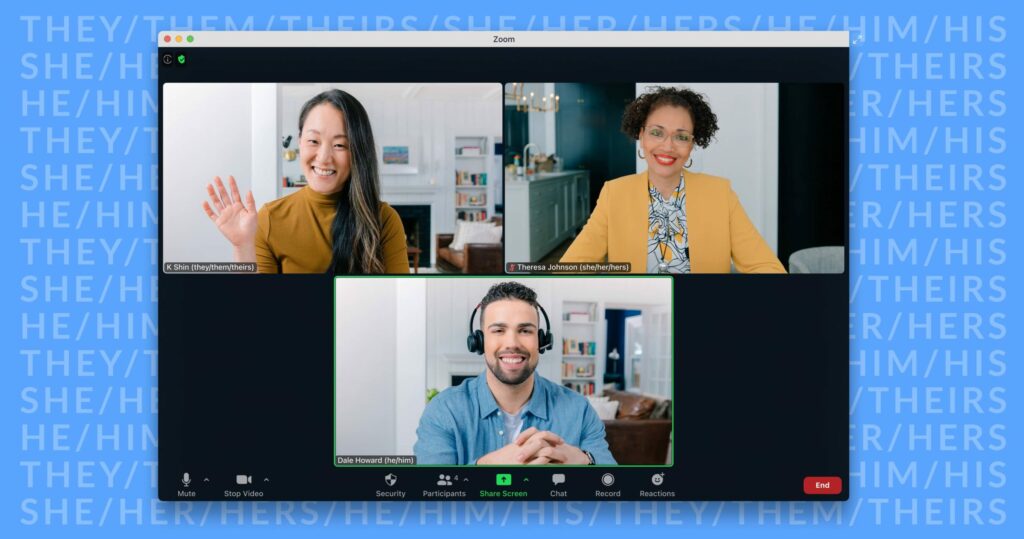 Why we love this team communication tool: With crystal clear audio and video quality, you'll be able to communicate with your team like never before. And with its easy-to-use interface, you'll be up and running in no time.
Tip: You can use this video conferencing tool to hold an unlimited number of video conferences or meetings. Up to 49 members can share their videos simultaneously. Any participant in the meeting doesn't need a Zoom account, they only need the meeting link.
Best for: Project Management


Thanks to Teamwork, you can increase productivity by managing all of your projects, tasks, deadlines, and progress in one cohesive system. The user interface is very intuitive, so any member of your team can start using it with ease. Plus, the robust set of features will help ensure that everyone stays on track and makes continuous progress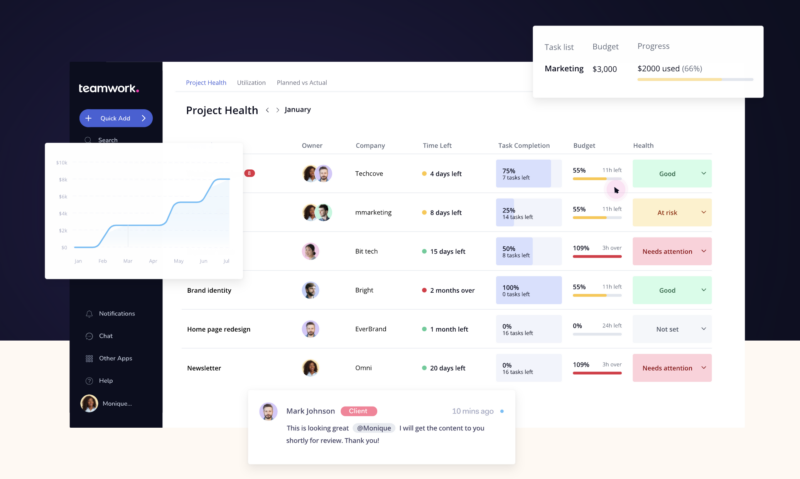 Why we love this team communication tool: The best part of Teamwork is that it is simple to integrate with other applications and creates a seamless workflow. This makes it easy to get an up-to-date status on each project or product. You can create projects, tasks, sub-tasks, and milestones with clear instructions that help you demonstrate your progress and project status to your managers and customers.
Tip: Teamwork automatically generates timelines ensuring that your project is always on track.
---
People Also Ask These Questions About Team Communication Tools
Q: What are team communication tools?
A: Team communication tools are software programs that allow team members to communicate with each other by sending messages, sharing files, and collaborating on projects. Some of the most popular team communication tools include Slack, Trello, Asana, and Google Docs. These tools allow team members to stay in touch with each other and collaborate on projects no matter where they are located.
Q: What are the benefits of using team communication tools?
A: There are a ton of benefits to using team communication tools, the most obvious being that it helps keep everyone on the same page. With everyone on the same page, you can avoid duplication of efforts, missed deadlines, and other assorted messes. Team communication tools also make it easy to track progress on projects, which is really helpful when you need to generate reports or give presentations. And finally, using team communication tools can help foster a sense of community within your team and encourage collaboration.
Q: Why should I use team communication tools?
A: There are many reasons why you should use team communication tools. By using team communication tools, you can improve your productivity and efficiency. You can also improve your communication with your colleagues and keep everyone updated on the latest news and developments. Additionally, team communication tools can help you build better relationships with your co-workers and improve teamwork.