In an era of digital collaboration, effective project management is vital for team success.
This guide explores the eight best online project management tools for 2023, designed to maximize efficiency and streamline your team's workflow.
From task allocation to time-tracking, these tools offer comprehensive features that foster employee productivity and effective communication.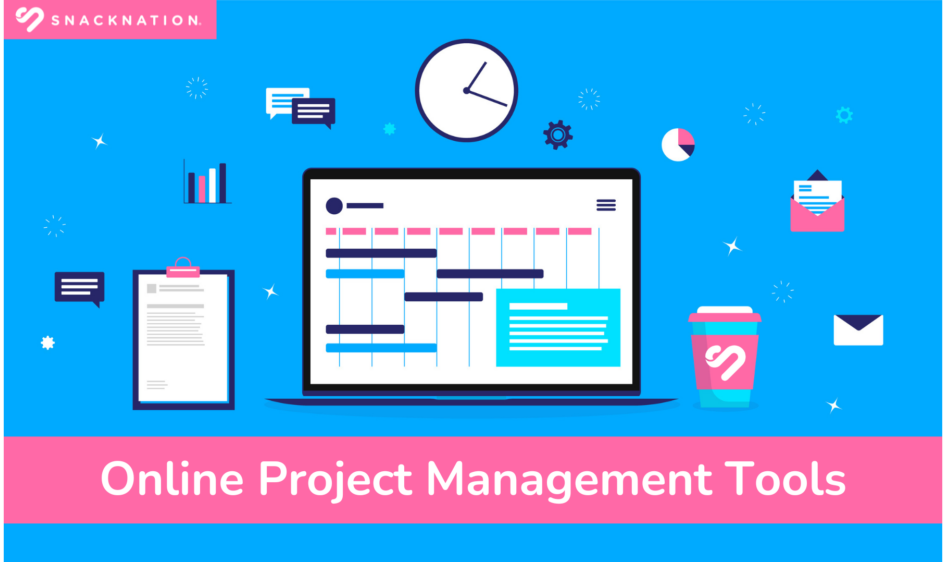 Whether you lead a small startup or a large corporate team, these platforms promise robust solutions for your project management needs.
"A project without a critical path is like a ship without a rudder." — D. Meyer, Illinois Construction Law.
Click To Tweet
Dive in and transform your team's digital workspace with some of the best project management software!
Want to become a better professional in just 5 minutes?
What is an online project management software tool?
Online project management software tools are digital platforms designed to facilitate the organization and execution of projects.
They offer a range of functions, such as task distribution, time tracking, resource allocation, and collaboration tools to keep a team coordinated. These platforms aim to streamline team communication, increase efficiency, and ensure successful project completion within the specified timelines and budget.
They provide visibility into progress, allow real-time updates, and enable project teams to efficiently anticipate and manage potential roadblocks.
SnackNation's List of Top Online Tools For Project Management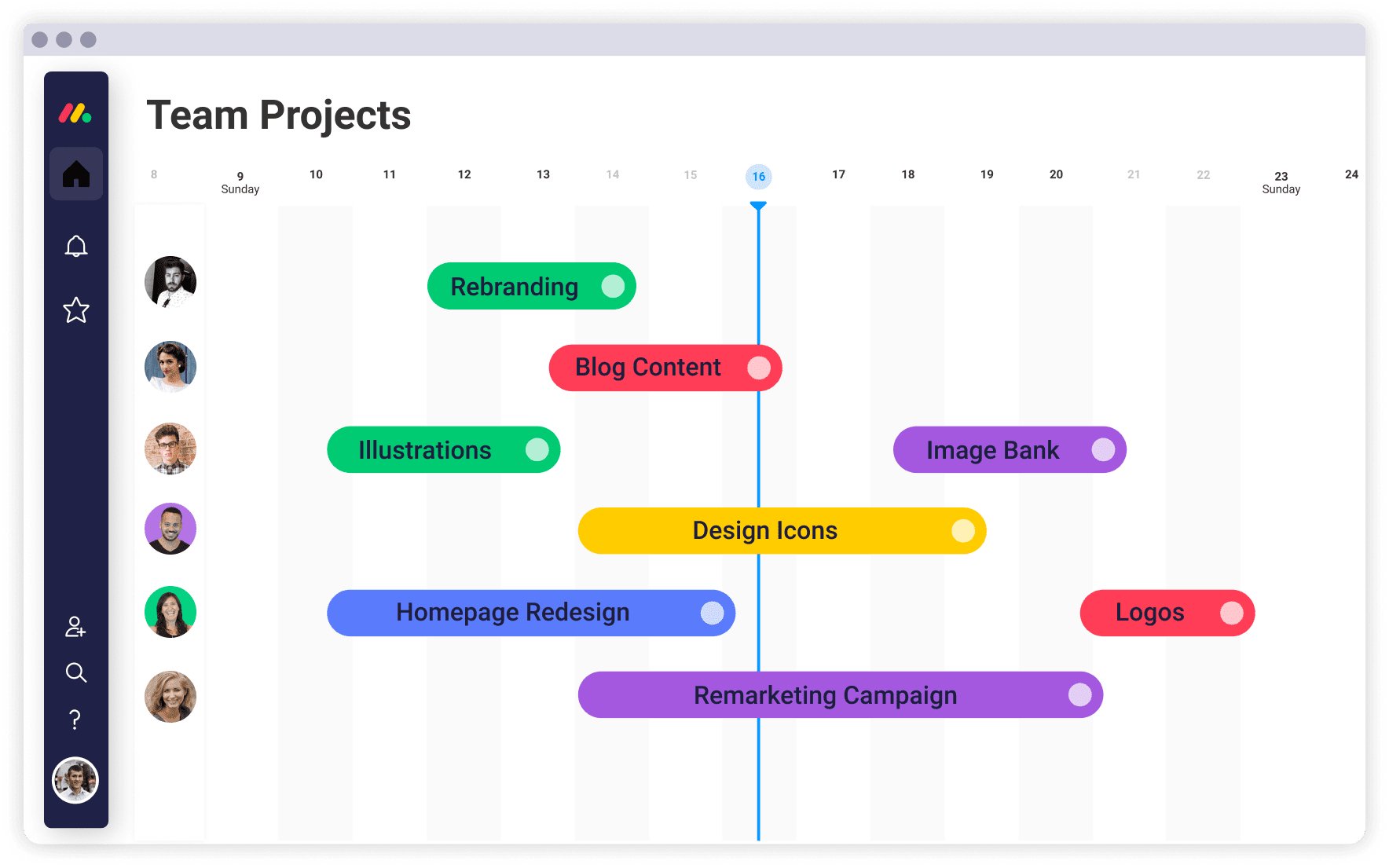 An intuitive, highly customizable online project management tool that caters to various industry needs. It facilitates task management, workflow automation, and real-time collaboration, allowing teams to streamline operations efficiently.
Why we love this tool: monday.com's highly customizable interface adapts to various project types and industries, offering users the flexibility they need.
🏆 Notable Features
Automation Recipes: Allows you to automate routine tasks, freeing up time for more complex activities.
Integrations: Seamless integration with popular cloud-based apps like Basecamp, Slack, Zapier, Google Drive, and Zoom.
Visual Project Timelines: Provides at-a-glance visibility of project progress and resource management with Gantt charts and Kanban boards.
Pricing
monday.com offers four tiers based on your team size and needs:
Individual — FREE
Basic — $8/user/month
Standard — $10/user/month
Pro — $16/user/month
Tip: Start with monday.com's pre-made templates to quickly get your projects up and running.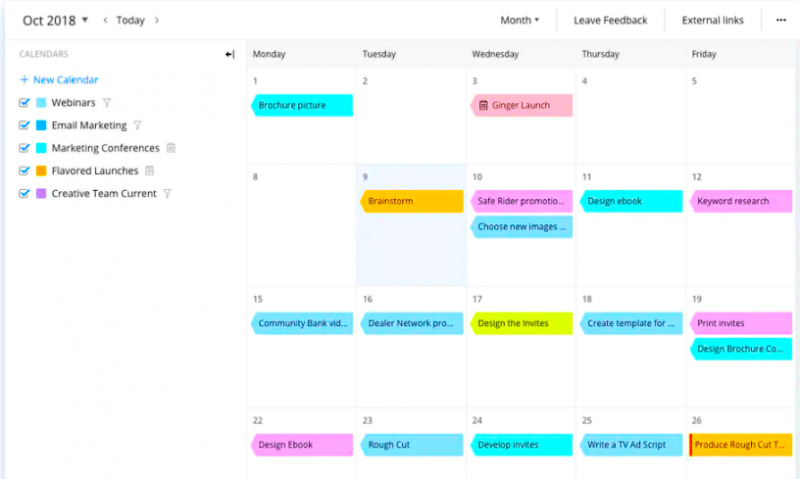 A versatile tool for managers that offers task management, file sharing, time tracking, and advanced reporting. Wrike is designed for team collaboration, helping to streamline workflows and improve efficiency for project management at the enterprise level.
Why we love this tool: Wrike's blend of versatile project management features makes it suitable for various team sizes and projects.
🏆 Notable Features
Gantt Charts: Helps to visualize project timelines and dependencies.
Templates: Offers ready-made templates for various project types.
Time Tracking: Enables tracking of time spent on tasks.
Pricing
Free tier
Professional — $9.80/user/month
Business — $24.80/user/month
Enterprise — Custom pricing
Tip: Use Wrike's 'Spaces' for organizing tasks by department, project, or any other categorization. Find some Wrike alternatives here.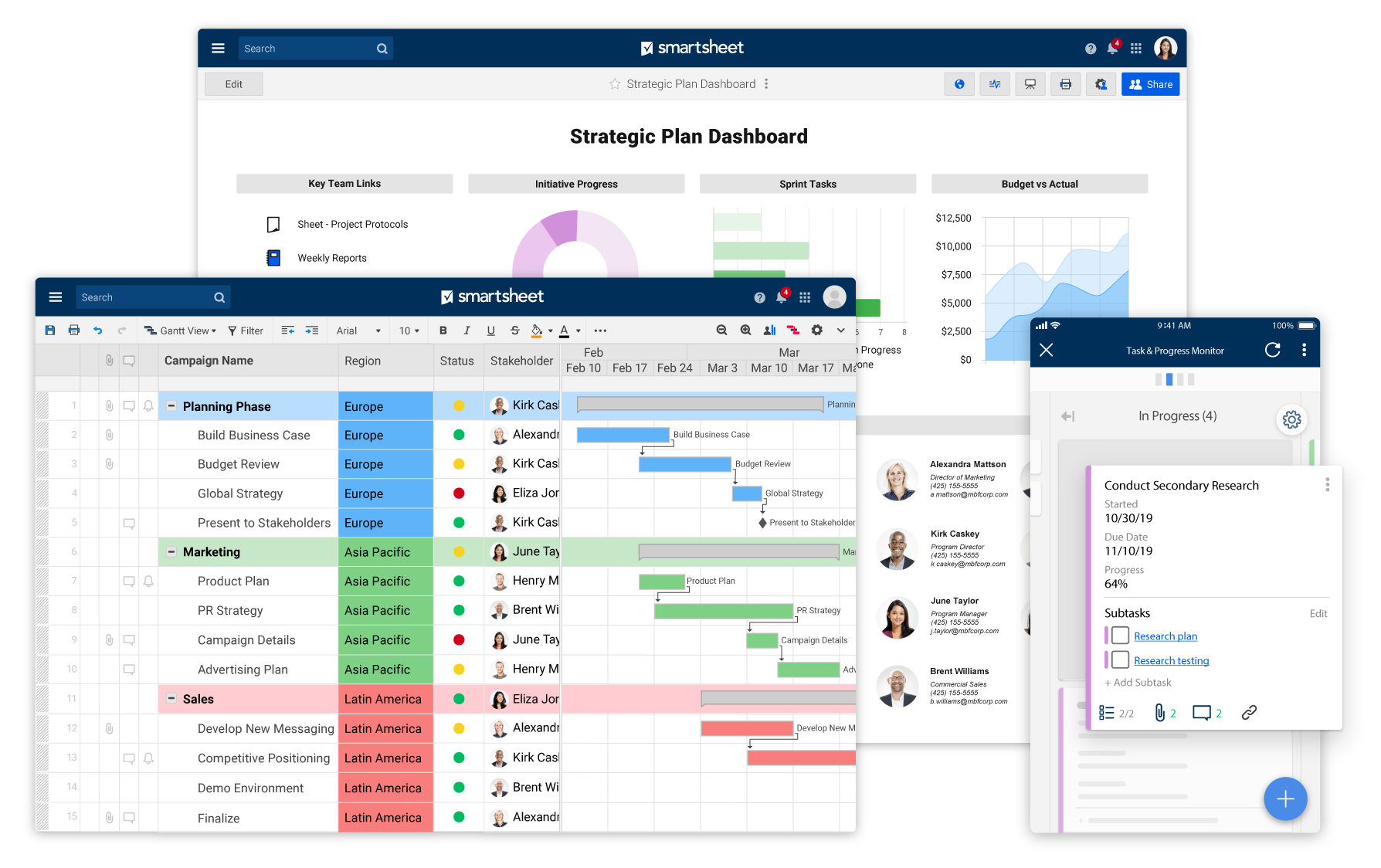 A dynamic, spreadsheet-like enterprise project management software that can act as an HR tool. It offers comprehensive project planning, collaboration, and reporting features suitable for a range of business sizes and industries.
Why we love this tool: Smartsheet combines the familiarity of spreadsheets with powerful project management features.
🏆 Notable Features
Grid View: A spreadsheet-style view for planning and organizing tasks.
Dashboards & Reports: Provides real-time insights into project performance.
Automation: Automate repetitive tasks, improving efficiency.
Pricing
Individual — $14/month
Business — $25/user/month
Enterprise — custom pricing
Tip: Leverage Smartsheet's 'Card View' for a more visual approach to agile project management.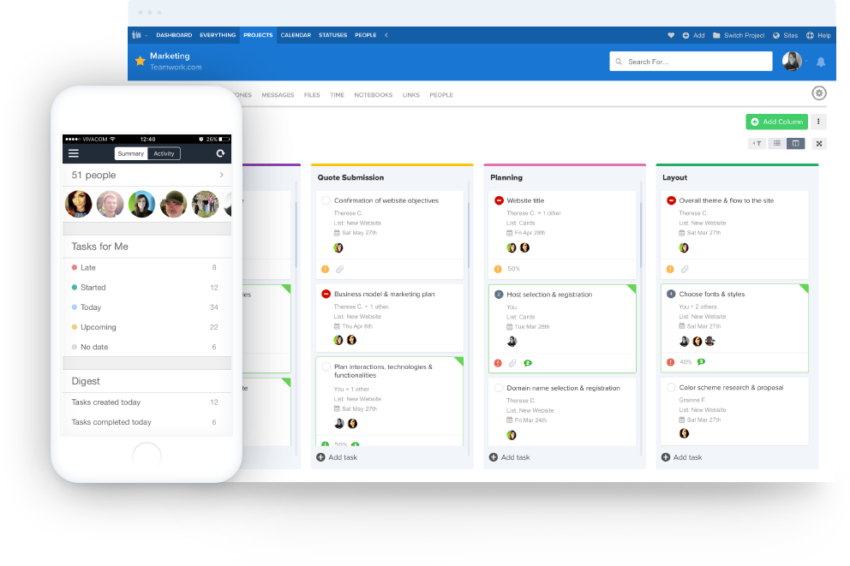 A platform with project management templates designed to optimize team collaboration. Teamwork offers task management, time tracking, and milestone tracking, with a focus on improving project delivery times and team productivity.
Why we love this tool: Teamwork focuses on improving project delivery times and enhancing team productivity.
🏆 Notable Features
Project Milestones: Helps track important events and deadlines.
Time Logging: Tracks time spent on tasks for accurate invoicing and reporting.
Task Lists: Allows the creation of structured, nested task lists.
Pricing
Free Forever
Deliver — $10/user/month
Grow — $18/user/month
Enterprise — custom pricing
Tip: Use Teamwork's 'Project Health' feature to assess the status of your projects quickly. Try out Teamwork here!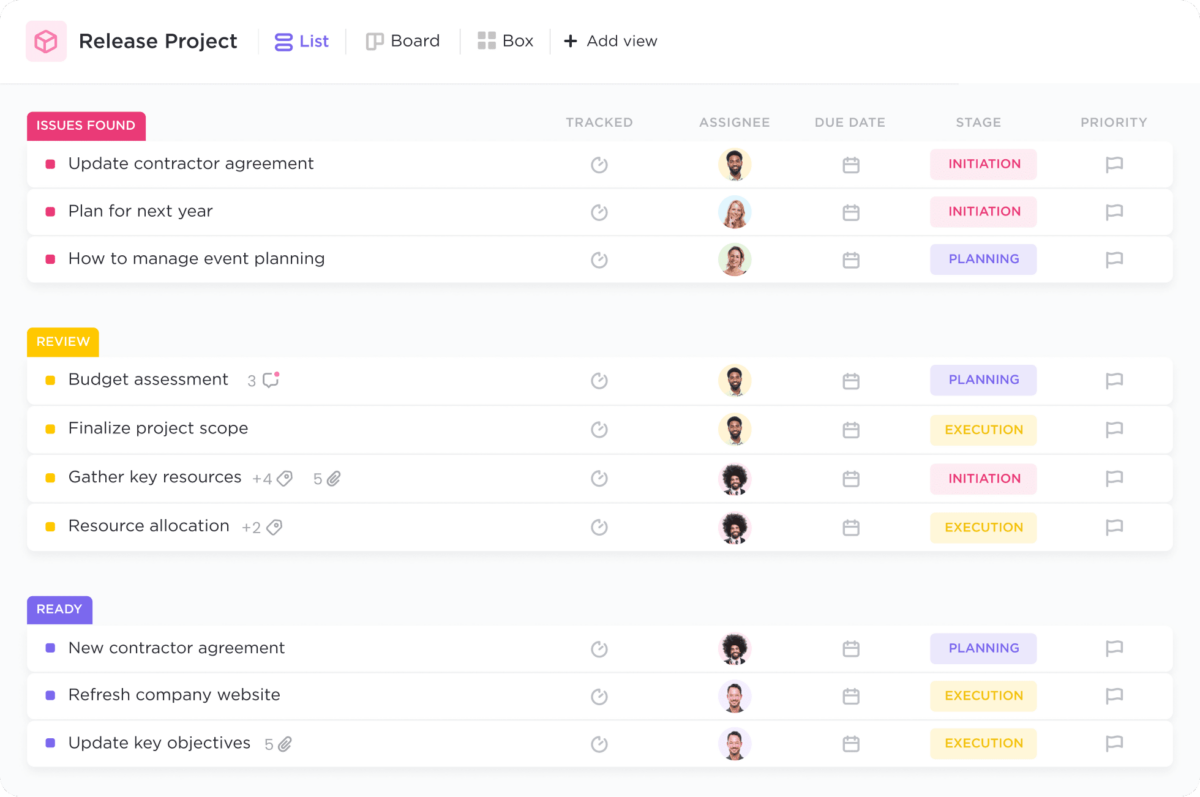 An all-in-one project management tool that combines several functionalities like task management, time tracking, employee management, robust notifications, and document sharing. It's designed to improve productivity and simplify team collaboration when managing projects and different methodologies.
Why we love this tool: ClickUp is an all-in-one platform that reduces the need for multiple tools and streamlines workflows—perfect for onboarding new hires.
🏆 Notable Features
Custom Views: Offers multiple views like List, Board, Box, and Gantt to visualize tasks.
Docs & Wikis: A built-in documentation tool for knowledge sharing.
Native Time Tracking: Enables time logging directly within tasks.
Pricing
ClickUp offers a Free Forever plan along with:
Unlimited — $5/user/month
Business — $9/user/month
Enterprise — custom pricing
Tip: Use ClickUp to distribute project tasks to different employees and manage multiple projects at the same time.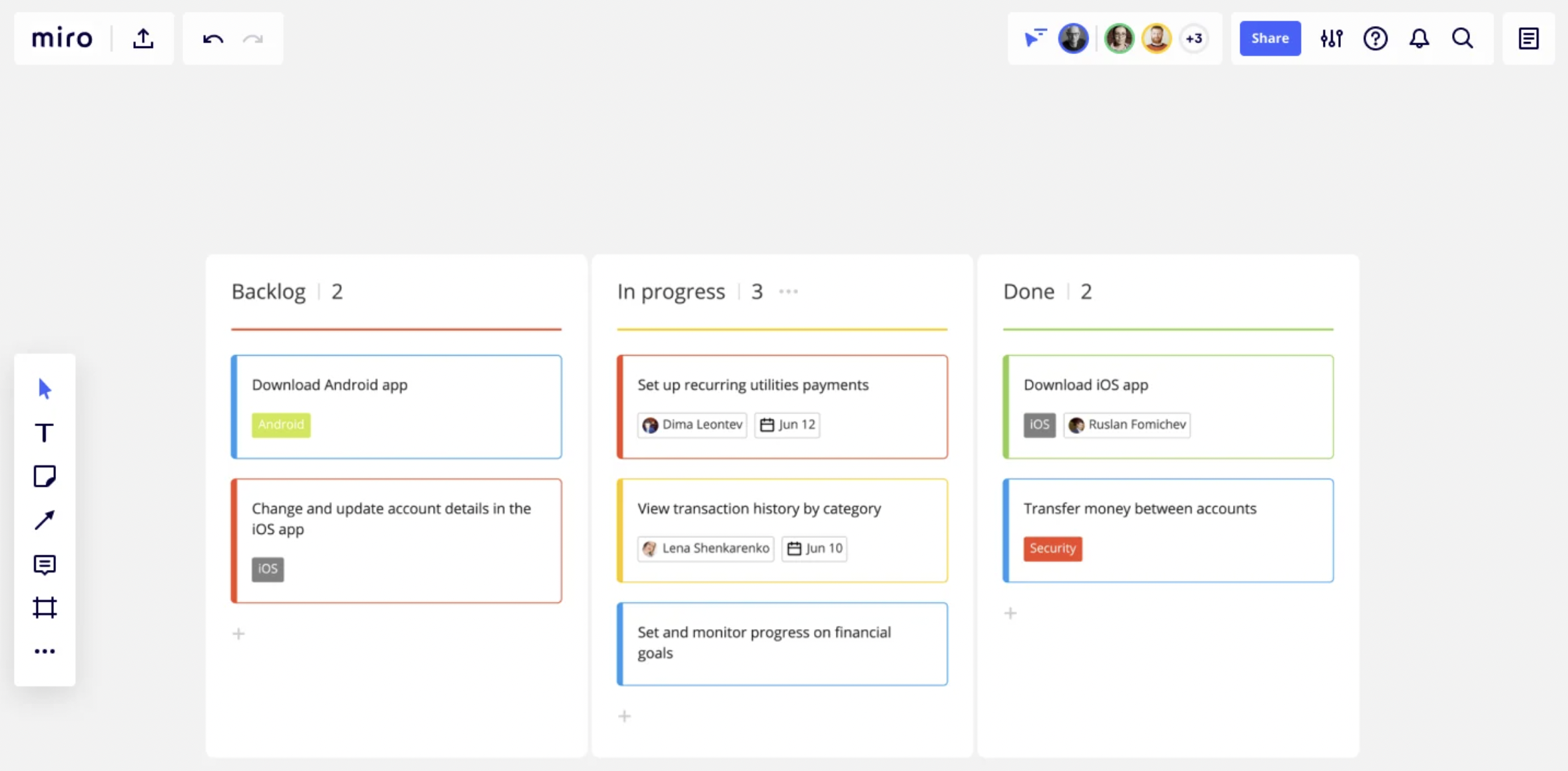 A visual collaboration platform that is suitable for all types of remote team members. It provides a digital whiteboard interface for brainstorming sessions, project mapping, and presentations, supporting real-time collaboration across geographies.
Why we love this tool: Miro's digital whiteboard interface facilitates seamless remote brainstorming and great collaboration, ideal for distributed teams and freelancers.
🏆 Notable Features
Infinite Canvas: An unlimited workspace to brainstorm ideas and collaborate in real time.
Built-In Video Chat: Allows interactive communication within the platform during collaboration.
Integration Capabilities: Works with various mobile apps like Microsoft Excel, Jira, Slack, Google Suite, and Adobe.
Pricing
Pricing ranges from:
Free plan
Team — $8/user/month
Business — $16/user/month
Enterprise — custom pricing
Tip: Utilize Miro's extensive template library to jumpstart your brainstorming sessions.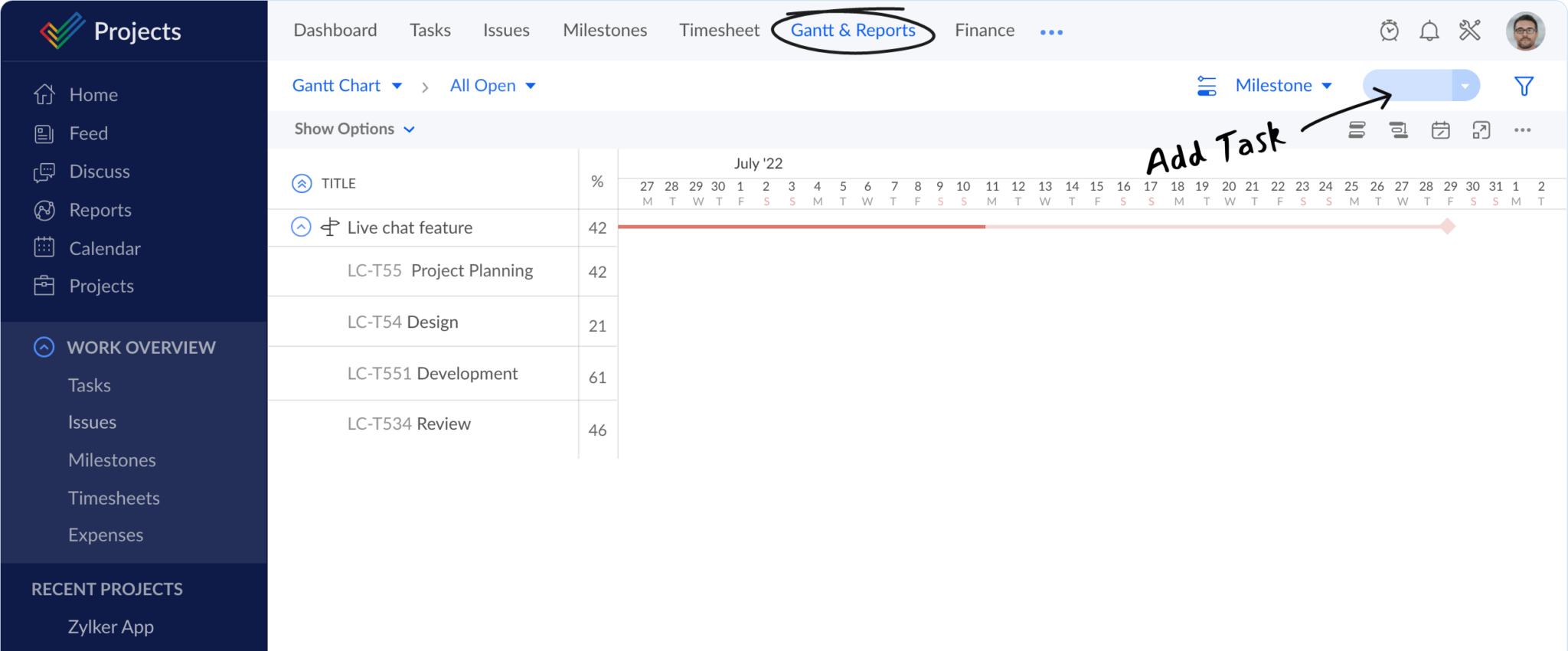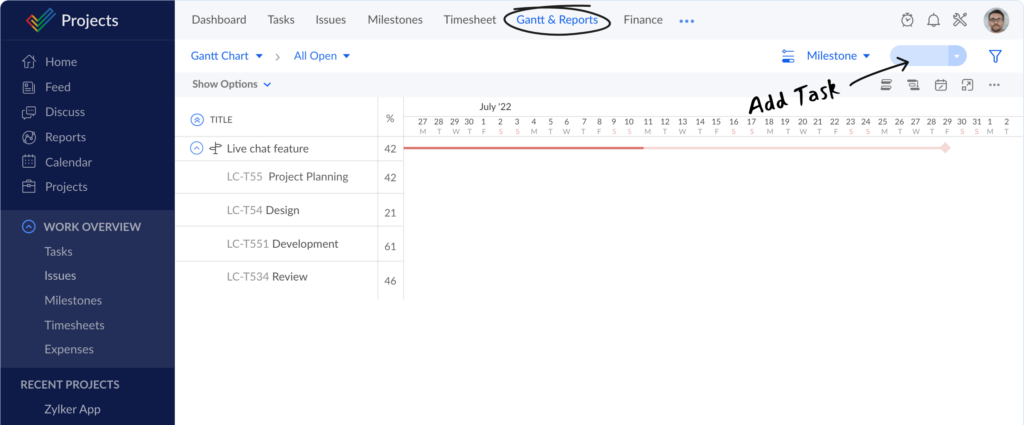 Zoho Projects is a tool that's been built with one specific business goal in mind – supercharge productivity. So, if you're looking for concrete results vs. the time and effort you're bringing to the table, this tool is right up your alley. Zoho Projects helps you plan, automate, and manage tasks from start to finish without missing a beat.
Why we love this tool: Zoho Projects helps you plan your projects, collaborate with global teams, integrate with all the most popular apps, and track everything. It's efficiency on steroids!
🏆 Notable Features
Visualize the big picture: Use Gantt charts to visualize critical tasks, dependencies, and deviations from your progress timeline.
Seamless integration: Integrate with all the most popular Zoho apps and third-party apps in the market.
App for mobile teams: The Zoho Projects app offers seamless connectivity for mobile teams.
Pricing
Free tier
Premium — $x/user/month
Enterprise — $x/user/month
Tip: Use the Time Tracker tool to easily remind employees to check in or out and send out reminders when tasks are overdue!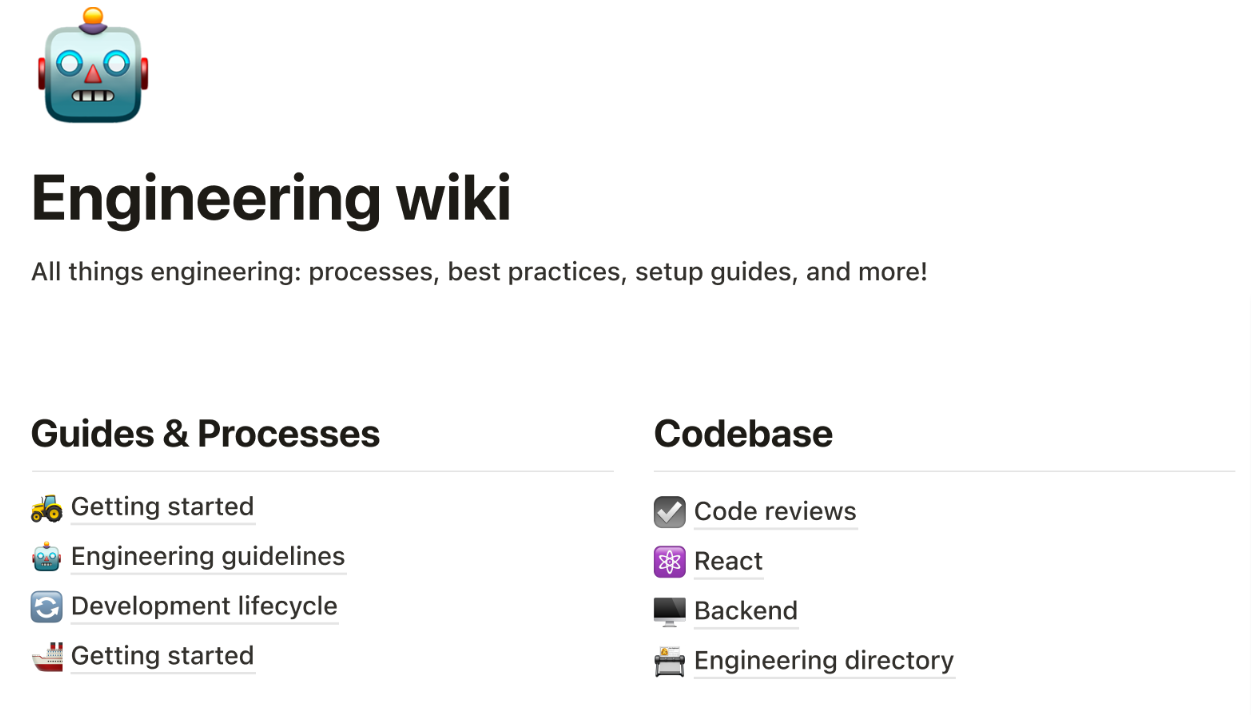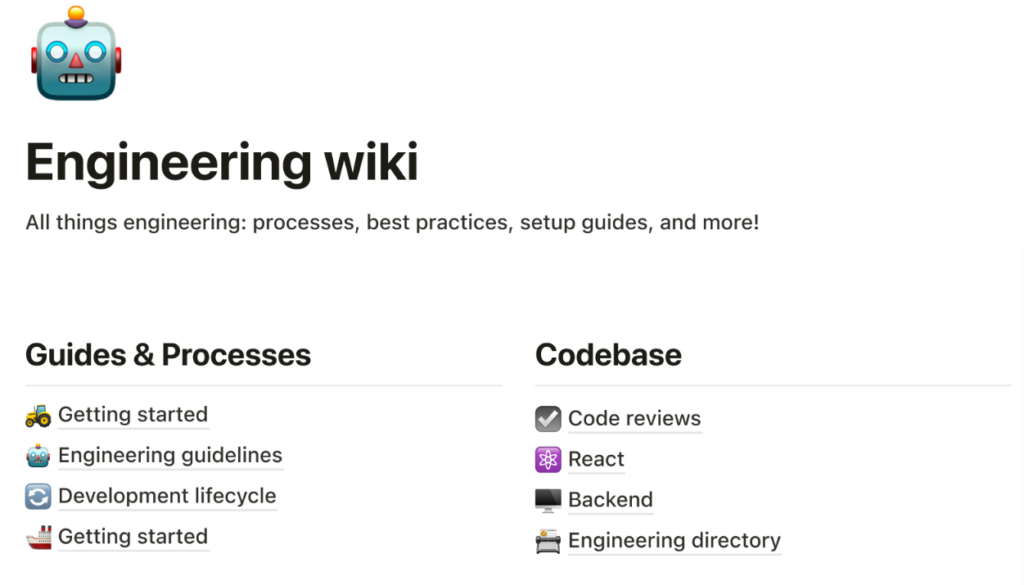 Notion helps you connect wikis (knowledge base), docs, projects, and AI leverage in one place. It's a great way to organize all your information and ensure your teams have full transparency and are all on the same page.
Why we love this tool: Notion's features are easily adaptable to the scale of your business. Whether you're an individual or a team, Notion is uniquely equipped to fit your needs.
🏆 Notable Features
Templates: Choose from thousands of templates to create artifacts for your project. You can even submit a template to be added.
Integrated AI assistant: Use powerful AI features to automate tedious tasks, develop on-point communications, and access everything from one place.
Security and compliance integration: Notion easily integrates with security and compliance applications like Panther, Splunk, and more to enable fast and fuss-free scaling.
Pricing
Free tier
Plus tier — $8/user/month billed annually
Business — $15/user/month
Enterprise — Custom pricing
Tip: Use Notion's AI assistant to create onboarding templates for new employees in minutes instead of days or weeks!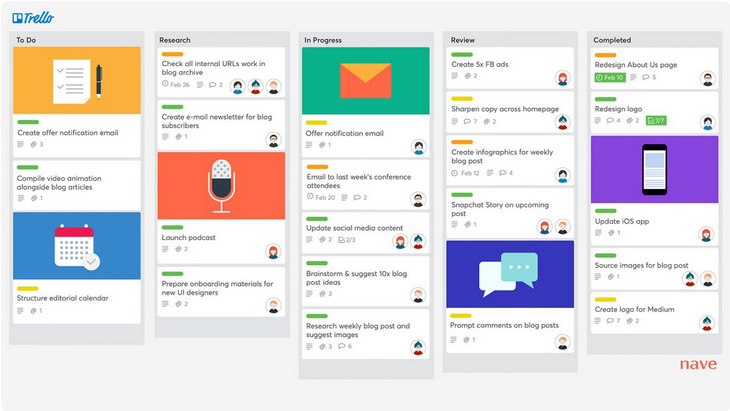 Trello is an easy-to-use, card-based simple project management platform. It allows for the organization and prioritization of tasks via boards, to-do lists, and cards, making it suitable for both individuals, teams, and small businesses.
Why we love this tool: Trello's simplicity and intuitive card-based system and calendar view make project tracking and online collaboration and office management a breeze.
🏆 Key Features
Boards & Cards: Enables easy task organization and tracking.
Power-Ups: Enhance stakeholder functionality with integrations like Calendar, Google Drive, and Slack.
Card Checklist: A handy feature for breaking down tasks into subtasks.
Pricing
Offers a free basic version plus a few paid options:
Business Class — $10/user/month
Enterprise — $17.50/user/month
Tip: When using Trello include labels and tags to categorize and filter tasks efficiently. Find some Trello alternatives here.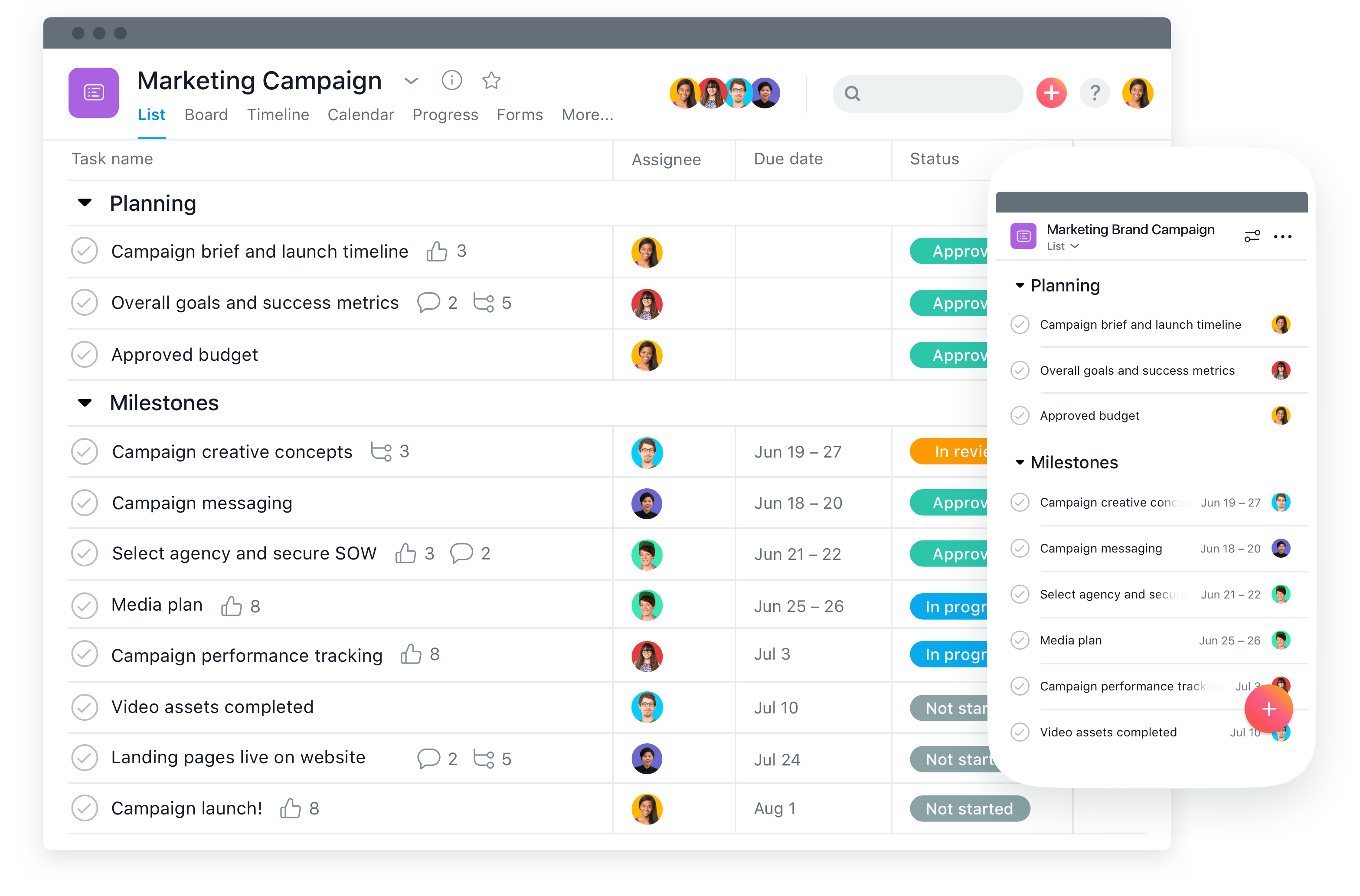 A robust work management solution that helps teams and scrum masters organize, track progress, and manage their work. Asana offers task assignments, timesheets, due dates, shared calendars, and project visualization tools.
Why we love this tool: Asana provides robust project tracking and management features to create custom fields, ideal for teams with complex projects.
🏆 Notable Features
Timeline: Offers a visual project timeline for better planning and tracking.
Portfolios: Provides time track and a holistic view of task dependencies and status of multiple projects.
Rules & Automation: Automate routine tasks to improve productivity.
Pricing
Basic — Free version
Premium — $13.49/user/month
Business — $30.49/user/month
Enterprise — custom paid plans
Tip: Utilize Asana's 'Goals' feature to align your team's efforts with strategic objectives and sprints.
---
People Also Ask These Questions About Online Project Management Tools
Q: Which tool can you use for online project management?
There's a plethora of tools available for online project management. These tools vary in features, pricing, and ease of use, thus it's essential to choose one that best fits your team's requirements and work style.
Q: Are there free project management tools?
Yes, there are free project management tools available. Many of these tools offer basic free versions. However, premium features like advanced analytics, larger storage, and extensive integrations typically require a paid subscription.
Q: What are some benefits of using an online project management app?
Utilizing an online project management app brings numerous benefits. It enhances collaboration, enables efficient task allocation, and offers real-time updates and tracking. This leads to better organization, streamlined workflows, improved productivity, and reduces the likelihood of missed deadlines. Moreover, these tools also act as an employee intranet to provide a centralized repository for all project-related information, offering transparency and reducing communication gaps.
Q: What are some challenges managers face when setting up an online project planning tool?
Encouraging buy-in from employees at every stage of the company can be the hardest challenge that managers face. When team members are resistant to change, this can limit the potential of your team's progress and make it difficult to achieve your goals. Project planning tools are designed to help set up your team for success, but with low participation and bad attitudes, many managers will face an uphill battle.