Perks, lifestyle stipends and access to healthcare programs are main factors in keeping employees happy and engaged.
To streamline processes, many organizations are using employee benefits software and platforms to help automate and manage their employee benefits.
In a hurry? These are some of our favorite employee benefits platforms for perks and rewards:

This is especially beneficial for small businesses that might not have the HR personnel to focus on benefits administration.
In 2023, there are many options available for HR departments to purchase employee benefits software to increase employee engagement and improve human capital management.
Here are the best software solutions for you to consider for your organization.
Want to become a better professional in just 5 minutes?
Top Employee Lifestyle Benefits Platforms
Employee lifestyle platforms are tools that offer a range of benefits to employees to help them improve their overall quality of life and well-being.
These benefits can include non-monetary incentives like fitness and wellness programs, financial planning resources, and professional development opportunities. Employee lifestyle platforms often focus on providing resources that act as morale boosters, creating a positive and supportive work culture.
Best for: Companies who are intentional in building a culture of gratitude to boost employee satisfaction.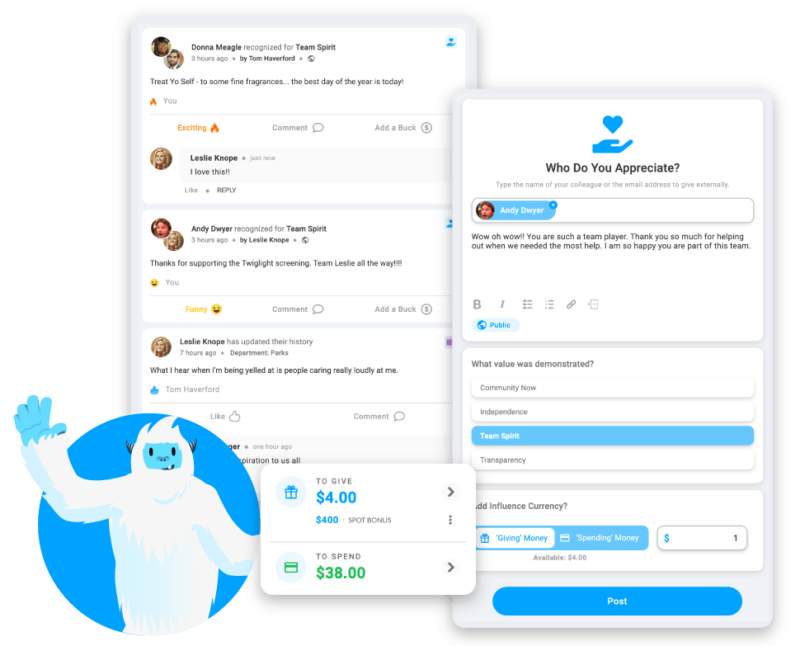 This benefits tool for employees represents a comprehensive employee recognition software that facilitates both top-down and peer-to-peer recognition.
Notable Features
Mobile app: Employees can redeem gifts and rewards on the go; so nobody is left out even if they're nurses or on the factory floor.
Integration with existing tools: Motivosity integrates with platforms like BambooHR, Slack, Microsoft Teams, and more for seamless human resources operations.
ThanksMatters Visa card: Leaders can issue a Visa card with a pre-defined recognition and rewards budget for employees to use with ultimate flexibility—while keeping track of every dollar spent.
Tip! 70% of employees say recognition makes them feel emotionally connected to peers and increases their wellbeing.
Help promote a culture of appreciation with Motivosity now!
Best for: HR teams who want to make recognition engaging and give visibility to everyone's contributions.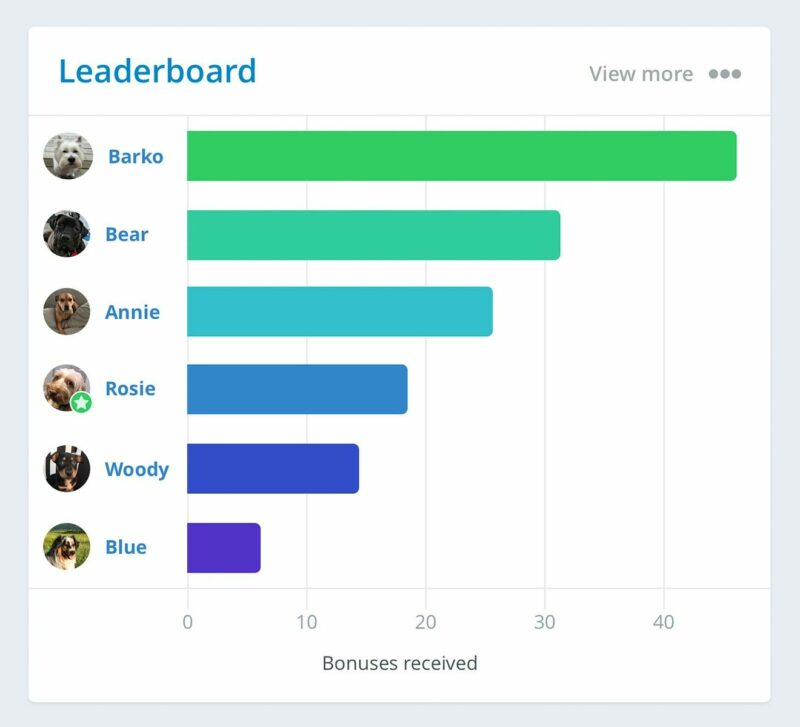 A fun and easy-to-use employee recognition program, Bonusly allows business owners to use GIFs, images and emojis to make giving thanks a natural and social interaction. and personal.
Notable Features
Detailed analytics and reporting: Find out how recognition trends are changing in your organization and what makes team members more satisfied.
Monthly allowance: Employees are entitled to a small allotment of bonuses each month as a means of recognizing their colleagues' efforts.
Public recognition feed: Bonuses are displayed in a public feed so everyone can see what's important and who's performing across the team.
Tip! Companies that use employee recognition programs are up to 20% more profitable than those that don't.
Give your workforce a fun and intuitive recognition program with Bonusly.
Best for: Companies who want to mix up their benefits with multiple employee recognition programs.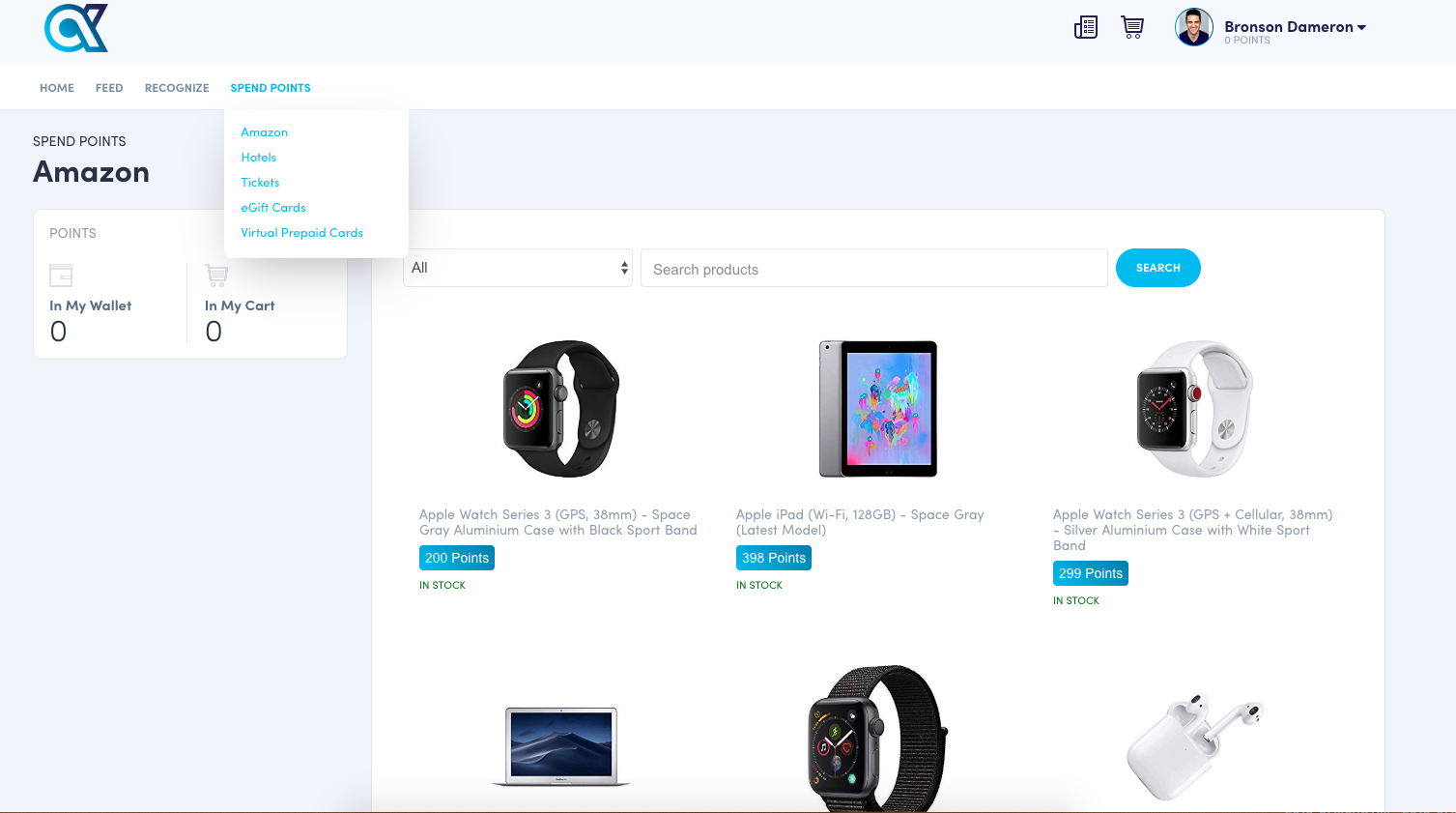 Awardco is a total rewards solution to manage and change up how companies celebrate their employees through incentives, awards, and recognition.
Notable Features
Celebrate employee milestones: Make memories by creating a digital memory book with photos and kind notes from fellow employees and managers to give thanks.
Bonus boxes: Celebrate a special occasion by sending an Awardco-curated Bonus Box. With quality vendors to shop from, these custom care packages can feature swag with unique company branding for a memorable gift.
Earn rewards: Incentivizing sales can often be a challenge, but with Awardco, sales teams can redeem points on top of commission so they can purchase bucket-list items to fuel their lifestyle.
Tip! Providing flexibility in rewards is a key way to boost employee engagement. Dedicating a section in your organization's employee handbook can help clarify details of awards programs so everyone's aligned.
Unleash the power of choice and flexibility with Awardco!
Best for: Companies looking to implement highly effective wellness programs.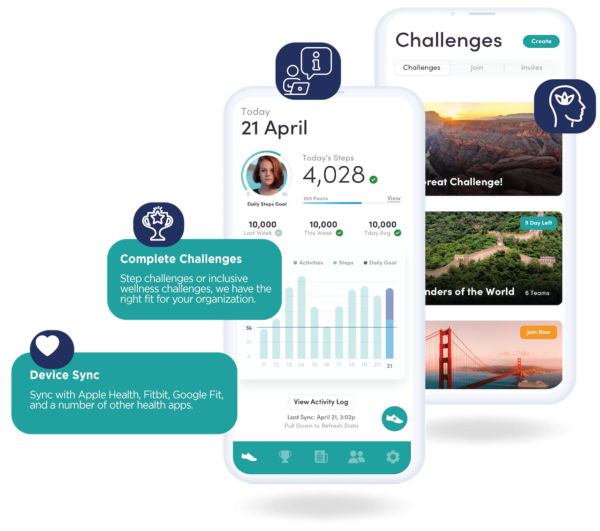 Terryberry simplifies the implementation of wellness programs and activity challenges, resulting in heightened staff engagement, improved corporate health, strengthened team camaraderie, and enhanced employee mental well-being.
Notable Features
Wellness challenges: Wellness challenges offer employees the opportunity to participate in exciting activities aimed at promoting overall well-being.
Device syncing: With quick and easy integrations for almost every fitness device, progress is tracked directly through the app.
Custom goals: Promote a thriving workplace and foster employee well-being with engaging custom goals and challenges.
Tip! Companies with workplace wellness programs see a 66% increase in productivity, which means gettings yours going as soon as possible is ideal.
Promote better balance and a healthier workforce with Terryberry wellness!
Best for: Organizations who want to cultivate better employee experience and performance management with regular two-way feedback.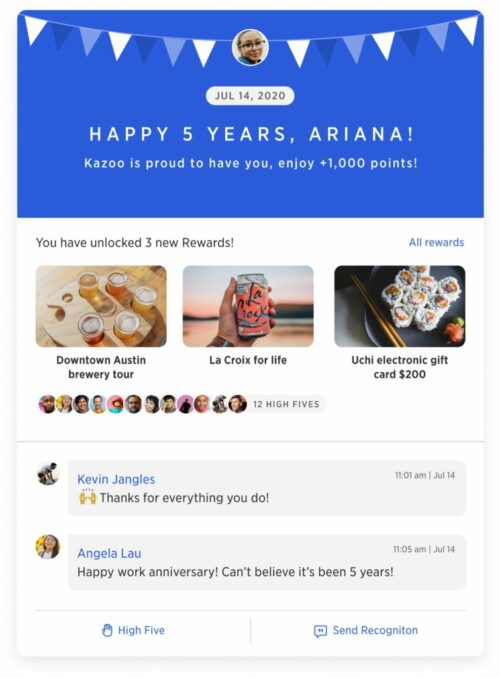 Through listening and extracting real-life insights, WorkTango offers actionable solutions to motivate employees. Managers can issue all sorts of benefits, monetary incentives, and lifestyle perks according to what employees truly need.
Notable Features
Regular surveys: Through surveys, management can get authentic feedback and measure engagement to support people and culture objectives.
Rewards and recognition: By issuing meaningful awards and conducting custom celebrations through the platform, managers can amplify key behaviors and company values while fostering connections across distributed teams.
Continuous feedback loops: Employees and employers can keep track of 1:1 development discussions, so they can loop back and continue the conversation to align employees with clear goals.
Tip! Effective employee engagement ideas are less complicated than you think. When employees feel like they have a voice and priorities become clear, they're more likely to show up as their best selves.
Create a better employee experience with WorkTango today.
Top Employee Benefits Administration Software
Employee benefits administration platforms are SaaS tools that help organizations manage and administer their employee benefits programs, like life insurance, employee assistance programs (EAPs), and paid training.
The best benefits administration software offers a range of features and tools that can help organizations enroll employees in benefits programs, track time off, and manage compliance with regulations.
Benefits management software also offers workforce management solutions for managing employee communication and education about benefits, as well as analytics and reporting capabilities to help organizations with time tracking and understanding the usage and cost of their benefits programs.
Best for: For organizations who want to benefit from a wide range of integrated solutions for administering global benefits.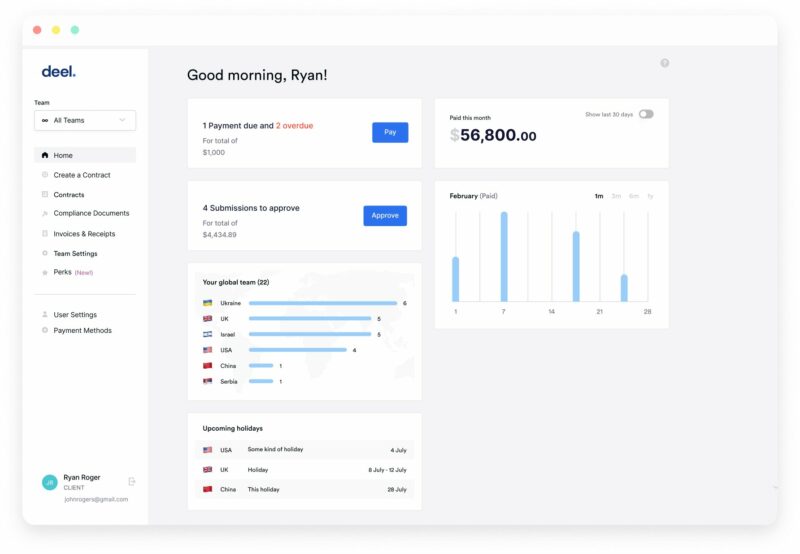 As an international talent management platform, Deel allows companies to run payroll and benefits in over 90 countries to streamline international operations.
Notable Features
Powerful API: Save hours of admin and streamline talent operations by automating your existing HR workflows and management systems with Deel.
Creative employee perks and rewards: With Deel, change up your regular benefits by giving your employees access to exclusive discounts and the best employee perks from some of the world's top brands.
24/7 support: Deel's customer support team runs around the clock so organizations can always have peace of mind when it comes to troubleshooting benefit details.
Tip! Deel also offers workspace management so companies can provide their workers with on-demand coworking spaces to network and collaborate.
Eliminate the ongoing admin of local compliance with Deel.
Best for: Business owners trying to run a global workforce and sync employee data in real time.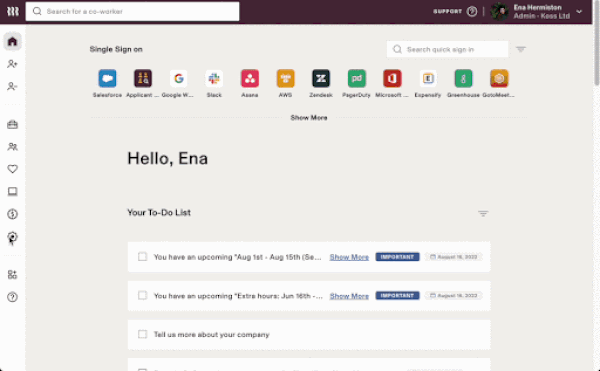 With a full suite of products spanning IT, HR and finance, Rippling connects all benefits to one employee system of record that automates enrolling new hires and files deductions.
Notable Features
Compare quotes for benefits packages: Quickly compare over 4,000 plans from the leading carriers in the U.S. to get the best deal for your employees.
Online employee self-service portal: Employees can view and update their remote perks and benefits directly within Rippling, without logging into a separate portal from your benefits provider.
Track benefits enrollment: With Rippling, HR can track everyone's progress in one central dashboard. You can schedule automated email reminders for ​​employees with unfinished enrollments.
Tip! Rippling's app shop allows you to integrate with hundreds of human resources management software, including full-service 401(k) providers.
Easily manage your employees' benefits with an HR solution like Rippling.
Best for: Remote businesses who need to administer payroll, benefits, and taxes to a global workforce—staying compliant with international regulations.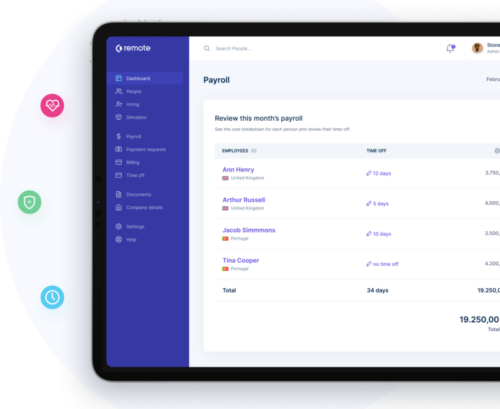 Remote is a global HR software that empowers companies of all sizes to pay and manage full-time and contract workers around the world. The product makes it easy to manage international payroll processing, benefits, taxes, stock options, and compliance in over 50 countries.
Notable Features
Country-specific benefits at competitive rates: By benefitting from large group plans, Remote offers competitive rates on comprehensive coverage for employees in any country without adding markups on benefits premiums.
Curated and compliant local plans: Rather than having to research benefits requirements and vendors in each country, Remote has a team of global benefits and legal experts in regions all over the world. This thorough understanding ensures that organizations stay competitive and compliant in every market it enters, matching standards in any region.
Automated benefits enrollment and management: When employees are onboarded at a company via Remote, they're set up with employee benefits plans as part of the open enrollment process.
Tip! Take advantage of Remote's fair price guarantee, where there are no hidden costs, minimum commitments, or exclusivity agreements.
Find out how to satisfy your international virtual employees with Remote now!
Best for: Organizations that are expanding across borders and are constantly onboarding new hires.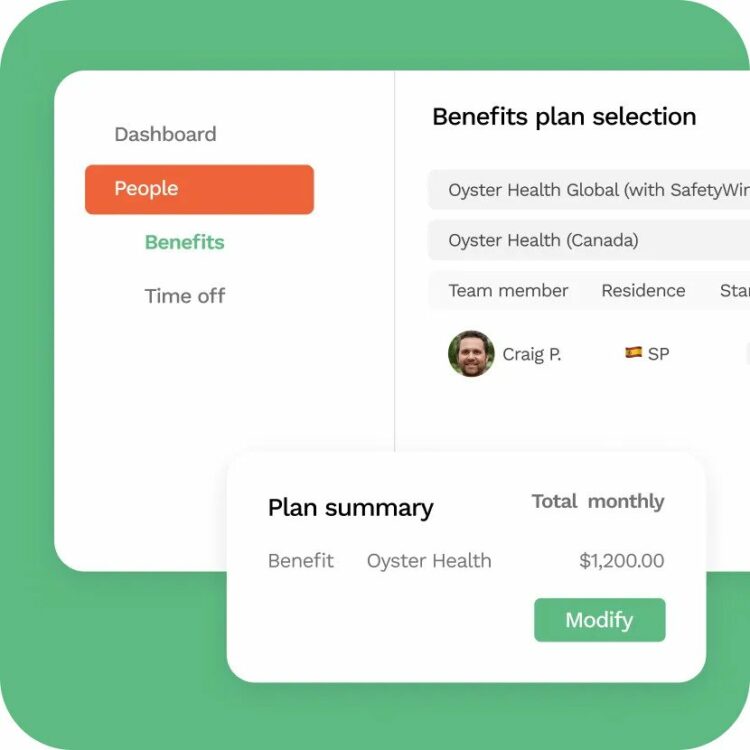 Oyster provides one central place to pay and care for talent around the world.
Notable Features
Employment cost calculator: Using reliable local knowledge from Oyster's database, HR professionals can now use the employment cost calculator to estimate the hiring costs (including benefits) across different countries with a transparent cost breakdown.
Robust integrations: Oyster allows organizations to connect data to global payroll software and expense management tools to keep data consistent and up to date.
Benefits advisor: Local experts at Oyster will recommend organizations to provide statutory and competitive benefits and identify the existing benchmarks provided by other local businesses.
Tip! Oyster is a comprehensive benefits management system that supports employees in over 180 countries. Explore their platform to see if it's a fit for your business.
Best for: Small businesses that need flexibility and quick changes to benefits packages.
A robust payroll service to streamline all things HR, OnPay makes it easy to customize employee benefits to fit any business and its changing needs.
Notable Features
Choice of in-house or external brokers: Select the best insurance companies to provide health, vision, and dental coverage to employees. OnPay works with premium brokers, but there's also an option to work with an outside broker that you've already developed a relationship with.
Add-on benefits: From adding PTO, providing life insurance, to commuter benefits, OnPay makes it easy to stay flexible and build any package your employees may need.
Sync with payroll: Getting taxes and deductions right can be frustrating, but with OnPay everything can be integrated with QuickBooks and Xero once an employee is enrolled on the platform, so paperwork is always organized.
Tip! With expert support and resources, get advice and answers to all your HR questions.
Start your one month free trial with OnPay now!
Top Employee Perks Software
Employee perks platforms are tools that offer a range of benefits and resources to employees to enhance their overall work experience and improve their quality of life.
These benefits can include things like discounts on products and services, access to exclusive events, and other special perks. Employee perks platforms often focus on creating a positive and supportive work culture, and can be used by organizations to attract and retain top talent. They can be offered as part of a company's overall employee benefits program, or as a standalone service.
Best for: Building a company culture based upon personalized recognition.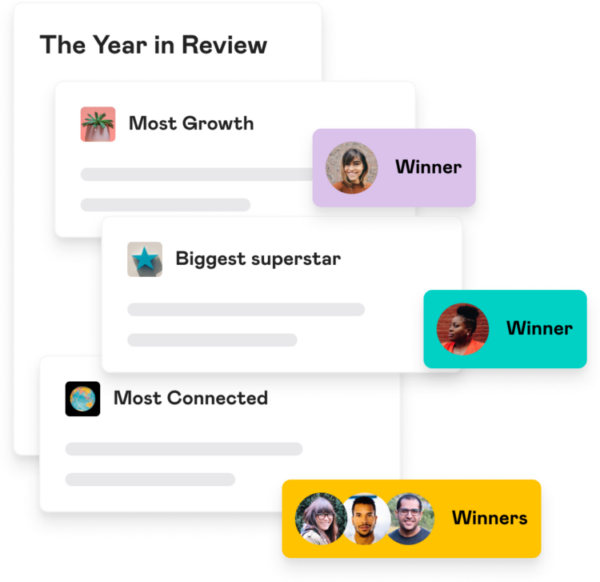 Mo is a hybrid work tool that encourages employees to recognize each other in a simple, no-frills platform. Easy to pick up, built right into your tech stack, and fun to use – this is the kind of recognition tool that your employees can jump into on day one.
Notable Features
Weekly Wins: Provides managers a chance to shout out high performers on a weekly basis for the entire team to see!
Upgraded rewards: You can add to recognition messages with a huge catalog of employee rewards, gift cards, and other cool perks
Activity metrics: Make it possible for managers to dive into engagement, what is working, what is not working, and other useful insights
Tip! Create personalized awards to send out at the end of the month like "Biggest superstar" or "Most Connected".
Build a high-performing hybrid culture with Mo.
Best for: Organizations aiming to customize rewards and recognition.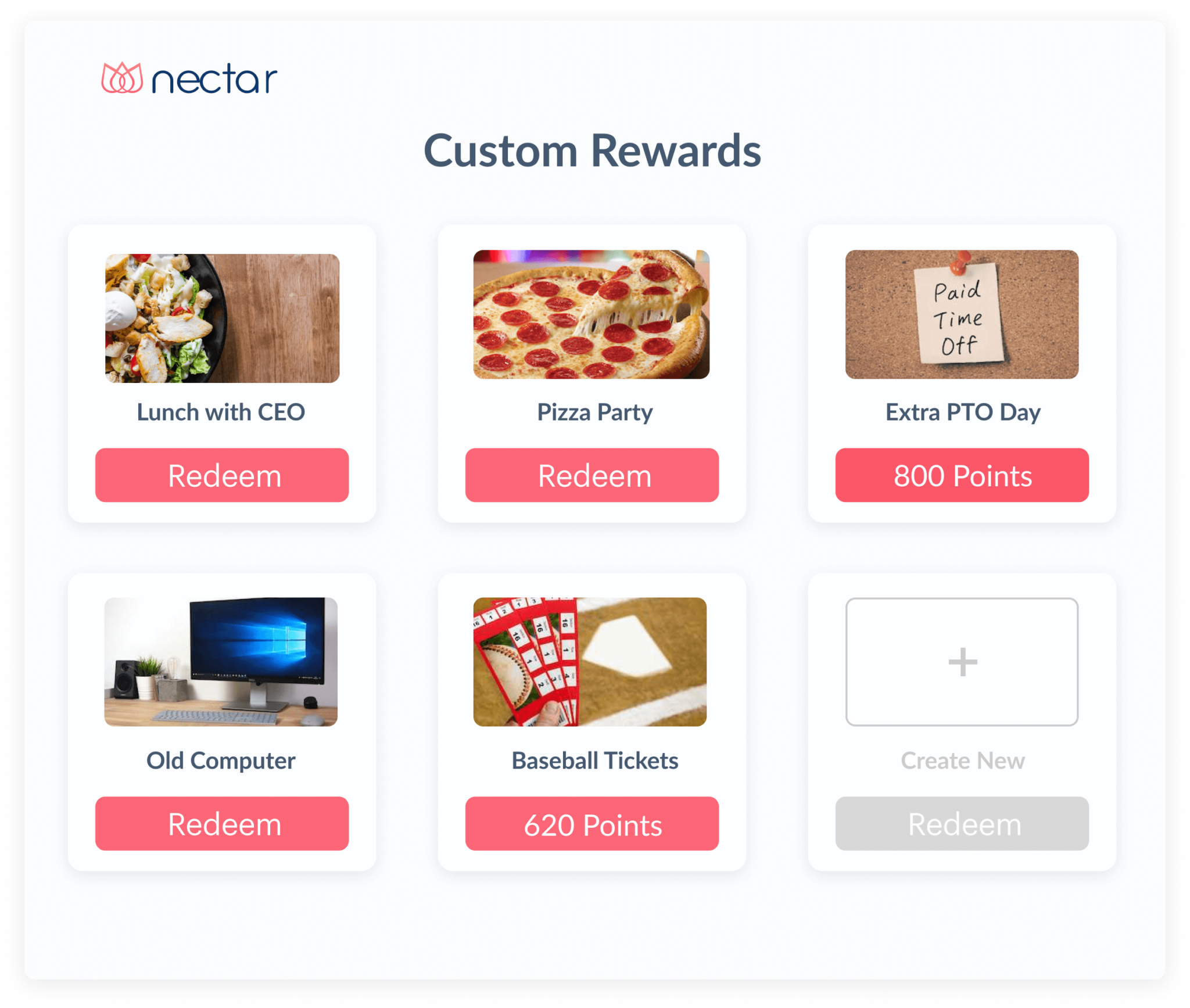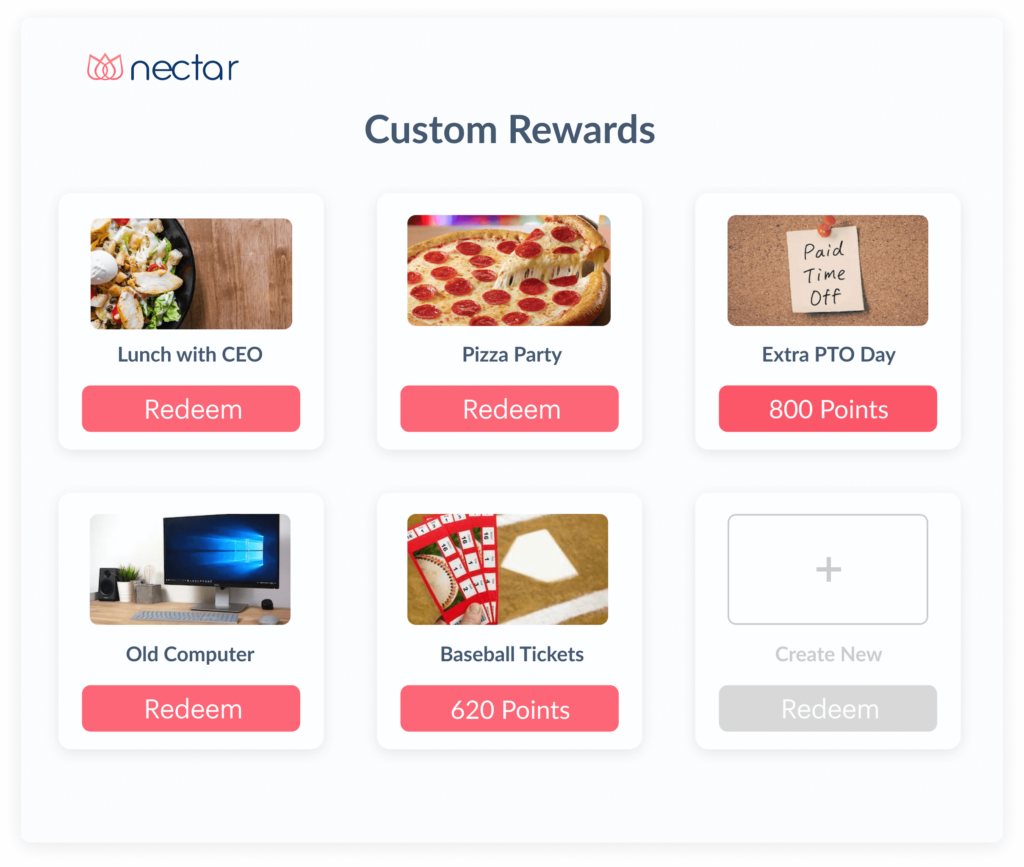 Nectar is the ultimate platform for keeping a personal touch while automating employee awards, gifts, rewards, milestone celebrations, and more. Basically, anything that makes employees feel more cared about, seen, and appreciated, NectarHR does to perfection.
Notable Features
Employee recognition tools: Motivate recognition by rewarding team members with Nectar virtual points, inspire genuine shoutouts, and witness your employees embody your company's core values every single day.
Employee rewards catalog: Enjoy Nectar's integration with Amazon, explore a diverse catalog of gift cards, showcase your brand with company swag, make a difference by donating to charity, and even create custom rewards tailored just for your team.
Milestones: Employees have the exciting opportunity to utilize their recognition points to celebrate milestones in a manner that holds personal significance for them. Whether it's through redeeming a gift card, indulging in an Amazon shopping spree, or making a charitable donation, the choice is theirs to make.
Tip! Roughly two-thirds of workers say they would work harder if their work was recognized, so one of the best ways to increase productivity is building a culture of appreciation.
Make all of your employees feel cared about and valued with Nectar!
Best for: HR teams ready to create a remote-friendly work culture.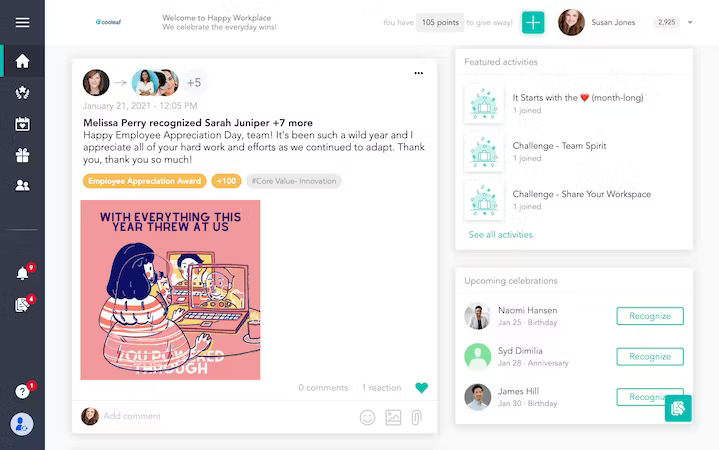 Break down the distance barrier and cultivate stronger connections among your distributed team members with Cooleaf. Elevate engagement levels with the year-round employee experience strategy that is guaranteed to delight and empower your remote workforce.
Notable Features
Employee onboarding: Cooleaf provides extensive onboarding activities to integrate new hires into your vibrant company culture.
DEI assistance: Through a variety of initiatives and activities, Cooleaf helps to foster understanding, promote awareness, and create a strong sense of belonging for all of your employees.
Employee challenges: Make learning an enjoyable and dynamic experience with interactive challenges that come with exciting incentives and reward points for onboarding, manager training, microlearning, and more.
Tip! 78% of employees would be more productive if they were recognized more frequently, so be sure to give out recognition often.
Align your benefits, culture, and team with Cooleaf!
Best for: Organizations looking to reinforce the behaviours that set their company apart.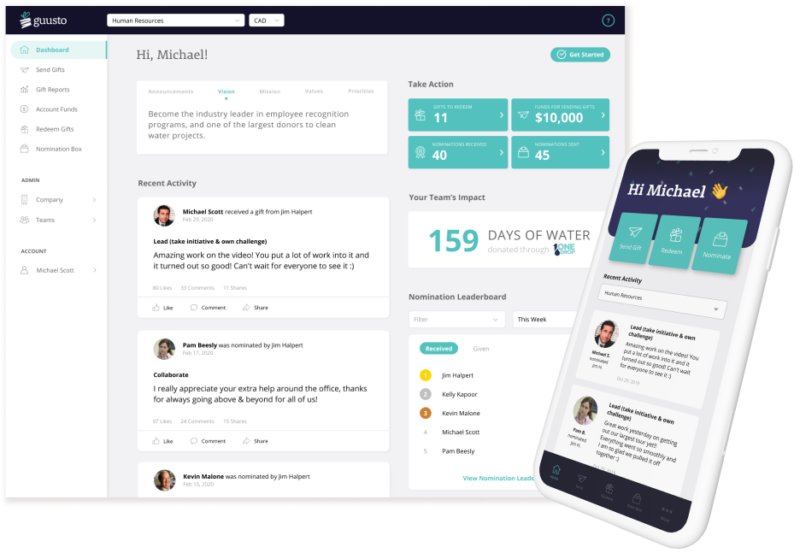 Guusto is dedicated to providing employee benefits through a culture program that creates a more positive work environment while treating employees the right way. This benefits platform can be customized and modified to fit your company's unique values, size, makeup, etc. Teams across the U.S. are using Guusto to create a hybrid work culture that gives their employees a place to excel.
Notable Features
Phased approach roll-out: Get buy-in and support internally using a pilot program starting with a set budget. Once this gets momentum and you're satisfied with the benefits, you can then roll it out to your entire organization.
Redeem rewards in multiple ways: Designed to be inclusive, managers can send rewards and shoutouts across web, mobile app, and print-out options so nobody is left out.
Run multiple programs from one budget: Use Guusto to set spending limits for shared cost centers, where multiple people can pull from the same budget.
Tip! With every Guusto gift sent, you donate 1 day of clean drinking water to people who lack access clean water supplies around the world.
Retain A-players and push people in the right direction using Guusto.
Best for: Large remote companies with frequent incentive programs to distribute across employees around the world.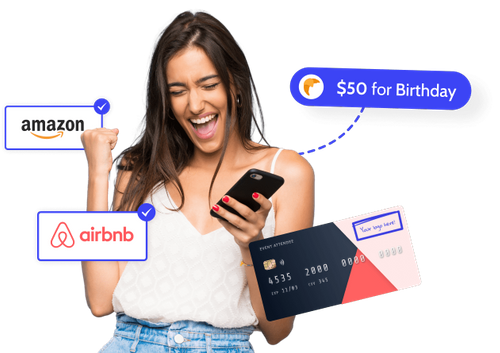 Hoppier is a leading global rewards and benefits solution with robust functionality to boost employee engagement.
Notable Features
Swift customer service: Having any problems using Hoppier? Their customer service teams have global coverage and boast an average response time of 4 minutes.
Custom gift message: When you send over a reward, customize them with your corporate branding and add a personalized touch with a heartfelt message.
User-friendly interface: Uncover Hoppier's many features with minimal training, to easily recover unused funds and send rewards across over 60 countries.
Tip! When you let your employees choose the rewards they want, they'll be much more motivated to win them.
Stop worrying about what employees want by sending flexible rewards via Hoppier.
Best for: Fueling teams with employee incentives they actually want and need.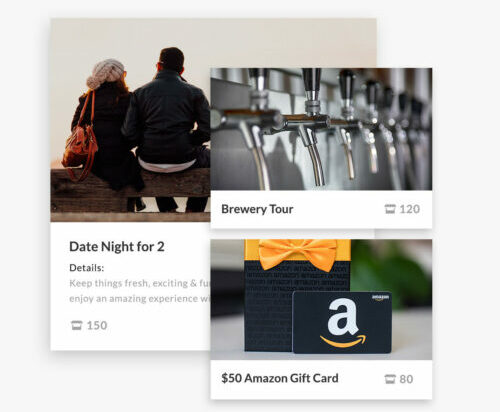 Bucketlist allows managers and team leads to issue highly personalized and specific rewards to employees. From bonus time off to experiences in the city — you are bound to find an employee benefit that they are sure to appreciate.
Notable Features
Simple onboarding: With questionnaires during onboarding to understand the unique lifestyle and desires of every employee, managers won't need to research what incentives match specific teammates.
Seamless integrations: Bucketlist automatically syncs up notifications with Outlook, Slack, Gmail, and other tools.
Set up team competitions: Motivate friendly competition by setting up rewards when workers hit company targets and quotas.
Tip! Shared goals and targets help build a strong company culture as people work towards something bigger than themselves.
Incentivize your workers to show up as their best selves with the right rewards using Bucketlist.
Best for: Organizations who want to offer employees memorable and meaningful experiences to increase their holistic wellbeing.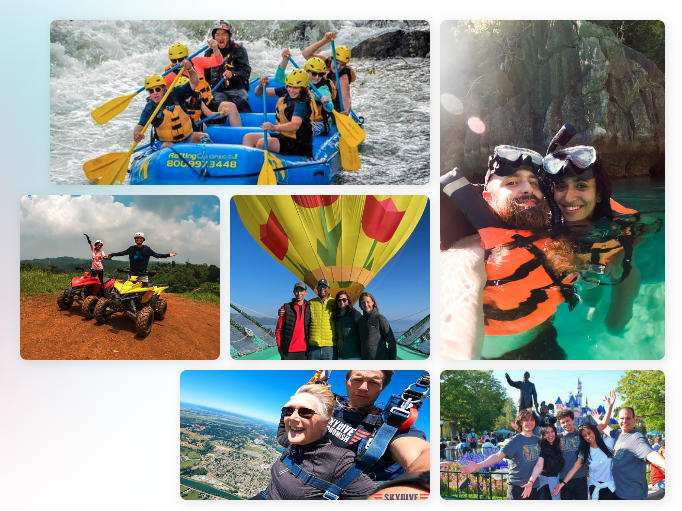 Blueboard is a unique experiential rewards platform that offers curated experiences like holidays and workshops instead of gift cards and typical incentives.
Notable Features
Unique experiences to choose from: From developing skills like wine tasting to a family trip to Disneyland, Blueboard's team helps curate experiences according to every employee's passions and interests.
Dedicated concierge team: Organizing trips can be annoying, but Blueboard has concierge staff that handles all the logistics and planning for a personalized itinerary.
Anniversary engine: Blueboard sends anniversary awards to employees automatically on their anniversary date so managers don't need to keep track or schedule gifts manually.
Tip! Demonstrating authentic gratitude doesn't always mean cash—it's the meaning that counts.
Create memories that employees won't stop talking about with Blueboard.
Best for: Hybrid companies who are putting the effort to increase loyalty and engagement.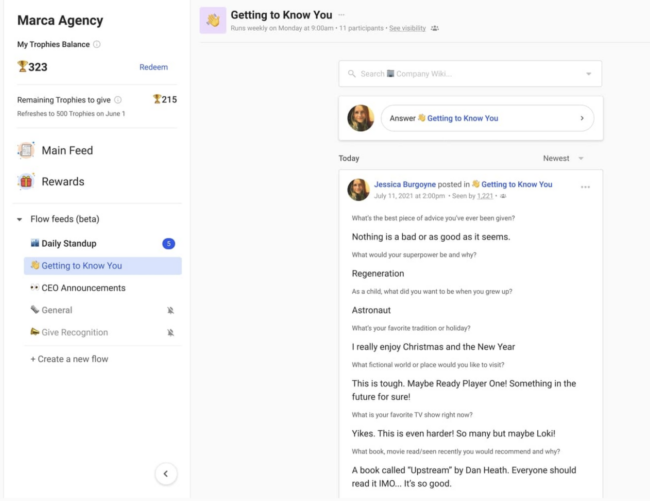 Assembly acts as a digital headquarters to support hybrid companies and nurture a positive workplace culture by putting appreciation at the heart of company culture.
Notable features
Reinforce company values: Recognize employees by tying shout-outs to your core values so they're more than just writing on the wall. This encourages positive behaviors so your team can model these values and embody them every day.
Nominate top performers: Engage employees with peer-to-peer employee nominations. By gathering nominations from the whole team, you make sure their accomplishments are legitimized and celebrated.
Reward points: Employees can choose from thousands of gift cards, charities, and personalized culture rewards for ultimate flexibility.
Use positive reinforcement to set up your team for success using Assembly!
Best for: Delighting employees with digital gift cards from their favorite brands in real-time.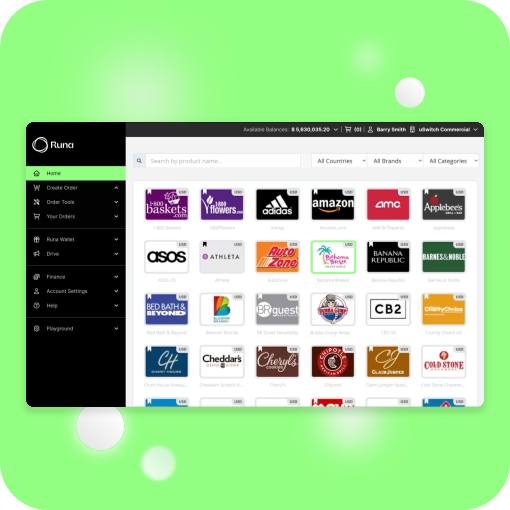 Specializing in sending online vouchers, Runa is a digital payout platform that allows companies to send gift cards in bulk from thousands of brands.
Notable Features
Instant payout: Save hours of logistical work and email communications between regional HR teams by sending rewards across borders in an instant.
Track redemptions from each department: Track reward redemption rates and generate insightful reports instantly to find out which rewards are most popular.
Recover unclaimed rewards: Ensure that no cent goes to waste by recovering any unclaimed rewards automatically.
Tip! Using a gift card management solution allows you to purchase thousands of gift cards in seconds instead of manually buying individual Amazon vouchers.
Motivate your team at scale using Runa.
---
What is employee benefits software?
Employee benefits software is a type of cloud-based HR tool that helps organizations manage and administer their employee benefits programs. These programs include health insurance, retirement plans, and paid time off. Employee benefits software can streamline the process of enrolling employees in health plans, tracking time off, and managing employee bonus programs.
The importance of employee benefits is not to be overlooked, especially when reducing employee turnover is increasingly top of mind for leaders.
According to SHRM, 88% of employees prefer jobs with better benefits and lower pay versus jobs with worse benefits and higher pay. Furthermore, 66% of employees would wait to review their company's new benefits offerings before deciding whether to stay or go.
---
Why should companies use employee benefits management software?
🌟 Improved communication and education about benefits
An employee benefits program can help improve communication and education about the benefits offered to your team. This can help ensure that employees are aware of and understand their benefits, leading to better utilization of these programs.
🌟 Streamlined benefits enrollment and tracking
HR departments often deal with the many complications relating to eligibility, different insurance carriers, benefits information, and the administrative burden of data entry. Employee benefits programs can help streamline the process of enrolling in and tracking benefits.
🌟 Improved employee satisfaction
Offering a range of benefits and resources can help improve employee satisfaction, as employees are more likely to stay with an organization that values their well-being. An employee benefits program can help organizations manage and administer these benefits effectively, ensuring that employees can take advantage of them. This can lead to better employee retention.
---
People Also Ask These Questions About Employee Benefits Software Platforms
Q: What are employee benefits software platforms?
A: Employee benefits software is a type of software that helps organizations manage and administer their employee benefits programs. These programs can include things like health insurance, retirement plans, and paid time off.
Q: Why is it important to use an employee benefits tool?
A: Employee benefits tools can help organizations streamline the process of enrolling employees in benefits programs, tracking time off, and managing compliance with regulations. This can save time and reduce the administrative burden on HR leaders. These tools can help organizations improve communication and education about benefits, which can lead to better utilization of these programs. Using employee benefits software can also help organizations gain visibility into the usage and cost of their benefits programs, which can help them identify areas where they can save money. Overall, an employee benefits program can help organizations improve employee satisfaction and retention by offering a range of benefits and resources that support the well-being of their employees.
Q: How do I choose the right employee benefits platform for my team?
A: To choose the right employee benefits platform for your team, consider your team's needs in terms of employee benefits, and look for a platform that is easy to use, integrates with other systems, is cost-effective, and offers good customer support. Make sure the platform meets your team's needs and provides good value for the features and tools offered. Consider any setup fees, ongoing subscription fees, and per-employee costs, and look for a platform that is supported by a knowledgeable team. By considering these factors, you can choose a platform that is well-suited to your team's needs and will be adopted and used effectively.
Q: What features matter most in an employee perks platform?
A: Consider whether the platform allows you to customize the perks offered to your team. This can be especially important if you have a diverse workforce with different needs and interests. A platform that is easy for both employees and HR staff to use with a user-friendly interface and clear documentation can help ensure that the platform is adopted and used effectively by your team. It's also helpful to have an employee perks platform that integrates with your existing HRIS systems or payroll software, and software that offers good customer support, including access to knowledgeable staff and helpful resources such as documentation and training materials.
Q: What are some initial benefits for my team if I use an employee benefits program?
A: If you use an employee benefits program, your team will likely experience several improvements like better communication and education around provided benefits, streamlined benefits enrollment and tracking, as well as a boost in employee satisfaction.