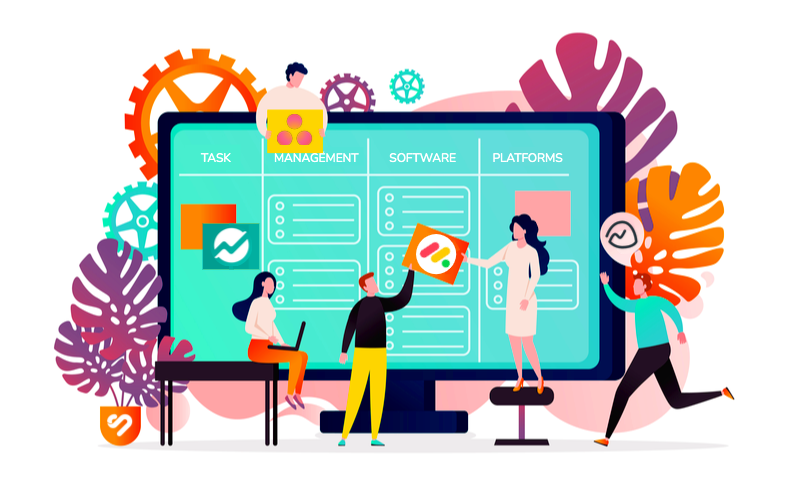 Project management is one of the highest paying jobs on the market for a great reason — it's hard. But it doesn't have to be so difficult anymore. The first challenge of any project is assessing which tasks need to be prioritized. That's why task management software is the perfect tool to add to your business repertoire.
With all of the options available to you, it can get overwhelming. Fortunately, we asked the top project managers we work with to identify their favorite task management software platforms. We also factored in our own criteria along with the general ratings and reviews throughout the world wide web.
But first…
What is task management software?
Task management software helps manage tasks, track benchmarks and other objectives, keep up with scheduling, and generally, reduce friction in the collaborative process. All-in-all, the main reason for using task management software is to boost productivity and efficiency.
"Technology and tools are useful and powerful when they are your servant and not your master" — Stephen Covey
Task management software allows you to:
Prioritize and track tasks
Keep track of deadlines
Send and receive reports
Schedule and assign tasks
Incentivize team members
Improve communication
With the wide variety of options, check out this list to see which task management software suits your particular needs.
Want to become a better professional in just 5 minutes?
Page Contents (Click To Jump)
"For the aesthetics"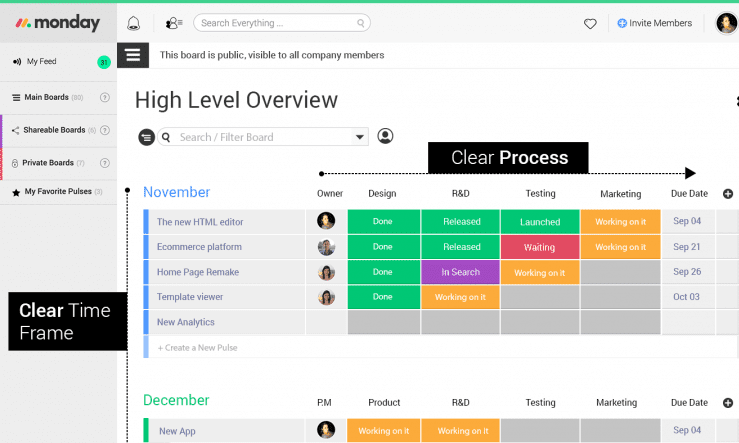 monday.com is a project management system optimized to give team members a transparent and flexible way to collaborate. With a color-coordinated scheduling interface and optimized workflows, monday.com merges the best efforts of everyone together.
Why it is perfect for task management:
monday.com is a comprehensive online task management suite with all the tools you need to monitor projects, divide tasks, and ensure the work is done on time. This productivity package comes with templates for video production, departmental planning, and day-to-day task management. Plus, monday.com can be integrated with dozens of third-party platforms such as Shopify, Mailchimp, and Slack.
Free trial? Yes, there's a 14-day free trial. Click here to get started.
Standout features:
Star system for prioritization
Instant messaging
---
"For max accountability"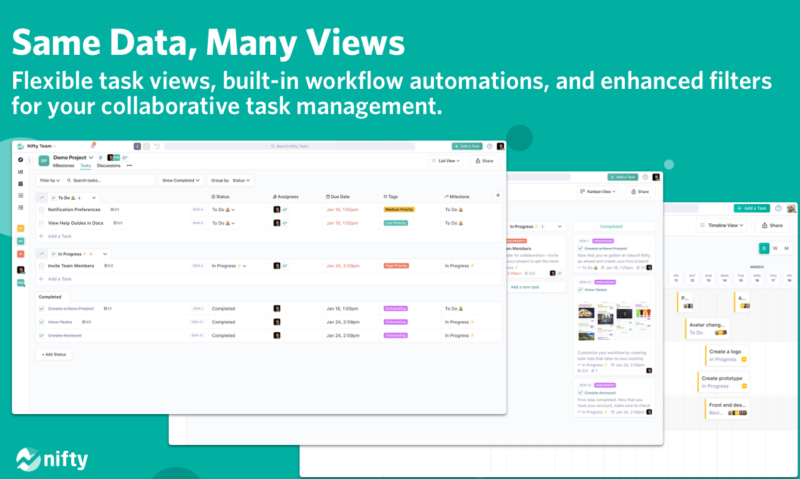 Nifty is an award-winning project and task management solution to keep people, projects, and functions aligned in one place. Nifty allows you to automate the boring parts of task management so you can focus on the big picture goals.
Why it is perfect for task management:
Nifty makes planning, prioritizing, and tracking tasks seamless with automated workflows, enhanced filters, and flexible sorting. Maintain organizational oversight and never miss a deadline again with Nifty's custom task automations. Plan and visualize everything from marketing campaigns, to development sprints, and product launches — all in one collaborative workspace.
Free trial? Yes, there's a 14-day free trial! Click here to get started. There is also a "Free Forever" plan for those who don't wish to join on a subscription.
Standout features:
Multiple task views
Time tracking and reporting
Built in Nifty & Google docs
---
"For toggling from one task to the next"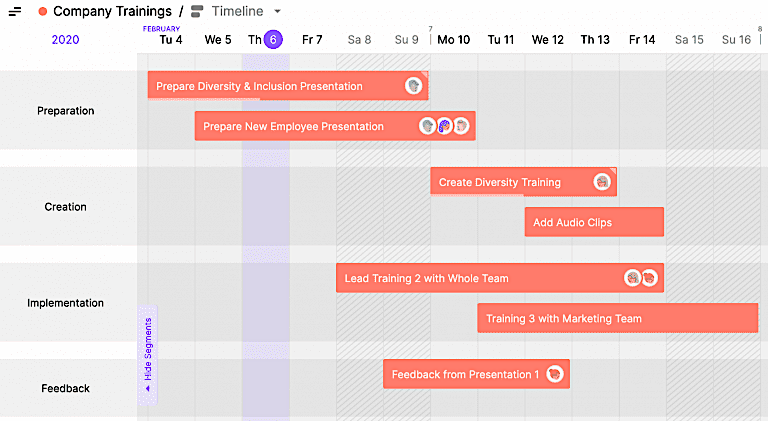 Toggl Plan is a task management solution that helps teams balance projects, tasks, and clients. This drag-and-drop platform allows users to create and assign tasks across departments. The beautiful interface is appreciated for the design, colors, and usability, which clients say can be mastered within a few hours.
Why it is perfect for task management:
Toggl Plan lets the coordinators share the full vision and plan for execution with clients as well as divide projects into segments. Also, because of Toggl's surging popularity, there's a great support system, community, and FAQs to help make the most out of its functionalities.
Free trial? Yes, all paid plans come with a 14-day trial! Click here to get started.
Standout features:
Data import & export
Email & text notifications
Deadline tracking
---
"For note-taking and to-do list lovers"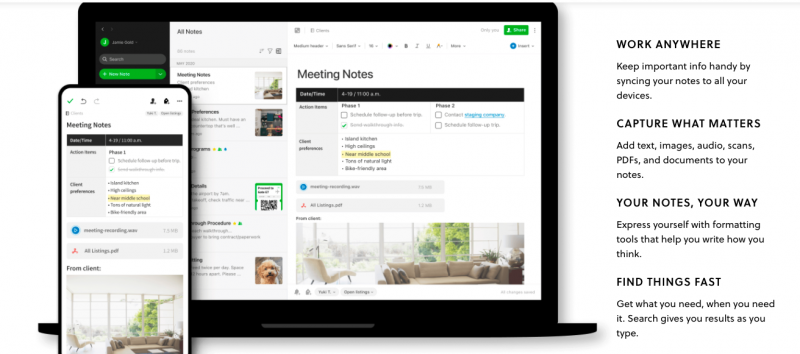 Evernote Business is a lightweight project management tool, but it packs quite a punch. It works best in tandem with another task management software to boost the communication amongst your team members. One of the best aspects of Evernote Business is that there's no user minimum and you get offline access.
Why it is perfect for task management:
Evernote Business is better than leaning solely on spreadsheets and legal pads. For small businesses, Evernote can handle their project management needs, but larger organizations' existing management systems will be further enhanced by incorporating this easy-to-access information hub.
Free trial? Evernote's basic plan is free! On top of that, Evernote Business is only $14.99 per month!
Standout features:
Integration with other task management software
Timelines & Gantt charts
Deliverable tracking
---
"For the time-sensitive"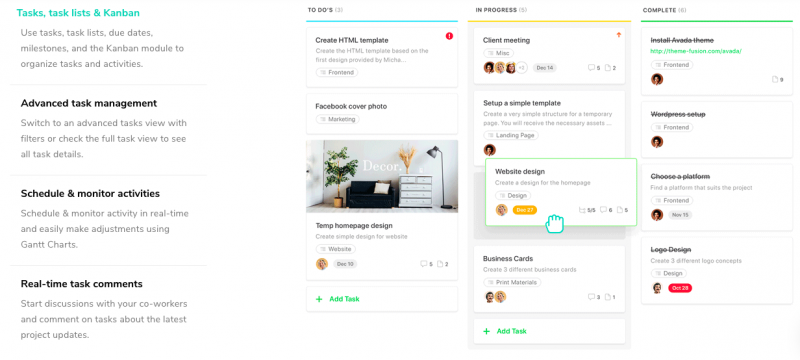 Paymo is a cloud-based remote work software for client-based businesses. This project management solution is ideally suited for remote employees because of the way it aids in group collaboration, time tracking, project accounting, and resource allocation. One of the most favored elements of Paymo is the intuitive, easy-to-navigate interface.
Why it is perfect for task management:
Paymo allows teams to generate reports and to perform a number of functions that provide clients with transparency. Additionally, this task management solution also helps ensure your team gets paid on time via client invoice automation.
Free trial? Yes, Paymo does indeed offer a free plan as well as two separate paid plans.
Standout features:
Automated invoices
Built-in time sheets
Timelines & Gantt charts
---
"For ease-of-use"

Wrike is an online collaboration tool for remote workers that integrates with more than 400 applications and Adobe Creative Cloud so you get the best of every program you already love. One of the best things about this task management solution is that it doesn't require any serious training to use. One of the most highly touted things about Wrike is the quick and easy setup along with the clean, intuitive interface.
Why it is perfect for task management:
Project managers can automate mundane tasks via Wrike, allowing employees to focus on the creative, more involved work. If your team needs a system with an extremely short learning curve to become fully operational at breakneck speeds, Wrike is one of the best options available.
Free trial? Yes, it's free for up to 5 users per month! Click here to get started.
Standout features:
Synced calendars
Auto-assignments
Enterprise-level security
---
"For mobile and desktop"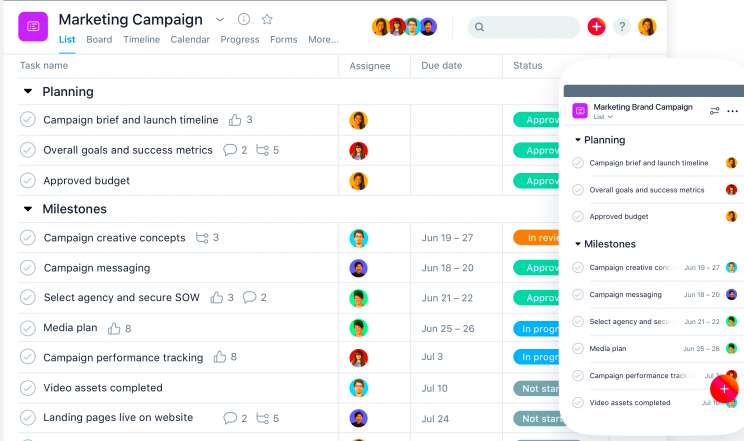 Asana is an all-in-one cloud-based project management platform for easy communication, organization, and accountability among teams of virtually any size. This feature-rich team collaboration tool also places no limits on how many projects or tasks you can create and each task can be given a subtask as well.
Why it is perfect for task management:
Asana can be accessed through desktops and mobile devices such as laptops, tablets, and smartphones including iOS and Android. This task management software also updates automatically.
Free trial? Yes, for up to 15 users! Click here to get started.
Standout features:
Document management
Customer portal
Automatic notifications
---
"For developers"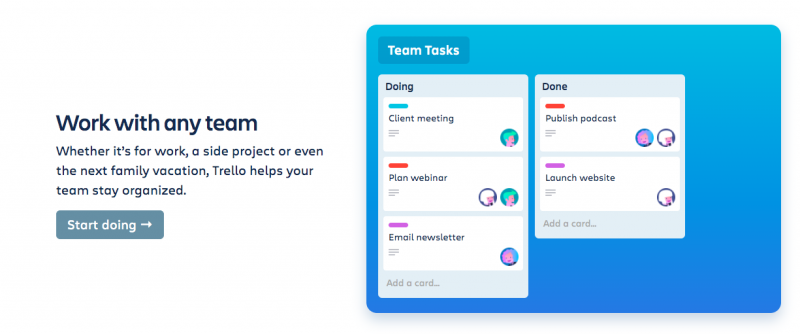 Trello is a kanban board app for organizing, collaborating, and coordinating work. Trello is incredibly easy to use and highly popular in the software development field. Part of the reason why developers love Trello so much is because it helps with load balancing and gives total visibility into who is tackling which tasks. Additionally, this insight allows other team members to see who is falling behind so they can pitch in, further building a collaborative environment.
Why it is perfect for task management:
Trello offers a la carte features, which means you can customize your team's experience and optimize it for the types of projects you tackle. The clean presentation makes this platform highly navigable to newbies in this space.
Free trial? Yes, Trello offers free trials for up to 14 days! Click here to get started.
Standout features:
Color card covers
Workflow automations
Easy integrations
---
"For the super-organized"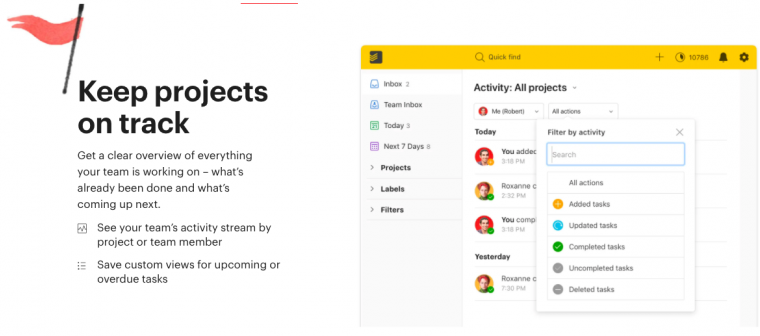 Todoist is an absolute beast of a productivity hack! This ultra-reliable to-do list app is compatible with nearly every smartphone, tablet, and mobile device. Some of the most popular qualities of Todoist are how easily it syncs with virtually any device and helps with organizational habits. Additionally, users love its cross-platform support, natural language input, and productivity reports.
Why it is perfect for task management:
Where Todoist really thrives is in personal task-management while some of the other mentions on this list are ideally-suited for teams. That being said, this cloud-based service syncs your notes and tasks to any device on which you use the app automatically and you can use the app offline and it'll simply sync when you have internet access later on.
Free trial? Yes, there's a free version and a premium for more advanced needs! Click here to get started.
Standout features:
Custom filters
Location-based reminders (premium only)
Karma scores
---
"For sharing tasks"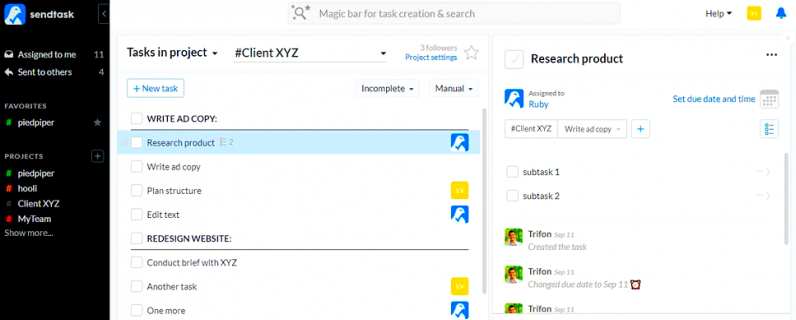 Sendtask is a cloud based communication platform to bring clients, distributors, and team members together. This to-do app style solution is wonderful in particular for small one-off projects. When a task is assigned, the recipient is notified in the app, but they also receive an Gmail, Outlook, or notification from another preferred email service with a link to the task. In fact, users can even assign tasks to people who aren't even necessarily registered to the site.
Why it is perfect for task management:
Sendtask enables users to create and receive reminders, create custom tags, add due dates, and get notifications about deadlines and other deliverables. This simple task management solution also integrates with Slack and Evernote.
Free trial? Yes, and all current features will remain free forever! Click here to get started.
Standout features:
Recurring task tracking
Create subtasks
Time tracking
---
"For real-time updates"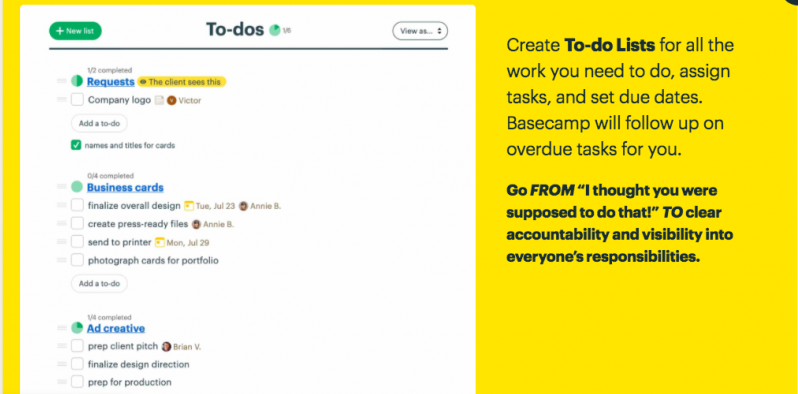 Basecamp is a fantastic productivity booster that allows your entire team to stay tightly-knit through long-term scheduling and resource planning. Some of the key factors Basecamp enthusiasts enjoy are the user-friendly interface, the sandbox-style, the flat monthly price, and the wide-ranging integration with work apps and other services.
Why it is perfect for task management:
The simple interface Basecamp provides makes it extra easy for team members to communicate, start projects, track progress, and manage tasks. This project management tool allows remote employees to work on it anywhere and on any desktop or mobile device.
Free trial? Yes, Basecamp has a free version with quite a few bells and whistles! Click here to get started.
Standout features:
Campfire (group chat)
Email forwarding
Message board
---
"For freelancers"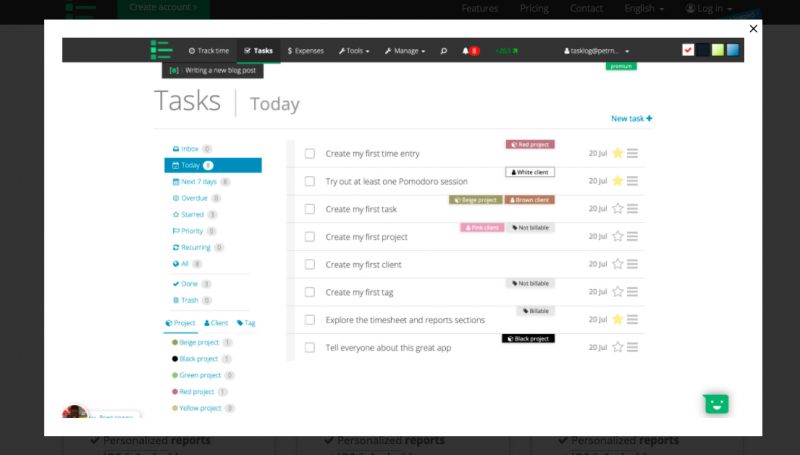 Tasklog is the most popular time tracking platform, which consists of a task manager, a time tracker, and a Pomodoro timer. Users can measure employee engagement and productivity, assign tasks to the appropriate team members, and categorize tasks by priority.
Why it is perfect for task management:
This cloud-based productivity monitor is highly interactive, engaging, and fun to use with a dashboard, customizable timers, and task categories. Tasklog allows users to set hourly rates for each project, delegate tasks for certain time slots and members, and create to-do lists.
Free trial? Yes, Tasklog has a free version.
Standout features:
Pomodoro timer
Customizable timers
Distraction reducers
---
"For smooth collaboration"

Teamwork is a project management tool for small to large businesses to handle every aspect of a project. Users can even send client invoices through the platform as well as keep projects within the set budget.
Why it is perfect for task management:
Teamwork brings out the best in — you guessed it — teams. This cloud-based solution features document management and scheduling to define project tasks and track assignments. Furthermore, the dashboard is extremely easy to navigate and it's color coded to draw attention to what really matters.
Free trial? Yes, Teamwork offers a free 30-day trial! Click here to get started.
Standout features:
Time tracking
Task lists
File uploads
---
"For mobile lovers"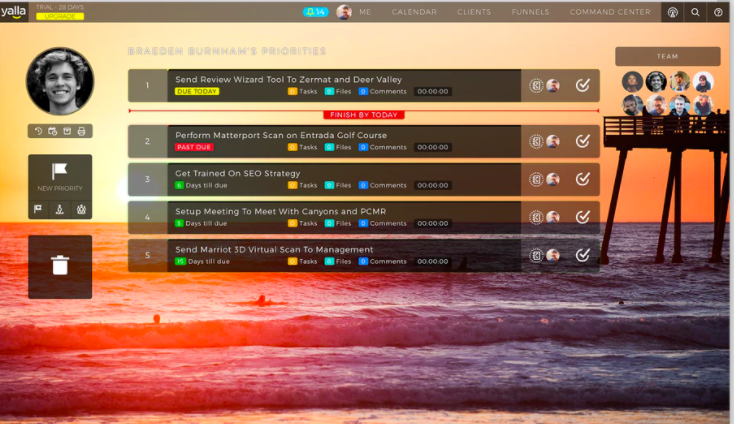 Yalla is ideal for small and medium sized businesses and helps them stay at the peak of their productivity. The drag-and-drop interface balances employee workloads and monitors projects in real time. Marketing and creative teams as well as agencies have an especially strong love for Yalla because it has all of the essentials without the super technical details that bog down other task management platforms.
Why it is perfect for task management:
Yalla provides a fast and easy way to manage tasks and provide feedback to clients and teammates through one simple dashboard. Plus, the personalized chat enables real-time instructions. Use of use and customer service are consistently two of Yalla's highest marks among users.
Free trial? Yes, Yalla offers a free trial and the cheapest plan begins at just $10 per month! Click here to get started.
Standout features:
"Finish by today" marker
Time budgets
Funnel transfers
---
"For agile development"

Jira is the choice software development platform used by many dev teams because it works with Kanban, Scrum, and other workflow management tools. It provides a single view for all user stories, it's highly customizable, personalizes day-to-day business, and is surprisingly easy to use despite the complexity of tasks it enables its users to streamline.
Why it is perfect for task management:
The project board aids teams through drag-and-drag functionality and allows users to generate project roadmaps. One of the key elements of agile methodology is working in sprints, which is something Jira is particularly well-suited for. Additionally, Jira can identify recently created issues.
Free trial? Yes, Jira even offers a free plan for up to 10 users! Click here to get started.
Standout features:
Access to source code & productivity apps
Online documentation & tutorial videos
Mobile app for Android & iPhone
---
"For IT and marketing teams"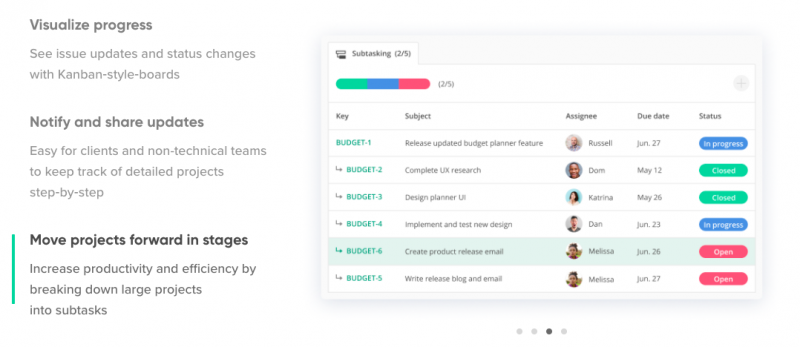 Backlog is another incredible cloud-based project management software and issue tracking solution with bug tracking, subtasking, and burndown charts. Some of the most popular features on Backlog are the in-team updates, the Gantt charts, which provide a nice overview of project progress, and the ability to notify team members about a bug's resolution without being the assignee or the creator.
Why it is perfect for task management:
Backlog integrates with GitHub and SVN, both of which help developers keep track of and manage source code and project tasks. Users can also reply to pull requests. The activity feed and watchlist also ensures project managers can keep an eye on all relevant deadlines and work. Additionally, you can create collaboratively edited web pages called wikis to assess for common questions and tips. Now of course, this developer-friendly platform still comes with version control and repositories.
Free trial? Yes, Backlog offers a free 30-day trial! Click here to get started.
Standout features:
Gantt charts
Integrations with Jenkins, Redmine, Cacoo, and Typetalk
File sharing & comment threads
---
"For Swiss army knife versatility"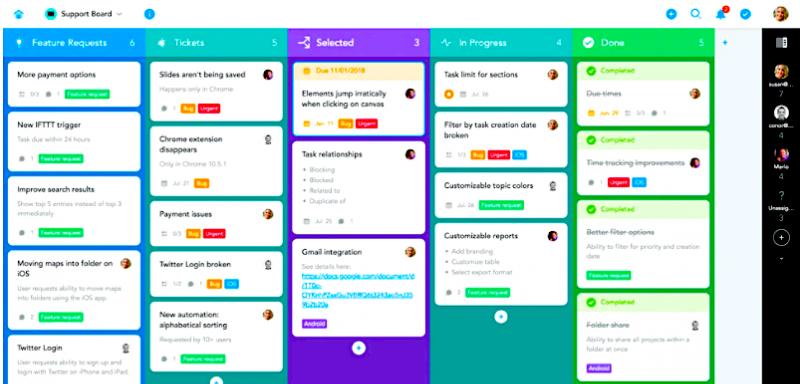 MeisterTask is a mind-mapping application that lets users collaborate with teammates and plan projects.
Why it is perfect for task management:
What makes MeisterTask so exceptional as a task management solution is the multi-faceted ability to set due dates, make checklists, upload files, and review project and job details with team members.
Free trial? Yes, MeisterTask offers a free plan! Click here to get started.
Standout features:
Integration with GitHub, Bitbucket, Zendesk, and more
Prioritization tools
Task channels
---
People Also Ask These Questions About Task Management Software
Q: What is a task management system?
A: A task management system is a platform used by individuals and organizations to assign tasks, map their execution, improve accountability, and boost productivity.
Q: How does a task management software benefit me?
A: A task management software maximizes productivity, which in turn maximizes profits. Time is the most precious resource a business has and in that regard, a task management software optimizes how employees use their time.
Q: What tools do you use for task management?
A: The best task management tools are software-based because they connect employees and team members virtually, which aligns with the trending direction of the modern workspace.
Q: What is the best task management software?
A: The best task management software boasts similar features to one another, including scheduling, task prioritization, real time feedback, file uploading, and integration with other apps.