Celebrating your employees' work anniversaries isn't reserved only for the "big" ones. All those in-between years are important too!
They can't hit a milestone 20-year anniversary without first recognizing the 19th, right?
A thoughtful way to acknowledge these milestones are customizable work anniversary cards.
But whether you're searching for a simple 1-year work anniversary card, or something more elaborate for a 10th anniversary card, pump the brakes on rushing out to the nearest store for the standard greeting card.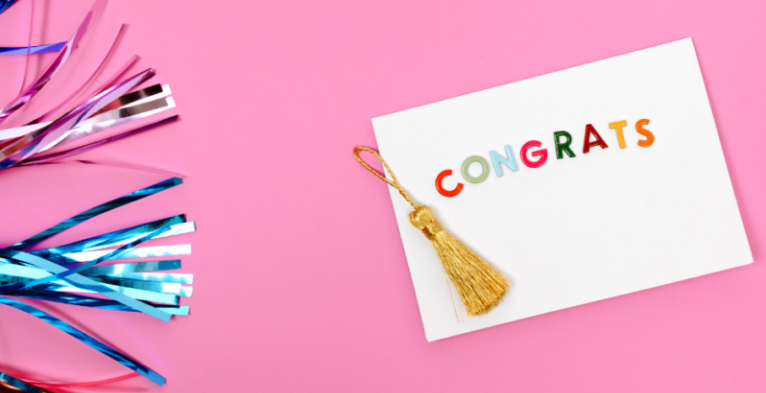 When deciding on the best way to celebrate your employees' work anniversaries, don't breeze past the convenience of work anniversary ecards. Customizations for days, simple email delivery scheduling, and some fantastic messages.
Bonus! They're perfect for your remote employees as well!
Why should you send work anniversary ecards to acknowledge your employees and colleagues? Great question, we're so glad you asked!
In 2018, a Gallup poll revealed that, "Only 34 percent of U.S. workers are engaged. This means only 34 percent of employees are enthusiastic about and committed to their work." 
And sadly, that percentage tied the highest employee engagement rate recorded since the poll began in 2000.
"Only 34 percent of U.S. workers are engaged. This means only 34 percent of employees are enthusiastic about and committed to their work."
Click To Tweet
Celebrating your employees' work anniversaries is essentially a form of employee recognition. And we all know the value of authentic, consistent workplace recognition, right?
Higher employee morale
More engaged workforce
Deeper connections
Improved communication and cross-functional collaboration
Better employee experiences
Higher retention rates
… just to name a few.
If these sound like some areas you want to improve in your employee relations, work anniversaries are a great place to start!
Let's take a closer look at work anniversary ecards, their purpose, and how you can celebrate all your employee's annual milestones with flair.
Want to become a better professional in just 5 minutes?
Page Contents (Click To Jump)
What is a Work Anniversary Ecard?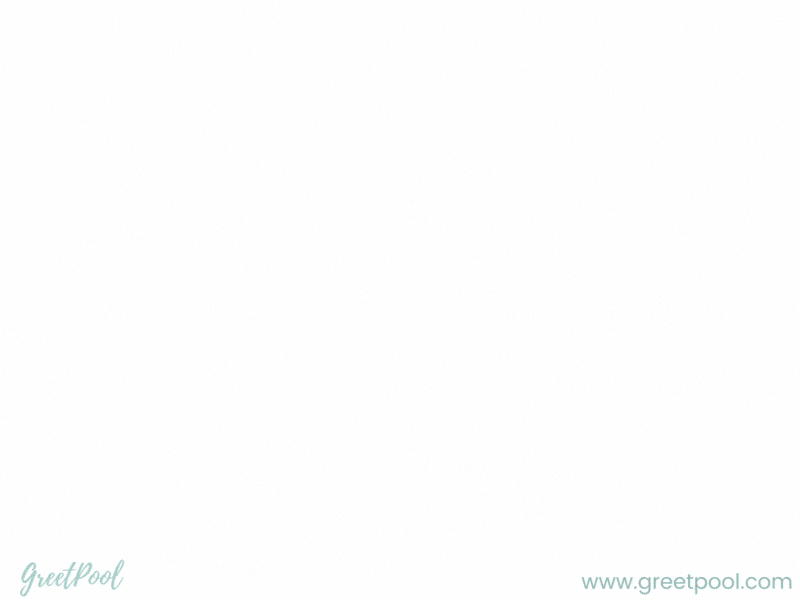 A work anniversary ecard is a digital greeting card that can be personalized for any employee celebrating a work anniversary milestone.
It's an ideal way to recognize anyone within the organization, whether it's the CEO's 25th year or a colleague's 2nd. They're not just electronic and timely, they're also environmentally friendly.
And an ecard can be customized! It's all about them so make it as individual as your employee. Add a personal message highlighting their accomplishments.
Tell them all the ways they've shined and how much you appreciate their hard work. Include the company name, years of service, and maybe even all the positions they've held as they've grown in their career with you.
How to Send a Work Anniversary Ecard?
⏰ Determine when to send the ecard
Zero in on your colleague's work anniversary date and plan your ecard delivery to arrive right on time.
🎨 Choose a card design
Narrowing down the options can be the most challenging part! But rest assured, there's a design that's perfect for your employee.
📃 Write inspirational words
Poetry is nice but not entirely necessary. Use this opportunity to let them know how much they're appreciated with an empowering, supportive, and inspirational message.
⭐️ Include personalized details
Tell them specifically how they make a difference and why it's such a pleasure to celebrate another year of their career accomplishments.
✍🏻  Ask people to sign it
Surely, you're not the only coworker they've impacted. Get the whole squad in on the surprise with a group ecard!
🚀 Send the ecard on the day/time that you had planned
Many ecard services allow you to schedule your delivery, down to the minute. So as the clock is ticking towards their big day, you already know your ecard will be waiting for them to enjoy.
🎁 Pair with a gift
A token of employee appreciation, as a side dish to your ecard, will undoubtedly be a well-received gesture. You can even slip an electronic gift card into your ecard!
Best Work Anniversary Ecards
"Combine epic word clouds, thoughtful messages and memorable photos for one-of-a-kind recognition."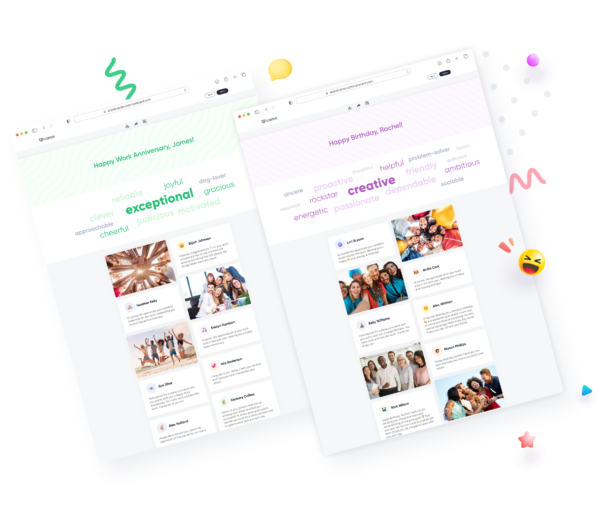 Care Cards is your one-stop shop for all things ecards. Design, personalize, and schedule your work anniversary card in just a few simple steps. Oh, yea… and did we mention they're free?
Care Cards offers an amazing library of options to choose from. Whether you're looking for something heartfelt or hilarious, you'll find your ideal ecard here.
Pair this ecard with: Recipient Choice Gift Card
Sometimes, keeping it simple speaks volumes.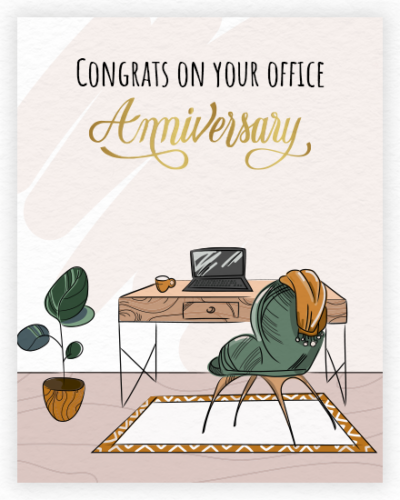 This work anniversary ecard is simplistically perfect as-is. All it's missing is your personalized message, of course, and a scheduled delivery date.
Have a little cheeky fun celebrating their time investment. Since this card is so customizable, you could replace the cover image with your colleague's very first employee ID photo. Commemorate that haircut and those glasses forever!
Pair this ecard with: Congrats Chocolate Duo
First Anniversary Fabulousness!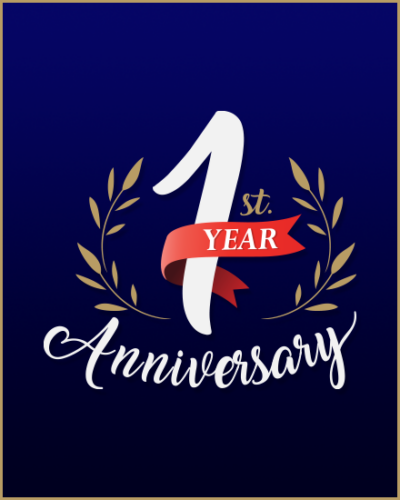 Can you believe it? A whole year already! You've spent one entire trip around the sun as colleagues. Definitely worth acknowledging!
Hitting that first anniversary is a major milestone. This card lets them know that it's hopefully the first of many more to come.
Pair this ecard with: Bottomless Mimosa Candle
Another year means another card to celebrate!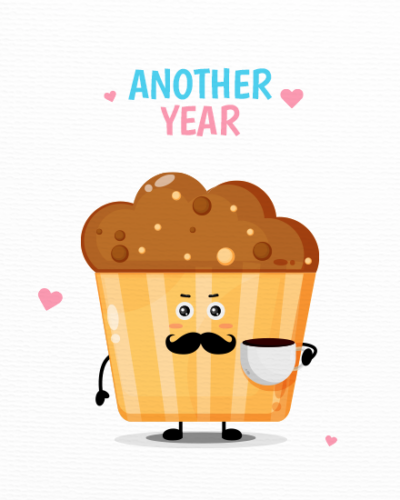 Whether you're celebrating their second year or second decade, "another year" deserves to be honored. Remember, the small ones add up to longer-term celebrations, so each one matters.
Who better than a mustached muffin man to say "happy work anniversary!"? Dude even comes with coffee! He's seriously pretty perfect!
Pair this ecard with: Celebration Socks
The best card for the best coworker!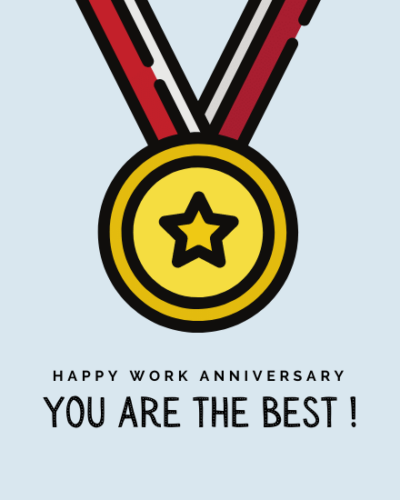 They really are the best coworker you could ask for. Always helpful and going above and beyond to keep the team in line. So, say it!
Not only can you tell them they're the best, you can tell them exactly why. Personalize the inside of this work anniversary ecard with all the reasons you're celebrating them.
Pair this ecard with: Monochrome notebook
Winner, winner, chicken dinner!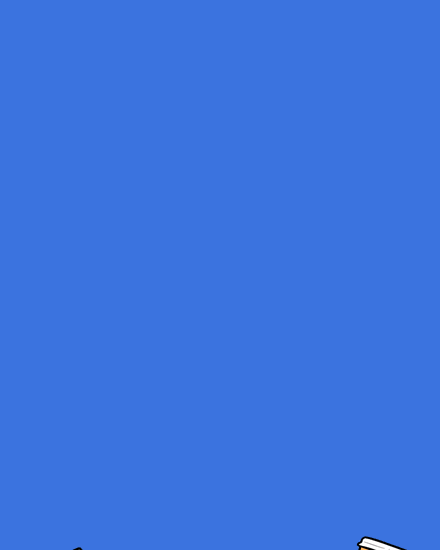 Has a snack stash? Check! Addicted to coffee? Check! Check! They can dab every corner and nail all the patterns with this work anniversary ecard.
They're a winner in every direction! Each block of the Bingo card has a fun coworker description that tells them why their work anniversary is so celebratory.
Pair this ecard with: Coffee, Cookies + Candles
"Teamwork makes the dream work!"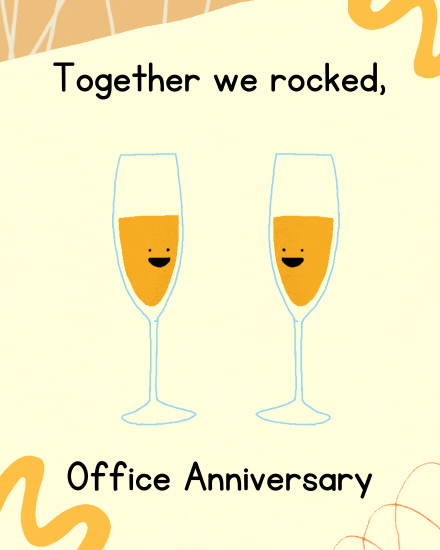 Set the stage for your "happy work anniversary" wishes with smiling, animated champagne glasses. Inside the card, you can customize it to run through a few of the reasons you've been so proud to work with them this past year.
(Dry) toast to another year of stellar working relationships! Each team member plays a valuable position, so let your colleague know how much you've loved having them on your team this year.
Pair this ecard with: Finding Balance
"If you want to be average, do what others do. If you want to be awesome, do what no one does."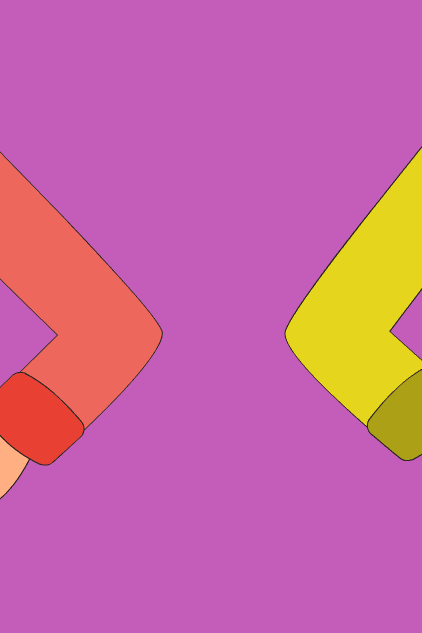 And they do what no one else does! Oftentimes, it really is our colleagues that make work feel less "worky" and more empowering and enjoyable. This ecard tells them just how awesome they are.
They should know how they impact you and their work anniversary is a great time to tell them. Upgrade with animation and music to add a little extra awesomeness to this work anniversary ecard.
Pair this ecard with: Congratulations Gift Box
"You are built, not to shrink down to less, but to blossom into more."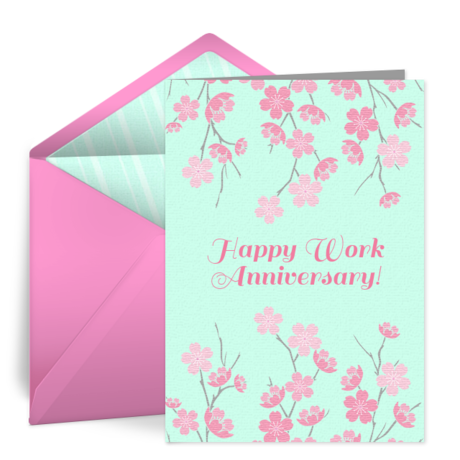 Their career is in mid-bloom and each work anniversary adds another blossom to the stem. Brighten up their season by acknowledging their growth.
Flowers and a card, all in one! Ok, not really but the message is the same. Show how grateful you are for your colleague's continued commitment.
Pair this ecard with: Cookies + Chocolate Sauce
"Bennifer" and "Brangelina" aren't the only ones who can blend two (already) great things into a fab and fun combo!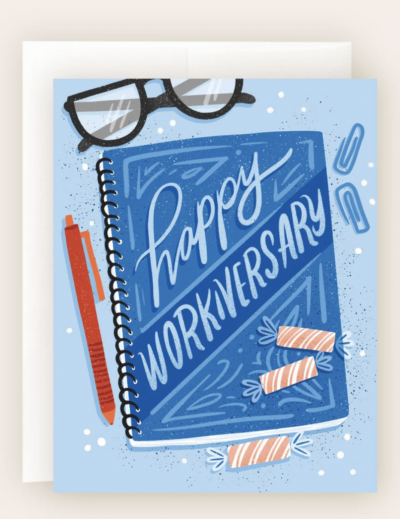 Yes! The Workiversary is a thing! There's no need to open a gift registry for the annual event, though. This fabulous card will do the trick.
Not just an anniversary. This is a workiversary and deserves its own card. Tah-daaah!
Pair this ecard with: Recharge + Relax
Bruno Mars may have said it best…. "You're amazing, just the way you are."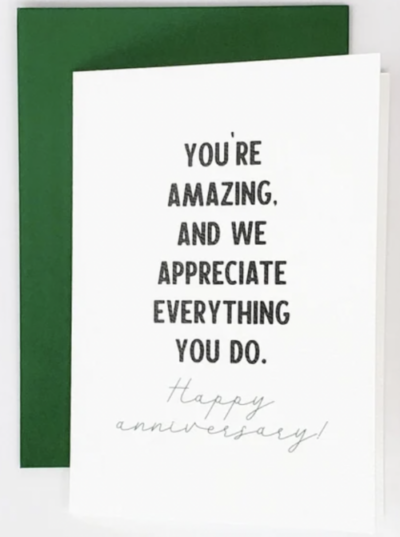 It's SUCH a pleasure to work with truly amazing colleagues. And in case you haven't noticed, "amazing" doesn't necessarily apply to everyone. When it does, they deserve to know!
"See something, say something" isn't just for airports and train stations. This work anniversary card sends a thoughtful message of appreciation that can be signed by the whole team.
Pair this ecard with: Insulated Bottle
Break out the snacks and confetti… it's time to celebrate!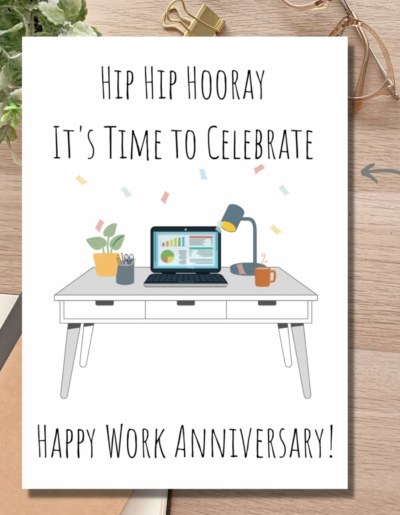 One of the biggest investments your employees make in your company is their time. Each hour leads to days, weeks, months, then years. A work anniversary is a perfect time to celebrate their substantial investment.
Since this work anniversary card is fully downloadable, you can buy, print, and have the whole team sign it in just minutes. Super thoughtful and convenient.
Pair this ecard with: Tea + Cookies
Never let work anniversaries sneak up on you again!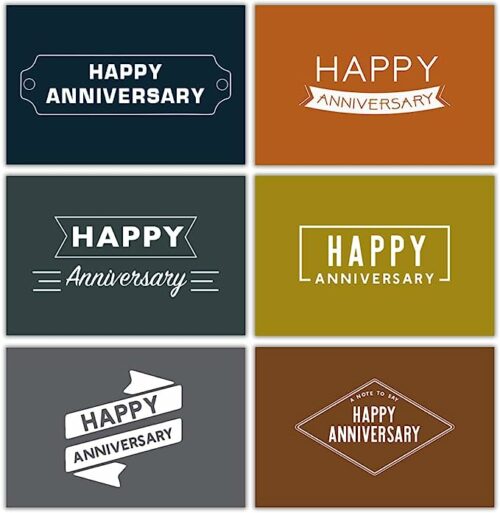 This 6-pack of salutations ensures you're always ready with an anniversary card in your "back pocket." Each is simple but different, and left blank inside for your fulfilling personalized message.
Your days are busy! Having cards on hand means you're always ready to celebrate your employees, no matter how crazy things get.
Pair this ecard with: Gourmet Nuts + Chocolate
Three dozen opportunities in one purchase!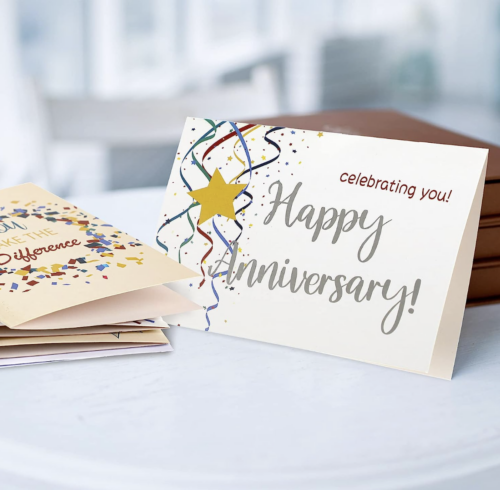 Talk about a brilliant bulk buy! Here you'll have 36 cards, 36 envelopes, and 36 opportunities to recognize your employees' work anniversaries throughout the year.
Variety! Options! Different messages for your very different employees, all showing how much you appreciate their commitment.
Pair this ecard with: Lavender Relaxation
Just like Cheers… "Where everybody knows your name."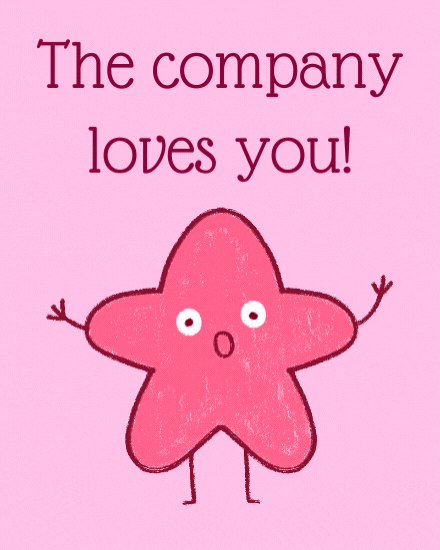 Where would you be without them, year after year? Some people just feel like the soul of the company and exemplify everything the organization stands for. Those are your people! Celebrate them!
Some employees are just "bigger" than their roles. They add so much value and deserve a card that shines as bright as they do.
Pair this ecard with: Thank You Gift Box
---
People Also Ask These Questions About Work Anniversary Ecards:
Q: What should I write in a 1-year work anniversary ecard?
A: In a 1 year work anniversary card, you could write about some of your coworker's accomplishments, how they've helped you, and how much they've grown in just one year. Make it personal and specific and you can't go wrong.
Q: What are the benefits of sending work anniversary ecards for employees?
A: Some benefits of sending work anniversary ecards for employees are better engagement, higher morale, stronger teams, increased retention, and a happier, healthier company culture.
Q: What are some funny work anniversary ecards?
A: Some funny work anniversary ecards can be found in the links above. Have you seen the muffin man with a mustache? Hilarious!
Q: What do I write in a 10-year work anniversary?
A: In a 10-year work anniversary card, you can write about some of the employee's major accomplishments, the struggles they've overcome, and how much the past decade has meant to you as their colleague or employer.
Q: What are some good work anniversary ecards for coworker?
A: Some good work anniversary ecards for coworkers are "Hip Hip Hooray," "Together We Rocked," and "Another Year." All can be found in the article above.