Congratulations!! You're launching a startup!
You have the drive, the vision, the capital, and BIG plans.
Or maybe you're already in operation – things are going great and now it's time to implement a more structured HR plan. Either way, developing a good HR plan is a vital part of growing your business.
WAIT! Get the free secret weapon that helps HR professionals navigate real-world embarrassing, uncomfortable, and common HR mistakes.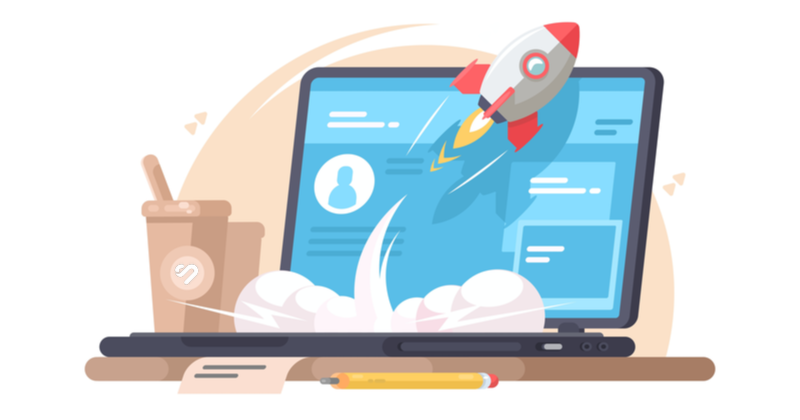 But human resources isn't one-size-fits-all. Googling "HR tips for startups" is likely to lead you down a rabbit hole laced with endless "must-haves" and "do this," so you're just not sure how to get HR right at your small business.
Let's be honest… if we were to create a complete HR startup checklist to show all the potential HR functions and processes, that list may actually make our head explode. Add the challenges of expecting a remote or hybrid workforce. There are a LOT of responsibilities to define when starting an HR department at a startup.
"The role of the human resource department in a company affects all aspects of the business because human resource supports employees and employees are your most important resource."
HR strategies for startups go far deeper than having someone in a corner office who's responsible for all the hiring and firing. In fact, you may not even know exactly how deep you need to go with your HR strategies yet.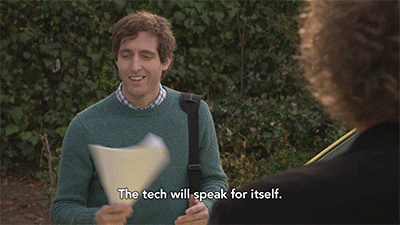 Are any of these questions swirling around your brain?
For the positions you know you want to hire for, how will you find candidates?
Do you have well-defined job descriptions?
What is the average salary in the market for these positions and what are your ranges for each?
How much paid time off will you offer?
Who will arrange and present employment offers?
We tried to tell you… it's a LOT. But there is good news! Actually GREAT news!
We've unraveled the rabbit hole and identified the best tools and HR software for startups to help ease your mind and your stress level. Identify your needs and make sure your startup has the strongest HR foundation with some of these stellar support platforms, tips, and strategies for human resources success.
What is the function of HR at your startup?
Human resources at your startup is the heartbeat of the organization. They protect and support every facet of your company – the employees, the business, your company's image and legal standings, policy creation and implementation, and so much more. HR plays a major role in the success of your business and ensures structure and compliance.
HR For Startups: Main Roles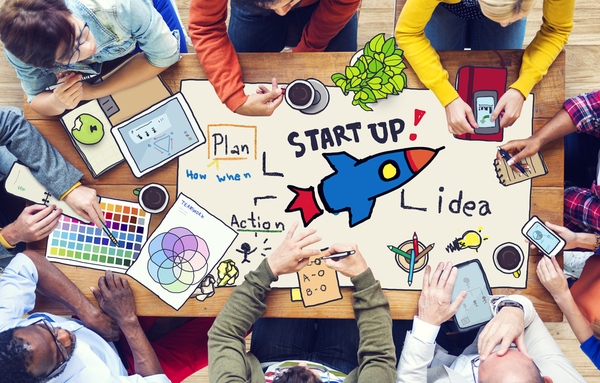 1) Legal Protection
Why this HR function is important for startups: With hundreds of federal, state, and local regulations to interpret, you need a team who speaks the language. Fluently. Compliance to Governmental health and safety requirements not only protects your organization, but also ensures a safe and responsible work environment for your employees.
2) Recruiting
Why this HR function is important for startups: Qualified employees don't just fall from the sky. Knowing where and how to find them is recruiting 101. Having an effective recruiting plan saves both time and money for your organization.
3) Onboarding
Why this HR function is important for startups: Your onboarding process makes a big impact long before their first day on the job. Every step matters. Establishing a streamlined hiring process for recruiting, interviewing, onboarding, and training gets your new employees acclimated quickly and effectively.
4) Record Keeping
Why this HR function is important for startups: Each new employee deserves to receive the same information and opportunities when they join your team. Clearly documenting your HR procedures allows you to evaluate and adjust them as your business evolves, while also creating a consistent working environment. Maintaining these living documents ensures effective and repeatable processes, from recruiting and training to those dreaded terminations.
5) Company Culture & Team Building
Why this HR function is important for startups: Creating and maintaining a healthy company culture may start with HR, but your employees ultimately carry the torch. Team building events are great tools for creating those strong, foundational bonds within your organization. These activities also improve employee engagement, reduce turnover, provide conflict resolution, and support a happier, healthier work environment for everyone.
Want to become a better professional in just 5 minutes?
Best HR & HRIS Software For Startups
Best for: HR that scales as you grow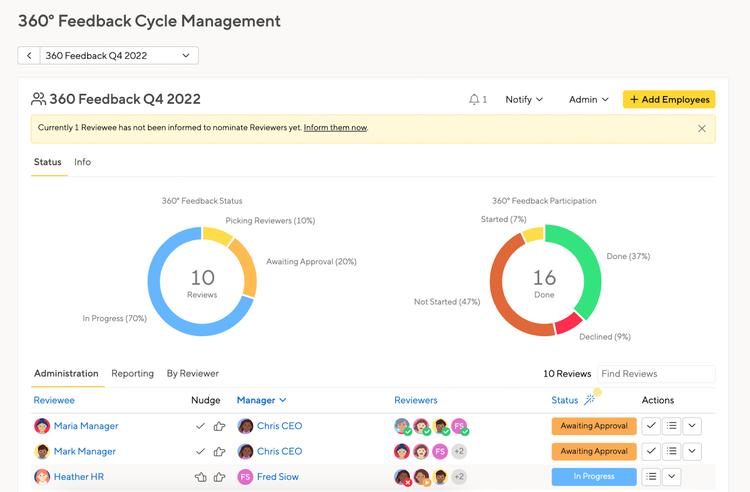 BambooHR is an outstanding Human Resource Information System (HRIS) software solution specifically designed for startups.
It offers a wide range of user-friendly HR tools, making it the perfect choice for businesses with limited HR expertise.
With its comprehensive features like employee self-service, onboarding, time tracking, and reporting, BambooHR streamlines HR processes and empowers startups to manage their workforce more effectively than ever before.
Why we love it: BambooHR shines with its user-friendly interface, scalable capabilities, and wide variety of features, making it the ideal choice for startups seeking rapid growth. By empowering employees with self-service options, it effectively reduces administrative burdens and allows them to manage their own HR tasks. Additionally, its reporting and analytics capabilities offer valuable insights, enabling startups to make informed, data-driven HR decisions.
How to try it for yourself: Sign up for BambooHR to see how it can simplify HR management, streamline processes, and support your company's growth.
Best for: an end-to-end HR solution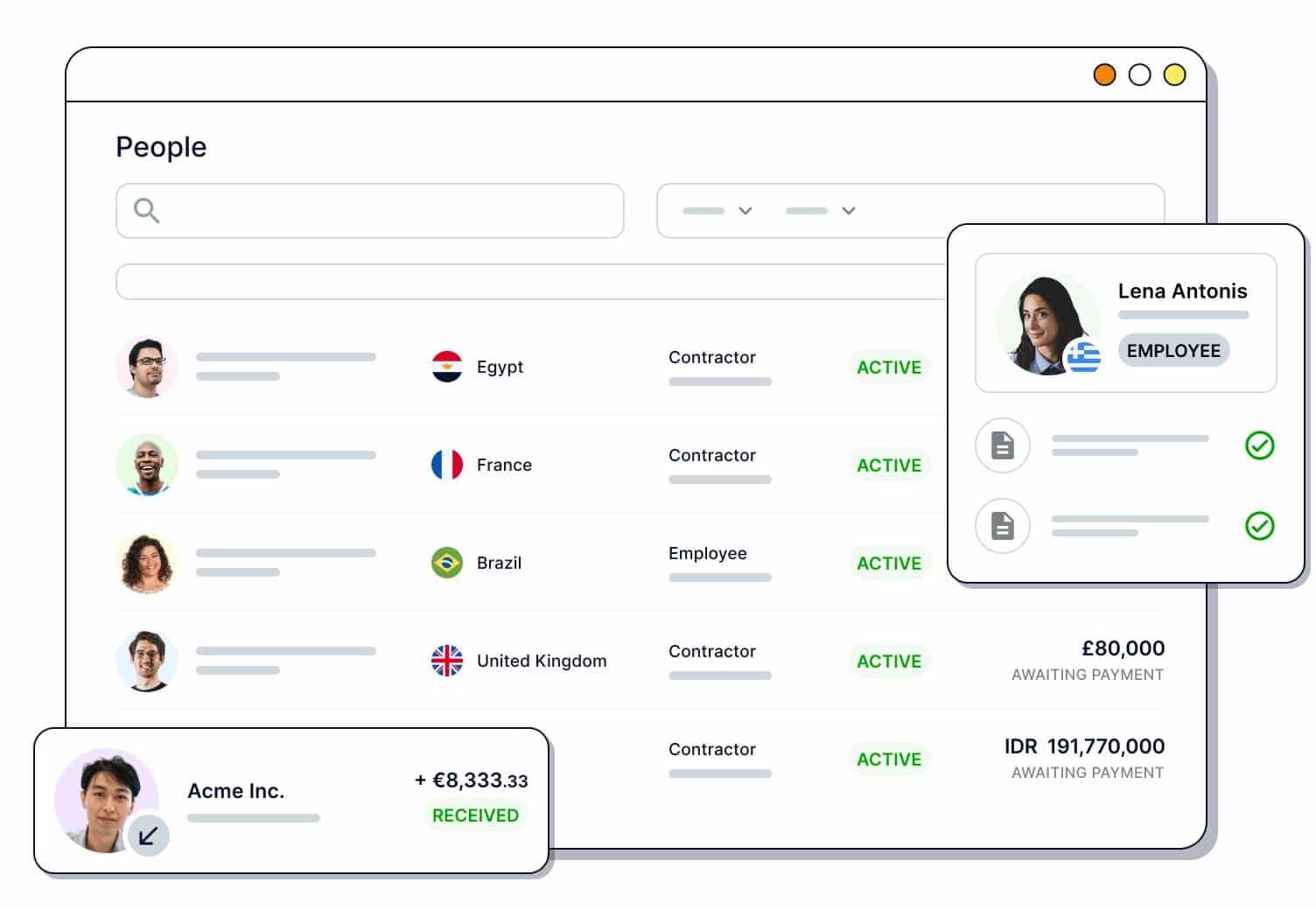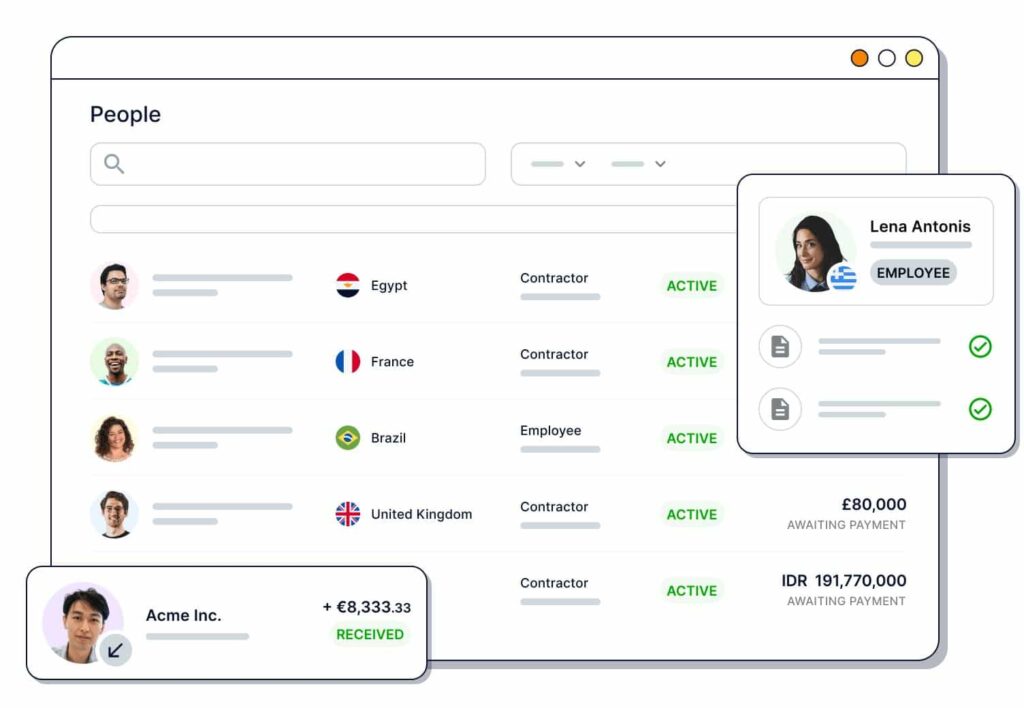 Deel stands out as a top choice for startups seeking HR software solutions. With its expertise in global hiring and compliance, it is the perfect fit for companies looking to expand their remote workforce across international borders.
Deel offers a robust platform that makes onboarding, payroll, and contract management silky smooth.
Why we love it: Deel is an exceptional platform that offers startups a fully compliant solution for hiring and managing remote employees across the globe. With its advanced features, Deel handles the complexities of international employment, from generating legally compliant contracts to automating payments in multiple currencies.
How to try it for yourself: Request a demo to see how Deel can support your growing team!
Best for: succeeding in all global employment matters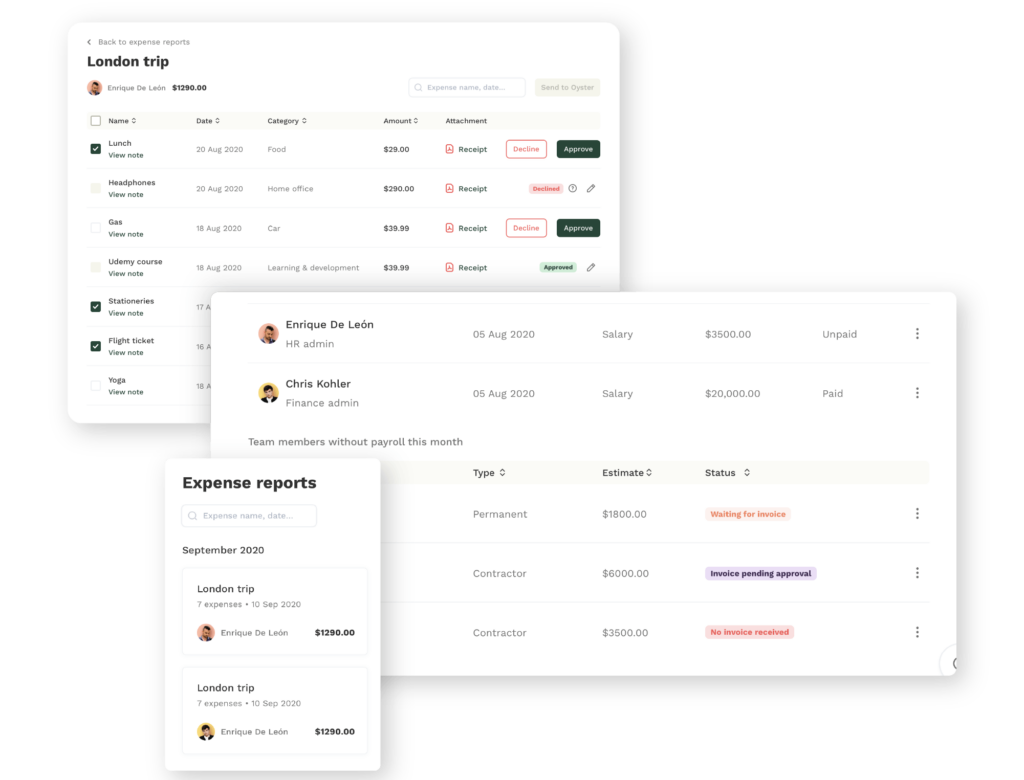 Oyster is an HRIS (Human Resource Information System) software specifically designed for global hiring, payroll, and compliance. With everything from automated workflows to employee-centric solutions, it provides a comprehensive solution that empowers startups to prioritize their growth while managing HR complexities.
Why we love it: Oyster's exceptional commitment to global HR operations is remarkable. Not only does it offer a user-friendly interface for effortless onboarding and employee management, but it also guarantees compliance with international regulations. Oyster's unwavering dedication to supporting startups in their global expansion journey perfectly aligns with our deep admiration for its capabilities.
How to try it for yourself: Discover how Oyster can help you manage your international workforce!
Best for: Creating a healthy company culture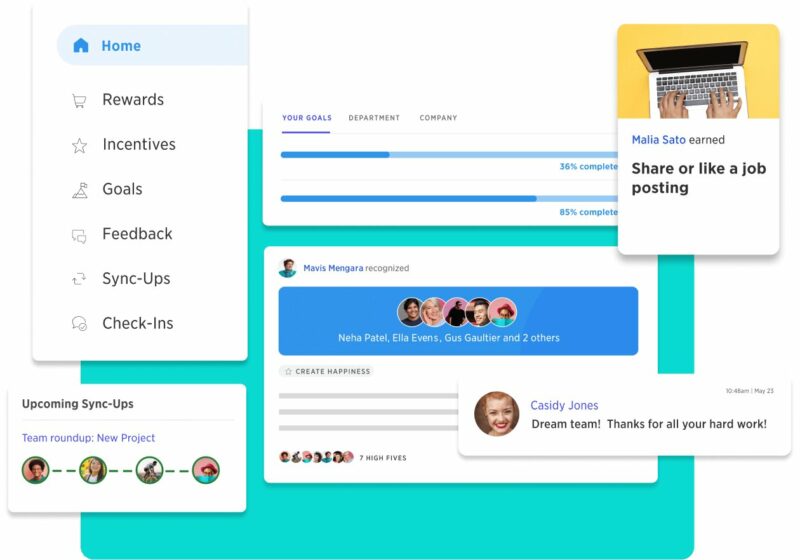 Creating a connected, engaged, and productive team starts at the core with your company culture. WorkTango believes your company culture is based on the employee experience. Everyone matters to build the relationships necessary for happy, healthy partnerships.
Why we love it: "Employee experience is the new customer experience." They base their philosophy on the four pillars of connection, appreciation, performance, and growth. Appealing to these psychological needs ensures a personal and impactful employee experience and ideally supports long-lasting professional relationships.
How to try it for yourself: Explore Worktango to learn more about the tool's impact on employee morale and how it supports a positive company culture at your startup.
Best for: Distributing swag and employee products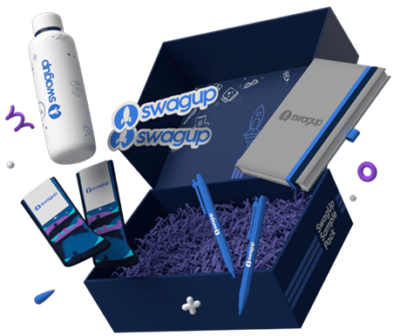 These customized swag packs should definitely be written into your HR processes. Not just for new employees, but as part of your employee recognition program overall. This platform can handle your branded designs, offers an automated dashboard to remind you of upcoming employee milestones or events, and even offers global shipping if needed.
Why we love it: Grab the swag packs or buy specific items in bulk. Either way you get swag for your startup. Plus, these products are a great way to welcome new team members and really make them feel included when they join your growing team.
How to try it for yourself: Grab a batch of preset swag boxes to welcome your next group of new hires. And while you're there, snag some customized boxes to surprise your current employees too.
Best for: Record keeping and information management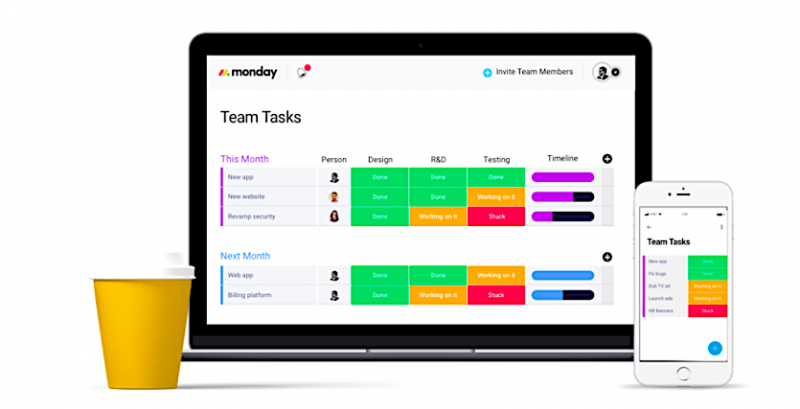 Your entire organization's workflow, all in one operating system. IT, human resources, sales and marketing, document management, and so many other facets of your business, are all housed and managed under one virtual roof. Automation, tracking, and charting can save hours of your day and help ensure your teams' monthly targets are being met.
Why we love it: Completely redefines the term "having a case of the Mondays!" This platform literally does everything and keeps it simple and streamlined so it's actually enjoyable to use. Nothing at all like Mondays.
How to try it for yourself: Decide what parts of your business you'd like to manage. Then book a demo to see how easily they can handle those (and more) for you.
Best for: Outsourcing HR responsibilities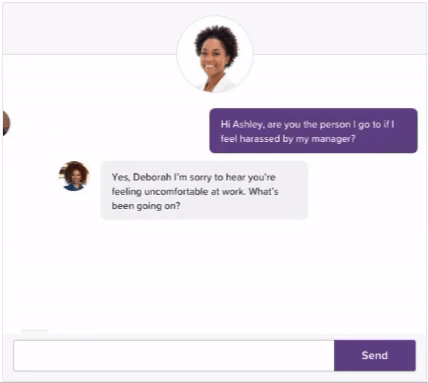 Not every startup actually needs a dedicated HR Manager on site. Outsourcing some of your HR functions like policy creation, recruiting, and training can take a LOT off your daily to-do list. Not to mention all the health, safety, and environmental regulations they can handle for you.
Why we love it: Delegation is so necessary when managing a business. A service that offers you the ability to put your HR responsibilities "on autopilot" so you can focus your attention on actually running your startup is a priceless investment.
How to try it for yourself: Just answer a few questions to find out how you can manage the HR side of your business without having to hire a six-figure manager.
Best for: Distributing swag and employee products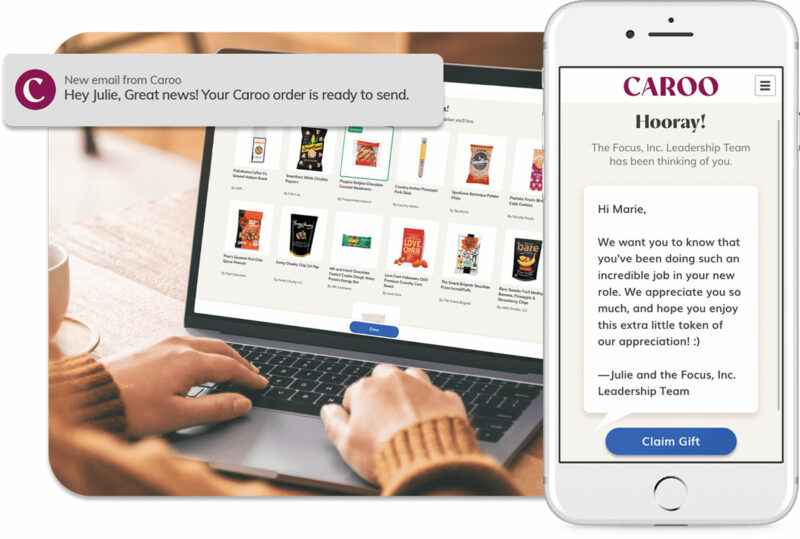 If your onboarding process doesn't include some brilliantly branded company swag for your new hires, it definitely should! Help them look and feel like part of the team with apparel, drinkware, tech gadgets, and so much more, all customized with your company name and logo.
Why we love it: It doesn't matter if your employees are all in the office or spread across a few time zones. Swag helps them feel connected to the organization and their individual purpose in it.
How to try it for yourself: Take a quick two minute quiz to customize the best boxes for your newbies.
Best for: Outsourcing HR responsibilities

This service really takes a load off. A good PEO company gives you the opportunity to stay focused on your employees' productivity and project management, while they handle details like training schedules, healthcare, and 401(K) paperwork.
Why we love it: With payroll, risk management, health benefits, and other valuable HR services for startups, you can focus on the important day-to-day operations. Wouldn't you rather spend your time discussing profitability and growth instead of paperwork deadlines and legalities?
How to try it for yourself: Request a quote today and see how easy it is to not worry.
Best for: Managing your recruiting and hiring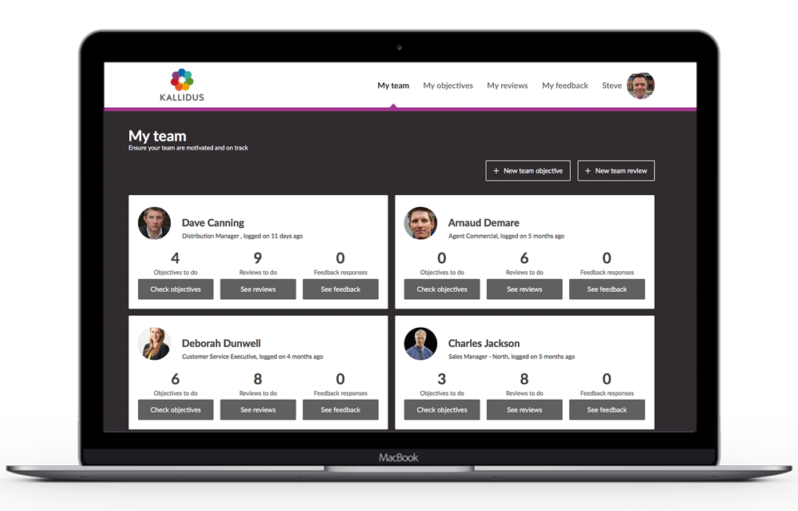 Attracting quality candidates for your startup can feel like a full-time job. And talent acquisition is just the beginning. This platform offers all the HR services for startups to recruit, develop, and retain talented employees.
Why we love it: Take a few steps back from the details, while still creating a positive employee experience. These services promote employee retention by fostering long-term relationships with your successful startup.
How to try it for yourself: Request a demo and spend more time running your startup without having human resource responsibilities on your plate.
How to Create an HR Department Plan for a Startup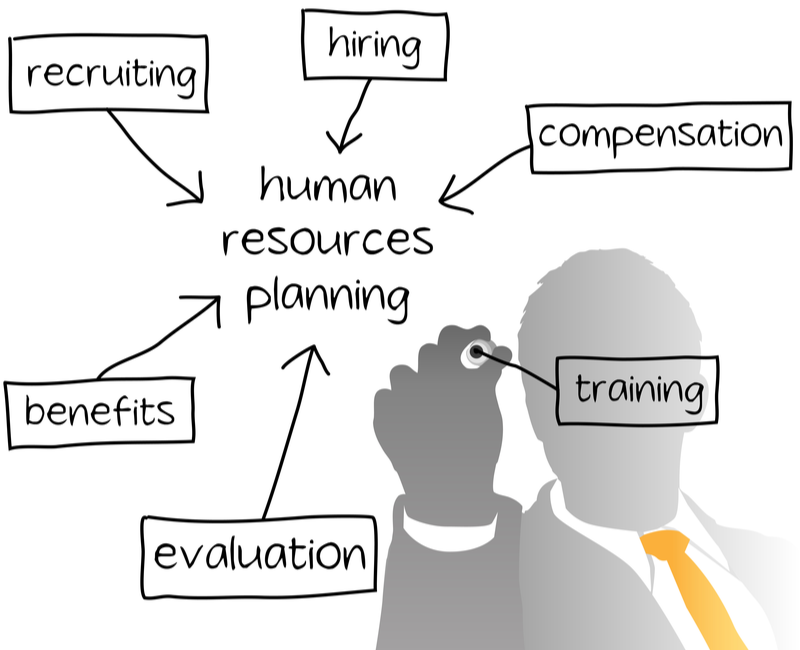 Step 1 – Draft your HR policies and employee handbook. These documents should not only be inclusive and ethically compliant, but should also support the core values of your startup. Dig deep and get creative.
Step 2 – Determine how you want to structure your salary and benefits packages. Define the roles and responsibilities for each position and the benefits you'll be offering. Keep in mind that non-traditional perks can go a long way in the benefits category.
Step 3 – Envision and define the employee experience you want to provide within your organization. Consider how you want to develop, recognize, and encourage your employees long before you even have any.
Step 4 – Prepare for payroll. Taxes, deductions, and the IRS are necessary conversations. Establish the rates and salary ranges for each position. Then determine if you'll be processing payroll internally or outsourcing to a service instead.
Step 5 – Establish efficient recruiting and onboarding plans. Knowing where to find quality employees is key. Creating consistent processes to get them seamlessly onboarded promotes a trusting and healthy company culture.
Step 6 – Decide how you want to manage human resources at your startup. Can you take on and manage all the employees, paperwork, and details by yourself? Should you hire a team? Or do you outsource to a reputable human resource management service?
Step 7 – Performance management. Determine the structure that works best for your startup. What are the goals they're striving to reach? How often will you review their performance? What are the key factors they'll be evaluated for? 
Before you even have employees on the payroll, there are so many things to consider and it can get overwhelming very quickly. Although you may want to be as hands-on as possible, keep in mind that HR is an investment in your business.
"If you want to build business, build the people."

– Brownie Wise
Whether you hire a team or a service, HR is the headquarters for employee engagement. They can coordinate all your team building activities and define your employee recognition program. They're on the front lines – negotiating contracts, scouting for the most qualified candidates, onboarding, training, and on and on.
But human resources is also there to listen. Your employees have needs too and HR is often the middle-man for communicating and resolving these issues. Whether they need career guidance or conflict resolution, HR is the go-to for these services as well. Your startup is unique and your HR should always support your mission while keeping you protected.
---
People Also Ask These Questions About HR For Startups
Q: How do I set up an HR at my startup?
A: To set up an HR at your startup, first identify the number of employees you'll need to support. Then decide if you want to hire an HR Manager for your business or outsource the responsibilities to an HR management service.
Q: What responsibilities does HR have at a startup?
A: The responsibilities of HR at a startup are to manage employee benefits, compensation, training, and development. These responsibilities may vary based on the size of the company but overall, the HR team is responsible for a positive employee experience.
Q: Are there services to run HR for my startup?
A: There are services to run HR for your startup that take all the pressure off of you. Some of the ones mentioned in this list should be able to help you get things up and running in no time.
Q: What are some challenges to running HR at startups?
A: Some challenges to running HR at startups are defining the roles and processes from the ground up, and managing all the responsibilities and legal requirements.
Q: When is it a good time to introduce Human Resources at a startup?
A: A good time to introduce Human Resources at a startup is in the early stages. You don't have to have a fully defined HR structure and team in place by opening day, but the sooner you're able to actually hire people, the better.