The first murder mystery game many of us probably remember playing involved figuring out who took down Colonel Mustard in the library with a candlestick. Mrs. Peacock? Professor Plum maybe.
The classic board game, Clue, hit the US market in 1949 but the popularity of murder mystery boxes and games has been on the rise for well over a century.
It wasn't until the 1980s that murder mysteries entered the dinner party scene and became all the rage. Theme parties, set in different time periods and different countries, complete with food and costumes to support the motif. Each person in attendance would assume a character and role play their part for the entire evening until GASP!!! (insert mysterious musical crescendo) The killer was revealed!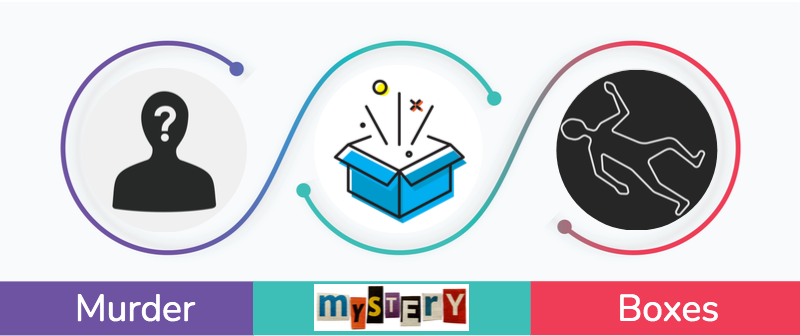 Even mainstream cable networks have beefed up on new versions of true crime story lines in recent years. Some of the most popular TV shows and binge-worthy network series involve a detective-type character, working tirelessly to catch a killer. If watching an actor close a big case at the end of each sixty-minute episode is so rewarding, imagine how much fun and engaging it is to actually solve a case with your work team.
Murder mystery boxes reinforce our innate need for hope and resolution. Not to mention they allow us to jump right into the action.
Simple as it sounds, resolution is rewarding! Giving your group the opportunity to solve a murder as a team building activity… well, that's just "Elementary, my dear Watson."
Fortunately, we've done all the investigative work to help you find the best murder mystery boxes for your detectives. That's right! We followed up on hundreds of leads, combed through a mountain of evidence, and conducted a ton of interrogations. After hours under the heat lamp, the evidence reveals that these are the 15 best murder mystery box ideas for you and your group to have a ton of fun with.
Scroll and click at your own risk!
Want to become a better professional in just 5 minutes?
Our List of the Top Murder Mystery Game Boxes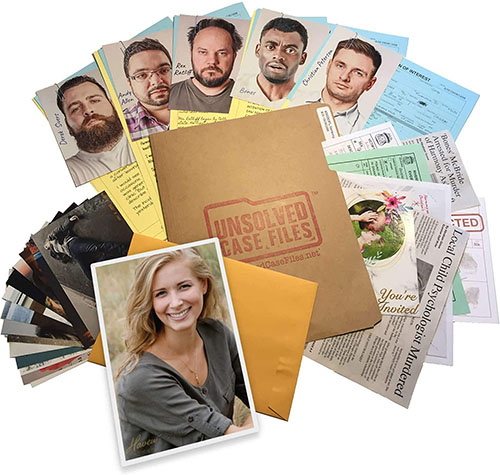 Harmony Ashcroft disappeared just after leaving the rehearsal dinner for her upcoming wedding. Over two decades later, her murder remains unsolved. Fortunately, a team of cold case detectives (aka your squad of sleuths) is now on the job, determined to uncover the truth and hunt down a killer.
Why you'll want to solve this mystery: This murder mystery in a box has multiple levels to solve in order to unlock the final piece of the puzzle, bring peace to the town of Riverdale, and find justice for Harmony.
Price: $26.97
How to unbox this mystery: Unsolved Case Files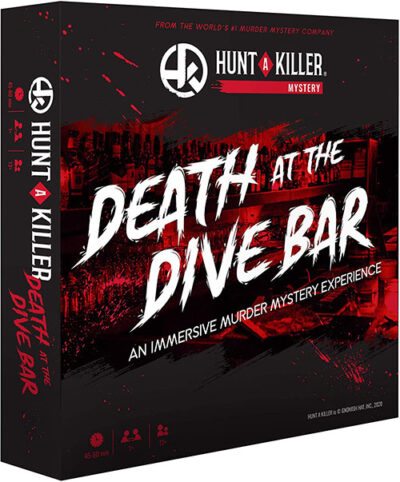 Small towns always have secrets. What was believed to be a tragic fall may have actually been much more than a simple accident. Your team will have to figure out which members of this sneaky little town are keeping all the dirty secrets in this twisted mystery box.
Why you'll want to solve this mystery: The items included in this murder mystery box are high-quality and so authentic, it's like your team is actually at the crime scene.
Price: $29.99
How to unbox this mystery: Death At The Dive Bar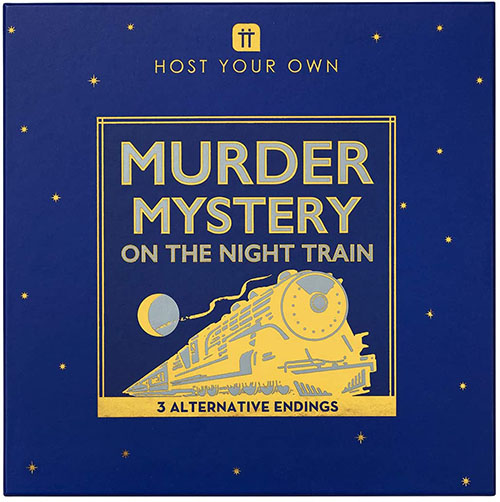 It's time for the monthly team dinner and everyone is less-than thrilled about the dry charts and graphs typically served as a side dish to some equally dry chicken. Instead, shake it up this time! Pass out the character cards and turn this work meeting into a fun murder mystery event aboard a 1930's locomotive headed for disaster.
Why you'll want to solve this mystery: With three alternate ending options, you can play multiple times with different outcomes.
Price: $49.99
How to unbox this mystery: Murder Mystery On The Night Train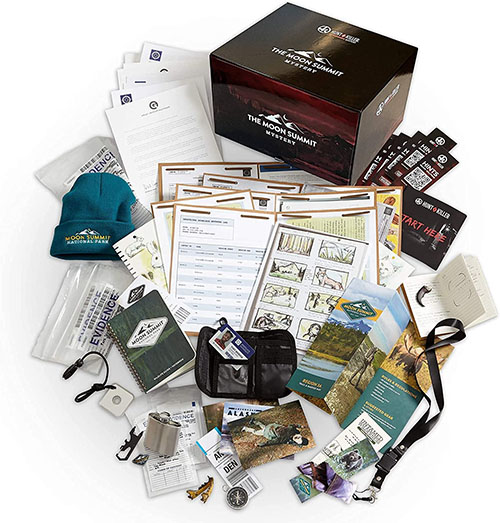 Unbox this mystery to reveal a full six-pack of true-crime fun for the whole team. What starts as an unfortunate Alaskan bear attack turns into a grizzly(less) murder investigation. Uncover the hidden motives to crack the codes in a half-dozen episodes of investigation and intrigue for multiple team event entertainment.
Why you'll want to solve this mystery: With six chapters to investigate, your group will be so invested from the first box, they'll beg you to book the next department game night.
Price: Starting at $29.99
How to unbox this mystery: The Moon Summit by Hunt A Killer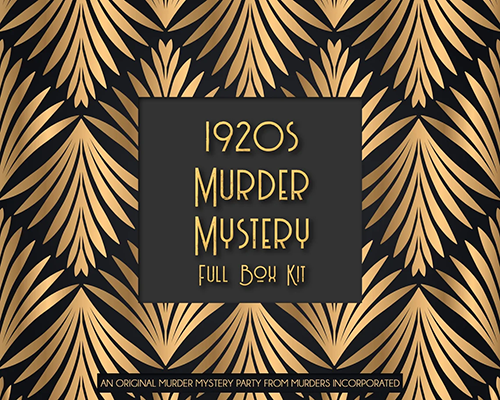 Take a trip back in time to the roaring 20's, when prohibition was creating infamous historical characters like "Lucky" Luciano and Al Capone. Speakeasies were the place to be but murder was always on the menu. Throughout the game, your group will find themselves with three dead bodies, a room full of suspects, and there seems to be blood on everyone's hands.
Why you'll want to solve this mystery: Not even your team's host knows who the murderer is so everyone's participation is needed to solve the case.
Price: $56
How to unbox this mystery: 1920s Speakeasy Murder Mystery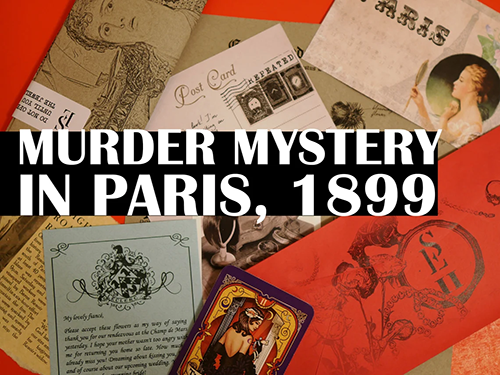 Set in 19th century Paris, your team will work together to uncover the whereabouts of a missing popular burlesque dancer. The more they dig, they more they'll find that Colette isn't who she appears to be and the surprises keep coming. It's up to your group to sort through the clues to expose her mysterious secrets, revealing her dark past, and leading them to her captor and out of this tabletop escape room.
Why you'll want to solve this mystery: Intrigue, shocking secrets, and a damsel in distress will keep your group committed to solving this classic Parisian adventure escape room box.
Price: $24.05
How to unbox this mystery: Tabletop Escape Room Game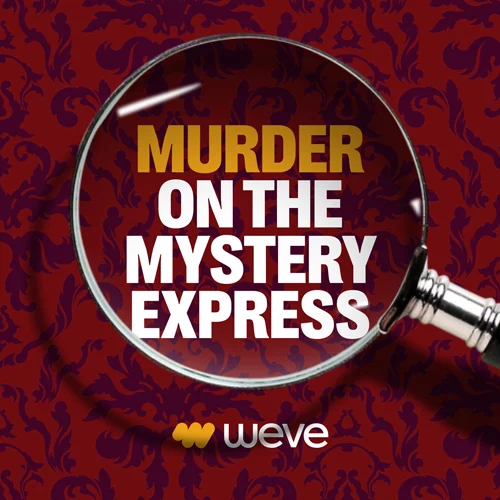 All aboard the maiden voyage of the Mystery Express! This virtual murder mystery event transports your group onto an old-timey train, where they'll have one hour to solve the murder they've just discovered. Ingeniously hidden clues and cryptic ciphers to decode will put their teamwork and communication skills to the test.
Why you'll want to solve this mystery: Observation and logic are the top instincts needed for your group to survive the killer who's still on board, and answer the question of whodunnit?
Price: Check out the free live demo and get a quote for your team.
How to unbox this mystery: Murder On The Mystery Express – Team Building Event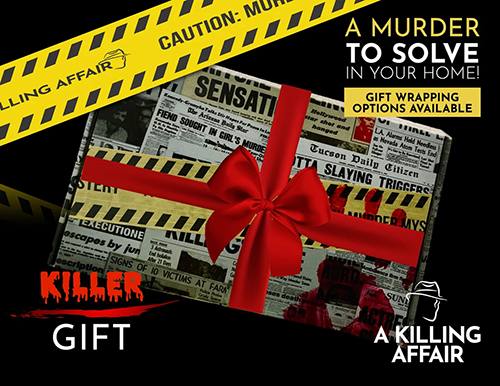 For years, a murderer has been on the loose in the small city of Lovely, FL. Your team must sort through the case files, clues, and interviews to bring peace to the distraught families still looking for answers. Five episodes of cold cases will lead your group to the killer but they'll have to work together and be on their A-games to solve the full mystery.
Why you'll want to solve this mystery: Each episode feeds into the next so the intrigue and motivation to solve the case and find the killer grows stronger with each step.
Price: $45.00
How to unbox this mystery: A Killing Affair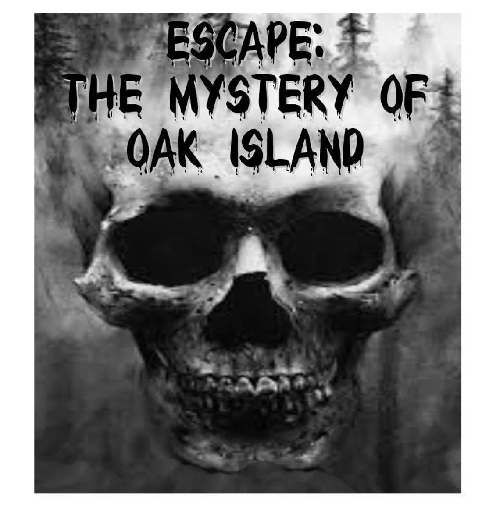 Puzzles, pirates, and padlocks are just some of the challenges your group will encounter on Oak Island. Twenty-five puzzles and seven actual padlocks, to be exact. Everyone's skills are needed to unravel the creative ciphers in this impressively detailed mystery box.
Why you'll want to solve this mystery: Unlock all the mysteries of the island without using the Hint Book provided.
Price: Starting at $89.98
How to unbox this mystery: The Mystery of Oak Island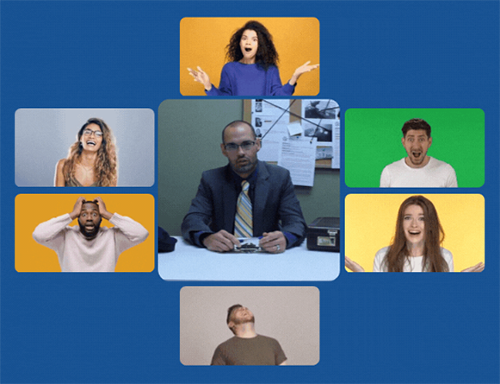 Put your remote workers to the test with this virtual team building murder mystery case. They'll need to exercise their best communication, analytical thinking, and super sleuth skills to figure out who killed Neil Davidson and why. The virtual host will guide your group through the facts and evidence but their cleverness will be the key to unlocking this mystery. All they need to bring is their instinct and internet access.
Why you'll want to solve this mystery: While this murder mystery is an awesome idea for your remote teams, it can also be set up for in-person play as well.
Price: Get your team's customized pricing here.
How to unbox this mystery: Virtual Murder Mystery Party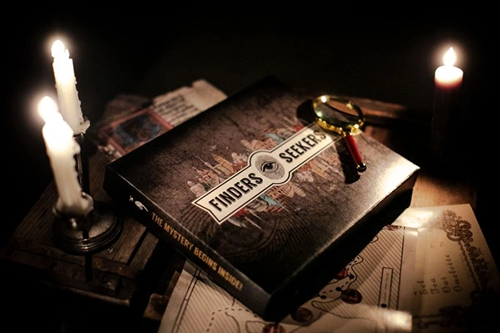 Instead of booking another time slot on the department calendar to discuss project gates and percentages, schedule some time for your team to have a little fun. Each month, they'll be psyched to unbox a new puzzle that drops them into a new adventure, amidst a new culture.
Entertainment for your team building game night… check!
Why you'll want to solve this mystery: This murder mystery subscription box delivers a brand new case to solve, set in a new city, with new clues, for a fresh investigative experience each and every time.
Price: $25.00 per month
How to unbox this mystery: Finders Seekers Subscription Box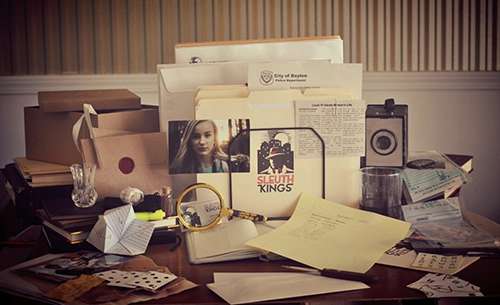 No Dahmer, Bundy, or Gacy-like suspects in this murder mystery box subscription. These cases are great for the paranormal investigators in your team. Vampires, zombies and other versions of the undead are the prime suspects here. Each monthly box is packed full of clues and evidence for your detectives to use to unravel a new mystery.
Why you'll want to solve this mystery: This mystery subscription box takes your team outside the idea of hunting for a "real person" and engrosses them in stories of monstrous fantasy.
Price: $30.00
How to unbox this mystery: Monster Madness: Detective Box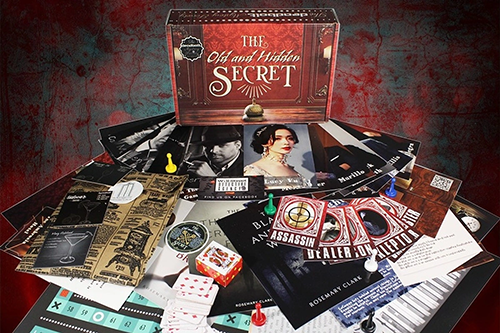 Schedule a recurring murder mystery to go with the meetings already on the calendar. This subscription delivers a brand new and exciting case to keep your team engaged each month. The interactive platform and stand-alone mysteries supply hours of team building entertainment.
Why you'll want to solve this mystery: Your team will be thrilled for the next monthly meeting, knowing there's a whole new plot to untwist.
Price: Subscribe for as little as $23.67 per month.
How to unbox this mystery: The Deadbolt Mystery Society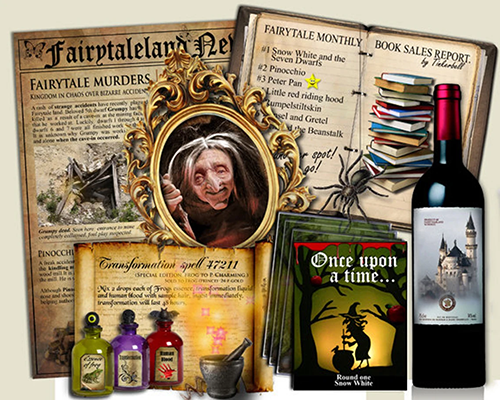 The cold-blooded murders of Pinocchio and Grumpy Dwarf have all of Fairytale land lying awake at night in terror. Everyone from Rumpelstiltskin to Snow White are suspects. Each of your team members will assume a character then work together to reveal the murderer.
Why you'll want to solve this mystery: This digital murder mystery requires a printer, fifty-seven sheets of paper, and your team. That's it!
Price: $16.96
How to unbox this mystery: DIY Murder Mystery Box [Printable]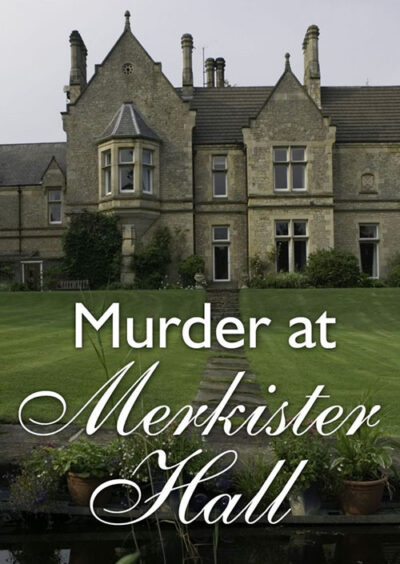 Your team has been invited to a fancy dinner party at a posh British mansion. But there's nothing like a dead body to spoil the mood. Now it's up to your group to figure out who killed the Balderdashs' butler in the billiard room!
Why you'll want to solve this mystery: You'll even get recipe and decorating suggestions for keeping the mood and theme authentic.
Price: As low as $30.79
How to unbox this mystery: Murder at Merkister Hall
Conclusion
When you support these types of group activities, you'll likely notice some added bonuses. Your employees may seem happier, less-stressed, and perform more efficiently and effectively. Who knew that playing games together could result in heaping boost in your department's morale?
And you don't have to all be gathered around the same table or even in the same time zone. We've collected some great options, whether your team is working in-person or in a remote or hybrid situation.
With so many super cool murder mystery box subscription ideas, you can ensure repeated engagement and entertainment with a fresh body and fresh plot each month. This month, solve a case inspired by a cutthroat Mafia boss set back in the roaring 20s. Next month, maybe a missing hiker with a slight stench of foul play, a pleading sister, and (allegedly) no witnesses.
Whether you prefer individual stand-alone stories or episodes that feed into the next for a big reveal at the end, a monthly subscription will keep your group's curiosity piqued and the cold cases coming.
While perfect for your work teams, these murder mystery games make equally great gifts for theming many other celebratory occasions, from retirement parties to date nights, or even just a thoughtful gift for that friend/coworker we all have who's an avid ID channel addict.
---
People Also Ask These Questions About Murder Mystery Boxes
Q: What is a murder mystery box?
A: A murder mystery box is similar to a board game. But instead of the typical board to maneuver around, the box contains items necessary to solve a well-crafted murder.
Q: Why should I purchase a murder mystery box for my team?
A: Your group activities cannot be snoozers. Sure, you could plan another happy hour, DIY scavenger hunt, or bland dinner meeting. But solving a murder mystery game box for your next team building event is a brilliant way to engage every team member in a fun, collaborative, and results-driven exercise.
Q: What is included in a murder mystery box?
A: Included in a murder mystery box are clues, ciphers, case files, evidence and other items to help uncover the killer.
Q: How many people can participate in a murder mystery box?
A: The number of people who can participate in a murder mystery box will vary from one experience to the next. Some are customized for small teams while others are intended for groups of over one hundred players at once.
Q: How much does a murder mystery box cost?
A: A murder mystery box cost will vary, based on the contents, technology, number of characters, and many other factors. Those we've highlighted range from just under $17.00 to around $150.00.
Q: Is murder mystery in a box worth it?
A: If you're a fan of murder mysteries, then a murder mystery box is definitely worth it! These boxes usually contain everything you need to solve a crime, including clues, suspects, and often a victim. A murder mystery kit is a perfect way to test your detective skills, and you'll have a lot of fun. Just be sure to read the instructions carefully so you don't miss anything!
Q: How do you solve the murder mystery game?
A: The first step is to gather all of the evidence. This can be done by searching the crime scene, interviewing witnesses, and examining the victim's body. Once you have all of the evidence, you need to start piecing together who did it. Look for clues that point to a specific suspect, and then use your deductive reasoning to figure out who the killer is. There are usually multiple possible killers in a murder mystery game, so it's up to you to figure out who did it!