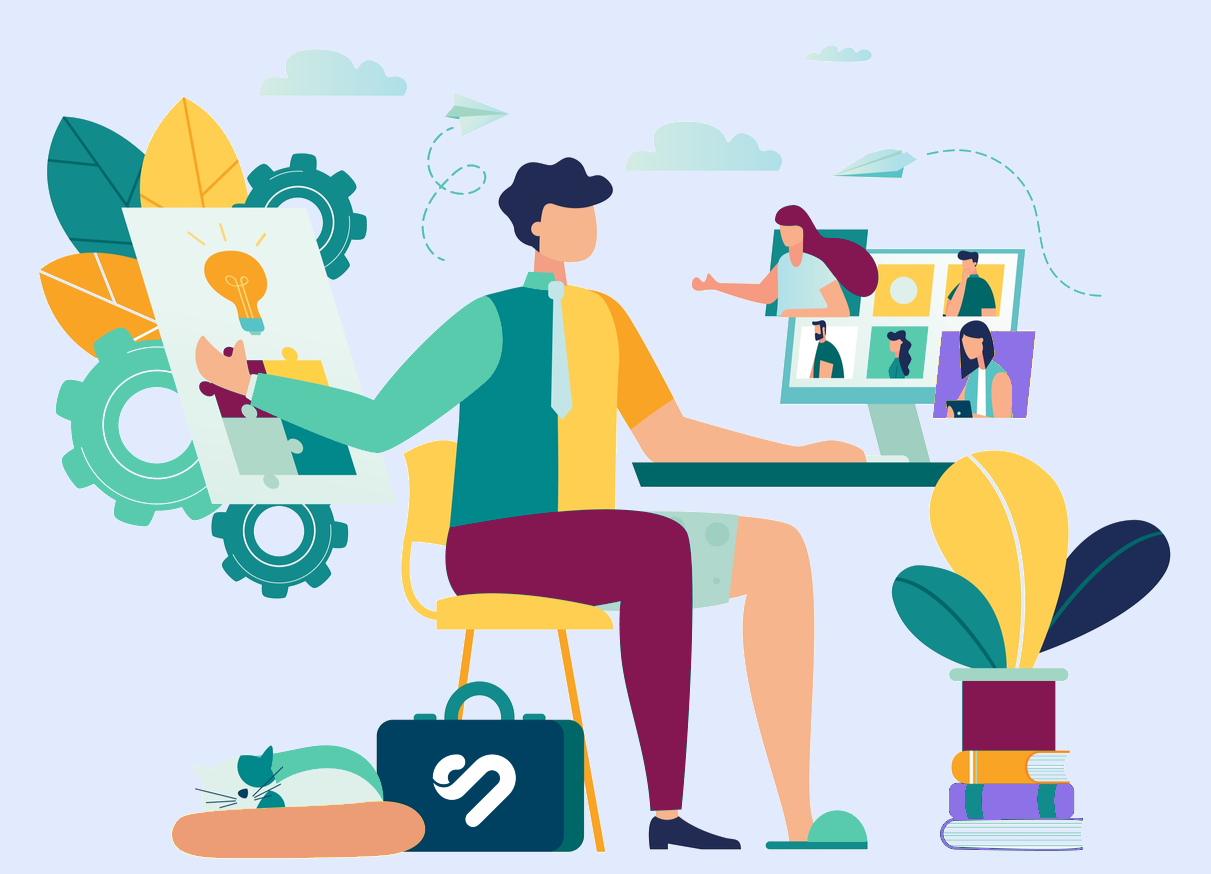 Is remote work here to stay?
Are employees returning to work in a physical office? The truth is likely somewhere in between. Many employees are quitting or changing jobs instead of opting to commute and fall into pre-pandemic corporate norms, while some are happy for a return to the way things were. This mixed feeling about returning to work, is in other cases, opening up the door for a new kind of workforce — one that operates in the hybrid workplace.
Get Your Free Conference Call Bingo Game Here
The hybrid workplace is a mixture of in-person and remote workers. This new model also presents opportunities and a set of challenges. How do you make this flexible workplace work? How do you keep your employees engaged?
"We like to give people the freedom to work where they want, safe in the knowledge that they have the drive and expertise to perform excellently, whether they are at their desk or in their kitchen."

— Richard Branson, Founder and Chairman of Virgin
Fortunately, hybrid team building activities and games are helping to solve these challenges.
Hybrid team building activities are similar to virtual team engagement ideas, virtual activities for teams, and remote team engagement tools in the sense that they can be used to spice up meetings in which some team members are in-person while others are remote. Of course, hybrid team building activities can be used to switch up and infuse any regular workday with an extra dose of fun.
That's why we've created this carefully curated list of tried and tested hybrid team-building activities, games, and ideas for distributed teams. But before we get into the 21 best of the best, we've got a couple of things to go over!
---
Want to become a better professional in just 5 minutes?
What Is Hybrid Team Building?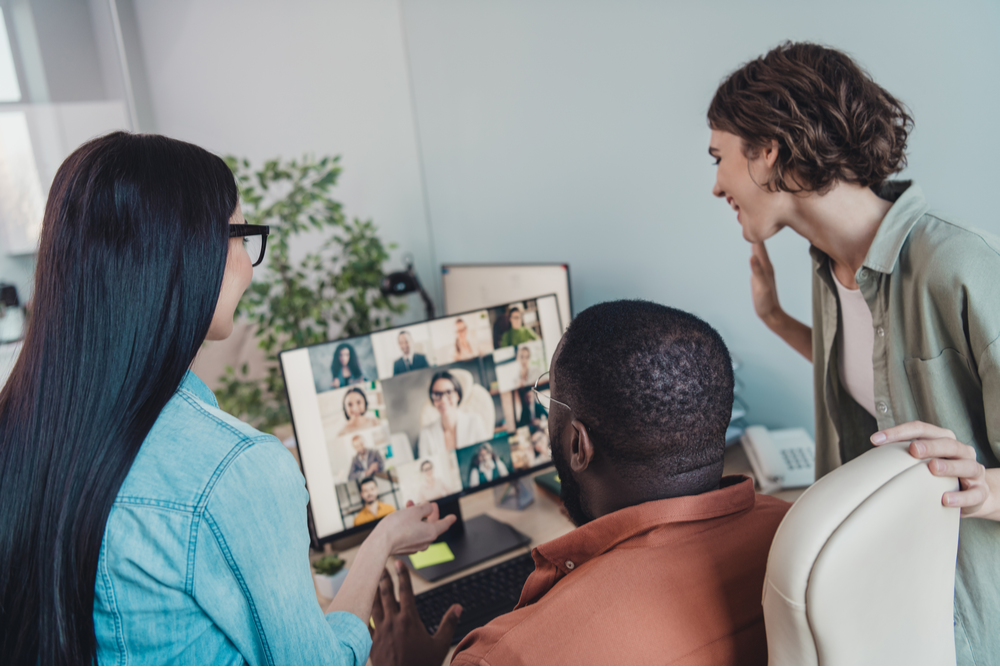 Hybrid team building activities, games, and ideas are ways coworkers and teammates can spend time together whether they are physically together, in a virtual workspace, or some combination of the two. Oftentimes, parts of a distributed team will be in-office, while the other members could be anywhere in the world. These hybrid team building activities ensure both types of employees will be engaged and feel like they belong to their work community.
Work in 2022 has felt like this…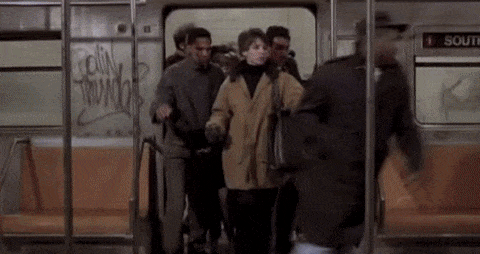 And a little bit of this…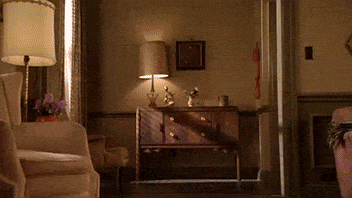 ---
Hybrid Team Building Activities
Hybrid team building activities are activities designed to keep teams well-coordinated and tight-knit. These games and activities contain a varying degree of both physical and virtual aspects so that both in-person and remote employees can participate in the team-building exercise.
These hybrid activities can involve participants gathering in one room with other employees joining remotely via video conference. It can also include two separate activities (one in the office and one via Zoom) with a common theme so that both groups can share a similar team building experience.
1) Escape Room
"Nothing brings people together quite like a little mischief"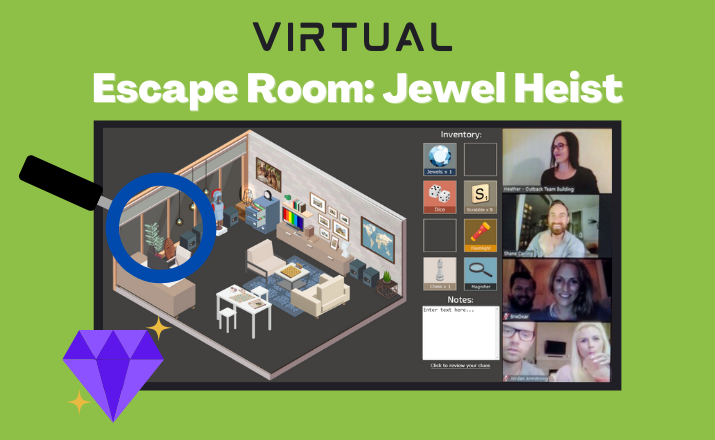 Escape rooms rocketed in popularity over the past several years, connecting team members around the world. Before social distancing and lockdowns, physical escape rooms were already booming, but now, both kinds are popping off, so why not bring them together? An escape room is an adrenaline-pumping activity designed to get people to meld minds and escape a tricky situation before time runs out.
Start with a Jewel Heist.
Find the hidden stolen jewels!
Why this is a fun hybrid team building game: An escape game where you'll uncover clues, solve brain teaser challenges, and think outside the box — or room as time winds down. Someone has masterminded a plan to steal the jewels and only you and your team can stop them before it's too late. Is the real prize the jewels or the camaraderie? Find out!
Best for hybrid teams of: 5-10
Check out: 💎  Jewel Heist
2) Cooking Class 
"Channel your inner James Beard"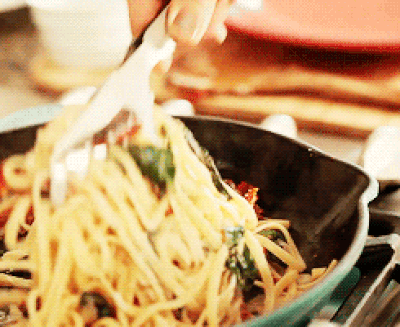 Cooking classes are a fun hybrid team building activity for spicing things up in the workplace and bringing distributed teams closer. Food is the great equalizer where everyone can break bread. There's just something about the senses of taste and smell that soothe the soul, so why involve them and get interactive with your team at the same time?
Start with an Italian Cooking Class.
Have the best cheffin' time ever!
Why this is a fun hybrid team building activity: Enjoy 60-90 minutes of hands-on culinary tutorials and masterclasses led by an expert. Review cooking preparations and techniques and ask questions along the way. These vegetarian-friendly Italian dishes will transport participants to Tuscany, Sicily, and other parts of the old country. It even comes with a cooking kit and everything you and your coworkers will need!
Best for hybrid teams of: 100+
Check out: 🍝  Italian Cooking Class
3) Hybrid Game Show
"To get your coworkers clued in"
Game Shows are a fantastic way to get your teams excited, engaged, and working together. But no experience has mastered the art of hybrid quite like The Go Game. Their sophisticated virtual platform, Weve, allows them to seamlessly weave your teams together, whether in person remote or both.
Their Game Show is their most popular indoor event and they've made it so that anyone anywhere in the world can be a contestant, including the ability to play location vs. locations so you can connect our global offices. They've designed dozens of games to work with your hybrid game show to ensure a variety of experiences in which everyone can participate.
Start with Family Feud.
Survey says…
Why this is a fun hybrid team building game: This event can be run with all in-person, a mixture of in-person and remote, or entirely remote players around the world. A live host can be onsite or host virtually depending on the group's makeup and needs. Each game show includes rounds of mini-games, trivia, and creative challenges.
In-person teams may play rounds inspired by "Minute to Win It" while both remote and in-person teams can collaborate on "Family Feud" or "Not So Newlywed" games. At the end, the host will announce the scores and winners. Glory achieved!
Best for hybrid teams of: Up to 100 players
Check out: 📺 Hybrid Game Show
4) Team Art Show 
"Oh, I like it. Picasso."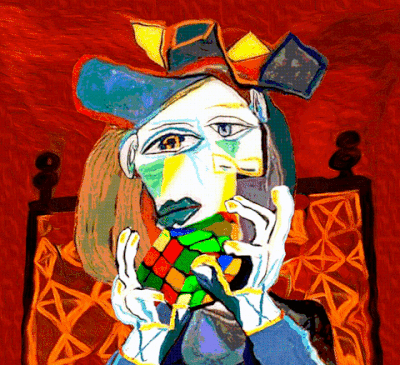 You've probably heard of the wine and painting classes that couples have been enjoying together for several years. This immersive style of art class has been all the rage; however, a new corporate twist is trending. Team art shows let your coworkers show off their artistic side in bold strokes!
Start with Art Night.
Paint your perfect workplace
Why this is a fun hybrid team building activity: Create an artistic masterpiece whether you and your coworkers are beginners or experts. Your dispersed team will learn basic techniques and experiment with watercolor or acrylics. Art Night is led by a pro art instructor, comes with a painting kit, and has a custom invitation for participants. The kit features a set of paints, assorted brushes, and a canvas.
Best for hybrid teams of: 10-25
Check out:  🎨  Art Night
5) 'Guess Who'  Meeting Icebreaker 
"Get to know 'em all"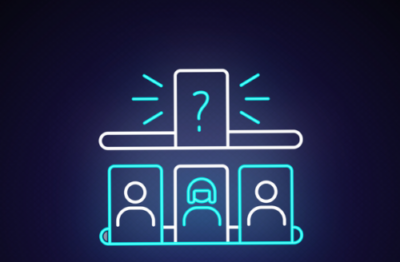 Guess Who is the ultimate icebreaker game. Whether you're getting to know your coworkers for the first time or you just want to know them better, Guess Who can do the trick.
Start with Guess Who.
Keep the guesses coming!
Why this is a fun hybrid team building game: This 1-hour icebreaker game features photos of your coworkers. The Confetti team provides your team with a submission form to collect facts and photos from participants, which gets turned into a playable, interactive presentation. Everyone tries to guess which facts and stories belong to which team members. After all the answers have been submitted, the host reveals the correct answer along with more backstory surrounding the facts.
Best for hybrid teams of: 5-10
Check out: 💁🏽‍♀️  Guess Who Icebreaker
6) Scavenger Hunt 
"For finding your best team chemistry"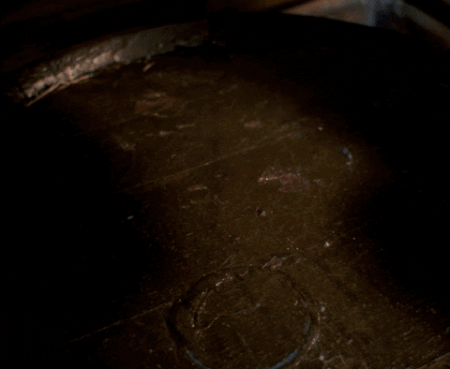 Scavenger hunts have become immensely popular over the last few years. Some are virtual, some are in-person, but this one can be used for a mix of both. The real name of the game is cooperation. Distributed teams have to work together to complete the scavenger hunt.
Start with Treasure Challenge.
Argh you ready?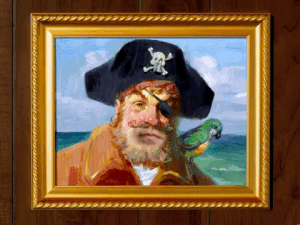 Why this is a fun hybrid team building game: With answers hidden in art, plaques, statues, and a variety of places that require out-of-the-box thinking, your team will be challenged in this scavenger hunt and forced to work together. Additionally, the competitive leaderboard adds a touch of friendly competition to this hybrid team-building game.
Best for hybrid teams of: 5-10
Check out: 🏴‍☠️  Treasure Challenge
7) Beer Tasting Tour 
"For work-appropriate adult fun"
A beer tasting tour, much like a wine tasting, is the perfect way to have the best of both worlds — adult fun that also happens to be appropriate for the workplace. In addition to tasting the best beers around town, most beer tastings will also teach you and your distributed team about the brewing process.
Start with City Brew Tours.
A little beer for a whole lotta office cheer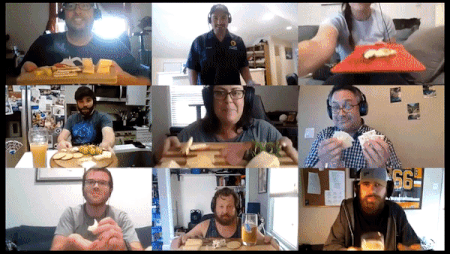 City Brew Tours offers all-inclusive, beer-focused experiences in some of the top beer destinations throughout North America. This beer tour mixes history, beer expertise, great food, and transportation to give your team access to your area's top breweries and beer!
Best for hybrid teams of: 10-25
Check out: 🍻 City Brew Tours
---
Hybrid Team Building Games
Hybrid team building games are games that can be played in-person, remotely, or some blend of the two. These fun activities are designed to boost team chemistry, morale, engagement, and productivity.
8) Game Show 
"Is it a game show, a party? Why not both?"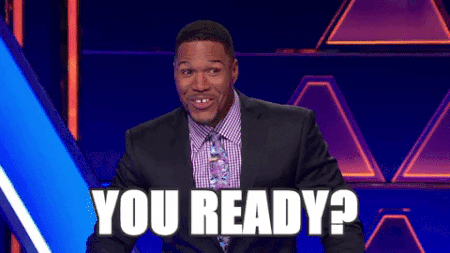 Whether you grew up watching Jeopardy, Who Wants to Be A Millionaire, or Family Feud, you're probably familiar with game shows. However, did you know you can bring a game show to the workplace without disrupting work at all? Breaks are a natural part of the workday. Give your an exciting break with a game show and see who comes out on top!
Start with Game Show Night.
Who wants to be a Millionaire — in terms of workplace satisfaction!
Why this is a fun hybrid team building game: Your team can rack up points, earn badges, and climb their way up the leaderboard in a battle of wits and game show glory. This activity features multiple rounds of fast-paced fun led by an energetic host via Zoom for an hour of action-packed gameplay.
Best for hybrid teams of: 100+
Check out: 📺  Game Show Night
9) Classic Game Night (Pictionary, Charades, Taboo)
"When work really feels like family"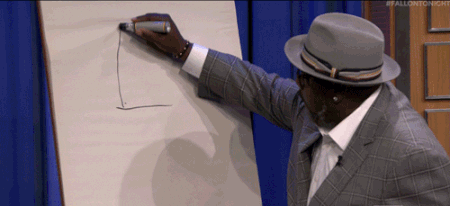 Host a Classic Game Night with games like Pictionary, charades, Taboo, and more. It's common for companies to boast of having a family atmosphere, but few can back it up. Game nights are a way to turn your workplace into something reminiscent of childhood with all the warmth and simple pleasures.
Start with Taboo or Pictionary.
For talking about taboo things in the workplace
Why this is a fun hybrid team building game: Taboo gets teams guessing the target word before time expires. The 60-minute version is the most popular and teams take turns playing and watching 2-minute rounds. At the end of the game, the team with the most correct answers wins. Certain conversations are a bit taboo for the office, so break the ice with Taboo instead. Alternatively, check out the virtual spin on the classic Pictionary game and let your team put their artistic skills to the test.
Best for hybrid teams of: 5-10
Check out: Taboo or Pictionary
10) Trivia Pub Quiz 
"Pub it up!"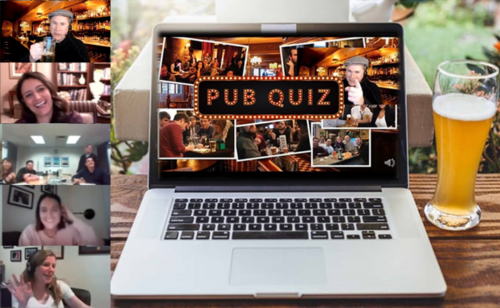 Let loose with a Trivia Pub Quiz. If your team is looking to relax, socialize, have fun, and get competitive, this is the perfect hybrid team building activity for them. Instead of waiting until after work to really enjoy yourself, go ahead and turn your hybrid workplace into a pub!
Start with Jeopardy.
Get the jeo-party started!
Why this is a fun hybrid team building game: Virtual Jeoparty is an immersive game show hosted by a professional actor. Plus, Jeopardy turns it into a workplace celebration by throwing in a social mixer between rounds. Hit the buzzer as quickly as possible and snag those points before the other team can. Win or lose, everyone will feel like a champ by the end of this game show party!
Best for hybrid teams of: 25-100
Check out: Jeopardy
11) Laughter Workshop (Improv & Comedy Games)
"Why so serious?"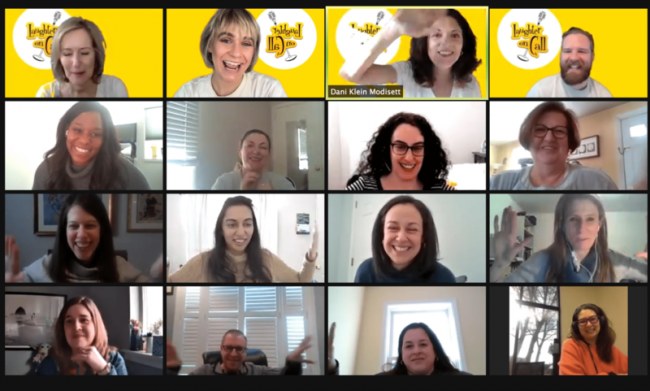 Did you know that laughter is proven to increase productivity? Also, 90% of all facts are made up. But seriously, a Laughter Workshop is a totally unserious way to bring teammates together and let coworkers share laugh after laugh.
Start with Laughter Gym. 
Laugh your…head off in comedy class
Why this is a fun hybrid team building activity: This unique combination of improv games and stand-up prompts is perfect for turning your work happy hour into an even happier hour or two. The improv games also help boost creativity and problem solving by getting coworkers to stay mentally sharp and engaged. A team of empathy-driven comedians leads these interactive laughing sessions.
Best for hybrid teams of: 10-25
Check out: Laughter Gym
12) Holiday Games (Celebrate A Common (Or Uncommon) Holiday)
"For that special time of year"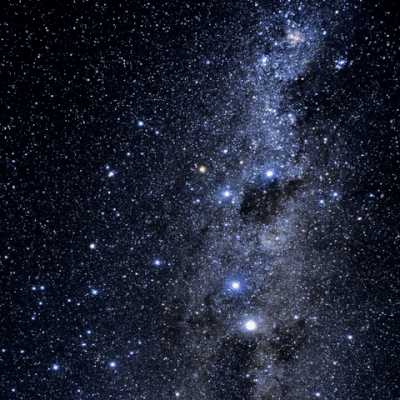 Holiday Games are games used to amplify the excitement surrounding a particular holiday. However, instead of waiting for Christmas or any major holiday, why not go all out for National Taco Day or something more on the obscure side. Speaking of…
Start with Star Wars Day.
Do or do not play. There is no try.
Why this is a fun hybrid team building game: May the fourth be with you in a galaxy not so far away! Get out of this world experiences perfectly suited for the workplace. Choose from several Star Wars-themed options like Star Wars Jeoparty, Star Wars Trivia, or Star Wars Cookie Decorating.
Best for hybrid teams of: +100
Check out: Star Wars Day
13) Where In The World??
"It's a brave new hybrid work world"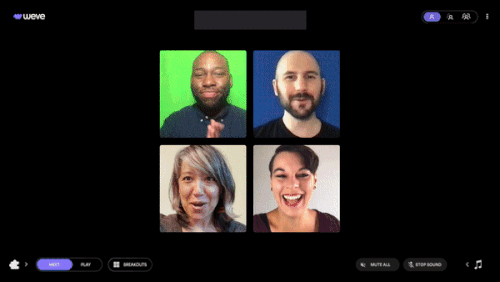 Where In The World?? can be used for sales kick-off meetings, networking, employee award ceremonies, orientation and onboarding, meetings, corporate events, icebreakers, holiday parties, and happy hour. Where In The World?? is designed to be playable from anywhere in the world.
Start with Weve.
Hybrid team building with a host of options.
Why this is a fun hybrid team building activity: Whether you want pro-hosted, self-hosted, or auto-hosted hybrid activities, Weve has you covered. All of their events are specially crafted to boost engagement, productivity, and enjoyment in the workplace.
Best for hybrid teams of: 25-100
Check out: Weve
14) Monday Morning Trivia
"To turn Mondays into the Magnificent Mondays"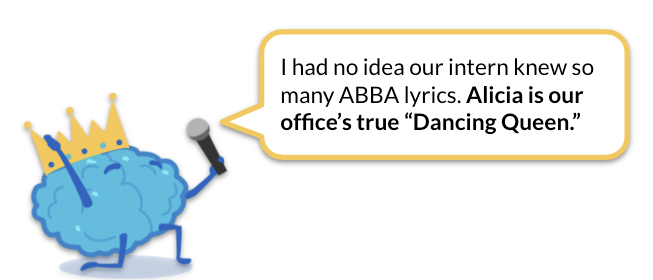 Why settle for the Monday Blues when you can turn Mondays into Magnificent Mondays? Launch into the week with stimulating trivia game questions.
Start with Water Cooler Trivia.
What makes this a fun hybrid team building idea: Water Cooler Trivia is your team's new favorite weekly ritual. Follow a built-in trivia schedule, while the Water Cooler Trivia team writes questions for you and grades the results. The best part about these weekly quizzes is that they're automated and can be completed asynchronously.
Best for hybrid teams of: 5+
Check out: 🧠  Monday Morning Trivia
15) Coworker Feud 
"Battle it out with your coworkers!"
Coworker Feud is a multi-round online survey game that's perfect for invoking your coworkers' most competitive spirits. After the teams have been selected, let the battle of wits begin!
Start with Coworker Feud. 
It's all love here.
Team members clash head-to-head to try to guess the most popular answer for the random assortment of questions delivered by the game show host in the Family Feud style challenge. Each team must guess a handful of popular answers to earn their points for the round. However, 3 strikes and the other team can steal the point. The winning team is the one with the most total points.
Best for hybrid teams of: 5-10
Check out: Coworker Feud
---
Hybrid Team Building Ideas
Hybrid team-building ideas are ideas that can be leveraged to build team chemistry, increase communication, boost productivity, and enhance employee engagement for distributed teams.
16) Organize A Team Spotify Playlist
"Curate a menu for the ears"
Organizing a team Spotify playlist, much like a group cooking class, is a way of bonding your distributed team through one of the senses. In this case, sound and the nearly universal love of music. Everyone has a favorite type of music, a favorite song, or a favorite artist. Now, you can find your mutual sonic interests!
Start with Spotify.
What makes this a fun hybrid team building idea: Have each team member pick out a song or two for this Spotify team playlist. There's nothing quite like being shown new music — especially by your awesome coworkers!
Best for hybrid teams of: 100+
Check out: Spotify
17) Team Lunch 
"Show care by taking care of the tab"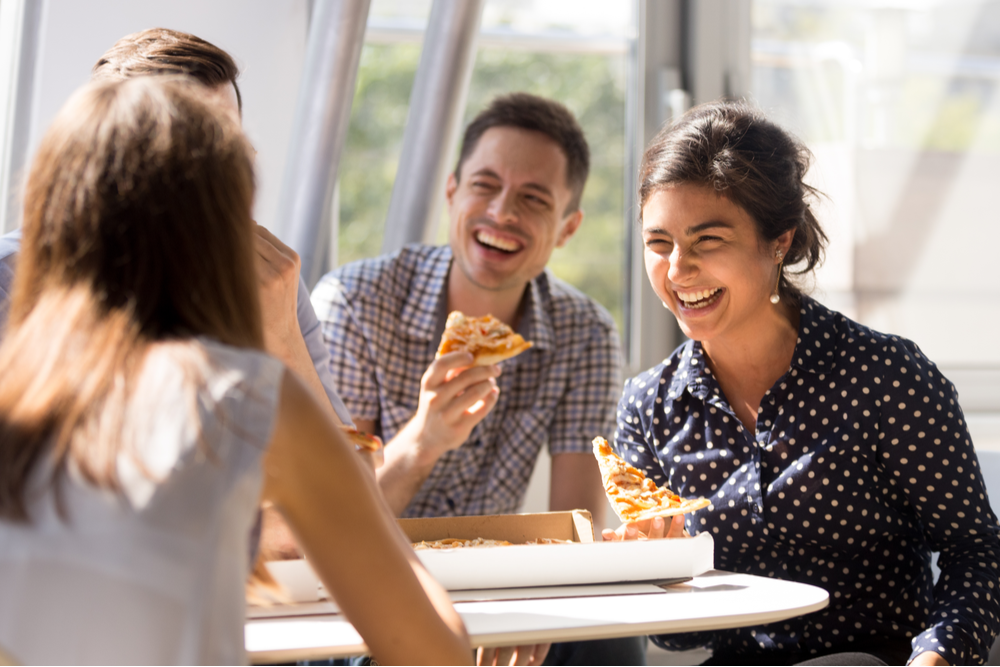 If sharing is caring, then hosting a team lunch at a local hotspot or sending gift cards to your team is a great idea for demonstrating employee care.
Start with a Prepaid Lunch Credit Card.
Work hard, eat well, party harder. 
What makes this a fun hybrid team building idea: Whether your distributed team members are working from home or commuting into the office, everyone could use a little food love. Through a special partnership with Doordash, even virtual lunches are a possibility. Your team will receive an invitation with instructions and a secret promo code so they can choose any meal they want and then if they want to, they can hop on a call for a virtual team building experience.
Best for hybrid teams of: 5-10
Check out: Hoppier
18) Weekend Warriors 
"Show 'em how you live"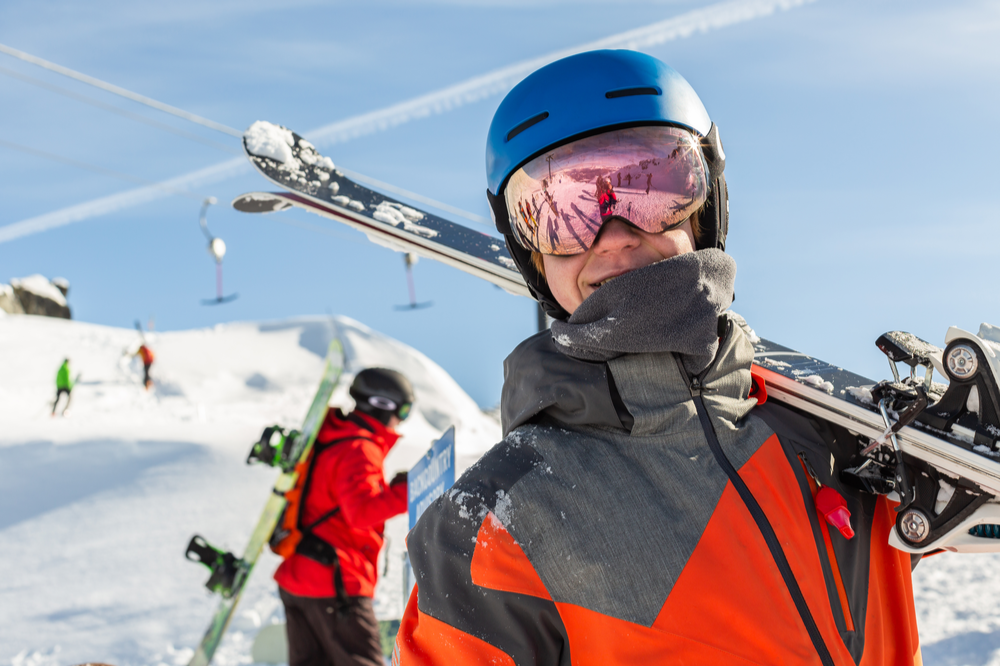 The Weekend Warriors challenge encourages everyone on your team to send a picture showing whatever it is they are doing over the weekend. The cool thing about this challenge is that it gives your team a chance to look, feel, and act human in contrast to how they probably secretly feel during the peak moments of the corporate grind.
Start with Weekend Warriors.
Because part of all of us wants to be known.
What makes this a fun hybrid team building idea: Set up a Weekend Warriors Slack channel and watch your team immediately get to know each other better. After all, if a picture says a thousand words, imagine the stories they'll be able to tell!
Best for hybrid teams of: 25-100
Check out: #weekendwarriors Slack Channel
19) Wordle Group Chat
"Put everyone who wants to participate into a group chat where you post your daily wordle score"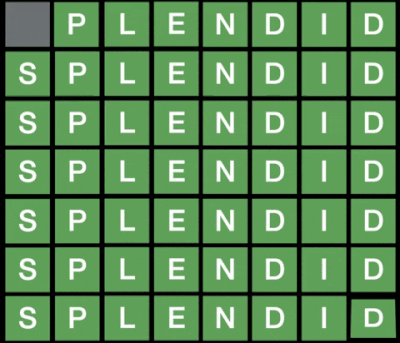 Word games have been around for as long as games have existed. There's just something about playing around with language that fascinates the human mind.
Start with Wordle.
What makes this a fun hybrid team building idea: The wildly popular word puzzle game that took the world by storm, challenges players to figure out the 5-letter word in six guesses.
Best for hybrid teams of: 10-25
Check out: New York Times Games
20) Zoom Pet Meetup & Local Dog Park Adventure 
"If there's one thing we all love, it's our pets"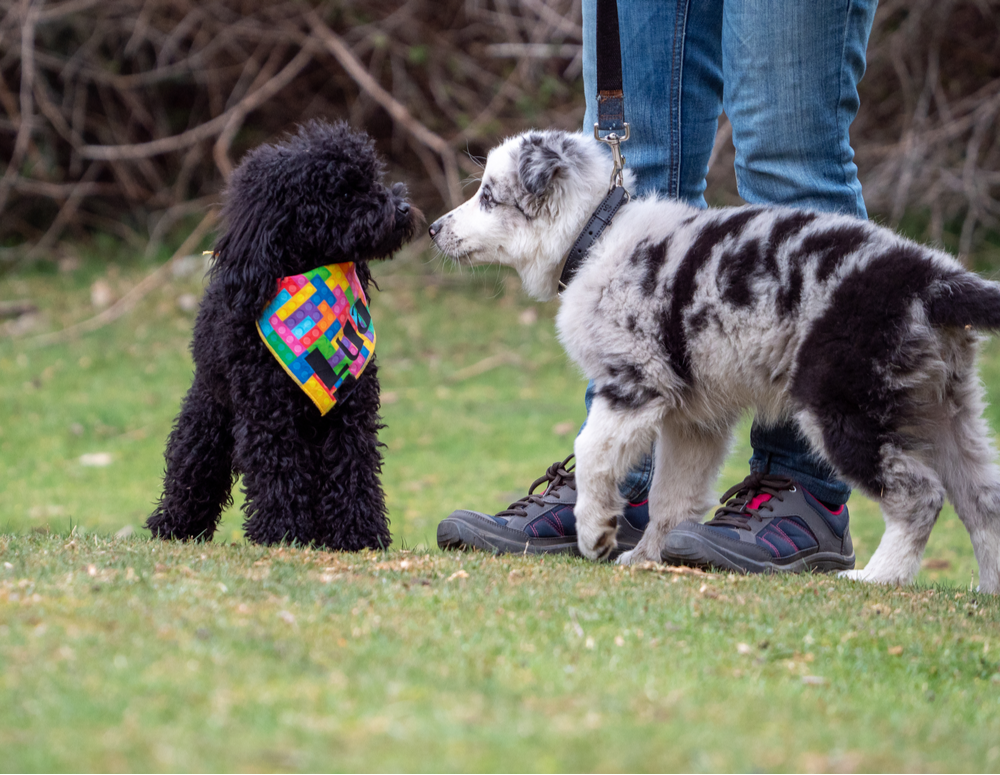 Remember the days when pet-friendly offices were a rare workplace perk? Now that remote work and work-from-home situations are more common, having a pet in the hybrid workplace is too. Learn about your coworkers' pets over Zoom or at the local dog park after work.
Start with an Office Pet Guide.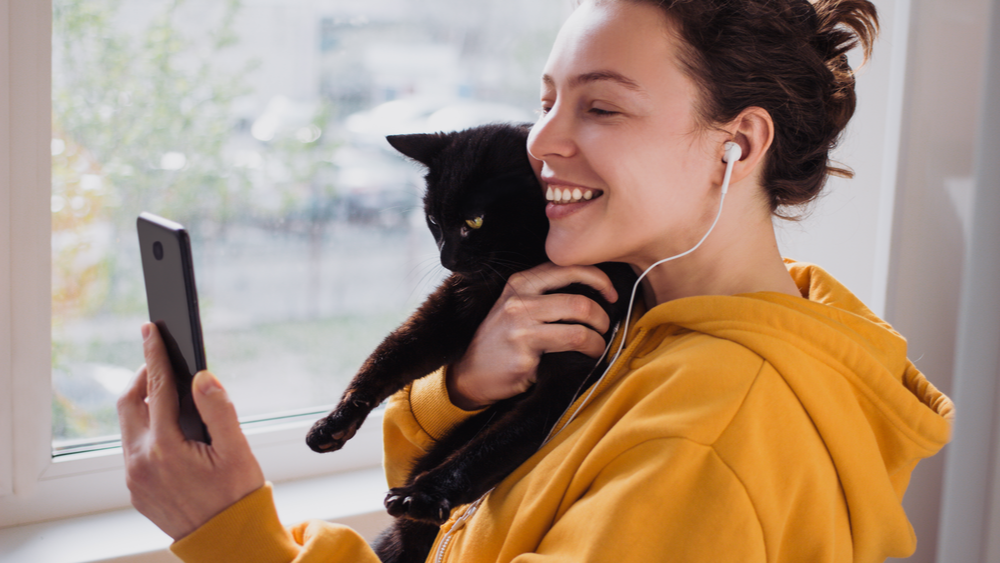 What makes this a fun hybrid team building idea: Having pets in the workplace is the ultimate corporate culture builder. The less-thought-about part of a pet-friendly company is what it also does to soothe employee anxiety and stress. An Office Pet Guide will help you boost morale and just make your hybrid workplace happier for everyone in it. Plus, it's nice to see Fluffy pop up on the screen here and there!
Best for hybrid teams of: 25-100
Check out: SnackNation's Guide To Office Pets
21) Video Game Party
"A gaming club for your workplace"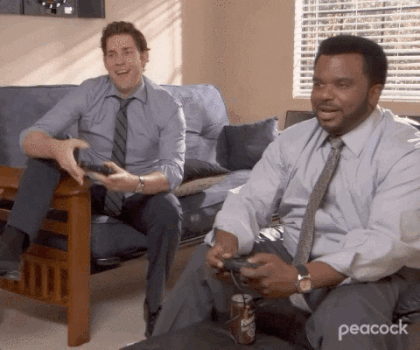 Video game meetups are a brilliant team-building idea for wrangling together the gamers at your company. Nowadays, Fortnight, PubG, and other team games are already massively successful. But sometimes, it's also cool to go retro.
Start with the Museum of Mario.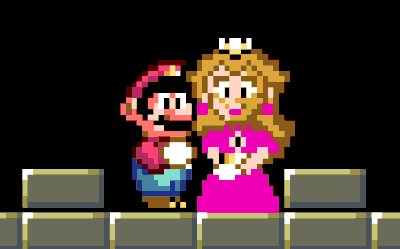 What makes this a fun hybrid team building idea: Video games are a great way to provide a dash of healthy competition between coworkers while blowing off some steam during a busy workday. Whether you are racing around Rainbow Road on the Nintendo 64 or battling through a fire-guarded castle, there are endless ways to have fun with your team members.
Best for hybrid teams of: 10-25
Check out: Museum Of Mario
---
Hybrid Team Building Tips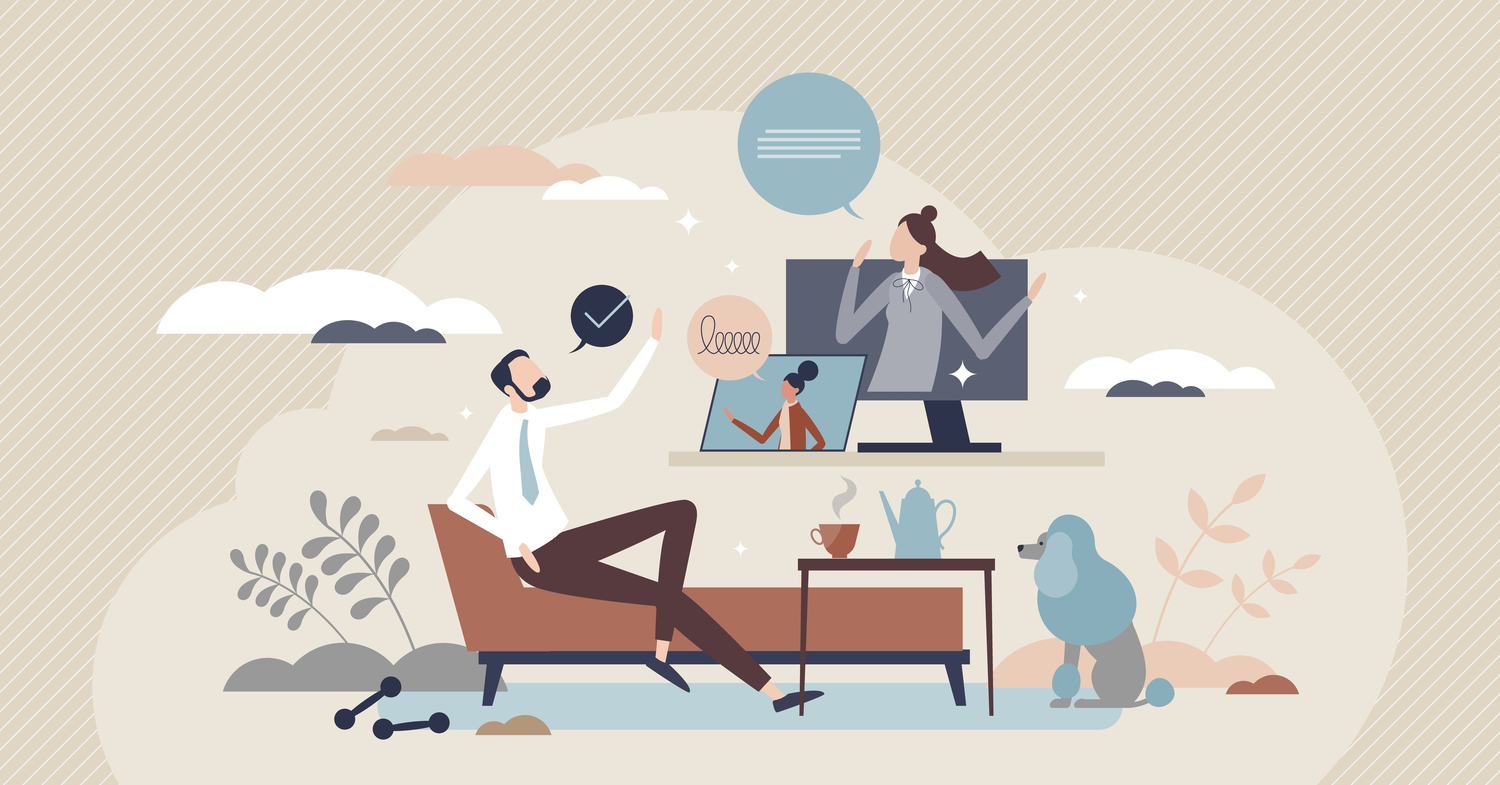 We spoke directly to HR managers to put together our list of hybrid team building tips for teams of all sizes and these are the top 5 they came up with for fostering the best hybrid work environment:
1) Set clear rules – When everyone knows what to expect, everyone wins. For instance, knowing which questions merit a meeting and which conversations could be kept to a simple meeting is important.
2) Give team members the right tools – Invest in proper wi-fi, webcams, headsets, and whatever equipment your team needs for peak performance.
3) Optimize your meetings – Set an agenda, wrangle sidebar conversations, and summarize and reinforce similar meeting protocols to in-office interactions.
4) Summarize water cooler convos – Communication is critical. That's why even the in-office chatter should be summarized so that remote employees don't feel left out.
5) Build your culture at every step – The simple steps like setting a few minutes aside every Monday to catch up and socialize matter.
---
People Also Ask These Questions About Hybrid Team Building Activities 
Q: What makes an activity great for hybrid teams? 
A great activity for hybrid teams is any activity that helps team members have a fun time, feel more productive, more engaged, and more present whether they are working in-person or remotely.
Q: What are the benefits of planning a hybrid team building activity? 
The benefits of planning a hybrid team building activity include better communication, productivity, engagement, retention, and employee satisfaction.
Q: What are some quick hybrid team building activities for zoom meetings? 
Some quick hybrid team building activities for Zoom meetings can be anything that keeps your team entertained and is ideally able to be completed in less than an hour. If it extends beyond 60 minutes, attention spans begin to wane — especially over Zoom.
Q: How do I play a fun hybrid team building game with my employees? 
You can play a fun hybrid team building game with your employees in multiple ways. One of the easiest is to find a company that specializes in hybrid team building games and activities, and let them take care of the details for your team.