Performance reviews are essential tools for managers to track employee goals and progress in any organization.
They provide employees with feedback on their performance and help managers identify areas where improvements can be made.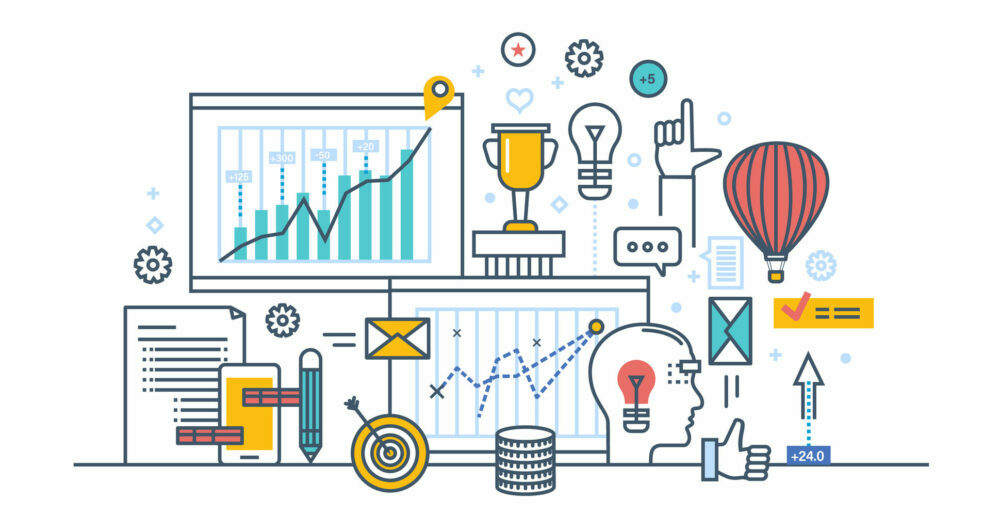 Using a performance review template can make the process more efficient—saving time and ensuring consistency across the board.
"Good performance reviews allow managers to deliver fair and actionable assessments to their direct reports. This can increase employee engagement, provide strong recognition and encouragement, and create tangible paths for employee growth rooted in accountability." — Culture Amp
These performance review templates for employees help capture all relevant information and processes in a structured manner, helping maintain transparency and ensuring that delivered feedback is clear, specific, and actionable.
Using a performance evaluation template also streamlines structure so that all employees are reviewed using the same criteria, which reduces bias and promotes fairness.
We explore this valuable HR tool and provide several employee review templates for managers to assess and improve individual performance and to provide a basis for career development planning.
Want to become a better professional in just 5 minutes?
What is a Performance Review Template?
A performance review template is a pre-designed form or document that serves as a guide for conducting performance reviews.
It typically includes standard questions or prompts that managers use to evaluate an employee's job performance over a specific period.
The employee review forms can be customized to suit an organization's specific needs and goals. They typically include sections on the employee's job responsibilities, performance objectives, strengths, and areas for improvement.
They may also have a rating scale or system for evaluating the employee's performance, accomplishments, and completion of professional career development goals.
The benefits of using an employee review template are:
⭐️ Provides consistent evaluation process and framework
An employee review template provides a standardized performance evaluation format. This ensures that all employees are evaluated using the same criteria and that the same information is captured in every review. This is a valuable tool to engage remote employees and keep them bought in on organizational goals.
⭐️ Saves time and increases efficiency
A job performance review template saves time and increases efficiency by providing a pre-designed form or document. This eliminates the need to create a new evaluation form for every employee, reducing the time spent on the review process.
⭐️ Provides clear and objective feedback
A work evaluation template provides a structured format for evaluating employee performance regularly, for example, scheduled 30-day reviews, annual performance reviews, or 360 reviews. This ensures that feedback from previous reviews is clear, with notes to follow up on progress, helping employees and managers form a career development plan to understand their progression and observe patterns on what they need to improve to increase productivity.
List of Best Performance Review Templates For Employees
Best for: Annual reviews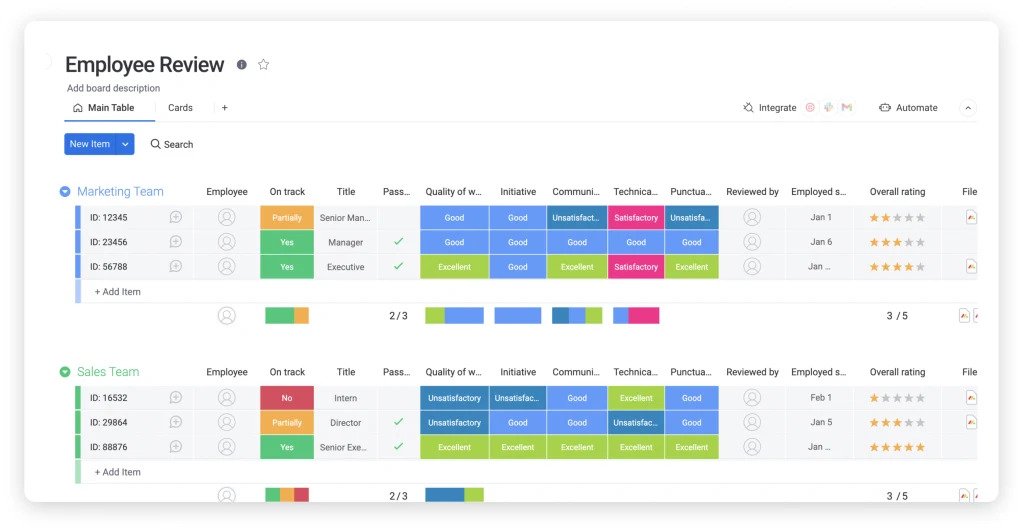 This template assists you in grading an employee's job performance under preset parameters, speeding up and simplifying performance reviews by providing ratings, feedback, and next steps.
Why we love this employee review template: Giving staff feedback is a difficult procedure. You must establish trust and provide clarity with your employees—this employee performance evaluation template helps analyze their progress objectively to eliminate bias and provide them with helpful criticism.
Best for: Upgrading your wellbeing program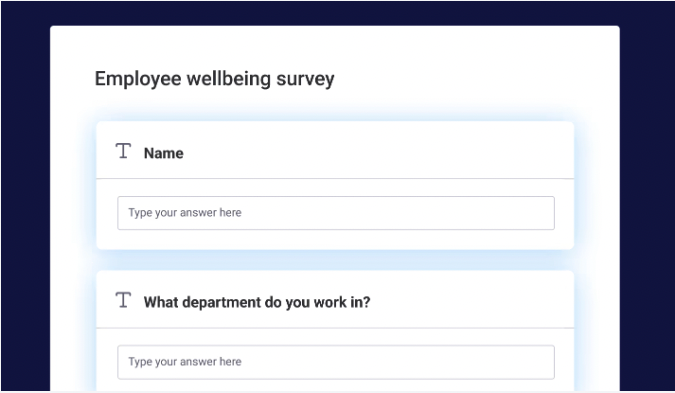 With the help of this feedback tracker, survey responses from multiple-choice and open-ended questions will be automatically recorded and placed on a board for easy viewing. You can create individualized employee surveys to gauge wellness levels and determine which aspects of wellbeing require more HR focus.
Why we love this employee review template: Using this template, managers can obtain information about the level of employee wellbeing at their business. HR departments can use the insights to make high-level, data-driven decisions to optimize worker satisfaction and happiness.
Best for: Employee performance reviews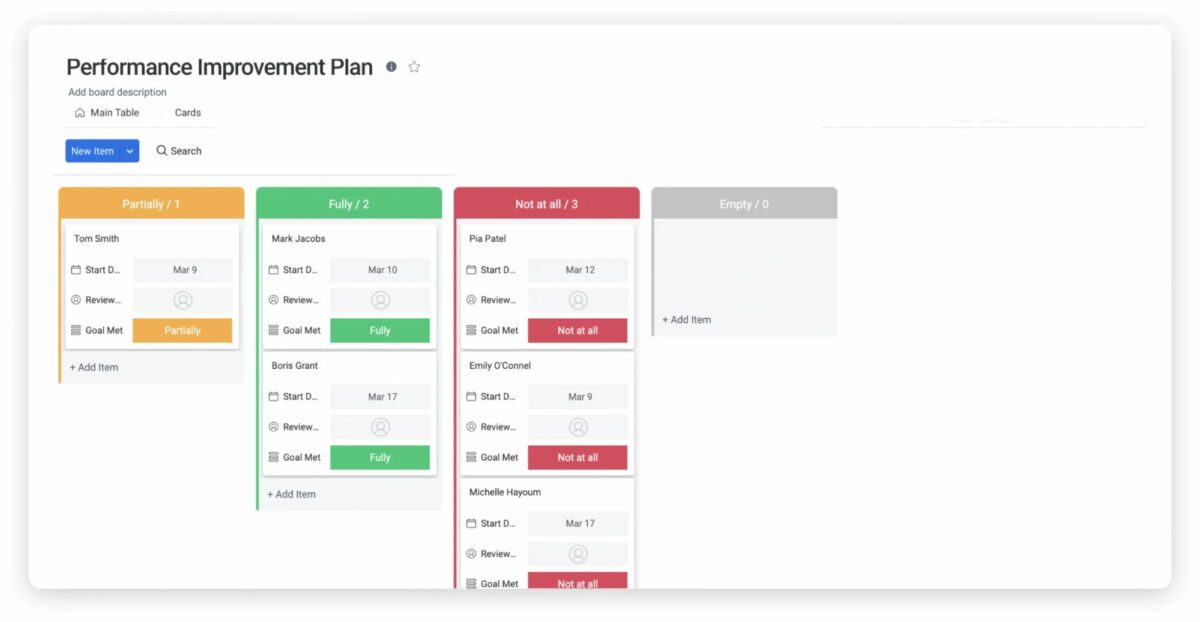 This performance improvement plan (PIP) is a HR template that aids you in developing a precise action plan that serves as a corrective measure for handling persistent behavioral or performance problems among employees. It gives underperforming staff resources and establishes a detailed outcome timeline.
Why we love this employee review template: To remedy declining performance and offer employees a fair chance to improve, it may be time for more performance improvement work planning if an employee has difficulty living up to expectations. Use this template to identify performance bottlenecks and develop a strategy to address them.
Best for: Improving employee performance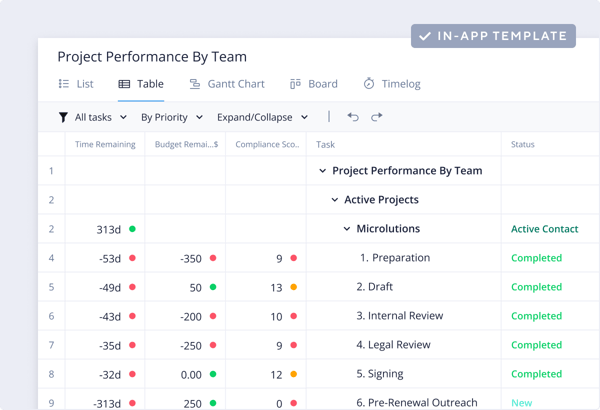 Get a real-time view of vital information using our project performance template. Evaluate deadlines, budget status, compliance risks, completed and outstanding tasks, and the time left to finish the project. Stay informed, make informed decisions, and keep your project on track.
Why we love this employee review template: To effectively mitigate risks, it is crucial to possess a comprehensive understanding of every element within a project. With Wrike's template, you gain the ability to effortlessly assess project performance by team and proactively identify potential risks and roadblocks. Stay ahead of delays, budget overruns, and compliance issues, ensuring smooth project execution from start to finish.
Best for: Evaluating teams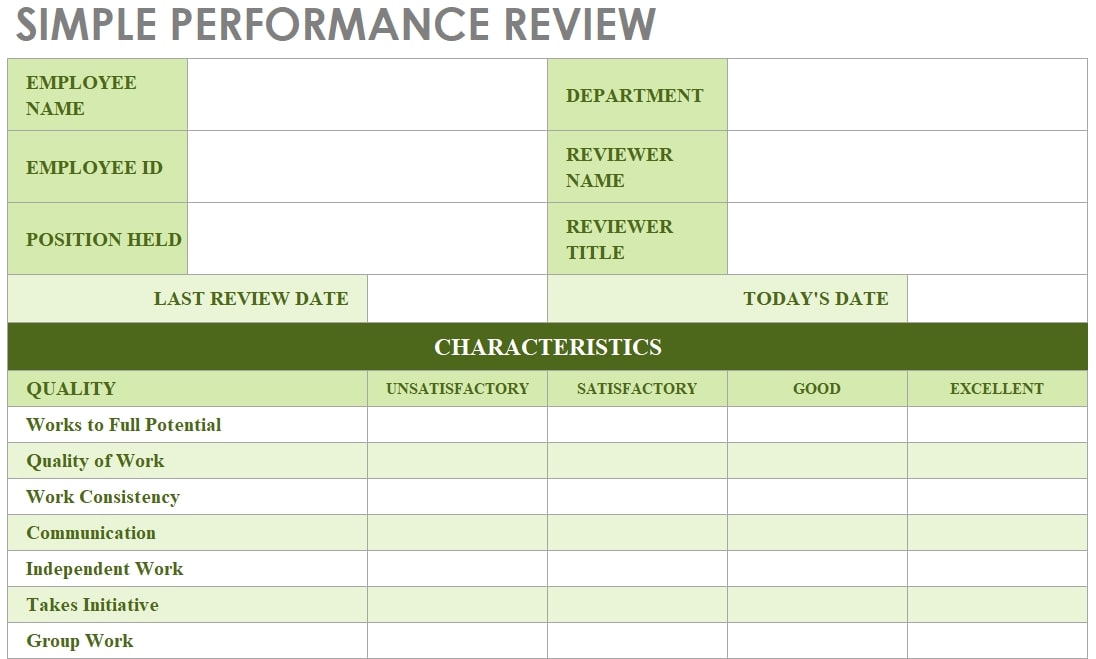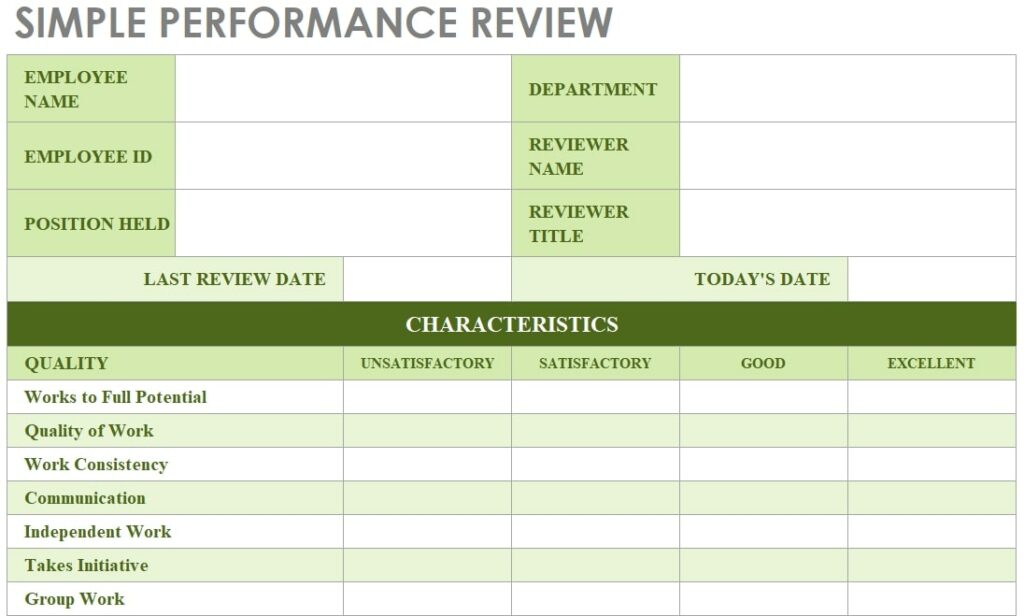 If you're looking to assess a department, team, or any organizational group, this highly versatile template enables you to evaluate individuals based on multiple competencies, ultimately calculating the overall group rating.
Why we love this employee review template: With its straightforward design, this evaluation form provides valuable insights into the strengths and areas for improvement within a specific group. The ratings for each employee can be conveniently sourced from self-evaluation forms or other performance reviews, making it a comprehensive and efficient tool.
Best for: Employee reviews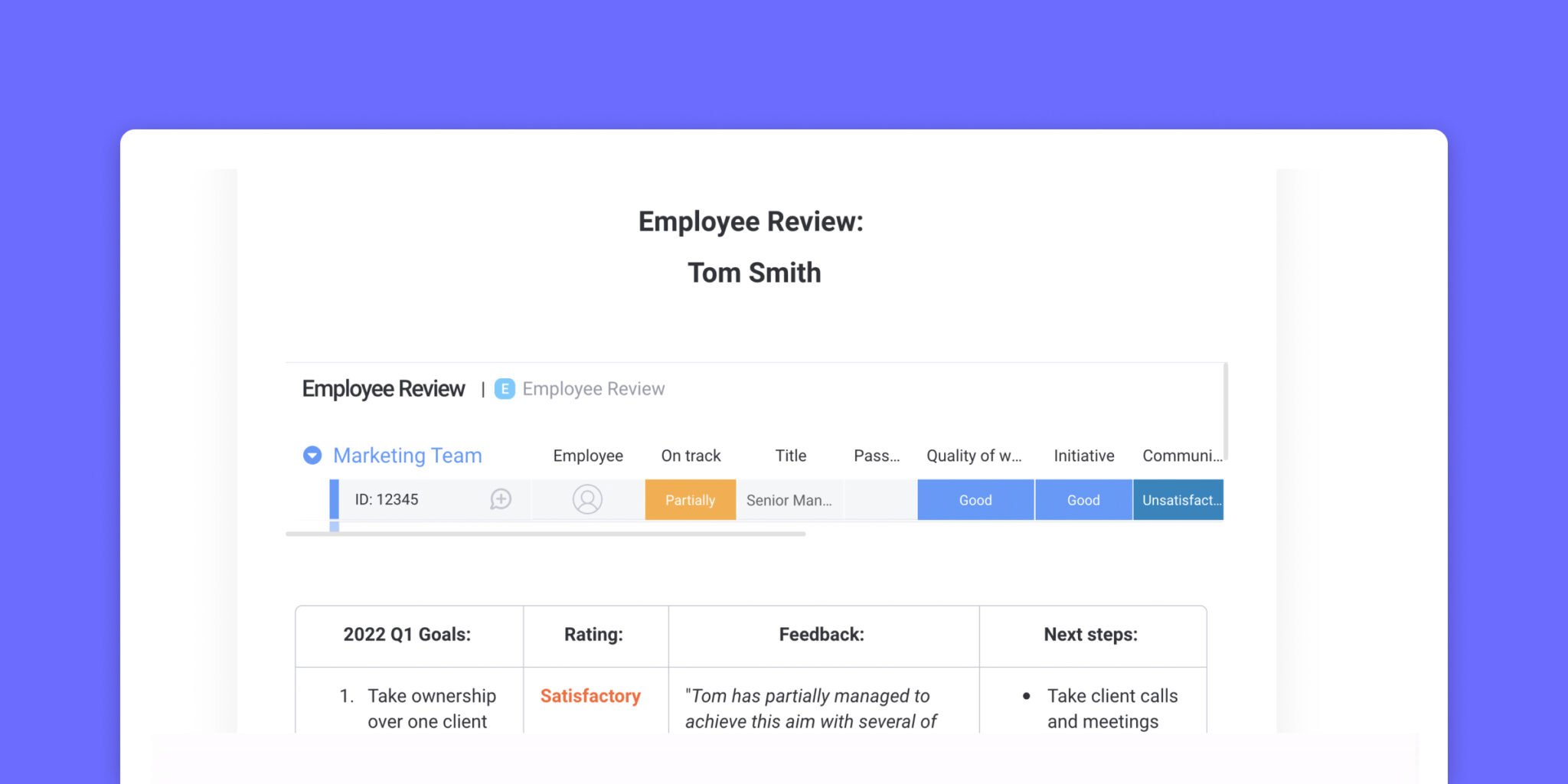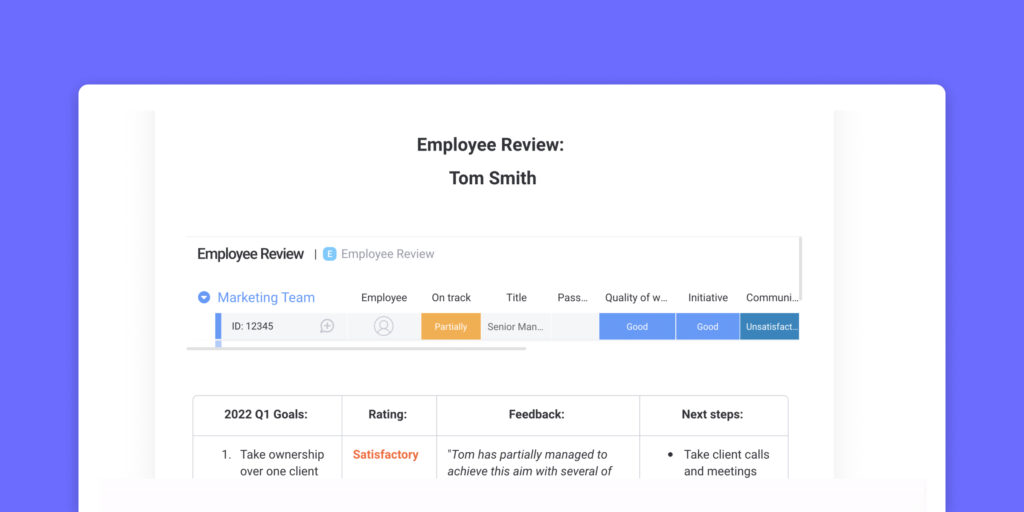 Performing performance reviews becomes manageable when you have a reliable template to guide you. Not only does it assist in collecting employee feedback, but it also provides you with a valuable reference document. This mid-year template is designed to help managers sync with their team members half-way through the year to examine short and long-term goals.
Why we love this employee review template: The employee review template offers real-time collaboration and customizable features, allowing both managers and employees to tailor the appraisal to their needs while maintaining the organization's branding. Additionally, its capability to incorporate visual elements, track updates, and send notifications ensures a comprehensive and engaging evaluation experience.
Best for: Monthly check-ins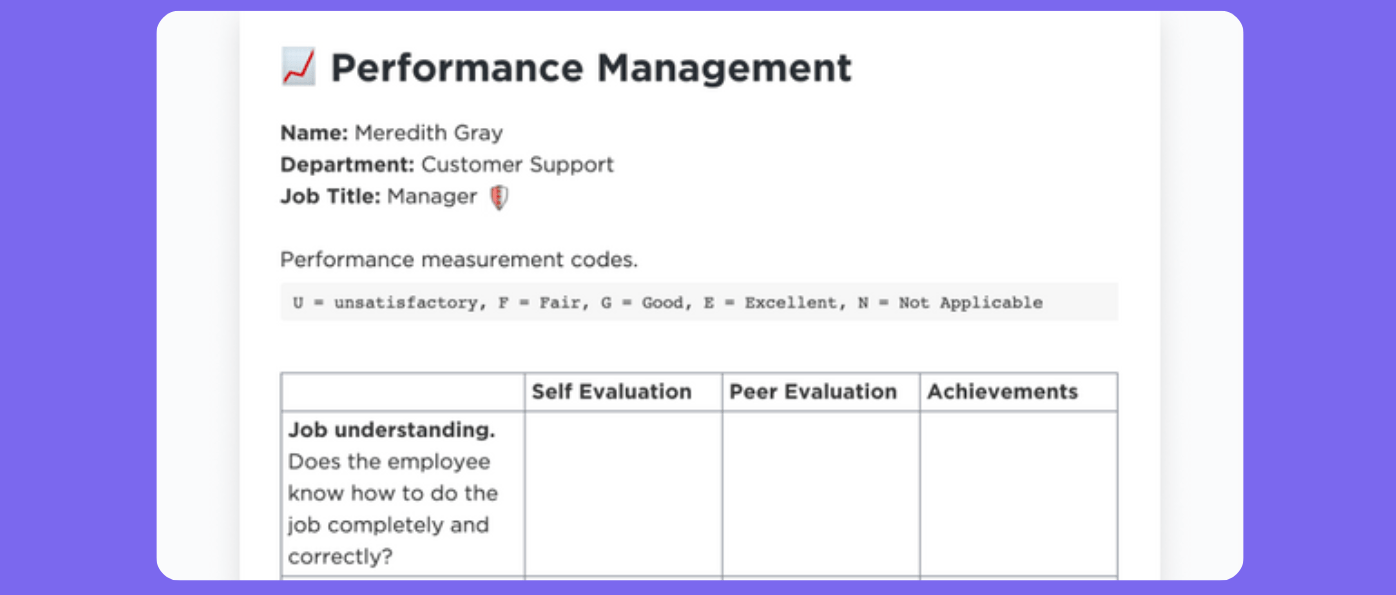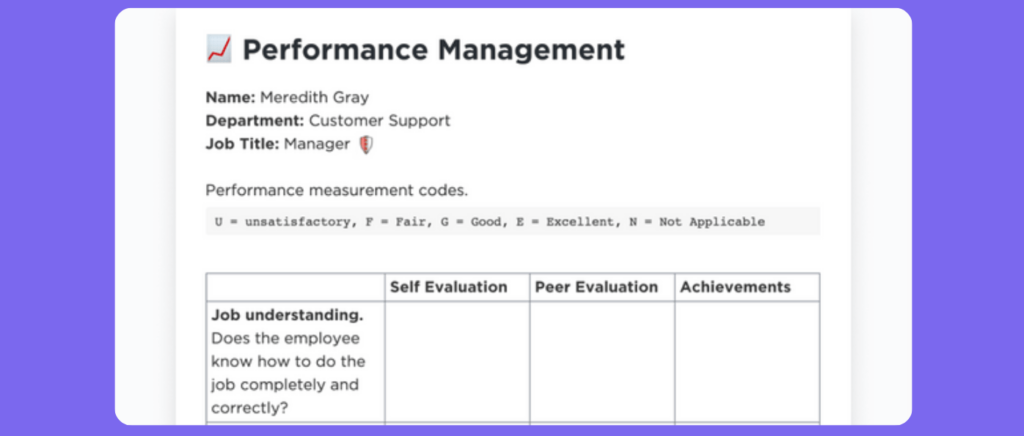 Formal conversations about performance are crucial. And they'll be even more effective if supervisors and workers stay in touch with quick check-ins every week. These brief discussions enable managers and staff to address challenges as they arise, improving performance.
Why we love this employee review template: This template can be used as an agenda for check-ins and regular meetings. A section on peer review and self-evaluation is also included to align on team performance and individual expectations.
Best for: 90 day reviews, mid-year reviews, end-of-year reviews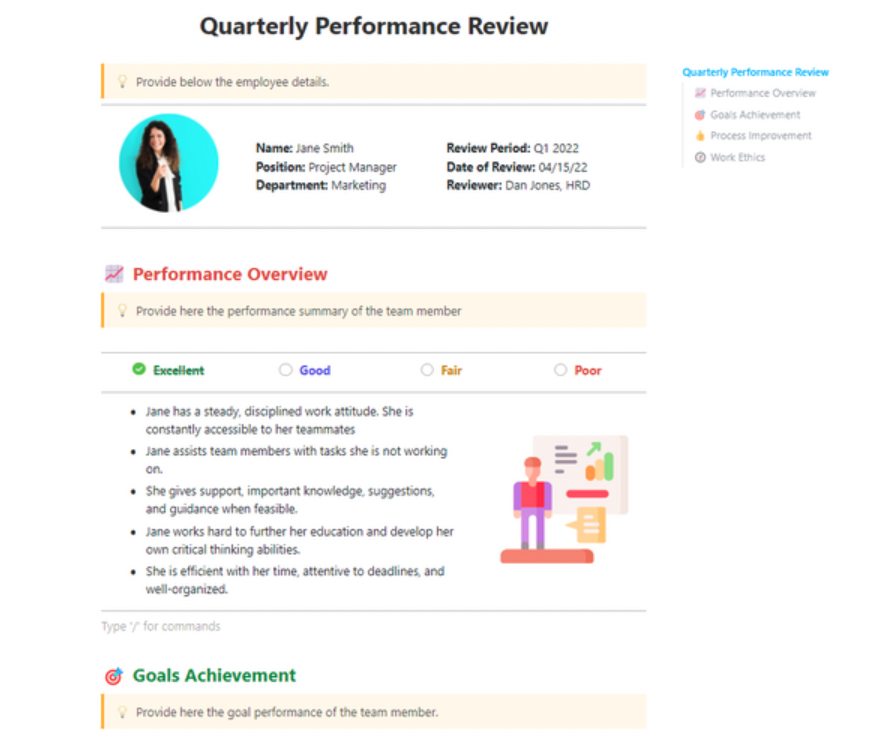 Checking in frequently in a personal and confidential capacity, such as a one-on-one meeting, promotes greater communication and adaptability. This template enables managers and employees to grow their trust by exchanging feedback.
Why we love this employee review template: You can use this template to inform new hires of their progress by reviewing their first 90 days on the job. Use it to set short-term objectives and a common direction for the future. Use the personal notes section to remind yourself to announce and celebrate a job promotion or the completion of someone's probation period.
Best for: Employee performance reviews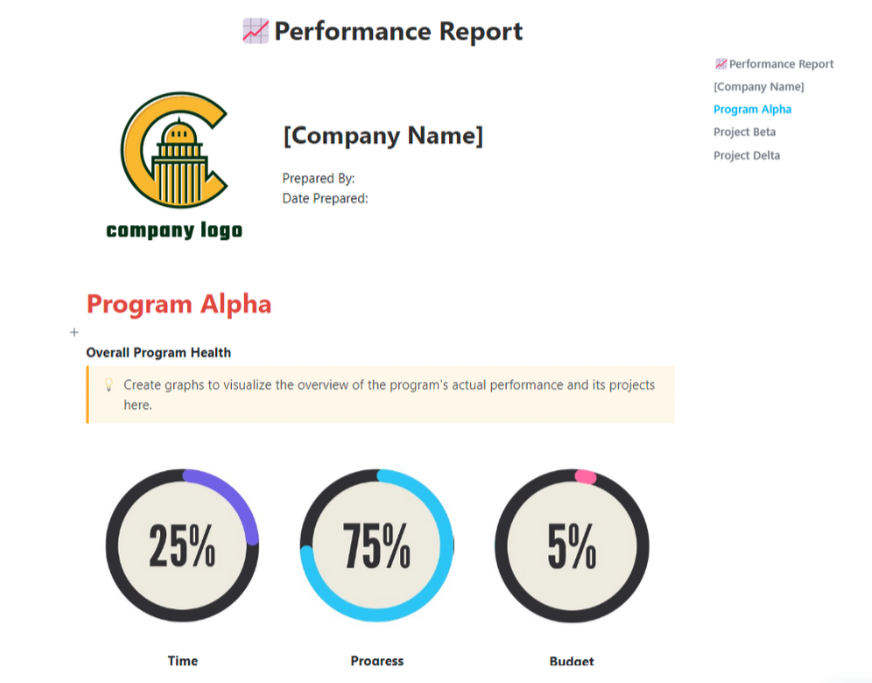 Reviews are great for gathering valid input, establishing attainable project goals, and keeping employees engaged, motivated, and proactive. This template allows for particular, task-specific feedback by including a general progress timetable and dividing tasks and deliverables according to priority.
Why we love this employee review template: Use this performance report template to summarize the development of numerous projects! It's a technique to communicate to them your interest in and attention to their growth to them.
Best for: 90-day review template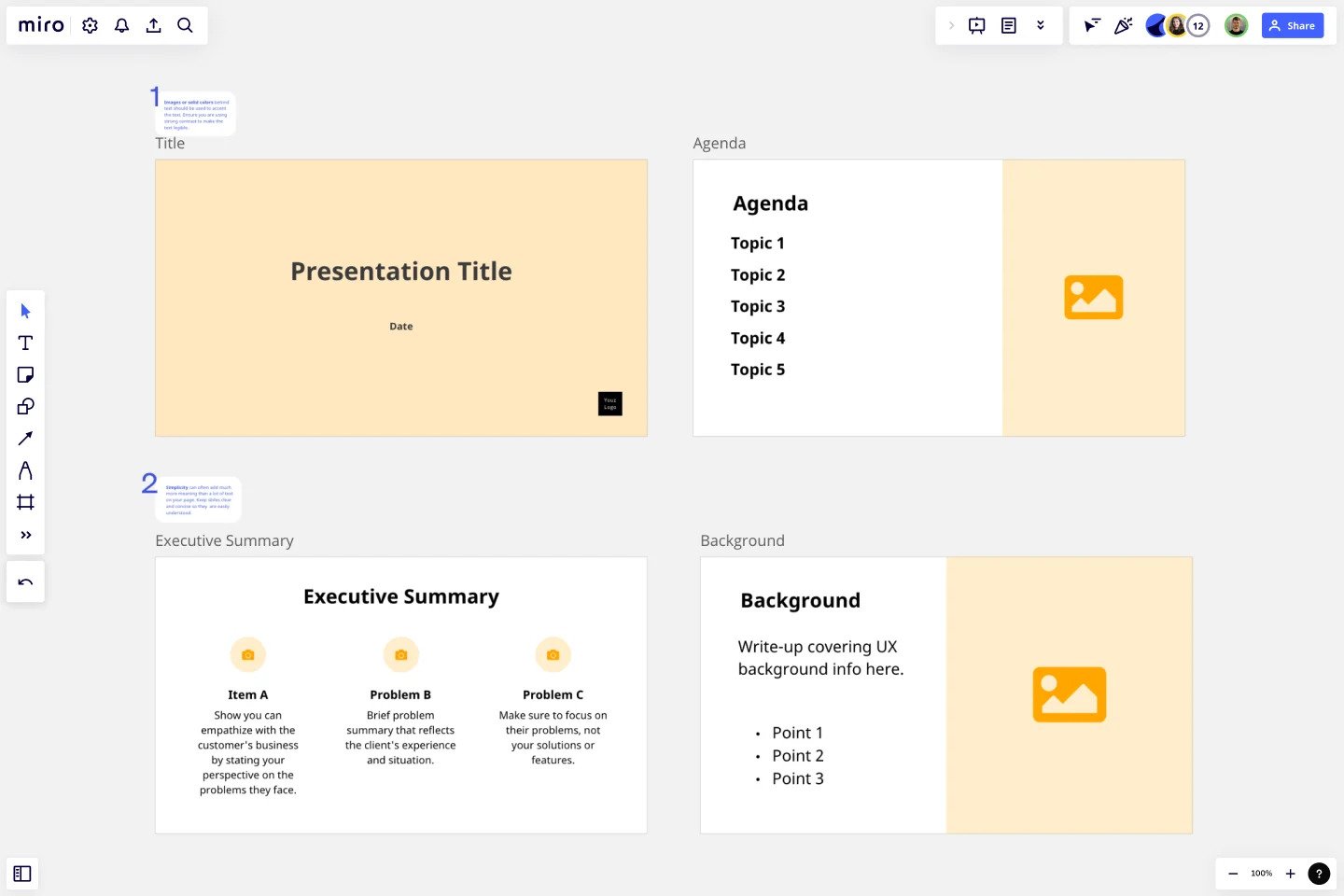 Utilize this template for a performance report to outline the progress of multiple projects! It's a tactic for showing the team that you care about and are interested in their development.
Why we love this employee review template: This form helps solidify an action plan for the following three months to ensure that employees meet expectations. Examine your employees' contributions more closely to see how they have benefited the company regarding revenue, return on investment (ROI), and objectives and key results (OKRs).
Best for: Work evaluation template, employee evaluation form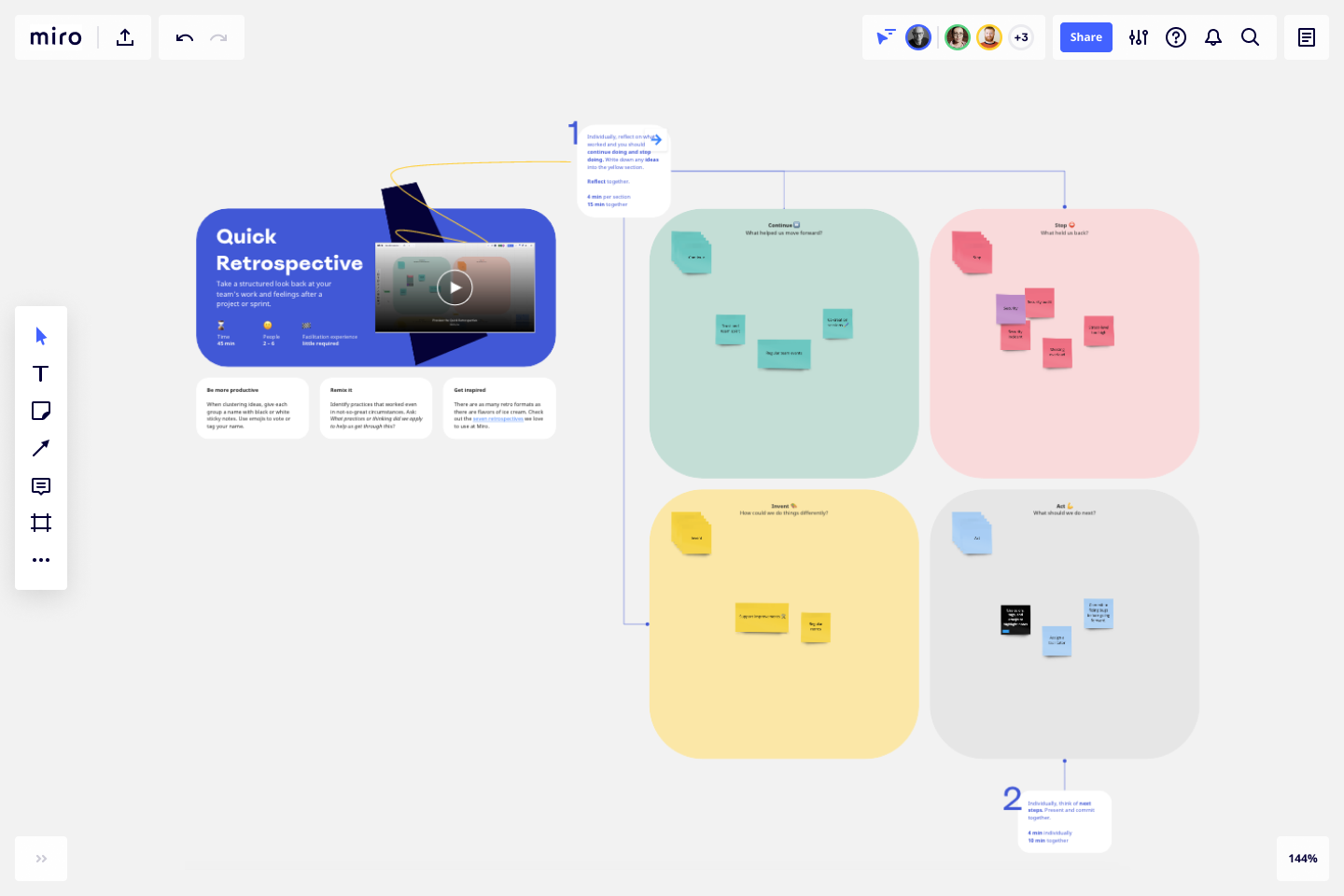 Create an atmosphere where each team member feels engaged and at ease sharing their ideas by using the Retrospective template. The Retrospective form is also a useful exercise for determining what prevented your team from moving forward and what you could have done differently.
Why we love this employee review template: Retrospective sessions are often expensive because they need the time and attention of many different stakeholders. This template is a great tool to summarize meeting minutes, keep everyone on task, and define the following action items.
Best for: 360 reviews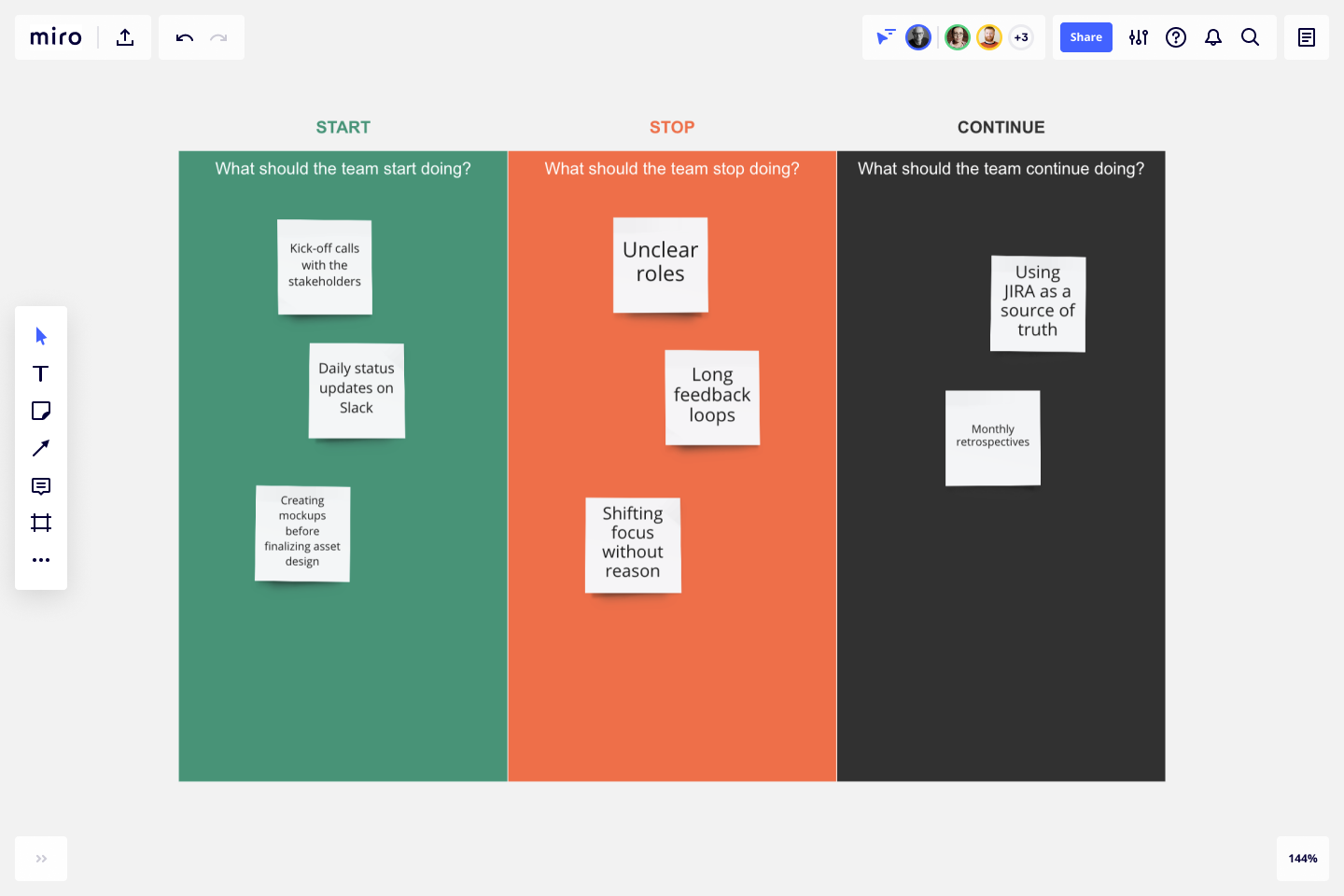 Start, Stop, and Continue retrospectives help analyze their previous sprint's tasks and decide which ones are worth stopping or continuing. It also makes it simple for team members to consider fresh initiatives they ought to start pursuing.
Why we love this employee review template: Employee engagement and performance are largely influenced by professional development and career alignment. Use this template to determine whether an employee's talents, skills, aspirations, and job role are in line and what projects they'd like to pause or begin.
Best for: Employee self-evaluation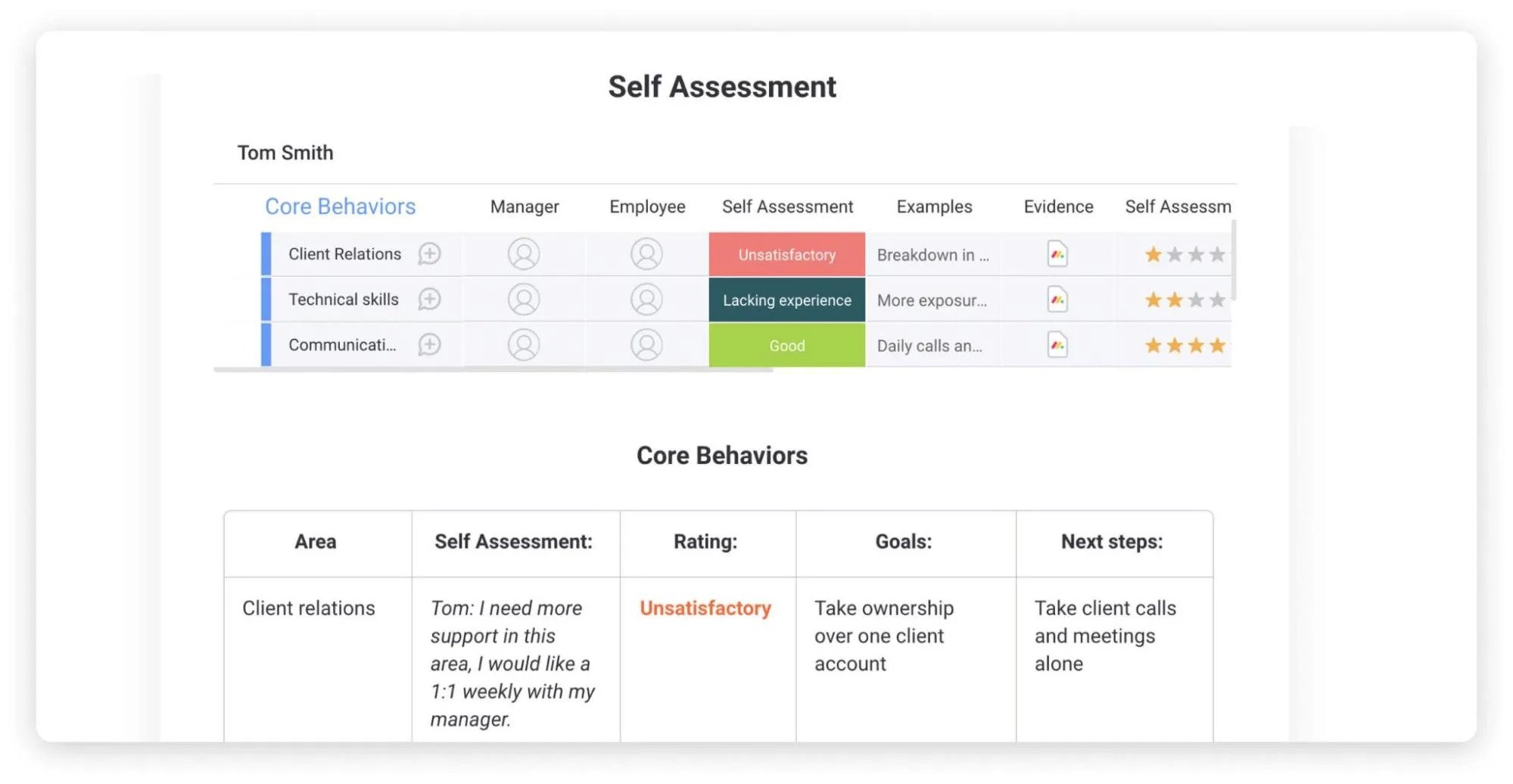 Before presenting to a larger team, employees can use self-assessments and anonymous employee engagement surveys to identify their strengths, interests, and potential improvement areas. A number of questions are included in this self-assessment template about competencies like problem-solving, teamwork, and communication skills.
Why we love this employee review template: It can be difficult to keep employees motivated when organizations just implement top-down reform. Self-assessment is a tool that employers can use to give employees a way out of productivity ruts and a chance for career advancement.
Best for: 360 reviews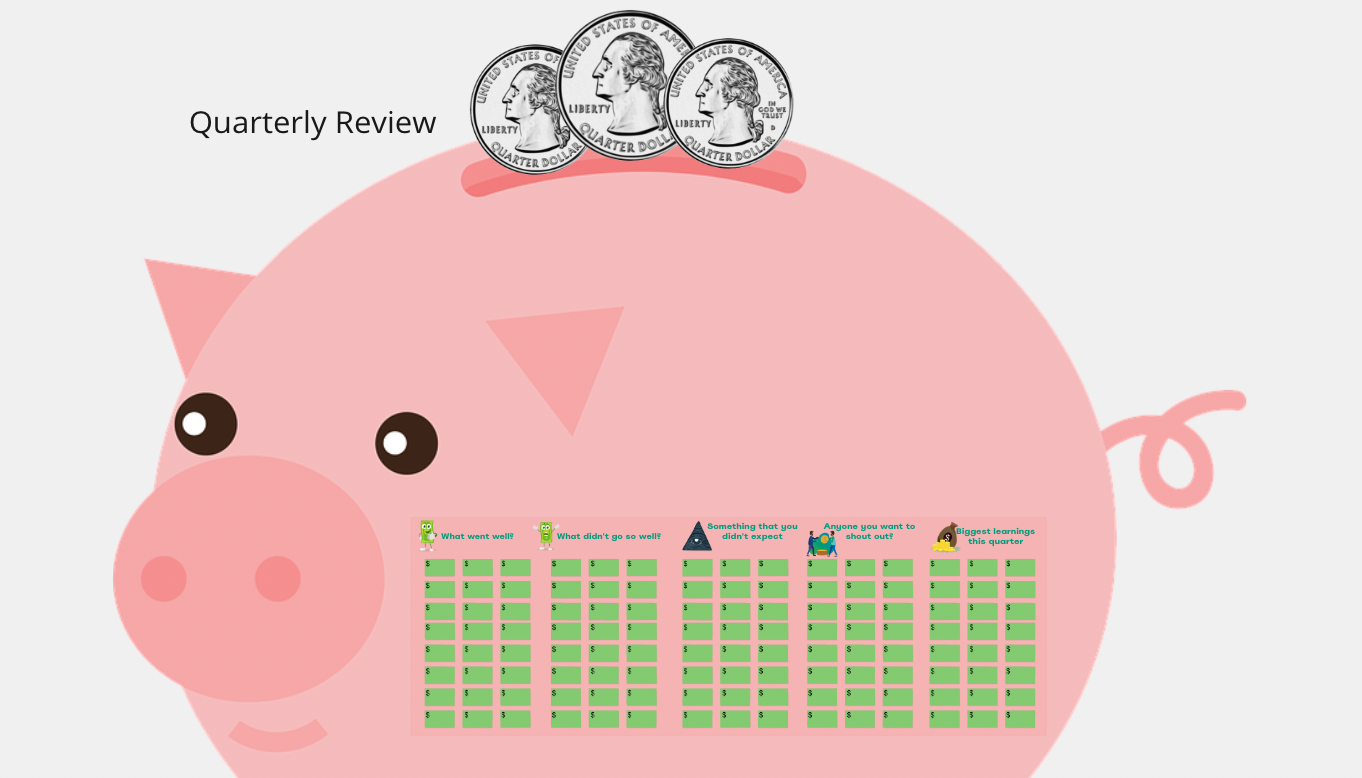 Modern managers emphasize team management skills, where communication is non-negotiable. Aim to have performance conversations with the team at least once every three months if monthly ones are not practical. You can use this worksheet to help you brainstorm conversation starters for quarterly performance meetings.
Why we love this employee review template: With the help of this quarterly review form, your team may reflect on its successes and key takeaways from the previous three months.
Best for: End of year reviews

Before the end of a year, managers and staff members should get together to hindsight the entire year in an effective performance review. It's an excellent chance to find out what objectives staff members would like to prioritize and to look ahead.
Why we love this employee review template: With the help of this year in review template, your team may reflect on its successes while giving managers and individuals a broad perspective on each employee's performance.
Best for: 30 day reviews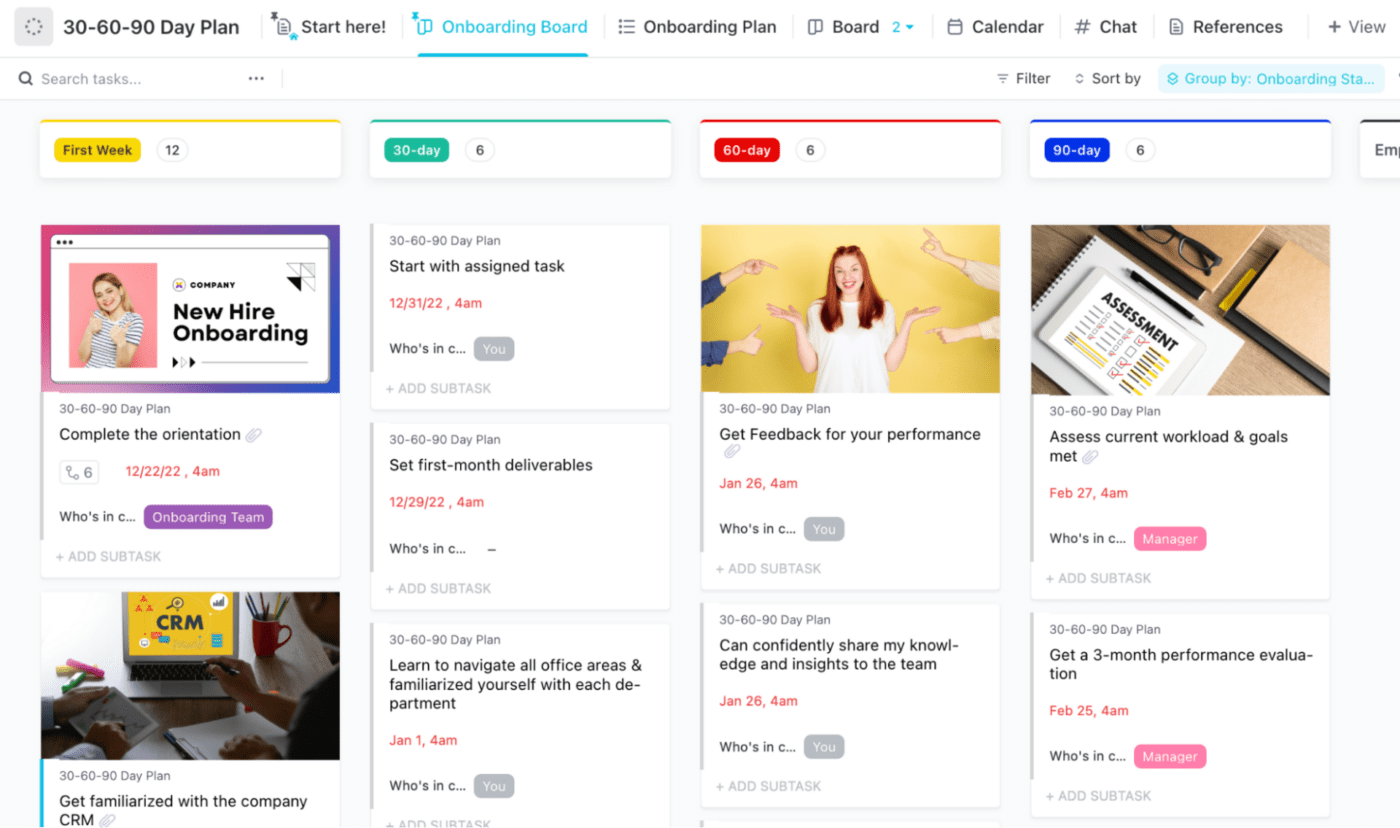 With the help of this 30-60-90 day template, you can begin your onboarding process and make sure that your new hires are settled in for the first three months. This template assists your new hires in completing the necessary onboarding duties, bringing them up to speed with executing tasks in line with their job description.
Why we love this employee review template: Onboarding can be overwhelming, especially for new employees working remotely. This template includes work from home policies and checklists so they can review tasks and access resources like the office procedure manual in a clear and organized manner.
How To Use A Performance Review Template
1) Send it ahead of time (give them a chance to prepare)
Using a performance review template involves sending it to the employee ahead of time, allowing them to review it and gather their thoughts and examples of their work. This gives them an opportunity to come prepared for the discussion and ensures a more productive conversation during the review session.
2) Create a conversation
During the performance review session, focus on creating an open and constructive conversation with the employee. Encourage them to share their thoughts, concerns, and ideas about their overall performance so that you can plan for recruiting missing skills or roles in the team. Listen actively and provide positive feedback and outline areas that need improvement, using the template as a guide for the discussion.
3) Outline areas of strength and improvement
The performance review template should include sections highlighting the employee's areas of strength and areas that require improvement. Use the template as a goal-setting framework to discuss and document specific examples, metrics, and accomplishments related to these areas. Provide constructive feedback and suggestions for growth.
4) Leave the performance review session with clear next steps
At the end of the performance review, establish clear next steps and goals for the employee. Discuss actionable steps to improve their performance or build upon their strengths by providing ample employee recognition to encourage their growth. Set realistic targets and expectations, and ensure the employee understands the objectives moving forward for the next performance review.
5) Get feedback so your performance review process develops over time
After the performance review, seek feedback from the employee through a two-way conversation about their experience with the process, such as the rating system, . Ask for their input on improving the template or the overall review process. This feedback can help refine and enhance the performance review template for future use, making it more effective and valuable for both employees and managers.
---
People Also Ask These Questions About Performance Review Templates
Q: What do you write in a performance review?
In a performance review, providing clear, specific, and objective feedback on the employee's performance is essential. Begin with positive feedback highlighting the employee's strengths, accomplishments, and corporate contributions. Use specific examples to illustrate the employee's performance, both positive and negative. Identify areas where the employee needs to improve and provide specific feedback on how to improve. Work with the employee to set goals and objectives for the next review period.
Q: Are there free performance review templates?
Yes, there are many free performance review templates available online. These templates can be downloaded and customized to suit an organization's specific needs and goals. Some templates are simple and straightforward, while others are more complex and detailed. Many online resources offer free templates that can be used for various industries and job roles. Some common sources for free performance review templates include human resources websites, management blogs, and business forums.
Q: What should I include in a mid-year review template?
A mid-year review template should include an introduction outlining the purpose and goals of the review, sections for performance objectives and progress, strengths and accomplishments, areas for improvement, development goals, and an action plan. The template should provide a balanced assessment of the employee's performance and specific feedback on improvement. It should also provide a clear roadmap for achieving development goals for the next six months.
Q: How many questions should be included in an employee review form?
The number of questions in an employee review form depends on the organization's performance management process, specific job role, and review goals. Typically, performance review forms can range from 10 to 50 questions. The form should provide a comprehensive assessment of the employee's performance while not overwhelming the reviewer with too much information. The questions should relate to the employee's job responsibilities and performance objectives.
Q: How often should I use a 360 reviews template with my employees?
The frequency of using a 360 reviews template with employees can vary depending on the organization's performance management process and goals. Some organizations use 360 reviews annually, while others use them more frequently, such as every six months or quarterly. The frequency should be based on the organization's and the employee's needs.
Q: Are there customizable performance evaluation templates that I can use?
Yes, there are many customizable performance evaluation templates available online that can be tailored to the specific needs and goals of an organization. These templates can be downloaded and modified to include questions or sections relevant to the organization's performance management process.
Q: How far in advance should I set up an employee annual review template before sending out?
Setting up an employee annual review template at least 4-6 weeks before the review date is recommended. This allows enough time to prepare the template, schedule review meetings, and provide employees with sufficient notice to prepare for the review.
Q: What should I look for in a work evaluation template?
When selecting a work evaluation template, it's vital to look for a format customizable to your organization's specific goals and objectives. The template should provide a comprehensive assessment of the employee's performance, including objective and particular criteria, and be user-friendly for the employee and manager.
Q: Why should I use a job performance review template with my employees?
Using a job performance review template with employees provides a structured and consistent approach to evaluating their performance. This ensures that all relevant information is captured, reduces the risk of bias or inconsistency, and provides detailed feedback that employees can use to improve their performance.