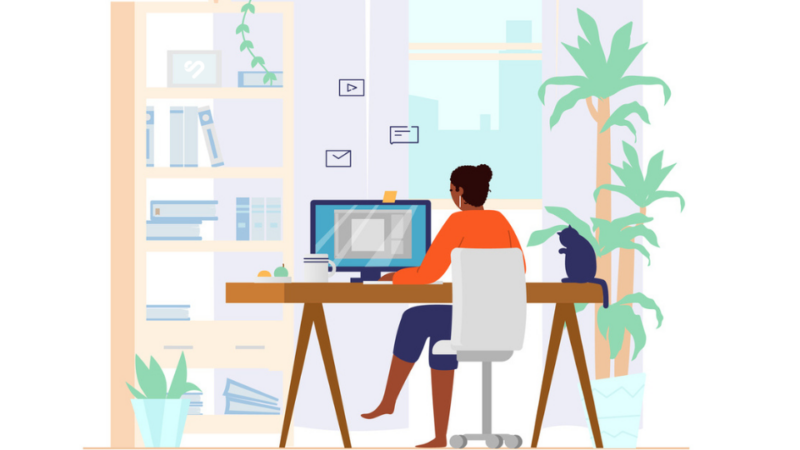 The past few years have proven that hybrid and remote work are here to stay.
Freelancers, small businesses, and large corporations alike are changing the way they communicate with coworkers and clients post-pandemic. Team meetings are no longer in-person gatherings in a conference room with a whiteboard.
Companies are finding that they have to adjust and adapt as necessary to ensure employees don't fall into professional sinkholes. If you find yourself looking for a way to strengthen your remote workforce, implementing productivity tools for working from home can put a big, fat "W" on your company scorecard.
A 2021 study showed that "those who worked full time (8 hours/day) at home are 70% less productive than those who don't work from home."
This isn't necessarily implying that people slack off when working remotely. Aside from the usual at-home distractions like laundry, kids, Netflix, and our insanely adorable pets, productivity can also get derailed by a lack of resources when employees are trying to do their best work from the coffee shop or kitchen table. It may seem like everything should run smoothly in work-from-home situations, but there are definitely hiccups.
Remote workers report some of their productivity-related pain points are:
communication gaps
problems prioritizing workload
tech fails
putting in longer work hours
insufficient wifi speed or poor connection
time zone restraints
higher stress levels
lack of cross-functional team collaboration
Much like Rome, solid teams and a healthy company culture can't be built in a day. But the latter two can easily be managed with the right work from home productivity tools. But how do you know which home office productivity tools are best for your teams? 
Want to become a better professional in just 5 minutes?
What should you look for in a work from home productivity tool?
For an optimal productivity tool for employees working from home, a software platform should be…
  1 

 Simple To Use

Choosing a tool with a high user-friendly rating makes it easier to get employees to want to use it.
  2 

 Creates Alignment

It should keep all your moving parts visible and your people in alignment with one another, and also with your company's core values.
  3 

 Cost Effective

It's true that "you must spend money to make money," but pricing still matters. Implementing an affordable productivity tool will ideally make your company money in the long run so don't max out the company credit card.
  4

 Effective, Period

The right employee productivity software will do what it's supposed to do for your company, and add value, making things more efficient and essentially, proving to be effective.
  5 

 Easily Accessible

Seamless integrations with your existing operating systems mean less work for your IT team on the back end and for your employees who are using it on the front end.
10 WFH Productivity Tools For Remote Teams
null
1)
Best for: Employee Recognition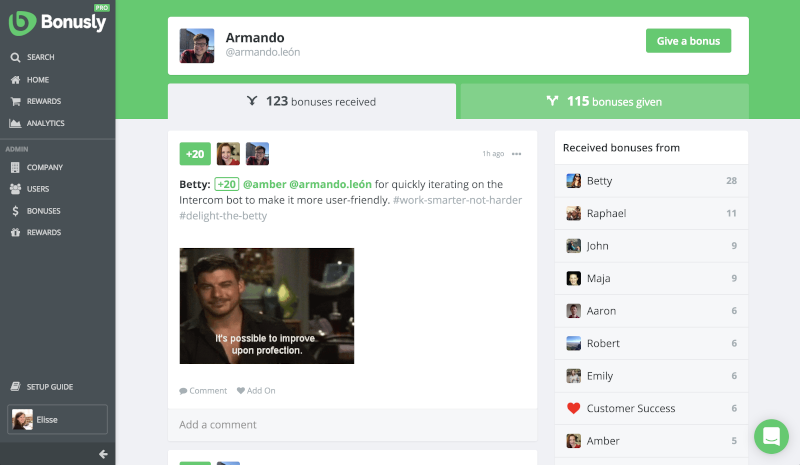 Bonusly's cross-functional platform engages remote employees by giving them the power to recognize one another, publicly and monetarily(ish). Rewards points can be gifted as recognition between coworkers, giving appreciation a new level of value. Their customizations and options make it impossible not to fit your organization.
Why we love this work from home productivity tool: We love options! Employees can bank their rewards points to spend at branded retailers, on travel and experiential rewards, and a crazy number of other options.
Companies that use this software for WFH productivity:
ZipRecruiter
Canine Companions For Independence
Chobani
Notable features: 
➤ Public recognition gives everyone a chance to shine
➤ Customizable surveys to get the most effective feedback from your employees
➤ The ability to incentivize your employee engagement
➤ Stellar analytics so you always know what's working and what's not
➤ Thousands of rewards options, redeemable all across the globe
null
2)
Best for: Employee Rewards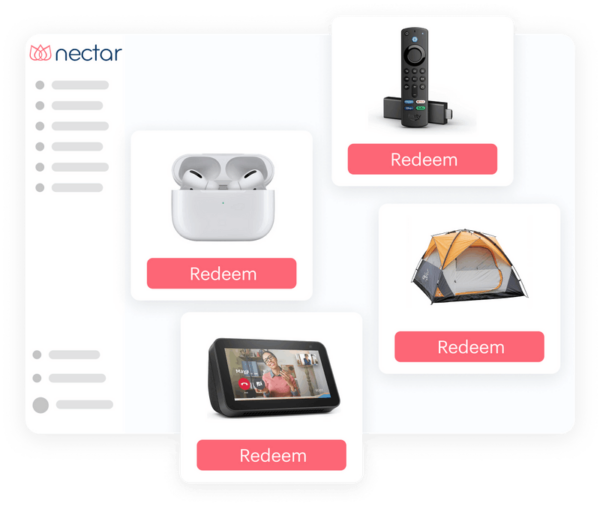 Creating a healthy company culture starts with recognizing the talented employees who make the business run. Nectar offers robust incentive and recognition programs, complete with a beefy list of rewards your employees will love. Their 360° platform design is perfect for improving employee morale and productivity from anywhere.
Why we love this work from home productivity tool: There are so many ways for your employees to earn points and just as many ways for them to spend them. Easy to add to your onboarding experience and work from home policy so all employes can adopt it quickly and efficiently.
Companies that use this software for WFH productivity:
Heineken
MLB
Diversified Insurance Group
Notable features: 
➤ Month-to-month services – no annual contracts or subscriptions
➤ Nectar merges with your existing communication platforms so your recognition is conveyed through the same systems your employees are already using
➤ Recognition and incentive points = real money that employees can spend on merch or towards discounts on major theme parks, travel, and other attractions
➤ Tracks all your employee milestones
➤ Configurations to enable a single sign-on feature that allows quick access to all your programs from one hub