Over the last few years, we've absolutely seen a rise in remote work with some employees even establishing an international home base.
Concurrently, companies have expanded their search for talent beyond their local pool and across international waters.
Whether you're looking to hire international employees or support a global expansion, EORs, or employers of record, can help you do just that and more.
In a hurry? Take a look at top EOR services for expanding your team:

When you use a global employer of record, you do not have to create a business entity abroad because that EOR functions as the legal employer & takes on legal responsibility for your global staff.
They'll manage employer responsibilities such as payroll, taxes, maintaining compliance, and offboarding.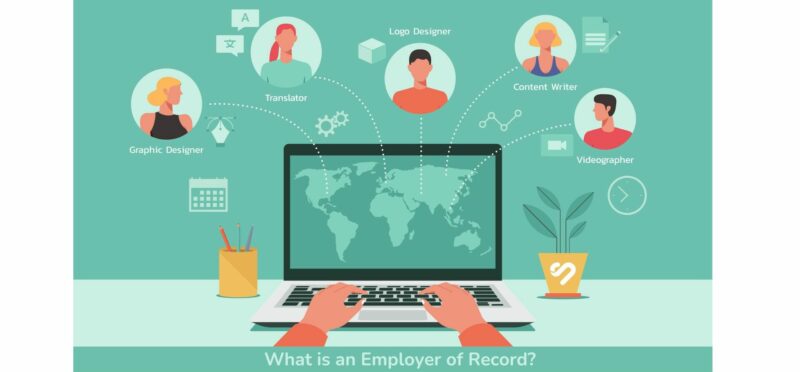 In a recent 2023 study about the rise in globally distributed teams, Remote found that 44% of the businesses surveyed reported growth in the number of full-time employees abroad.
Additionally, 25% of respondents stated that the entity opening process took 10-12 months to complete at a significant cost.
If you find yourself without the time or budget to establish a new entity, partnering with an EOR is a quick and cost-efficient way to hire, pay and provide benefits to your extended workforce, while you still maintain day-to-day operational management of that staff.
Keep reading to learn everything you need to know about EORs, including what they are, what they do, and how you can best leverage their services to help your business grow.
Want to become a better professional in just 5 minutes?
What is an employer of record?
An employer of record is essentially a third-party company that becomes the legal employer of some of your workforce.
By doing so, an EOR assumes all global employment tasks and liability, while the employer maintains day-to-day operational management.
Think of an EOR as an effective HR outsourcing strategy for your global employees. A global EOR enables companies to engage & hire international talent without worrying about setting up a local entity or violating local employment laws. Consider an EOR as an extension of your human resources team who has an in-depth knowledge of their local labor and compliance laws.
How Does an Employer of Record Work?
Since an employee of record functions as the legal employer for your international workforce, your HR team is freed up to focus on other core company concerns and is not expected to keep up to date with ever-changing global labor laws abroad.
If you're looking for cost-saving ideas for your company, an EOR may be a great option to explore.
Depending on your company size and workforce expansion needs, you can partner with an EOR who can meet those needs well within your budget range.
EOR organizations have varying offerings and pricing structures, so be sure to pinpoint the most important features you need in an EOR, such as having in-platform recruitment software tools. Letting an EOR work for you by taking on the responsibility of typical employment-related tasks alleviates the stress, complications, and legal liabilities of expanding your workforce.
What does an employer of record do?
Employer of record services manage tasks and responsibilities typically associated with HR such as payroll management, taxes & compliance, employee benefits, and recruitment.
They also handle the onboarding process for your extended workforce including helpful employee onboarding tools.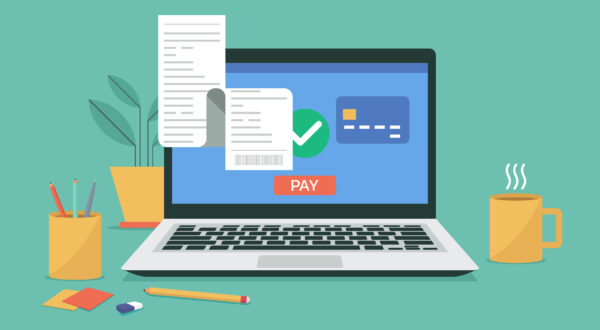 Many EORs have proprietary global payroll software within their platforms that efficiently power the payroll process. Below is a more comprehensive list of what employer of records manage on behalf of their clients:
Creating a maintaining compliant employment contracts
Storing and issuing government forms such as an I-9, W-2s, and work visas
Maintaining an active certificate of insurance (COIs)
Completing background checks on new employees
Administering employee benefits such as health insurance, paid time off, and sick time
Handling employee payroll, workers' compensation, and unemployment
Terminating employees in a compliant offboarding process
Ensures policies & practices align with all local labor laws
What are the benefits of using an employer of record?
As you can imagine, there are many benefits of using an employer of record to manage your extended workforce.
EORs have the HR tools and expertise to seamlessly hire and manage the employee lifecycle from onboarding to offboarding and everything in between all in a locally compliant manner. Let's explore a handful of the benefits that come along with hiring an employer of record.
1) Allows you to expand into new countries without incurring entity setup costs 🌍
Expanding your business into a foreign market can be quite daunting, not to mention costly.
If you're looking to expand quickly and cost-effectively, an EOR may very likely be the best fit for you. Avoid setting up a local entity and instead, let an EOR take the lead in hiring and managing your global workforce.
2) Ensures your employment contracts & policies are compliant with evolving local labor laws 📑
Let's face it. It's challenging enough to keep up with your own country and state's labor laws, let alone the labor laws of other markets. Fortunately, when you partner with an EOR, you're able to leverage their labor law expertise in whatever market you're looking to expand into. It then becomes their responsibility to create and maintain employment contracts and policies that are compliant with local labor laws.
They also keep up to date on those labor laws as they evolve and change over time, ensuring that your policies evolve accordingly.
3) Receive ongoing HR support for your extended workforce 👨🏻‍💻
Chances are your HR staff has their hands full with your existing, local employees and just do not have the bandwidth or expertise to support an extended, global workforce.
Let your local team focus on the existing staff and your office manager service the team on site. An EOR functions as your ongoing HR support for your broader workforce by handling items such as employment payroll, taxes, and benefits. This allows your local HR team to truly focus on what they do best.
4) Attract and onboard global talent quickly 🏋️‍♂️
When tapping into new markets or different countries, it can be quite difficult to find and attract top global talent. An employer of record has extensive knowledge of what it takes to recruit and onboard employees in hundreds of markets across the globe.
It's their job to identify and hire the best candidates for your open roles. Once those candidates are selected, EORs are then responsible for quickly & seamlessly onboarding them. This includes running background checks and collecting the necessary new hire documentation.
5) Provide employee benefits such as health insurance & workers' compensation ⛑
Another great benefit of working with EORs is that they are responsible for providing employee benefits such as health insurance and workers' compensation.
In many countries, providing employees with adequate healthcare is mandatory, so partnering with an EOR ensures that you're complying with those local mandates. It also saves you time and money since you are not directly responsible for finding and contracting employee benefits.
Top EOR Services For Global Hiring & Recruitment
Deel is a highly-rated EOR provider used by over 15,000 businesses across the globe. They support large and small businesses alike including Subway, Nike, and Shopify, to name a few. Partnering with Deel is a great way to avoid setting up a local business entity and save thousands of dollars in setup costs.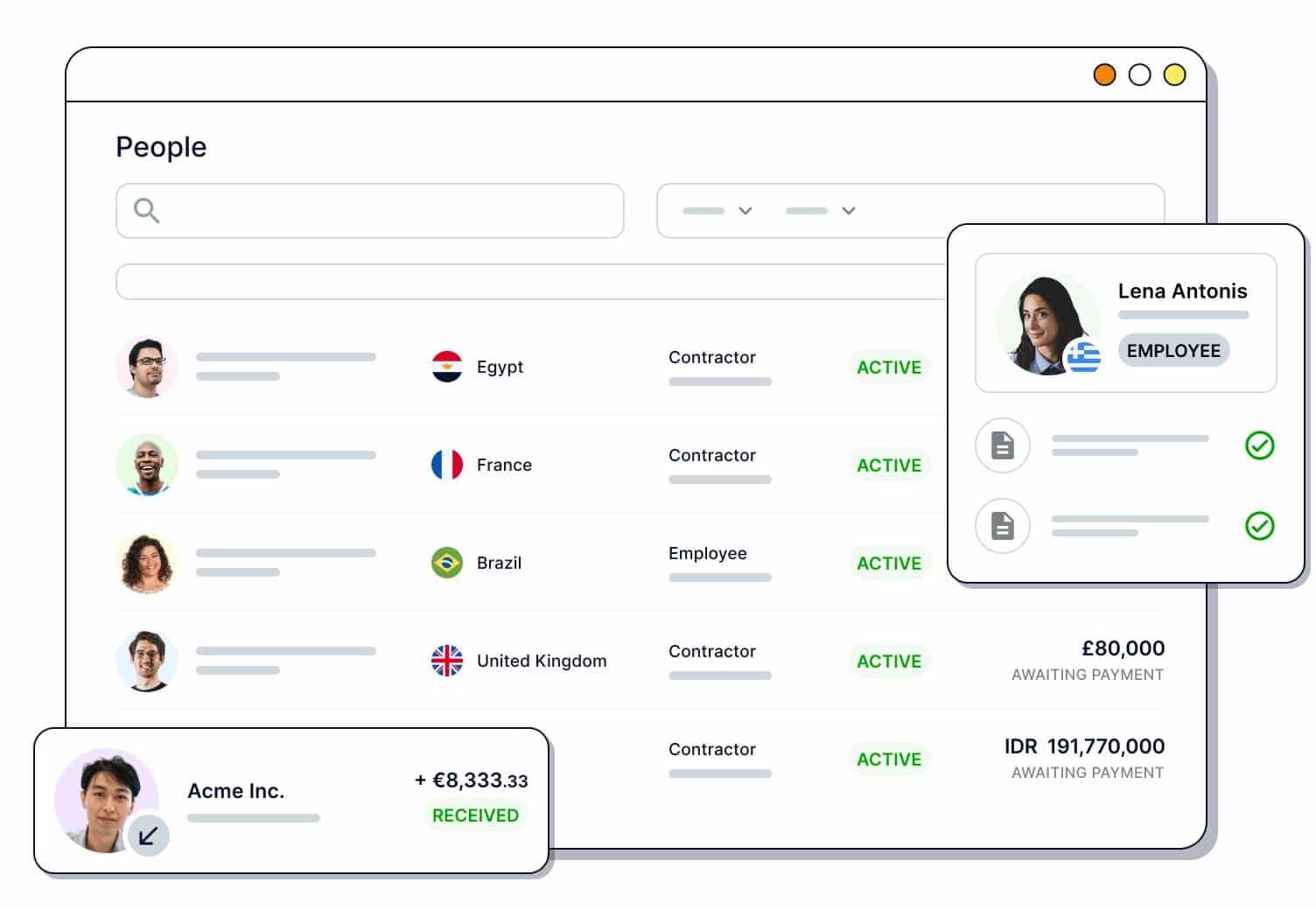 Why we love this employer of record company: We love that Deel has legal entities in over 100 countries, allowing you to massively expand your talent pool. You can also get set up with Deel in less than a week so you can begin hiring right away!
Top Features
Integrate with Your Favorite HR Platform – Deel offers integrations with over 15 common HR platforms which will help reduce manual tasks.
15+ Payment Options – While most other EORs only offer bank transfers or debit cards, Deel offers more than 15 flexible payment methods to pay your team.
Dedicated Customer Success Manager – Not only do you receive your own dedicated customer success manager, but Deel has 24/7 in-app support to ensure there is always someone available to address your needs.
Capterra Score: 4.7
G2 Score: 4.6
If you're looking for enterprise HR software for your global workforce, the Remofirst platform is both comprehensive and user-friendly.
Remofirst offers an all-in-one platform for quickly and efficiently hiring remote employees in over 160 countries. Trusted by companies such as Microsoft, the World Health Organization, and Mastercard, Remofirst is a fantastic option when considering EORs.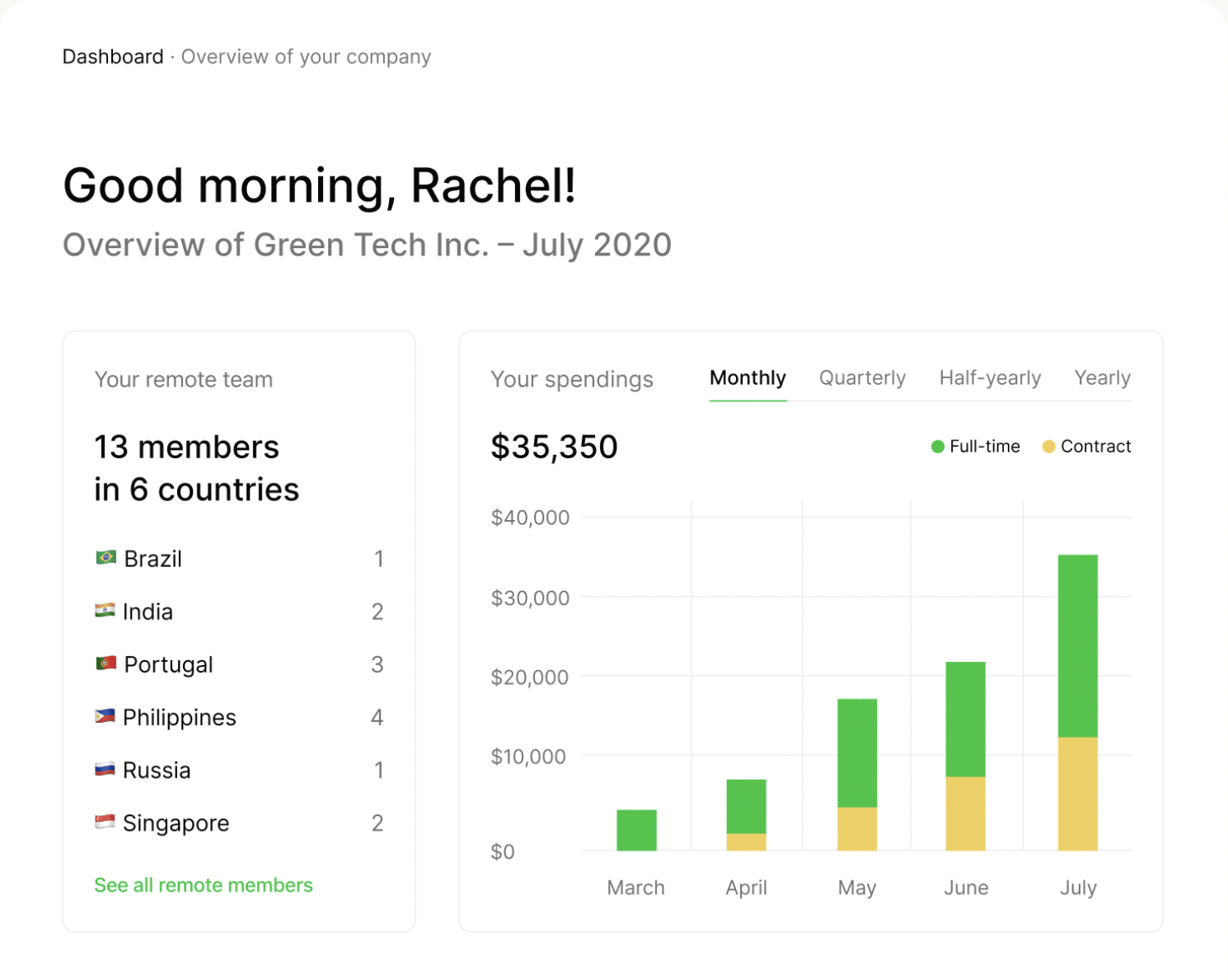 Why we love this employer of record company: We love that Remofirst has competitive pricing and offers same-day onboarding to quickly get you going! They also have one of the best HR software offerings for an EOR platform. Additionally, their  RemoHealth offering includes personalized, international private medical insurance.
Top Features
Global HR Platform – Remofirst's global HR platform automatically takes into account your employee's hours, time off, holidays, bonuses and commission when calculating payroll. You can keep track of employee perks & payroll and access all compliance documentation via a user-friendly dashboard.
Easily Set Up Payroll & Benefits at Once – With Remofirst, when you set up payroll, you can also request if health insurance is needed (medical, dental and/or vision), if work equipment is needed (laptops, monitors, etc.), and if financial employee benefits are needed (pension or retirement plans).
Reduces Compliance Risks – Remofirst ensures you have every confidence that your employee contracts and policies are compliant with local labor laws. Their team of legal experts and HR specialists help set up compliant policies at the onset and stay ahead of any changing regulations.
Capterra Score: 5.0
G2 Score: 4.3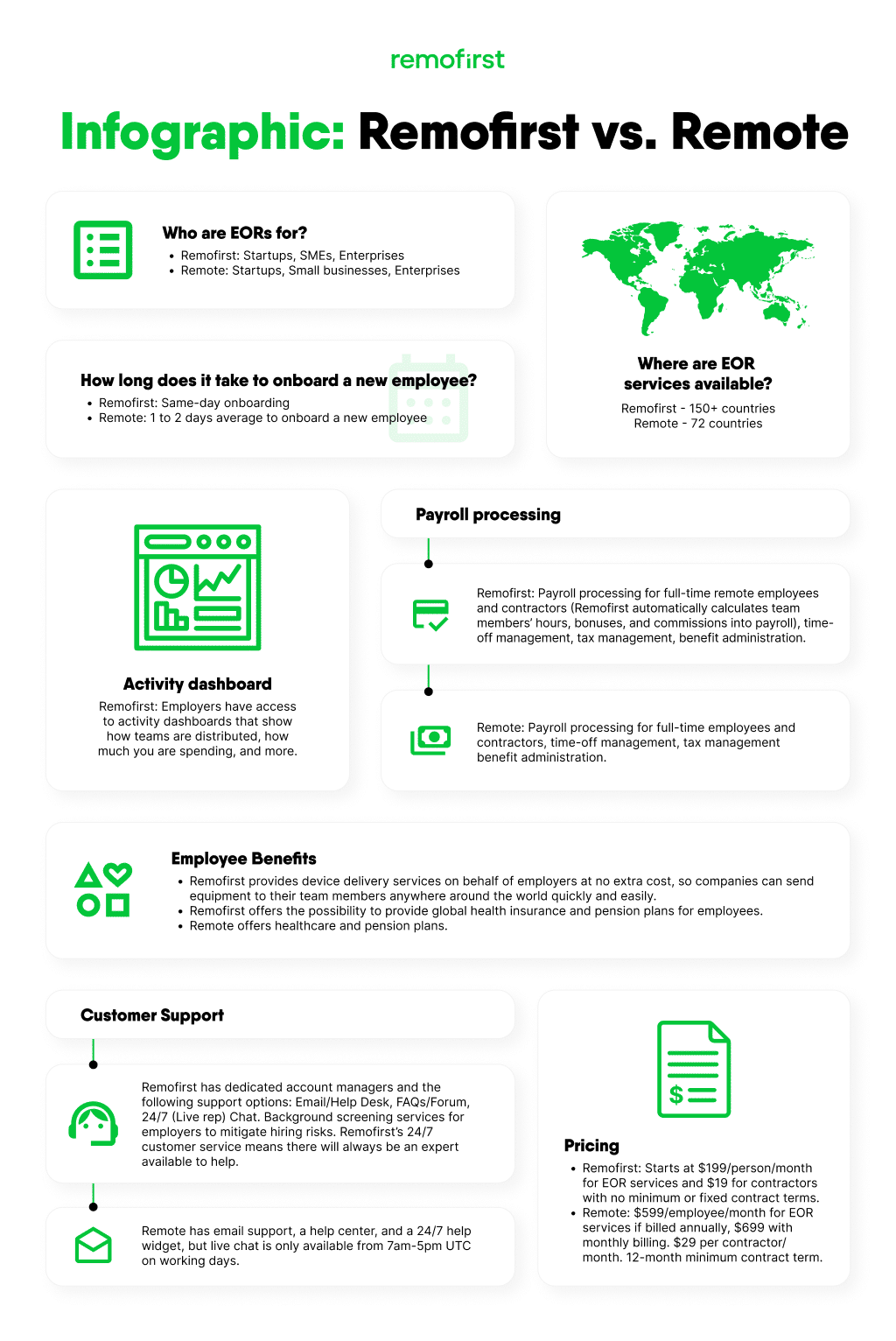 Multiplier is trusted by industry leaders, such as Aspire, Uber, and PWC, to manage their global workforce because they offer a stellar comprehensive platform to manage compliance, payroll, and employee benefits.
Multiplier has a massive reach, serving over 150 countries across the globe, which allows you to tap into whatever market you're hoping to expand your business to.
Why we love this employer of record company: We love this EOR because they have a robust offering that includes payroll, benefits, contracts, taxes, HRMS, compliance, and benefits. It truly has everything you need to attract, hire and manage your extended workforce in a compliant manner.
Top Features
Onboard International Talent & Pay in 120+ Currencies – Rather than investing in recruitment software tools, let Multiplier do the heavy lifting. Multiplier allows you to onboard global talent in a matter of days. Once hired, they offer payroll in over 120 currencies!
Pay Freelancers & Manage Expenses and Reimbursements – In addition to managing your full-time global workforce, Multiplier can assist in paying your freelancers as well. Additionally, you can manage employee work-related expenses and reimbursement payments through Multiplier.
Provide Competitive Benefits – Multiplier's expert staff are constantly keeping up to date with regional regulations and market standards related to employee benefits. This ensures your benefits package is not only compliant but competitive in the marketplace.
Capterra Score: 4.7
G2 Score: 4.5
Papaya Global offers employer of record services in over 160 countries and was recently listed in Time100's most influential companies of 2023.
They offer exceptional coverage and compliance that helps you build a strong global workforce without opening new business entities abroad.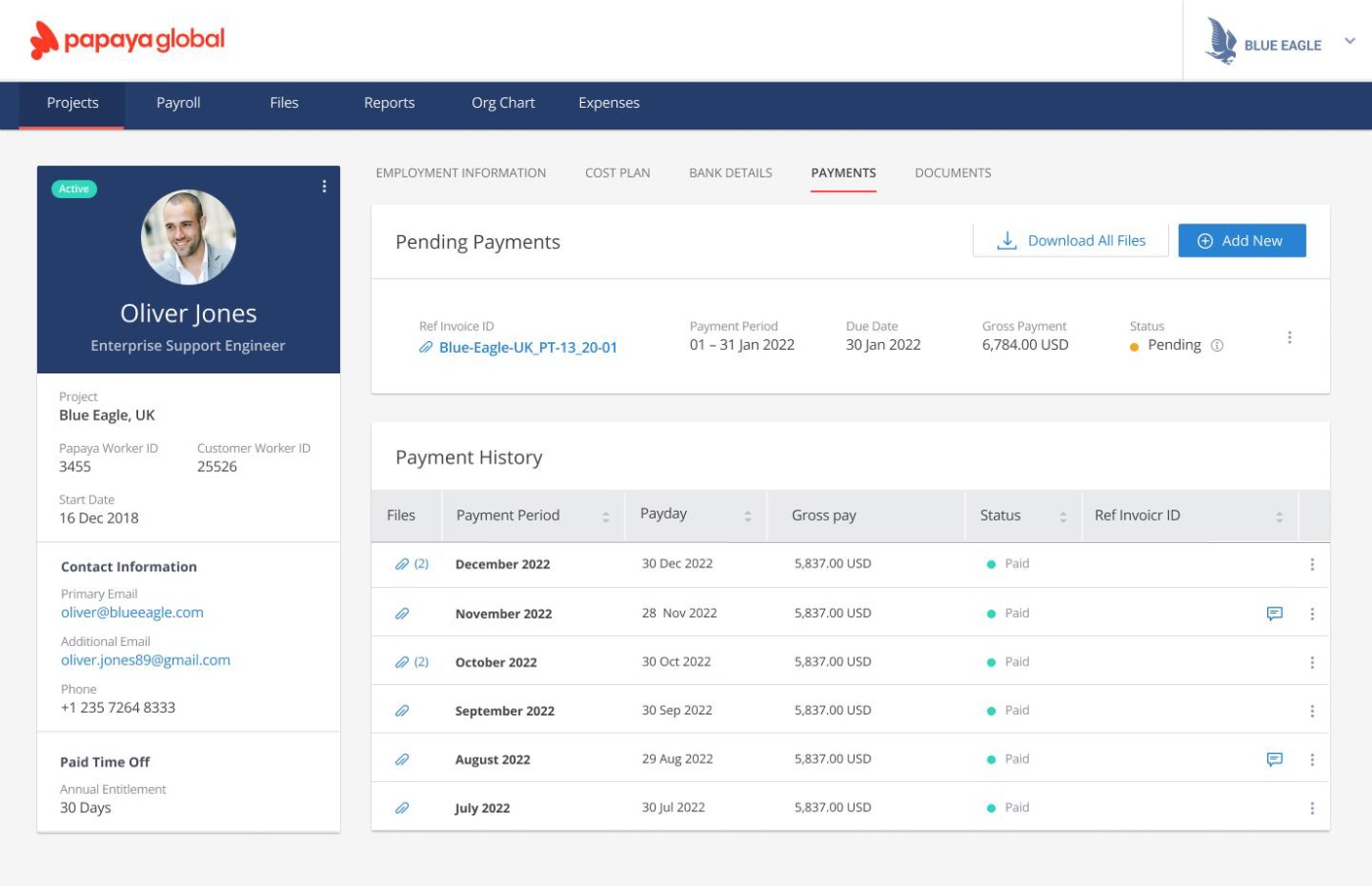 Why we love this employer of record company: We love that Papaya Global allows you to seamlessly onboard top talent across the globe with merely a few clicks of a mouse.
Top Features
Strict Service Level Agreements – Papaya Global vets and partners with local experts and enforces strict SLAs to ensure you receive top-quality service at a reasonable rate.
Full Workforce Control – Manage all of your EOR workers within a single platform. Papaya Global's platform has an awesome active project dashboard view where you can quickly see all of the locations where you have a global workforce, how many active workers are at that location, and how many workers are in the recruitment and onboarding pipeline.
Global Compliance Guaranteed – Papaya Global has an extensive, searchable knowledge base when it comes to global compliance. Compliance is one of Papaya's top priorities and their Global Expert Alliance has years of experience and knowledge to back that up.
Capterra Score: 4.6
G2 Score: 4.4
Remote is a global resource management software solution that's trusted by thousands of globally distributed companies such as Doordash, Burger King, and HelloFresh.
Within their platform, you're able to truly manage all aspects of your global HR services efficiently.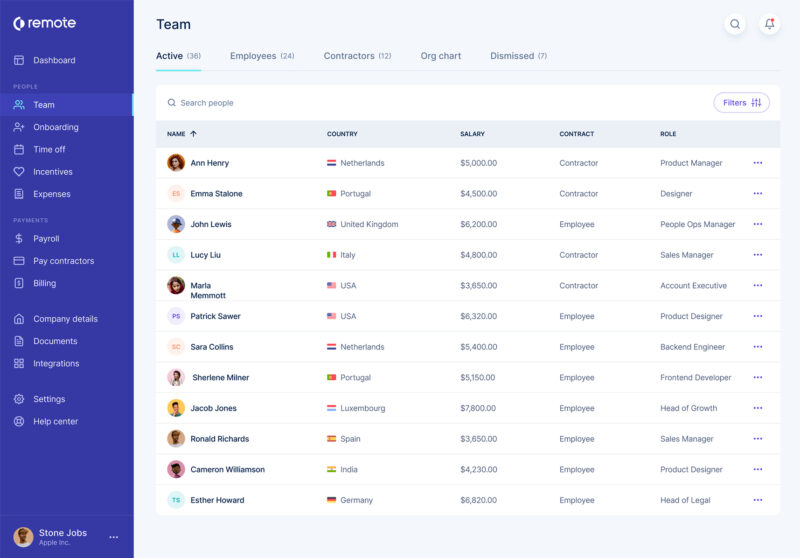 Why we love this employer of record company: We love that Remote goes the extra mile in staying ahead of remote workforce trends. They recently released a Remote Workforce Report where they explored how key decision-makers across the globe are preparing for a distributed workplace future.
Top Features
Country-Specific Benefits Packages – Remote offers competitive country-specific employee benefit packages at a specially negotiated rate which saves you both time and money.
Pay Both Hourly and Salaried Workers – You can easily pay both your hourly and salaried workers with the taxes and withholding details handled compliantly through Remote.
Employee Management – Within Remote, you can review and approve employee time off requests and track their working hours and attendance records.
Capterra Score: 4.8
G2 Score: 4.6
Employer of Record Alternatives & Options
Employer of Record VS Professional Employer Organization (PEO)
Now that you know more about employer of record companies, let's explore an alternate solution, PEO companies, and how they differ from EORs.
Professional Employer Organizations handle similar HR tasks such as compliance, onboarding, and payroll.
However, the main difference between PEOs and an EOR is that an EOR is the sole, legal employer of a company's extended workforce. At the same time, a PEO is a company's co-employer. When you engage a PEO, you essentially enter into a co-employment relationship with them in which both you and the PEO jointly share the employer role.
Employer of Record VS Staffing Agency
A staffing agency matches businesses with recruiting candidates who fill a temporary staffing need, whether that be due to an extended employee absence or for a specific project. While staffing agencies help to vet and recruit temporary to mid-term employees, they do not actually hire those employees on behalf of the company, as an EOR does.
They simply pass along those top recruits for the company to hire and employ as they see fit. It is then the company's responsibility to hire and onboard that employee.
Employer of Record VS Independent Contractors
If you're exploring HR for startups or HR for small businesses, you may utilize independent contractors as your business is getting off the ground.
Independent contractors are not full-time employees at a company and are typically hired as consultants or for specific business functions.
While independent contractors are a great way to begin or supplement your staffing needs, as your business scales and budgets increase, you may look to convert those contractors to full-time employees or hire net-new full-time employees in new markets, which is where an EOR can be extremely helpful.
---
People Also Ask These Questions About Employer of Record Services
Q: How do you select the right employer of record?
A: When selecting the right employer of record, you should confirm that the EOR has coverage in your target markets, has competitive pricing & service levels, and can effectively manage the employer's responsibilities in a compliant manner.
Q: When should you use an employer of record?
A: You should use an employer of record if you're looking to quickly expand and hire in a new market without setting up a new business entity. If you're looking to attract top talent and avoid compliance issues, an EOR is likely the right fit for you.
Q: How is an employer of record different from a PEO?
A: An employer of record is different from a PEO because an EOR is the sole, legal employer of a company's extended workforce while a PEO is a company's co-employer.
Q: What is an international EOR?
A: An international EOR is a third-party company that enables businesses to hire, onboard, pay, and manage their global employees.
Q: How much do employers of record cost?
A: Most employers of record typically utilize flat fee structures that cost anywhere from $150 – $800 per month for an employee, depending on your coverage needs. In addition to these fees, there are also setup costs that will factor in as well.