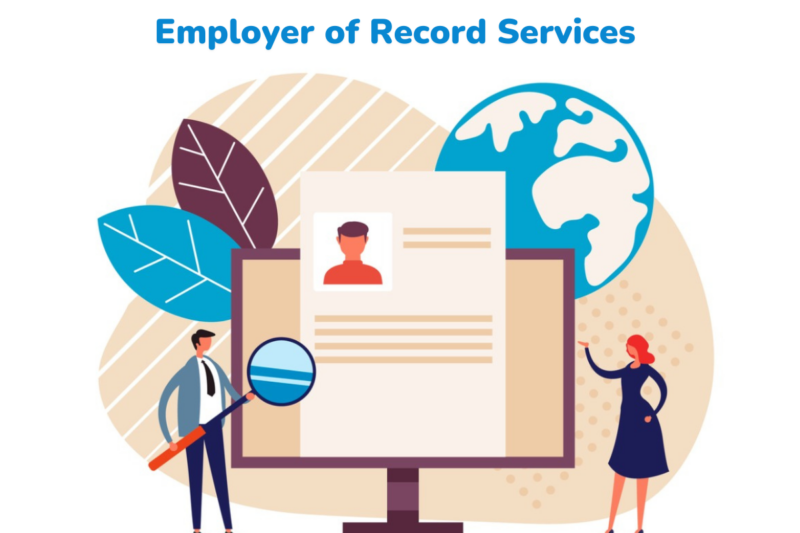 Global employment can be a challenge for any HR, manager, or employer looking to build and maintain an effective international team.
With so many challenges—language barriers, cultural differences, and different payroll laws in each country—finding the right solutions can quickly become overwhelming.
The good news?
There are several excellent Employer of Record Services available today that offer comprehensive services across borders and provide employers with all the tools they need to successfully manage their global teams.
In a hurry? Take a look at top EOR software for managing HR & payroll:

In this post, we'll examine the best Employer of Record Services on the market today and explore how these services can help companies run successful global teams while keeping full compliance with local laws and regulations.
Approximately 50% of companies around the world actively recruit talent from other countries to fill critical positions.
Click To Tweet
Want to become a better professional in just 5 minutes?
Page Contents (Click To Jump)
What Is An Employer Of Record Service?
An employer of record is a third-party provider that acts as the official employer for employees in different countries.
This service helps employers navigate the complexities of international employment laws, such as tax and labor laws. Employers of record services are an invaluable tool for businesses looking to expand into foreign markets without having to set up legal entities, hire local staff, or manage compliance themselves.
With a global employer of record service, companies can quickly and easily deploy talented professionals in new locations with minimal effort.
What Are The Benefits Of Using EOR Services For Global Companies?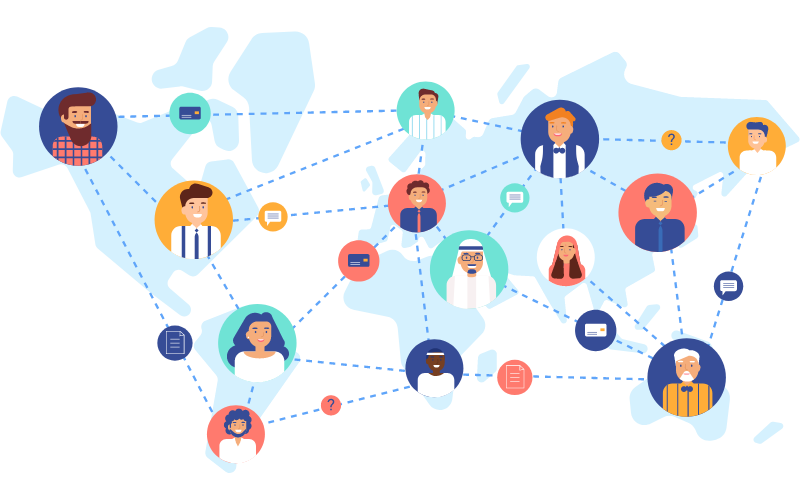 Benefit 1 —  📉  Reduced Administrative Costs
Employer-of-record services can help companies reduce their administrative costs, as they no longer need to invest resources in managing employee payroll, global benefits (such as time off, healthcare, and more), taxes, and other HR-related functions.
Benefit 2 — ⏰  Fixed Payroll Processing Time
Employer of record services can provide a fixed timeline for processing payrolls, which takes the guesswork out of when an employee will receive their salary and helps ensure that global teams are paid on time.
Benefit 3 —  🤝  Compliance Support
Working with a reliable EOR provider ensures that a company is in compliance with local laws and regulations wherever it has employees or independent contractors located. This reduces the risk and saves money associated with non-compliance fines whether they're looking to hire contractors or to make long-term hires. An EOR can even function like a defacto global staffing agency.
Benefit 4 —  ✅  Streamlined Onboarding
EOR services can provide a streamlined onboarding process for both employers and employees. This helps maximize efficiency by minimizing unnecessary steps in the global hiring process.
Benefit 5 —  👩🏽‍💻  Access to Expertise
Working with an experienced EOR provider gives companies access to local knowledge, expertise, and resources that would not otherwise be available. This is especially important when working across multiple countries or jurisdictions.
Best Employer Of Record Companies & Platforms
👍🏼 Best for: Serving as a dedicated cloud-based platform that simplifies global payroll, workforce management, and HR operations

With Papaya Global, companies can expand almost anywhere in the world without a local entity. Papaya Global will reduce the risk and complexity as you grow. This one dedicated platform is designed to meet all your global EOR needs, manage your workforce across 160+ countries, get 100% locally compliant payroll software, and make safe, simple, and fast global payments.
🏆 Why we love this employer of record provider: We appreciate Papaya Global's automation capabilities that reduce manual errors. Besides, the platform's customer support team is dedicated and provides prompt assistance, creating a positive user experience, work experience, and building trust in the platform.

🌟 Standout Features
1. Workforce Management: With Papaya Global, users can efficiently onboard and manage their global workforce through a centralized system, enabling seamless collaboration, employee data tracking, and performance management across various locations.
2. Data Security and Privacy: Papaya Global prioritizes data security, employing industry-leading measures to safeguard sensitive employee information, adhering to strict privacy standards, and maintaining GDPR compliance.
3. Reporting and Analytics: The platform provides comprehensive insights and customizable reports on payroll, workforce analytics, and HR metrics, empowering users to make informed decisions, optimize processes, and enhance overall business performance.
"Papaya supports our global expansion, by enabling us to recruit, relocate and retain employees anywhere" – Michal Wachtel, HR Operations
👉🏻 Perfect global payroll & HR with Papaya Global.
👍🏼 Best for: Diving into global markets, scaling fast, and providing a world-class experience for your international dream team.

Deel is a leading global platform designed to streamline the hiring, onboarding, and payment processes for international teams. With compliance across 150+ countries, it enables businesses to effortlessly hire and manage remote talent while ensuring adherence to local labor laws and tax regulations.
🏆 Why we love this employer of record provider: Deel makes hiring easy and cost-effective by eliminating the need for a local business entity setup. With Deel, you can get set up and start hiring within a week without incurring setup costs of up to $200,000. Additionally, Deel ensures that you don't have to worry about ongoing payroll admin costs.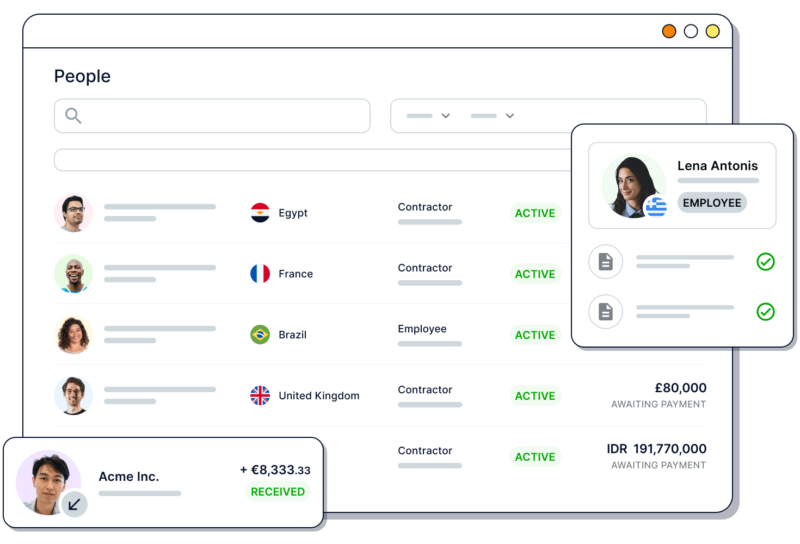 🌟 Standout Features
1. Locally Compliant Contracts: Deel can automatically create contracts that comply with local laws and regulations for over 150 countries. This ensures that employment agreements are tailored to each country's legal requirements.
2. Automated Payroll: Deel offers a platform that automates and outsources global payroll, allowing for payments in multiple currencies and handling tax withholdings and benefits. By eliminating the need for manual management, the platform provides a hassle-free payroll experience and helps prevent potential errors.
3. Compliance Documentation Management: Deel allows companies to conveniently centralize and organize all their compliance-related paperwork, such as tax forms and identity verification documents. This simplifies the auditing process and ensures that businesses comply with regulatory requirements at all times.
"Deel makes it incredibly easy to hire international contractors and employees who require EOR arrangements to stay compliant in their home countries." – Grace Mckenzie, Operation Leader at PostHog
👉🏻 Build your international dream team with Deel!
👍🏼 Best for: Building a global workforce that feels cared about

Oyster's Employee of Record (EOR) software is a comprehensive solution designed to streamline global workforce management for businesses. Acting as the official employer, Oyster takes care of payroll, benefits administration, tax compliance, and HR-related tasks for remote employees in different countries, allowing companies to expand their teams across borders without setting up legal entities abroad. On top of that, the personalized support from Oyster's team of HR and compliance experts further enhances the user experience, offering valuable guidance and assistance throughout the employment journey.
🏆 Why we love this employer of record provider: Users love Oyster's Employer of Record (EOR) software for its hassle-free approach to global workforce management, allowing businesses to hire talent from around the world without legal complexities. The platform's comprehensive services, including payroll, benefits, and tax compliance, provide a one-stop solution for managing remote employees across multiple countries.

🌟 Standout Features
1. Global Employment Templates – Access expert-created resources of vetted global employment templates to strengthen your global recruitment team.
2. Benefits Advisor – This feature provides information on the types of benefits offered by companies in popular hiring locations, including statutory, basic, good, and best-in-class benefits.
3. Contractor vs Full-Time Employee Analyzer – If you're considering hiring a contractor as a permanent employee, use Oyster's tool provided to evaluate possible risks and estimate costs.
"Without a solution like Oyster, it's not even worth the hassle. You just end up deciding, 'We're not going to hire there.' It basically restricts you from getting access to talent. Oyster takes that all away. That's what makes Oyster great." – David Dawoud, Head of People at Demodesk
👉🏻 Find talented employees for your business with Oyster!
👍🏼 Best for: Employing talent anywhere in the world quickly, compliantly, and seamlessly.

Multiplier can help businesses legally and efficiently engage with workers in a new country without the need to set up a local entity. It acts as the legal employer for your overseas employees, handles payroll, taxes, benefits, and expenses, and ensures compliance with local labor and tax laws.
🏆 Why we love this employer of record provider: We love Multiplier due to its ability to expedite the hiring process, enabling international talent onboarding to be completed legally and compliantly within a few days.

🌟 Standout Features
1. ESOP Administration: Multiplier can issue employee stock ownership plans to international hires.
2. Comprehensive Payroll Management: This employer-of-record service assists companies in handling payroll across different currencies while taking into account tax deductions and benefits.
3. Customizable Employment Contracts: Multiplier provides customized employment contracts that comply with local labor laws. This makes international employment contracts more secure while offering flexibility to businesses.
"Multiplier helped us expand to multiple markets in APAC within the same month. The whole process was efficient and seamless and saved us a lot of time." – Catherine, Head of Operations at Mid Market
👉🏻 Employ talent anywhere in the world with Multiplier
👍🏼 Best for: Giving companies the most cost-effective, scalable, and secure way to hire employees in other countries

As an employer in various countries, Remote offers services like payroll management, tax compliance, benefits administration, and other HR-related tasks.
By doing this, Remote simplifies international employment for companies and allows them to concentrate on expansion. Additionally, Remote's platform automates the process of onboarding and offboarding remote employees, including the provision of hardware, software, and access to company resources.
🏆 Why we love this employer of record provider: Remote's Employer of Record (EOR) software is highly praised by users for its seamless facilitation of global expansion. This allows businesses to hire talent from anywhere in the world without having to establish legal entities in each country, bringing significant savings in time and resources. The platform provides comprehensive support for payroll, compliance, and HR, ensuring smooth and accurate operations.

🌟 Standout Features
1. Employee Cost Calculator: The free employee cost calculator by Remote displays the expenses of hiring an employee in a different country. It aids in better budgeting for your global team.
2. Comprehensive Benefits Administration: Remote's EOR software provides a wide range of employee benefits, including health insurance, retirement plans, and other perks, simplifying benefits administration and offering a competitive compensation package to attract top talent.
3. Personalized Support and Guidance: Remote offers dedicated support from a team of HR and compliance experts, assisting businesses in navigating complex international employment challenges and providing timely assistance throughout the entire employment lifecycle.
"For us, the platform saves so much time. Without it, we wouldn't be able to manage all the compliance paperwork internally, and remain as agile as we are today." – Li-ran Navon, CEO & Founder of Sauce
👉🏻 Scale your hiring securely with Remote!
👍🏼 Best for: Hiring, paying, and managing people worldwide


Rippling's Employee of Record (EOR) software acts as the official employer for remote employees across various countries. It takes care of payroll, benefits, tax compliance, and HR-related tasks, which simplifies the complexities of international employment.
🏆 Why we love this employer of record provider: Companies that use Rippling's EOR services can hire talent globally without having to establish legal entities in each country. This makes global expansion smoother and reduces operational expenses. The platform guarantees full compliance with local regulations, giving businesses the assurance they need.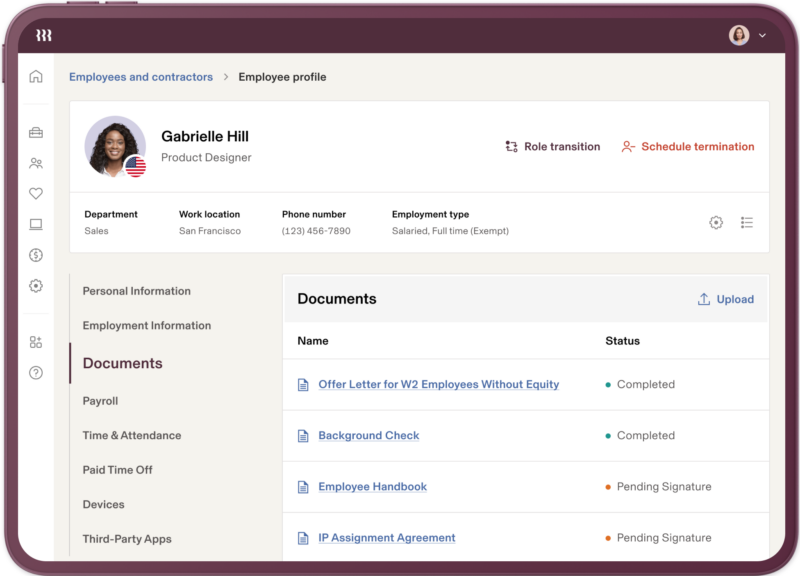 🌟 Standout Features
1. Automated Onboarding and Offboarding: The onboarding process is made easier by Rippling, which automates the provision of hardware, software, and access to company resources. It also simplifies offboarding tasks to guarantee a pleasant experience for both new hires and departing employees.
2. Benefits Administration: This EOR platform makes it easier to manage benefits by offering automated enrollment, compliance monitoring, and access to a range of insurance plans, retirement options, and other forms of employee recognition, rewards, and perks. This ensures that your company's benefits package remains competitive and appealing to employees.
3. Integrated IT Management: Rippling's IT Management feature simplifies the management of user permissions, devices, and applications by centralizing access and security controls. This provides a secure and efficient way to oversee an organization's digital assets.
"It's just easy. Payroll is really quick — I just compare pay runs and it takes me 10 minutes, where it used to take hours." – Dan Giancola, CFO of Double Good
👉🏻 Manage your people with Rippling!
👍🏼 Best for: Handling complex legal, tax, and compliance aspects


Remofirst is designed to change the way businesses handle their global remote workforce. Remofirst simplifies the entire process of hiring, onboarding, and managing remote employees worldwide.
It is a useful tool for businesses regardless of size, from startups to multinational corporations, helping them succeed in the remote work era.
🏆 Why we love this employer of record provider: Remofirst is a popular platform among users because it simplifies the management of a global remote workforce while providing peace of mind. With an intuitive interface and streamlined processes, onboarding and managing remote employees is made easy, saving users time and resources. Moreover, Remofirst's strong compliance and legal support give users the confidence to expand their talent pool globally without worrying about complex administrative tasks.

🌟 Standout Features
1. Time Tracking: Keep track of remote employees' work hours and productivity to optimize resource allocation and project management.
2. HR Documentation: Generate and store essential HR documents, contracts, and policies securely in one centralized platform.
3. Multilingual Support: Communicate effectively with international team members in their native languages, fostering a collaborative work environment.
"Remofirst allows us to compliantly hire and manage employees in countries where we don't have an entity, in a cost-effective manner. This is helping Creatio scale its team worldwide and save time and costs while doing so! They had the best pricing of all the EORs we talked to, and the process of getting started was smooth even though we had a lot of questions. Their team is very kind and attentive in their support, and the platform has been easy to navigate. We just finished our onboarding and are excited to be working with Remofirst!" – Olivia H, Global HR Manager at Creatio
👉🏻 Maximize your remote effectiveness with Remofirst!
👍🏼 Best for: Giving companies flexible workforce management to navigate modern work

Atlas is the key to building a solid global talent infrastructure. With Atlas, you can conveniently expand your team across borders, no need for a local entity. This EOR platform and solution takes on the role of the legal employer, tackling the countless challenges of employing international teams.
🏆 Why we love this employer of record provider: Once you discover the exceptional talent, Atlas takes charge of the entire employee lifecycle, from seamless onboarding to efficient payroll processing. The platform and the team behind it assists you as you navigate the complexities of global compliance.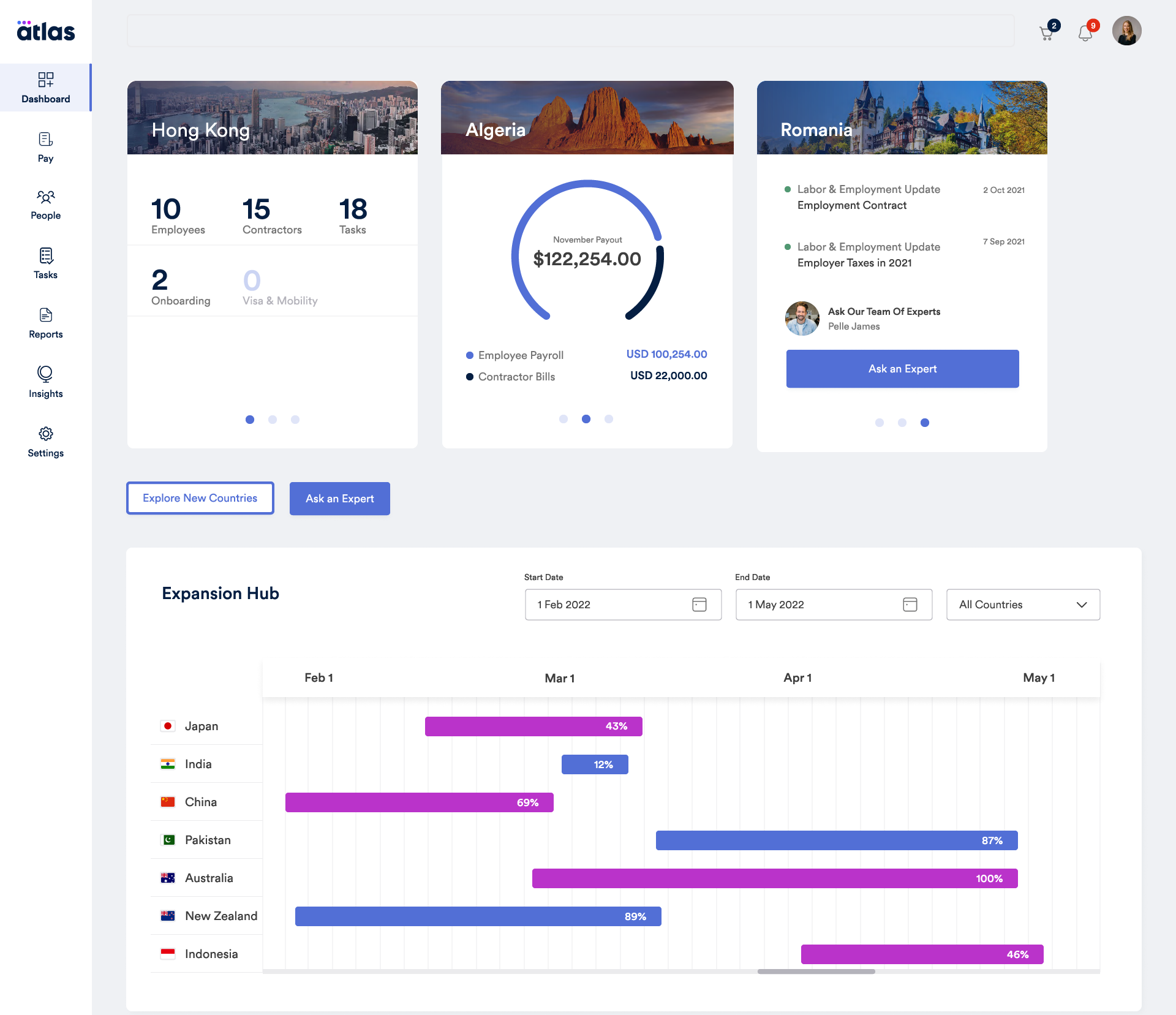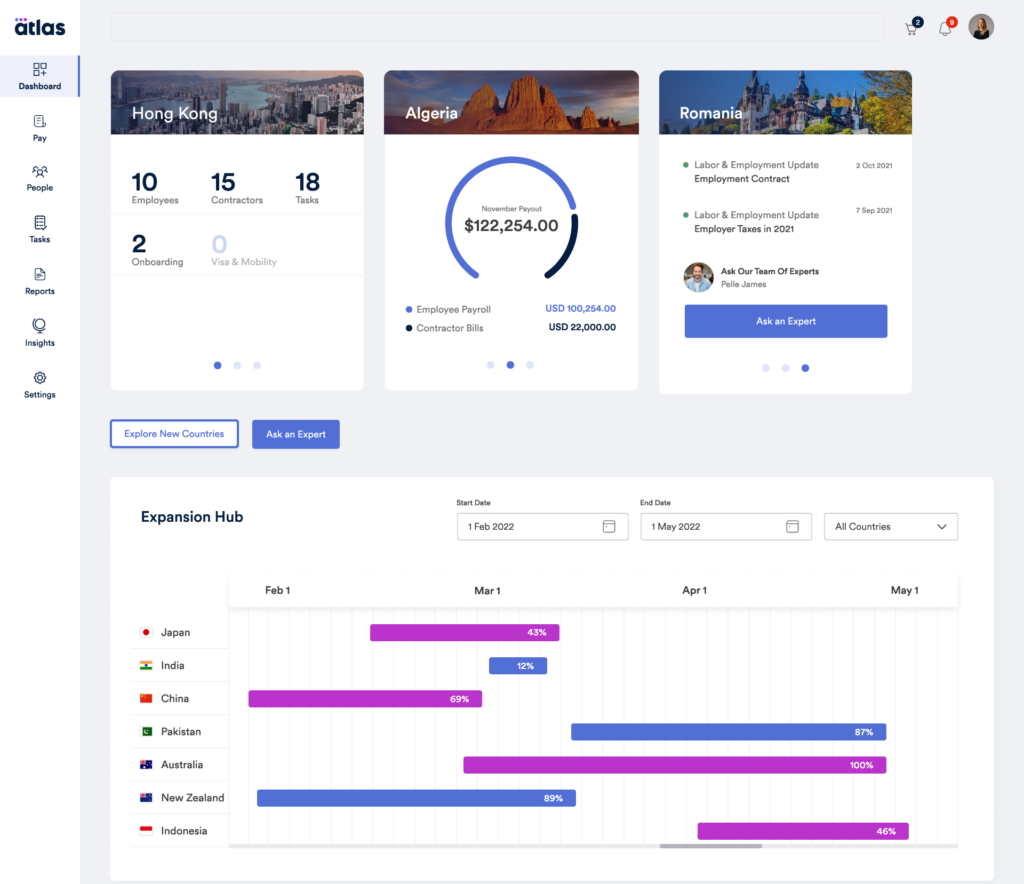 🌟 Standout Features
1. Visa Sponsorship: Atlas provides a complete range of immigration and relocation services, managing the entire mobility process for your valuable talent and their dependents. With its unparalleled expertise and unwavering dedication, you can confidently navigate the complexities of relocation and ensure a smooth transition for your team.
2. EOR Payroll: Experience the power of a central dashboard that effortlessly manages salaries, commissions, and contractor invoices. Gain instant visibility into benefits, expenses, and robust reporting.
3. M&A Portfolio: Atlas helps assist you when it comes to merging or acquiring companies outside your home country. It aids in compliance requirements for payrolls, taxes, and benefits can be overwhelming across borders.
"Atlas provides direct technology-enabled global employer of record and HCM services supported by the company's recently launched technology stack, Atlas HXM. The company's humanitarian focus promotes diversity and equality for its clients, worksite employees, and internal employees. Atlas' flexible approach to EOR services, broad industry experience and inclusive culture validates its positioning as a Leader in this year's NelsonHall NEAT analysis." — Jeanine Crane-Thompson, Principal HR Research Analyst at Nelson Hall
👉🏻 Open up a new world and unlock global talent with Atlas!
👍🏼 Best for: Helping businesses thrive globally while being fully compliant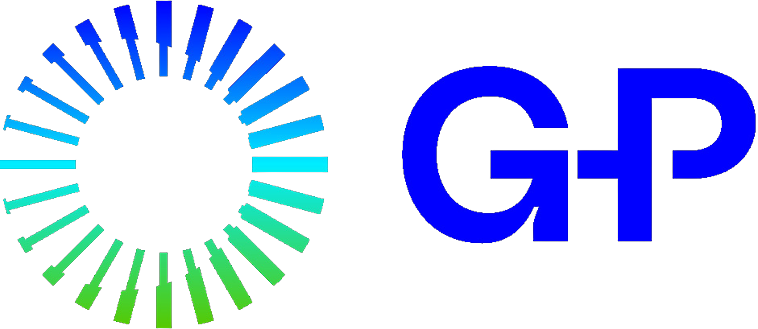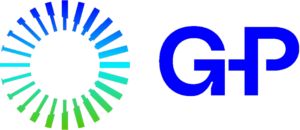 Globalization Partners revolutionizes international business by giving organizations the lift needed to expand into new countries, bypassing the need to establish subsidiaries.
As one of the foremost Employer of Record (EOR) services, it expertly handles the intricate legalities and administrative tasks of global employment on behalf of companies, freeing these organizations to fully dedicate themselves to their employees and thriving business operations.
🏆 Why we love this employer of record provider: Globalization-Partners is the undisputed industry leader, offering the world's first fully customizable suite of global employment products. This innovative EOR service addresses the entire global employment lifecycle, empowering businesses to thrive on a global scale like never before!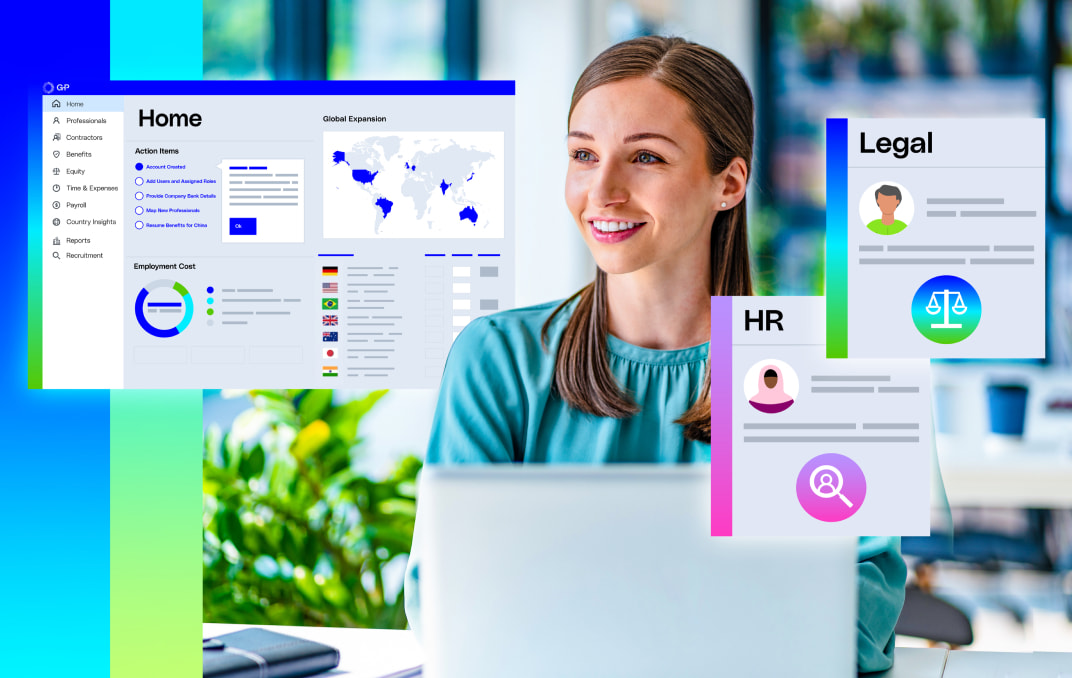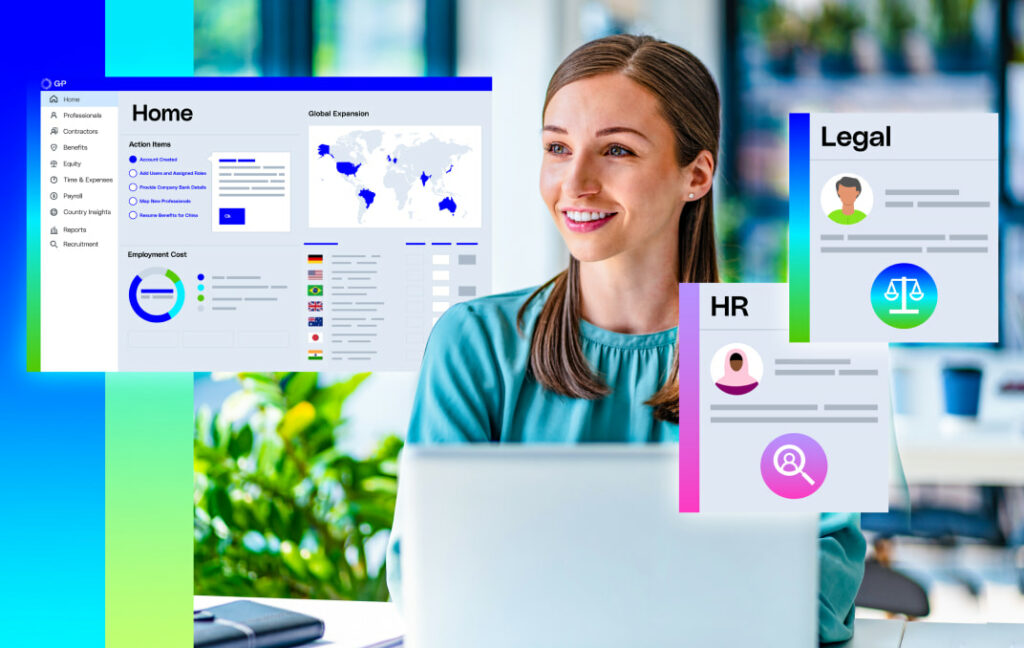 🌟 Standout Features
1. Onboarding and Offboarding: Enjoy a more efficient process for bringing new employees on board and effectively managing departures.
2. Expertise: A team of experts that possesses extensive knowledge and expertise in employment laws, tax regulations, and compliance mandates across multiple countries helps you stay compliant and thrive in the global market.
3. Centralized Platform: This all-in-one cutting-edge software platform lets clients manage their global team, ensuring optimal communication and smooth-running operations.
"Globalization Partners has proven to be an outstanding solution for our company. The customer service team demonstrates a high level of professionalism, and they are always ready to help by providing an excellent service. One last thing worthy of emphasizing is the platform's exceptional user-friendliness." — Karger
👉🏻 Expand your talent search beyond borders with GP!
👍🏼 Best for: Facilitating hassle-free people-first global human resources

GoGlobal can help you hire the most skilled individuals from around the world without having to worry about legal concerns related to global human resources. The organization is a top PEO with global reach that handles the employment of your international staff, simplifying the complex regulations of international employment and allowing you to focus on developing talent and expanding your business.
🏆 Why we love this employer of record provider: Users love GoGlobal for its unparalleled expertise in global employment compliance, which ensures a smooth and risk-free expansion into new international markets. GoGlobal is your company's local HR staff that provides language fluency and a cultural understanding to support your global team.

🌟 Standout Features
1. Real-time Reporting: Gain valuable insights into workforce analytics and financial data with customizable real-time reports and dashboards.
2. Immigration and Visa Support: GoGlobal assists with visa processing and immigration requirements, simplifying the process of relocating employees to different countries.
3. Expense Management: Users can track and manage expenses related to global employees, streamlining reimbursement processes and financial reporting.
"I would love to recommend GoGlobal's team. For now, we work together in Japan, but I plan to expand our work together to more territories as they have been super professional and easy to communicate with (fast response, great communication skills in English, which could be challenging sometimes)" – Maya Sender, Human Capital Director, SWAT/Ministry of Movement PTE. LTD
👉🏻 Put people first globally with GoGlobal!
---
People Also Ask These Questions About Employer of Record Services
Q: Why should you use an EOR when hiring international employees?
A: Employer of Record (EOR) services can be an indispensable tool for companies that want to hire employees in a foreign jurisdiction. EORs provide employers with the necessary administrative support needed to comply with local labor laws, which would be difficult and time-consuming if the company were to try and do it themselves. Using an EOR also allows the company to reduce its risk of entering an unknown legal environment while also decreasing the time it takes to hire and onboard new employees.
Q: What is the difference between an EOR and a PEO?
A: An Employer of Record (EOR) is an entity that provides administrative services related to hiring employees in a foreign jurisdiction. They are responsible for issuing paychecks, withholding taxes, and managing local employee benefits according to the specific country's laws. On the other hand, a Professional Employer Organization (PEO) is a company that specializes in providing comprehensive HR solutions such as payroll, benefits, and employee engagement for businesses. While EORs are focused on the administrative aspect of hiring employees abroad, PEOs provide a more comprehensive suite of services to help companies better manage their HR.
Q: Does an employer of record offer global payroll services?
A: Yes, employer of record services typically offer global payroll solutions to their clients. An EOR will manage all payroll-related tasks such as issuing paychecks, withholding taxes, and managing local employee benefits according to the specific country's laws. They also provide assistance with auditing, compliance, and filing required documents in order to ensure that companies are compliant with local regulations.
Q: Do EOR platforms offer benefits for global workers?
A: Yes, many employer of record services offer benefits for global workers as part of their suite of services. An EOR can help employers manage employee benefits according to local regulations in each country, and they also provide assistance with auditing, compliance, and filing required documents in order to ensure that companies are compliant with local laws. In addition to this, they may also offer a variety of additional benefits such as health insurance, pension plans, and more.
Q: Can you use an employer of record company to hire in multiple countries? 
A: Yes, many employer of record companies offer services in multiple countries. This can be a great way for companies to simplify the process of hiring and onboarding international employees by having one central point of contact that can manage all the administrative tasks associated with the hiring process.