Did you know that a company's success hinges, in large part, on its recruitment strategy?
In this dynamic business landscape, finding the right talent is not just an HR task – it's a competitive advantage.
With a plethora of candidates and limited key roles, how do visionary companies ensure they're always a step ahead in the hiring game? The secret weapon: cutting-edge technology, specifically CRM tools tailored for recruitment.
In a hurry? Take a look at some of our favorite recruitment software:

CRM for recruiting allows companies to engage with passive candidates, build talent pools for future roles, and streamline communication with potential hires, enhancing the overall candidate experience.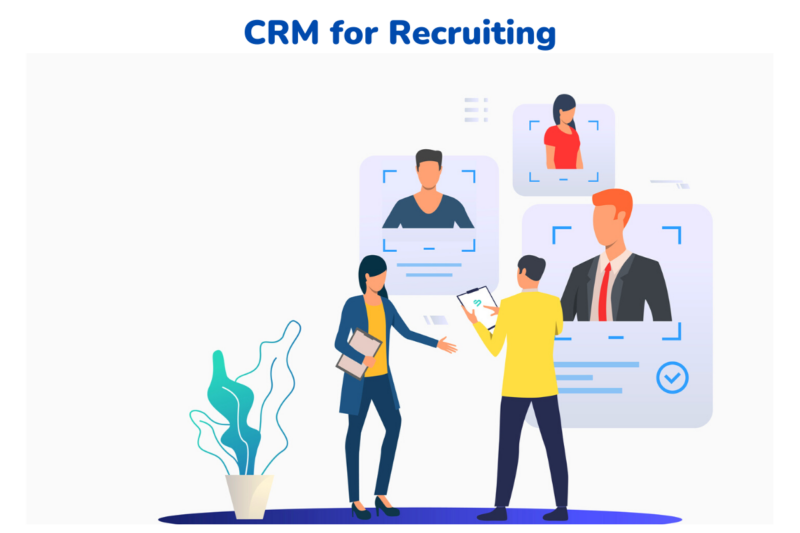 CRM in recruiting can increase your candidate pool by 10 times, broadening options and improving match quality Click To Tweet

Imagine bidding adieu to chaotic spreadsheets, disjointed email threads, and manual tracking. Envision a seamless, unified platform that handles sourcing, interviewing, and onboarding with finesse. Tempting, isn't it?
That's why we've compiled the top CRM for recruiting software platforms, each promising to transform recruitment for businesses.
So, Are you ready to level up? Let's get started!
Want to become a better professional in just 5 minutes?
Page Contents (Click To Jump)
What IS CRM for Recruiting?
Candidate Relationship Management (CRM) refers to the strategies, processes, and technologies used by recruiters and hiring managers to attract, engage, and maintain relationships with potential job candidates.
It's similar in concept to Customer Relationship Management in sales and marketing but is tailored to the unique needs and challenges of the talent acquisition world.
In essence, CRM for recruiting is all about building and nurturing long-term relationships with potential candidates. In an increasingly competitive job market, having a robust CRM strategy can make the difference between securing top talent and missing out.
Benefits of Using CRM for Recruiting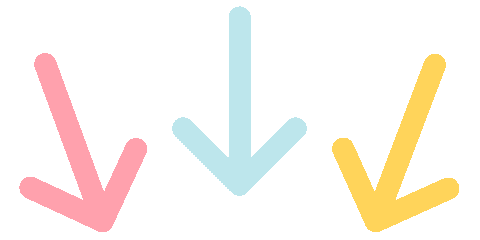 🔷 Proactive Talent Acquisition: While traditional Applicant Tracking Systems (ATS) focus on managing applicants, a CRM system targets passive candidates who might not be actively looking for a job but are potential fits for future vacancies. It helps companies build and maintain a talent pool, ensuring they have a steady stream of potential candidates.
🔷 Candidate Engagement: CRM tools enable recruiters to maintain regular communication with potential candidates. This could be in the form of personalized messages, updates about the company, or sharing relevant job openings. It helps keep the company top-of-mind for candidates when they're considering a job change.
🔷 Centralized Database: All interactions with a potential candidate, be it emails, social media messages, or notes from phone calls, are stored in one place. This gives recruiters a comprehensive view of the candidate's relationship history with the company.
🔷 Data-Driven Insights: Advanced CRM tools offer analytics that help recruiters understand the effectiveness of their engagement strategies. This could include metrics like engagement rates, source of best candidates, and time taken to fill a position.
🔷 Improved Candidate Experience: CRM systems allow for a smoother and more personalized candidate experience. From the first point of contact to onboarding, candidates receive consistent and relevant communication, enhancing their perception of the company.
🔷 Segmentation: Recruiters can categorize candidates based on skills, experience, location, or any other criteria, ensuring that communication is tailored and relevant.
🔷 Integration with Other Tools: Many CRM systems can seamlessly integrate with existing ATS, HR software, or other recruitment tools, providing a unified platform for all recruitment activities.
Best CRM for Recruiting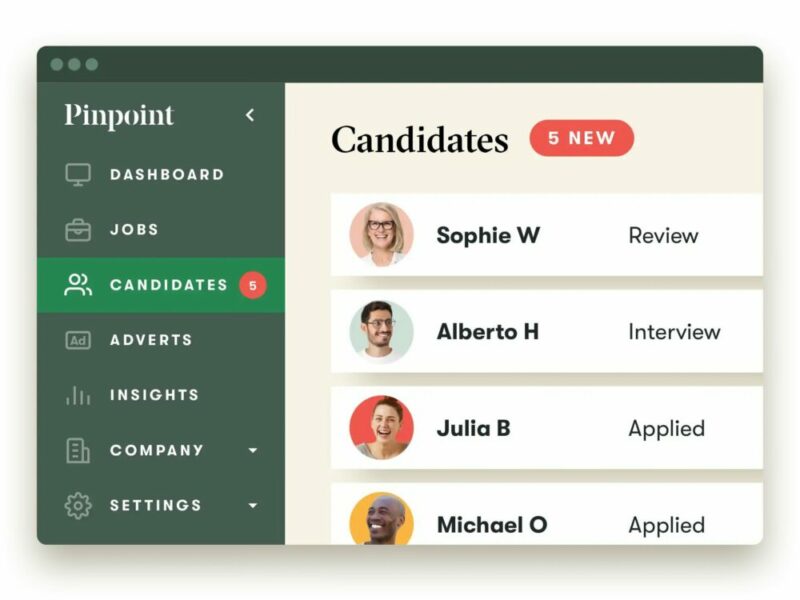 Pinpoint is not just another recruitment CRM. It infuses automation into the hiring process, allowing businesses to target potential talent proactively. It minimizes manual interventions, ensuring recruiters spend time on tasks that truly matter, like building relationships with potential hires.
⭐️  Standout Features:
❇️ Marketing Automation: Nurtures talent through meticulously crafted campaigns.
❇️ Advanced Analytics: Regularly refine your recruitment strategy using data-driven insights.
❇️ Candidate Portal: A dedicated space ensuring candidates stay engaged and informed.
"The ability to automate the scheduling of interviews is a massive time saver and this on its own is worth the investment in the platform."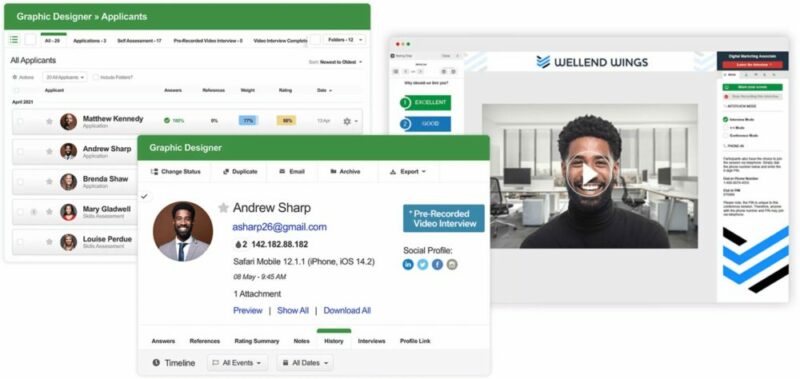 VidCruiter pioneers a video-centric approach to recruiting. In an era where remote work and digital interactions are commonplace, VidCruiter's tools cater to modern recruitment challenges, making geographical constraints irrelevant.
⭐️  Standout Features:
Automated Scheduling: Smart tools that minimize administrative overhead.
Structured Digital Interviews: Consistency in every candidate interaction.
"I love the automatic scheduling, video call option and ratings integration."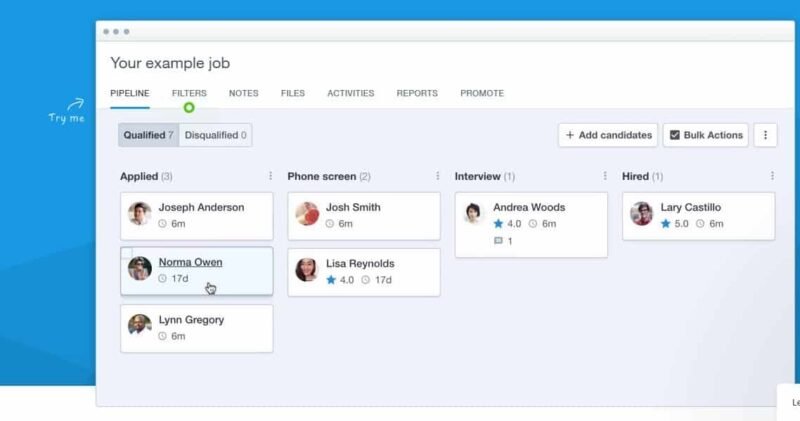 Recruitee is designed to keep recruiters in mind. Its user-friendly interface, combined with a range of powerful tools, ensures that recruitment teams, big or small, can function at their peak efficiency. Whether it's creating a new job posting or nurturing a talent pipeline, Recruitee has got it covered.
⭐️  Standout Features:
Drag & Drop Pipeline: Visualize and manage your recruitment stages.
Recruitment Analytics: Decipher trends and adjust strategies on the fly.
Branded Career Sites: A unique window for potential hires to peek into your company's world.
"Kanban style progress through applicant tracking system, fast paced development of new features and integrations, fantastic support, great prices."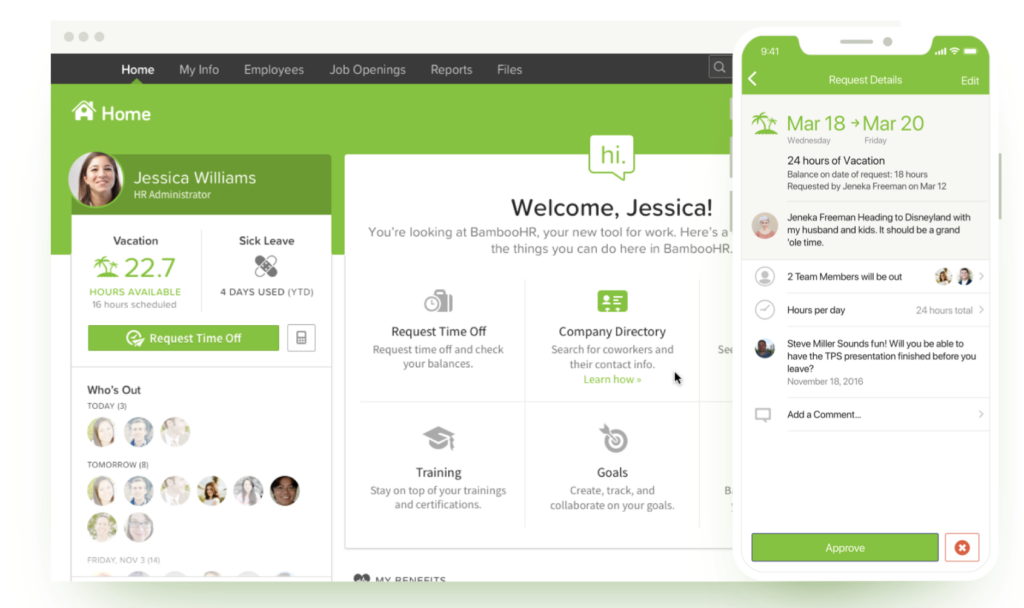 BambooHR goes beyond traditional CRM capabilities, acting as a holistic HR management tool tailored to meet the needs of small and medium businesses. Its interface is user-friendly and is designed to reduce the administrative burden often associated with hiring processes. BambooHR's expansive feature set covers not just recruitment, but extends into onboarding and employee management, ensuring a cohesive employee experience from the point of hire through their career trajectory.
⭐️  Standout Features:
ATS (Applicant Tracking System): Efficiently manage every candidate touchpoint, ensuring no potential hire falls through the cracks.
Employee Onboarding: Minimize manual processes with digitized onboarding checklists, paperwork, and orientation schedules.
Performance Management: Facilitate meaningful feedback loops and evaluations, ensuring that the transition from recruitment to ongoing performance management is seamless.
"It's quite nice to have a central hub for most of the information I need as an employee of a growing company. It has a nice user interface and all seems pretty intuitive to operate."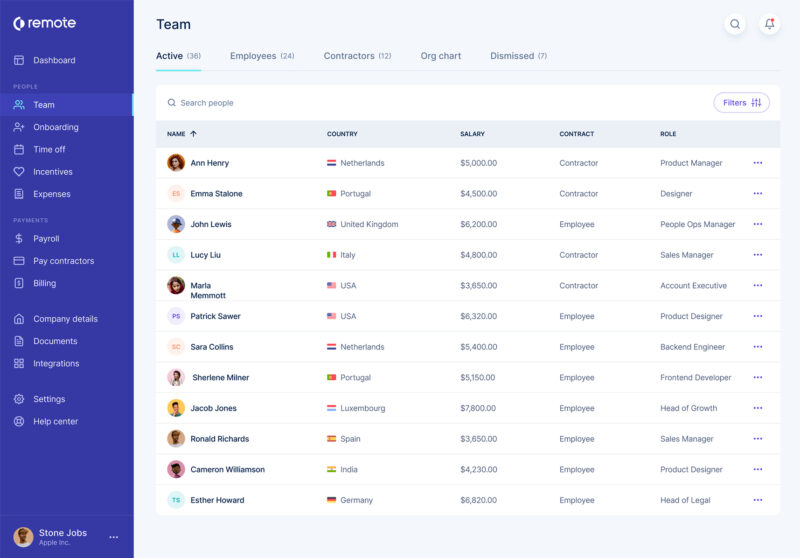 Remote is engineered for the global workspace. It's the answer for businesses that operate without borders, aiming to tap into global talent pools. Especially for companies embracing a remote-first approach, Remote provides tools that go beyond recruitment, assisting with the complexities of international employment, ranging from compliance to compensation.
⭐️  Standout Features:
Global Employment & Payroll: Simplify the complexities of paying employees across different geographies and tax systems.
International Compliance: Stay abreast of the continually evolving landscape of labor laws across different countries, ensuring your operations remain compliant.
Global Benefits & Perks: Design compensation packages that are not only competitive but also aligned with local customs and expectations.
"Remote has allowed us to solve our employment needs in markets in which we don't currently have a legal entity in place. It's allowed us to access amazing talent who are based all around the world."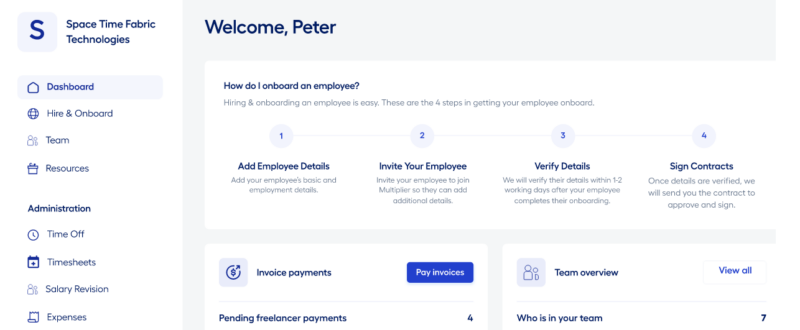 Multiplier is a great tool for businesses seeking to create a global footprint in their operations. Recognizing the intricacies of international hiring, Multiplier offers an integrated platform that addresses the nuances of onboarding, compensating, and managing international talent. Its comprehensive feature set ensures that companies can focus on acquiring top talent, without being bogged down by administrative challenges.
⭐️  Standout Features:
Country-Specific Contracts: Address the specific employment requirements of each country with automatically generated contracts that adhere to local laws.
Worldwide Payroll: Simplify global payroll, taking into account currency conversions, local tax deductions, and other country-specific factors.
Local Benefits: Offer benefits that resonate with local culture and preferences, ensuring your compensation packages are attractive and competitive.
"The quick onboarding on the Multiplier platform helped us employ talent for our business very rapidly."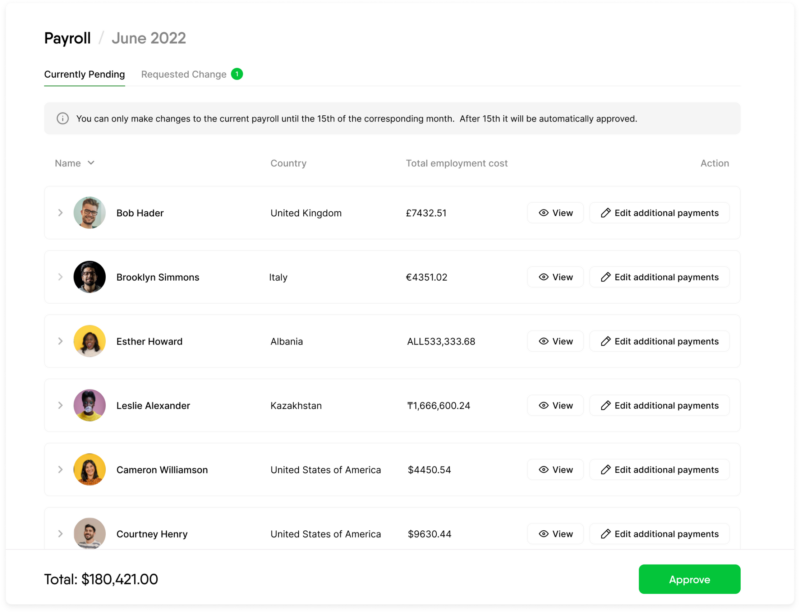 Remofirst is an excellent choice for businesses that prioritize remote work. It tackles the unique challenges of managing a dispersed workforce and offers solutions that address everything from recruitment to productivity analytics. Whether it's synchronizing teams across time zones or ensuring that remote onboarding feels just as personal as in-person orientations, Remofirst is equipped to handle it.
⭐️  Standout Features:
Virtual Onboarding: Craft memorable onboarding experiences that ensure new hires feel connected and integrated, irrespective of their location.
Timezone Management: Schedule team meetings and collaborations without the time zone headaches, ensuring global teams function in harmony.
Remote Work Insights: Gain deep insights into how your remote teams operate, identify productivity bottlenecks, and craft strategies for continual improvement.

"With Remofirst we've been able to hire full-time employees in 7 countries with the best pricing across other EORs that we got quotes from. We offer them health insurance and pay them in local currencies which has been so great and east for our team."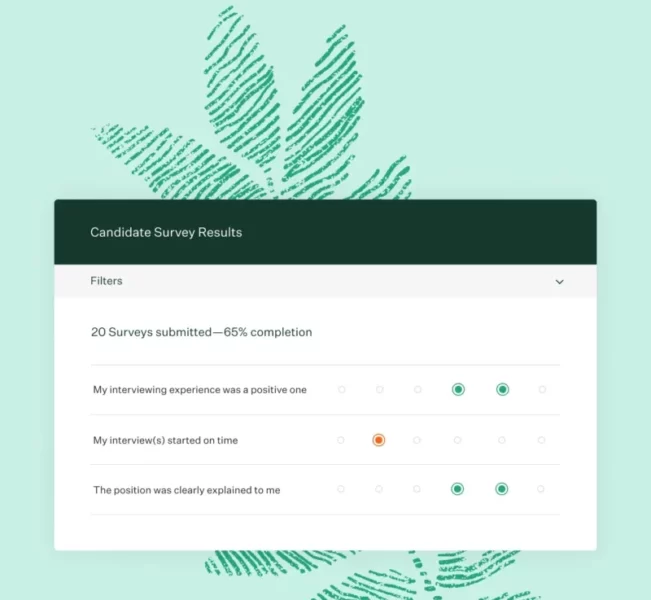 Greenhouse, a heavyweight in the recruitment software arena, is recognized for its comprehensive toolset. It addresses every phase of recruitment, from candidate sourcing to final onboarding. Greenhouse aids businesses in cutting down lengthy recruitment cycles, reduces hiring biases, and ensures that every candidate undergoes a consistent evaluation process.
⭐️  Standout Features:
Structured Hiring: Streamlines decision-making with a proven framework.
Integration Ecosystem: Links effortlessly with a wide array of platforms, amplifying its utility.
Candidate Experience: A mobile-optimized and intuitive process ensures candidates have a positive experience from the get-go.
"Greenhouse is a good ATS so far for recruitment, and helping to find quality candidates throughout the recruitment process."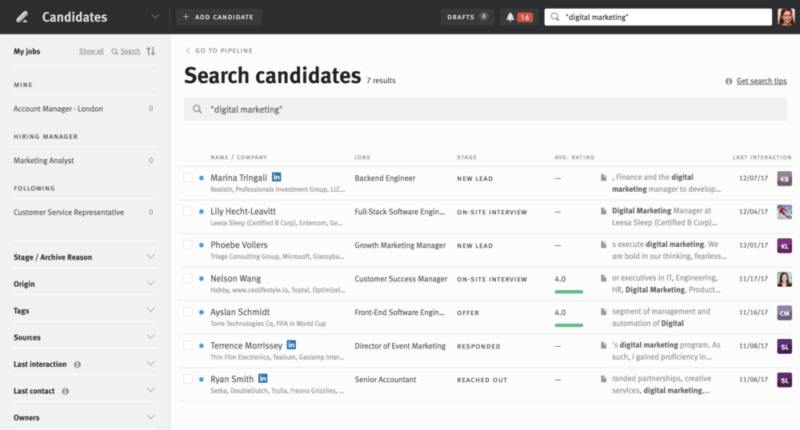 Lever takes a holistic approach to recruiting. It understands that hiring isn't just about filling vacancies, but about building long-term relationships. With Lever, hiring managers and teams can collaborate effortlessly, ensuring that the best talent doesn't slip through due to communication gaps.
⭐️  Standout Features:
Unified System: Everything you need, from applicant tracking to talent analytics, in one place.
Team Collaboration: Tools that promote synergy and cohesion among recruitment teams.
Sourcing Tools: Empower businesses to tap into a pool of passive talent.
"If in-depth reporting, a super intuitive and easy to interact with system for recruiters and hiring mgrs, reasonable pricing & super responsive and personable support are on your list."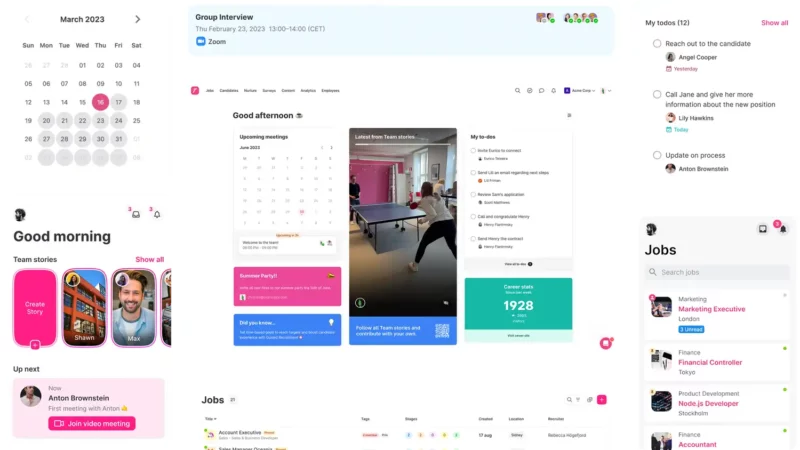 Teamtailor is a recruitment powerhouse, especially favored by startups and nimble businesses. It focuses on branding and perception. Teamtailor makes sure that every candidate touchpoint, from job ads to interview feedback, resonates with the company's ethos.
⭐️  Standout Features:
Customizable Career Sites: Create career pages that resonate with your brand's voice.
Engagement Analytics: Understand how candidates interact with your brand and refine your approach accordingly.
Referral Program: Tap into the networks of your existing employees to find potential hires.
"The pipeline way of tracking candidates is awesome, and also the integrations with other platforms to make assessments and to be aware of the progress of each candidate was really good."
Common Mistakes When Using CRM for Recruiting and How to Avoid Them

Using a Candidate Relationship Management (CRM) system for recruiting can be a game-changer, but there are pitfalls. Here are some common mistakes made when using recruitment CRM software and ways to sidestep them:
1) Not Keeping the Database Updated:
⛔️ Mistake: Letting the CRM database become outdated with old candidate profiles or stale information.
✅ Solution: Regularly clean and update the CRM database. Schedule periodic audits to remove outdated information, update candidate profiles, and ensure data accuracy.
---
2) Neglecting Candidate Engagement:
⛔️ Mistake: Only reaching out to candidates when there's a job opening.
✅ Solution: Engage with candidates consistently. Share company updates, industry news, or professional development opportunities to keep them interested.
---
3) One-Size-Fits-All Communication:
⛔️ Mistake: Sending the same generic messages to all candidates, leading to disengagement.
✅ Solution: Segment your candidate list and tailor communications based on candidate profiles, interests, or past interactions.
---
4) Failing to Train the Recruitment Team:
⛔️ Mistake: Assuming that the recruitment team knows how to use the CRM effectively without proper training.
✅ Solution: Invest in regular training sessions. Ensure that every team member understands the CRM's features and best practices.
---
5) Not Utilizing Analytics:
⛔️ Mistake: Overlooking the analytics and insights provided by the CRM.
✅ Solution: Regularly review analytics to assess the effectiveness of your recruiting strategies. Adjust based on the insights to optimize results.
---
6) Ignoring Feedback:
⛔️ Mistake: Not seeking or acting on feedback from candidates about their experience.
✅ Solution: Encourage candidates to share their experiences and feedback. Use this information to refine your CRM strategies and improve candidate experience.
---
7) Inadequate Integration with Other Tools:
⛔️ Mistake: Failing to integrate the CRM with other essential recruitment tools, leading to disjointed processes.
✅ Solution: Ensure that your CRM seamlessly integrates with your Applicant Tracking System (ATS), job boards, and other recruitment tools for a unified process.
---
8) Over-automation:
⛔️ Mistake: Relying too heavily on automation, leading to impersonal interactions.
✅ Solution: While automation can streamline processes, ensure that there are touchpoints where recruiters personally interact with candidates to maintain a human connection.
---
9) Lack of a Clear Strategy:
⛔️ Mistake: Deploying a CRM without a clear strategy or objectives in mind.
✅ Solution: Before implementing a CRM, define what you aim to achieve. Whether it's building a talent pool, improving candidate engagement, or reducing time-to-hire, have clear objectives and metrics to measure success.
---
10) Not Respecting Data Privacy:
⛔️ Mistake: Not adhering to data privacy regulations when storing candidate data.
✅ Solution: Be aware of data privacy laws like GDPR or CCPA. Ensure that your CRM is compliant, and always seek candidate consent before storing their data.
By being aware of these pitfalls and proactively addressing them, recruiters can leverage CRM systems effectively, optimizing their talent acquisition process and building lasting relationships with potential candidates.
CRM for Recruiting Reddit Threads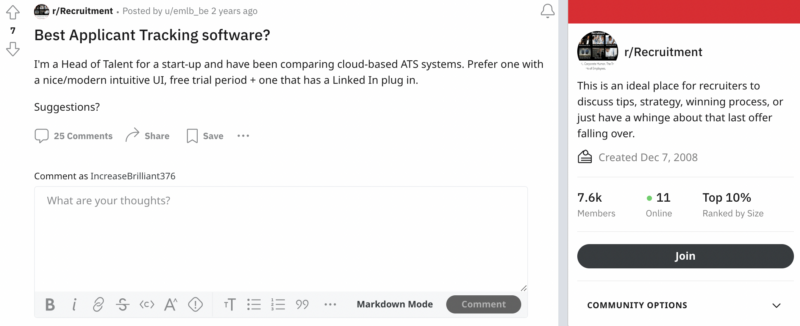 Reddit is a dynamic platform with users discussing a myriad of topics, so there are likely many threads related to "CRM for recruiting." Go to Reddit's homepage and use the search function. Enter terms like "CRM for recruiting," "recruitment CRM tools," "CRM in HR," etc.
There are several subreddits where topics related to recruitment, HR, and technology intersect.
Check out r/recruitment to learn more!
---
People Also Ask These Questions About CRM for Recruiting
Q: How is CRM different from ATS?
A: While both are used in recruiting, an ATS (Applicant Tracking System) is primarily for processing and tracking job applications, whereas a CRM focuses on building and nurturing relationships with candidates, especially those who might not be actively applying.
Q: Which businesses can benefit from CRM for recruiting?
A: While any company can benefit, those that do mass hiring, have extended recruitment cycles, or are in highly competitive industries might find CRMs especially useful.
Q: Can I integrate a CRM with my existing ATS?
A: Yes, many modern CRM systems offer integrations with popular ATS platforms, allowing seamless data transfer and communication between the two.
Q: How does a CRM aid in passive candidate recruitment?
A: CRM systems enable recruiters to keep in touch with candidates who might not be currently looking for a job but could be potential hires in the future. It allows for regular, personalized communication to keep the company on top of the candidate's mind.
Q: What features should I look for in a recruiting CRM?
A: Key features might include candidate segmentation, communication tools (like email and SMS), analytics and reporting, integration capabilities, and sourcing tools.
Q: Is data privacy a concern with CRM for recruiting?
A: As with any system that handles personal data, privacy should be a top concern. It's essential to choose CRM platforms that comply with data protection regulations and best practices.