Project management stalwart G. Reiss once likened project management to "a troupe of circus performers standing in a circle, each juggling-three balls and swapping balls from time to time."
Modern-day project managers still juggle balls (and swap them!), but having tools like project management templates makes it so much easier to save time, get things done, and eliminate a lot of the guesswork and stress in the process.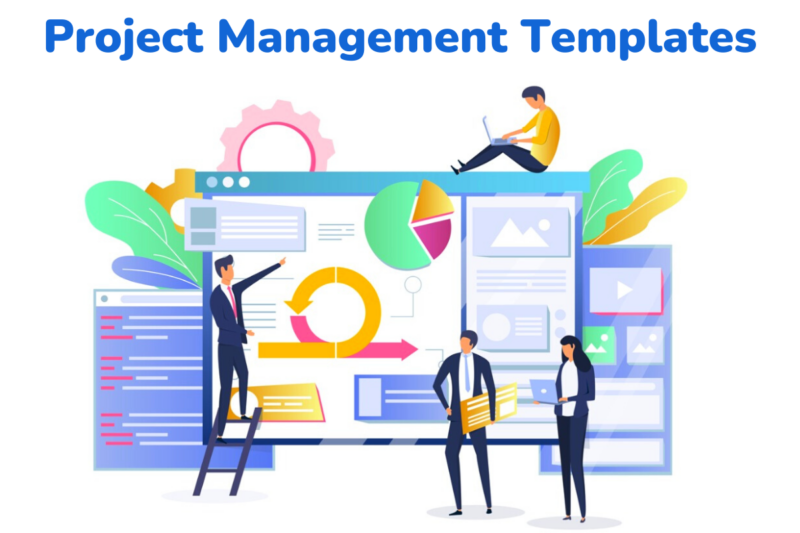 77% of high-performing teams use project management software Click To Tweet
In this post, we'll be sharing our top picks for the best project management templates and why we think you're deprived as a project management professional without them.
Plus, you'll never get caught dropping the ball again!
In a hurry? Take a look at some of our favorite project management templates:

Want to become a better professional in just 5 minutes?
Page Contents (Click To Jump)
Benefits of Project Management Templates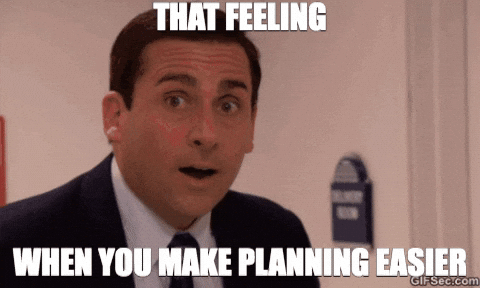 Project management templates are a great tool to include in your project management tech/tool stack because they help you do so much more in less time.
✅  Benefit 1 ➜ Saving time ⏰
Project management templates help you save time. You don't have to create a project plan from scratch every time you work on a new project. Simply use done-for-you templates and fill in information against the fields as you go along.
✅ Benefit 2 ➜ Standardization 📊
Project management templates help standardize your project management processes and procedures. Team members find it easier to follow an established structure and know exactly what's expected of them in team meetings and discussions.
✅ Benefit 3 ➜ Re-usability ♻️
Project management templates can be re-used over and over again – whether you're working on a simple project or a complex one. Complete the content against a blank template and then rinse and repeat for the next project. You'll find templates included in most enterprise project management, employee productivity, and task management software. So, it's easy to go back to past projects and review what went wrong and everything that went right for future assignments.
✅ Benefit 4 ➜ User-friendly  👨🏻‍💻
Project management templates don't need much time to get used to. Once the team has worked their way through one template, they'll become familiar with the concept, which makes it easier to hit the ground running for next time.
Best Project Management Templates
For maximum efficiency, productivity, and all-around transparency, we recommend you use templates in conjunction with project management tools, software, and techniques. Also, consider team collaboration tools and software to streamline both internal and external communication.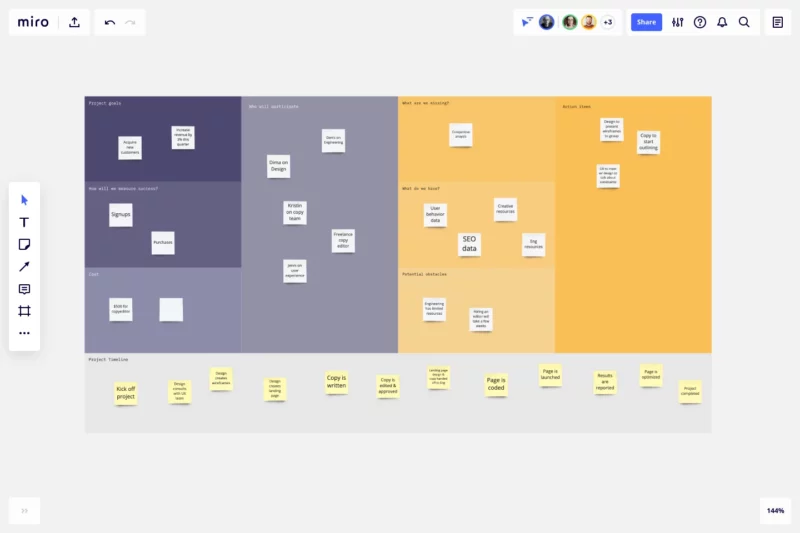 If you enjoy visually mapping your project using a whiteboard, you'll be more than gratified by Miro's Project Planning Template. You can set up your project exactly the way you do on a whiteboard – create workflows, assign deliverables, and fix timelines.
The best part? All the information stays put for as long as you want (never worry about accidentally erasing important information!). And you can extend the capability of the traditional whiteboard to link team members, tracking deliverables, and ensuring transparent communication.
🥇 Why this is a good project management template: Using a whiteboard-based project planning template like Miro's is an efficient way to engage your team members, communicate the essentials, and get faster buy-in.
Start here: Project Planning Template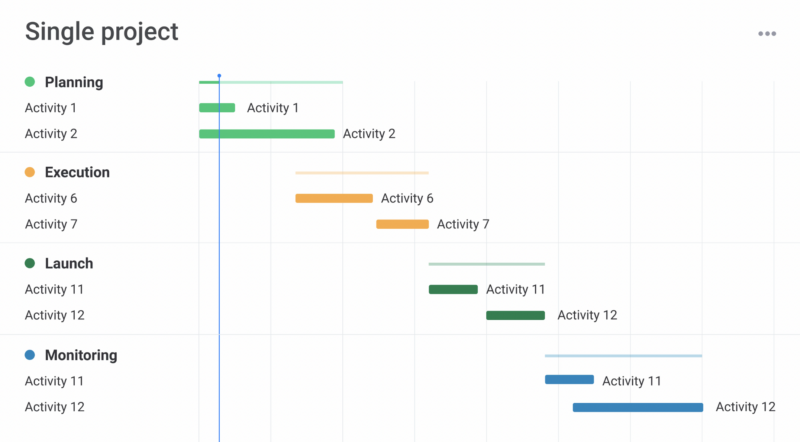 The Single Project Template is a sound choice for when you don't want to get boggled by complex templates designed for multiple projects running side-by-side. It's perfectly designed for executing just one project from start to finish, a case example is developing an employee handbook or a standard operating procedures manual.
🥇 Why this is a good project management template: The Single Project Management Template is an ideal solution if you want a simple yet efficient template that gets the job done. Use this template to align and connect stakeholders, tasks, budgets, and everything else that's a part of your project.
The availability to pick and choose from a variety of data visualization tools like Kanban boards, timeline charts, calendar views, Gantt charts, workload views, etc. makes this template just as helpful to get an instant overview quickly.
Start here: Single Project Template
Quick Tip: If you want to see what a manually built version of a single project template looks like check out our exhaustive manual template for office procedures guide. You can even reuse the single project template for executing other single projects in the future too.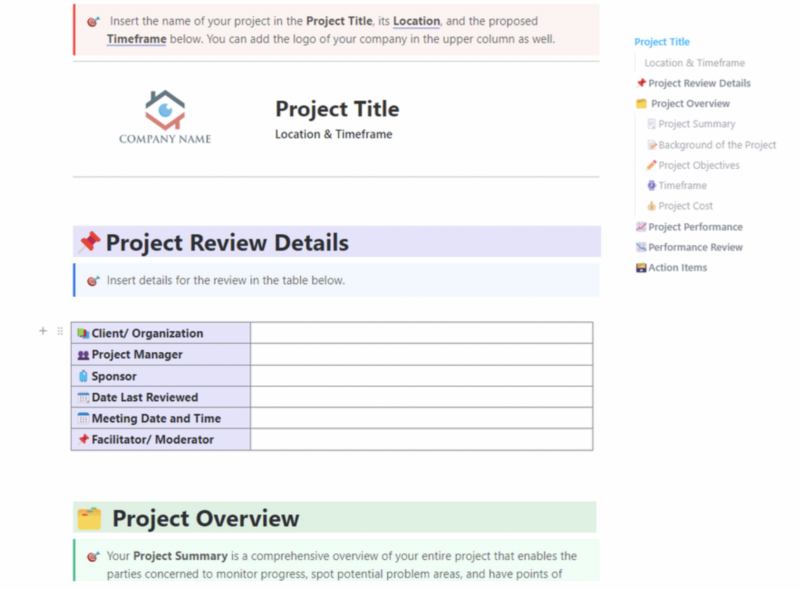 What if you don't want to start working on a new project yet because you're still exploring the feasibility of it? When things are ambiguous, collecting the right information can help you make strategic decisions. That's where a tool like ClickUp's Project Management Review Template comes in. Use this tool to dissect every key element of your proposed project, assess its intrinsic value, understand risks, and determine, at the most basic level, the minimum viability of the project.
🥇 Why this is a good project management template: This template can help you take stock of your project in its current form and determine whether it's going to help you hit the projected goals. The template guides you to list (with helpful hints and placeholders!), the project overview, objectives, background (which often adds much-needed context), timeframes, and costs, together with dedicated tables to track project performance, review performance, and list action items.
It's like a to-do list with accountabilities. If and when you're ready to move ahead, you can even adapt the content to form the roadmap for your final project plan.
Start here: Project Management Review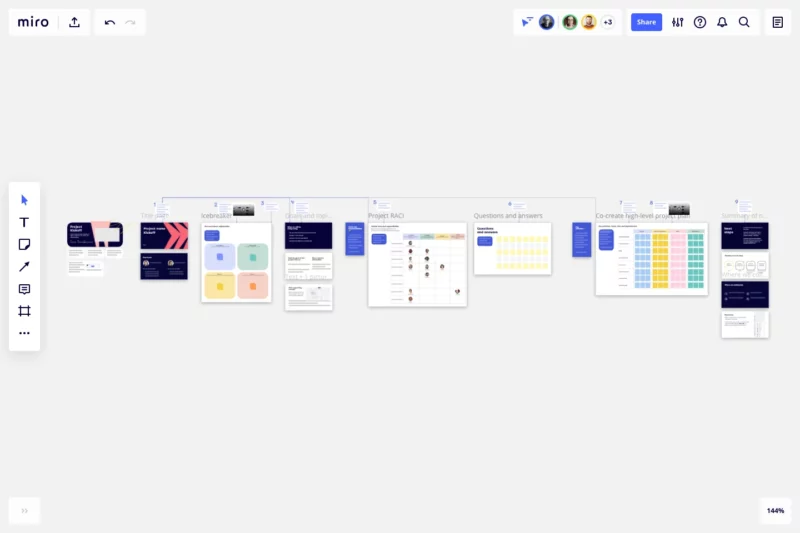 The Project Kickoff Template drills your project plan down to the level of the project kickoff meeting and includes a step-by-step action plan to cover the essentials. It has seven major components – intro, icebreaker activity, goals, project RACI (Responsibility Assignment Matrix), Q&A, project planning board, and last but not least, a summary of action items and discussion of the next steps.
🥇 Why this is a good project management template: Getting the project off to a strong start builds confidence, boosts teamwork, increases productivity at work, and motivates team members to press toward the finish line. Plus, covering everything at the start makes it less likely that you'll miss out on key dependencies, which can derail the project later. Consider using the following selection of templates to add more value to your project kickoff template and meeting:
Start here: Project Kickoff Template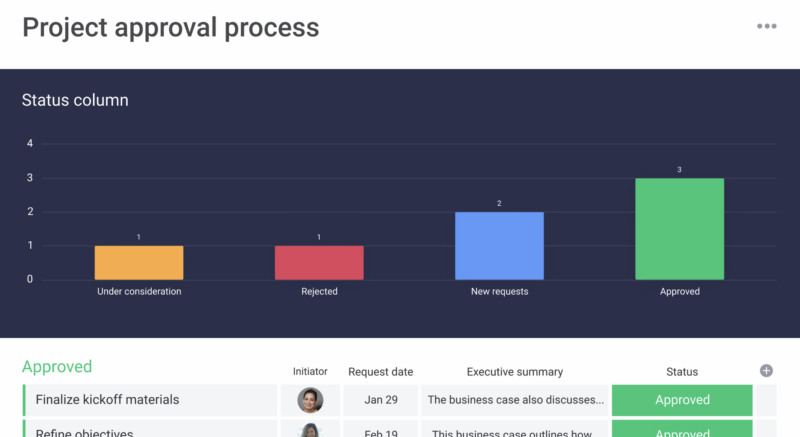 The Project Portfolio Management Template is the perfect project management tool for a portfolio of projects requiring complex coordination between multiple teams and departments. The template contains the same elements as single project templates in terms of project timelines, deliverables, a work breakdown structure (WBS), budget, accountabilities, and so. But with this template, you can manage all your projects from centralized dashboards.
🥇 Why this is a good project management template: Project portfolio management templates make it easy for you to oversee and manage multiple projects in one go without missing a beat. You have complete transparency into how you're progressing toward the big-picture goals. At the same time, you can drill down to the specifics of each sub-project.
Start here: Project Portfolio Management Template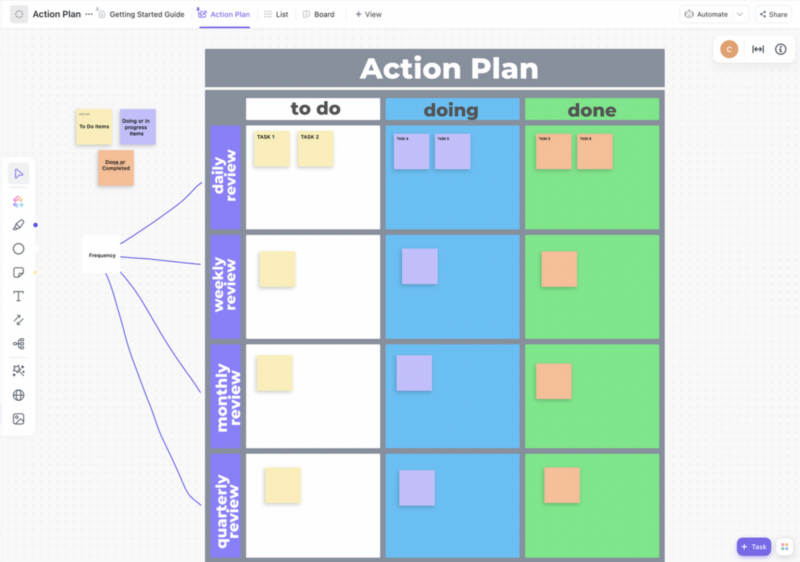 Getting down in the trenches and offering a concrete and strategic plan of action for your project tasks can motivate members to act like nothing else. The aptly titled Action Plan Template can help! This whiteboard-based template is a simple, fuss-free template designed to help you focus on the essentials.
Your tasks will be divided into three columns named "to do", "doing", and "done". And you have placeholders marked for regular reviews at daily, weekly, monthly, and quarterly intervals.
🥇 Why this is a good project management template: Action plans based on Excel templates can be complex and difficult to navigate. The Action Plan template makes that complexity a thing of the past. The whiteboard-style template makes it a breeze to prioritize and assign a set of core tasks and set timely review schedules to track tasks.
Start here: Action Plan Template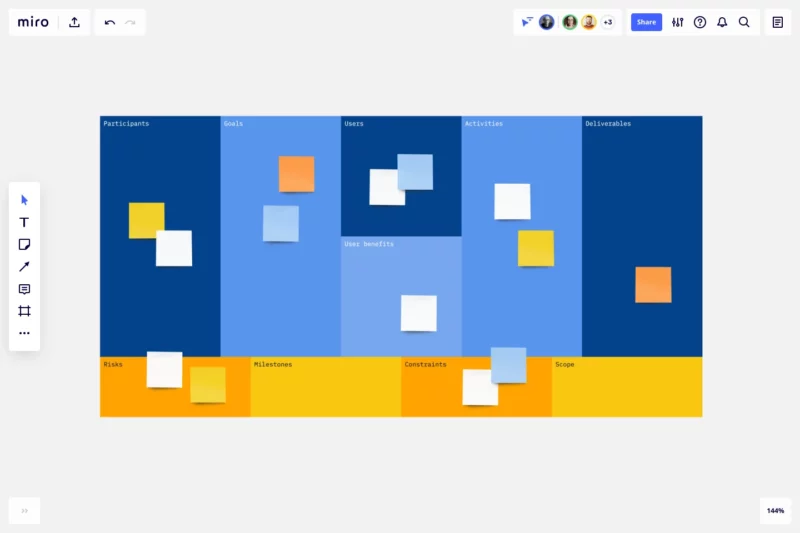 The Project Canvas Template is designed to support communication,  collaboration, and initiatives between stakeholders and every single team member that's involved with the project or product roadmap. The platform, or "canvas," as it's called, provides a clear, transparent, whiteboard-based view of the project, all the moving parts, and where each one's at.
🥇 Why this is a good project management template: It can be challenging to manage communication and collaboration when there are a lot of people involved. Regardless of the scope of your project, the Project Canvas Template, being a visual management tool, makes it easy to relay and transmit information simply so everyone's on the same page.
Start here: The Project Canvas Template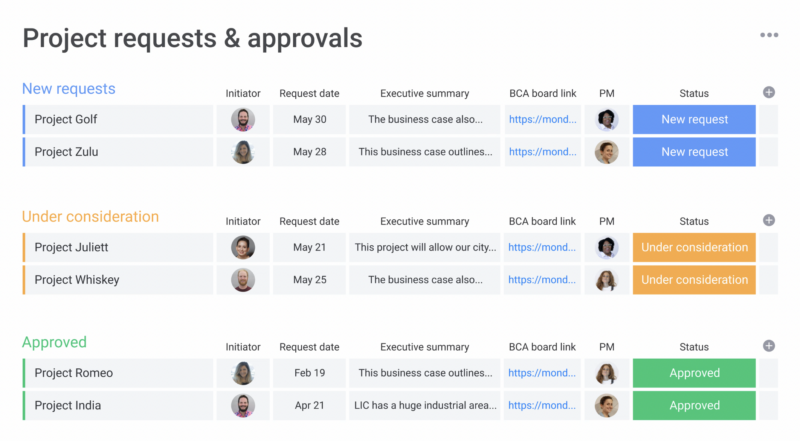 If your project is request and approval-heavy and requires extensive signing off before tasks can move ahead, the Project Requests and Approvals Template is worth looking into. This template can also be helpful if you're looking for a foolproof method to track your incoming requests.
🥇 Why this is a good project management template: The Project Requests and Approvals Template makes it easy to keep track of all your requests and approvals. You also have the option of listing all the projects in a single window to an eagle-eye perspective of what's pending and what's in the process.
Start here: Project Requests and Approvals Template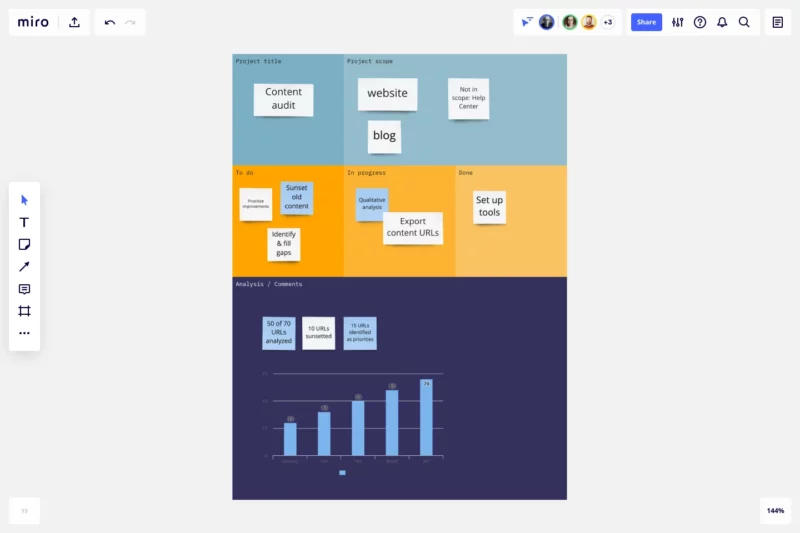 The Project Status Report Template helps you compare the current status of your project against the projected timescales and deliverables. It's a form of project tracking that helps you identify whether you're on track and where you need to step back and take stock of changes to be implemented. This template is styled in the form of a report which can be relayed to key stakeholders to update on the project's status.
The Project Status Report Template includes information such as a project overview, a summary of project progress, overall project health, project milestones, project times, project deliverables, and project risks.
🥇 Why this is a good project management template: The Project Status Report Template helps ease the process of creating status reports for key stakeholders. You can also run daily or weekly project status reports within the context of previously created status reports. The template is customizable, so you can include other elements, such as KPIs and quick wins too!
Start here: Project Status Report Template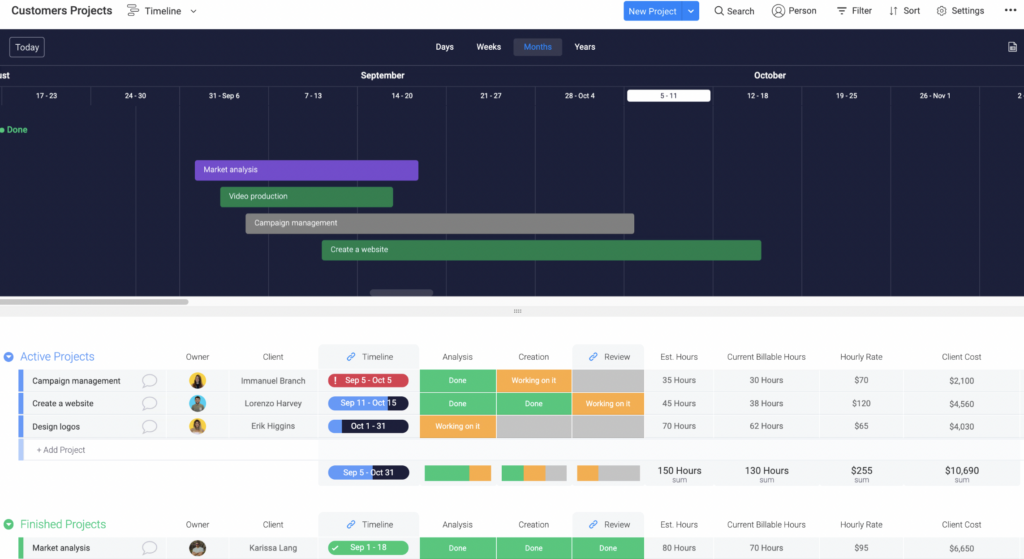 The Customer Projects Template is your best ally when your projects are entirely based on customer deliverables and metrics as opposed to, say, enterprise projects.  Use this template to look at the projects you're currently working on for your clients, their status, deliverables, and deadlines. You can also record hours worked and budgets to generate quotes and billing reports for your customers.
🥇 Why this is a good project management template: The Customer Projects Template is a useful add-on when you want a template to help you manage all your client projects, reporting, and even their billing in one place. The template is ideal for small businesses and startups who want to distill their projects into insightful briefs to aid smarter decision-making.
🚀 Start here: Customer Projects Template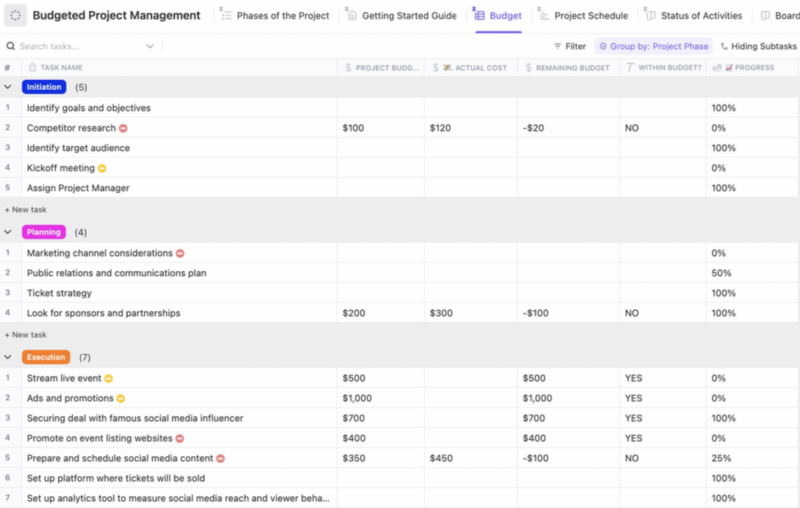 The Budget Project Management Template is one of the most important templates to have in your kitty as a PM professional. Cost management is a critical competency that successful project managers are expected to deliver, and this template will help you do just that. Choose from two statuses, nine custom fields, and five view types for "everything's covered!" budget management and reporting.
🥇 Why this is a good project management template: Aside from the ability to tag with fields like "remaining budget," "within budget," "actual cost," etc., you can also see the cost impact on specific use cases such as project schedule, project phases, and even the status of activities. You also have a "getting started guide" included to help you navigate the template's elements and how they work. Think of it as a project budget template that doubles up as a project tracker and report generator.
Start here: Budget Project Management Template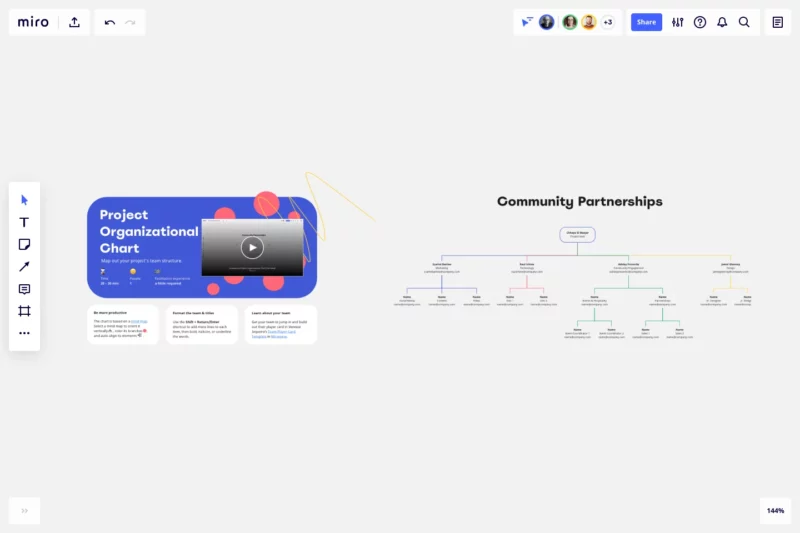 The Project Organizational Chart Template's core focus is on the organization of people and resources. There are a few different view types you can choose from, so there's plenty of flexibility in how you "see" the organization of your project. For example, you can do a flat organizational structure or a divisional organizational structure from among the options available.
🥇 Why this is a good project management template: Use this template to drill down different roles and responsibilities and how team members relate to each other within the scope of the project. Also with this template, you can quickly identify roadblocks and ensure that the right people with the right skills are working on individual tasks.
Start here: Project Organizational Chart Template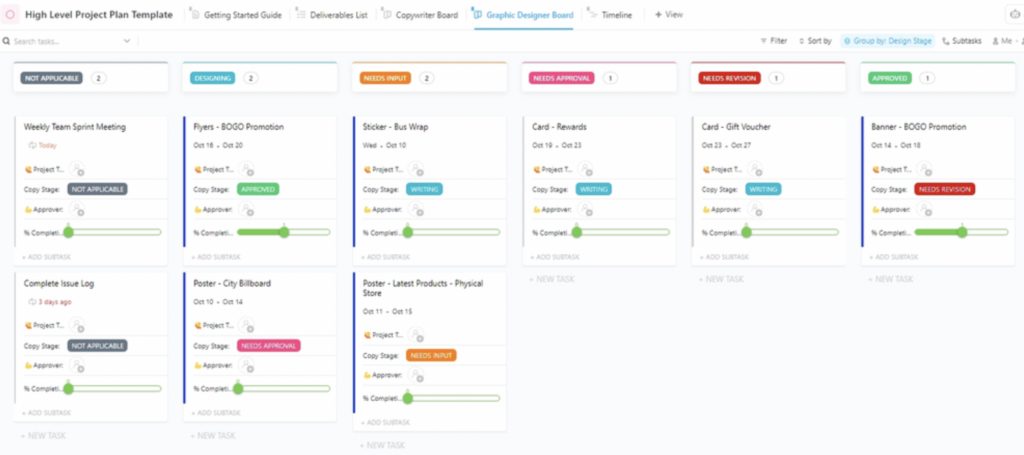 As the name suggests, the High-Level Project Plan is a high-level view of project progress and planning. This template consists of three statuses – deployed, in progress, to do, five custom fields – copy stage, approver, project team, completion, and design stage, and finally, five view types – deliverables list, copywriter board, graphic designer board, timeline, and one view type to work with the "getting started guide."
🥇 Why this is a good project management template: High-level projects provide tremendous value for time-pressed senior stakeholders or even project managers who want to track progress in real-time but don't necessarily want to get weighed down with the details.
By skimming the details provided on the template, you'll know at what stage all the major moving parts of the project are and be able to identify backlogs or roadblocks.
Start here: High-Level Project Plan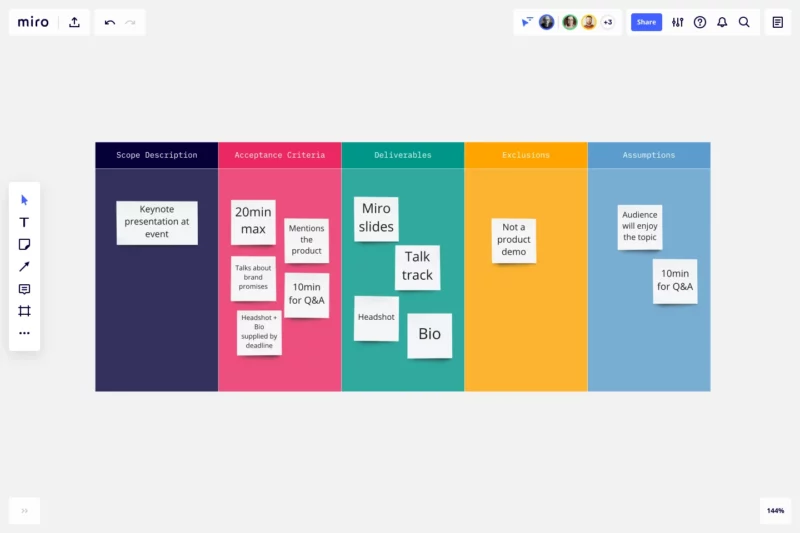 The Project Scope Template is a whiteboard-themed template that helps you flesh out your project scope in more detail. Your project scope template typically consists of your end goals, the requirements to complete the project, major deliverables, constraints, and assumptions. You can invite team members to collaborate and add notes to strengthen your business case and the project's ultimate value.
🥇 Why this is a good project management template:  This is a great template to use right at the beginning when you're adding the finer details to your project and making it stakeholder-ready. It's also a great template to come back to to re-focus your goals and team efforts. This project management template will help you stay consistently on track.
Start here: Project Scope Template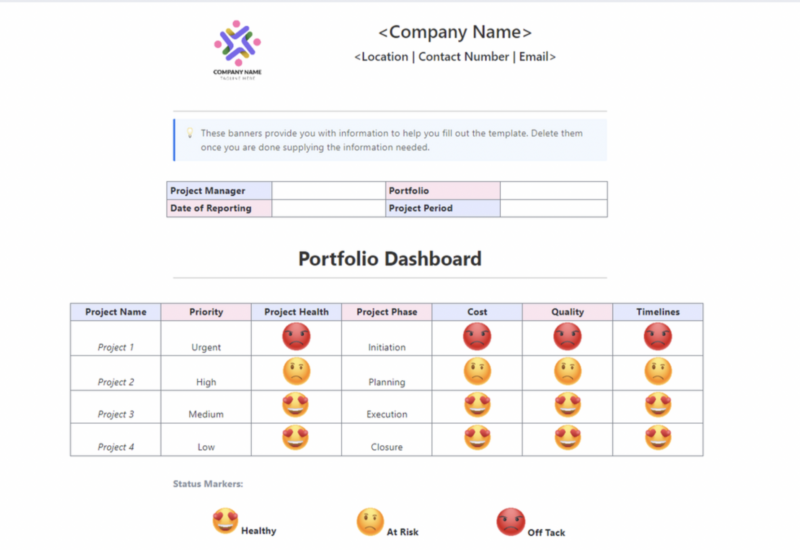 A more expansive version of the project status report template listed at #9, the Multiple Project Status Report, helps you generate reports when you have different projects running concurrently. This report template helps you stay up-to-date with the overview and details of every single project that's underway. It will also help you provide your stakeholders with reliable and timely updates on the project's progress.
🥇 Why this is a good project management template: It can be challenging to manage multiple projects while maintaining a busy work schedule. This template will give you a bulletproof bird's eye view of every single project so that you're always in control and nothing falls through the cracks.
Start here: Multiple Project Status Report
---
What is a Project Management Template?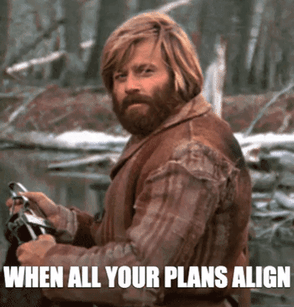 A project management template is a structured framework in the form of a document or a software file used to develop and execute a project plan. It's similar to a bare-bones skeleton which you flesh out to create your final plan.
A template will usually list all the static and moving components of a project management plan. Typically, these will be (in no particular order):
📌 Project scope or SOW (Statement of Work)
📌  Names of the key stakeholders and their areas of responsibility
📌  Deliverables and their breakdown
📌  Project schedule/timelines (due dates, milestones, end dates)
📌  Budget/costs
📌  Procurement plan
📌  Human Resources plan
📌  Establishing the hows, whens, and tools of communication
📌  Quality control
📌  Key success factors, for example, meeting deadlines or customer ratings
📌  Risk factors that could potentially impact the progress of the project
You then add more detail in terms of the specifics for each project to create a realistic and workable plan.
Templates are usually customizable and reusable. Once you're done with one project, you can rinse and repeat the framework for all your subsequent projects.
You can even update the framework to make it relevant to your unique project management methodology. Delete or add different elements for current and future projects as you see fit. In this sense, project management templates are flexible and dynamic so you can adapt them the way you want.
---
People Also Ask These Questions About Project Management Templates
Q: How do I choose the right project management template for my team?
A: When selecting a project management template for your team, consider its utility, ease of use, cost, customization capabilities, dashboard and reporting features, and integrations with other tools and software. Additionally, be sure to evaluate the security features offered by the solution you choose.
Q: Can I modify existing project management templates or create my own?
A: Whether you can modify existing project management templates depends on the specific template. Most templates allow for customization to some degree. Depending on the software you're using, you may even be able to build your own from scratch. The key is to map your requirements beforehand, so you know exactly what your project goals are and how this template will support you in achieving them.
Q: What are some common mistakes to avoid when using a project management template?
A: Avoid the following common mistakes when you're using a project management template. First, use complex templates when simple ones will do – decide beforehand what your final goal with your template is. For example, if you're working on HR-specific programs, choose templates based on the scope of your plan, say, recruitment plan templates, onboarding templates, or wellness plan templates for employee benefits. Second, not being specific with the information – to fully extract value from your template, ensure you're being as detailed and methodical as possible in filling up the requested information. Treat the template like your best friend! It's working with you, not against you.
Q: What are some common project management templates?
A: Common project management templates are those that get used over and over again because of how useful and relevant they are. Here are a few of the most popular ones, and you can find free downloadable versions of all of them with explanations in this article (scroll up!). Some of the most common project management templates are Project Planning Template, Project Kickoff Template, Project Requests and Approvals Template, Budget Project Management Template, Project Status Report Template, and High-level Project Plan Template.
Q: How can I use project management templates to improve my PM skills?
A: Project management templates should be on every PM's arsenal of productivity tools. They help you map out your task list, focus your action plan, assign accountabilities, track progress, and generate status reports that get stakeholder buy-in. You'll also become more agile and ready to respond to unexpected challenges simply because of the transparency you have at your fingertips with templates. The alternative is simply doing every manually and taking the risk of missing out on important components that could otherwise wreck your project's forward movement.