"Talent Acquisition" isn't just a buzzword – it's a necessity for small businesses looking to thrive.
As a small business owner, you might be thinking, "Why would I need a recruiting software?"
Here's why: The right talent can drive your business forward, but the process of finding, interviewing, and hiring that talent can be time-consuming and daunting. Cue the entrance of recruiting software.
Recruiting software helps make the hiring process smoother and improves the candidate experience so that every recruitment step is fine-tuned to resonate with the unique ethos of small businesses.
In a hurry? Take a look at some of our favorite recruitment software: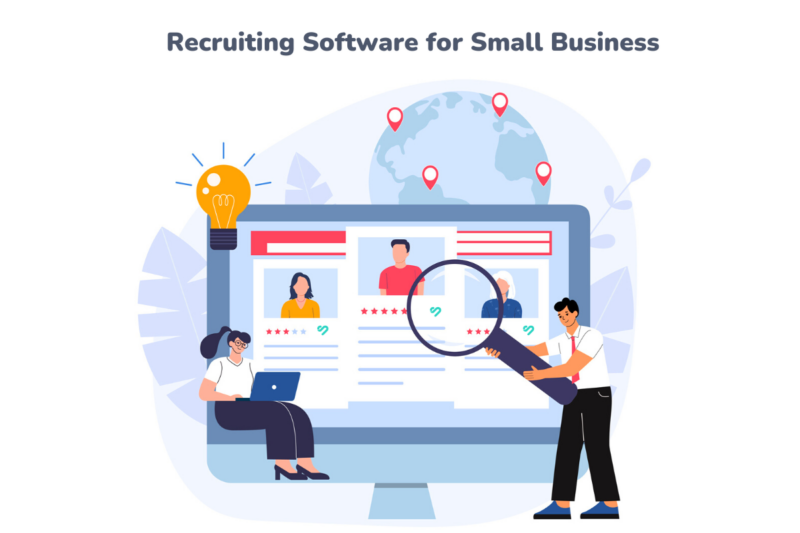 Every small business needs efficient recruiting software to streamline the hiring process and find the best candidates faster. Click To Tweet
As a result, we've compiled a list of the top recruiting software for small businesses and the unique features each brings to the table. This list is equipped with insights that will help hiring managers make decisions that could redefine their business's recruitment narrative.
Let's get started!
Want to become a better professional in just 5 minutes?
Page Contents (Click To Jump)
What Is Recruiting Software for Small Business?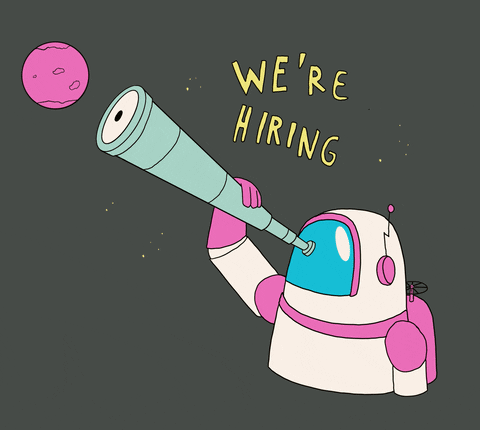 Recruiting software for small businesses is a specialized tool or suite of tools designed to streamline and optimize the hiring process specifically for companies with fewer resources than large corporations.
Unlike expansive and often complex enterprise recruitment systems, these software solutions cater to the unique needs and constraints of smaller businesses. They aim to simplify the recruitment journey, from posting job listings to onboarding new hires.
Benefits of Using Recruiting Software for Small Business
🔷 Streamlined Recruitment Process: The software organizes and automates many of the repetitive tasks in recruitment, ensuring a smoother, faster, and more efficient hiring process.
🔷 Centralized Information Storage: All candidate information, from resumes to interview notes, is stored in one central location, making it easily accessible and manageable.
🔷 Enhanced Collaboration: Team members can collaborate easily, share feedback, rate candidates, and make collective decisions, ensuring alignment in hiring choices.
🔷 Improved Candidate Experience: With automated communications and user-friendly interfaces, candidates have a more positive, professional experience from start to finish.
🔷 Advanced Analytics and Reporting: Businesses can gain insights into their hiring processes, measure KPIs, and identify areas for improvement.
🔷 Wider Talent Reach: Recruiting software often integrates with job boards, such as LinkedIn and Indeed, and social media, allowing businesses to cast a wider net and reach a broader audience of potential candidates.
🔷 Reduced Time-to-Hire: Automated screening, filtering, and ranking of applicants speed up the selection process, leading to quicker hiring decisions.
🔷 Cost Savings: By reducing manual tasks, time spent on hiring, and leveraging more cost-effective recruitment channels, businesses can see tangible cost savings.
🔷 Enhanced Compliance: Recruiting software can help businesses adhere to recruitment-related regulations, maintain equal-opportunity hiring practices and ensure data protection standards are met.
🔷 Diverse Hiring: Many software options provide tools to promote diversity and inclusion, reducing unconscious bias and fostering a more varied workforce.
Best Recruiting Software for Small Business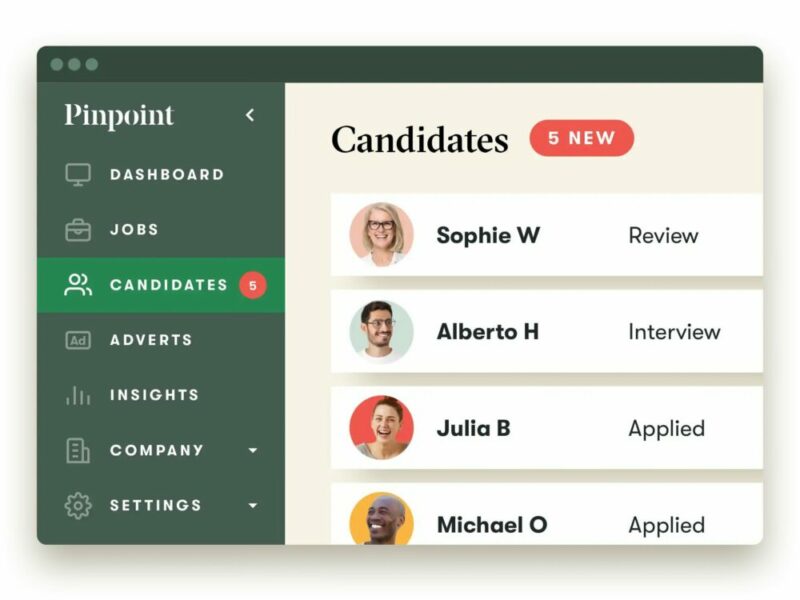 Pinpoint offers an all-in-one recruitment marketing and applicant tracking platform designed to attract more and better talent. Its standout feature is its ability to cast a wide net, capturing a diverse range of talents, both passive and active.
🔥 Why we love it: For small businesses grappling with limited HR resources, the automation capabilities embedded within Pinpoint emerge as a lifesaver, ensuring that the recruitment drive remains smooth and uncomplicated.
⭐️ Standout Features:
❇️ Candidate Relationship Management (CRM): Nurture passive candidates and build talent pools.
❇️ Employer Branding: Create compelling, branded career sites without any tech expertise.
❇️ Insightful Analytics: Understand your recruitment performance and areas for improvement.
"The ability to automate the scheduling of interviews is a massive time saver and this on its own is worth the investment in the platform."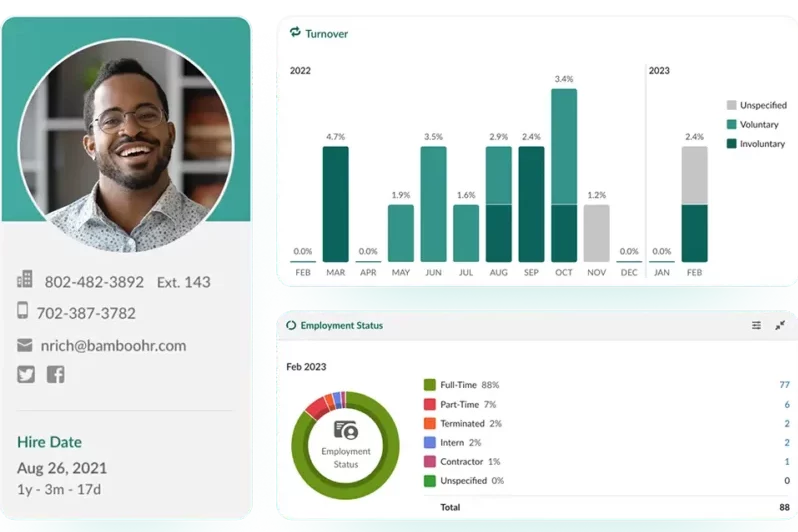 While primarily known as an HRIS, BambooHR's ATS capabilities are robust, ensuring a smooth hiring process. Its integrated HR solutions mean hiring teams can manage recruitment and other HR functions in one place. The platform is designed to be user-centric, ensuring ease of use and a minimal learning curve for those new to the software.
🔥 Why we love it: To maximize the reach of job listings, BambooHR offers automated job posting to multiple platforms, ensuring that vacancies reach a broad and diverse audience.
⭐️ Standout Features:
❇️ Centralized Data: Store all employee information, from application to retirement, in one place.
❇️ Mobile Hiring: Engage candidates and manage hiring on the go.
❇️ Custom Workflows: Tailor the hiring process to your unique business needs.
"It's quite nice to have a central hub for most of the information I need as an employee of a growing company. It has a nice user interface and all seems pretty intuitive to operate."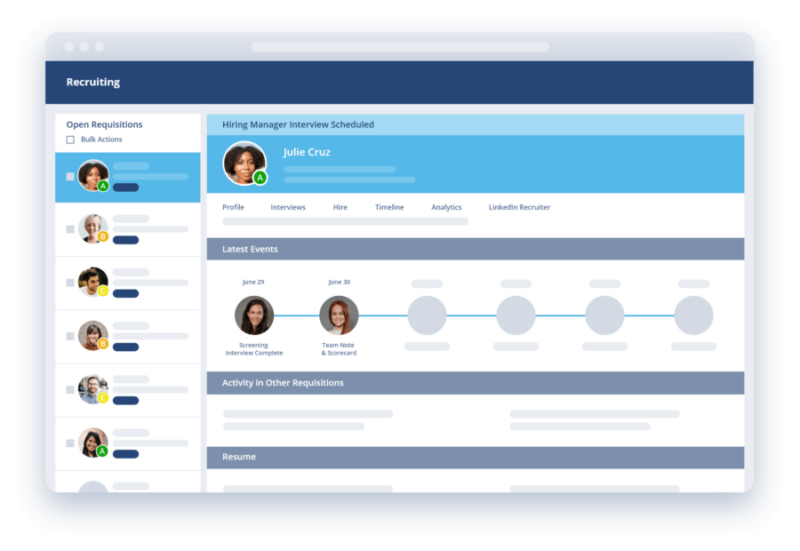 Unlike many platforms that focus solely on recruitment, ClearCompany provides a comprehensive talent management solution. This means it supports businesses not only during the hiring process but also in retaining and nurturing talent.
🔥 Why we love it: ClearCompany's ATS is designed to be user-friendly, ensuring that businesses can efficiently track, analyze, and manage qualified candidates throughout the hiring journey.
⭐️ Standout Features:
❇️ Performance Management: Align recruitment goals with performance metrics.
❇️ Onboarding Solutions: Ensure a smooth transition for new hires.
❇️ Transparent Communication Tools: Facilitate open lines of communication throughout the hiring process.
"This ATS is easy to use, and they have significantly improved the userface over the past few years. When you get the right rep from Clear Co, it's a great partnership."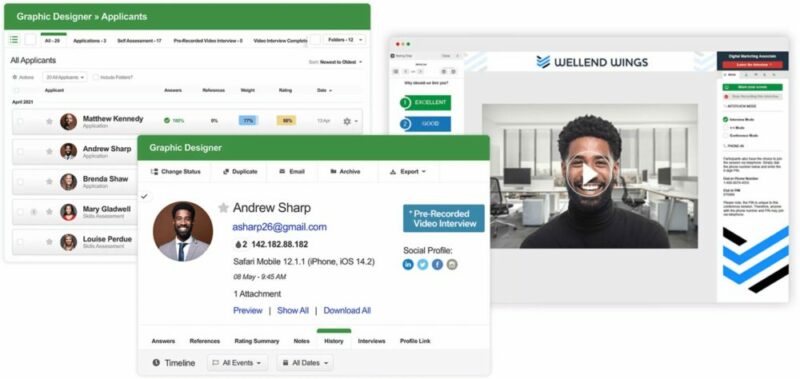 Vidcruiter specializes in video interviewing, transforming traditional hiring processes for the digital age. It allows small businesses to expand their reach, tapping into a global talent pool.
🔥 Why we love it: Before even reaching the interview scheduling stage, VidCruiter allows businesses to assess candidates' skills. This ensures that only qualified individuals progress further in the recruitment journey, saving valuable time and resources.
⭐️ Standout Features:
❇️ Structured Digital Interviews: Standardize interviews for fairness and efficiency.
❇️ Video Onboarding: Equip new hires with tools for success.
❇️ Skills Testing: Evaluate candidates' skills and fit before the interview stage.
"I love the automatic scheduling, video call option and ratings integration."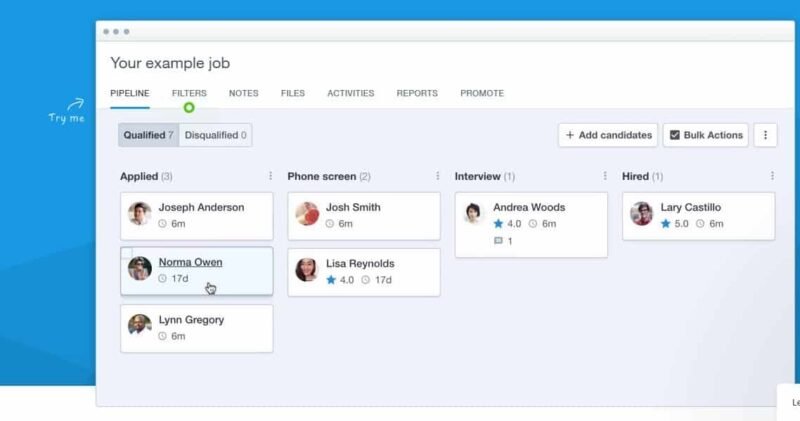 Recruitee offers collaborative hiring software that prioritizes a user-friendly experience. Its simplicity ensures small businesses can get started quickly, without a steep learning curve. To reduce manual and repetitive tasks, Recruitee offers automation options. From sorting applications based on set criteria to sending out acknowledgment emails, these automated workflows save time and reduce the chance of human error.
🔥 Why we love it: The platform enables multiple team members to actively engage in the recruitment process, from reviewing applications to providing feedback, ensuring that a diverse range of perspectives contributes to hiring decisions.
⭐️ Standout Features:
❇️ Visual Pipeline: Get an overview of your hiring stages at a glance.
❇️ Collaborative Hiring: Engage your team in recruitment decisions.
❇️ Powerful Career Sites: Build compelling job descriptions that attract the right talent.
"Kanban style progress through applicant tracking system, fast paced development of new features and integrations, fantastic support, great prices."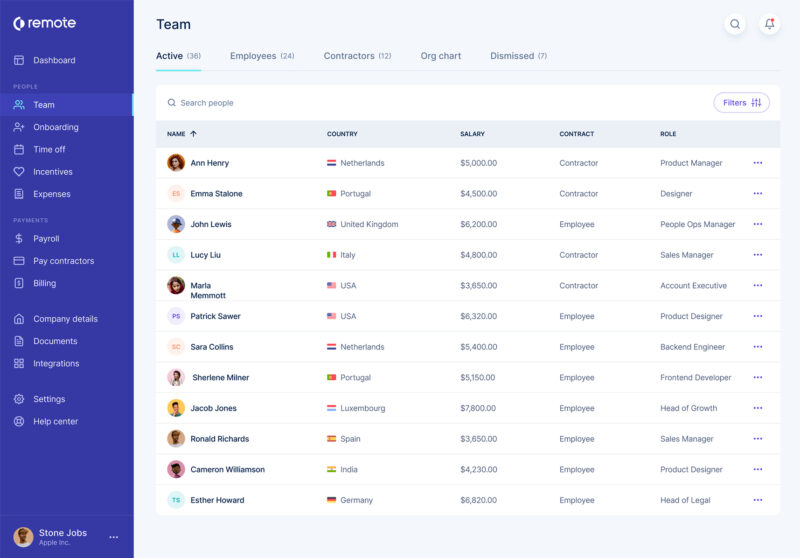 Remote empowers businesses to hire anyone, anywhere, providing tools for global talent acquisition. Considering the diverse employment laws across different countries, Remote offers country-specific contracts. This ensures that employment agreements are tailored to local laws, providing protection to both the employer and the employee.
🔥 Why we love it: This recruitment tool offers support from experts well-versed in global HR and legal intricacies, ensuring businesses have the guidance they need throughout the international hiring process.
⭐️ Standout Features:
❇️ Global Payroll: Navigate international compensation with ease.
❇️ Legal and Compliance Tools: Ensure global hiring is compliant with local regulations.
❇️ International Benefits Management: Offer competitive benefits packages tailored to each region.
"Remote has allowed us to solve our employment needs in markets in which we don't currently have a legal entity in place. It's allowed us to access amazing talent who are based all around the world."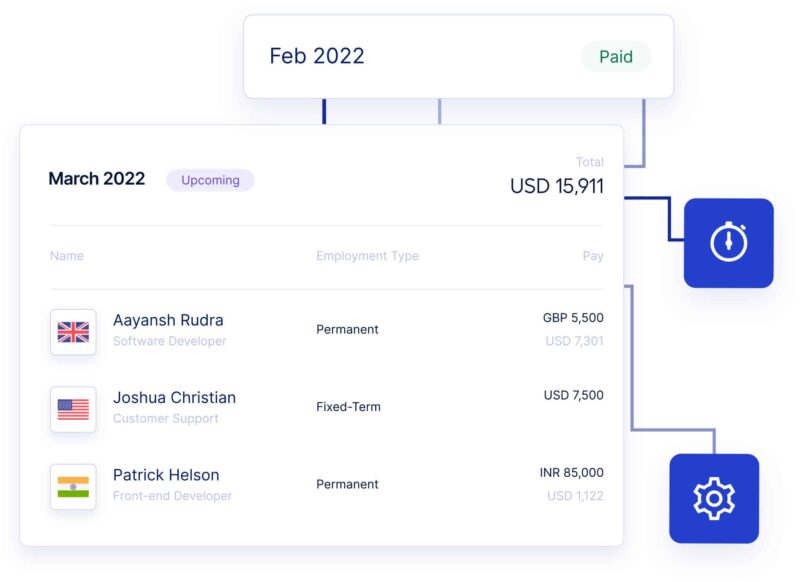 Multiplier enables businesses to hire and onboard international employees with ease, removing geographical constraints and opening doors to global talent, thus allowing companies to construct diverse and skilled teams. This recruitment software allows companies to provide benefits that are competitive and conform to the local standards of each country, ensuring that international employees receive relevant and attractive perks.
🔥 Why we love it: Multiplier's ability to integrate with other collaboration tools and business tools means that businesses can create a cohesive and efficient ecosystem for all their operational needs, avoiding siloed information and processes.
⭐️ Standout Features:
❇️ Country-Specific Contracts: Craft contracts compliant with local laws.
❇️ Localized Benefits: Offer benefits that resonate with international hires.
❇️ Compliance Alerts: Stay updated on changes in international employment laws.
"The quick onboarding on the Multiplier platform helped us employ talent for our business very rapidly."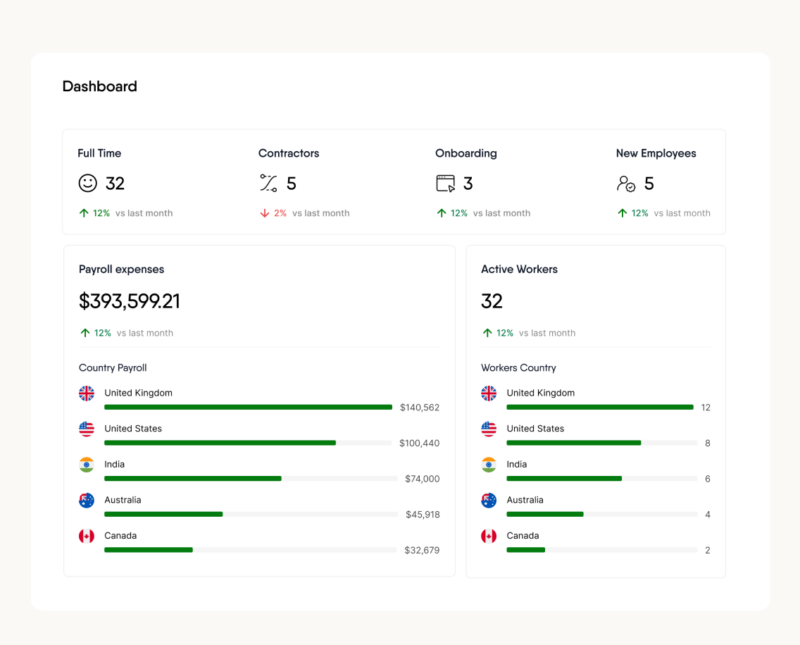 RemoFirst is engineered with a focus on remote hiring, catering to the evolving needs of modern workplaces, making it a go-to solution for companies looking to build remote teams. It emphasizes team collaboration, providing tools that ensure all stakeholders are aligned and engaged in the hiring process, which is crucial for remote settings where in-person interactions are minimal.
🔥 Why we love it: Understanding that each business has its unique hiring process, RemoFirst offers customizable workflows, allowing companies to align the software with their specific recruitment strategies and requirements.
⭐️ Standout Features:
❇️ Collaborative Hiring Tools: Ensure your entire team is aligned, regardless of where they are.
❇️ Remote Onboarding: Integrate remote hires seamlessly into your team.
❇️ Distributed Workforce Management: Oversee your global team with ease.
"With Remofirst we've been able to hire full-time employees in 7 countries with the best pricing across other EORs that we got quotes from. We offer them health insurance and pay them in local currencies which has been so great and east for our team."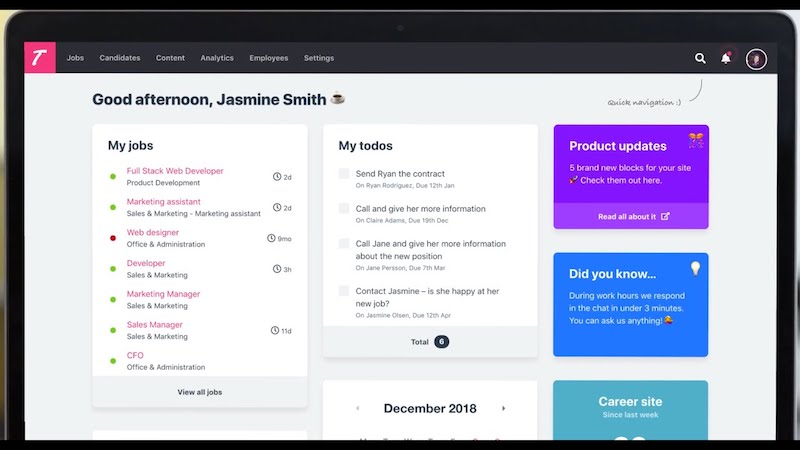 Teamtailor combines recruitment, marketing, and employer branding for an enhanced hiring experience. It's a software that recognizes the power of first impressions. Thus, even small businesses, with the help of Teamtailor, can craft compelling narratives and employer branding campaigns that resonate deeply with potential candidates.
🔥 Why we love it: Teamtailor's intuitive and sleek design ensures that users, whether they are tech-savvy or not, can navigate and utilize its features with ease.
⭐️ Standout Features:
❇️ Engaging Career Sites: Craft beautiful career pages with drag-and-drop ease.
❇️ Candidate Nurturing: Engage and nurture candidates to build a robust talent pipeline.
❇️ Powerful Analytics: Monitor and analyze every aspect of the recruitment process.
"The pipeline way of tracking candidates is awesome, and also the integrations with other platforms to make assessments and to be aware of the progress of each candidate was really good."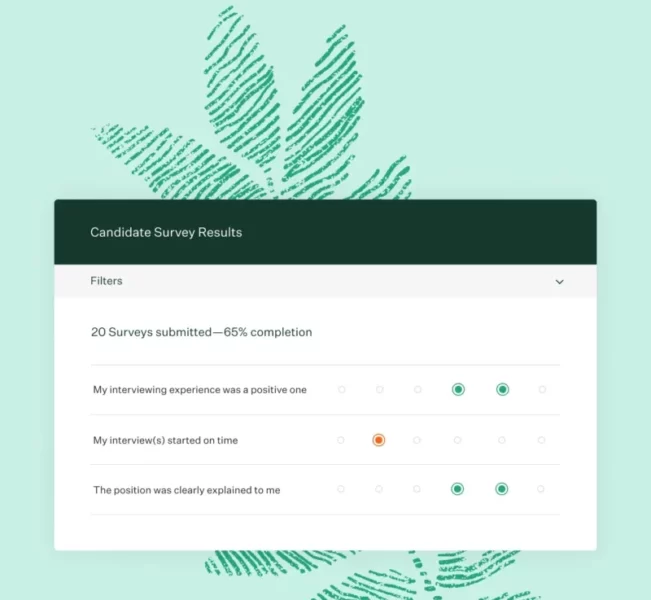 Greenhouse's comprehensive suite of tools functions as an intersection point for various Human Resources tools, resulting in a centralized hub that manages all the intricacies of hiring. Small businesses and startups will find it particularly enticing due to its intuitive design, which doesn't compromise on depth or functionality.
🔥 Why we love it: As businesses evolve and expand, Greenhouse scales alongside, ensuring that the recruitment process remains efficient and offering a centralized system for all hiring needs.
⭐️ Standout Features:
❇️ Collaborative Hiring: Engage your entire team in the hiring process.
❇️ Robust Reporting: Dive deep into hiring metrics to make data-driven decisions.
❇️ Integration Ecosystem: Seamlessly connect with other HR management tools, enhancing functionality.
"Greenhouse is a good ATS so far for recruitment, and helping to find quality candidates throughout the recruitment process."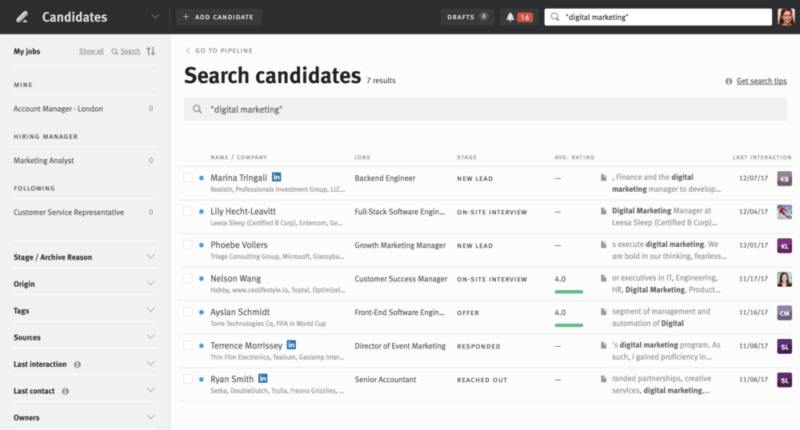 Modern, sleek, and robust—what sets Lever apart is its emphasis on collaborative hiring. In an era where stakeholder alignment is pivotal for recruitment success, Lever ensures that every voice is heard and every perspective is considered, leading to holistic hiring decisions.
🔥 Why we love it: This recruitment platform integrates CRM and ATS capabilities into a single platform. It promotes a collaborative approach to hiring, ensuring all stakeholders are aligned.
⭐️ Standout Features:
❇️ Unified Talent Database: Centralize all candidate data and interactions.
❇️ Automated Workflow: Streamline recruitment processes with automation.
❇️ Referral Management: Tap into the power of employee referrals for quality hires.
"If in-depth reporting, a super intuitive and easy to interact with system for recruiters and hiring mgrs, reasonable pricing & super responsive and personable support are on your list."
Common Mistakes and Challenges to Avoid When Using Recruiting Software for Small Business
While recruiting software offers a myriad of benefits to small businesses, it's essential to recognize and avoid common mistakes and challenges to maximize its utility and impact. Here's a guide to some prevalent pitfalls:
⛔️ Common Mistakes:
1) Overcomplicating the Process:
⚠️ Mistake: Implementing software with features that are not required or beneficial for the business size or type.
✅ Solution: Identify your business's specific needs and choose software that matches those requirements without unnecessary complexities.
2) Neglecting Training:
⚠️ Mistake: Assuming that everyone will intuitively understand how to use the new software.
✅ Solution: Invest in proper training sessions for all users, and provide accessible resources for ongoing support.
3) Ignoring Candidate Experience:
⚠️ Mistake: Choosing software that might be efficient from the business's side but is cumbersome or confusing for applicants.
✅ Solution: Regularly solicit feedback from candidates and make necessary adjustments to ensure a smooth application experience.
4) Failing to Regularly Update the Software:
⚠️ Mistake: Using outdated versions which may lack new features or security patches.
✅ Solution: Enable automatic updates, or frequently check for and apply software updates.
5) Lack of Integration:
⚠️ Mistake: Using standalone software that doesn't integrate with other essential business tools.
✅ Solution: Look for software solutions that can seamlessly integrate with your existing HR systems, email platforms, and other tools.
⛔️ Common Challenges:
1) Data Migration:
⚠️ Challenge: Transferring existing candidate and recruitment data from old systems or manual records into the new software.
✅ Solution: Seek software options that offer data migration tools or support, and ensure data is backed up before initiating the process.
2) Customization Limits:
⚠️ Challenge: The software might not fully align with the specific hiring workflow or processes of the business.
✅ Solution: Choose software that offers a good level of customization or opt for tools specifically designed for your business type or industry.
3) Cost Constraints:
⚠️ Challenge: Small businesses often operate on tight budgets, which can limit their software choices.
✅ Solution: Focus on essential features required for efficient recruitment. Some software providers might also offer tiered pricing or special packages for small businesses.
4) Dependence on Vendor Support:
⚠️ Challenge: Encountering problems or having queries but facing slow or inadequate vendor support.
✅ Solution: Before committing to a platform, assess the vendor's reputation for customer support. Opt for vendors known for prompt and helpful service.
5) Over-reliance on Automation:
⚠️ Challenge: Over-automating the recruitment process to the point that it lacks a human touch.
✅ Solution: Use automation judiciously. While it's beneficial for repetitive tasks, personal interactions are crucial in stages like interviews or final candidate communications.
By being aware of these mistakes and challenges and proactively addressing them, small businesses can make the most of their recruiting software, enhancing their hiring process and securing top talent efficiently.
Recruiting Software for Small Business Reddit Threads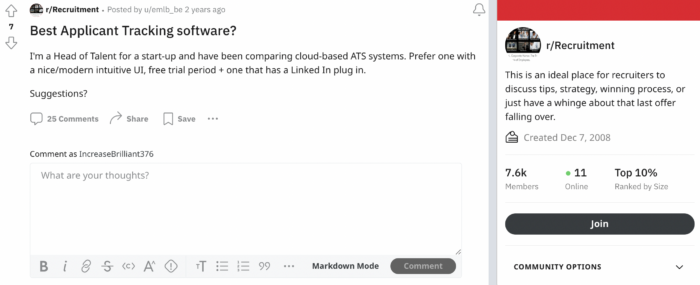 Recruiting software for small businesses is a topic that has likely been discussed on Reddit, given its relevance to both small business operations and HR professionals.
Navigate to Reddit and use its search bar. You can use queries like "best recruiting software for small businesses" or "small business ATS recommendations" to find relevant threads.
Check out /r/recruiting/ to learn more!
---
People Also Ask These Questions About Recruiting Software for Small Businesses
Q: What are the common challenges faced by small businesses in implementing recruiting software?
A: Small businesses often grapple with a limited budget, making it challenging to invest in premium software solutions. They may also lack the technical expertise needed for seamless software integration, especially when migrating data from one system to another. Additionally, without proper training and support, some businesses find it difficult to get their team to adapt to a new system, leading to underutilization of the software's features.
Q: How can recruiting software streamline the hiring process for small businesses?
A: Recruiting software offers tools and features that automate many manual recruitment tasks, such as resume parsing, candidate sourcing, scheduling interviews, and tracking applicant progress. This leads to a faster and more organized hiring process. The software also helps businesses post job listings across multiple platforms simultaneously, maximizing visibility. Analytical tools within the software can also offer insights into the effectiveness of the hiring strategy, allowing businesses to make data-driven adjustments.
Q: What are the key features to look for in recruiting software for small businesses?
A: When evaluating recruiting software, small businesses should prioritize an intuitive user interface, ensuring easy adoption. Features like an Applicant Tracking System (ATS) for managing and tracking candidate information and candidate profiles, automated communication tools for timely responses, and integration capabilities with other business software (like HRIS or email platforms) are crucial. Additionally, customizable job posting templates, analytics and reporting tools, and mobile accessibility can greatly enhance the recruitment process for small businesses.
Q: How does recruiting software help with candidate engagement and communication?
A: Recruiting software offers integrated communication tools that enable timely and organized interactions with candidates. Automated responses can instantly acknowledge application receipts, ensuring candidates feel recognized. Some software solutions also offer built-in messaging platforms, facilitating direct conversations between recruiters and candidates. With features for scheduling interviews or sending reminders, the software ensures continuous engagement. Additionally, CRM features in some recruiting software can help businesses nurture relationships with potential future hires, keeping them engaged and informed about upcoming opportunities.