Have you ever wondered how top-tier companies always seem to have the right people in the right roles at the right time?
The secret lies in advanced workforce planning software.
Workforce planning software empowers businesses to anticipate future staffing needs, assess current talent pools, and strategically align their human resources with organizational goals.
In a hurry? Take a look at some of our favorite workforce planning software:

| | | |
| --- | --- | --- |
| Wrike | 👨🏻‍💻 An all-in-one platform to manage projects, organize work, enhance collaboration and accelerate execution across all departments | Visit Wrike |
| monday.com | 📊 A project management solution that empowers your team to achieve better results | Visit monday.com |
| Deel | 🚀 Streamline compliance, payroll, and HR in one spot | Visit Deel |
| Bob | 🔍 Make informed decisions regarding talent management and retention | Visit Bob |
| ChartHop | ✈️ Make the workforce planning process easier and more efficient | Visit ChartHop |
Just imagine a streamlined operation where skill gaps or talent gaps are identified before they become an issue, recruitment is proactive rather than reactive, and every team member is positioned for maximum impact.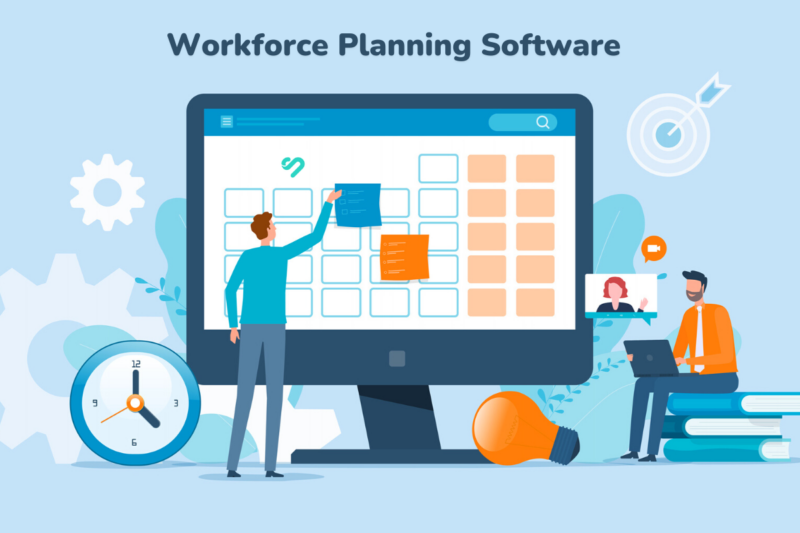 By optimizing your workforce planning with software, you can more accurately predict labor needs and understand how to best utilize your staff for maximum efficiency. Click To Tweet
When it comes to strategic workforce planning, many companies struggle to keep up with their business needs and decision making like the demands of creating schedules, staff meeting agenda, tracking employee time and attendance, and much more. To make this process easier and meet their business goals, business leaders refer to planning software that can be a great tool for optimizing these tasks and making timesheets simpler than ever before.
We have compiled a list of the best workforce planning software to help make your job easier and unlock the potential of strategic talent management in your organization.
Let's go!
Want to become a better professional in just 5 minutes?
Page Contents (Click To Jump)
What is Workforce Planning Software?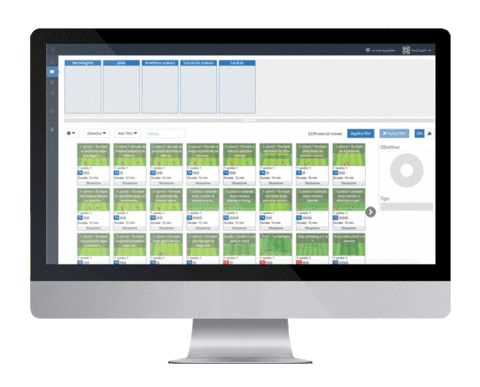 Workforce planning software is an advanced solution for streamlining the entire recruitment and HR processes even in small businesses. It helps organizations find, hire, and manage their workforce quickly and efficiently. These software solutions provide features such as shift swapping, automated reminders, easy attendance tracking, analytics dashboard, modules, and more.
With this tool, companies can get rid of time-consuming sheets and easily plan their staffing needs in advance – making it easier to predict labor costs and understand how best to utilize their staff. In addition, HR professionals will be able to collect the HR data in an efficient and quick way.
Moreover, workforce planning solutions can help companies in their financial planning and adaptive planning through Hris, excel, Gantt chart templates, meeting agenda and project management templates, Kanban tools, and much more.
Benefits of Using Workforce Planning Software
🔷 Maximize efficiency: With workforce planning software, you can quickly identify areas where you need to make changes in staffing levels and use data-driven insights to fill positions quickly and accurately.
🔷 Improve communication: With automated reminders, shift-swapping features, and other useful tools, it's easier to keep everyone in your organization up to date with any changes or updates.
🔷 Better scheduling: Planning software for the workforce helps you to better manage the scheduling and attendance of your employees. This ensures that you have the right mix of staff for each job and that everyone is where they need to be when they need to be there.
🔷 Enhanced analytics: With customizable dashboards and reports, you can easily analyze data to better understand your labor costs and make more informed decisions about future staffing needs.
🔷 Optimized labor costs: You can accurately track employee hours and make sure that your staffing needs are met while still staying within budget.
Best Workforce Planning Software for Business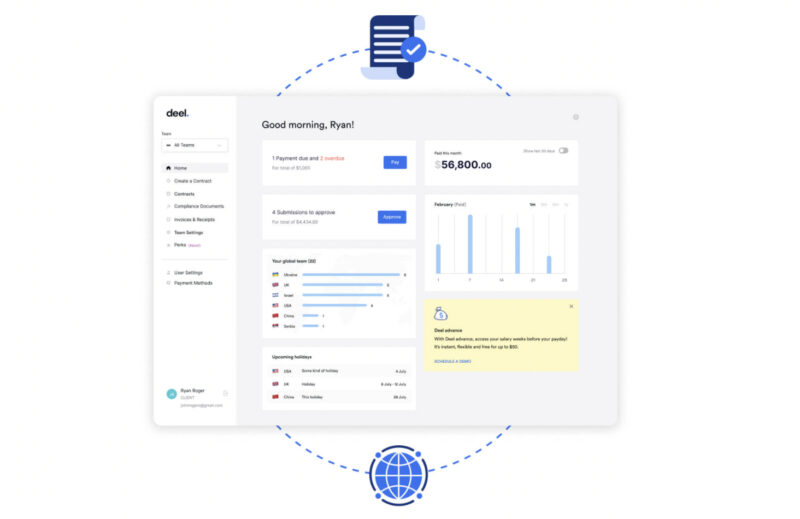 Designed to simplify the complexities of hiring, managing, and paying global teams, Deel provides organizations with the tools to effectively navigate the multifaceted challenges of a diverse workforce. Its platform ensures that businesses remain compliant with varied international labor laws and regulations while optimizing the talents and skills of their worldwide teams. With Deel, you can effortlessly hire contractors and employees across the globe, without the need to open legal entities
🏅 Why we love this workforce planning software: By simplifying the complexities of global employment, from contracts tailored to local compliance to streamlined international payments, Deel offers a holistic approach to managing remote teams. Its platform ensures that businesses can focus on strategic growth and talent optimization while Deel takes care of the intricate nuances of international employment.
⭐️  Standout Features:
❇️ Global Compliance: Deel has a comprehensive database of local employment laws and regulations across numerous countries. This ensures that businesses can confidently hire international talent, knowing they're compliant with local employment requirements.
❇️ Flexible Payment Solutions: Deel offers a streamlined process for paying international employees or contractors. It supports a wide range of currencies and offers multiple payout methods, making global payments efficient and hassle-free for both employers and their team members.
❇️ Customizable Contracts: The platform provides templates for employment and contractor agreements that cater to specific local requirements, ensuring a smooth and legally sound hiring process. It automates contract generation based on the selected country and employment type.
"What I find most appealing about Deel is its exceptionally user-friendly interface and its commitment to streamlining complex processes. Deel's intuitive design makes navigation effortless, allowing users to easily access and manage a wide range of tasks related to contracts, payments, and compliance. Additionally, its comprehensive approach to global payments and compliance management significantly simplifies the complexities of working across international borders. This not only enhances efficiency but also instills confidence in both employers and freelancers, fostering a smoother and more secure working relationship."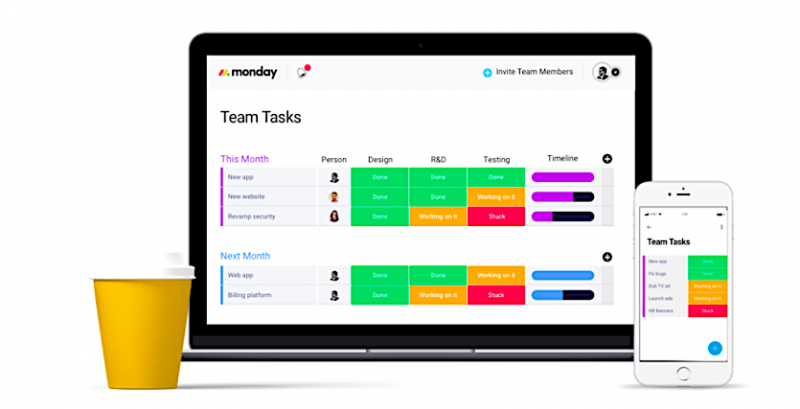 By offering visually intuitive boards and customizable workflows, monday.com provides real-time collaboration features and integration capabilities to ensure that departments across an organization can harmonize their planning, driving efficiency and promoting proactive decision-making.
🏅 Why we love this workforce planning software:  monday.com allows businesses to map out staffing requirements, track employee progress, and forecast future talent needs, all within a centralized dashboard. Its adaptability ensures that companies, irrespective of their size or industry, can align their human resources with organizational objectives, ensuring optimal productivity and strategic growth.
⭐️  Standout Features:
❇️ Visual Work Operating System: monday.com provides highly customizable boards where users can visualize tasks, projects, and workflows. These boards support various views such as Kanban, timeline, calendar, and more, catering to different project management styles and preferences.
❇️ Integrations and Automation: The platform seamlessly integrates with a plethora of third-party applications, ensuring a cohesive work ecosystem. Additionally, users can set up automation to streamline repetitive tasks, enhancing efficiency in project management and other work processes.
❇️ Collaborative Tools: monday.com emphasizes team collaboration by allowing users to comment on tasks, mention team members, and share files. This ensures that all communication related to a task or project is centralized and easily accessible.
"I pretty much like this platform because this platform could really help me organize our projects. It is really easy for me to track the progress of every project I am working on."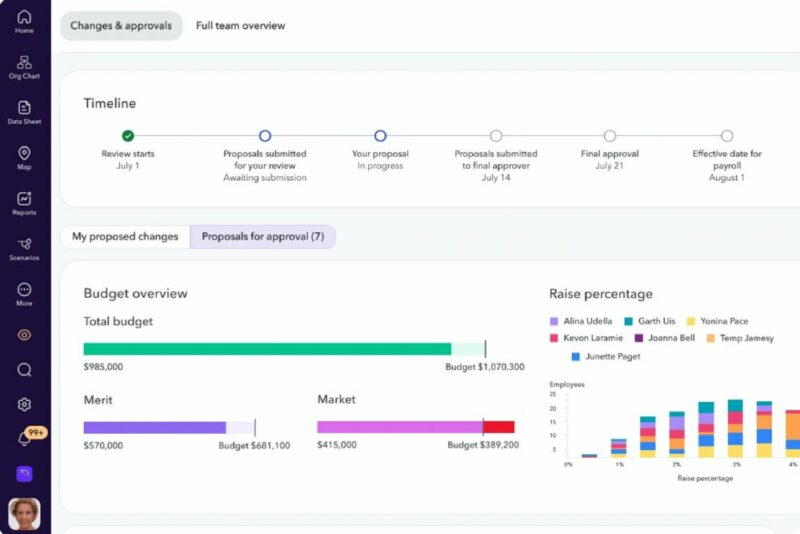 This workforce planning software is a great workforce management platform thanks to its easy-to-use capabilities. With ChartHop, you can quickly add new hires or make changes to existing positions in seconds. This helps reduce time spent on manual data entry while also giving you valuable insight into your organization's headcount.
🏅 Why we love this workforce planning software: ChartHop makes the workforce planning process easier and more efficient by offering automated reporting, customizable visualizations, and the ability to track progress with ease. It helps businesses gain visibility into hiring trends, allocations of roles, and cost savings – all in one platform.
⭐️  Standout Features:
❇️ Dynamic Organizational Charts: ChartHop allows users to create interactive organizational charts that offer a clear view of the company's structure. These charts can be customized based on various data points and can be used to visualize different scenarios, such as post-hiring or after potential restructures.
❇️ People Analytics: With its robust analytics capabilities, ChartHop provides detailed insights into workforce demographics, compensation distributions, and other vital metrics. This allows companies to make data-driven decisions regarding their workforce.
❇️ Scenario Planning: ChartHop supports scenario-based planning, enabling organizations to model and visualize potential changes, such as mergers, reorganizations, or large-scale hiring, and understand their impacts before they are executed.
"I like that the org chart is super easy to use and that you can actually see the growth of the company over time. And so do all our employees! It tells a story about who we are and the growth path we're on. I also like the colorful reporting, it just takes a while to set it up."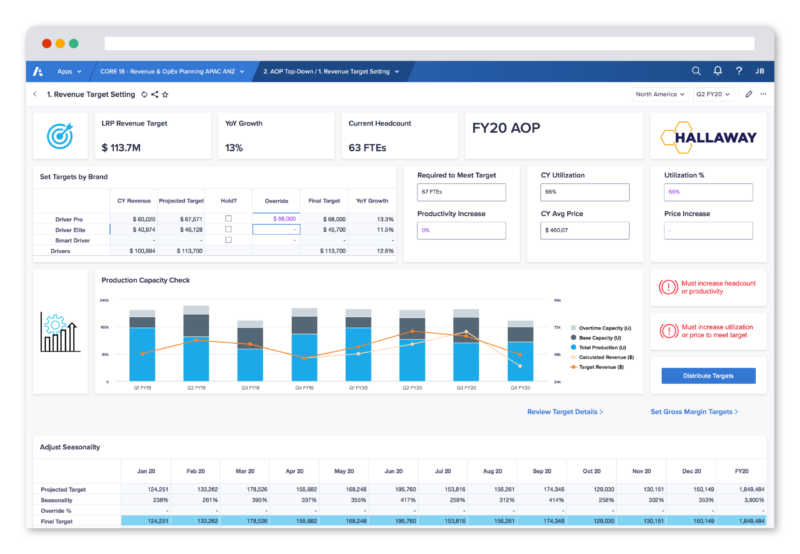 Anaplan has risen to prominence as a premier workforce planning software, adept at addressing the multifaceted challenges of modern enterprises. Powered by its hyperblock architecture, Anaplan facilitates real-time planning, allowing businesses to model and forecast with unparalleled precision.
🏅 Why we love this workforce planning software: Companies leveraging Anaplan benefit from its cloud-native platform, which combines intuitive interfaces with robust computational capabilities. This ensures that organizations can strategize their human resources efficiently, aligning talent with business objectives and adjusting dynamically to market shifts.
⭐️  Standout Features:
❇️ Predictive Analytics: Anaplan utilizes sophisticated analytics to forecast workforce requirements and assess potential impacts on organizational goals and strategies.
❇️ Dynamic modeling: Create and adjust financial models quickly and easily
❇️ Scenario-Based Planning: Anaplan allows for the development and comparison of multiple planning scenarios, helping organizations to prepare for a range of potential future conditions and outcomes.
"Excel is great when you are working by yourself, but as you start to collaborate with colleagues and add enterprise-level amounts of data the cracks start to show. Anaplan gives you the same flexibility to build whatever you need, but with enterprise-level information system guardrails for things like security, auditability, change control, etc."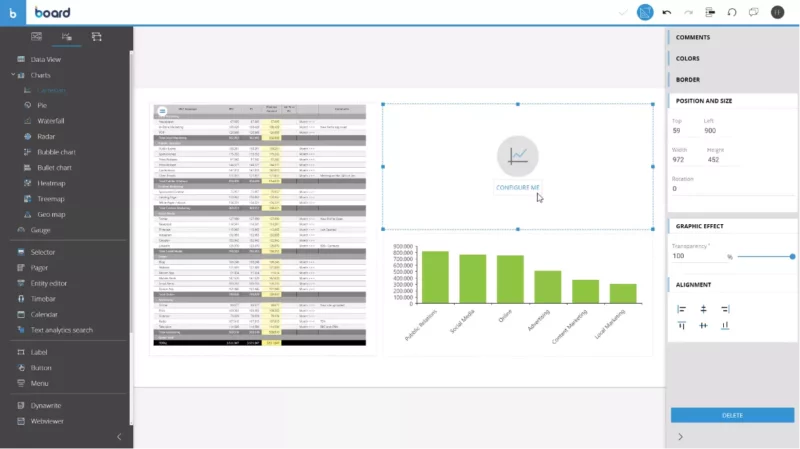 Through its unified platform, Board offers a comprehensive suite of tools that combine planning, simulation, and analytical capabilities. This enables organizations to have a holistic view of their workforce, ensuring alignment between human resource strategies and broader business objectives. By facilitating a data-driven approach to workforce management, Board helps companies make informed decisions, optimize resource allocation, and ensure readiness for future challenges.
🏅 Why we love this workforce planning software: By facilitating a data-driven approach to workforce management, Board helps companies make informed decisions, optimize resource allocation, and ensure readiness for future challenges.
⭐️  Standout Features:
❇️ Unified Planning and Analysis: Board seamlessly merges workforce planning with in-depth analytical capabilities, enabling a comprehensive understanding of workforce dynamics.
❇️ Simulation Capabilities: The platform allows users to run various simulations to understand the impact of different workforce strategies, ensuring robust decision-making.
❇️ Customizable Dashboards: Board offers highly customizable dashboards that present key workforce metrics and insights, providing stakeholders with an at-a-glance overview of their human resource landscape.
"The system can be adapted to meet organizational needs. It is able to work with existing and new data and be able to give us customized reports and views. We have been able to replicate our current manual process and automate them to get more precise and real-time information."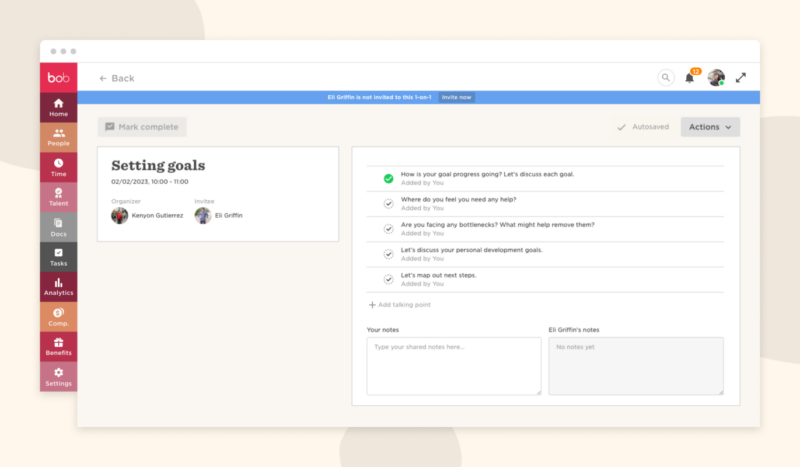 Bob offers dynamic and user-friendly solutions tailored for the modern workplace. Central to Bob's design is its capacity to foster engagement and offer insights into the holistic employee experience. This aids businesses in making informed decisions regarding talent management, development, and retention.
🏅 Why we love this workforce planning software:  Bob ensures that companies are not just looking at numbers but are considering the individual experiences and aspirations of their workforce, thereby promoting a harmonious and productive work environment.
⭐️  Standout Features:
❇️ People Analytics: Bob provides deep insights into employee data, helping businesses understand their workforce demographics, trends, and potential areas of concern.
❇️ Engagement Surveys: The platform features built-in engagement tools that allow businesses to gauge the pulse of their teams, fostering proactive strategies to enhance morale and productivity.
❇️ Time and Attendance Tracking: Bob simplifies the process of tracking employee hours, vacations, and absences, ensuring accurate and streamlined workforce management.
"Friendly user interface, highly flexible and scalable. So far there isn't much we've wanted Bob to do that it can't do. The best part is that it can easily be managed by my own HR team and I don't need consultants to maintain. Anyone with a basic interest in technology who is generally organized can design and administer Bob. The implementation team was structured and with us the whole way. Very available to support us."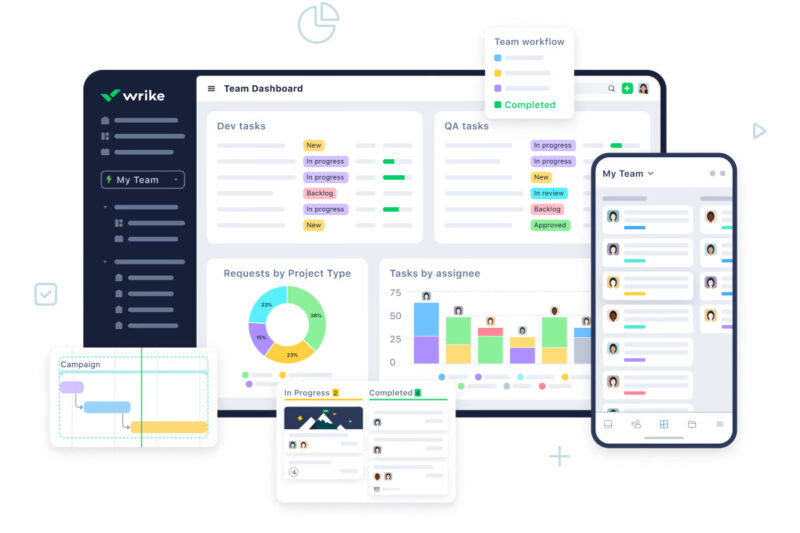 While Wrike is best known as a comprehensive project management tool, its versatility extends to effective workforce planning as well. With its robust suite of tools, Wrike empowers organizations to allocate resources efficiently, track employee tasks, and balance workloads across teams.
🏅 Why we love this workforce planning software: By providing a real-time snapshot of ongoing projects and resource commitments, Wrike ensures that businesses can anticipate workforce needs and adjust plans proactively. Its collaborative features foster better alignment between teams, ensuring that projects progress smoothly and workforce assets are optimized Wrike helps businesses tailor workflows, views, and workspaces to meet your team's specific needs while enjoying a comprehensive 360° visualization. Experience the ultimate synergy in your work!
⭐️  Standout Features:
❇️ Resource Management: Wrike's tools enable clear visualization of team workloads, ensuring optimal allocation of tasks and balanced work distribution.
❇️ Gantt Charts: The platform provides dynamic Gantt charts, allowing managers to map out project timelines, allocate resources, and foresee potential bottlenecks or overlaps in assignments.
❇️ Real-time Collaboration: Wrike promotes team synergy by offering collaborative tools, such as shared dashboards and document editing, ensuring that communication and updates on workforce planning are seamless and instantaneous.
"This user friendly software help to manage project easily with its functionalities and I'm pretty happy to use it."
Common Mistakes & Challenges to Avoid When Using Workforce Planning Software

⚠️ Over-reliance on Automation: While automation features can streamline processes, over-reliance can lead to missing out on critical human insights and nuances in workforce planning.
⚠️ Neglecting Data Quality: Inaccurate or outdated data can lead to misguided decisions. Always ensure data input is current and accurate.
⚠️ Ignoring User Training: Failing to provide adequate training can result in improper use of the software, leading to inefficient planning and potential mistakes.
⚠️ Not Regularly Reviewing and Updating Plans: Workforce needs and business objectives change over time. Plans should be regularly reviewed and adjusted accordingly.
⚠️ Overcomplicating Processes: While it's essential to capture necessary data and insights, trying to account for too many variables can make the planning process overly complex and less actionable.
⚠️ Not Integrating with Other HR Systems: To get a holistic view of the workforce, the planning software should be integrated with other HR systems like talent management, payroll, and learning and development platforms.
⚠️ Failing to Account for External Factors: Factors like economic shifts, industry trends, and regional job market conditions should be considered in workforce planning.
⚠️ Neglecting Stakeholder Input: Failing to incorporate insights from various departments or levels of management can result in a plan that doesn't align with on-the-ground realities or business objectives.
⚠️ Assuming One-Size-Fits-All: Different departments or teams might have unique workforce planning needs. Assuming a universal approach can result in inefficiencies or oversights.
⚠️ Not Leveraging Predictive Analytics: Many modern workforce planning tools offer predictive analytics. Not utilizing these can mean missing out on valuable forward-looking insights.
⚠️ Underestimating Security Needs: Sensitive workforce data should be protected. Not ensuring adequate cybersecurity measures can expose the organization to data breaches.
Remember, while workforce planning software can be a powerful tool, its effectiveness is heavily dependent on how it's used. Proper implementation, continuous review, and mindful utilization are crucial.
Overcoming Major Obstacles in Using Workforce Planning Software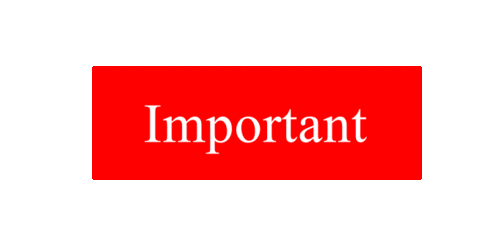 ⛔️
Major Obstacles
⚠️ Data Inaccuracy: Using outdated or incorrect data can result in flawed planning.
⚠️ Resistance to Change: Employees might resist transitioning to new software or methods.
⚠️ Complex User Interface: Some platforms might be overly complex, leading to user frustration or incorrect usage.
⚠️ Integration Issues: Difficulties in integrating workforce planning software with other existing HR or company systems.
⚠️ Lack of Clear Objectives: Not having clear goals or understanding of what to achieve with the software.
⚠️ Over-reliance on Software: Believing the software alone will solve all workforce planning challenges without human intervention.
⚠️ Cost Concerns: High costs associated with purchasing, implementing, or maintaining the software.
👍🏻
Strategies to Overcome These Obstacles
✅ Regular Data Audits: Schedule periodic checks to ensure data accuracy and relevance in the system.
✅ Training and Onboarding: Provide comprehensive training sessions and continuous support to ease the transition.
✅ Choose User-Friendly Software: Opt for platforms known for their intuitive design and offer trial periods to test usability.
✅ Ensure Software Compatibility: Before purchasing, ensure the software can integrate seamlessly with existing systems or choose platforms known for their robust integration capabilities.
✅ Set Clear Goals: Before implementation, outline clear objectives and what you hope to achieve with the software.
✅ Balance Automation with Human Decision-making: Use the software as a tool to assist decision-making, not replace it. Always incorporate human insights.
✅ Cost-Benefit Analysis: Understand the long-term benefits of effective workforce planning and weigh them against initial costs. Look for scalable solutions that match your organization's size and needs.
By anticipating these challenges and implementing these strategies, businesses can ensure they derive maximum value from their workforce planning software investments.
Workforce Planning Software Reddit Threads

Workforce Planning Software Reddit Threads could refer to discussion threads within relevant subreddits where users share and discuss their experiences with different workforce planning software, ask questions, seek advice, or give recommendations.
Check our/r/software/ to learn more!
---
People Also Ask These Questions About Workforce Planning Software
Q: What features should I look for when selecting workforce planning software?
A: When selecting a workforce planning software, it is important to consider features such as automated reporting, customizable visualizations, team collaboration capabilities, integrations with third-party applications, real-time visibility into data analytics and trends, dynamic financial modeling, secure authentication and encryption in the cloud, automatic updates for changes occurring in the system, tracking of time and attendance data, and intelligent forecasting. Each of these features can help make workforce planning more efficient and effective for your organization.
Q: How do I choose the right workforce planning software for my organization?
A: Choosing the right workforce planning software for your organization starts with identifying your needs. Make sure to consider factors such as budget, integration requirements, user-friendliness, scalability, and any other key features that your organization requires in order to make an informed decision. After researching different vendors and their offerings, you should ask for a demonstration or free trial so you can evaluate the software more thoroughly. Additionally, be sure to read customer reviews and testimonials from previous users in order to get a better understanding of the experience that they have had with the software. With this information, you can make an informed decision on choosing the right workforce planning software for your organization.
Q: What is an example of a workforce planning tool?
A: Bob is an example of a workforce planning tool. It provides a comprehensive suite of features, including seamless onboarding, streamlined workflows, performance management, and compensation management that can help make your HR functions more efficient. Additionally, it offers integrations with leading payroll providers and other popular applications such as Salesforce, NetSuite, and SAP to enable you to bring your entire HR process together. Bob can also help build an engaged workforce by providing performance assessments, rewards, and recognition. Finally, the software is equipped with secure authentication and encryption in the cloud to ensure data protection and privacy.
Q: What are the 5 key elements of workforce planning software?
A: The five key elements of workforce planning software are automated reporting, customizable visualizations, team collaboration capabilities, integrations with third-party applications, and real-time visibility into data analytics and trends. Automated reporting allows you to generate reports quickly and easily without manual effort. Customizable visualizations provide insights into your data so you can make informed decisions. Team collaboration capabilities enable teams to work together efficiently and effectively. Integrations with third-party applications help connect information from multiple sources into a single platform. Finally, real-time visibility into data analytics and trends provides insights that can be used to make better decisions in the future. With these five key elements, you can maximize your workforce planning efforts!
Q: What is workforce planning software used for?
A: Workforce planning software is used to help organizations plan their workforce more effectively and efficiently. It enables organizations to track employee time, attendance, performance, and engagement data. Additionally, it can help automate the process of creating schedules and tracking employee hours worked. It can provide insights into productivity trends so that managers can make better decisions about staffing levels in order to optimize efficiency. Finally, workforce planning software can also help organizations avoid overtime expenses by enabling managers to set rules and regulations around the organization's labor force. With these tools, organizations can better manage their workforce and maximize productivity.
Q: What is the difference between HR and workforce planning software?
A: The main difference between HR and workforce planning software is the focus. HR software focuses primarily on managing employee information such as recruitment, onboarding, payroll, performance reviews, and other personnel-related activities. On the other hand, workforce planning software focuses more on forecasting future labor needs and analyzing past performance to guide staffing decisions. Additionally, this type of software provides tools for creating schedules, tracking time and attendance data, analyzing labor trends, and managing budgeting for the organization. With this software, organizations can maximize their efficiency and productivity by effectively planning their workforce.