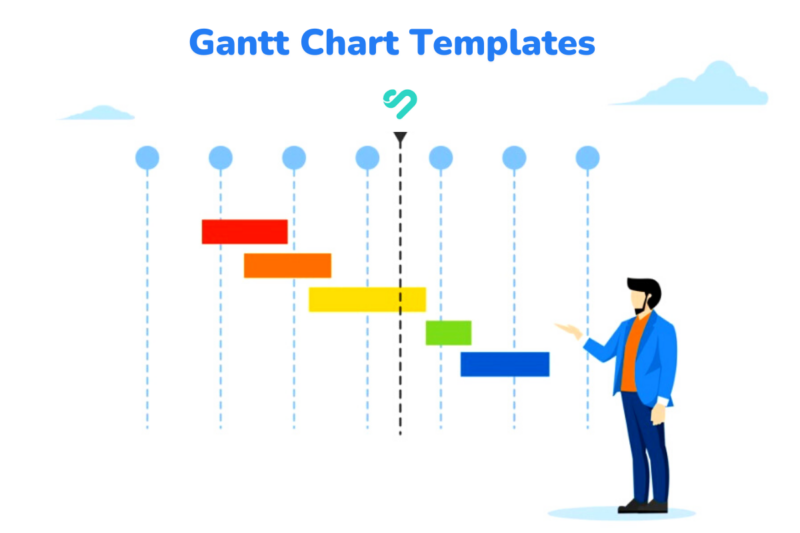 Staying organized is the key to high-level project management.
Picture this: a tool that helps you visualize your project's timeline and turns complex planning into a delightful journey.
Gone are the days of sifting through heaps of spreadsheets, trying to decipher timelines that resemble a labyrinth. Say hello to Gantt Chart Templates – your ticket to seamless project execution and unparalleled clarity.
Gantt charts are a great way for business owners, project managers, and teams to plan their workflows. With this type of planning tool, they can easily track tasks and milestones so that everyone involved in the project is on the same page.
In a hurry? Take a look at some of our favorite Gantt chart templates:

A Gantt chart template provides an easy-to-use visual representation of your work planning and project tasks that allows you to quickly identify areas for improvement and increase the performance of the members.
Gantt chart templates can be incredibly powerful when used properly. They enable project managers to effectively plan, delegate tasks, and manage resources more efficiently. Click To Tweet
We've compiled a selection of top-notch Gantt chart templates that will elevate your projects and boost their efficiency.
Get ready to unlock your project's full potential!
Want to become a better professional in just 5 minutes?
Page Contents (Click To Jump)
What Is a Gantt Chart Template?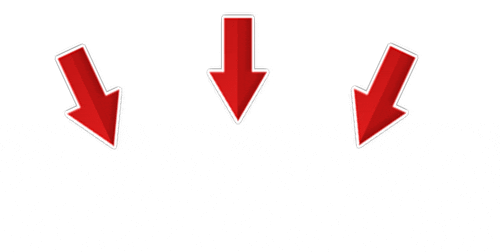 A Gantt chart template is a type of visual representation that makes it easy for users to plan and monitor the progress of their projects.
It provides an overview of tasks to be completed, the duration, any milestones or dependencies on other task completion, and resource availability. These templates are a great way to increase productivity in the workplace. They also integrate directly into your existing online project management tool to make it easy to track project progress and ensure that start dates and deadlines are met to help you stay within the time frame.
Benefits of Gantt Chart Templates
A Gantt chart template can be a great asset for business owners looking to stay organized and increase their productivity. With the help of a Gantt chart, you can easily plan out your tasks for your challenging or simple project. The visual representation that these charts offer makes it easy to identify problems before they arise in order to reduce any potential delays or disruptions.
Take a look at the other benefits these charts offer:
✅ Benefit 1: Help Visualize
These templates provide an effective way to visualize workflow processes which can help streamline activities and reduce mistakes.
✅ Benefit 2: Easily Shared
Gantt chart templates can be easily shared with team members to ensure that everyone involved is on the same page when it comes to timelines and deadlines.
✅ Benefit 3: Offer Clarity
They help to provide clarity and focus for both business owners and team members. This can prevent wasted time as everyone is aware of which tasks need to be completed in order to meet due dates.
✅ Benefit 4: Customizable
These charts are easy to use and can be customized according to the needs of each individual project and project data.
Best Gantt Chart Templates for Project Management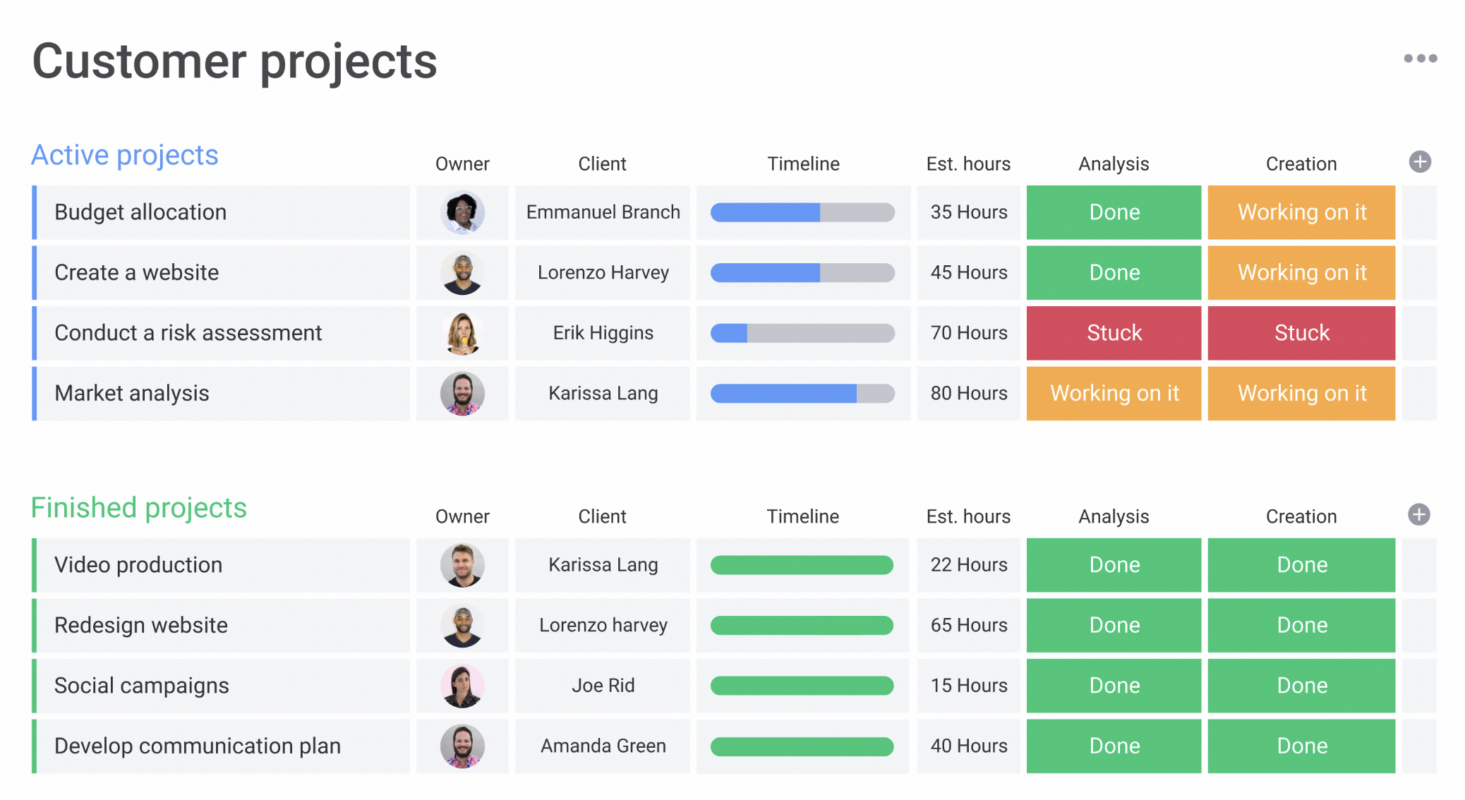 The Customer Projects allows users to easily measure progress and achieve desired results. It also helps to effortlessly track billable hours for your valuable clients, gain a comprehensive real-time overview of customer projects, and collaborate seamlessly with stakeholders across teams for maximum efficiency.
🎖 Why this is a good Gantt chart template: This template is an excellent tool for teams who need to track their project schedule and manage projects efficiently. It enables easy collaboration by assigning team members to initiatives and managing all project planning in one centralized location, helping ensure that deadlines are met and customer expectations are exceeded.

If you're looking for a straightforward solution with minimal fuss, Simple Gantt is the perfect template. It's designed to help you easily plan projects and visualize progress, without bogging down your project timeline with unnecessary complexity. With customizable colors and simple drag-and-drop functionality, Simple Gantt is the ideal choice for any team that needs an efficient way to manage projects.
🎖 Why this is a good Gantt chart template: With its automated task organization based on start and end dates, this template saves valuable time and streamlines your project management process. By enabling clear communication of project status with stakeholders and ensuring your team stays on track, Simple Gantt is an excellent tool to boost productivity and achieve project success.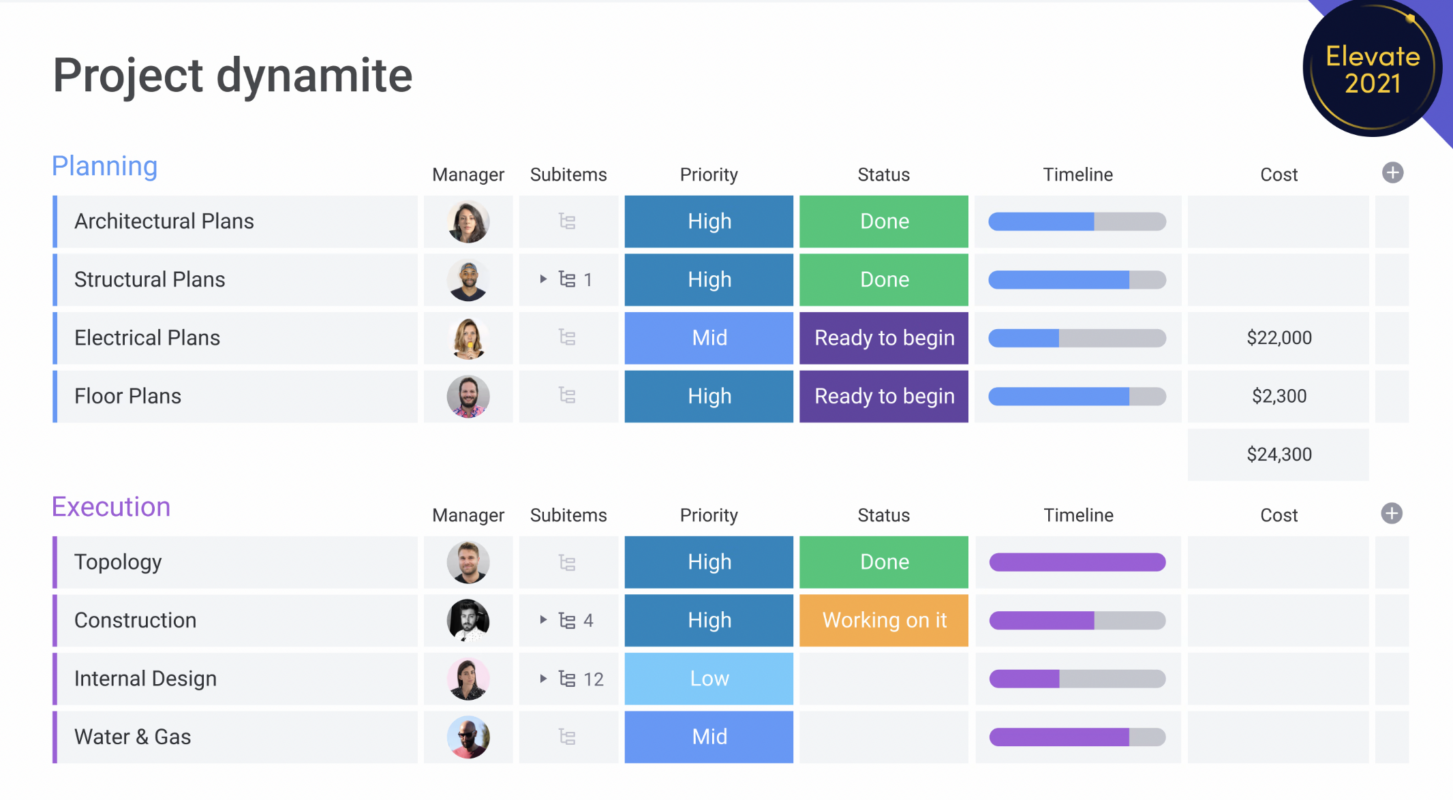 Project Dynamite is a versatile Gantt chart template that allows you to set up, manage, and track your projects. It includes automated task scheduling based on duration, start and end dates, dependencies, milestones, and more. Its intuitive interface simplifies project setup and makes it easy to collaboratively work with stakeholders with its interactive visuals.
🎖 Why this is a good Gantt chart template: Project Dynamite makes it easy to store and organize all current and previous contractors, keep tabs on project managers and their assigned projects, take control of ongoing projects with tracking in one centralized board, and connect your project boards for efficient workflow management.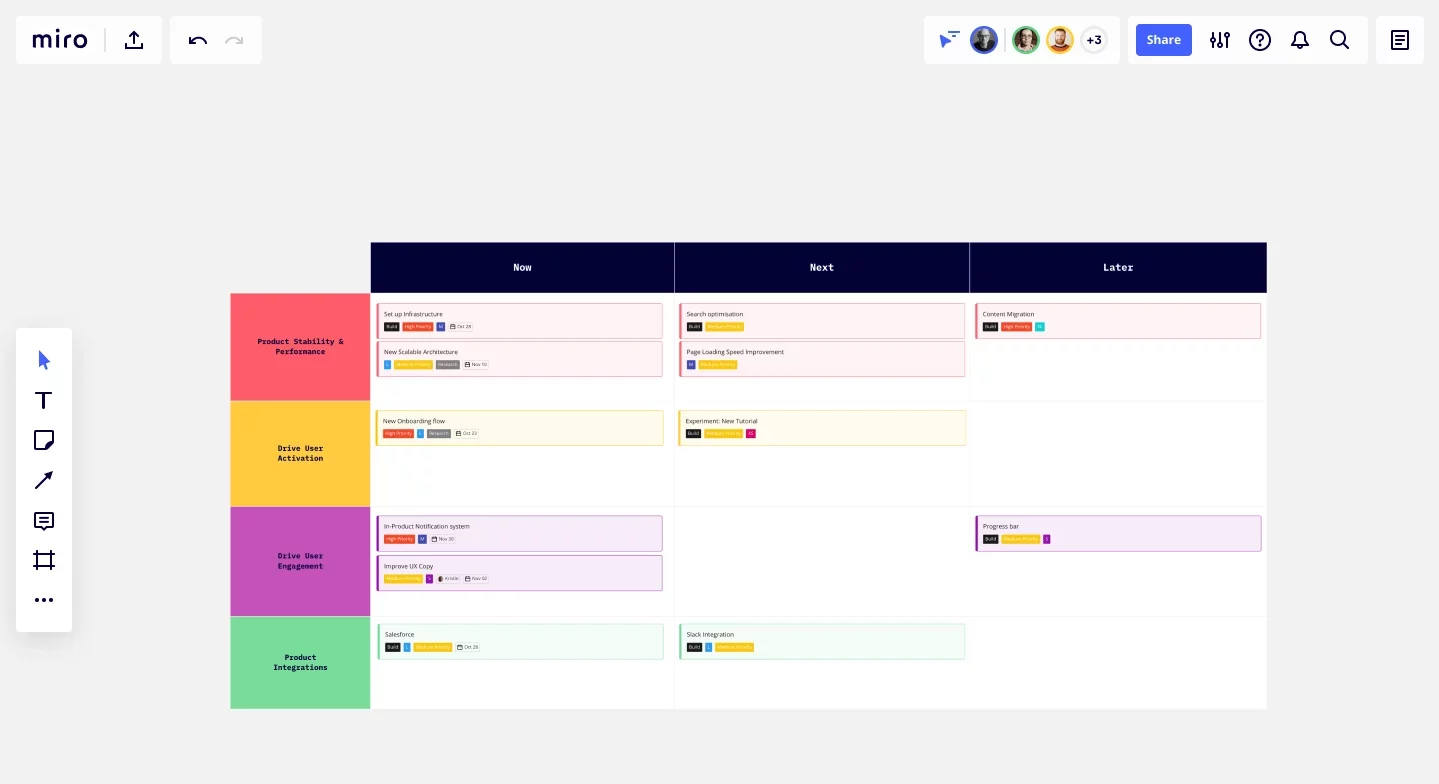 The Agile Roadmap Template is a powerful tool for teams to evaluate the feasibility of their product strategy. This template enables embracing change and making swift adjustments to align with evolving market competition and customer demands. It includes a flexible timeline and allows for prioritizing the backlog of features.
🎖 Why this is a good Gantt chart template: A visually appealing interface and dynamic visuals ensure stakeholders can easily understand the posture of your project. Additionally, this template integrates with other popular project management tools, making agile roadmaps an efficient way to keep on top of changes and make strategic decisions. In addition, deliverables can be easily rescheduled based on their importance and urgency. This not only effectively communicates your product vision but also emphasizes the desired outcomes for your valued customers.
This is an exceptional option for effectively organizing and visualizing project plans. With this Gantt Chart Template, individuals and teams can track project progress, allocate resources efficiently, and enhance overall productivity. Discover the power of these charts to streamline your projects, optimize task scheduling, and achieve even greater success in your project management endeavors.
🎖 Why this is a good Gantt chart template: This Gantt chart template simplifies visualizing project progress over time with a horizontal bar chart. It enables easy tracking of each step's status and identification of stakeholders. Moreover, the template breaks projects into tasks, providing clarity on task statuses, assignments, and estimated completion times for the entire team. Additionally, it is highly effective for checking project dependencies and identifying bottlenecks.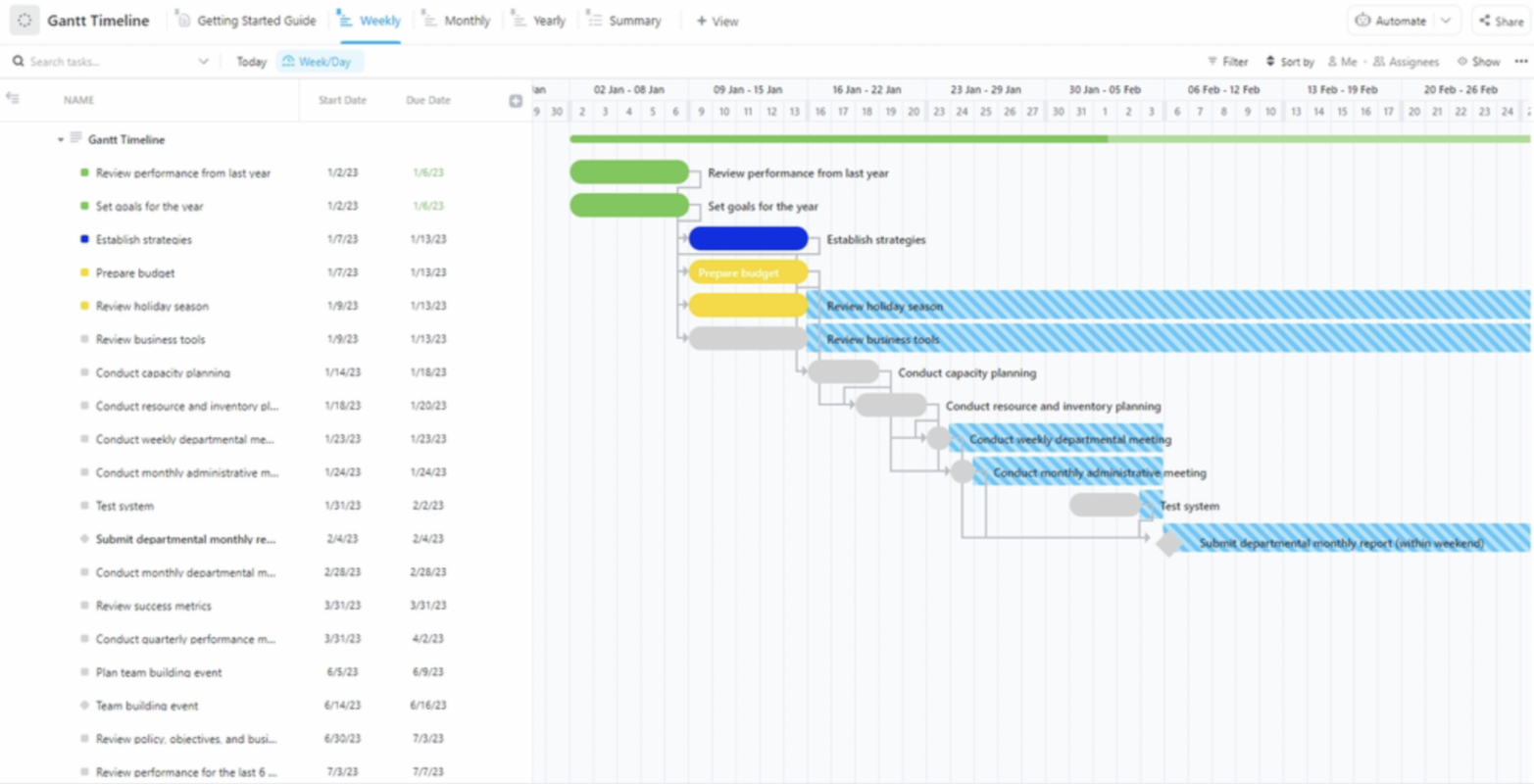 The Gantt Timeline plays a crucial role in project planning and tracking. It empowers teams to visualize tasks, timelines, and dependencies all in one place, fostering seamless collaboration. Whether you're managing a complex project or simply staying on top of deadlines, this template delivers the ultimate solution—all conveniently located in one place.
🎖 Why this is a good Gantt chart template: With this color-coded HR template, you can easily organize your project plans, identify and allocate resources, track progress in comparison to the original plan, and reduce the risk of delays or budget overruns. This allows teams to effectively organize tasks, timelines, and dependencies in a single location, ensuring efficient project execution.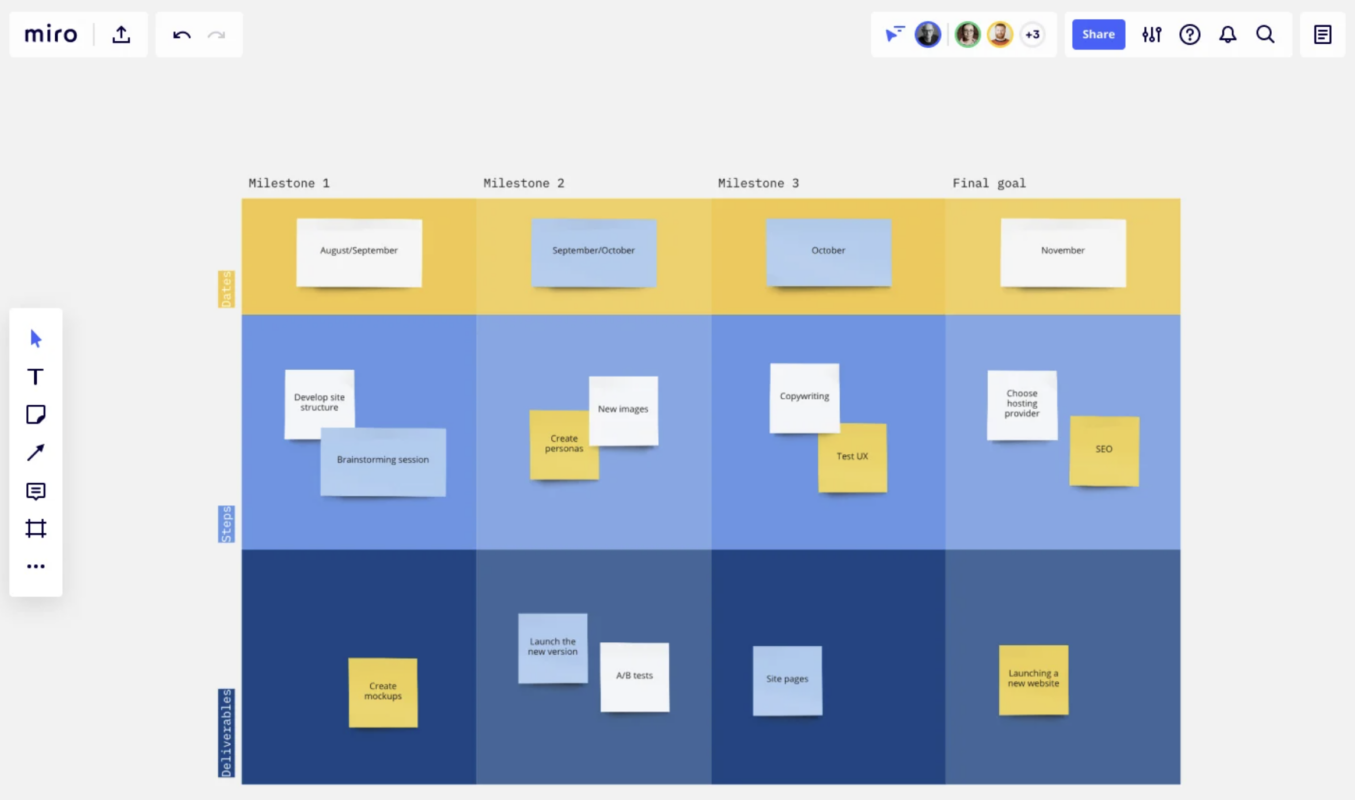 The Milestone Chart highlights the significant events, or milestones, planned throughout a project's timeline. Each milestone is represented by a vertical line, accompanied by a descriptive label on its left. The chart also features a horizontal timescale that spans the entire project, providing a comprehensive view. With its informative and persuasive nature, the milestone chart boosts project management efficiency and injects an upbeat energy into the process.
🎖 Why this is a good Gantt chart template: This brainstorming template is an effective and efficient tool for managing the tasks and progress associated with a larger project. It can help you stay on track with deadlines, keep your managers or customers up to date by allowing easy updates, and set key milestones that will allow you to reach your objectives with confidence.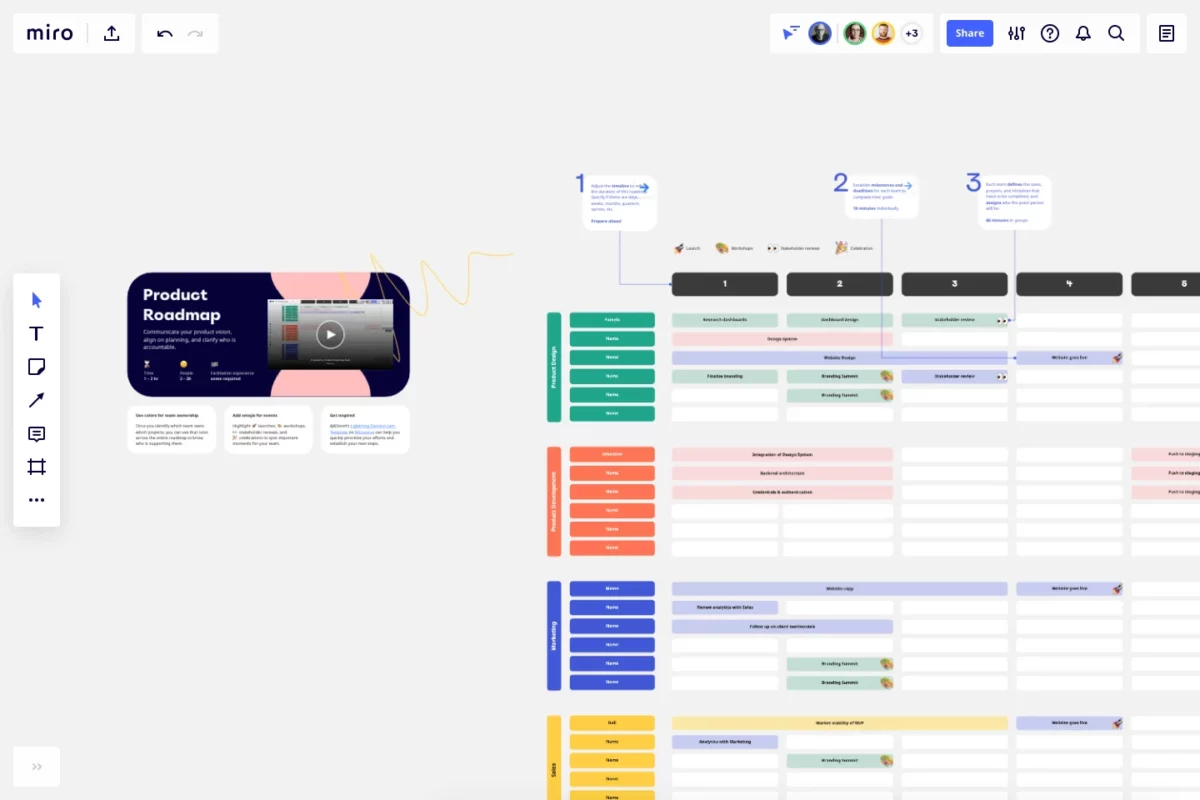 The Product Roadmap template is an excellent way to visually display your product's planned features and updates. This allows you to effectively communicate progress and objectives while also helping identify areas for improvement. This template allows you to keep stakeholders informed about upcoming releases, market trends, and other significant developments, ensuring they are up-to-date and well-informed.
🎖 Why this is a good Gantt chart template: The Product Roadmap template is effective for setting project goals and tracking progress to completion. It helps maintain the momentum of your product development and allows you to identify trends, plan future features, and optimize performance with ease.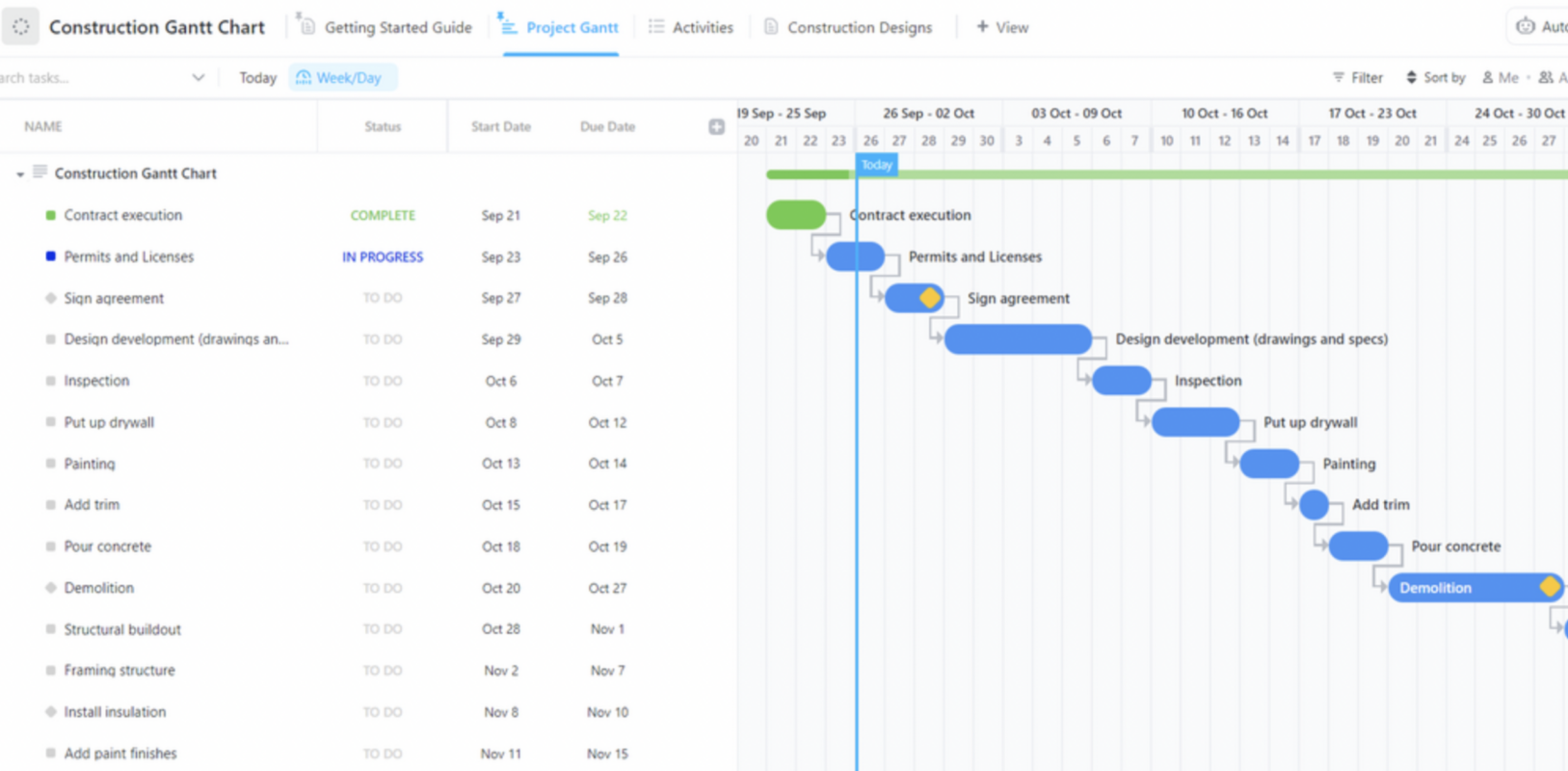 The Construction Gantt Chart template is essential for managing construction projects of any size. It enables teams to monitor progress, view resource availability, plan labor requirements, and identify areas of potential risk. This template simplifies the process of creating detailed project plans—allowing your team to remain focused on their work rather than worrying about organization and deadlines.
🎖 Why this is a good Gantt chart template: This project management template offers powerful features that allow you to easily manage resources, and reduce the risk of delays or budget overruns—all while providing clarity on task statuses, assignments, and estimated completion times for the entire team.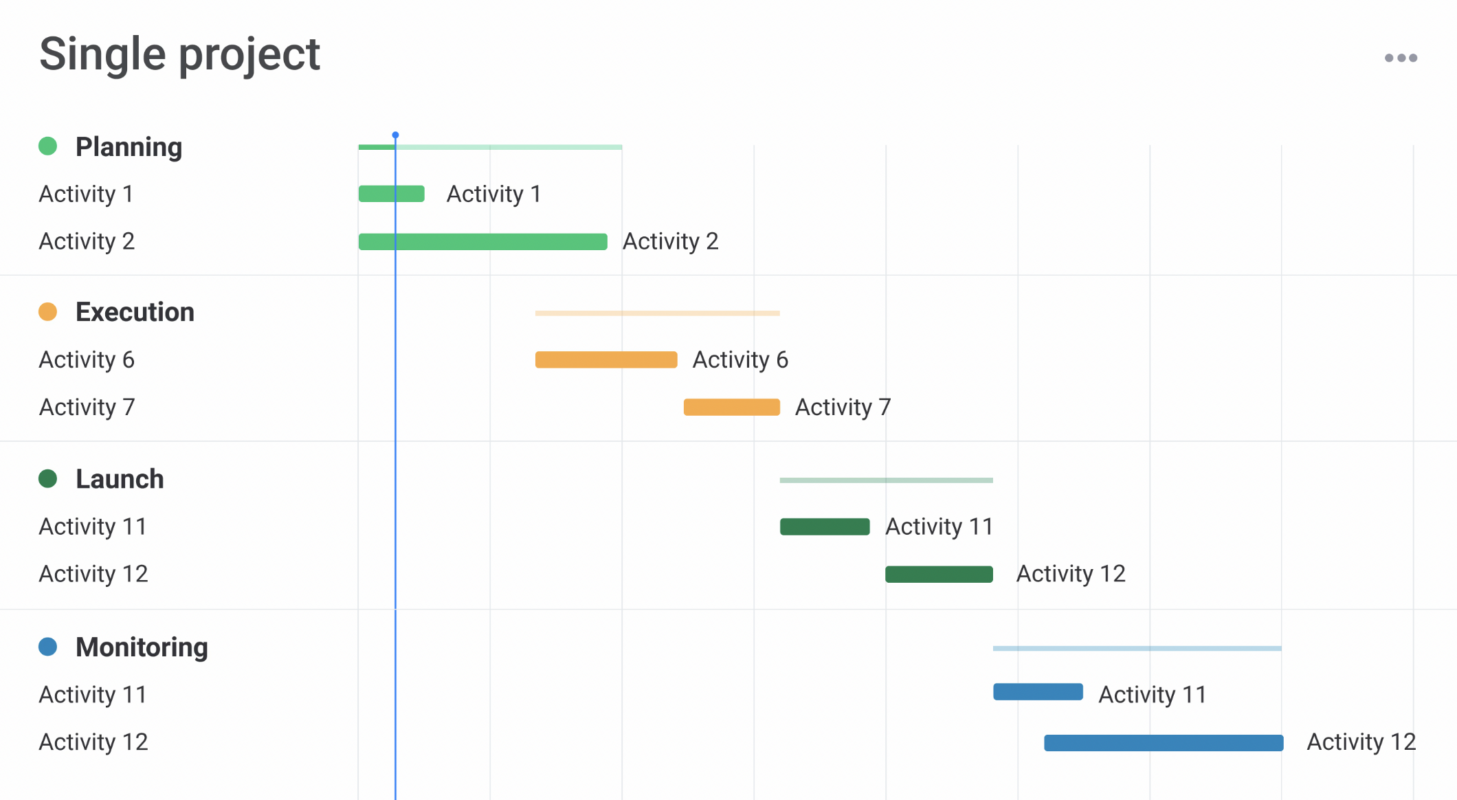 The Single Project template is a highly versatile and ideal solution for effectively managing projects of any size. With its streamlined features, it empowers teams to save valuable time, minimize the risk of errors, and seamlessly track the status of each step.
🎖 Why this is a good Gantt chart template: The Single Project template enables the classification of tasks according to their status and priority, offering the entire team an accurate and current reference point for their work. This results in seamless project monitoring, and swift task assignment, and facilitates setting deadlines, allocating resources, and proactively identifying potential risks.
People Also Ask These Questions About Gantt Chart Templates
Q: Is there an Excel Gantt chart template?
A: Yes, there is an Excel Gantt chart template available. This template can be used to create a visual representation of project tasks and deadlines in order to track progress on projects. The template includes pre-set columns for task name, start date, end date, duration, percentage complete, and notes. It also allows for customizations such as changing colors or adding additional columns. Additionally, the chart can be exported to other formats such as a PDF or PNG file for sharing with stakeholders.
Q: What features should a Gantt chart template include?
A: A comprehensive Gantt chart template should include several key features to facilitate effective project management. The template should have the capability to sequence tasks, providing a clear order of execution. It should also offer timeline visualization, displaying task duration and deadlines. Other potential features include progress tracking, showcasing task completion over time, and resource allocation, highlighting assigned office tools, materials, or personnel. Ultimately, the template should be user-friendly and customizable to cater to the unique needs of different projects.
Q: Can I customize existing Gantt Chart templates?
A: Yes, most Gantt chart templates can be customized to accommodate the specific needs of a project. Depending on the software used to create your Gantt chart, there are various types of customizations that can be made. These include changing the formatting such as font size or color scheme, implementing conditional formatting to highlight dates or tasks, and adding notes or comments for each task. Users can also adjust the duration and start/end date of tasks, allocate resources to specific tasks, or create additional columns to track progress in a way that is meaningful for their project. By taking advantage of these customization options, users can create Gantt charts that best suit their needs.