For full transparency and truth in the workplace, sometimes anonymity is needed.
After all, when people feel their jobs and interpersonal relationships could be on the line, they're less likely to be willing to give the much-needed constructive feedback that would allow for cultural and operational improvements within your organization.

Anonymity; however, is still only one of the keys to gaining insights about team members, employee engagement, and all the other factors that make things jibe internally, which is where 360 degree feedback software tools come into play.
This new all-angles approach of performance appraisal enables managers and employees to stay on the same page.
"More than 85% of Fortune 500 companies employ 360 degree feedback as a foundational aspect of their entire leadership development process." — Forbes
Click To Tweet
In this article, we'll go over how you can leverage 360 degree feedback software tools for conducting employee reviews in 2023, as well as, the best 360 degree feedback solutions on the market.
So without further ado, let's get started!
Want to become a better professional in just 5 minutes?
What is a 360-degree employee review?
A 360 degree employee review is an assessment of an employee's performance conducted by coworkers, supervisors, and other people in the organization who interact with the person. It can provide a comprehensive picture of how staff members are performing their responsibilities and how they relate to their peers and supervisor.
The feedback gathered through the process can then be used to develop new strategies to help employees reach their potential and create a positive work environment.
Best 360 Feedback Tools & Systems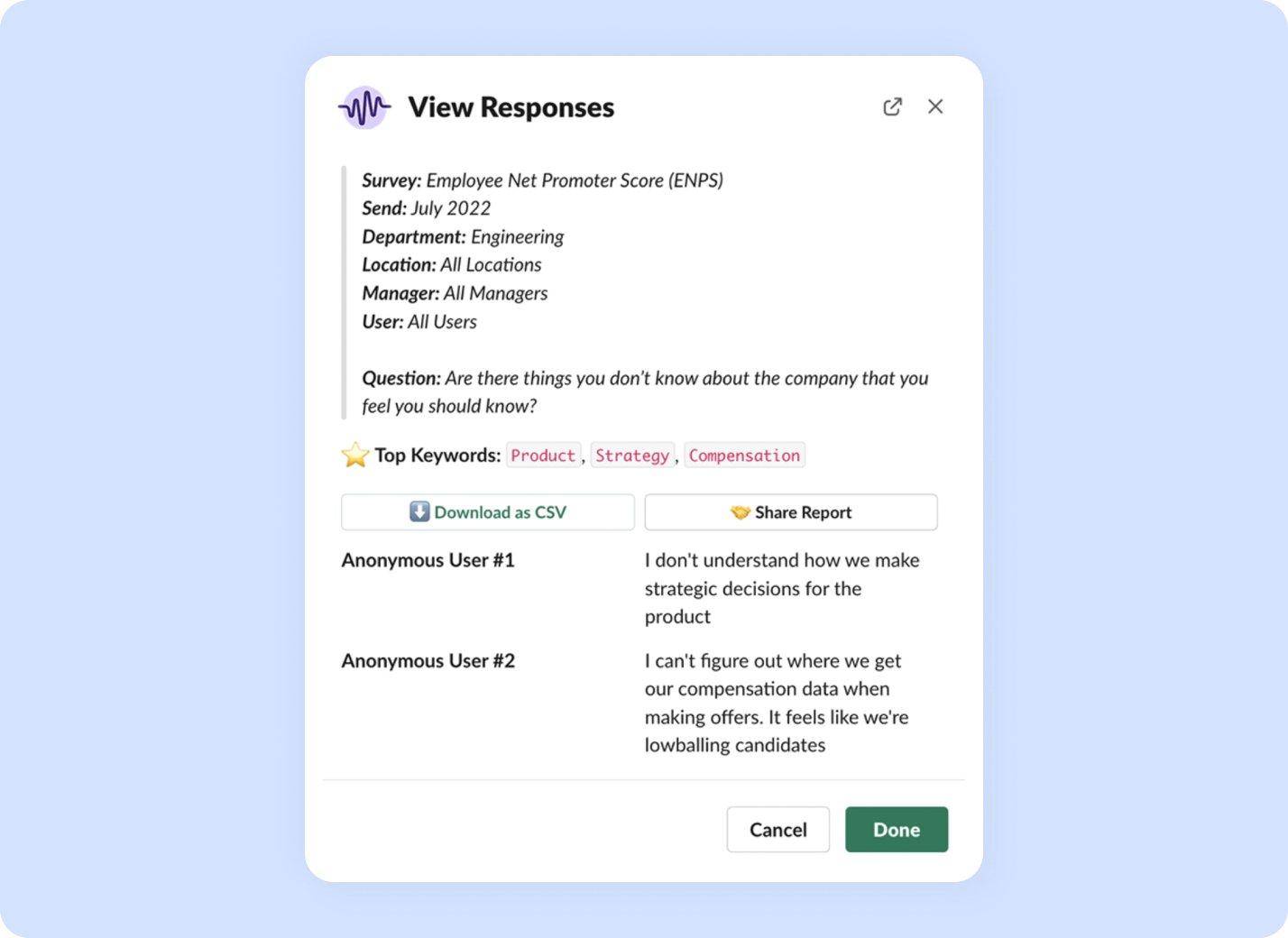 Deel is a cutting-edge 360-degree feedback tool specifically designed to facilitate high-quality performance evaluations within organizations.
By gathering insights from peers, subordinates, supervisors, and even oneself, it provides a holistic view of individual performance.
How this 360 feedback system helps managers and employees: With its user-friendly interface and advanced analytics capabilities, Deel streamlines the feedback process. The platform's emphasis on transparency fosters a culture of continuous growth and learning.
Top 3 Features
⇨ Pulse surveys – Deel's intuitive interface and powerful analytics capabilities make feedback a breeze, delivering valuable and actionable insights.
⇨ Org charts – Easily connect your Org Chart to your HRIS or IT system with just a few clicks. Update user profiles automatically, no engineering help needed.
⇨ Time off – With PTO by Deel, employees and managers can effortlessly coordinate time off, all within the familiar and convenient Slack and Teams experience.
Companies that use Deel:
Change.org
Dropbox
Shopify
Elevate your team's performance with Deel!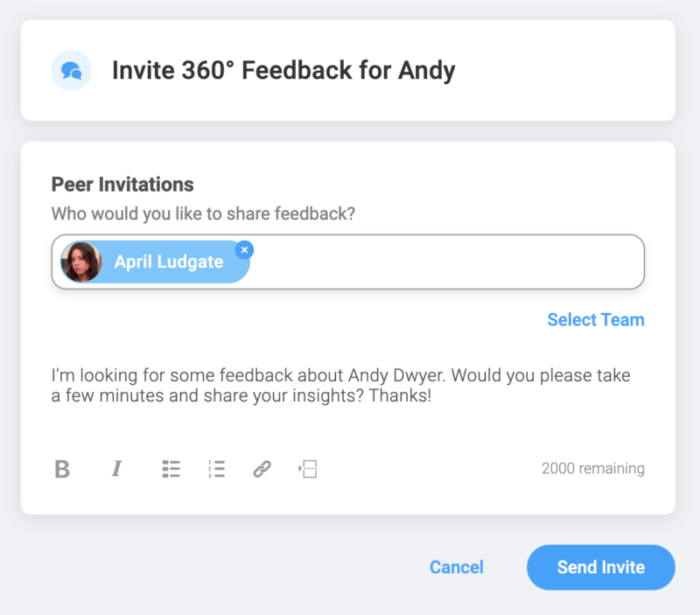 Motivosity is a rewards and recognition program designed to help you form your dream company culture. The best part is that this platform isn't simply going to give the team a short-term burst of excitement — it actually lets you create a system of incentives for long-term motivation.
How this 360 feedback system helps managers and employees: Meaningful recognition is about combining rewards with praise and real-time acknowledgment, which is exactly the recipe Motivosity gives you. In turn, your employees, who will now feel more seen and appreciated than ever will be fully dialed in and enthused about work!
Top 3 Features 
⇨ Engagement tracking – helps you monitor employee engagement throughout the company, use surveys to measure employee satisfaction, and track progress over time.
⇨ Manager-to-peer recognition – allows managers to recognize and reward employees for their hard work and dedication.
⇨ Peer appraisals – lets peers give each other recognition and feedback. This helps create a culture of openness, respect, and trust where everyone is allowed to contribute their thoughts and ideas.
Companies that use Motivosity:
Keep your team motivated with Motivosity!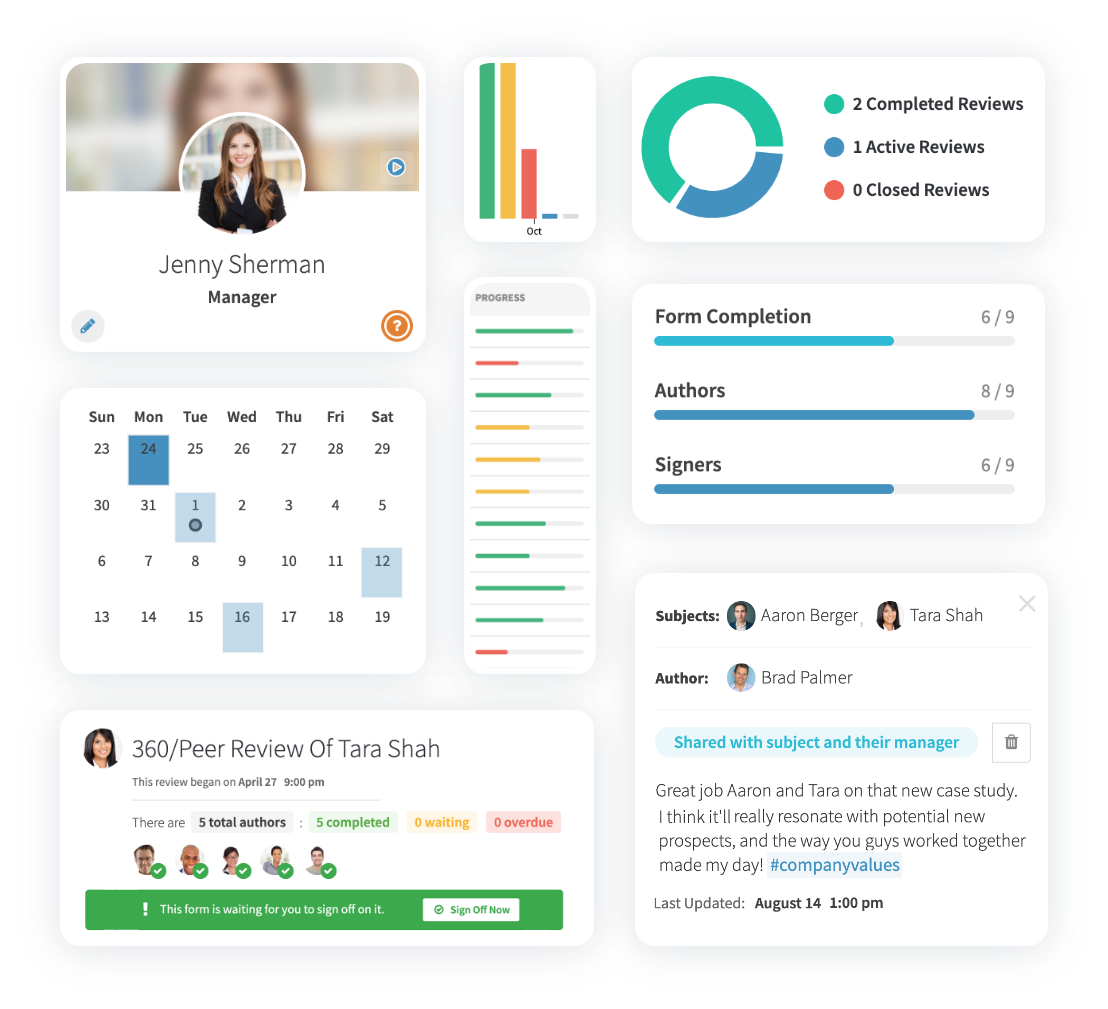 PerformYard is the ultimate solution for organizations looking to cultivate a high-performance culture. This cutting-edge platform seamlessly integrates a range of HR functions, empowering companies to streamline and formalize their processes for performance reviews, goal setting, and continuous feedback.
PerformYard also enables teams to align with organizational objectives and maintain consistent performance standards.
How this 360 feedback system helps managers and employees: By centralizing these critical HR tasks, the platform ensures that performance management becomes a strategic and integrated part of an organization's workflow. Ultimately, PerformYard empowers businesses to foster remarkable growth, drive unparalleled productivity, and achieve their envisioned culture of excellence.
Top 3 Features
⇨ 360 feedback – Elevate your 360 review process with cutting-edge software. Experience the power of streamlined and interactive performance data.
⇨ Competency-based reviews – Customize PerformYard to perfectly align with your competency-based performance management plan. Tailor cycles, check-ins, and rating frameworks to meet your unique needs.
⇨ New hire assessments – Enhance skill assessment, expedite onboarding, and boost engagement with the seamless integration of 30-60-90s and other New Hire Assessments within the PerformYard platform.
Companies that use PerformYard:
Paytronix
Blue Nile
Berkshire Grey
Create high-performance teams with PerformanceYard!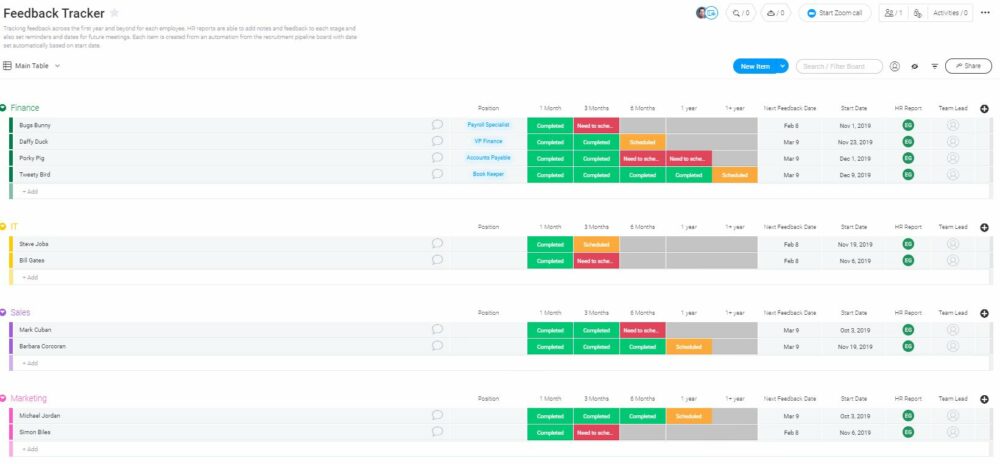 monday.com streamlines your work for optimal productivity and performance. This 360 evaluation centralizes all of your tools, processes, work, and files into one hub, eliminating silos, connecting teams, and creating a shared language and set of communication standards.
With real-time notifications and seamless automation, your organization-wide efficiency and timeliness will be off-the-charts!
How this 360 feedback system helps managers and employees: monday.com affords you a high-level overview of your organization. Also, the platform's customizable dashboards help you be more confident than ever in your decisions, scale your workflows, and adjust this ecosystem to fit your needs.
Top 3 Features 
⇨ Collaboration tools – lets teams track progress, assign tasks, manage deadlines, communicate with each other in real-time, and ensure that everyone is working towards the same company goals.
⇨ Lifecycle management – allows employers to manage an employee's entire project lifecycle, from initial planning and progress tracking to analytics and reporting.
⇨ Milestone tracking – helps company leaders easily track company objectives and employee milestones, enabling a clear understanding of company progress and inspiring employees to reach goals.
Companies that use monday.com:
Keep your team on the same page with monday.com!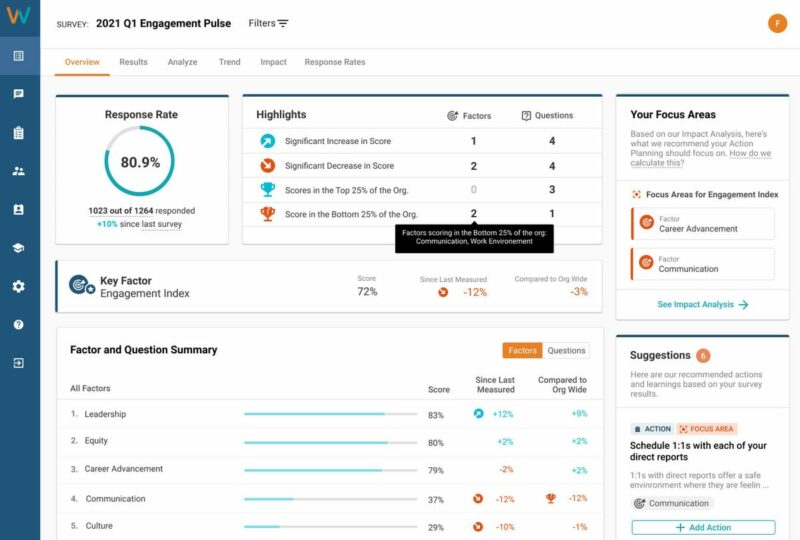 WorkTango is a robust employee experience platform that provides actionable insights through feedback and appraisal systems, goal-setting tools, and recognition and rewards. This 360 performance review solution inspires and engages employees across all levels and whether or not they are in-person or remote.
How this 360 feedback system helps managers and employees: WorkTango enables employee listening throughout the entire employee lifecycle. Instead of merely listening; however, by combining goals, OKRs, and structured check-ins, WorkTango turns feedback into action and impactful conversations.
Top 3 Features 
⇨ Activity tracking – helps companies keep an eye on their company culture performance with analytics and insights.
⇨  Learning management system – allows organizations to create feedback surveys, track employee progress, and generate detailed reports.
⇨ Customizable surveys – help gauge employee sentiment to easily identify trends in company culture and performance.
Companies that use WorkTango:
Allianz
DoorDash
Accruent
Optimize the employee experience with WorkTango!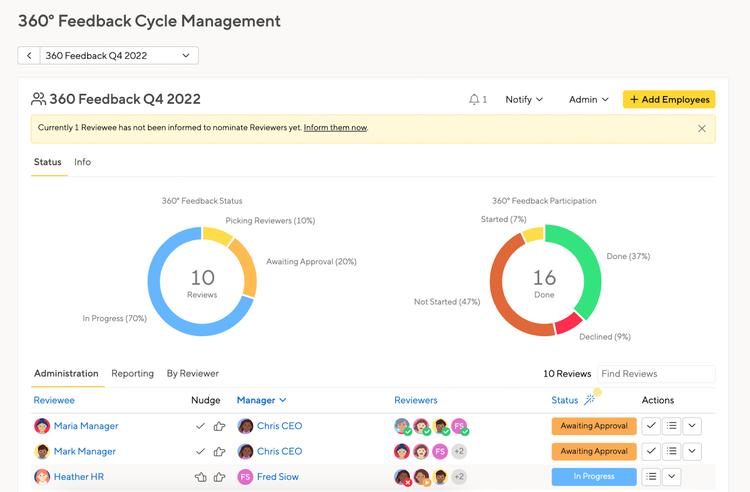 BambooHR Performance Management software excels in facilitating effective performance reviews. By leveraging a concise set of targeted questions, it promotes actionable insights while minimizing subjective interpretations.
The outcome? Enhanced employee engagement, precise evaluations, and increased opportunities to address issues promptly.
How this 360 feedback system helps managers and employees: BambooHR Feedback empowers employees with valuable insights from coworkers and stakeholders who interact with them daily. Through thoughtfully crafted questions, employees receive constructive feedback to amplify their performance, while managers gain a powerful tool to identify strengths, areas for growth, and exciting chances for professional growth.
Top 3 Features
⇨ Performance reports – Identify high-performing employees who may feel undervalued and proactively take action before burnout occurs. Additionally, discover underperforming individuals and explore ways to support their growth.
⇨ Automated reminders – Choose your desired frequency for reviews, and BambooHR takes care of the rest. Its automated reminders will be sent to employees, ensuring that reviews are completed according to your preferred pace — and it'll keep sending reminders until the review is done.
⇨ Performance assessments – Assessments in BambooHR are a powerful tool that gets straight to the core and eliminates subjectivity.
Companies that use BambooHR:
Postmates
ZipRecruiter
SoundCloud
Open lines of communication and build a culture of collaboration with BambooHR!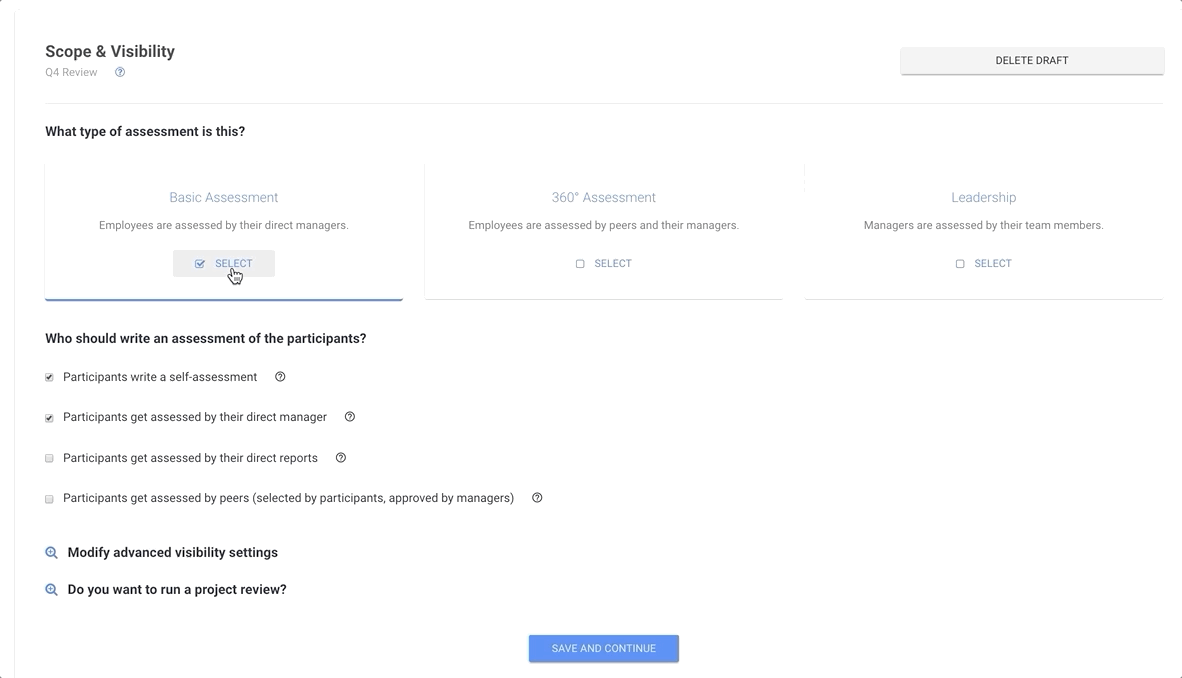 Leapsome is a 360 degree feedback platform that helps you conduct employee reviews and build a more resilient, high-performing organization. With this enablement solution, your company will take leaps and bounds in productivity, engagement, and employee development.
To top it off, Leapsome integrates with your favorite tools, including but not limited to Jira, Calendar, Slack, Teams, and HRIS.
How this 360 feedback system helps managers and employees: Reduce the time and effort you must put into people management with scalable processes and consistent experiences for your employees. Most of all, what Leapsome does best is help make work feel meaningful.
Top 3 Features 
⇨ Engagement surveys – help employers measure employee satisfaction and company culture by providing feedback from their peers and other coworkers.
⇨ Performance reviews – allow employers to assess employee performance, set goals for the company, and recognize achievements.
⇨ 1:1 and team meetings – encourage managers and employees to set purposeful objectives, monitor their progress, and collaborate on upholding a positive company culture.
Companies that use Leapsome:
Figure out how to improve your organization with Leapsome!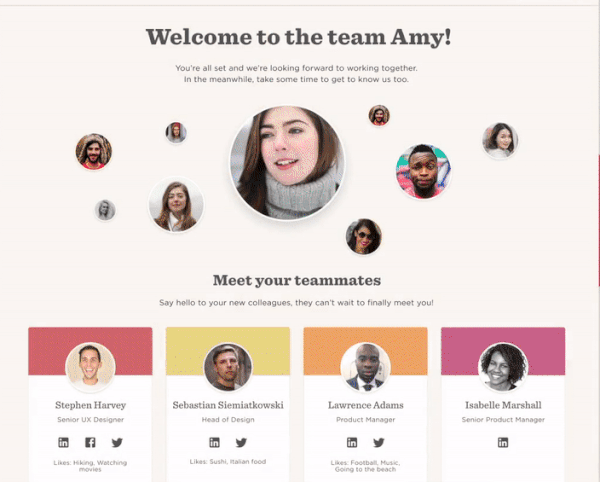 Bob HR, is the modern HR solution powering engagement, productivity, and retention at companies across the country.
With efficient systems for onboarding, performance management, workflows, compensation management, and payroll, Bob HR benefits everyone on your team, from C-suite executives and managers to employees and contractors.
How this 360 feedback system helps managers and employees: Bob's stunning interface makes each task feel like it's being updated on their ideal social network, which will help with buy-in, greater adoption, team member connectedness, and overall productivity throughout your organization.
Top 3 Features 
⇨ Onboarding – helps streamline the onboarding process and create a pleasant experience for new hires so that they are familiarized with the organization's culture and feel welcomed. 
⇨ People analytics – helps your organization get an in-depth understanding of how your company culture is performing and allows you to track employee feedback, team performance, and engagement.
⇨ Compensation Management – keeps track of employee salaries, bonuses, and other compensation data and streamlines pay raises and promotions to ensure everyone is rewarded fairly for their performance.
Companies that use Bob:
Monday.com
SmartRecruiters
Happy Socks
Gather comprehensive feedback with Bob!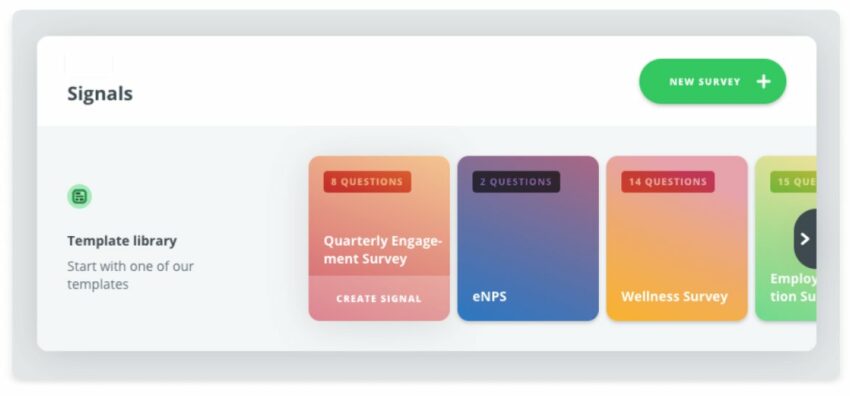 Bonusly is an employee engagement and recognition platform with built-in 360 degree feedback tools to empower direct reports, peers, and managers alike. The key to why Bonusly is so effective is that it encourages frequent and timely assessments by integrating with the communication tools your employees use day-to-day in the workplace.
How this 360 feedback system helps managers and employees: Bonusly is perhaps the most comprehensive in terms of employee rewards and recognition. In addition to feedback, Bonusly is designed to make every day feel like your employees are getting a bonus.
Top 3 Features 
⇨ Peer-to-peer recognition – allows teams to show appreciation for one another by giving bonuses and celebrating milestones.
⇨  Rewards catalog – offers employees the chance to redeem their hard-earned points.
⇨ Survey/poll management – helps to quickly and easily gain valuable insights into the workplace atmosphere
Companies that use Bonusly:
ZipRecruiter
Hulu
SurveyMonkey
Check out Bonusly today!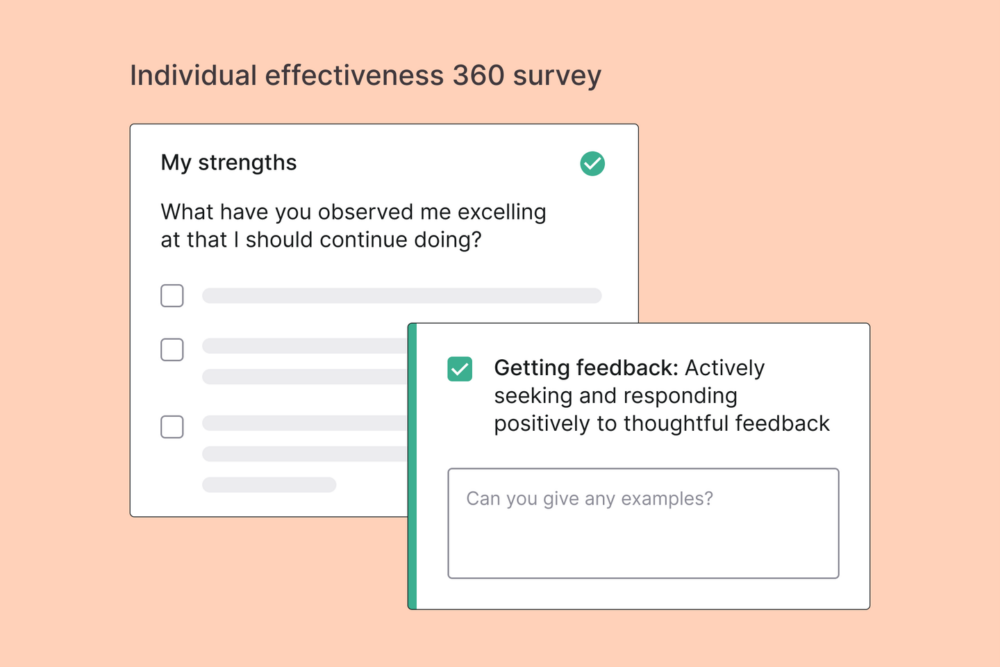 Culture Amp is the ultimate suite of employee engagement, performance and development, and insight-gathering tools. Because of the variety of functions this solution covers, Culture Amp is used by more than 6,000 companies to enhance employee experience.
How this 360 feedback system helps managers and employees: Instead of crunching the numbers and simply staying in the analytical realm, Culture Amp helps you connect the dots to boost performance, retention, development, and engagement.
Top 3 Features 
⇨ Employee pulse surveys – allow company leaders to measure employee sentiment and feedback in real-time.
⇨ Survey customization –  lets company leaders tailor surveys to meet their company's unique needs.
⇨ Performance benchmarking – helps business owners gain invaluable insight into their performance and compare it to others in the field.
Companies that use Culture Amp:
Get started with Culture Amp today!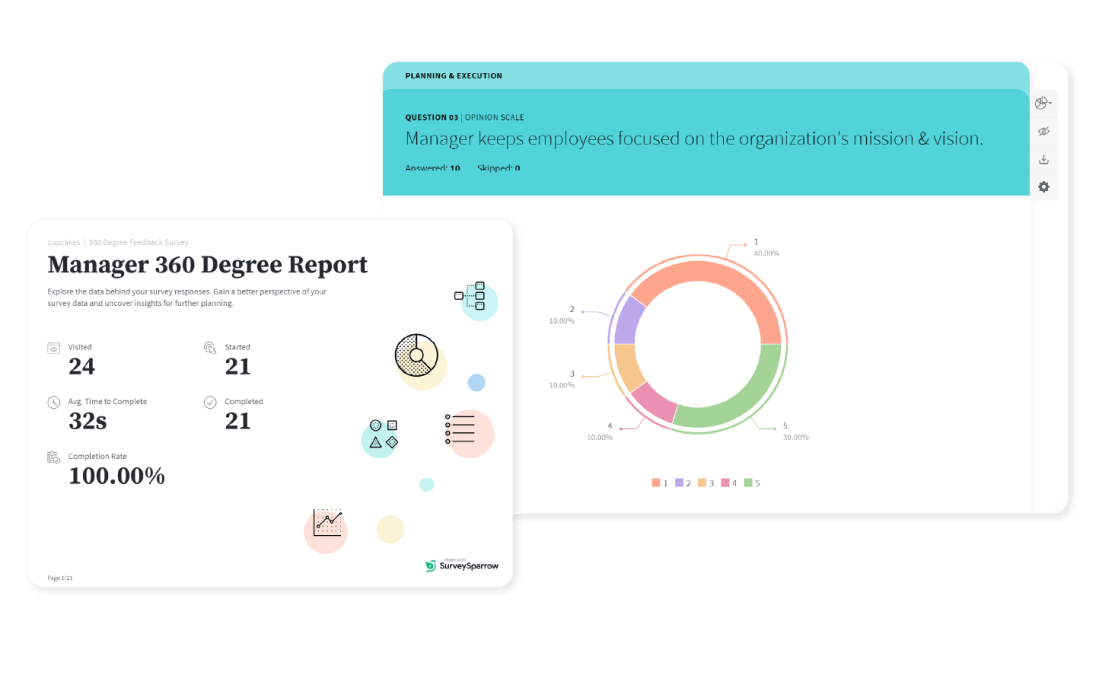 SurveySparrow offers 360 assessments by letting you build conversational surveys. In fact, SurveySparrow does this so successfully that companies have seen 40% more responses than traditional employee surveying methods.
Another strength SurveySparrow boasts is that it is equally effective internally and externally, with surveys that can also be used to get an understanding of your customer effort score, customer satisfaction score, net promoter score, and customer exit.
How this 360 feedback system helps managers and employees: SurveySparrow optimizes workflows, simplifies tasks, and makes gathering feedback beyond easy.
Top 3 Features 
⇨ Video surveys – help you conduct employee reviews and surveys with the help of an automated video.
⇨ Multi-language surveys – let you create and distribute surveys in multiple languages, making sure that all employee voices are heard. This helps ensure a culture of inclusivity and diversity.
⇨ Visual workflows – streamlines operations by constructing automated applications, known as "flows," that can collect, revise, and generate data and then make those flows accessible to the appropriate users or systems.
Companies that use SurveySparrow:
Conduct employee reviews with SurveySparrow!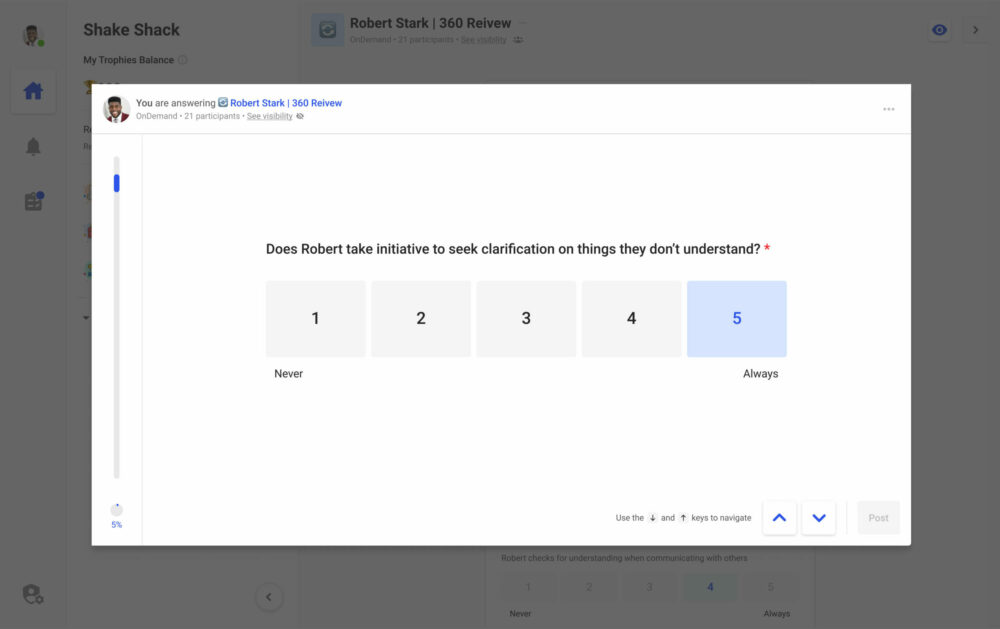 Assembly helps you give team members a single source of truth or a shared language. Now, your employees or coworkers will be operating around a unified context. Whether you're looking for a solution for one-on-one meetings, employee recognition, icebreakers, team standups, or 360 feedback, Assembly is the answer.
How this 360 feedback system helps managers and employees: Assembly allows you to build and automate workflows, so managers can focus on direct communication and getting the most out of their coworkers.
Top 3 Features 
⇨ Pre-made templates – help you design a personalized assembly template with pre-determined settings for all of your projects and workflows.
⇨ HRMS integrations – facilitates effortless synchronization of your organization's employee data with the system, enabling fast and easy updating of employee information.
⇨ Feedback insights and analytics – empowers managers to gain a deeper understanding of the company culture and employees' perspectives.
Companies that use Assembly:
Coca – Cola
Amazon
Bambee
Unite your team with Assembly!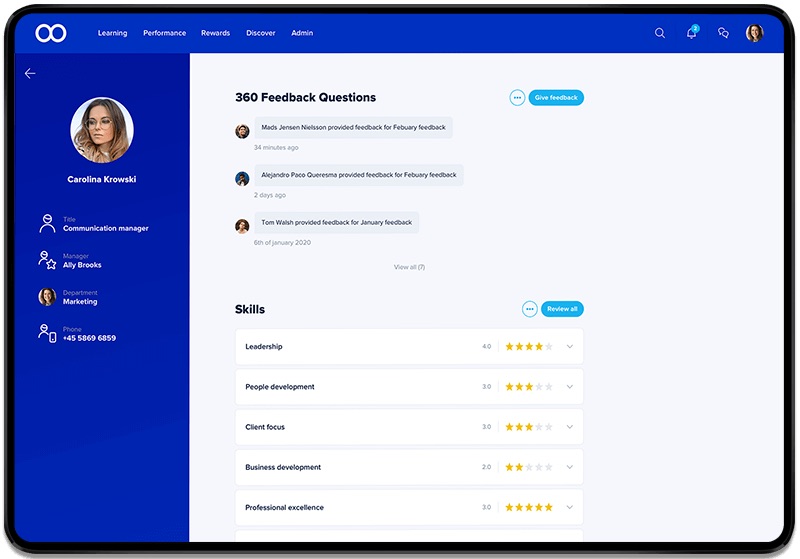 Eloomi is all about learning and people development, delivering feedback, and providing a new way for employees to go through training and their career progression. This 360 degree feedback tool provides a flexible approach for appraising performance and measuring the impact on employees.
How this 360 feedback system helps managers and employees: Eloomi massively improves transparency and perspective by creating an environment that facilitates perspective, while giving employees at every level the tools they need to hold each other accountable.
Top 3 Features 
⇨ Feedback management – makes it easy to manage feedback from employee reviews, peer-to-peer recognition, and companywide surveys.
⇨ Ongoing performance tracking – helps track employee performance over time so employers can spot trends and make company changes when needed.
⇨ Progress reports – lets employers quickly and easily generate progress reports for their employees.
Companies that use Eloomi:
Domino's
Iceland Air
Le Creuset
Gather actionable feedback and useful insights with Eloomi!
---
People Also Ask These Questions About 360 Feedback Software
Q: How does 360 feedback software help managers?
360 feedback software can be an invaluable tool for managers looking to develop themselves and their teams. This kind of software encourages employee feedback, generating a complete understanding of how a manager's actions are perceived by the team they lead.
It also helps create an action plan to identify areas of improvement, enabling each individual to track and measure their own progress over time. It is an excellent resource for busy managers who are keen to make time-efficient changes that have an overall positive impact on employee engagement and productivity.
There are several initial benefits to using a 360 feedback tool including…
✅ Improves teamwork
A 360 degree feedback platform provides all levels of an organization with a collaborative system to understand each other's strengths and weaknesses.
✅ Gives a thorough outlook
The information collected via a 360-degree feedback tool is typically broader, making it more reliable than going off of a single data point.
✅ Creates anonymity
The anonymity of 360 degree feedback software gives employees the safety they need to feel that they can be honest.
✅ Identifies training needs
360-degree feedback tools can be used to pinpoint skills gaps and find ways to develop training for these competencies.
✅ Boosts transparency
A 360 feedback platform increases transparency in the workplace by allowing coworkers to provide anonymous feedback to each other. Employees have an opportunity to receive unbiased and direct input from others who understand their roles and challenges better than anyone else.
Q: How do I implement a 360-degree feedback system?
Implementing a 360 degree feedback system can be a great way to measure the performance of your organization while also providing beneficial feedback to employees. It is important to carefully consider the types of questions you want to ask and who should be giving the feedback, as this will determine how successful the 360 degree process is. Depending on the size and scope of your organization there are several different strategies for designing, launching, and managing an effective 360 degree system. It's important to have clear evaluation measures and expectations so that everyone in your organization has an understanding of their roles and responsibilities in the process, including receiving feedback from those around them.
Q: Are 360 review platforms effective?
360 review platforms are effective because they provide a more comprehensive view of employee performance. 360 reviews are effective because they provide a more comprehensive view of employee performance. By getting feedback from colleagues and supervisors, employees can identify blind spots in their performance and receive constructive feedback to improve their work. Additionally, 360 reviews can help managers identify high-performing employees and those who may need additional development support.
Q: How often should a 360 feedback tool be used?
A 360 feedback tool should be used when there is a need for objective and accurate information about an individual's performance.
Q: What does a 360 evaluation tool do?
A 360 evaluation tool is a performance review system that gathers feedback from a variety of sources to provide a more accurate view of an individual's strengths and weaknesses. Typically, a 360 evaluation will include feedback from the individual's supervisor, peers, and subordinates. This type of feedback can help identify areas in which an individual may need development and can help to improve communication within an organization.
Q: Why is it important for managers to use 360 feedback systems at work?
Managers should use 360 feedback systems at work because they provide a more accurate view of an individual's performance. With 360 feedback systems, employees can provide feedback on their manager's performance and vice-versa.
Q: Are there low-cost tools for conducting 360-degree feedback reviews?
There are a few low-cost tools for conducting 360-degree feedback reviews. The most important thing is to make sure that the tool you choose is easy to use and that everyone involved in the review can access it.