Managing a diverse workforce is no small task, especially when it involves coordinating HR processes like recruitment, attendance, performance management, and, most critically, payroll.
As businesses continue to evolve, finding the best HR software for payroll has become necessary in 2023.
In a hurry? Explore these top-rated payroll software tools for HR to manage each step of the process:

Efficient HR software is a game-changer in this digital era, and there's an increasing need to process error-free payroll and automate HR functions.

This guide explores the best programs which can handle complex and variable pay structures, provide real-time data analytics, manage compliance, and offer intuitive employee self-service portals.
These innovative solutions simplify the complexities of HR and payroll processing and foster a more productive and engaged workforce. As we delve into the intricacies of these systems, you'll discover how the right payroll and HR system can save time, reduce costs, and enhance overall business productivity.
Read on to find the best payroll and HR software for your business needs.
Want to become a better professional in just 5 minutes?
What Is HR Software For Payroll?
Human resources payroll software is a specialized system designed to automate and streamline an organization's payroll processes.
It efficiently manages all tasks associated with employee payment and filing employment taxes, reducing the likelihood of errors and ensuring compliance with tax laws. These systems handle functions like salary computation, withholding and paying necessary local taxes and delivering pay stubs or direct deposits.

By adopting HR payroll software, businesses can outsource HR tasks to PEO (professional employer organization) companies while saving significant time and resources while ensuring accurate, timely compensation for their workforce.
10 Best HR Payroll Software Tools & Systems
Choosing the right HR payroll solution is a critical decision that can profoundly impact your business's efficiency and bottom line.
Thorough research, extensive reading about various options, and trying out suitable HR management software can save your organization from costly errors and inefficiencies. By taking these steps, you ensure that you select a solution that best fits your company's unique needs and processes, enhancing overall productivity and employee satisfaction.
Best HRMS Payroll Software for:  Secure compliant payroll and payments for enterprise and large businesses supporting an international workforce
Multiplier manages your global payroll and keeps employees happy with a unified solution that helps organizations save money and minimize risk. This advanced solution enables business owners to compliantly onboard, compensate, and offer benefits to employees and new hires across various countries, helping HR managers maintain seamless communication with international teams.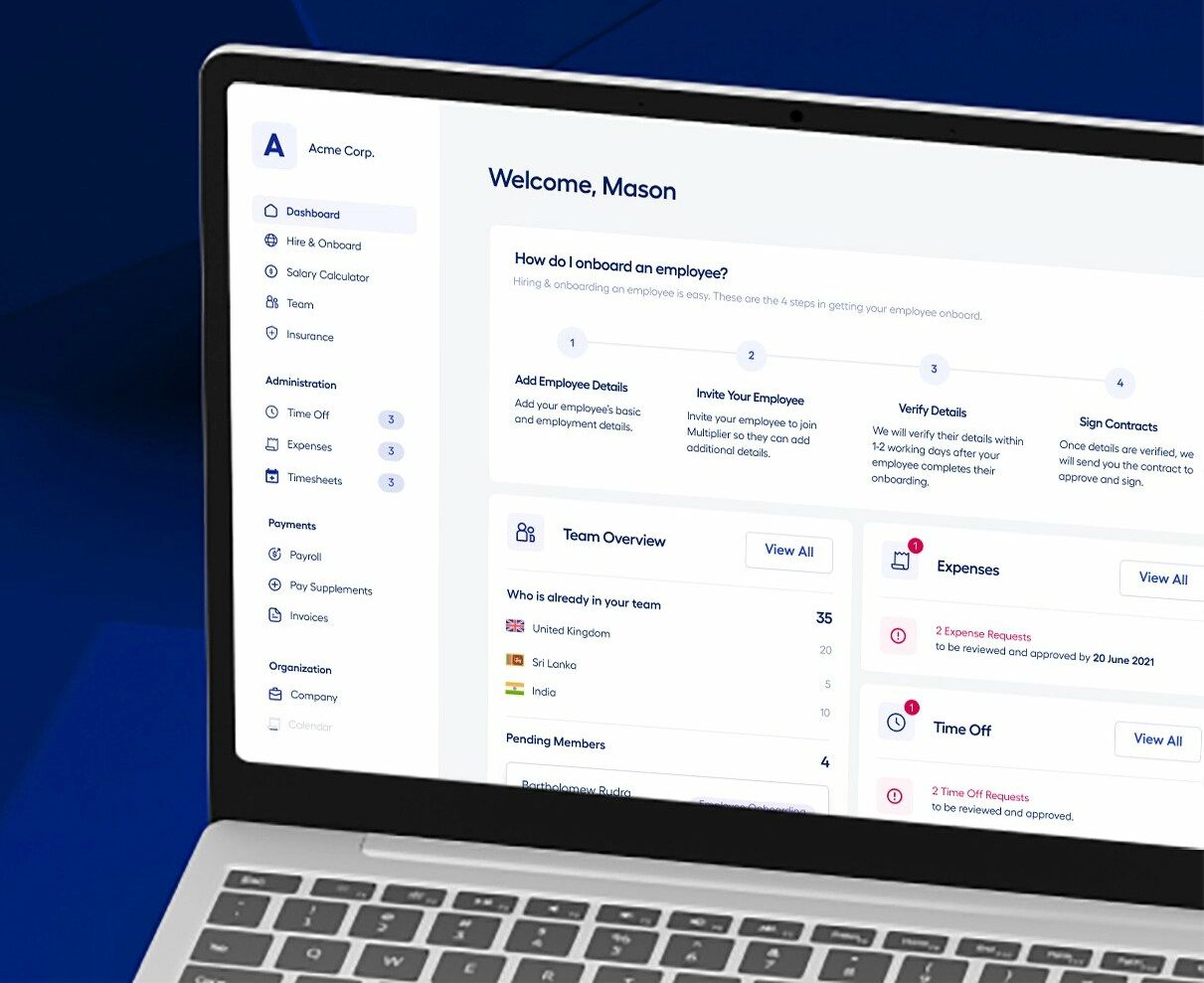 Notable Features
International compliance – Multiplier processes different compliance regulations and ensures that payments comply with up-to-date local corporate and tax laws.
Expense management – Process reimbursement claims accurately and pay employees within the right timeframe.
Multi-payment invoicing – Process salaries and other payments in a single monthly invoice and in the currency of your choice
"Dependable crew and great support especially if you want to expand and employ in different markets." – Get App review
Experience effortless and compliant global payroll processing with Multiplier.
Best HR Payroll System for: Start ups, small businesses, and midsize organizations scaling up a global team
Oyster serves as an international employment platform tailored for forward-thinking HR leaders, streamlining the processes of hiring, engaging, compensating, managing, and nurturing a prosperous remote workforce. This human resource payroll software empowers expanding businesses to provide their esteemed international employees with an exceptional experience, eliminating the traditional hassles and costs typically associated with such operations.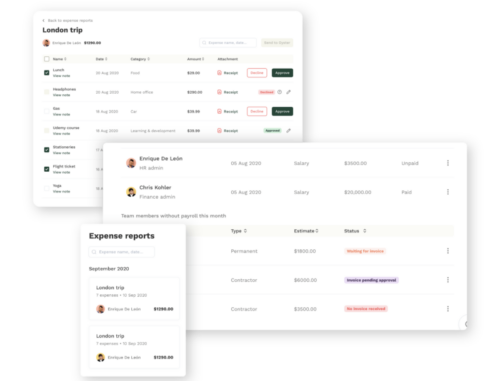 Notable Features
Integrates with other cloud-based software – Oyster integrates with multiple ERP systems like Quickbooks and syncs your online payroll data, so invoices appear in linked ERP systems automatically.
Multi-country payroll – Process cross-border transfers with no delays, staying compliant with international bank account regulations.
Supports ad-hoc payments – Set up any additional payments from expense reimbursements to performance bonuses, employee perks, and benefits administration.
"Great for contractors anywhere in the world" – Capterra review
Help your teams grow faster across borders with Oyster!
Best HR Software With Payroll For: Full-service payroll functions, including embedded payment processing
Leverage the power of AI with Papaya's global payroll platform to streamline and simplify your HR management processes! Featuring top-tier integrations and ensuring absolute compliance, Papaya provides a comprehensive, end-to-end technology platform encompassing not only payroll, payments, and a range of other functionalities.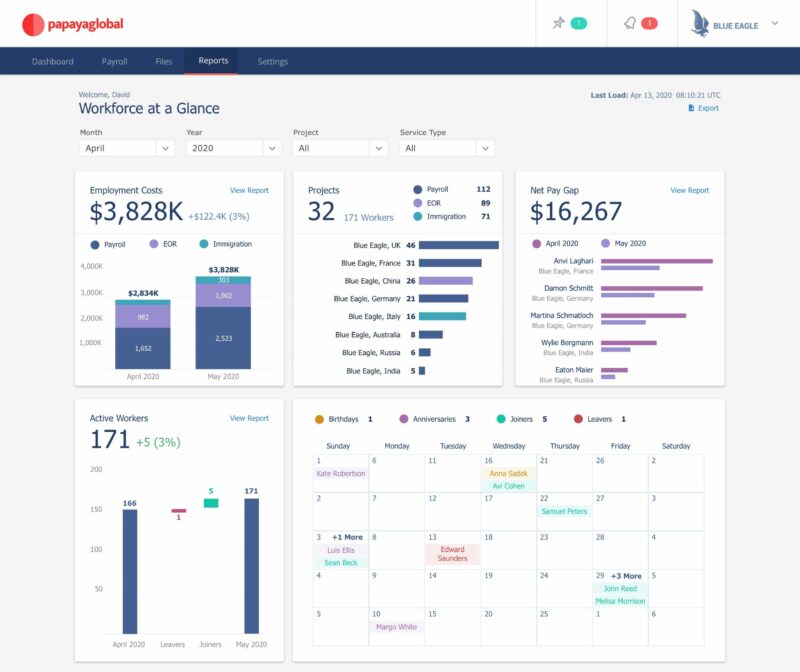 Notable HR Features
Embedded payments – Pay your employees in 12 major currencies and locally in 160+ countries straight from your payroll platform.
Data and insights – A standardized, intuitive view that uncovers actionable insights across your organization.
Payroll accuracy – Provides budget tracking, anomaly detection, on-time execution, and immediate alerts of compliance issues to stay updated with country-specific payroll and employment laws.
"A great HR solution to manage a distributed workforce" – G2 review
Save time and reduce costs by streamlining processes with Papaya Global!
Best HR and Payroll Software for: Growing businesses that want to streamline data and improve employee experience
With BambooHR, experience the ease of running payroll thanks to its centralized data source, extensive payroll reporting, and comprehensive tax filing services. By integrating all the components into one HRIS, your organizations will always have accurate paydays.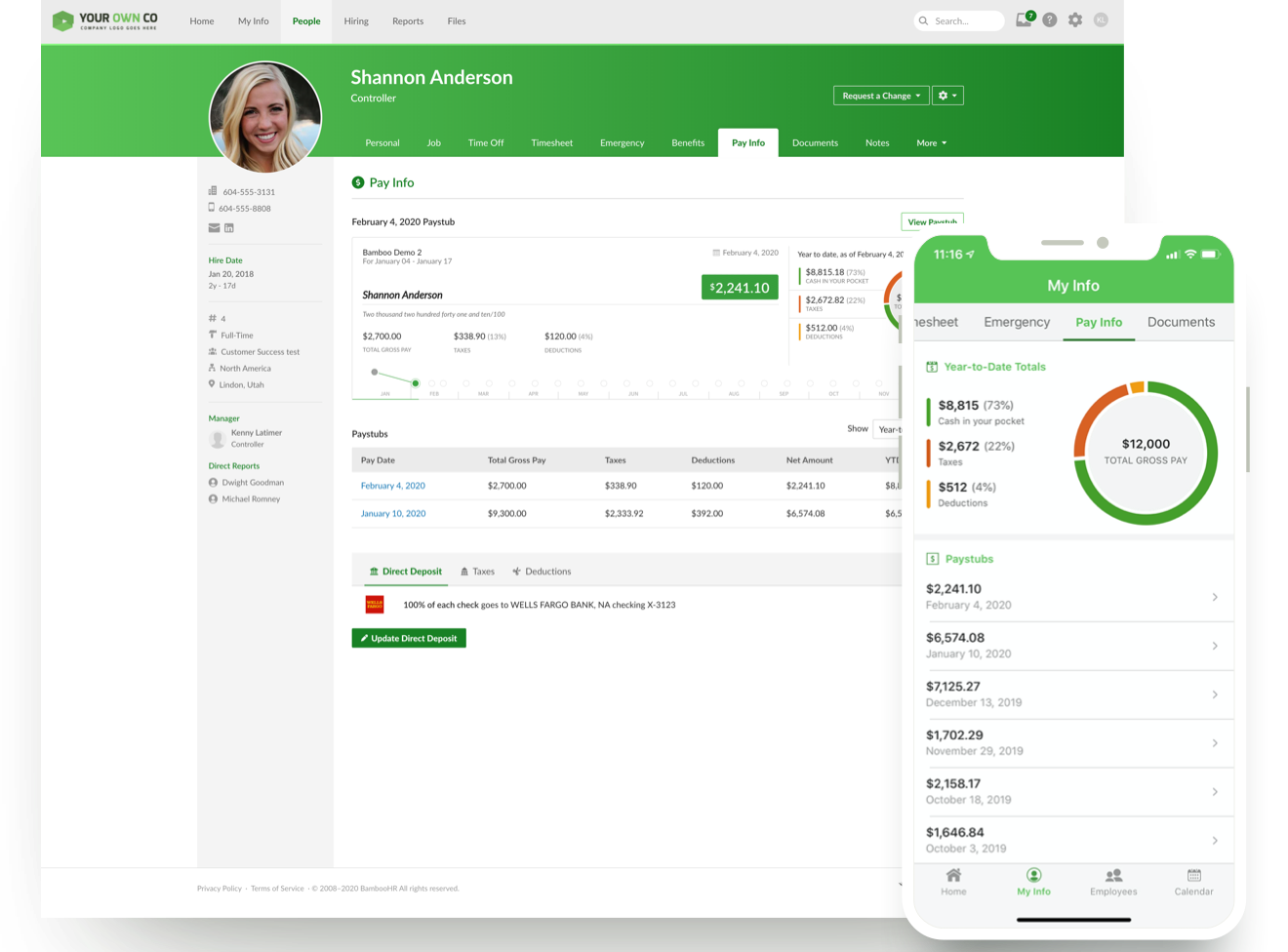 Notable Features
Smart data input – Information in BambooHR like wages, hours, account numbers, employee benefits, and deductions automatically flows into payroll, so you can skip the double entry and know that your data is up to date.
Time-off – Approve time-off requests and approvals via desktop and mobile.
Time tracking – Run payroll to track hours worked and PTO without wasting time jumping between systems.
"One of the best decisions our business has ever made" – Capterra review
Bring your payroll and employee enrollment together with BambooHR!
Best HR and Payroll System for: Comprehensive all-in-one payroll solutions.
Paychex is a popular all-in-one HR solution that is especially suited for businesses keen on compliance and tax management. Aside from its payroll solutions, Paychex is also known for its 24/7 award-winning US-based customer support team and its over 200 inhouse compliance experts. Knowledgeable help is just a phone call away!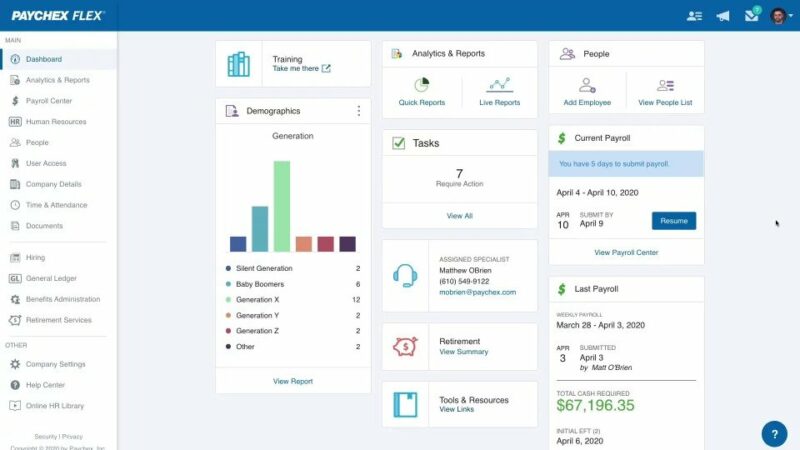 Notable Features
Quick set up – Run payroll online as quickly as two weeks.
Ease of payroll tax processing – Fast and accurate calculation, filing, and payment.
Inhouse expertise – Always stay on top of the latest rules and regulations.
"Good customer service. They do all the state and federal taxes. People that work for Paychex are very friendly and helpful. I always get an answer when I call. I like that you have a 24/7 call in." – G2 review
Stay on the right side of compliance and taxes with Paychex!
Best Payroll Software for:  Paying everyone in their local currency with unlimited payroll cycles and different offices to manage
Rippling enables you to consolidate all your global employee data into one platform and pay individuals in their local currency. This sophisticated software promptly calculates and files payroll taxes for your international employees.
With this HR tool for managing payroll, everything gets dynamically localized — from data fields and documents to currencies — based on the employee's work location, making global HR management a seamless process.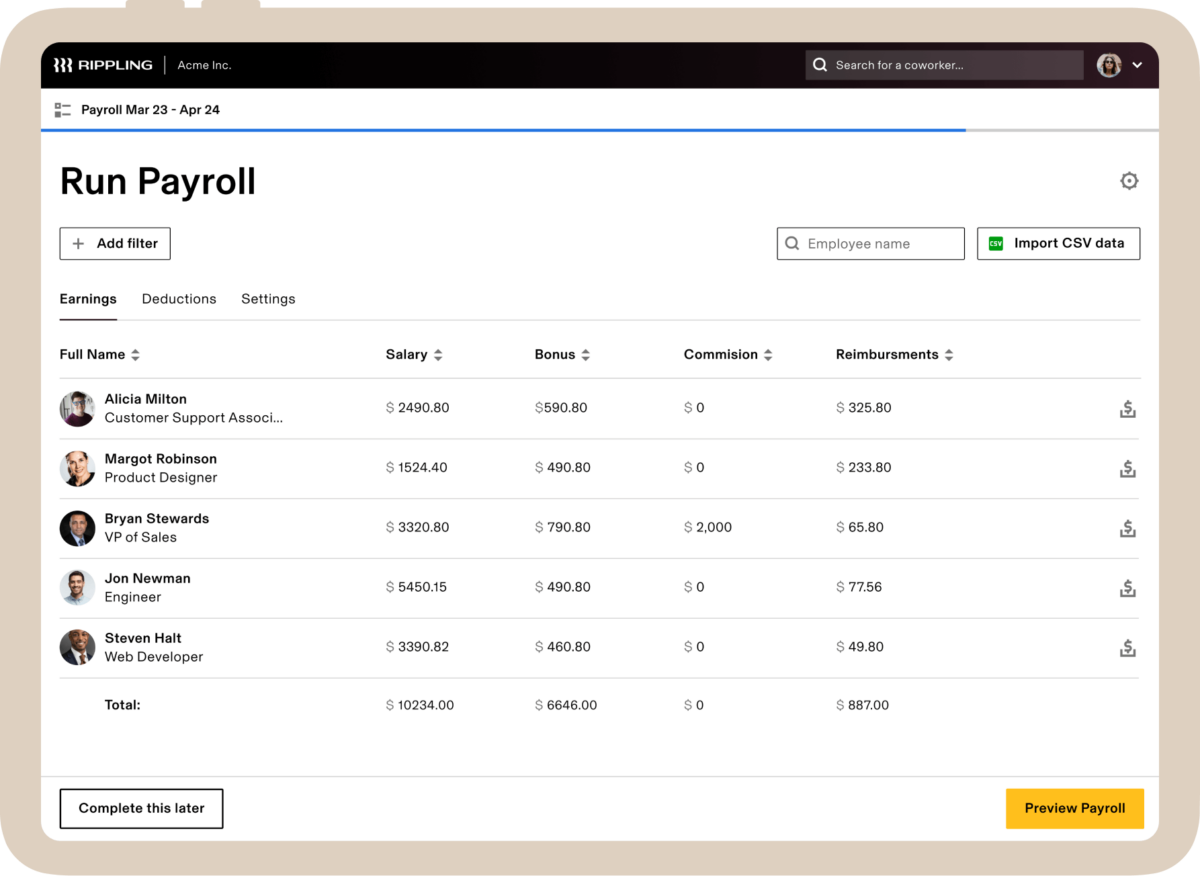 Notable Features
Automatic tax filing – Rippling calculates and files your payroll taxes with the right federal, state, and local agencies, even when employees relocate.
Compliance automation – Rippling helps you handle your tax and compliance work, keeping your business compliant with the right tax forms, laws and regulations.
Intuitive mobile app – With Rippling's mobile app, your employees can see their paystubs, request time off, and even view their pay stubs and tax slips on the go.
"The user experience for Rippling is great and easy to navigate."- G2 review
Securely offload all your payroll tasks with Rippling.
Best HR Payroll System for: Customer support and expertise beyond basic payroll features
Deel allows you to consolidate payroll into just one system, taking care of details such as benefit reductions, employee onboarding, and localized contracts. The HR payroll system can be synced to other HRIS platforms and enables customizable dashboards for stakeholders to digest patterns in payroll.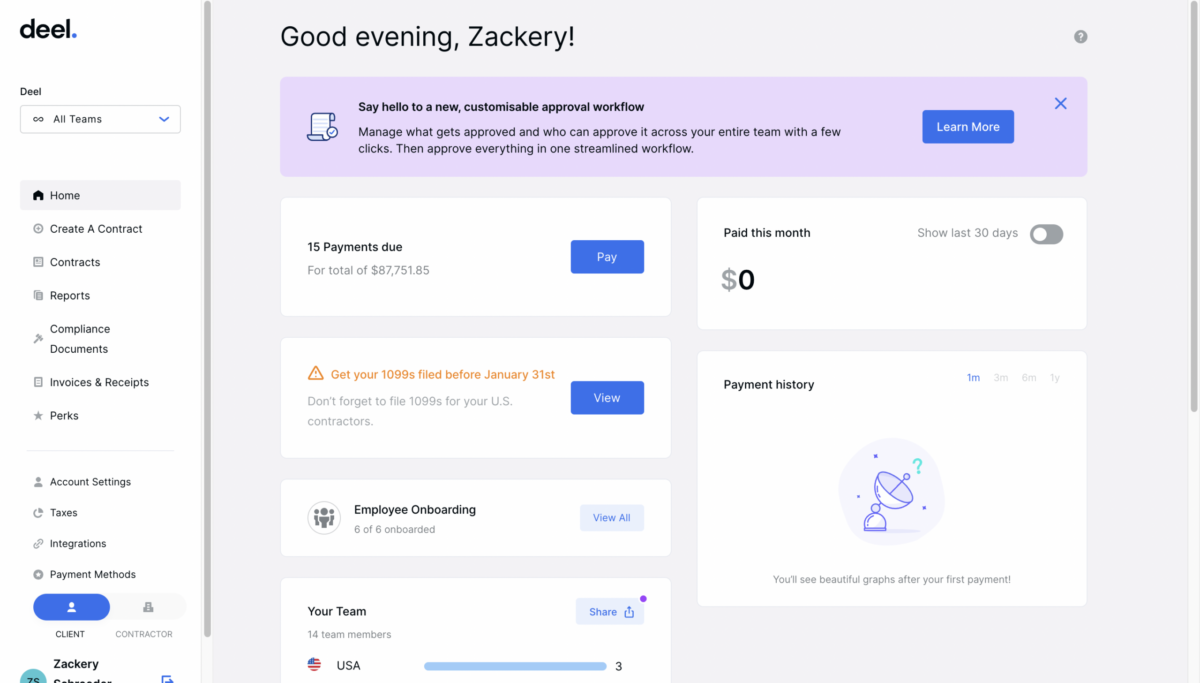 Notable Features
Access to fast customer support – Get help with 24/7 in-app support and a dedicated customer service manager, sporting a 1.25-minute response time.
Eliminate data errors – Rely on one process for each country with Deel for consistent payroll processing.
Global analytics – Compare employer costs, bonuses, tax patterns across your entities in one standard currency.
"Any organization that employs foreign freelancers, contractors, or gig workers should strongly consider using Deel" – Capterra review
Streamline international operations with Deel today!
Best HR and Payroll System for: Features, speed, and accuracy in one place.
ADP is noteworthy for the level of flexibility and functionality it provides depending on the stage of your growth. Aside from payroll, you can also use ADP to deal with time and attendance, HR, benefits and compensation, and even compliance. Whether you're a startup or a larger entity, you'll find it easy to set up and get going in no time.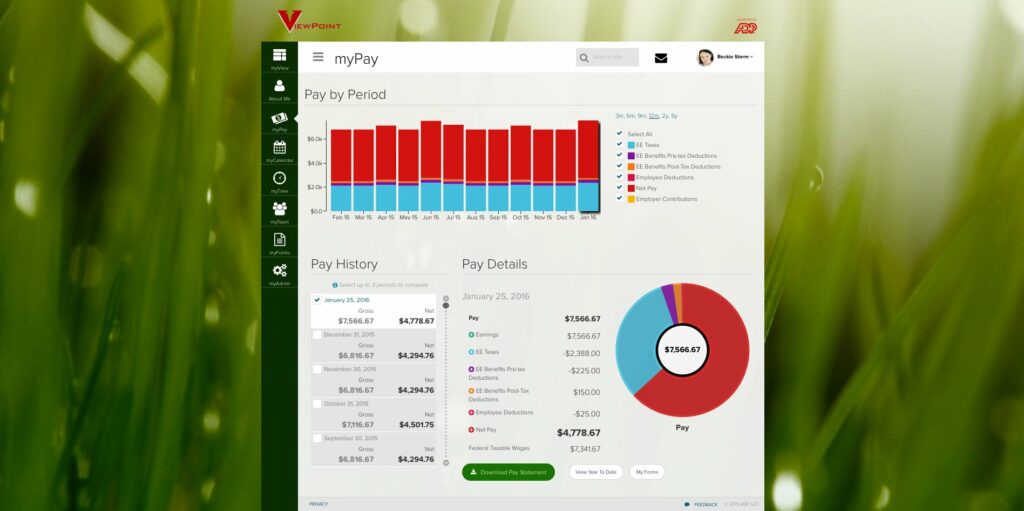 Notable Features
Payroll features fit-to-size and needs – ADP offers flexible solutions based on the size of your business and your needs. Think "just-the-essentials" payroll or combined payroll and HR, for example.
Multi-level compliance – Compliance features for federal, state, and local levels.
Self-service app for employees – Convenient, accurate, and easy to use!
"ADP is a great partner in handling our payroll from paying our employees to filing our taxes." – G2 review
Get started with payroll as fast as yesterday with ADP!
Best Payroll and HR System for:  stellar payroll data accuracy
Bob's Payroll Hub is adaptable to your specific payroll needs, whether cycles are weekly, monthly, bi-weekly, or bi-monthly. Bob accommodates smooth transitions from one payroll system to another and allows the add-on of extra payroll systems without any disruption. Its high degree of flexibility supports your company's growth and scalability.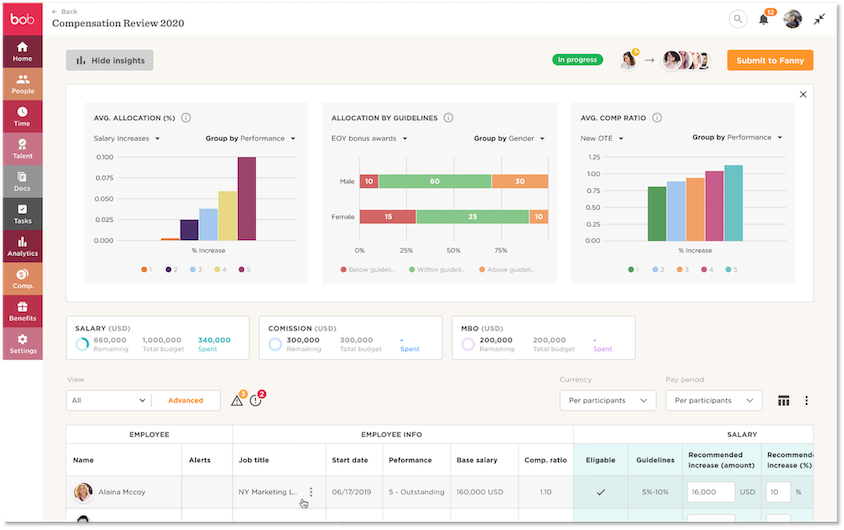 Notable Features
Full-service data dashboard – Automatically receive updates of payroll data in real-time with notifications to help verify any payroll changes.
Intuitive interface – Easy-to-use features make it easy for both HR professionals and employees to navigate
Dedicated workflows – Break down payroll processes into HR templates and automated tasks that are reliably complete.
"Very visually appealing and easy to use system" – Software advice review
Optimize payroll efficiency by using Bob!
Best HR Payroll System for:  Distributed teams seeking expansion
Leverage the worldwide talent pool without the hefty expenses and complexities associated with establishing new legal entities. Remote's human resources and payroll software provides fast, secure solutions to manage your global workforce's needs.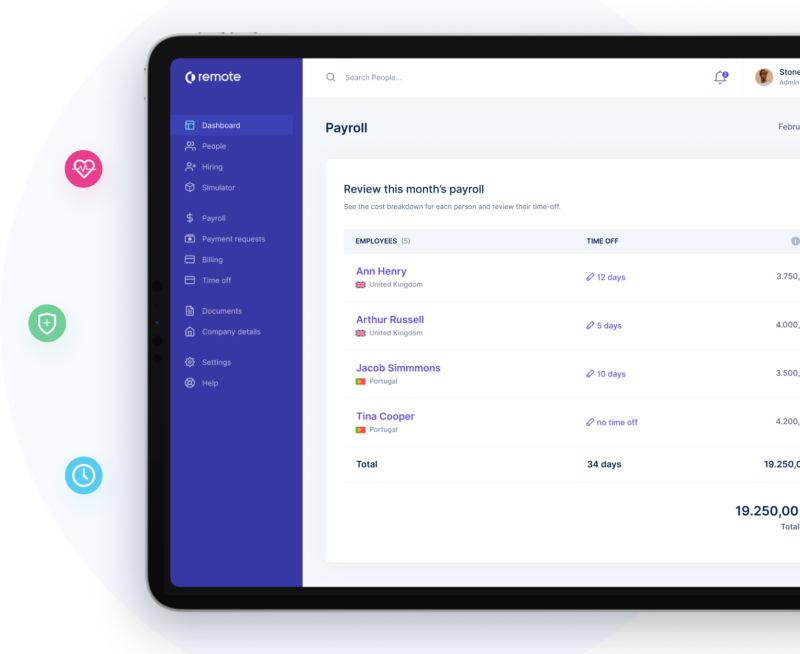 Notable Features
Comprehensive support – 24/7 support from our network of local HR, legal and finance experts.
Bypass third-party involvement – Pay and manage global teams from one global infrastructure that Remote owns and operates.
Avoid risks and employer liability – Remote is responsible for complying with employment laws in every country to operate localized payroll, benefits, and taxation.
"An ally for remote companies" – G2 review
Make Remote your global team expansion partner.
10 Reasons Why an HR Payroll System is Important
1) Security
A robust HR payroll system safeguards sensitive employee data by leveraging high-end encryption technologies and strict access controls. Protecting employee information is crucial for the employees' peace of mind and to prevent potential financial and reputational damage caused by data breaches.
2) Paying on Time
Payroll systems ensure that employees are paid accurately and on schedule, fostering trust and positive morale among the workforce. Timely payment is fundamental to employer-employee relationships and promotes a productive work environment.
3) Taxes
Automated payroll systems help accurately calculate and withhold the appropriate tax amounts, reducing the risk of costly penalties associated with tax errors. This automation also facilitates timely tax filings, ensuring compliance with changing tax laws and regulations.
4) Transparency
HR software systems provide transparency in payroll processing. Employees can access their pay information, tax deductions, and benefit allocations, promoting clarity and reducing disputes related to pay.
5) Automation
Automation of payroll processes reduces manual tasks, limiting human error, and saving valuable time for employee management. Automated payroll systems handle everything from salary calculations to generating payslips, making payroll management more efficient.
6) Compliance
Payroll systems are designed to stay updated with the latest labor laws and tax regulations, ensuring your business remains compliant. These systems can handle different state tax laws, overtime policies, and minimum wage rates, reducing the risk of legal issues.
7) Reporting
HR payroll systems generate essential reports that provide insights into labor costs, tax liabilities, and more. These reports are instrumental in strategic decision-making, helping management understand workforce expenses better.
8) Expense Management
Payroll systems often include features for managing expenses like travel and entertainment, ensuring they're tracked, approved, and reimbursed efficiently. This feature improves budget management and reduces the chances of fraudulent expense claims.
9) Employee Benefits Management
HR payroll systems help manage and track employee benefits such as health insurance, retirement contributions, and vacation days. This centralized management is an employee retention tool that ensures accurate deductions and contributions.
10) Time & Attendance
Payroll systems often integrate with time and attendance solutions, ensuring accurate tracking of employee hours. This feature is essential for precise payroll calculations, especially for hourly employees, and it assists in managing overtime and absences effectively.
---
People Also Ask These Questions About HR Software For Payroll
Q: Can an HR payroll software integrate with your existing HR tech stack?
A: Many HR payroll software systems are designed to integrate seamlessly with your existing HR tech stack, promoting a unified platform for all HR-related processes and ensuring smoother data flow between various systems.
Q: Do human resource payroll software tools offer a free trial?
A: Many HR payroll software providers do offer free trial periods. This allows potential users to explore and understand the system's core HR functionality and interface, evaluate its performance, and determine if it aligns with their specific business requirements before making a financial commitment.
Q: What are the benefits of human resources and payroll software?
A: The primary benefits include automation of repetitive tasks, ensuring accuracy in processing payroll calculations, compliance with tax laws, providing valuable HR insights through reports, and facilitating better talent management. They also improve efficiency and save significant time and effort.
Q: What are the 5 most important features to have in an HRMS payroll software?
A: Essential features include comprehensive payroll processing, tax compliance management, integration capabilities with other HR systems, robust reporting and analytics, and a user-friendly employee self-service portal.
Q: How do I measure the success of my HR payroll solution?
A: The success of an HR payroll solution can be measured through factors like the accuracy of payroll calculations, timeliness of payments, compliance with tax laws, reduced manual errors, improved operational efficiency, and positive employee feedback about the system.
Q: What are some examples of HRMS payroll systems?
A: Examples of popular HRMS payroll systems include BambooHR, Multiplier, Deel, and Remote.
Q: How do I choose the best human resources payroll software?
A: Choosing the best HR payroll software requires evaluating your business needs, checking the system's features and scalability, considering integration capabilities, understanding the pricing structure, and reading user reviews and ratings.
Q: How much does an HR and payroll solution typically cost?
A: The cost of HR and payroll solutions varies widely based on the number of employees, the features needed, and the provider.
Q: How do I know if my human resource and payroll management system is successful?
A: Indicators of a successful HR and payroll system include improved efficiency, fewer payroll errors, timely and accurate employee payments, enhanced compliance with laws and regulations, positive employee feedback, and cost savings.